Disclosure: Some of the links in this article may be affiliate links, which can provide compensation to me at no cost to you if you decide to purchase a paid plan. We review these products after doing a lot of research, we check all features and recommend the best products only.
2023 is here.
As online marketing world is expanding, more companies are jumping in the affiliate marketing model.
Affiliate marketing is a proven model where companies can generate extra money (in few cases it's in millions) by inviting smart marketers to promote their products.
Affiliate marketing is a performance-based model where you get paid for different models. CPL (Cost per lead), CPA (Cost per actions), CPI (Cost per install), CPD (Cost per download) and there are many other affiliate marketing models that you can choose to start your career with.
I started my affiliate marketing career with CPL (cost per lead) model with PeerFly, where we used to promote some CPL offers with Facebook ads and made a decent money.
Later, I picked other products on the commission basis and made more than $400,000 till now.
Affiliate marketing journey was very exciting and learning as well.
In this article, we are going to talk about 15 actionable tips which you can use to jump-start your affiliate marketing career with ease.
I am not going to talk about niche selection, keyword research or the promotion in this article.
If you are reading this article, I am assuming that you have done your niche selection and keyword research already.
Note: I recommend KWFinder for the keyword research if you haven't done the keyword research yet.
Let's read these 15 actionable tips.
1. Don't just promote anything
You cannot be good at everything.
There are few things which you are good at and there are many things where you suck.
You'll have to admit that.
Make a thumb rule to promote the products which you feel are really worth promoting. Do proper research about the product, see what people are saying about it and then use it at your own.
Promoting good products will maintain your authenticity and people are going to love your recommendations.
Pro Tip: Most of the companies offer free trial of their product and services, so use them effectively during that period. If there is no trial available, you can email to product owners and tell them that you are interested to promote them so provide me a trial account.
2. Use link shortners
I strongly recommend to use Pretty Links plugin if you are doing any kind of affiliate marketing on your blog.
This plugin will shorten ugly looking affiliate links in a professional looking links and you can track the links from the backend too.
I am using the premium version of this plugin to have more control over my affiliate links.
If you are looking for a premium plugin, you must buy ThirstyAffiliates.
3. Always make affiliate link nofollow
All affiliate links at your blog must be nofollow.
If you keep them dofollow, Google is going to pass your website's link juice (this is a technical SEO term) to the websites you link and it will affect your website's ranking.
You can easily do this with Pretty Links plugin.
Go to Pretty Links > Options > Links

Click at Update button after doing all the settings.
4. Keep updating blog posts
If you have written any review at your blog, make sure you keep updating it time to time.
If you are promoting any online service or software, this practice is highly recommended.
These days software and service companies keep adding more features and they change the design of the products too.
So you must add new screenshots, new features, and new tips in the article to keep it up-to-date.
5. Don't join too many affiliate networks
More affiliate networks you join, more confused you will be.
Make sure you do the proper research before joining any affiliate marketing network.
Here are the steps you should perform.
Decide which type of products do you want to promote.
Do proper research for the affiliate marketing networks.
Ask from people who are already promoting such products.
Join the network.
This practice will save your precious time and you will be more focused.
6. Never add month or year in permalink
When you write a blog post, WordPress automatically picks permalink structure for you.
Let's say you created an article with title – Best Email Marketing Plugins to Use in December 2018
WordPress will pick default permalink as:

This is not only a long URL (which Google doesn't like) but it's wrong from affiliate marketing point of view too.
Whenever you write such articles on your blog, make sure you edit this URL and make it short and sweet (without month and year in it).

7. Promote your most trusted product at sidebar of your blog
If you have noticed, I am promoting A2Hosting and ConvertKit at the sidebar of my blog.
I love both of them and I am personally using them to build my online business.
You can download the banners from the official sites or your can create at your own. These banners can bring real money in your pocket because they are visible on all the blog posts of your blog.
8. Always check the trends
Google trends is a great (and FREE) product to see the trends of affiliate marketing products.
Let's say you are confused between SEMRush and ahrefs. You don't know what to promote as both are good.
We all know that statistics never lie. So use this FREE Google tool to find out what is trending in the market and which is better to promote.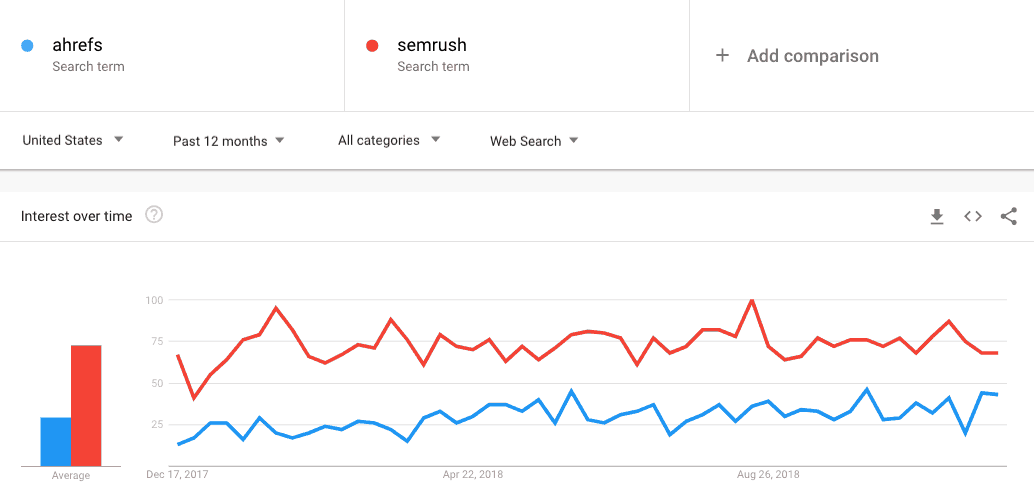 Now I can clearly see that SEMRush graph is better than ahrefs.
I got the winner. 🙂
9. Pick a SEO friendly theme
Almost all of my affiliate blogs are using either Genesis themes or GeneratePress theme.
Infact, I am slowly moving to GeneratePress now.
GeneratePress is such an amazing theme which you can customize as per your needs.
I love this theme more than other because:
Lightweight theme, which makes your website loads faster.
1.7 million downloads, which make it trustworthy.
Secure and stable code.
Search engine optimized.
Very easy to customize.
And there are other many amazing features which I find missing in many good themes.
10. Keep your eyes on Google Analytics
I am assuming that you have installed Google Analytics on your blog.
Keep checking Google Analytics to see which articles are performing better than others. You might find few articles where you can promote affiliate products with ease.
Do a complete audit of your blog every month to find such top performing articles and just insert relevant affiliate links in the posts.
In Google Analytics, Go to Behavior > Site Content > All Pages
Here you can see the top performing pages of your blog.
11. Summarize at the end
If you don't summarize at the end of your blog posts, you are keeping the loop opened.
Although you have written a review article to solve his queries, but without your summery this review is nothing.
Always conclude at the end and tell which you like the most about this product and where it is lacking. Tell them why do you feel this product as the best product for them and why are you so confident about it.
These few lines at the end will help you to gain more trust and ultimately more sales. 🙂
12. Keep checking for 404 error
I know that many of you are not using Broken Link Checker plugin on you blog.
I know this.. 😀
This plugin is a must have plugin for all affiliate marketers.
Once you install this plugin for the first time, it will take a few hours to scan your blog and find those broken links.
As I was going to write this article for you, so I haven't removed my broken link so that I could take the screenshot for you.
Here is the screenshot from my blog.

I have 27 broken links.
Google hates broken links on any blog/website, so removing them time to time is highly advisable.
Select all and then select Unlink option from the dropdown and apply it.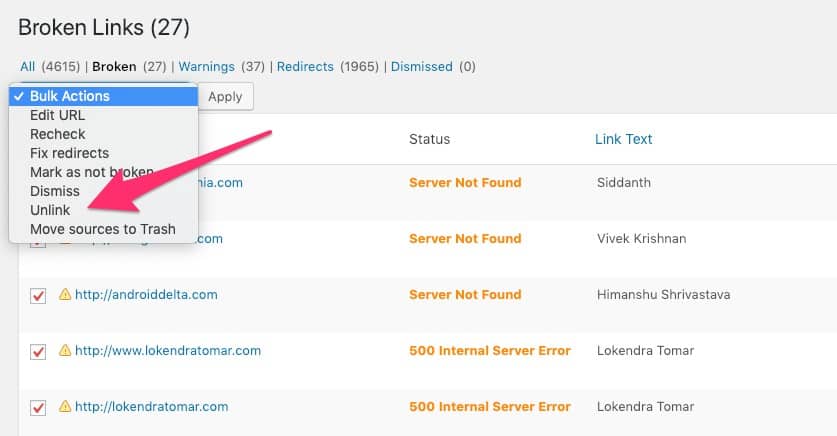 13. Collect leads
Doesn't matter in which niche you are, collecting leads must be your highest priority.
You can create a lead magnet (an eBook, a course, checklist or some videos tips) for your blog and start giving it for free.
At BestPaidTools, I am giving a free 7 days training. In return, I am asking your name and email address.
Here is the screenshot of my total leads.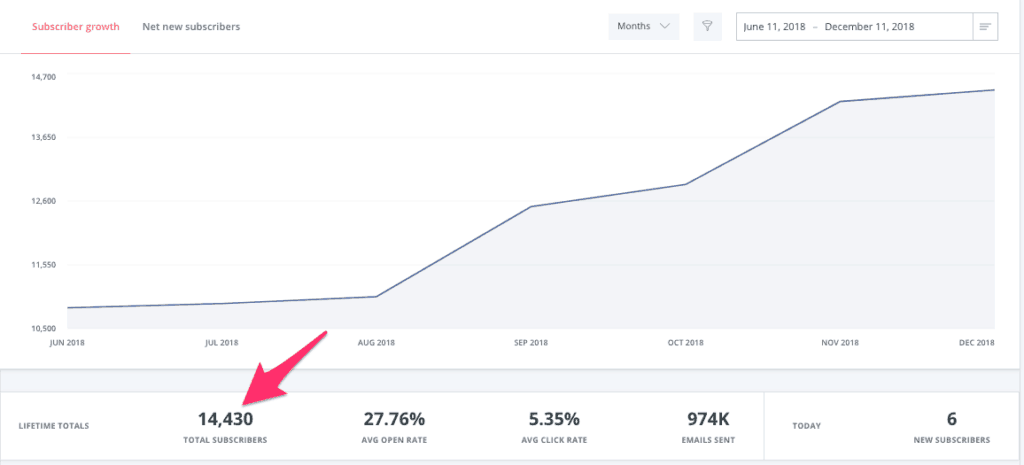 Note: I keep deleting inactive subscribers from time to time to maintain my open rate above than average.
I am using ConvertKit as my email marketing service to collect leads at BestPaidTools.
You can use plugins like OptinMonster or ThriveLeads to create awesome looking popups at your blog.
14. Use retarget pixel
Are you using Facebook retarget pixel at your blog?
Ohhh comm'on.
Please don't say that I am not using it.
Doesn't matter you are running Facebook ads for your blog or not, there must be a retarget pixel placed on your blog.
This pixel will keep building targeted audience for your blog and you can run ads in future (if you want to).
Just login in your Facebook ads manager account and go to Audience.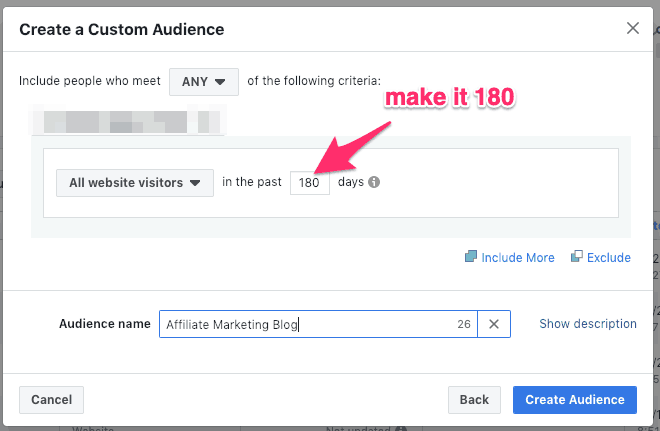 Click Create audience > Custom audience
Select option Website Traffic.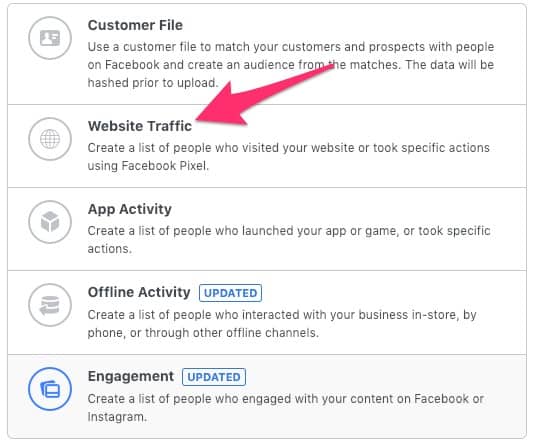 At next page, change the value 30 into 180 and click Create Audience.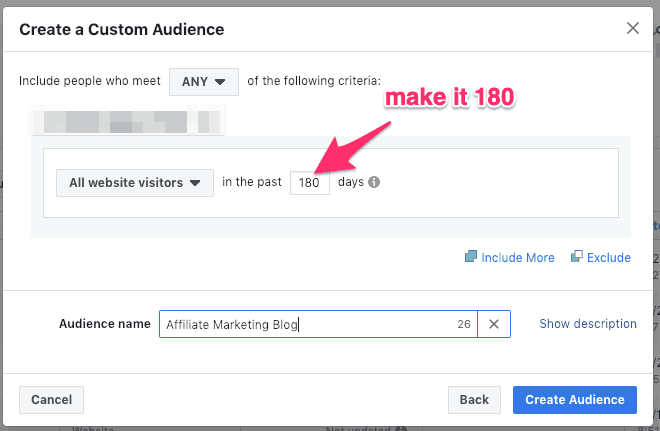 Now grab the Pixel code and place it in the header of your blog.
Now this small piece of code will do the magic and it will start building audience for you.
Caution: Do it very carefully, as a wrong placement of the code might break the theme.
15. Use dynamic date, year in your titles (most secret tip) 😉
Shortcode For Current Date is an outstanding plugin to add dynamic date, month or year in your blog posts title.
Just install this magic plugin and use the shortcodes in your blog posts titles.
Example Title: Best Email Marketing Tools in [current_date format='F, Y']
So the title of your blog posts will be changed automatically every month as.
Best Email Marketing Tools in June, 2023.
shhhhhhhh.. Don't share this tip with anyone.
Advance tip:
Do you know that you can always ask for more commission when you start giving them few sales. This will happen only when you are giving them 50+ sales a month.
You can always negotiate with the product owner or your affiliate network to increase your commission rate.
Let's say you are sending 50 sale a month, and each sale is making you $50.
So total you are making is – $2500 per month.
If you talk to them, and they can set your commission to $60 per sale.
And you will be making $3000 per month now. A small conversation boosted your income by $500.
Easy.. 😉
Final words.
Affiliate marketing is one of the most lucrative ways to make money online if you do it in a right way.
It's no less than a real business.
Keep digging to find right products for your market and promote them in a legit way.
Happy affiliate marketing.
Now your turn!!
Do let me know what you learnt from this article. What was new for you and what were you doing already.
Let's meet in the comment section.