Disclosure: Some of the links in this article may be affiliate links, which can provide compensation to me at no cost to you if you decide to purchase a paid plan. We review these products after doing a lot of research, we check all features and recommend the best products only.
As a blogger, you must be knowing the struggles to keep your blog updated and modern. Even a 1% glitch can lose you, subscribers. But then how to cope up with the racing world?
Here's a list of a few of the best plugins that every blog should have.
If you are a blogger, WordPress should not be a new term to you. But if everybody uses WordPress, what would be the thing that would help you to stand out from the crowd? And here comes the need to use Plugins.
However, choosing the best WordPress plugins for you can be very confusing. It is evident from the fact that more than 50000 plugins are available on WordPress alone.
So, to make your task easy, we have sorted some of few top WordPress plugins from all categories.
To put it in simple words, Plugins are programs that allow you to add new features to a WordPress website. Thus, they can enhance the functioning of your WordPress websites by adding new features.
Plugins are written in PHP and work flawlessly with WordPress, which means no matter what feature you want in your Blog, you can easily add a plugin for that without even knowing how to code.
So, if you ever wonder that you are just an average guy and how you can run a successful blog, you must read this article.
WordPress is a great content management system for beginners. It not only has a lot of features of its own but also is free of cost. Now, suppose you did open your Blog.
You also decided to add a plugin, but you may get tens of thousands of free WordPress plugins from the official WordPress plugin directory.
And apart from that, you will also get a wide range of options from the other commercial ones, available from the third-party companies or developers. But, even so, how will you know which are the must-have WordPress plugins for you?
This is why we have selected some WordPress plugins from every category for you to choose from the best WordPress plugins.
Why Plugins for Blogs?
Now that you know what a plugin is, the next crucial step is to understand where and why to use plugins. Plugins, of course, make your work easy, but they must only be used when you need them the most. If you think you can do without it, you should.
Plugins can serve various purposes to your website.
1. Your Every Requirement Can Be Fulfilled
It is said that Plugins can fulfill your every need. WordPress has more than 50000 plugins of its own. And apart from it, there are tons of other commercial plugins available through companies and developers. So, be it for SEO, adding a live chat section, creating membership areas, adding creative tables, building an attractive homepage with a page builder, or literally anything, a Plugin can do it.
2. Helps You to Remain Up to Date
When you first start your Blog, it is not easy to determine which website is suitable to fulfill your future needs. Obviously, every business plan needs modification with time, and so does blogging. But, changing your websites, again and again, is not a very fruitful idea. Thus, plugins are essential to keep you on track with the changing needs.
3. It Is Cheaper
Adding extra features on websites requires hiring a good developer who would do coding to modify your website to add additional features. However, you must be familiar with their high charge.
But instead, if you choose to use WordPress plugins, many are available free of cost. Secondly, even if you choose a commercial plugin, it is a meager cost than hiring a developer. So, you can add extra features as many as you want under your budget and without any hassle.
Best WordPress Plugins for Every Blogger
No matter what your purpose is, there are a lot of options available for plugins. However, not every plugin is safe to use. So, to protect you from unwanted glitches, we have listed the top WordPress plugins from almost all categories. So, have a look and make a wise decision.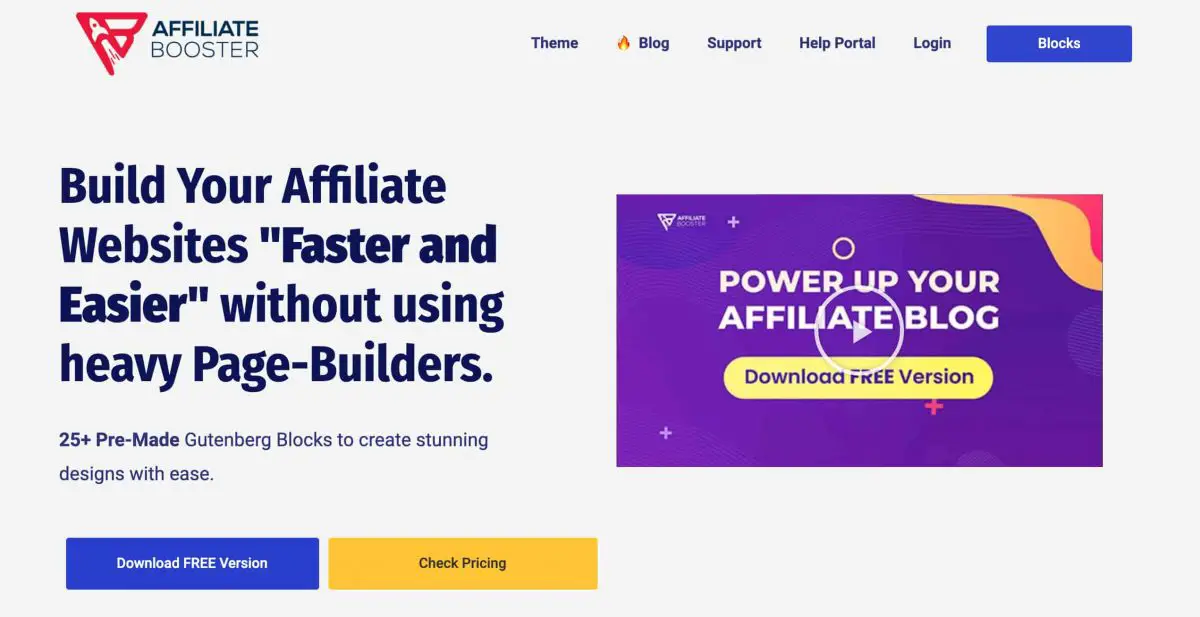 Seasoned affiliates realize that adding the right call to action elements on pages can boost CTRs and subsequently drive more sales. Installing Affiliate Booster is one of the easiest ways to add personalized CTA blocks to an affiliate site.
But that's not all. The plugin comes with over 25 pre-made blocks that can be fully customized to match the theme of your site. The feature-loaded plugin offers content templates to help you show off products and display their pros and cons.
You can also make lists, add appealing star ratings, display progress bars, send the user notifications, and supply the users with coupons that help convert both targeted and untargeted visitors into customers.
If you're just getting started with affiliate marketing, the stunning pre-built homepage layouts will help you get your site up and running in hours rather than in days.
The best part? All of the content blocks offered are built with the default Gutenberg editor. You won't have to install a heavy editor to customize the blocks to your liking.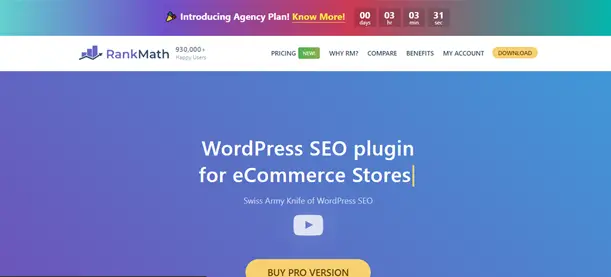 Rank Math is a popular SEO plugin that helps bloggers to get access to every SEO tool that is necessarily boosting the rankings in SERP and increasing traffic. Unfortunately, optimization sometimes consumes more time than writing the content. Thus, to save time, Here is Rank Math for you.
Rank Math is a popular SEO plugin for WordPress that allows you to add Meta Descriptions, Titles, customize Permalinks, create sitemaps, Robots.txt files, and much more.
Because of its multitude of intelligent features, you may now take advantage of top-notch SEO capabilities that were previously out of your grasp. In addition, with the sophisticated automation tools, you have the power of a whole SEO team in a few clicks.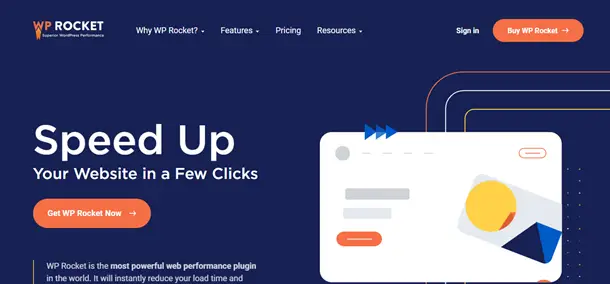 WP Rocket is used to optimize the speed of your website. In addition, it comes with an image optimization service known as Imagify. In fact, it is considered the best WordPress caching plugin available on WordPress.
You cannot deny that even a millisecond delay in loading can lead to a considerable loss of subscribers, including a 7% loss of conversions, 11-12% page reviews, and even up to 16% in customer satisfaction. A low speed can also affect your SEO ranking.
Now you must be familiar with the importance of speed on your website. So, if you think your site lacks it, you can choose a secure option to boost it up.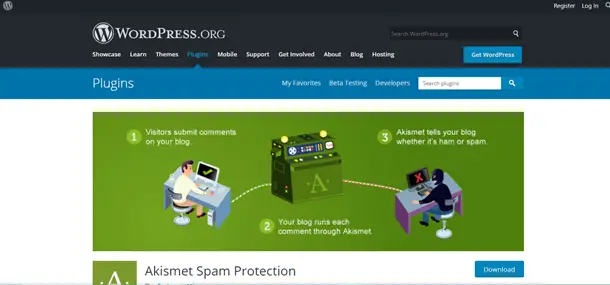 Spam comments on websites are an eyesore both to the visitors and the blogger. Having a lot of spam comments on your website can undermine the quality of your content. And this is why you must use the Akismet anti-spam plugin, developed by Automattic.
It is an official WordPress plugin that helps in preventing every type of spam comment on your Blog. Every new Blog comes with a commenting feature. So, if you want to block such worthless comments on your site, you should immediately use this plugin right after you open your new Blog.
Akismet blocks the spam and unnecessary comments from your commenting section and places them in the trash can. Eventually, the comments get deleted permanently.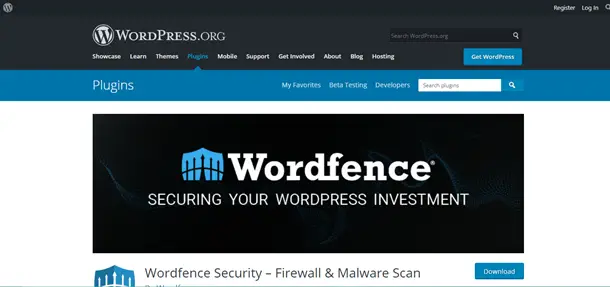 Blogs are an easy target of hackers. So, of course, you need to keep it safe. And for protecting it from hackers, you are going to need a security plugin. You can get ample options in the WordPress directory. But if you are confused about which one to choose, WordFence Security is the right choice.
Security Plugin WordFence, however, is one of the most popular security plugins available. This plugin has many capabilities, but its primary purpose is to protect your site from being hacked. Moreover, they bring updates now and then to protect your site from any latest hacking technology.
Making a blog with themes and features takes a lot of effort. So, all your efforts must be secured somewhere before you choose to experiment with something new. This is the work of UpdraftPlus. It is a blog backup plugin, which backs up your Blog when you decide to change the theme or features of your site.
You don't have to worry about your blog system once you install this plugin. Even if your Blog gets hacked and the system down, you will always find a backup using UpdraftPlus.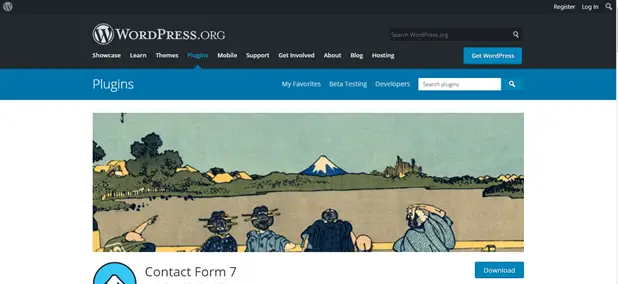 Contact forms are an invaluable way that allows your audience to contact you. But WordPress does not come with contact forms built-in. Contact Form 7 is an open-source plugin that enables you to add contact forms to your website free of charge.
The forms are highly customizable, and Contact Form 7 also allows you to send a personalized subscription confirmation email to every user that signs up. It also provides a referral source that can be useful to track your audience, making it a must-have plugin for every WordPress setup.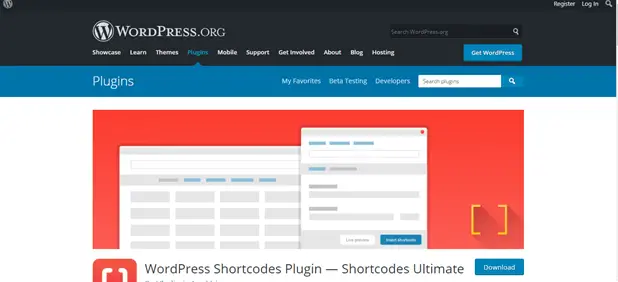 You may utilize Shortcodes Ultimate in the post editor, text widgets, and even template files. In fact, there are many things you can add with the help of Shortcode Ultimate, such as:
Tables
Boxes
Dividers
Videos
Columns
Tabs
Menus
Google Map locations
Sliders
QR codes
The 50+ available shortcodes, one-click insertion, and RTL support makes it the right plugin for WordPress sites for every purpose. The feature-rich free plugin is perfect for blogs.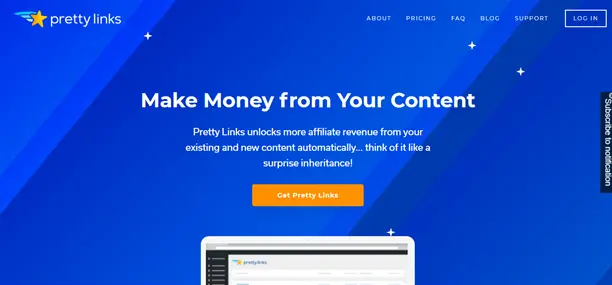 Now, this is a unique plugin. But after knowing its features, you will see why it is a must-have WordPress plugin. Pretty Links is a popular URL shortener, link cloaking, and affiliate marketing plugin for WordPress blogs. It also allows you to shorten, tweak and automatically add affiliate links to your content.
It will help you shorten your links for marketing purposes and give your link a professional view. Aside from increasing your affiliate revenue, Pretty Links will also assist you in monetizing your existing and new content. In addition, the plugin will intelligently distribute your affiliate connections throughout your content.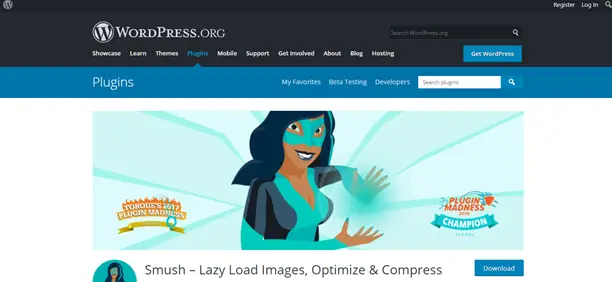 Smush is a free image optimization tool plugin for WordPress. It allows you to freely optimize, resize and compress the pictures you use on your Blog. It is essential to optimize the images you use on your site to keep up with the loading speed. So, this can be a necessary tool for this purpose.
The unique thing about this plugin is that it automatically optimizes the images you put on your Blog. So, there is no manual labor used, which means you are saving your time too.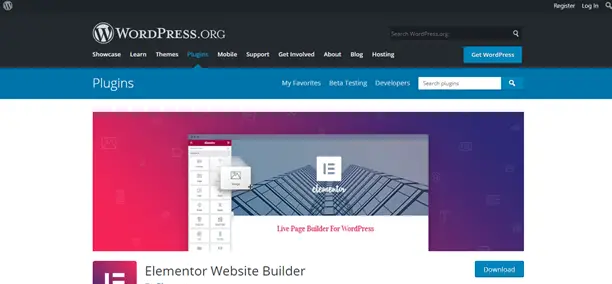 This is among those few plugins you will need right at the beginning of making your Blog. It is a website-building plugin. Elementor is not only helpful in building an excellent-looking blog but can also help make any WordPress website.
Its key features include drag and drop interference, customizable design options, undo and redo options available, and built-in maintenance mode for different circumstances. With the latest WordPress Gutenberg blocks, you can skip the elementor but overall, Elementor gives you a playground to play with different blocks.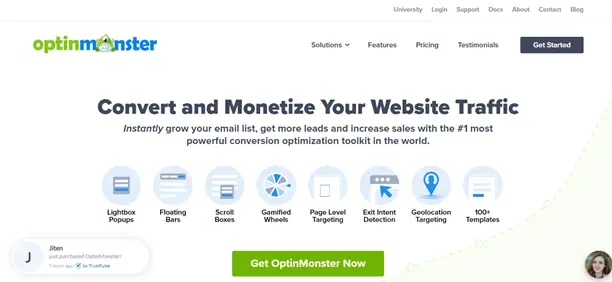 Transforming your audience to subscribers is not very easy. This is why, OptinMonster helps bring subscribers through pop-ups, slide bars, and other notification features to attract your viewers.
OptinMonster is the most significant WordPress lead generating and conversion optimization plugin. It helps you to develop stunning opt-in forms to turn your abandoned blog readers into subscribers.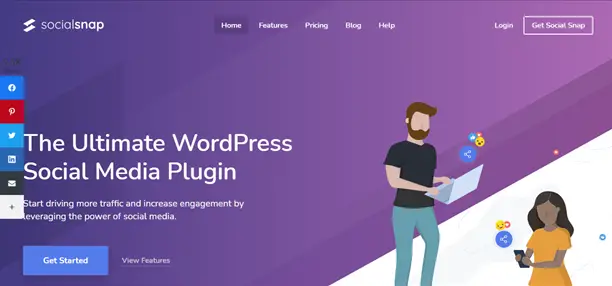 These days, social bookmarking is crucial to getting a position in SEO marketing. You can do this by putting the social media sharing option in the right place because when the sharing options are reachable, your audience is more likely to use it. So, this is precisely what social snap takes care of.
It is the most popular and best social media sharing plugin available. It has all sorts of preferences, including Facebook, Instagram, Twitter, Reddit, etc.
Things To Consider Before Installing Any Plugin
As has already been mentioned above, installing a plugin is not a necessity. Use it only when it's highly needed. If you think your WordPress can do a particular function without the plugin, avoid using it. Just like its wondrous pros, it has a series of cons.
It cannot be classified as cons, but you just need to be more careful before using plugins, and it can bring about many uninvited problems to your website.
1. Compatibility
One of the reasons why WordPress is so popular is because of the large number of available plugins. Unfortunately, due to a large number of third-party plugins, you may occasionally run into compatibility issues. A WordPress plugin check can help you uncover these issues. Learn how to do it.
The compatibility of a plugin is how perfect it fits your website. An ideal plugin does not cause any additional problems to your website. But then, how do we find the compatibility of a plugin? It's simple. You need to follow a few easy steps:
deactivate one of your recent plugins,
check your website for the features that were previously not working
If you find that the features are working, then your plugin might be a faulty one. But if you see no changes, then your plugin is more likely a friendly one.
2. Reviews
This is the most critical aspect before getting a plugin because let's be practical, it is impossible to install and uninstall plugins to check if they are good. So, it's better to take precautions beforehand.
So, to understand the usage of a plugin, you may refer to the reviews section. It will help you to know about others' experiences with the plugin. Mostly every plugin is transparent and has a review section.
If not reviews, rating options are available. You can check the ratings to know the potential compatibility of your plugin. While using a plugin, you can also submit your ratings and reviews about your experiences to help other WordPress plugin users.
3. Last Updated
Updating a plugin is also essential. Let us tell you why. First, updates help to keep away the malware that otherwise can infect your website. Moreover, do you know outdated plugins can throw your site in maintenance mode?
An internal server issue can occur as soon as you activate an obsolete plugin that is no longer compatible with the newest WordPress updates. So, we suggest you must stay away from plugins that waste even a second of loading time.
One of the most convenient features of WordPress is that it notifies you every time a new version of a plugin is available. However, if due to any reason you are not able to update the plugin from the WordPress Dashboard, you can login to the Cpanel of your Web Hosting, and from File Manager, you can copy-paste the new files of the plugin.
If you are using VPS or hosting that does not support Cpanel, you can use the FTP client to update the WordPress Plugin.
Don't you worry! To help you out, we will guide you on how to update a plugin via FTP Client:
Download the plugin in a zip format.
Extract the plugin folder from the zip.
Your site's server can be reached over FTP using a File Transfer Protocol (FTP) client.
Finally, if you're updating a plugin, navigate to the plugin folder and delete it.
Next, find the folder you just downloaded and click on 'Upload.'
Make sure to check the functionality of your website after introducing the new update.
4. Security & Vulnerability
If you are downloading WordPress from its official site, you can be assured of your website's security. However, many independent sites provide download links for Paid WordPress plugins. So, if you decide to download paid plugins for free from such independent sites, you are most probably inviting risks to your website.
But the good news is, you can avoid these scams. Just make sure to do your homework before downloading plugin files from any anonymous sites. You can check its reviews and rating on its official site. You can also look for the proven track record of the site before trusting it.
Frequently Asked Questions
How Many Plugins Should We Add to The Blog?
There is no bar to use plugins on your website. You can use as many plugins as you need. However, until you are using valid and licensed plugins sponsored by WordPress, your website is in safe hands. Just keep one thing in mind, if you think you can do a function without the plugin, avoid using it.
Can I Use Free Plugins on My Blog?
Yes, all the WordPress plugins are free to use by any bloggers. So, you can use them free of cost. But, if you are using any commercial plugin by a developer or company, you might have to pay. 
Where To Find WordPress Plugins?
To get free WordPress plugins, you can visit the directory section of WordPress.org, or you can search for them directly in your WordPress admin area by going to the plugin directory. Next, click the plugin option, add a new page, and start by searching the plugin name. 
Best WordPress Plugin for Blogs: Conclusion
The article has brought to you every type of plugin you will need as a beginner. Starting from the designing tool to the speed-boosting plugin, the list contains everything.
So, if you were nervous about starting a blog and were confused about the best WordPress plugins, your doubts must be clear by now. So, what are you waiting for now? Start your Blog and touch the sky.