Disclosure: Some of the links in this article may be affiliate links, which can provide compensation to me at no cost to you if you decide to purchase a paid plan. We review these products after doing a lot of research, we check all features and recommend the best products only.
What are the best times to post on different social media platforms?
If you're like most marketers, this question must have crossed your mind.
Social media has brought the world closer to us. While it is providing people with a plethora of opportunities to connect, it is also giving marketers a chance to engage buyers.
Platforms like Facebook, Instagram, Twitter, LinkedIn, Snapchat, and others have become the goldmine of engagement, where brands try their best to catch the customer's attention.
But ever wonder why some brands shine on social media while others don't?
It turns out a lot has to do with their social media posting schedule.
You might be doing everything correctly regarding your content by spending time crafting a powerful message, designing the best graphics and more, until you finally decide to post it.
But when do you post it? Should you post on all platforms at the same time?
The answer is NO!
You need to understand a specific platform's algorithm to maximize your reach and make your campaigning efforts worthwhile.
So look out for the best times to post on different social media platforms if you're looking to make the most of your social media marketing efforts.
The importance of choosing the best times to post on social media.
When you look up the best times to post on social media on the Internet, you'll find many posts to read. But before you hop onto just picking something randomly and testing it for your business, you must understand its importance.
Understanding the Platform Algorithm
The idea is that every social media platform runs on an algorithm. It analyzes the content you post, and then, based on several parameters, they are pushed to your audience.
That's where the relevance of time comes in. Most social media algorithms prioritize recency when ranking posts. This means posting your content when your followers are online is one of the best ways to achieve higher engagement.
While you must refer to the best times to post on social media platforms, you also need to dig into your industry-specific standards.
Organizations present their findings according to the engagements received by their followers. This doesn't have to be the same for your business. Remember that the absolute truth about the best timings will always be hidden in your data.
Understand the Platform User Behavior
As we said, you can use the industry benchmarks as a starting point. You can test these on your new account and observe the trends.
If you're doing it more professionally, for a well-established audience, dig into your data. The best times to post on social media are directly related to your audience's behavior.
For example, if you post something at 11 am on a Monday and get a high engagement, it means that your audience was live on the platform.
Similarly, you post another update at 9 pm on a Saturday on Facebook to find that it failed to get even ten likes,
Here's what you can learn from this experience:
Monday 11 am is one of the best time when you can catch the eye of your audience.
The more engagement you receive on these posts, the more time you can leverage to post a similar type of content.
Saturday 9 pm is probably one of the worst time for your brand. Make sure you do not let your efforts go to waste at this time.
Targeting the Right Audience
The best times to post on social media come in handy when you want to target your audience. Since you're preparing campaigns to post on different platforms, you may want to reach out to the right people.
That's how you will increase your sales and platform signups, whatever your conversion goal might be.
So, if you continue to post at the wrong hours, in spite of having a good base of followers, you're wasting your efforts. Similarly, you're also not providing your followers with the content and engagement they want from your band.
Comparison Table Showing the Best Time to Post on Social Media for Different Industries.
| | | | |
| --- | --- | --- | --- |
| Platform/Industry | Facebook | Twitter | Instagram |
| Consumer Goods | W 1PM, F 11AM | Su 11AM | W 3PM |
| Media | F 7AM, Tu 6-9AM | M 6-9AM, Tu 7AM | Tu 1-5PM, W 11AM, The 8-9 AM |
| Education | W, Th 10AM | M 6-9PM, Th 10AM | F 4-5AM, The 2PM |
| Non-Profits | W 10AM-5PM | W 10-4PM | W 10AM-6PM |
| Tech | Th 3-4PM | M-W 11-2PM | M-F 10-2PM, 8PM |
| Healthcare | M-F 11AM | M 9AM, Tu 8AM-Noon | Su-M 8-9AM |
| Finance | W 9AM-1PM, M 5PM | M-T 1-3AM, F 3PM | F 11AM |
| Entertainment | Tu The 12-3PM | M 6-9AM, Tu 7AM | Tu The 12-3PM |
Factors that Influence the Best Times to Post on Social Media
Social media algorithms are behind the success and failure of your marketing campaigns. But, they are not a black box. There are several factors impacting the relevance and reach of your campaigns. Take a look at some of these below.
Time Zone
One of the most significant factors that impact the best times to post on social media is the time zone. If your audience is residing in a geographical location that falls under a different time zone than yours, you have to keep that in mind while posting content.
If you post as per your time zone, your efforts might get wasted.
For example, you might read that the best time to post on Facebook and Instagram is 11 am. To try this, you create an engaging campaign and post it at the aforementioned time.
When you come back to check your engagement levels, chances are you're where you left! It turns out that your audience is residing at a 12-hour prior time zone to you, where it's just 7 in the morning. To avoid this, start by studying your customer personas.
The Social Media Platform
Different social media platforms are used for different purposes. Your customers might go to Facebook to engage with brand posts, Instagram to share pictures, and LinkedIn for business information and to build professional relationships.
Social media platforms specific algorithms, designed based on their purpose. And you must take note of this point.
That's why you'll see there are separate best times to post on Facebook, Instagram, LinkedIn, Snapchat, etc. Make sure you pay attention to your audience's behavior specific to a particular platform.
Audience
Needless to say, the best time to post on social media depends on your very own audience. You can get started by taking the industry bests as a reference and conducting tests from there.
Plan your posts for a week or two and schedule them in advance. With every post you update on social media, you'll get insights.
This will tell you how your audience is reacting to your posts. If you see your engagement growing at a specific time and day, you'll know it's the one!
Niche
The nature of your industry has a lot to say about the best time to post on social media. This comes from the fact that customers in a specific industry react in a similar manner or have quite similar social media usage patterns.
You can leverage this fact when you know what the best time to post on social media for your industry is. By understanding your industry, you also understand the customers who can be easily reached through your campaigns if you post at the right time and day.
Best Time to Post on Facebook
There is no denying the fact that Facebook is one of the most used social media platforms in the world. This means that when you post on the platform, you have an opportunity for clock engagement.
However, there are specific times that you need to know about that will help you give a boost to your strategies.
While weekends, late nights, and early morning were not popular earlier, they have started gaining pace in more recent times. With this in mind, if you post around these times, you can easily catch your customer's attention, especially when they are about to doze off or just relax.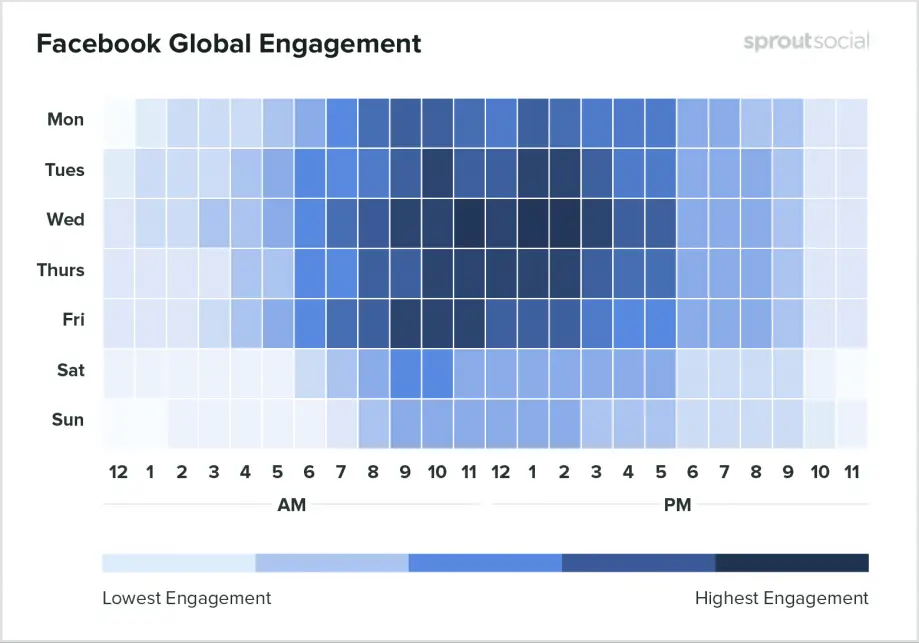 According to various research, following the global best times to post on Facebook.
Best Times to Post: 9 am to 1 pm on Tuesdays and Thursdays.
If you are planning to post regularly, 11 am is also the most opportune time from Monday to Friday.
Best Days to Post: Tuesday, Thursday, Friday
It is always advisable to post during the times when people are catching up on their newsfeed. For example, people quickly scroll through their social media in the morning before gearing up for work. Similarly, they catch up during lunch hours.
The timings mentioned above are perfect for a global audience. If you're someone who is targeting markets in the USA, UK, and other countries, these timings should serve as a good starting point to build upon your engagement.
Similarly, weekends are considered one of the worst days to post your content. One of the reasons behind this is the attention of the customer, which might be diverted during this time in other activities than their regular routine.
Now, let's take a look at some industry-specific times for Facebook.
Best Time to Post on Facebook for Consumer Good Ads
Consumer goods are undoubtedly one of the most popular industries on Facebook. With the marketplace helping customers shop effortlessly, it is a great opportunity for garnering engagement.
Best Time: Wednesday 1 pm, Friday 11 am
Best Day: Wednesday and Friday
Best Time to Post to Facebook for Media Engagement
Facebook and its subsidiary Instagram are two of the hottest platforms when it comes to media engagement. Be it general news or entertainment-related updates audiences are quite reluctant to gain more information in the least amount of time.
So, while you take the best times and days into consideration for the media industry, make sure you're also aware of the betting content.
People looking for news need not spend a lot of time in one sitting on social media. Instead, they'll check the frequency and would want more accessible news.
Best Time: 6 am to 9 am Tuesday to Friday
Best Day: Tuesday to Friday
Best Time to Post Educational Materials on Facebook
Facebook is a great opportunity to engage your customers in the education industry. You can attract students, alumni, and teachers to keep them up to date about each other and the latest trends.
Best Time: Wednesday to Thursday 10 am, Monday between 6–7 am
Best Day: Monday, Tuesday, and Wednesday
Best Time for Non Profits to Post on Facebook
Nonprofit organizations have plenty of opportunities as they find their audience in almost all spheres of life. But you still need to keep up with your social presence to help the needy on time and send out messages actively.
Best Time: Wednesday 9 am-5 pm, Monday 6-10 pm
Best Day: Wednesday
Best Time to Post Tech on Facebook
When it comes to technology, Facebook's Instagram is one of the best platforms. However, Facebook can also provide ample chances for your brand to stay connected with its customers.
Best Time: Thursday 3–4 pm, Wednesday 12–3 pm
Best Day: Thursday
Best Time to Post to Facebook for Healthcare
Healthcare is one of the biggest industries across the world. A lot of challenges follow in this industry along with its services.
For example, providing the right information to people who are constantly looking for updates regarding a disease or vaccine is of utmost significance.
Especially with the growing work-from-home culture, a lot of healthcare audiences are reluctant to find updates about the latest healthcare reports and facilities.
Best Time: Monday, Tuesday, Thursday, Friday 11 am
Best Day: Tuesday
Best Time to Post Finance-Themed Content on Facebook
With each passing day, people are looking for more insightful advice related to Finance. This makes Facebook a great platform for you.
Best Time: Wednesday 12 Noon
Best Day: Wednesday
Best Time to Post Entertainment on Facebook
If there's one thing that is hard to miss out on Facebook, it's entertainment. Just like media, entertainment is also a great industry to garner engagement.
Best Time: Tuesday and Thursday 12 pm-3 pm
Best Day: Tuesday, Thursday, and Friday
Best Time to Post on Twitter
Since Twitter is a rapid source of information, people love going to the platform frequently. If you're in the news and entertainment industry, it is an excellent platform for you.
Best Time: 7 am- 9 am
Best Day: Wednesday and Friday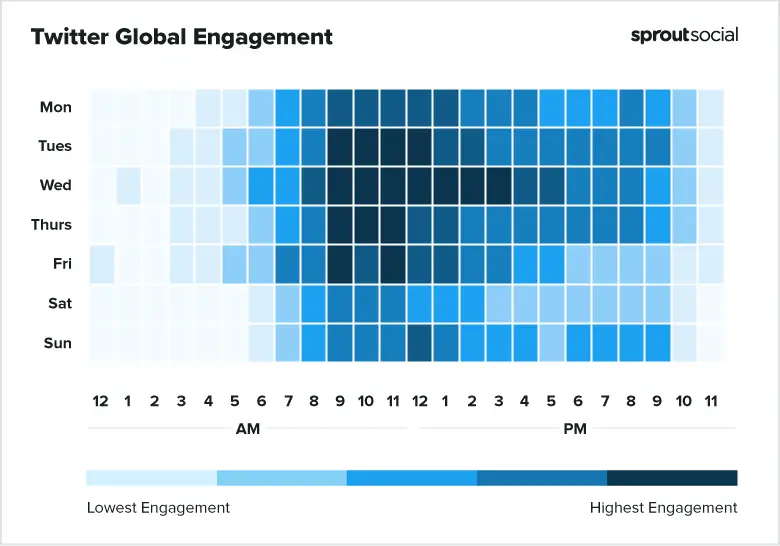 Best Time to Post on Linkedin
LinkedIn is a professional network which is why you can leverage it for interacting with business candidates, other organizations, salespeople, etc. Usage patterns suggest that people use the platform during the workweek.
Best Time: 8 am-10 am on Wednesday and Friday, 1 pm-2 pm on Thursday
Best Day: Wednesday, Thursday, and Friday
When is the Best Time to Post on Instagram?
Instagram has been one of the most widely used platforms in recent years, ever since it picked up pace in 2000. Today the platform allows you to upload a variety of media through feed posts, IGTV videos, reels, and more.
All of this presents an excellent opportunity for brands to reach out to their audience. With customers spending a significant amount of time on Instagram, weekdays become dense for superior engagement.
Similarly, weekends and evenings are opportune for brand engagement with attractive graphical posts.
Best Time: Monday to Friday 11 am, Tuesday 11 am-2 pm
Best Day: Tuesday, Friday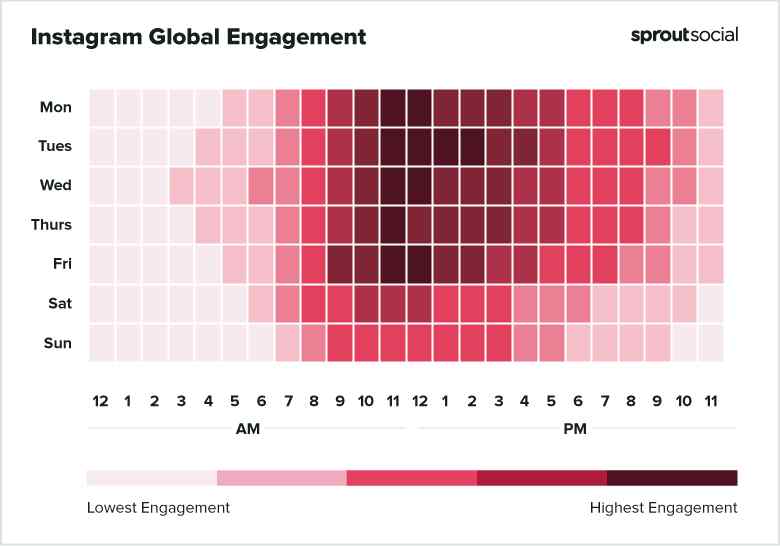 What is the Best Time to Post on Instagram on Friday?
Friday is one of the best days to post on the platform. You can take 11 am as the best time for the day on Instagram.
What are the Best Days to Post on Instagram in the Week?
Even though Tuesday and Friday are the best days to post on Instagram, you can also plan a daily schedule considering the greater inclination of users towards the platform.
The point is that people love to see beautiful graphics instead of written statements. And Instagram capitalizes on this opportunity.
Best Time to Post on Instagram on Sunday?
Even though Sunday is not the best day to post on Instagram, if it's still in your marketing campaign, you can try between 9 am – 3 pm.
Best Time to Post on Snapchat
Snapchat is another popular social media platform where users love to go for its interactive features. Even though you can post on any day, aim for late nights. 10 pm is one of the best times!
Best Time to Post on Tumblr
Tumblr is a good platform if your target audience consists of teens and millennials. Since this segment of customers accesses the social media platform on their phones, you must draft your campaigns keeping that in mind.
Best Time: 10 pm
Best Day: Saturday and Sunday
Best Time to Post on TikTok
TikTok is one of the few apps that people use on a daily basis. While you can post on any day of the week, you should aim for morning and work hours. One of the reasons is because people love sharing interesting videos with their peers, striking everyone with the trend.
Best Time: 6AM-10AM, 7PM-11PM
Best Day: Wednesday and Friday
Other Tips to Choose the Best Time to Post on Social Media
Now that you know about the best times to post on social media, get started with your plan. Make sure you add platform-specific elements like hashtags that help enhance your reach.
Post When Your Audience is Active Online
Social media platforms push your recent posts more than anything else. If you're wondering why that's because people care more about what's new on the platform. For this reason, you must post when your audience is active on the platform.
As they hit refresh or frequently come back to check for newer posts, your campaign will be at the top of their feed.
Put simply, posting when your followers are active is a great way to walk hand in hand with them. It also means you're leveling up with the algorithm.
Keep Track of Your Best Performing Posts
No matter which social media platform you're using to market your brand, you'll get insights related to your posts.
For example, Facebook shows you a detailed engagement insight for all your posts. Taking a data-driven approach can help you not just optimize your marketing strategy but also leverage social media platforms in a better manner.
Alternatively, if you are using some analytics tool, you can find your most successful posts by looking at them.
Higher post-interaction
Likes/impressions
Shares on the platform and cross-platforms
Conversions
Once you make a list of your most successful posts, you can easily look at the times they were posted. Forming a list across all platforms can help you make a decision about the best times to post on social media.
Compare the Competition
When in doubt, look at your competition. Market competition can help you understand what is trending and why. When you look at your competitor's social media strategy, you can see what kind of posts they are posting and at what time.
You can easily unravel the patterns and leverage them to your business's advantage. It's always a good habit to keep an eye on your industry and the key players in them.
You can test your learnings on your audience and analyze the results for optimization.
Consider Your Audience's Time Zone
If you want to catch your audience during the time they're traveling to work and try to grab a sneak peek of their feed, an 8 am schedule makes sense.
On the other hand, if you're trying to garner engagement from an overseas audience, you need to stay aware of their time zone.
This creates a problem for brands who are sailing on two boats. If you post as per your foreign audience's schedule, you might miss out on your local users.
One way to manage this situation is to create a separate handle for your audience in a different time zone. Then schedule your posts in advance so you don't miss out on anything.
Monitor any Behavioral Changes
While you keep posting on a regular schedule, it is also important to know when the trends change. It is likely that your customers change their behaviors over time, which is also the biggest reason behind studies turning outdated.
It is natural that habits change with time. Make sure you are diligent enough to spot the change and prepare in advance. Most successful marketers look at their weekly post insights to position their upcoming posts.
Conclusion
No matter what websites claim, there is no hard and fast rule when it comes to finding the best times to post on social media.
It depends on a number of variables that include your industry, audience behavior, time zones, past performance, among others.
Make sure you do not end up making this mistake of sticking to a strict time forever. Keep analyzing your data and pay attention to your audience's behavior. Remember that the true win for social media lies in optimizing your strategy from time to time.