Disclosure: Some of the links in this article may be affiliate links, which can provide compensation to me at no cost to you if you decide to purchase a paid plan. We review these products after doing a lot of research, we check all features and recommend the best products only.
Not sure what URL shorteners are and why you need them? We could give you a hundred reasons why. Take a look at some of the best URL shorteners to use in March 2023, their features, pricing, and more.
Let me give you a minute to think about the sites you came across since morning. You'll realize that most of them have shorter links. For instance, if you check any news article, you can see the site's link constitutes https://new.s/ltst
Why is it like this? Most news portals invest in link shorteners so they can have better insight into a target audience.
A shorter URL is easier to read, memorize and type. Moreover, a short URL has a better click-through rate compared to a long URL.
It is easier to share in prints magazines, flyers, posters, and business cards. To shorten the links, you can use a URL shortener; there are numerous options available from which you can find the one that caters to your need.
If you are in search of the best URL shortener to use in March 2023, then you are in the right spot. We can help you to find the best URL shortener to use in March 2023.
Shortening the URL these days allows you to track your growth metrics too. You can track how many users are engaging with your website.
For example, this is how a long URL looks like: www.bestpaidtools.com/highest-paying-affiliate-programs/
It is hard to memorize, and you can't put it in any business cards, as it is hard to type too.
Now see this URL bit.ly/highestaff which will take you to the same webpage but it is easy to remember and can be mention on business cards, posters, flyers, etc.
Some of the social media apps like Twitter have their URL shortener t.co shortening service. This helps decrease the length of the URL link to fit easily in the microblogging site.
If you are stepping in with a product in the market, the first and foremost thing you should have right is a domain name. The link should not be long enough that the domain name gets lost with the HTML tags.
Why Need A URL Shortener?
A URL shortener helps shorten links. You can shorten a link to fit the character limits of social media posts, messaging apps, and Google Ads. However, some social media sites help you in shortening the URL links. For instance, if you use larger links on Twitter, it automatically shortens the link.
Another good aspect of using a URL shortener is you can have metrics and analytics of click tracking. For example, when someone shares the long link address, it is hard to know who clicked the link, whereas when you use an URL shortener, you can get information about the visitor. For example, you get to know how they landed on the site and what device they are using.
A famous marketing quote by Seth Godin- "Everyone is not your customer," is why you need to have data on who your customers are. The more detailed analytics you have, the better service you can provide.
URL shortener helps in making your marketing premium with as much data as possible. The URL shortener allows you to have different URLs for different devices or places to serve different people.
The URL shortener that allows you to customize the URL is the best ones; you get to have different URL links that you can use for various social media posts. This will help you compare the click-through rates from the ad campaign on different social media posts.
10 Best URL Shortener to Use In March 2023
1. Bitly
Bitly is the most popular URL shortener. If you want to shorten the link for business purposes, Bitly is the URL shortener you must use. It creates recognizable short links which are easy to remember.
The process of creating a shorter link in Bitly is easy and convenient. You do not require to create an account to access the URL shortener. You can shorten the large link by pasting the link address to the home page and click Shorten and Voila! Your link is shortened.
The image shows how to shorten URLs. First, you put the link in the box and click "shorten".
Bitly gives more profound insight into a target audience that helps the business. As a business owner, you would refrain from making mistakes that cost you dollars and not produce any conclusive results. Instead, Bitly helps you make data-driven smart decisions. Bitly is known for small businesses and individuals.
Pricing:
Bitly has three types of plans:
Free
Basic: $29 per month
Premium: $199 per month
Customized: Quote based plan
2. TinyURL
TinyURL is a free URL shortener. TinyURL shortens the link that never expires. It has been in use since 2002. If you are in a rush and want to create a URL without much effort, then this is a place where you should land.
Copy the URL you want to customize and then paste it into the box. It shortens the second half of the URL. Click on make link shorter. The larger links shorten, and it is ready to use. It is safe to use the URL link for business purposes.
TinyURL is a short link generator that shortens the link by clicking on "Make TinyURL." TinyURL is the cool link shortener that allows you to preview the link beforehand to avoid any wrong redirects.
Pricing
It is free.
3. Rebrandly
Over 20,000 users trust Rebrandly for shortening links. It is a URL shortener that can brand custom links, track performance, or integrate other platforms seamlessly. Rebrandly offers five free custom domains.
The custom URL shortener helps in better reach the brand name. With a custom URL shortener, you can customize the whole link, not only just the second half of it.
Rebrandly has three price plans for individuals and two for small businesses. This shows Rebrandly primarily focuses on small businesses. However, it offers marketing solutions to small businesses that have the potential to grow. Features of Rebrandly are:
Link Management provides QR codes, fast redirects, and custom URL shortener to enhance user experience.
Traffic Routing: 301 SEO redirects, link retargeting, and deep linking so users can easily access from any device.
Analyzes UTM builder, marketing campaigns, and audience reach.
Pricing:
Basic free plan: Clicks per month 5000
Individual Starter plan: $29 per month
4. Shorby
Shorby is not just a regular URL shortener. It has the upper hand in customizing the link for Instagram. It is designed with the "the link in bio" rule. The Instagram users put backlinks on the bio; most of them are short links easily clicked on.
Be it a link to a blog post, YouTube video, or podcast. Shorby makes it easier to link with shorter URL links. Features of Shorby URL are:
Connectivity- It lets you integrate other platforms and provides data about the connection you made. Shorby enables you to connect to apps like Messenger, Skype, Facebook, and others.
Custom Domain- Shorby is a custom URL shortener. Moreover, you can build customized landing pages with a custom domain name.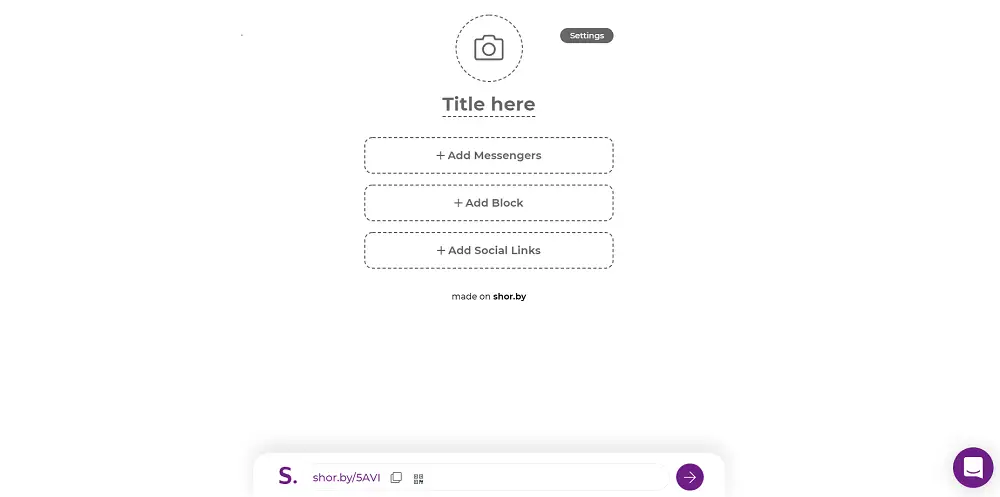 The image shows the link shortening page of Shorby. It shows how to shorten URLs and integrate social links.
Pricing:
The pricing of Shorby starts at $15 per month. It has four different plans that go up to $29 per month.
5. Short.io
Most URL shorteners provide you with information about the target user, but this URL shortener goes above and beyond to help you own the marketplace. This URL shortener helps in customizing the link for target visitors. It enables you to create different links for different devices and locations.
So, if you want to target visitors from America and Canada and for them to see the right kind of dollar while visiting the product site, it makes sure people can do that. Some of the features of Short.io are:
Analyzing the links and real-time data.
Short.io is for large businesses.
It analyses route traffic. With this, you have data on link retargeting, geographical location, and track traffic from different pages.
Pricing:
The free plan offers 1000 branded links and 50,000 tracked Links. You can also get the feature of device targeting. The personal plan starts at $20/month for 10,000 branded links and geo-targeting for premium service.
6. Soo.gd
Soo.gd is a free URL shortener. You can copy the long URL and put it in the dialog box to cut the suffix of the URL. However, it does not come with the benefit of analytics. On the other hand, Soo.gd is easy, simple, and quick.
You can customize the suffix with Soo.gd. Moreover, you can also edit the custom-coded suffix. It can generate custom links, and you can embed the keyword in the links. This helps you to track traffic and analyze the organic result of the keyword. It not only shortens the link but also produces an URL link that you can edit.
This is the homepage of Soo.gd. It shows how to shorten the URL and where you need to put the link address, and the suffix. After that, it shortens the link within seconds.
Pricing
It is a free link shortener.
7. Tiny.ie
Tiny.ie is another easy-to-use URL shortener. Tiny.ie has an array of features that allow you to shorten the link and create a better website. Tiny is made for results, and you can do A/B testing for tracking the conversion rate. The shorter link garners better results and checks which destination URL is best for ROI.
Tiny.ie not only helps in shortening the link, but it also helps in tracking the target audience and from which location or device conversion happened. This way, you can optimize the marketing and advertising in the right place. Some of the features of Tiny.ie:
It can create call-to-action with ease.
Custom short link.
Geo-targeting, so you can segment your site according to country or state.
Retargeting customers, convert the audience who visited your site on social media.
Link shortening can make the site vulnerable, but you can get a secured data vault with Tiny.ie.
Pricing:
It offers a 14-day free trial. After that, there are three plans.
Starter plan: $19/month
Growth: $49.00/month
Pro: 99.00/month
8. Cuttly
Cutt.ly is a 100% free URL shortener. It is one of the best marketing tools as it lets you understand the click-through rate of your link. Cutt.ly does not integrate with other software or platforms. It does not even integrate with Zapier, although it offers API access.
Cuttly is perfect for business management. It offers you QR codes for the shortened link generated. You can get to preview the link and have user protection to keep it away from suspicious sites. In addition, you can learn more about link tracking and statistics. Here are some of the features of Cuttly:
Custom domain: You can own the domain links. Make your brand powerful with a custom domain.
You can change the URL after the domain name with the help of backslash.
It shows the statistics and analytics of the link. It provides information based on click-through rate, geographic location, and browser location.
Pricing:
The basic plan is free. There are four plans which offer different services.
Single plan: $25.00/month, it offers up to 5 branded domains
Team plan: $99.00/month, offers ten branded domains
Team Enterprise: $149.00/month
9. Linkly
Linkly is a URL shortener that allows you to create custom short target links. The shortened link has branded links that redirect to the website page. You can use Linkly with simple steps. First, signup/login, then on the left-hand menu, click "Create New Link."
Linkly can track up to 1000 clicks per month for free. Create a trial-free Linkly account without a credit card and benefit your company with its features. Some of the features of Linkly are:
It creates beautiful, colorful charts to show the results of each link.
Retargeting and targeting from different social media sites.
Advanced features include geotargeting and link rotators.
Pricing:
Basic plan: Free for the first month.
Plus plan: $29/month. The plan activates after a month.
10. ShortURL
ShortURL puts the focus on branding to create personalized and short URL links using your domain. While analyzing and tracking, ShortURL does a marvelous job. It tracks data from the country, date, time, and device through which the user visited the site.
As you can see in the image, ShortURL is straightforward to use. Here are some features of ShortURL:
Short and simple: It is simple, fast, that reduces the length of long URL links.
Secure: ShortURL has an encrypted service with HTTP protocol, so your site is secured from hackers.
Statistics: You can track the marketing metrics with a short link generator.
Frequently Asked Questions
Is URL Shortener Safe to Use?
Yes, the URL shortener is safe to use. However, there is some security risk associated with shortened URLs. Shortened URL links are vulnerable and easy to attack for hackers. The visitor of shorter URL does not know where they are redirected clicking on shortened URL. It is on the trust of the sender of the link. In some organizations, it is advised to refrain from the site which has shortened URL or is blocked at network gateways. 
Are URL Shorteners Free to Use?
Yes, there are URL shorteners that are free to use. The URL shortener which is free to use. Cutt.ly is 100% free. Bit.ly offers a free one-month plan. Rebrandly offers free service for a month. TinyURL is also free.
Can I Track My Audience?
You can track the audience with a shortened URL link. For instance, if you use Bit.ly for the URL shortener, you can add a "+" at the end of the URL. Enter the link address on the home page. After this, click enter, and it will show you data and metrics about the visitor on your site. You can get information like IP address, Referrer of the site, Language.
Can I Use Custom Domain for Short URL?
Yes, you can use a custom domain for a short URL. Custom Domain is the unique branded name that is used to identify the website. The custom domain is also known as Vanity URL or premium URL. The custom domain name appears on the address bar of the browser. URL shortener offers the service to create a custom domain name.
Best URL Shortner: Conclusion
A URL shortener helps you to convert a long URL into a short and crisp URL. You must know what your needs are and then select the right URL shortener as different tools offer different features.
If you want a free URL shortener, then pick Cutt.ly, Short.io, or TinyURL. These are the best URL shortener to use in March 2023. These free shorteners are ideal for brands.
For casual use, you can pick Rebrandly, and for premium, custom links, choose Linkly or Bit.ly.
Whether you are looking to shorten the long URL or track the site's performance, you must use a URL shortener.