SiteGround Black Friday Deal 2023: MASSIVE 77% Discount on Web Hosting 
SiteGround Black Friday Deal
MASSIVE 77% Discount
Start Date: 24th November 2023
End Date: 4th December 2023
Need to get your hands on the SiteGround Black Friday Deal? You're on the right page!
In this post, I'll take you over everything there is to know about the special 77% discount SiteGround issues on Black Friday and Cyber Monday.
However, before I get into that, I'll briefly review SiteGround to see if hosting your website with it is even worth considering.
After all, you must learn if the company's services are reliable before spending any hard-earned money.
SiteGround Black Friday Sale 2023 Review
#1 SiteGround Features
SiteGround now uses Google Cloud Platform to host all of its customers' websites, making it faster than ever.
It bests its competitors by offering a robust suite of features that many other web hosts charge for separately.
SSL certificates are free for all websites that sign up with SiteGround.
There is no malware scanning service, but the company continually works to secure customer websites at the server and application level, which decreases the risk of getting hacked in the first place.
A backup of your website is made every day, and it is stored for 30 days.
If you get the company's managed cloud hosting plan, backups are only stored for a week, which isn't a dealbreaker but certainly something to note.
If you choose to get WordPress hosting, software and plugin updates will be managed for you – it's like switching your website to autopilot!
The company offers domains, but they're not free to use, even for the first year.
However, Cloudflare CDN comes baked into SiteGround's backend, and you can use it for free.
One of the best things about SiteGround is that you can create a staging copy of your website in three clicks flat.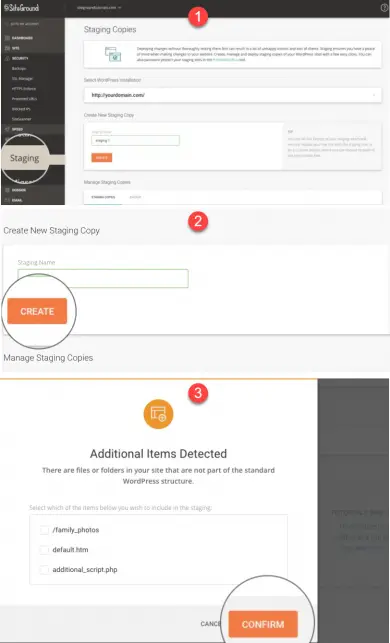 StartUp plan users don't get access to the staging feature, which is disappointing.
But it's not all bad – all users that host with SiteGround can configure email addresses with their domain, which is something not every host allows.
The white-labelling feature enables you to free your website from SiteGround logos, and the built-in caching features are another big plus.
#2 SiteGround UI
For over a decade, the primary way SiteGround users would configure and maintain their website was through cPanel.
But in late 2019, the company replaced cPanel with a custom-built interface dubbed "Site Tools."
It's easy to navigate and a lot more vibrant. But the main advantage of the upgrade is that it enables users to add "Collaborators" to their site.
These can be clients or designers who work on your website, and the feature helps ensure that you're always in control.
Working with a team or showing your website off to clients is much easier and safer since everything they do on your website is logged.
The new interface added a site shipping feature, which transfers site ownership to a client effortlessly.
Lastly, and what I like most about the interface:
It's mobile-friendly, making managing sites on the move super easy.
#3 SiteGround Support
SiteGround's award-winning support is one of the biggest reasons it continues to grow.
The company offers support via live chat and a support ticket system and allows users to connect with experts over the phone.
The best part about the phone support line is that you can speak to a real person about your problem in less than two minutes – and that counts for a lot when your website is down.
The knowledge base is always kept updated and covers every one of SiteGround's features. You will find the answers to most of your questions, including how you can install your CMS of choice on your website.
#4 SiteGround Pricing
The company offers four plans and has several tiers for every plan.
The regular, WordPress, and WooCommerce hosting plans have the same three tiers: StartUp, GrowBig, and GoGeek.
They have the same prices across plans: $14.99/month, $24.99/month, and $39.99/month.
The plans are discounted for first-time users, but during the SiteGround sale, they drop down to as little as $2.98/month!
The vast difference in price is what makes waiting for the Black Friday SiteGround discount worth it.
You must remember that the managed cloud hosting plan has different tiers:
However, the tiers in this plan typically do not get discounted on the SiteGround Black Friday sale.
It's also important to note that SiteGround does not offer monthly plans, even during the SiteGround Black Friday Deal, so you must pay the annual fee upfront.
What Does the SiteGround Black Friday 2023 Deal Have To Offer?
The SiteGround Black Friday offer lasts for a limited time, usually a week or less, on the occasion of Black Friday.
In 2021, the SiteGround sale began on November 26 and lasted till December 3.
However, in 2023, Black Friday is on November 24, and I expect the sale to be revealed a few days before the event.
The Black Friday SiteGround offers are worth waiting for because the company is known to be stingy with discounts. After a customer's first term with the company, no discounts are offered.
But on Black Friday, a massive 77% discount is given to all customers on web hosting services.
The price of the StartUp tier comes down to $3.99/month, and the GrowBig tier goes for $6.69/month, which is one of the best value plans offering unlimited websites with free CDN and SSL. 
The GoGeek tier is discounted to $10.69/month, and grabbing this deal will save you HUNDREDS of dollars. The table below shows the discounted price of Shared hosting plans, WordPress hosting plans, and WooCommerce hosting plans.
| | | |
| --- | --- | --- |
| PLAN | REGULAR PRICE | SITEGROUND BLACK FRIDAY DEAL |
| StartUp | $17.99/month | $3.99/month |
| GrowBig | $29.99/month | $6.69/month |
| GoGeek | $44.99/month | $10.69/month |
It's a no-brainer. The best part is each plan comes with round-the-clock customer support services to give you a seamless journey throughout.
How do you activate SiteGround Cyber Monday and Black Friday Deal?
There is no special discount code or coupon you need to enter to activate the SiteGround Black Friday deal.
The price is automatically reduced in the checkout section.
SiteGround Black Friday Deal 2023 FAQs
Will SiteGround help me migrate my websites to their servers?
Yes, but you must pay for the manual migration. There is also a free tool available in Site Tools that will let you move your website to its servers quickly.
I already paid another company for hosting. Can I take advantage of the deal later?
Unfortunately, the offer period is limited, and you can only get the discount in the company's specified offer period.
Does SiteGround offer free domains?
No, the company does not offer free domains, even to first-time users. Getting a domain from SiteGround will cost you $15.95/year.
Will I get my money back if I'm unsatisfied with the service?
The 30-day money-back guarantee makes you eligible for a full refund in the first month.
What is the coupon I need to apply to get the discount?
The discount is applied automatically when you checkout – you don't have to use a coupon.
Is SiteGround Hosting Black Friday Deal Worth It?
Yes, this is a deal you shouldn't miss out on. Let me give you a few reasons why:
#1 Excellent Speeds
The company offers cloud-powered SSD-based storage to all users. Even graphics-intensive websites can load in under 3 seconds, which guarantees engagement.
#2 Virtually ZERO Downtime
The SLA agreement states that if yearly uptime is under 99.9%, you will get a month of free hosting. Super reassuring!
#3 Automatic Daily Backups
Your website is backed up every day automatically and stored for 30 days. If you have a managed cloud hosting plan, though, backups are only stored for seven days.
You can also create backups manually and select specific bits of the site you want to back up. Restoration can be done in one click!
#4 Free Site Migration
A migration tool is available in the Site Tools under the WordPress tab. All you have to do is create and use a token, and your website will be transferred in a few minutes.
#5 Free SSL
You can get free SSL certificates for all your websites by navigating to the SSL Manager section under the Security tab.
#6 Free CDN
You can activate the free Cloudflare CDN by going to the Speed section in the Site Tools menu and hitting the "Activate Free" button. Your website will then load quickly for visitors from around the world!
#7 Officially Recommended By WordPress
If you're looking to run a website using WordPress, you cannot go wrong with SiteGround. WordPress officially recommends it on their website.
Yoast SEO also vets SiteGround, and you will never have trouble correctly optimizing your website for search engines.
#8 Advanced Caching Built-In
Boosting site speed is as simple as picking one from the three different caching options: Memcached, dynamic cache, and NGINX direct delivery.
#9 Award-Winning Support
The company won two Stevie awards for excellent customer service in 2023, and this is not the first time they've been recognized for their class-leading services.
Ready to Get SiteGround Web Hosting on this Black Friday?
The SiteGround Black Friday and Cyber Monday deal is something you really shouldn't miss out on. SiteGround is one of the best-recognized web hosting providers in the industry, and they rarely offer discounts.
The fast loading speeds, world-class support, and the vast range of features make SiteGround an all-around impressive option, and the company lives up to its reputation.
A 77% discount for a three-year plan will save you HUNDREDS of dollars!
Taking full advantage of SiteGround's Black Friday hosting Deal is a no-brainer.
SiteGround Black Friday Deal
MASSIVE 77% Discount
Start Date: 24th November 2023
End Date: 4th December 2023