Kontent Machine Black Friday 2023: $147 for Lifetime
Verified
Lifetime in $99
Kontent Machine Black Friday Deal
Grab the Deal Before Tuesday, the 28 November 2023, 10:00 am UTC
Create the content on automation. Use Kontent Machine to generate articles for link building.
Hey, Creators and SEO professionals!
Do you know Kontent Machine Black Friday and Cyber Monday 2023? The best deals are live now with many surprises.
Building niche sites is becoming more popular than it was three years ago.
When I started blogging in 2011, only a few people were talking about niche blogs, and only a handful of blogs taught niche blogging secrets.
However, after Google released many animals, people started paying more attention to building niche blogs and feeding content in such blogs regularly.
If you are one of the guys who believe in running niche blogs and then making money with them, then you know the importance of getting quality articles.
So here I am going to talk about one tool that is helping me to scrape quality content from various sources, and I am using it for my tier backlinking.
In this Kontent Machine Black Friday Sale, I am going to do an in-depth review of this tool, where the tutorial will cover itself.
Why Kontent Machine?
We, Internet marketers, are busy doing lots of stuff on our own. We have made our daily routine in such a way that either we are learning new stuff online or trying various tools to rank our niche sites.
So, writing content is a very tedious job for me. It might be for you as well.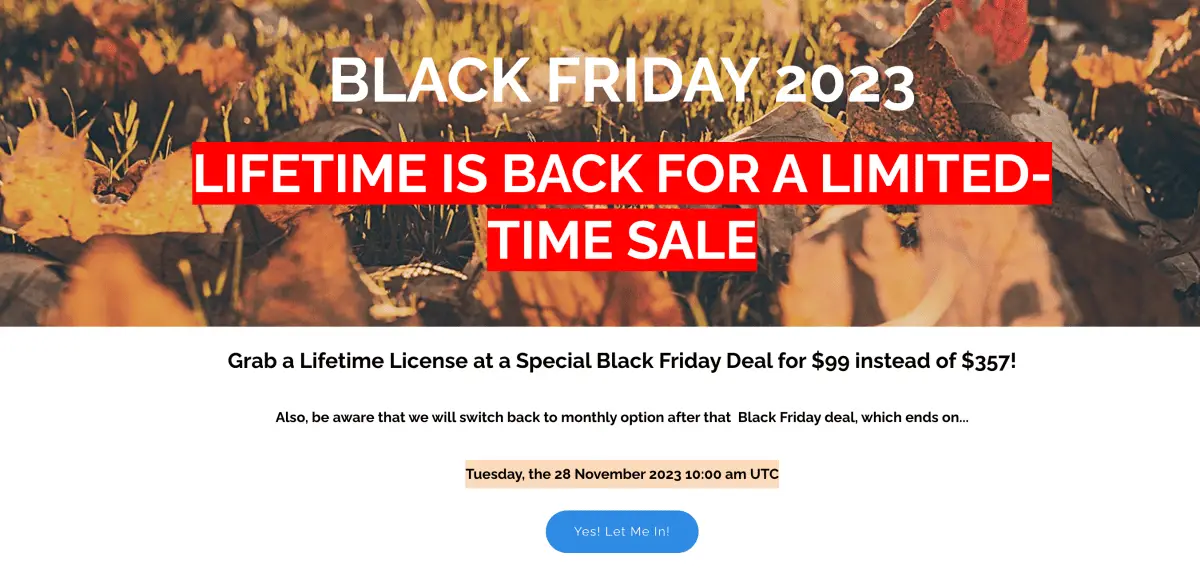 Personally, for me, this is the toughest job on earth to write content for all my niche sites.
I tried various outsourcing sites like oDesk, Hire Writers, Elance, and Facebook groups, but my headache was still increasing because I had to manage everything and give them instructions to write content according to my requirements.
So, I was looking for a tool that could help me to get rid of my extra headache and work as a smart assistant.
I was looking for a tool that could help me generate the best content, spin it, and then get results much quicker than doing stuff on my own.
So I found Kontent Machine.
This one small tool had all the features, so I could not stop myself from buying this beast.

Kontent Machine Review: Best Features
Some of the essential features of Kontent Machine that blows your mind are as follows:
Harvest quality content and correct it automatically.
Produce relevant content keeping LSI terms in mind.
Produce quality articles for tier link building.
100% relevance in categories and tags.
Auto-generate Title, Summary, and Resource boxes for articles.
100% relevant images and video.
Powerful Spintax.
Auto blogger integration.
Popular spinning tools integration (KM Spinner, SpinnerChief, SpinChimp, Spin Rewriter, The Best Spinner, WordAi).
It automatically generates content for featured tools like SENuke, GSA SER, Ultimate Demon, Sick Submitter, etc.
There are many other awesome features that you will find out once you start using it.
Kontent Machine v3: The Best Guide
I will show you every window of this tool so you can know about its features, functionality, tips and settings to make your final decision before grabbing the Kontent Machine discount.
# Main Window
This is the main window which you will see once you start the software.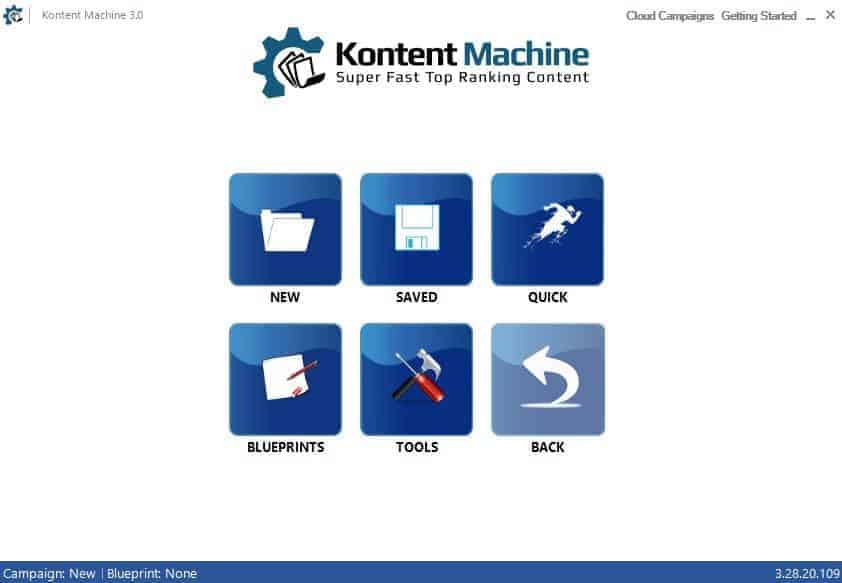 Here, you can create a new campaign, open an already saved one, do quick article scrapping, check the campaign blueprint and see other tools (I will discuss them later in the article).
# Setting up Campaign
I did the settings below
Content source – Built-In Article Scrapper
My campaign name – Blogging Campaign
My main three keywords to find relevant content
For which tier am I looking for the content
Which Spinner am I going to use (I am using The Best Spinner)?
Do I want images/videos in the article?
Once all the fields are ready, I will fill in all the necessary details to make it work.
1. Scraper Setting
Click on the scraper setting, and it will ask you for the number of threads you want to run, scraper timeout and proxies
2. Campaign Setting
You can decide the amount of variation you want to do in your articles and decide on other spinner options.
3. Credentials
Kontent Machine has an inbuilt ability to spin your content and produce different versions of the same content.
For this, you will have to use a third-party API, which will be integrated into your tool, and you will start getting scrapped content in Spintax format. I am using The Best Spinner, so I am adding my login details.
4. Advanced
Here, you can do settings for audio/video scrapping. This will help you to scrape related images and videos from various sources to give you a ready-made article.
#5. Contextual link setting
While producing the content, it will automatically add your anchor text with a given link to relevant places to make it look 100% genuine and human-readable.
Make all the settings as per your need and fill in contextual links as well as keywords in the next window.
# Start the Scrapping
Once you have made all the settings, click on BUILD CONTENT.
Here is the screenshot while it is scrapping the data.
# Get your article
Once it scrapes all the articles and spins them with your Spinner, it will show a window like this.
Click on the PREVIEW button to see the quality of scraped articles.
Note: These are the actual results which I got after content generation with Kontent Machine.
# Import article in other tools
This is one of the killer features of Kontent Machine. You can import content directly into your link-building software and use it very easily.
Click on the Build and Export button.
I am personally using GSA Search Engine Ranker, so I am going to produce content for that tool only.
Once the content is produced, I can import it into my GSA SER.
Note: They launched a new API for V3 recently. So you can directly use the API and import content in your GSA SER easily.
## Few Extra Features ##
#1. Bookmark creator
If you want to create a bookmark for your submissions, then this feature is going to create many for you.
Here, you can select your spinner software, output format, Spintax format and number of bookmarks per keyword.
#2. Article Getter
Are you struggling to get the idea for your next content creation?
We have the solution here. 😉
This extra advanced feature will let you scrape content from various big article directories like Article Alley, Article Base, EzineArticles, Yahoo Voice and around seven other big directory sites.
Click on the Get Articles button.
And BANG!!!!
Here are the actual files that it generated for me.
#3. Other Tools
I am going to keep a secret here so that you can try them on your own. 😉
Here is the screenshot
Kontent Machine Black Friday Deals 2023
After coming across such impeccable features of Kontent Machine, I hope you made up your mind about grabbing the Kontent Machine Black Friday coupon.
I must tell you, this time, Kontent Machine Black Friday has come with unimaginable discounts in its store, which are highly affordable. It has everything, from being a content generator to an SEO tool, and it has proven to be the best in all its features.
You might be excited to know the prices this year! Right?
So, here you go.
Kontent Machine Black Friday Sales Price
The price of this tool is $357 for a lifetime and $37 if you want to pay monthly.
But for SaaS Ultra readers, I have a special price with a coupon code.
Lifetime – $147 (Price will increase after every 24 hours. Now you will see $260. If you skip now, then $257 for the next 24 hours. and finally $357 for a lifetime).
Monthly – $29 (Actual cost is $37/month)
Kontent Machine: Pros and Cons
Pros
This tool is really very speedy and accurate in generating content for tier link building. You can save thousands of dollars by utilizing the extra tools of this software.
I will personally recommend this to you if you are looking for a one-stop quality solution.
Cons
They don't possess any inbuilt proxy harvester. Hence, you will have to buy premium proxies to make it work smoothly.
Ready to Grab Kontent Machine Black Friday Discount
I hope you have planned everything by now and are ready to grab the Kontent Machine Black Friday discount at its best price ever.
So, stay tuned and grab the offer as soon as it goes live.
Verified
Lifetime in $99
Kontent Machine Black Friday Deal
Grab the Deal Before Tuesday, the 28 November 2023, 10:00 am UTC
Create the content on automation. Use Kontent Machine to generate articles for link building.