Disclosure: Some of the links in this article may be affiliate links, which can provide compensation to me at no cost to you if you decide to purchase a paid plan. We review these products after doing a lot of research, we check all features and recommend the best products only.
No matter what it is that you do, and regardless of how rewarding your day job is, running your own business and being your own boss has some absolute benefits. People are searching for home-based business ideas so that they can work from home and feed their families.
Aside from the personal fulfillment you get out of doing your own thing, you also feel more independent and have more control over your time.
You can work how much ever you like, whenever you want, wherever you are.
However, figuring out what it is that you do best is only step one. You must also find a way to get paid for your skills.
Coming up with profitable business ideas is a lot tougher than it may seem. There are so many sites where you can start with micro-jobs and scale it easily once you get the knowledge.
Sometimes your hobbies can make you a lot of money. There are a lot of ways to get paid for things you just do for fun. For instance, if you write well, travel a lot, or read a lot, you can make great use of your time by giving consultations to people that need assistance in those areas.
Following your passion in this way will not only be rewarding financially—it'll also give you a sense of satisfaction and pride.
However, other times, you may just feel stuck and clueless and may not be able to figure out how to make money off your passion.
We're here to help you in that regard!
Here's a list of business ideas to make money in 2020 during Corona crisis.
1. Logo Design
If you have a knack for art and know-how to convey a message with it, logo designing may be right for you.
You don't need to have previous experience in the field for you to make money from it, but having samples to show does help.
You will need to use tools like Adobe Illustrator and Corel Draw. If you've never used them and always do your art on paper, you don't have to worry. The tools have pragmatic UIs and are easy to learn. You'll be ready to make money after a few hours of practice.
You can either freelance by finding clients on sites like Fiverr or Upwork. Or you can also approach small businesses and offer to help. Fiverr gives you ready access to 5.5 million buyers, making it a great place to start!
Expert logo makers earn up to $1,300 per logo!
2. Content Writing
According to HubSpot's State of Marketing report, 55% of marketers make the creation of blog content a top priority, and 70% of marketers are investing in it actively.
Content writers are in demand, and you don't need to be qualified to get started!
As long as you have the ability to write a simple and concise copy, you can make money writing content. Content writers make $66,991 on average!
Making an account on WriterAccess is one of the fastest ways of connecting with clients.
Getting your first cheque can sometimes be as easy as showing an entrepreneur some samples!
3. E-Commerce
You don't need to be artsy or wealthy to start your e-commerce shop—but you do need to be resourceful.
If you don't know how to craft a product, you can buy it and resell it. If you don't want to be involved with the product at all, you can start a drop-shipping business.
Drop-shipping businesses are like sales portals for product makers. Think Amazon. The customer places an order on your site, and the seller ships it to them. You get a kickback for every sale you help make.
Getting your e-commerce up and making it profitable is a long process, and thus consistency is key. There are no bounds to how much money you could make running an e-commerce site.
You'll spend a lot of time, money, and energy before you make serious money, but persisting usually pays off big.
If you know the ins and outs of social media platforms, you're already well on your way to becoming a social media manager.
You will need to learn how to use the analytics side of these platforms and also learn to make sense of the data.
Creating reports, running ad campaigns, and finding ways to engage with the client's audience is what you'll be doing. Luckily, these skills are not difficult to learn. You also do not have to spend a lot of money to learn them.
The average social media manager makes $2,250 freelancing every month, making it a great side hustle!
As long as you have a knack for connecting with people—and an internet connection of course—landing your first clients will be easy.
Freelancer has an average job size of $200, making it one of the best freelance sites to sign up on.
5. SEO Optimization
Search engine optimization is a subcategory of digital marketing that enables existing sites to rank better when searched.
Essentially, your role is to optimize all the content posted on a site. You'll be using various tools to research popular keywords, reduce image sizes, and help the marketing team by recommending trending subjects for content creation.
All your efforts will bring more traffic to the site organically—helping your clients sell more products and make more profits.
You will need to learn to use analytics tools and other marketing tools. But if you help your clients sell more products, payoffs can be massive.
Signing up on PeoplePerHour will enable you to pull your first client fast.
SEO specialists can make upwards of $170,000 a year!
6. Website Design
Good web design is what millions of businesses are demanding—because a beautiful page makes a lasting impression and pushes visitors to conversion. This is one of the best businesses to start with little money, all you need is a website design training and you can start offering your service.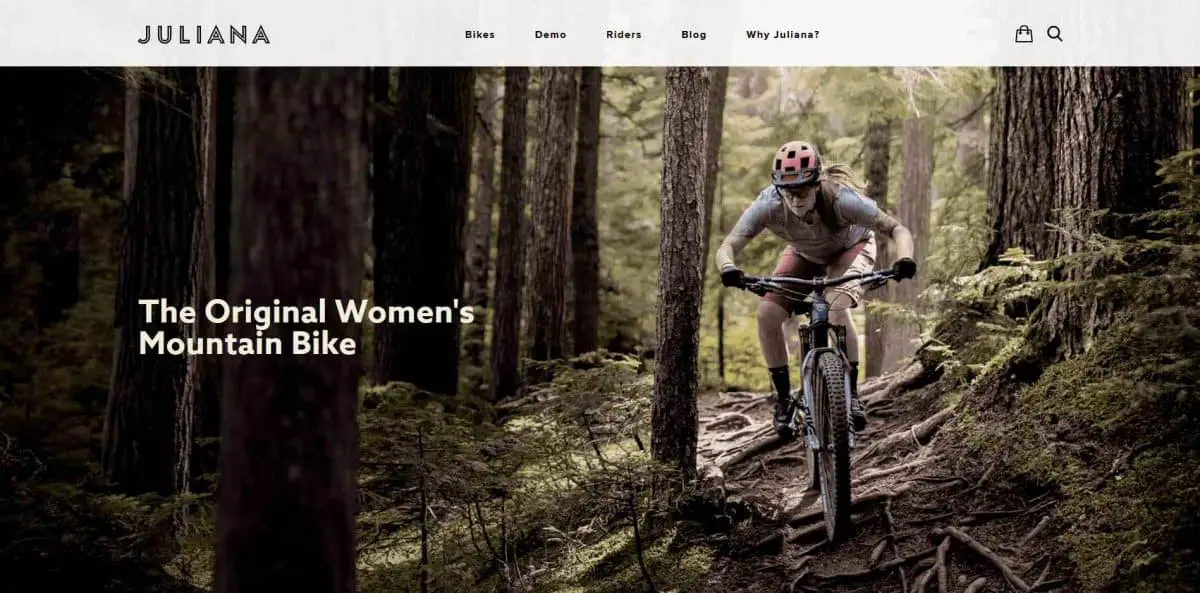 Starting your own web design business is a great way to put your Photoshop and CorelDRAW skills to good use.
Landing your first clients can be difficult, regardless of your skill levels and experience. But once you gain traction, you could be making $50,000 every year
Contacting local businesses and offering to design a website for them for cheap is a great way to gain some traction initially. If you can design well enough, your customers will find you.
Partnering up with DesignHill will give you access to thousands of clients from all over the world!
7. Translation
If you're bilingual, you're already qualified to become a translator.
You don't even need a separate office—you can cater to clients around the world from your couch. All you need is a laptop and an internet connection.
Some clients may ask you to speak the language, so you may need to get a microphone. However, as long as you can speak and write your second language fluently, you'd have no problems making money.
According to Indeed.com, freelance translators make $28.60 per hour on average!
Log onto sites like Freelancer and Upwork, and make sure you brush up on your grammar and spelling before putting yourself on the market.
Gengo is another great platform for translators that pays over $400 per month on average!
Showing off some samples is one of the quickest ways to land your first client!
8. Graphic Design
The field of graphic design is vast—digital paintings, animated cartoons, comics, adverts, and brochures are only some of the things a graphic designer can sell to make money.
Knowing the Adobe Suite from top to bottom can help you cater to any client's demands. If you find drawing more fun than designing posters, you can work off your tablet and use tools like Procreate to make a lot of money.
Freelance graphic designers make $59,000 per year on average!
Signing up on sites like Upwork and Freelancer is an excellent way to pull clients from the comfort of your home.
99designs gives you access to clients from over 190 countries—giving you the opportunity to establish a flourishing business quickly.
9. Web Development
If you already have programming experience, brushing up on your HTML, CSS, and JavaScript skills may be a good idea now. Good web developers are in high demand!
Web developers take a web designer's concept and turn it into a usable website. Implementing the interactive elements, buttons, and sections of a website requires a lot of skill—and developers are compensated well for it.
Freelancers on Guru make a lot of money, with almost a million employers looking for talented web devs every day!
Freelance web developers make an average of $75,430 a year—and if you have the right skills, you can make a lot more than that and even establish your own firm.
10. E-Book Design
E-Books help marketers improve their brand's credibility and are considered some of the most effective digital marketing tools in existence.
However, well-written content isn't enough to sell visitors on it. A professional-looking cover is a must if the marketers want visitors to engage.
If you know some basic editing, you can make use of tools like Adobe InDesign and design stellar e-book covers as a freelancer. You can also help increase the value of the content by creating illustrations for it.
You can find tons of e-book design gigs on freelancing sites, but reaching out to marketers and showing some samples is the best way to make money designing e-books.
E-book designers can make $1,000+ per project!
11. Instagram Marketing
An Instagram marketing business is one of the best businesses to start with little money. All you need is a phone and an internet connection!
Instagram marketers get paid to promote products and services on their accounts. The more followers your account has, the more you get paid!
Instagram marketers make anywhere between $50 and $1,000 per post, and sometimes more.
If you haven't started yet, make sure you pick a profitable niche with low competition to boost income potential.
As reported by Yahoo!, 543,000 new businesses are started every month.
Start-ups have small budgets to play with, which is why the demand for growth hackers is skyrocketing.
Growth hackers are marketers that make use of inexpensive tools and solutions to bring companies more business. They also help retain clients for a long time.
Growth hackers make a lot of money—$63,000 on average!
13. Podcast Editing
You don't need to be qualified to edit a podcast; you just need to be patient.
If you can work software like Audacity, Acoustica, or Adobe Audition, you can get paid for over a hundred thousand dollars a year to piece together podcasts.
Finding clients is a Google search away, and there's always an abundance of people that need help with their podcast's audio. But there are not a lot of audio editors. It makes the podcast-editing business super profitable.
14. Video Editing
With video no longer restricted by platform, the demand for video-editing experts is booming.
People from around the world need adverts, YouTube videos, and interviews pieced together on a daily basis. Chances are, local businesses around you also need help with editing their video for Facebook.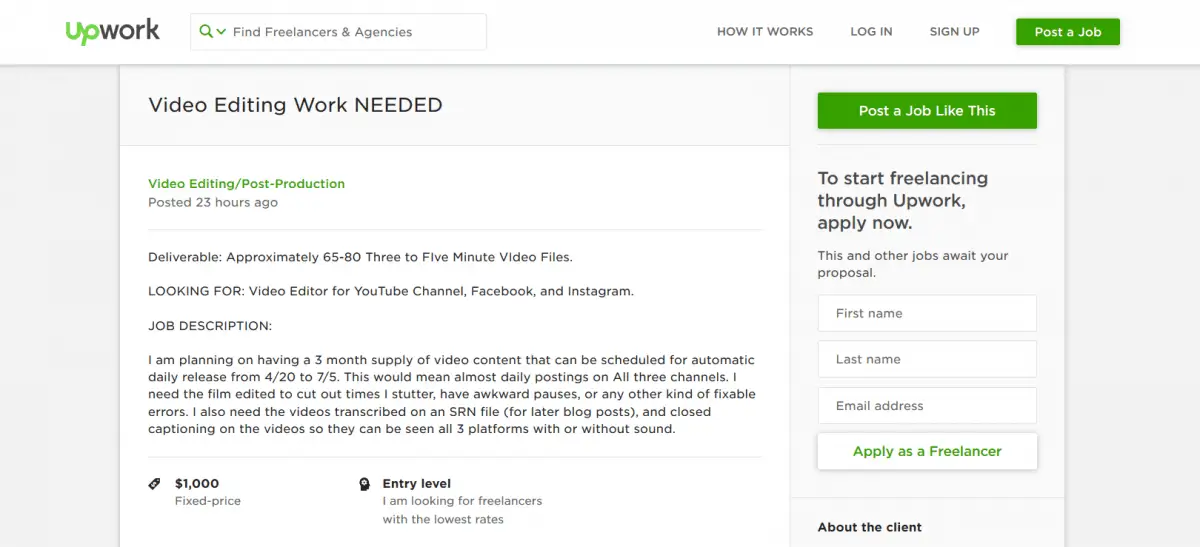 According to Upwork, social video marketing is one of the fastest-growing skills on the platform as of 2019!
Video editors make $57,000 annually on average, and if you already have some experience editing, you will be catering to big-ticket clients in no time.
15. Virtual Assistant
You can get paid up to $75 an hour to provide administrative, creative, or technical assistance to clients.
The best part about becoming a virtual assistant is that you can work remotely full-time. The best way to get started is to make an account on freelancing sites like Guru.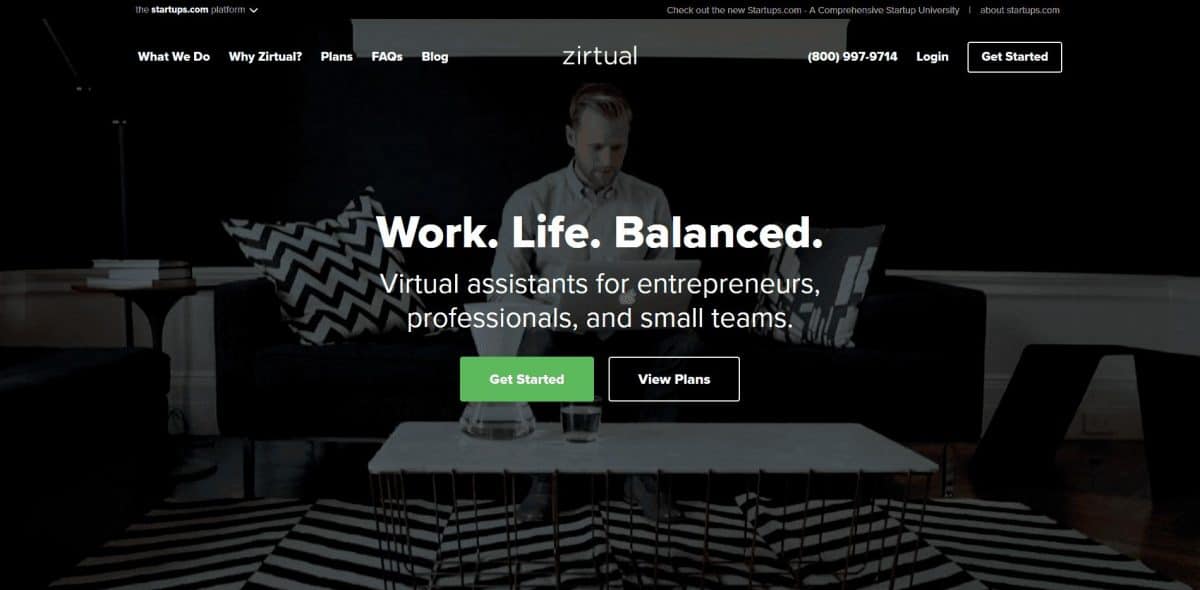 You will need to offer your services for a lot less than they're worth initially. But in time and with consistent efforts, you will be able to increase your rates.
16. Tax Preparation
Being good with numbers can make you a lot of money. You will need to learn about tax systems though. Accountants and business graduates can choose this as a side gig for sure.
Tax preparers help professionals and firms file their tax returns. You have to help them do the math, fill their tax forms, and file their taxes.
The money is great; you can get paid upwards of $60,000 to help clients pay the government.
Making an account on Indeed is one of the best ways to get your start.
17. Google Ads Management
If you know a thing or two about internet marketing and are comfortable with using the Google Suite to run ad campaigns and analyze results, you could be making upwards of $62,000 by managing Google Ads!
Finding clients is super easy, and sites like Upwork and Freelancer help a lot. Running smart campaigns that improve the client's business will unlock more incentives, and you may even be able to open your own consultancy after a few years of freelancing.
18. Facebook Ads Management
Facebook and Instagram ad campaigns help businesses bring in a ton of e-commerce revenue.
If you can build and launch Instagram and Facebook ads, you can make more than $4,000 every month as a consultant.
You will also need to create weekly and monthly reports and recommend new changes in marketing strategy based on the data you get.
With more and more start-ups popping up every day, you won't have trouble landing your first client!
19. Travel Consultancy
If you love to travel, you're already qualified to be a travel consultant.
You don't need to set up shop right away. You can find high-paying gigs on freelance sites or partner up with businesses that need travel consultants.
For every client you convert, you will get a significant chunk of the revenue you bring in. Once you earn a good reputation, you can open up your own travel consultancy.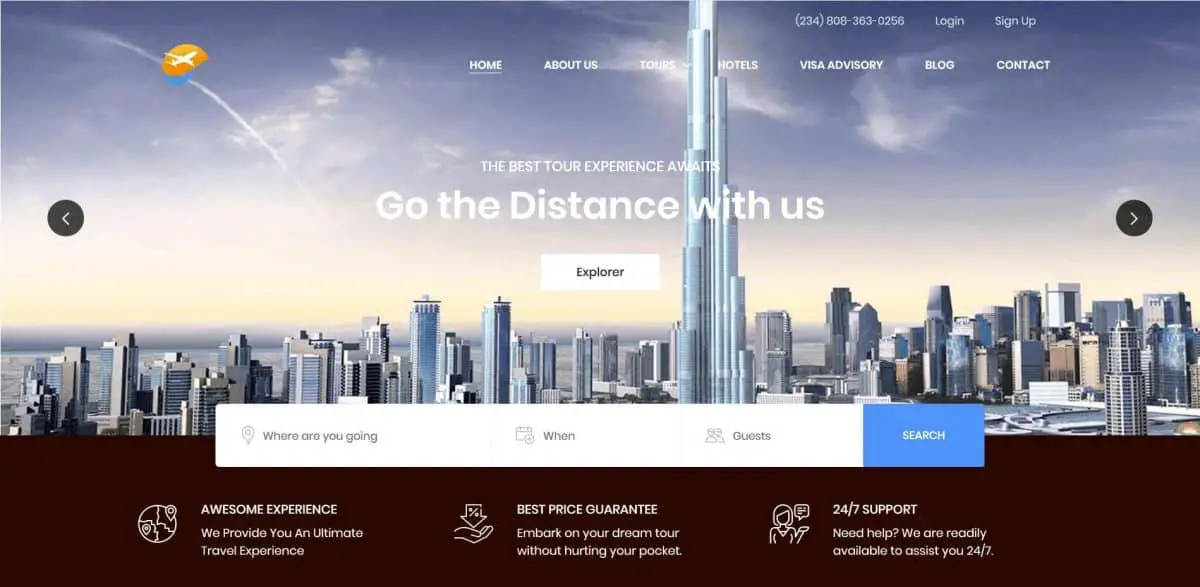 Although travel consultants make an average of $50,000 per year, the sky's the limit in this industry.
Some freelance writers make upwards of $150,000, according to ZipRecruiter. If you can write a good copy, you should put yourself on the market as a freelance writer.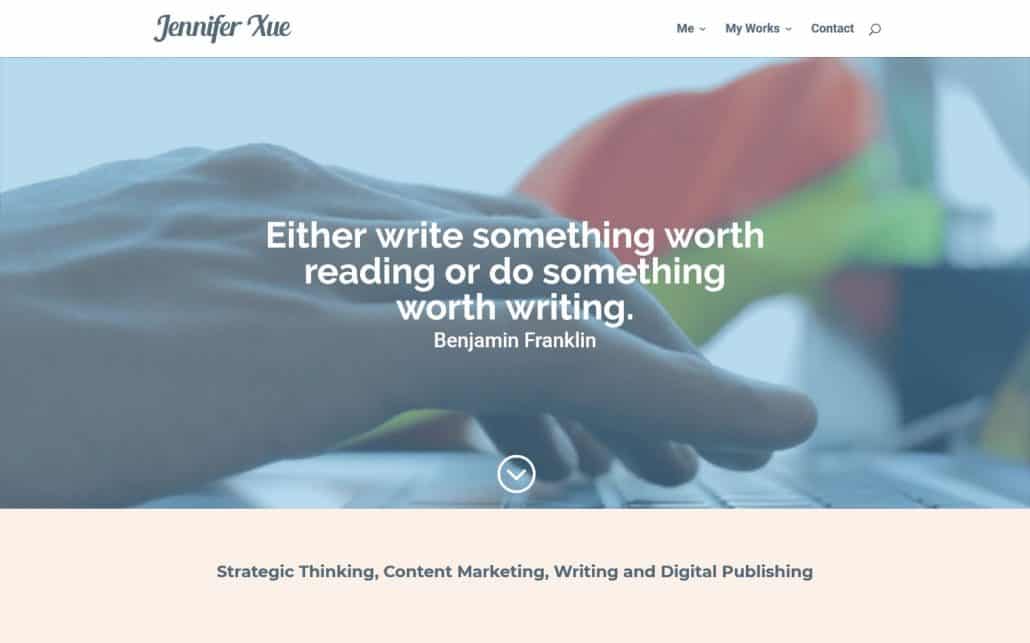 You'll likely be handling different types of content. Blogs, web content, and marketing copies are the most common projects you'll work on.
But you may also need to write a full-fledged book or a course for a client. The industry never ceases to evolve, and if you love challenges, becoming a freelance writer is a great idea.
A simple Google search will give you access to hundreds of listings, and finding a high-paying gig isn't that difficult—especially if you write well.
Freelancing for Skyword can also make you a lot of money.
21. Landing Page Design
If you have a knack for design and have the know-how to follow keyword research and search engine optimization, you have to try designing landing pages.
While smaller projects go for a few hundred dollars, according to WebFX, the best landing pages rake in $3,000 and sometimes more.
22. Photo Retouching
Photo retouching is a super-profitable niche. Just basic Photoshop and Lightroom skills can make you thousands of dollars!
You can find customers on sites like Fiverr and Upwork and help them improve the quality of their photos.
Making a product look better helps e-commerce sites sell better, and you'll likely go back and forth with photographers to get you the best shot to edit.
If you can use Adobe Suite well, you can make over $2,500 retouching photos from your couch every month!
23. App Development
If you know Java or Swift, you have to try your hand at app development.
Freelancing gives you a lot of exposure—you get to work on a lot of different projects and expand your horizons.
Aside from gaining knowledge, you will also be able to make a lot of money. The average payout for an app-development project on Freelancer is $543, and since you can work as much as you want, there are no limits to how much you make.
Another advantage you have when you freelance is that you can pick what you want to work on. If you'd like to make a game instead and find app-development boring, you're free to do that.
The no-pressure work environment is a huge plus, and the high-income potential makes it one of the best business ideas to try and execute.
24. Proofreading
If you read a lot and have an eye for good grammar, proofreading could make you a lot of money.
You aren't editing; you're proofreading, so you don't have to do that much. You must read posts and fortify the content's grammar and spelling. You'd have to change a sentence or two at the most.
You can knock out a project in a few minutes and get paid fast!
The average proofreader makes upwards of $51,000 per annum—which makes proofreading a lucrative option for anyone looking to monetize their reading habits.
25. Fitness Training
There's a lot of opportunity for fitness trainers right now.
Aside from training in a gym, you can also find clients locally or engage with them online and help them with their fitness goals.
And that's not all. You can also build your brand blogging or leveraging social media—boosting your reach and profits.
A fitness trainer makes $47,000 a year on average. But if you leverage social media and other online tools to get more clients, there are no bounds to how much you could make.
26. Being an Investment Adviser
Helping others grow their wealth is a great way to grow your own.
If you have finance and stock market credentials, you could make thousands of dollars consulting from the comfort of your home.
You'll essentially be conducting security analysis on demand and help your clients get the best returns for their investments.
Finding clients is super easy. You just make an account on a freelance site, or advertise and let people know that you're offering your services on social media. Signing up on TopTal will fetch you clients quickly!
Freelance investment advisers charge upwards of $150 an hour—making freelancing a lucrative option for those with the right credentials.
27. Affiliate Marketing
Affiliate marketing can be a great source of income for you if you want to explore this business opportunity.
This is a simple business model where you can start promoting other products and companies are going to pay you a decent commission.
If you don't know, Amazon is one of the biggest affiliate networks in the world. You can promote Amazon products and make money by working from home.
You can see in the following screenshot that they pay very good commission in various categories.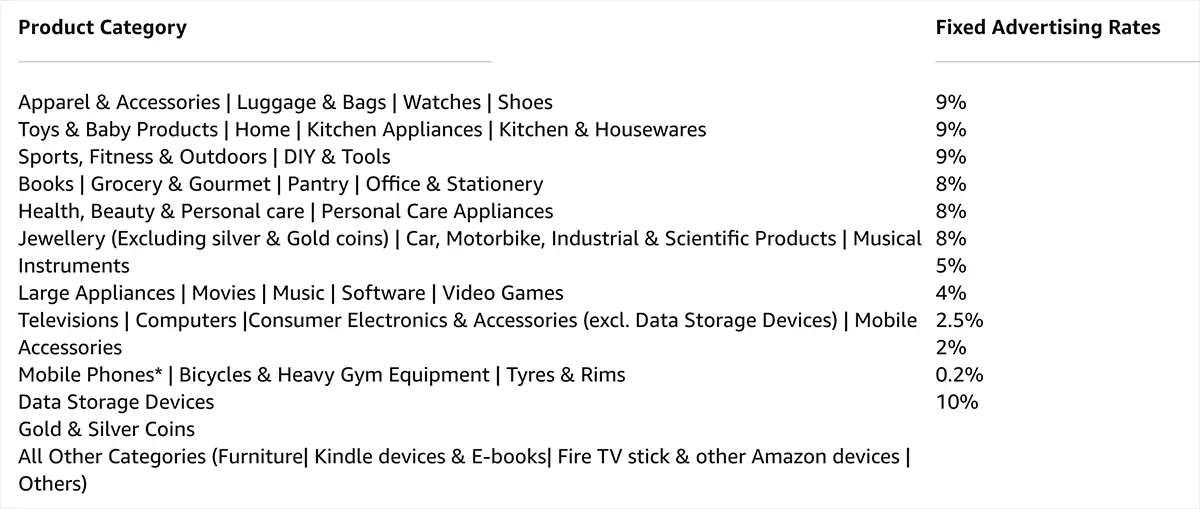 I am doing full-time affiliate marketing since 2014 and I have earned a lot of money by promoting various products online.
You can check our best affiliate programs list to see the affiliate opportunities.
Conclusion
You don't always need to be a university-educated professional in your choice field to make money from it.
Here's what I mean: If you're a trained programmer, but your writing meets industry standards, you can make a good living writing and have fun doing it.
Figuring out how you can monetize your skills or hobbies and how much you can get paid for them is a challenge in and of itself.
However, now that you have all these ideas laid out for you, all you need to do is figure out which business idea to make money you can execute. Rest assured, all of them pay well!
Pick what you think will be fun to do. As long as you work hard, success will follow!