Disclosure: Some of the links in this article may be affiliate links, which can provide compensation to me at no cost to you if you decide to purchase a paid plan. We review these products after doing a lot of research, we check all features and recommend the best products only.
Every eCommerce business requires robust logistics solutions to thrive in the long term.
Irrespective of how good your idea is and how well designed your product is, you need to ensure that customers have an excellent experience with your brand to build a long-lasting impression.
And the customer experience starts from advertising your products to website browsing and ends with customer fulfillment and support.
In the last step, however, if you are not upto the mark, your brand is unlikely to impress the buyers who might not revisit your store to purchase your stuff.
Especially in eCommerce, many entrepreneurs are jumping in with different approaches. For example, Print-on-demand dropshipping is a legitimate eCommerce business model.
As the name suggests, print-on-demand (POD) deals with printing and selling products with custom text, imagery, and graphics printed on products.
In POD, your ability to fulfill products becomes even more crucial because your brand has to provide customized and personalized products. Therefore, the customer should get a stellar buying experience, which includes reliable fulfillment.
Again, say your products and designs are made very well, and they are like no other in the market; however, if the customers are not getting professionally-packed parcels and well-produced products, they are unlikely to come again to purchase from your site whose sale will take a significant hit.
There are lots of POD fulfillment tools and apps that give impressive solutions. Today, we will discuss one such tool that takes care of print-on-demand fulfillment in a user-friendly manner.
We are going to talk about CustomCat.
Before we jump into its features and about what it does, let's have a brief overview of what CustomCat does.
Overview of CustomCat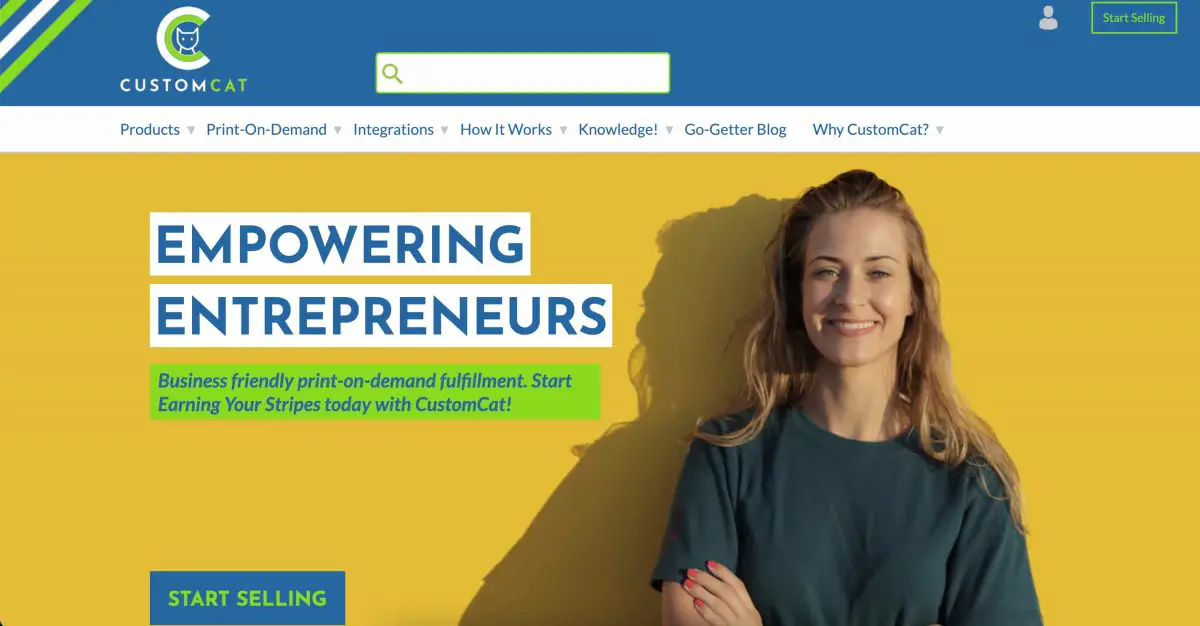 CustomCat is one of the most renowned companies that provide print-on-demand fulfillment.
They operate from Detroit, Michigan, United States and cover almost the entire globe for product fulfillment.
Their product catalog includes apparel, houseware, accessories like:
T-shirt
Hoodies
Sweatshirts
Hats
Jackets
Tank tops
Pants
Childrenswear
Pillows
Blankets
Ornaments
Wall arts
Bags
Footwear
Masks
And many more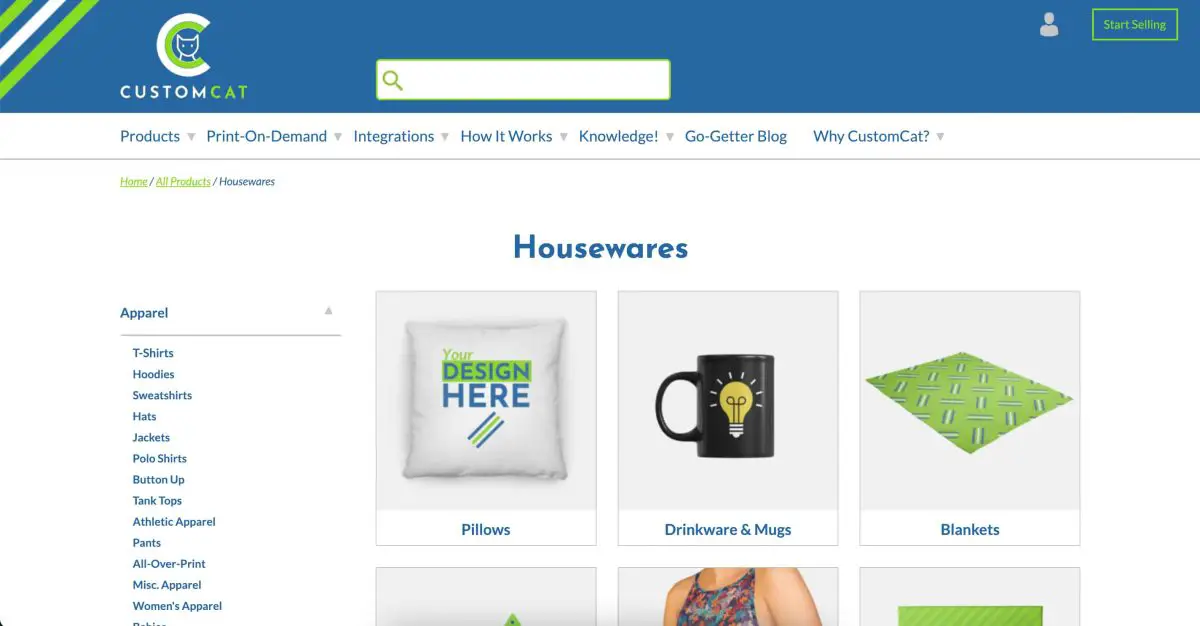 Their massive library of top products where they can print anything makes CustomCat a prospective POD app for dropshippers.
Store owners can depend on CustomCat for their all-in-one POD fulfillment solutions.
Thanks to CustomCat, almost all the possible products are accessible under one roof, so they don't have to switch to any other ones to ensure fulfillment.
How does CustomCat Operate?
CustomCat has developed native support for emerging technologies and leading platforms like Shopify, WooCommerce, BigCommerce, etc.
Store owners just have to install the plugins on their websites, which automatically integrates with the functionality of stores and grabs the required data efficiently on its own to automate fulfillment procedures.
Thanks to its support of leading marketplaces, store owners of different channels can leverage the extensive library of CustomCat and give many varieties for the buyers.
This way, CustomCat gives more freedom and flexibility to store owners to maximize sales by improving overall sales.
To start using CustomCat on your preferred channel, you need to register an account on CustomCat.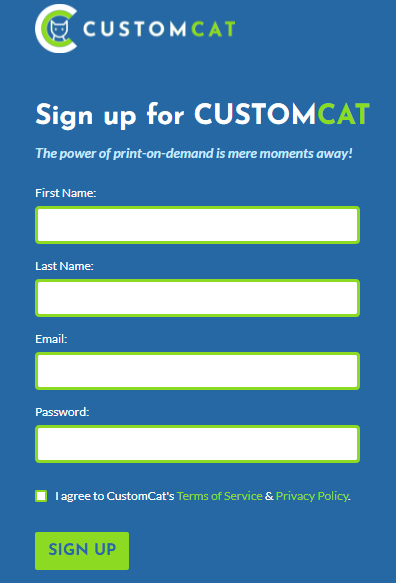 Once you confirm your account, you will be asked to connect your dropshipping store with CustomCat.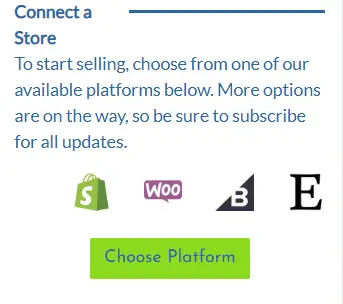 Once you connect your store with CustomCat, you can activate your profile.
Go to settings and fill in all the necessary details to activate your account.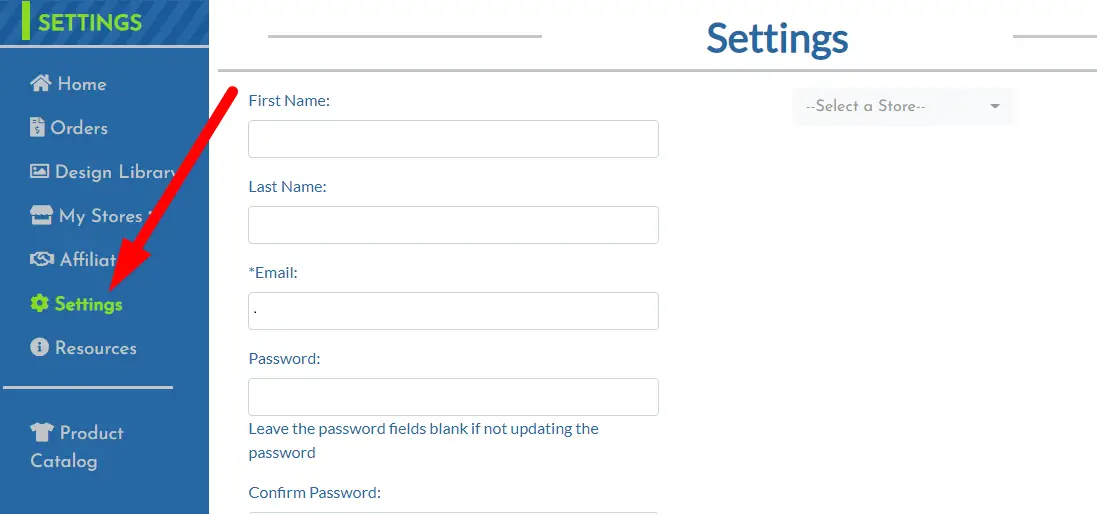 Now, your store is connected and verified with CustomCat, which can observe, track, monitor and fulfill orders on your site directly without your interference so that you no longer need to manually submit the requests for fulfillment.
Once you confirm your profile details, you can start selling products with your fulfillment will be taken care of by the tool.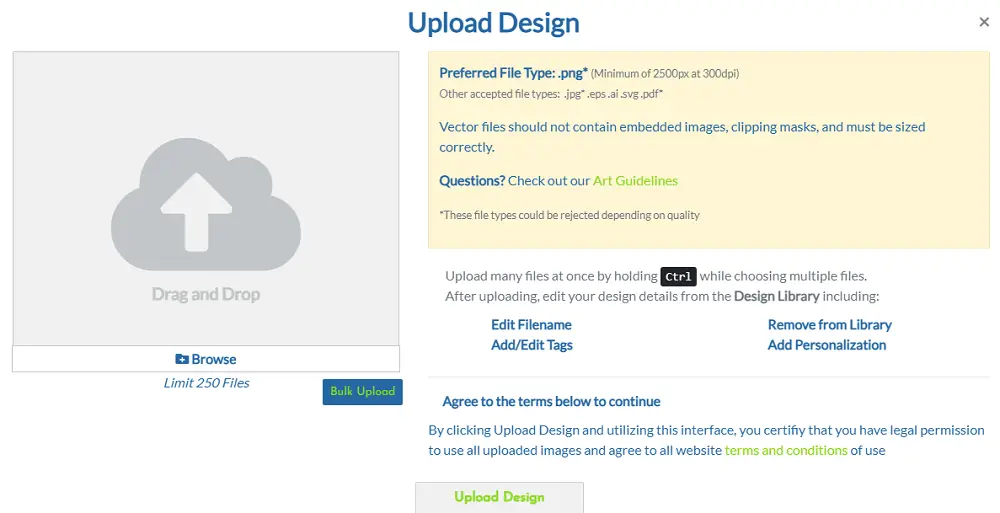 Now, all you gotta do is upload your design and choose the product you want to place the design on, and you are all set.
The design tab shows that you can upload the transparent design in either JPG, AI, SVG, PDF or PNG format. For this article, we have picked this design as an example.
CustomCat will also show you the preview of the product so you get the complete idea of how the design would look on a given product.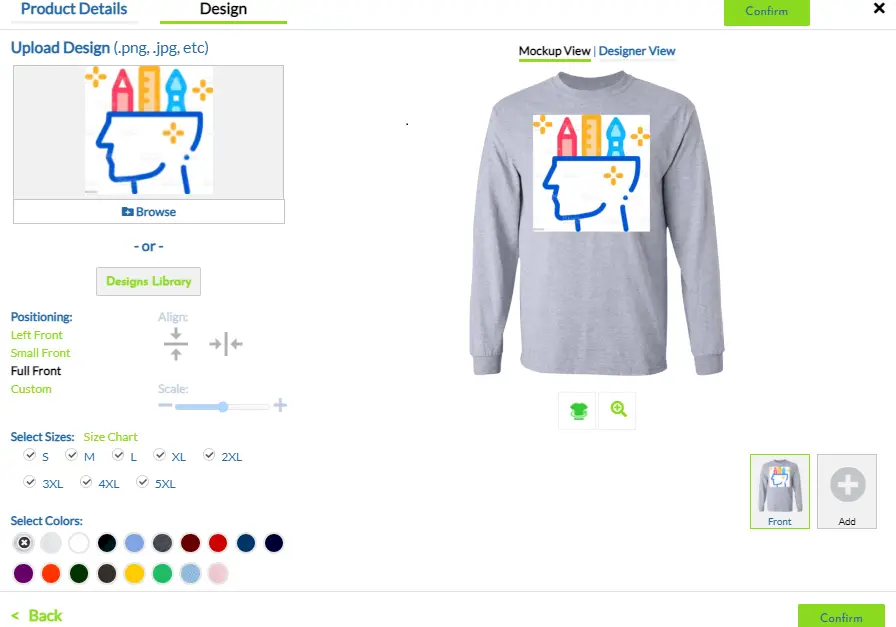 This gives you complete control of decision-making of whether to choose a particular product or not.
If it does not look good, you can still amend that particular product to make it suitable for the end consumer.
From the dashboard, CustomCat also allows you to choose the color combination of the product and gives you more buying options to the buyers.
CustomCat supports all the vibrant and popular colors, so you don't run out of ideas and are forced to stick to certain color combinations that limit the buying options for customers.
Along with that, you can also choose the printing technology that you want to use for that particular product. CustomCat supports:
Direct-to-Garment (DTG) Printing:
This is an apparel printing process where the ink is directly pasted on the apparel using technologically advanced computers and printers that ensure maximum precision for the graphics.
Irrespective of the hue and saturation, the color combination of direct-to-garment printing is quickly achieved with DTG.
DTG printing is the most relevant for the POD business model as it allows people who don't want to print anything beforehand and store thousands of products in their warehouse. Instead, they want to print as the orders come, which improves operational efficiency for the business.
In embroidery, we have threads replicating a design with the help of advanced and comprehensive computer technology.
There is a needle that accurately stitches the design with maximum accuracy and high-quality assurance.
This type of decoration lasts longer than DTG but limits the color options. Embroidery supports only 16 colors.
Dye-sublimation is considered to be an effective printing option for plastic, fabric and paper materials.
It is used in digital printing with the help of heat to transfer the dye onto the materials.
Dye sublimation is used on face masks, drinkware, blankets, wall arts, bags and dozens of other items.
So, this is how CustomCat works. It has a very user-friendly dashboard to upload designs, manage orders and scale the business. Let's understand its pros and cons to understand the platform better.
Pros and Cons of using CustomCat
Every product comes with two sides—pros and cons.
Depending upon your business goals and requirements, you need to decide and choose whether you want to go ahead with the product or not.
As far as CustomCat is concerned, let's have a detailed understanding of its pros and cons.
Pros of CustomCat
300+ Products to Choose From
CustomCat gives you tremendous value and a lot of options to choose from if you are into print-on-demand.
You will never run out of options to sell high-quality and unique products to specifically targeted demographics with CustomCat.
As a POD dropshipping store owner, most of your time would go into researching products and finding wholesalers that can fulfill those products to targeted customers quickly.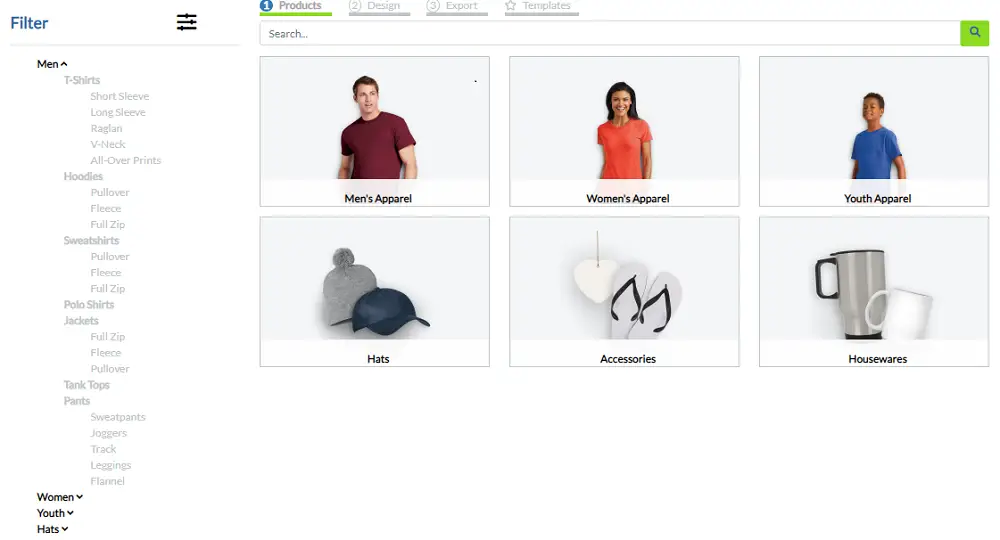 First, it requires a significant amount of hard work and time to find the right products that are not only profitable but have less competition. Then, you need to connect with fulfillment providers who can take care of logistics and delivery at an affordable cost.
It is easier said than done.
Because even after hours of research, the product you choose for POD dropshipping might not have quality sellers at your preferred location.
But with CustomCat, you will never run out of ideas for printing your design.
It covers almost every lifestyle and home improvement product that you can think of when it comes to leveraging POD for a dropshipping business.
Such extensive variety makes it one of the favorite platforms to expand the catalog without shifting to any other solution and fulfillment provider.
You can show more unique products and offer maximum varieties without having to worry about fulfillment and other solutions.
CustomCat gives you an all-in-one platform to sell over 300 products from a single dashboard.
Connect with Over 50,000 Partners
In the business of dropshipping, it is essential to partner with a reliable fulfillment provider, as discussed in the above section.
But with applications like CustomCat, you can expand your reach to partners exponentially.
The tool has partnered with local and international sellers and factory outlets that print, package, and deliver products. CustomCat connects both of them and provides a bridge for communication.
Even if the printing and shipping are not taken care of, the customers' experience and delivery procedures get jeopardized.
Therefore, you need to verify the prospective partners can give the type of quality of your expectations.
Along with the quality of the service, you also need to evaluate if the partner covers the specific geographical locations as per your requirements.
Let's say a dropshipping print-on-demand solution provider covers the Middle East and Asian countries, but you are targeting the USA and Canada.
At that time, even if the partners provide high-quality and superior customer experience, if they can not cover your geographical location, then practically they cannot help your business grow.
Therefore, along with the quality of the partners, please ensure which locations they cover. Plus, the geographical location will also help you determine whether they would be able to provide faster shipping and quick delivery for your business.
If they can do so, your brand's perceived value and consumer experience will scale like anything.
As far as CustomCat is concerned, you don't have to worry about the partners' quality for leading geographical locations. They cover almost every prominent location.
CustomCat has partnered with over 50,000 outlets and factories that will print and package your products.
Thanks to 50,000 partners across the globe, whenever you want to switch to any other location and expand your business, you will find a relevant partner within the same platform only. So, you don't have to switch to any other provider or application to fulfill the orders to that particular geographical location.
No Minimum Order Quantity
This is the most significant advantage of CustomCat.
Third-party logistics providers or warehouses expect you to give them a fixed number of orders per month to utilize their services. Or you have to purchase a specific area from the warehouse or stock a few thousand products to use the services.
In that scenario, your business needs financial backing to invest in such services. You have to buy the stock at a wholesale price and secure your position at the warehouse to run a sustainable business.
Such a type of business structure puts you under pressure to generate minimum order quantity to meet their designated requirements.
With CustomCat, there is no scope for specific business deals because the tool works even if you generate one order per month or tens of thousands of orders per day.
It enables maximum flexibility for POD store owners.
There is no minimum order quantity or upfront payment that you have to cover to avail of the services.
Competitive Pricing Structure to Book Maximum Profit
Dropshipping business models thrive on the quantity of the products sold.
You need to strive for the quantity of the products to earn more. In that process, you need to cover marketing, fulfillment, printing and logistics—all of them will take a decent amount of share from each successful sale.
The overall expense can go so high that your sales figures will break even to the investment you have made to generate those sales.
Where you can control things are at the places of buying and selling goods.
You must strive to fulfill products at the most affordable price to maintain your profit margins and don't compromise on quality.
CustomCat understands the sincerity of the scenario and allows a competitive pricing structure for all its products.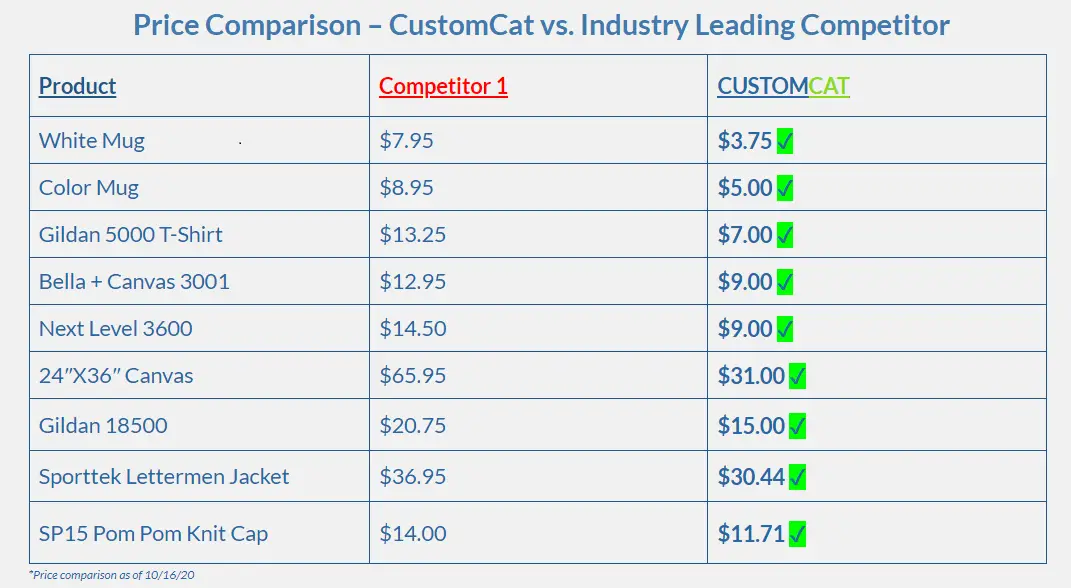 In fact, CustomCat claims that it gives 72% more profit margins compared to its competitors.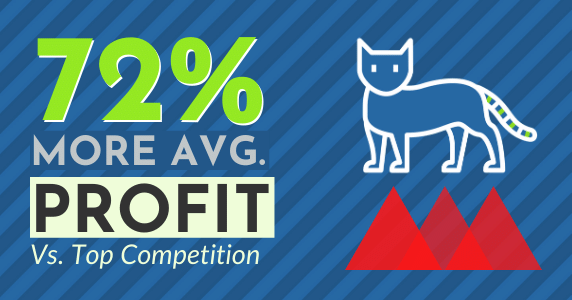 There are no subscription costs for using the app on WooCommerce, Etsy, BigCommerce, CSV, or API Clients.
For Shopify users, the app costs $30 a month — with a 14-day free trial for all 1st-time users.
They also offer a free plan, CustomCat Lite.
It has all of the same great features — but each item from the product catalog costs you $2 more.
More Flexibility with Team Management and Email List Support
CustomCat knows that entrepreneurs require a team of like-minded individuals who collectively work on an eCommerce store to build multiple six-figure stores.
Moreover, it also requires a lot of brainstorming and collaboration activities to deliver high-quality shopping experiences to the customers online.
With CustomCat, you get the chance to add sub-users within your CustomCat account and assign different tasks to your team members without you having to do it yourself every single time.
This will help you implement next-level productivity throughout your team and improve the delegation of the tasks significantly.
Moreover, CustomCat uses your buyers' data and extracts the email address and other details so that you don't have to do it yourself and create your email list.
It will do it for you and share the customers' details in a CSV format so you can schedule and automate email newsletters.
You no longer have to do any email tracking or lead generations to grab the user's email address.
CustomCat also supports creating on-demand coupons to attract more customers to your store.
You no longer need to have any other plugin or application to implement the coupon codes.
Cons of CustomCat
Not Very Active Customer Support Framework
CustomCat does provide excellent solutions, products, and services for print-on-demand businesses.
Having said that, you have to ensure that you are signing up for maximum support, so you don't feel stuck anywhere while using the product.
For every product you buy, you should seek professional and technical support to care for every scenario. If you don't get your answers quickly, your business may make an impact.
Talking about CustomCat, I am a bit confused about the responsiveness of their customer support.
Since they manage businesses at such a scale, I am sure that many print-on-demand and e-commerce suppliers will have questions for which they want to get answers.
At that time, having a live chat or a responsive ticketing system can go a long way for them to provide improved services to their clients.
Trial Period Lasts for Only 14 Days on Shopify
If your store is running on Shopify, you either have to go for a subscription plan or use the CustomCat Lite, a free plan with $2 extra for every product.
The paid plan is good for you and helps you save more money if your order quantity is a couple of hundred in a week.
However, the trial period of the plan only lasts for two weeks, which I think would have lasted more for customers to experience its affordability.
Final Words
Let me know what you think about CustomCat.
I hope this review is helpful for your commercial pursuits, and now you can decide whether you want to try CustomCat to fulfill your POD orders.
Are you planning to go for it? Do let me know in the comments!