Disclosure: Some of the links in this article may be affiliate links, which can provide compensation to me at no cost to you if you decide to purchase a paid plan. We review these products after doing a lot of research, we check all features and recommend the best products only.
Finding the right dropshipping products is the most challenging task that every dropshipper goes through in order to keep getting more sales and increase the profit margins throughout the year.
Certainly, owners can develop professional and elegant websites and ensure a top-quality user experience on social media, chatbots, and email communications. But if their products are not in demand and what customers want to use, the other activities are of no use.
The product has to be so good with increasing demand that it allows you to scale your marketing campaigns. For that, you have to be well-versed with market research and have the capability to fulfill those orders with maximum efficiency.
You need keen and constant market research to understand what trend is emerging in the current trend and what might be the next big thing that users want to purchase to use in their day-to-day lives.
Only then can you anticipate customers' pain points and cultivate a storyline that represents your product as an ideal solution. Only then can you ensure the maximum profitability of your business.
Your research framework has to be on the top priority and very agile so that you can know which products are most likely to sell with higher margins.
There are tons of tools and methods available that help you streamline your dropshipping product research in order to be able to deliver relevant products to your target customers.
These tools and products can make sure that you are getting to the right audience and securing decent profit margins with dropshipping.
Today, we will talk about one such dropshipping tool known as Ecomhunt, where you can find winning products for your dropshipping store.
Ecomhunt tries to provide the complete process in product research so that you can book more profit and sell in-demand products.
There are enough tools and functionalities with their dashboard which help you find winning products in minutes. So let's understand each of their features in detail.
Ecomhunt Classic
If you are an experienced dropshipper, you would agree that there are many parameters and scenarios that you have to consider to find winning products for your online store.
The fundamental research takes a lot of time and requires a lot of brainstorming from creative, production, fulfillment, and marketing standpoints to find out what is working right now and the winning products.
You have to go from platform to platform like Aliexpress, Alibaba, Google Trends, Amazon, etc., to verify whether a product is trending or not.
Once you verify that, you need to ensure if you can ensure decent delivery for that product.
Ecomhunt understands this hustle and provides handpicked winning products and affordable vendors with a few clicks.
Instead of you going and grinding throughout the web to verify details of the products, Ecomhunts utilizes the same using their parameters developed by industry experts to save you hours of time and energy.
All you need to do is define the parameters, click a few buttons, and a list of high converting and profitable products will be shown to you in a user-friendly dashboard.
Since your time is saved in manually researching products, you can focus on other areas of dropshipping business. You are letting Ecomhunt do the heavy lifting of finding the winning products for your business.
Ecomhunt Lucky
Ecomhunt Lucky is one of the most exciting features that gives you trending and interesting product recommendations with just a click.
It's like drawing cards at a casino. Ecomhunt draws the products from different parameters within just a single click.
In simple terms, all you gotta do is click on one of the four parameters, click on a button, and the algorithm will give you a unique product recommendation.
It sorts from:
Trending
High Margin
Top score
Low visits
It shows the Google Trends graph on the dashboard, what products are primarily sold on Amazon and Aliexpress based on the engagement on the site. The 'Low visits' means the competitive parameter that gives you a nod that not many dropshipper is visiting this particular product on Aliexpress. That means they won't be selling, so you get an advantage of low competition with a specific product if it has a low visit score.
When you find the product and click on View Product, you will be redirected to a new window where you can see the product images, description, date, publishing date, and pricing structure.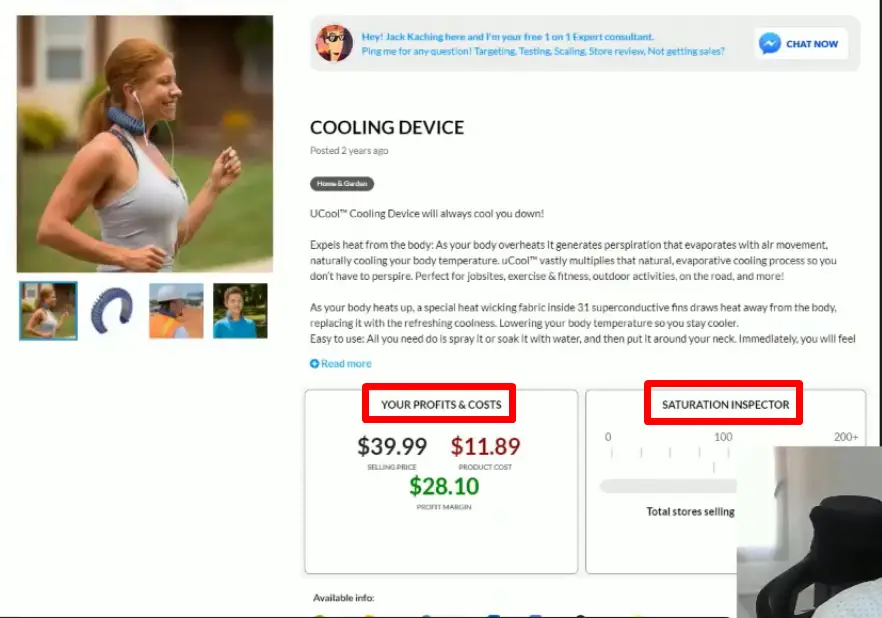 Images taken from – https://www.youtube.com/watch?v=LEIvZZeeezY
Ecomhunt does not stop here. It gives you profit margins that you can earn with this product by showing your recommended dropshipping cost and the actual cost to the supplier.
This gives you a clear idea of how much profit you can secure per sale of a particular product.
It also has a saturation inspector to evaluate whether a product is saturated or not. Depending on this metric, you can decide whether you want to skip a product because it's saturated or you want to go heavy promotion of it because its trend is just getting started.
You also get Aliexpress's metrics. For example, you get data of the last 60 days to check the average order value and number of orders from one of the prominent eCommerce platforms. Also, you can have the countries-wise data to have a better idea of their potential.
Within this single feature called Ecomhunt Lucky, Ecomhunt has tried to sort several product research processes within a single dashboard. As a dropshipper, your job becomes a lot smoother and more efficient as you no longer have to use several browser extensions, tabs, and tools to verify different parameters which are already defined within Ecomhunt Lucky.
Ecomhunt Live
Ecomhunt tries to level up the finding and scouting of the winning products to the next level with Ecomhunt Live, where the list of winning products is updated real-time.
Imagine having an index that only showcases promising and emerging products without you having to search anything; how cool that would be! It's like a winners' list that only showcases the top-performing assets and hot favorite products.
Ecomhunt live is an ever-updating list of 2300+ products. More importantly, this list keeps getting updated, so every time you refer to it, you get new suggestions without moving to any other platform.
The list is updated every single day, and you get the tracker of the next refresh from the Ecomhunt dashboard.
Ecomhunt Live also lets you check the full 30 days' engagement history on each product so that you will know the rise and development of a particular product from a month's standpoint.
These products also have country-specific parameters to know which products are trending at which location.
When you click on a product, you will see the buyers' interest over time, followed by top countries' orders, Aliexpress's sales trends.
With this, you no longer have to browse through Aliexpress to know which product is currently on the rise.
Ecomhunt Live will make your life much easier and give one unprecedented advantage of selling products with maximum profit potential.
Ecomhunt Tracker
Ecomhunt Tracker allows dropshippers to track products from Aliexpress, which is the most significant source of product research for all the drop shippers out there.
This particular feature only focuses on Aliexpress.
It gives end-to-end solutions and parameters to identify whether a product is suitable to store, sell or scale on a dedicated dropshipping store or not.
It creates a list of products depending upon the plan you choose for Ecomhunt and gives you real-time data of sales trends and profit margins so you can make informed decisions for your business.
To add a product, all you gotta do is go to the URL of the product, select the URL and paste it within the Ecomhunt Tracker, and the product will be added.
Ecomhunt recommends that you have to wait for 24 hours for the tool to grab all the data and showcase it to you inside the dashboard.
After adding products here, you get standard parameters of the last seven days, and 30 days of orders, along with how many wishes have been made for the product.
It also showcases the percentage-wise growth on a weekly basis for a particular product.
To get the information in a comprehensive format, just click on a listed product, and Ecomhunt will give you a graphical representation of all the parameters.
Ecomhunt also gives you the rate of increase in the reviews of that particular product to determine the engagement and virality of the product. You can check that product on Aliexpress by clicking on the listing.
Other tracker features are Facebook Tracker and Shopify Store Tracker, which work with a similar philosophy and tracks Facebook Ads in Shopify Stores, respectively.
To give you more data and more inspiration about the winning products and Shopify stores and Facebook ads.
Ecomhunt Adam
Ecomhunt Adam is a computerized virtual assistant for your Aliexpress product research.
Instead of going to Aliexpress and doing your product research, you can go to Ecomhunt Adam, define a few parameters, and easily search for potential dropshipping products.
If you like a product, you can also see the product on Aliexpress from Ecomhunt Adam, or you can also add the product in your Ecomhunt Tracker for constant tracking and keeping an eye for the same.
On the left-hand side, Ecomhunt Adam gives you a chance to enter targeted keywords to filter products of your preferred niche and make your research more focused and comprehensive.
By default, Ecomhunt Adam sorts the products based on the number of orders on a given day. You can also sort products based on Total Sales, Price, and New to make the research more detailed and full-proof.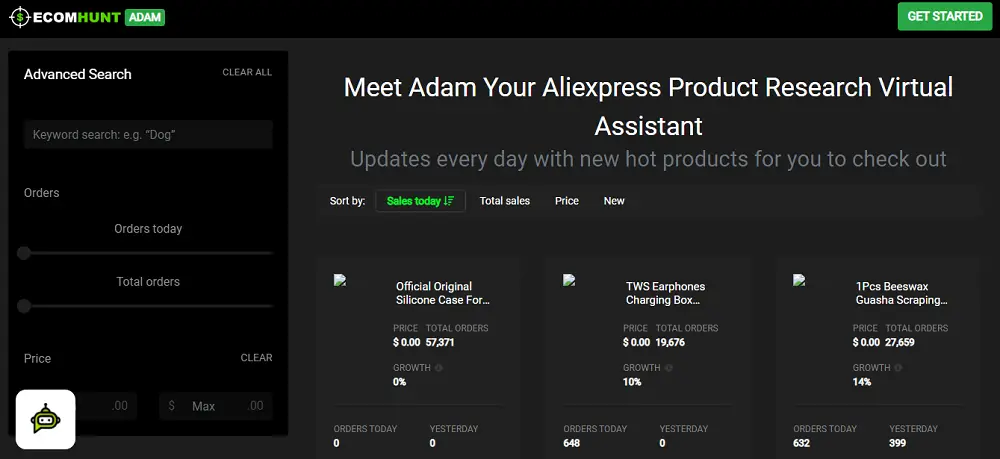 There are sliders that you can adjust to hit at your preferred markings, and the products will be shown accordingly on the dashboard.
You can also define the minimum, and maximum cost price of the product to make the research more intense.
Ecomhunt Masterclass
Ecomhunt Masterclass is an in-house product that is made of tutorials and masterclasses from the experts who share a common goal of helping emerging dropshippers with step-by-step processes to develop, build, establish, advertise and scale dropshipping to a whole new level.
Ecomhunt claims that this Masterclass is not like other dropshipping courses that promise hacks, tricks, and shortcut techniques to quickly increase your sales.
A proven and methodical approach allows people to manage their dropshipping with maximum profitability and the highest efficiency.
The curriculum of this Masterclass is built in a way that 14 chapters are totaling 70 video lessons that provide a detailed walkthrough of the business along with a ton of bonuses—sources, checklists, documents—that dropshipping entrepreneurs can keep in mind to make sure that they have a full-proof business plan on hand.
The Masterclass covers all from scouting these stores to choosing the right products to design high-converting landing pages and sales funnels.
They have detailed tutorials on Facebook ads and copywriting techniques that guarantee maximum results for the eCommerce store owners.
It also includes scaling strategies, budgeting techniques, and testing of the dropshipping products so that no stone is left unturned when it comes to getting the most out of business.
It shares detailed tips on shipping, email marketing, ads retargeting, and building a team to scale your business processes.
Ecomhunt Ebooks
Ecomhunt Ebooks is for those people who love to read instead of watching tutorials and scrolling through YouTube for learning.
Ecomhunt gives a series of top-quality ebooks that customers can leverage to increase their profitability and efficiency online.
The library of e-books consists of:
Hacks For Dropshippers
How To Use Ecomhunt On Steroids
Dropshipping Made Simple!
The Ultimate Guide To CBO Facebook Ads
Evergreen Secrets – Unlock Your Traffic
Product Research Checklist
Shopify Store Checklist
Facebook Ads Checklist
With such a comprehensive library, Ecomhunt has tried to cover almost every major roadblock that a dropshipper goes through.
From using CBO (Campaign Budget Optimization) for the Facebook ads to researching Facebook and Shopify stores, from struggling to find customers to finding high-quality methods to maximize online sales, Ecomhunt Ebooks' library has covered everything for all the emerging dropshippers in the market.
Such a vast array of knowledge documented in PDF format makes it easier for readers and learners to learn the art of dropshipping on the go.
Ecomhunt Community
A command also gives access to the Facebook community that drop shippers can join and interact with each other.
People discuss and share the latest happenings of eCommerce and dropshipping along with other essential tools, tips, and techniques.
The Facebook group has 81000 people all across the world sharing the same enthusiasm about e-commerce.
Ecomhunt Podcast
Ecomhunt also hosts podcast episodes from top dropshippers sharing their journey and perspective of the business to help and inspire fellow dropshippers to thrive in the market.
The podcast is available on iTunes and Spotify, and anyone can tune in from their smartphones on the go.
Ecomhunt Pricing
Ecomhunt has a free plan where you can search for products. However, it has very limited features.
Ecomhunt Pro costs $29/month and unlocks all the major features of the tool.
Currently, they are giving a 31% discount on a yearly purchase.
Moreover, with the Pro plan, you will get 24×7 customer support on email and live chat support channels.
They also provide 30-days risk-free money-back guarantee that gives you peace of mind for claiming your funds after the first purchase if you are not satisfied with the tool.
Conclusion
Do let me know what you think about Ecomhunt as a product.
I hope you have found this article insightful and get a keen eye on how this product works.
Remember that if you are a regular dropshipper and want to build your business, you should definitely consider Ecomhunt to hunt new and profitable products.
Moreover, they have a 30-days money-back guarantee which is the cherry on top! You can claim your money any time for the first 30 days if you think Ecomhunt is not the right fit for you.
So, let me know what you are planning? Are you planning to give this a shot and signing up; I'd love to know your take on this in the comments below.