Disclosure: Some of the links in this article may be affiliate links, which can provide compensation to me at no cost to you if you decide to purchase a paid plan. We review these products after doing a lot of research, we check all features and recommend the best products only.
In recent times, there are several powerful marketing software, that work incredibly well for companies with a range of features and solutions.
EngageBay is one of these: an all-in-one marketing and sales tool that offers a seamless experience to customers, mostly for small to medium-sized business enterprises.
Whether it is marketing automation, CRM, Sales bay, or help section, EngageBay provides extensive features to its customers, given the affordable price.
This EngageBay software is one of the best-rated all-in-one Marketing and Sales Automation platform that also provides Analytics tools for growing businesses.
And if you face any problem with the tools or features, then they also have an online assistance option wherein experts guide through the issue you are facing.
It is user friendly, great software to start with, and learn about online marketing as well as sales. It also comes with new advanced variant tools used today in the online business by top companies.
EngageBay is a user-friendly tool with a low subscription fee while also providing online assistance. Given the advanced features and dashboards at such a flat subscription fee along with various Analytics tools makes it a pretty good option for small to medium-sized businesses.
In this article, we will have a thorough review of EngageBay and get to know everything about the software.
At the outset, EngageBay offers three primary platforms which are:
Marketing Solutions
CRM and Sales Solutions
Service Section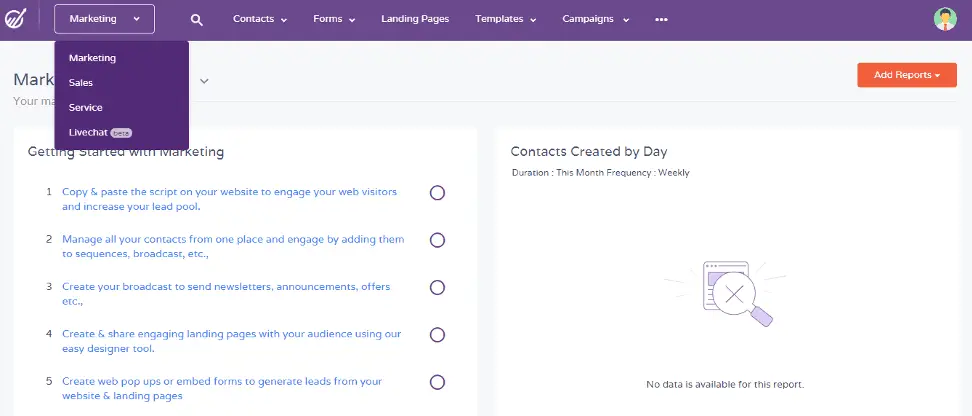 We will go with each of the sections in order to give you better clarity of how EngageBay works.
#1. Marketing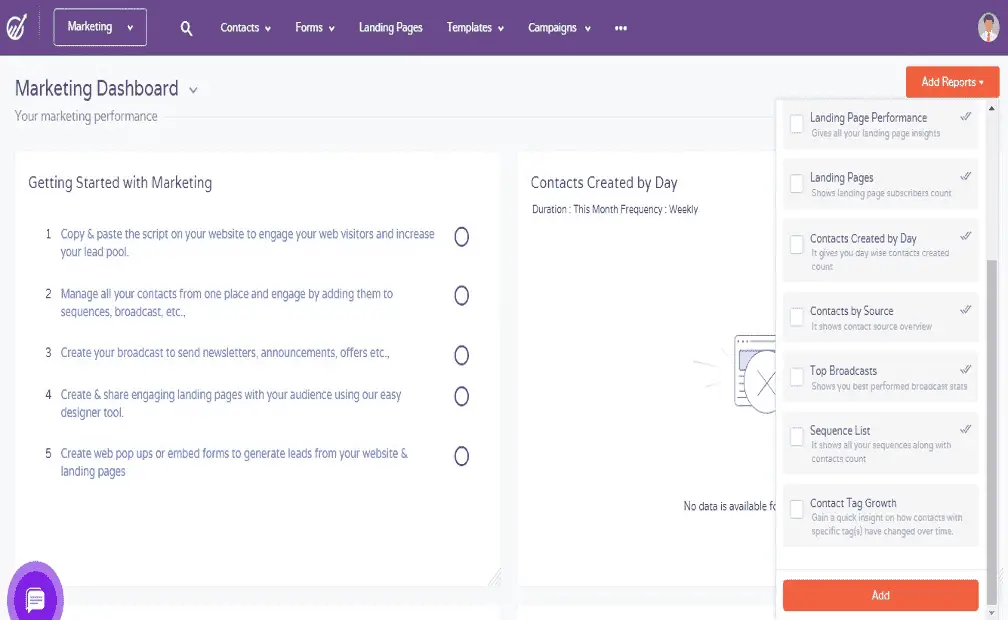 When you click the Marketing head, you are taken to page where you can add reports to go to the blocks available as per your preference. Check the above picture to get a better understanding.
Now to add or include a report, check the desired box for each of the options. There is a short description for every report block, which makes it easier to choose your option and what you really want.
Under the Marketing dashboard, there are several features available. These options let you add your data and keep it up-to-date, making it incredibly user-friendly and easy to use.
Contacts
Under Contacts tab in the Marketing head, you can technically save all your Contacts and manage Filters on the right side of the page, and you can also add your filter if you wish to sort it manually. For example, according to Location or Subscription Date.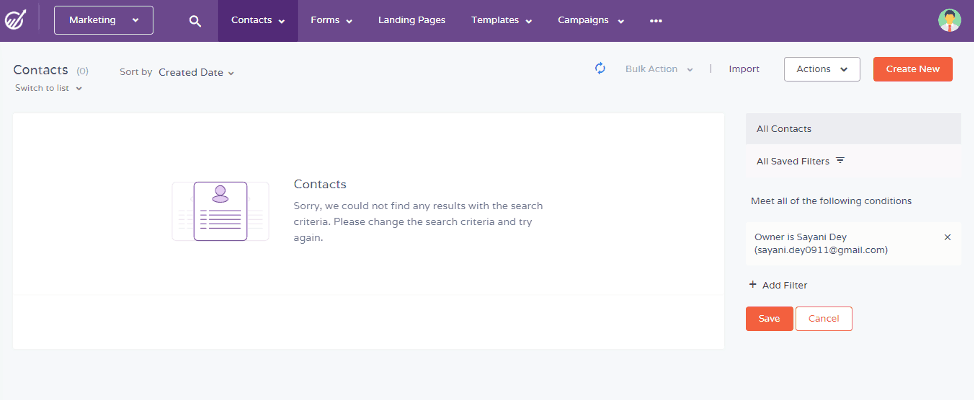 When you start using the CRM, you will get find numerous contacts, and searching for any particular contact can be difficult. The Filter option comes handy to identify them.
Forms
Moving on to Forms, there are two types of ways you can add them, namely:
Inline Forms: As you click on the Inline Form option, you are given an option to create an inline form.
Here, you can select the desired template to work on, wherein you can change the text, look and feel, fields as well as other settings. These are entirely customizable forms, which adds a great deal of advantages for customers.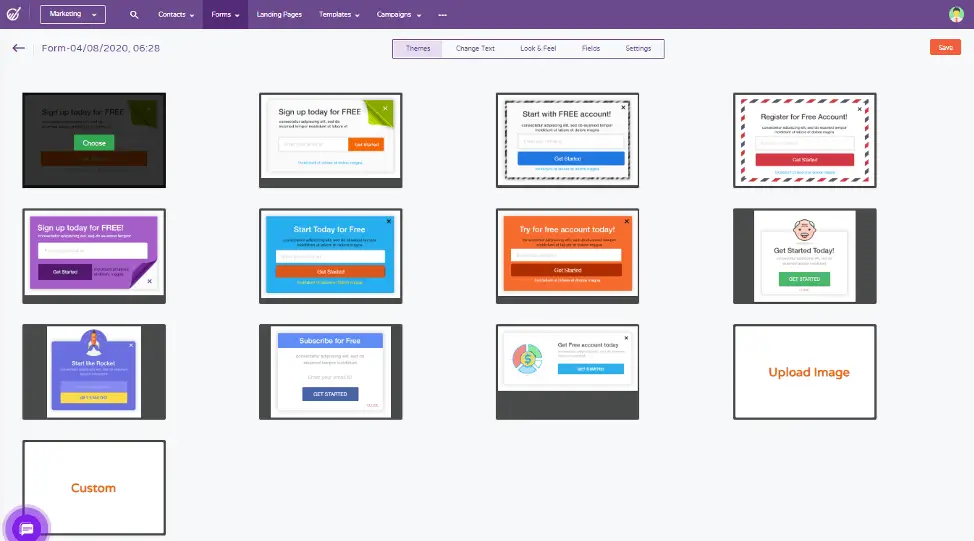 Also, you can simply go to the three dots on the right side and click on code to get the embed code to copy the link on your website. Then, the form shows on the site, or else you can just click on the permanent link if you don't want to associate it with your website. You can even Edit the form or delete the form later on if you do not wish to keep it anymore.
Pop up Forms: The only difference between the inline and pop up form is that the pop-up form pops up, and users necessarily don't have to click on links to know about the forms. It will pop up on your website when any user surfs through it.

Landing Page
Now coming to the next feature, the Landing Page.
When you click on the landing page option, there will be different templates available for you to use, or you can use a custom template that you can design as per your own wish.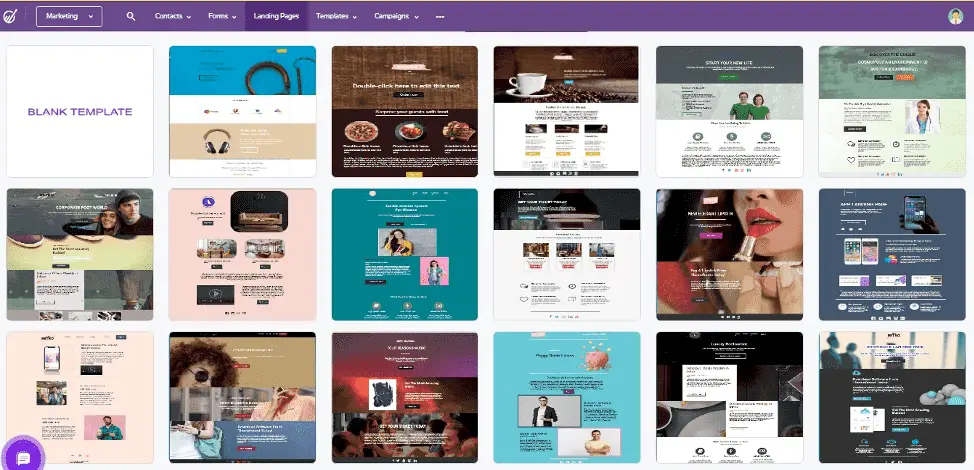 The best thing is that you can code your own template using the 'Code Your Own' option. Although there are many templates available for landing pages, it is recommended to use a Customized Template.
There is three option on Code your Own, which includes import from URL, paste in code, and import HTML. When you import from URL, you can literally use any website's template for your own website, but it might not show the Icon of the former site.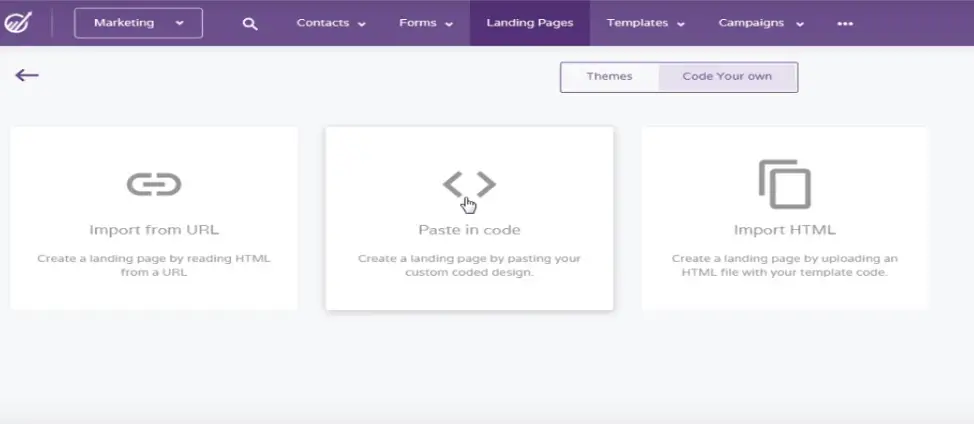 Templates
Next, we have the template feature divided into two:
Email Templates: There are several templates available here similar to the Landing Page, where you can even choose your own and design it accordingly.

Drag the Templates given on the right side under Blocks. There are two other options, which include the Content and Body. Under Content and Body, there are options to set up your template as per your choice, and if you don't want to waste time, then just go with the available templates.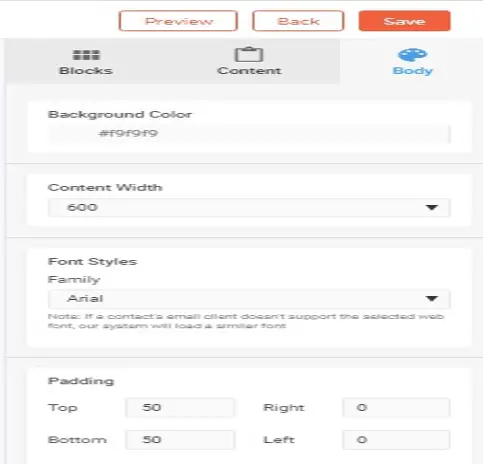 Video Templates: Under the Video Template option, you can either record a live video or upload a video.

Campaigns
The next feature under the Marketing Dashboard is Campaigns.
Under Campaigns, the first option that pops down is email broadcasts. Click on it and then again click on the Create Broadcast, and a page will appear as shown in the picture below.
It is essential that while giving a virtual tour regarding the software and its features, you should know precisely why you should use this particular software rather than using any other software out there in the market or on the Internet.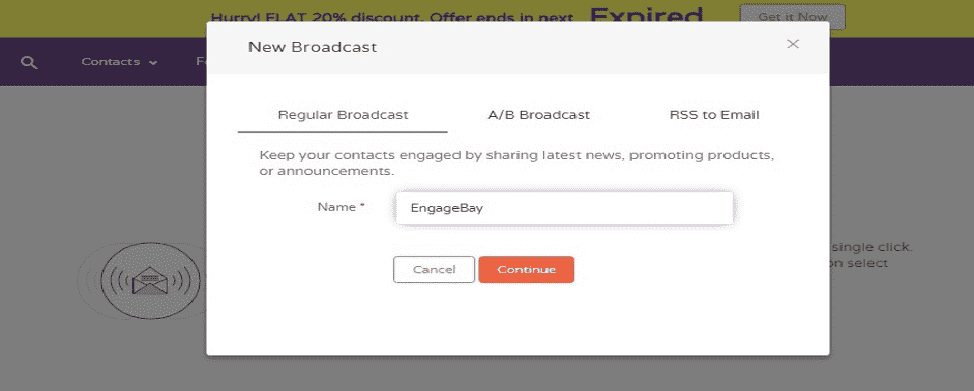 The next option under the Campaign Feature is SMS Broadcasts. It is mainly the SMS version of the erstwhile discussed Email Broadcasts where you have to select a service provider along with a number along with the message body, and right at the bottom, you will get the Contact list to which you want to send the message.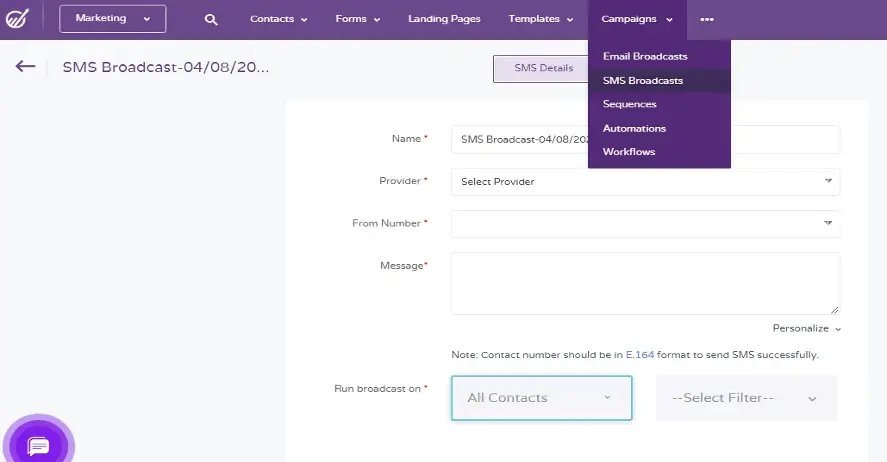 The other options under Campaign Feature are Sequences, Automations, and Workflows, which you can discover as you start using the software.
These three options are mainly connected with the first two options, Email and SMS Broadcasts, and to align the Email and SMSs, they are essential. I will just give a picture if anyone faces a problem with the Campaign Feature and exploring it.
Extras
Just beside the Campaigns tab in the Marketing dashboard, we will be able to find the other essential features that are denoted by the three dots.
When you click on the three dots option to get the dropdown of other features under the marketing dashboard.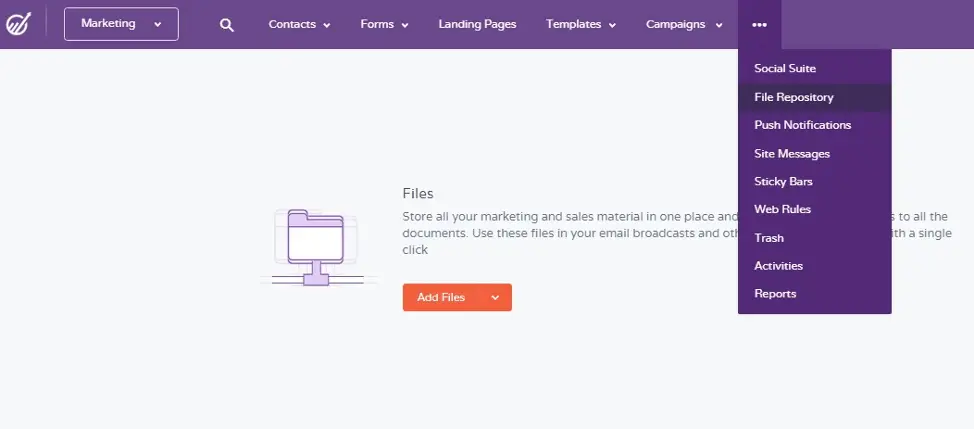 Social Suite: As you can see that the Social Suite stands for social networking interaction to spread your marketing reach and help boost your sales and help your business grow.
Nowadays, Social Media interaction is the best way to spread your idea to a massive number of people, be it through direct communication or through software like EngageBay.

You just have to know how to reach your business idea and marketing vision to help your business grow. There are precisely 330 million active twitter users, 2.5 billion active Facebook users, and one billion active Instagram users.
So you know, by what measure are the opportunities and broad target audience this software is offering you at such a low subscription fee.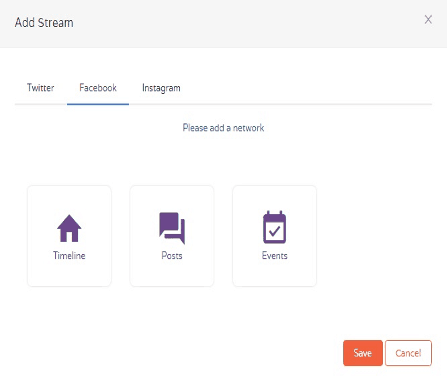 On the Twitter section, when you click on the search button and search by keywords that are trending and then target your audience accordingly.
For example, if you are interested in knowing how many people are discussing football, then you can simply search for football and see the results. There, you find your target audience.
File Repository: File repository is the feature where you save all your business files, and it is safe on a Cloud-like platform to access it anytime you want from anywhere.
Push Notifications and Trash: Push notification is where you can see your notifications, and Trash is where your deleted items are stored starting from contacts, deals, tasks, forms, pop-ups, broadcasts, and email templates.
You can recover your deleted items from the Trash. There are more to these features than can be explained.
#2 CRM and Sales
Contacts
Under Sales or CRM, you have the Contacts and Lists feature, which is pretty much the same as in the marketing dashboard, but there is a new option under Contact, which is Companies.
If you have any clients that are companies, you could just add them here. And the best part of it here is that you could monitor who the contacts are so you could add several contacts here relating to that company you could also monitor activities, track your deals, task, emails, notes, and events.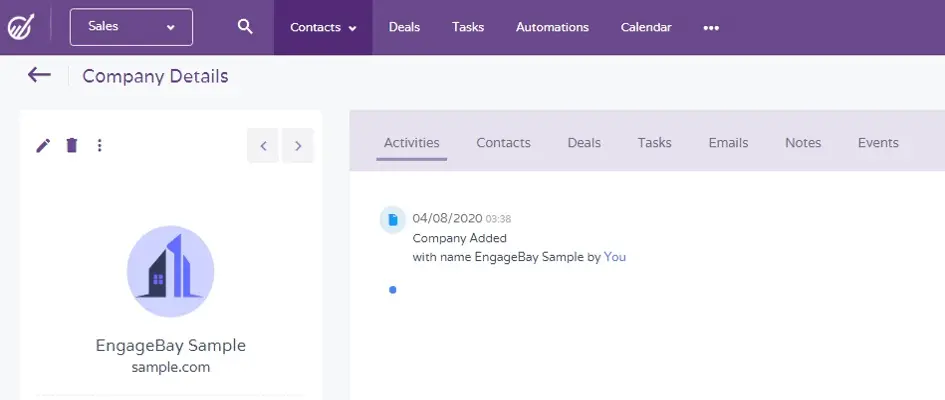 Deals
Here you can make and create new deals and create a pipeline using the default Sales track.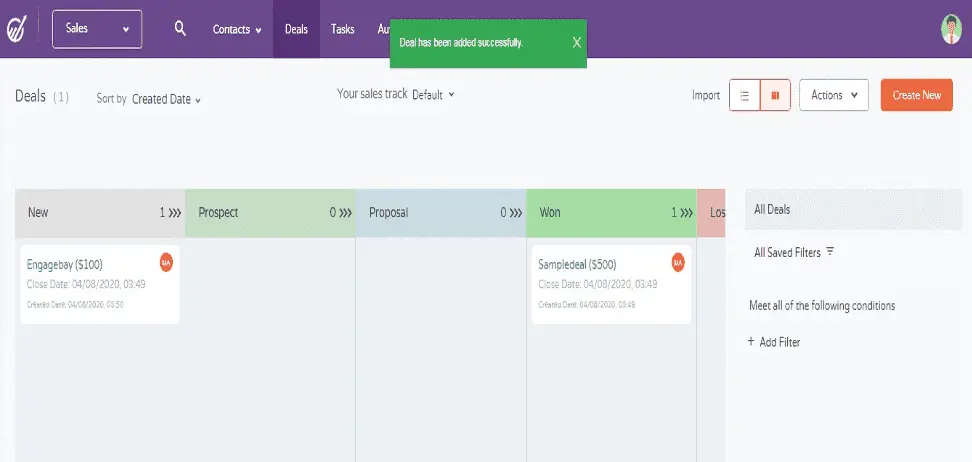 You could create several types of Sales Track and see a different kind of pipeline, and you can create a new deal and just fill it according to your needs and then save it to create a new deal.
Tasks
If there are specific tasks that you are doing and want to monitor closely, you can add it here. You can create tasks and set the task name, and you can also set the priority level to High and check the status of the task while you are at it, if needed.

You have everything at your hand to check and monitor your data, tasks, deals, and all the essential features that will genuinely help you in achieving your goal. It has been made in a simplified way so that you can navigate on your own and learn it, and if you face problems, the experts are always ready to help you with the resources they have at their disposal.
Automation
Now let's find out what does the automation feature offers. So, basically, it works the same as the marketing section.
The main difference is that when you create automation, it will start with events that are based on Sales or CRM. So, when you create it instead of starting with signing up with a pop-up form, it begins with a deal track change, deal milestone changes, deal generated, task added and task status changed, and so on that is based on Sales or CRM.
Calendar
Then comes the Calendar feature, which is basically to fix as well as check your appointments.

Along with the events you have marked for the month, you can even link your office 365 calendar so that you can check your schedule in the office, and you can add new events if you want.
Extras
Moving on to the extras in the Sales section, the three dots after the calendar tab packs all the extra features in the sales and CRM head similar to the Marketing head.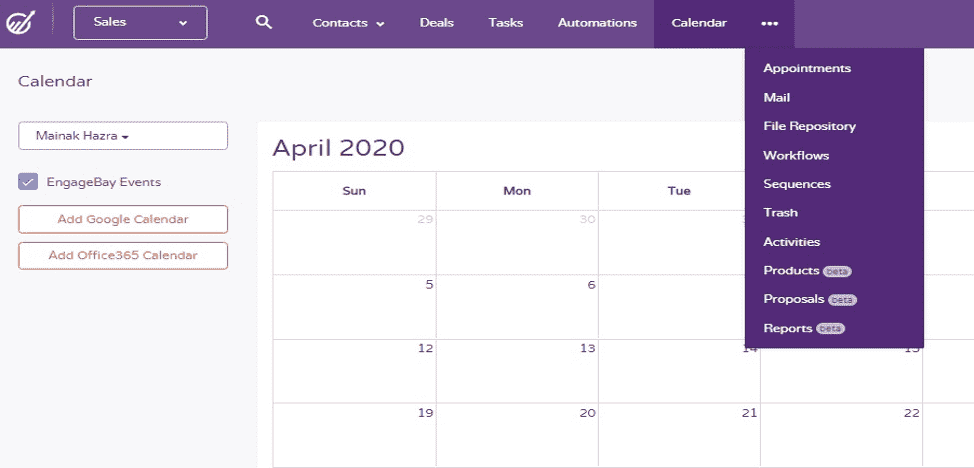 They are appointments, mail, file repository, workflows, sequence, trash, activities, products, proposals, and reports.
Appointments: Appointment is an exciting feature in the CRM system. It is a place where you could create a meeting with your client. On the right top corner, there is the URL of your appointment, and you can edit that URL, change it, and even associate it with a CNAME. CNAME is a Canonical Name Record or Alias Record.

It is a type of resource record in the Domain Name System (DNS) that specifies that one domain name is an alias of another canonical domain name.
So when you copy the URL on the top right side and copy it on your browser's address bar and a page will open where your clients can create an appointment video and so on.
All they have to do is choose a date and slot, fill out some necessary details, select the appointment time, and click on schedule appointments, and your booking will be confirmed. The appointments now show in the calendar.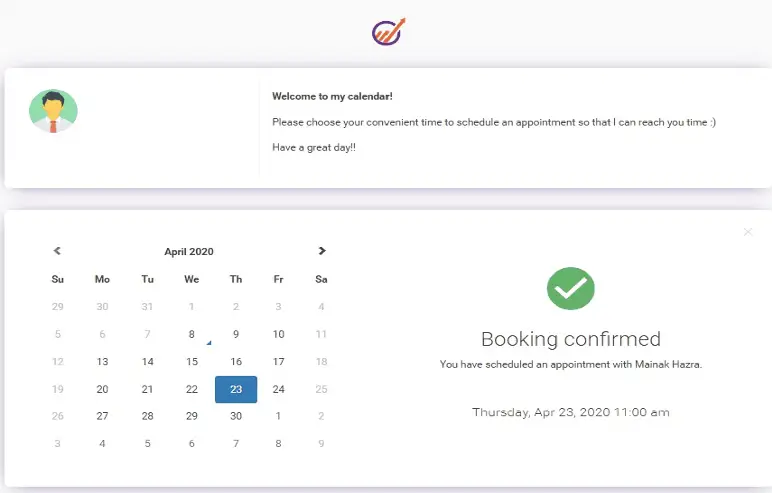 Mail: The Mail feature is where you can manage, sort, and answer back the mails that you receive on a day to day basis.
So you can use EngageBay as a platform through which you can access and reply to your clients. It's almost the same as Gmail, so that should be pretty easy to handle even as a beginner.
The other features that follow mail are pretty much the same as the Marketing Dashboard, and you need to buy the Beta Version to get access to the Products, Proposals and Reports features under the Sales Dashboard.
#3 Service
Moving on to the Service dashboard, there are few unique features here which we do not generally find in other such marketing tools or software.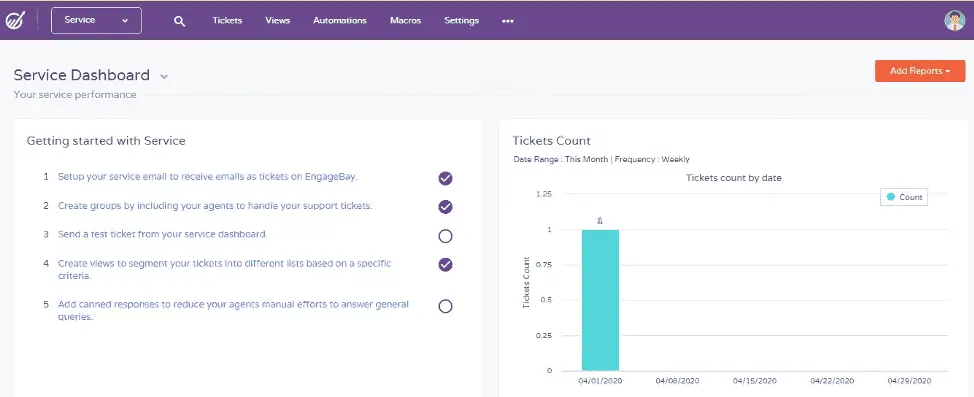 Tickets
The all-new feature called Tickets is where you will be able to find the tickets raised or, in other words, service requests.
There are two ways you can create a ticket. Either you create it manually, which means you have to click on 'Create New' on the top right corner and then enter the contact.
Also, remember, the tickets are being used to support your connections and should exist in your contact list already.

The other way to create a ticket is by the Macros feature. It is one of the primary methods of creating a ticket.
In this method, you create a Macros, which automatically associates with a ticket and proceeds through the Automation process. The picture given below gives an insight into how Macros works.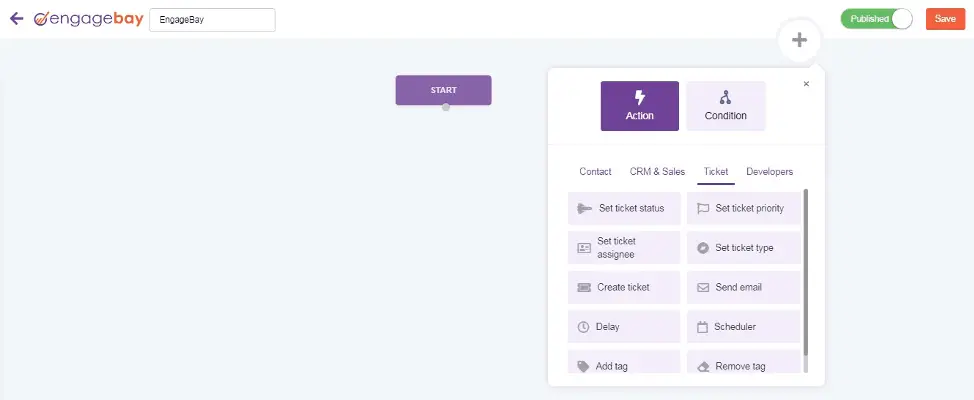 Other than that, all other features in Service head are the same as the previous Dashboards of Marketing and Sales.
#4 Livechat
In the Livechat Dashboard, there are features through which you can communicate with clients or prospects directly and also add reports as per your requirement you sought for.
Conversion
Under the Conversation feature, you can check your Livechat performance through reports of Total chats, Average chat duration, chats by country, and first response time.
Chat Widget
In the Chat Widget section, you can chat with your clients, prospects.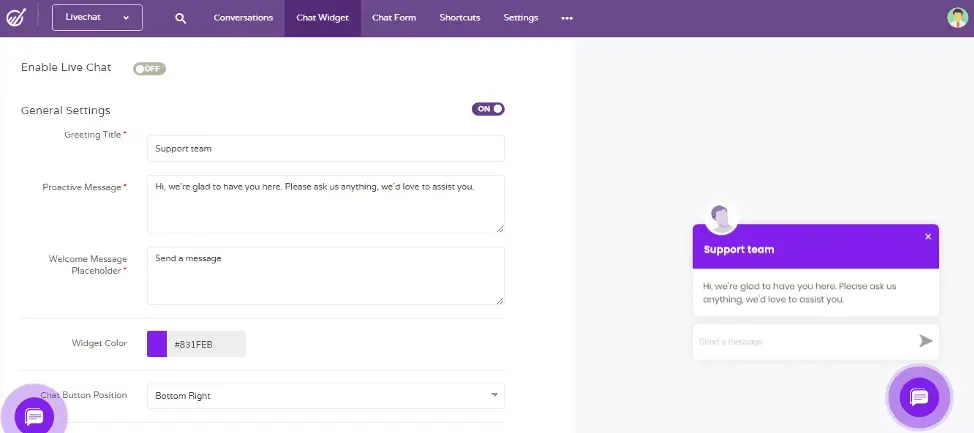 The Chat Widget feature helps you set the automated Chat Button that is going to handle any primary or prospect inquiry where you can set the Greeting message followed by the Proactive message. You can also set the Chat Button position, which will appear on the prospects screen.
#5. Account Setting
Apart from all the features we discussed above, there are many options in your account setting too.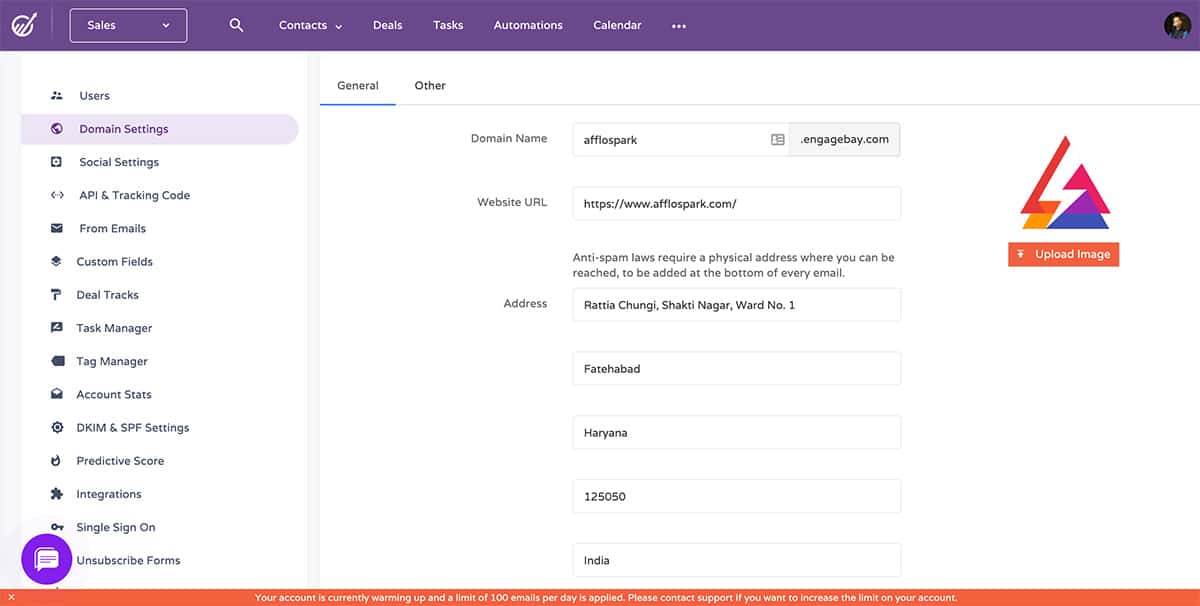 Here you'll find many setting which will make this tool more personalized to you.
Pricing
To make things a little easier for you, we have also added the pricing structures of EngageBay, so you know it an indeed affordable and a great deal given the number of features it offers.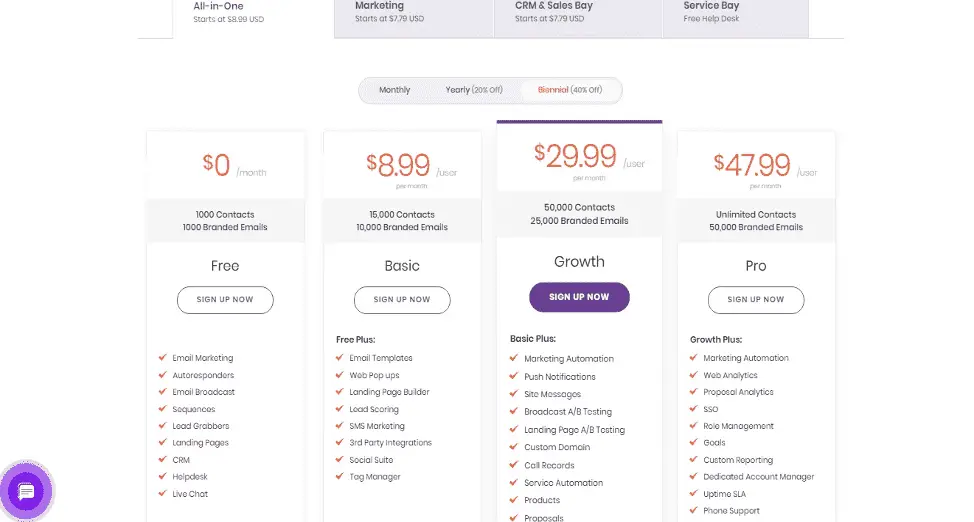 Here are the plans EngageBay offers, including their prices.
The four plans that EngageBay offers are Free, Basic, Growth, and Pro. The plans are offered on a monthly, yearly, and biennial basis.
While the free plan lets you have up to 1000 contacts and send up to 1000 emails, the Pro plan includes everything in the free plan and additional features like up to 15000 contacts and 10000 branded emails, web pop-ups, 3rd party integrations, tag manager and more.
Growth and Pro plans are premium plans.
The Growth allows up to 50000 contacts and 25000 branded emails, while the Pro plan allows unlimited contacts and 50000 branded emails.
All the plans include additional features that only become better with every higher plan subscription, as does the fee.
Conclusion
Now, I hope you have a pretty good idea about the EngageBay software.
But again, I will reiterate that there are many essential tools in this software that might come handy and useful for you.
I can assure you that after having used many Analytics, CRM Tools, and software, EngageBay does justify being one of the best AIO software. The best part about this software is the Analytics Tools, which otherwise comes at a hefty price.
There is a free demo version that you can use before you purchase any paid version. That way, you will get to know more about the software and get used to the Dashboards and features.
The free demo version pretty much gives you an insight into the software, and that might take up some hours or days, depending on the extent to which you are accustomed to this kind of software.
If you face any problems, you can always reach out to the service experts who will guide you through the process.
Undoubtedly, EngageBay is a perfect marketing tool for small to medium-sized businesses to engage new web visitors and convert them to happy customers with all its extensive range of features making it a great all-in-one tool.