Disclosure: Some of the links in this article may be affiliate links, which can provide compensation to me at no cost to you if you decide to purchase a paid plan. We review these products after doing a lot of research, we check all features and recommend the best products only.
In our last article, we talked about podcast hosting sites, where you can host your podcast and capture the world-wide audience.
In that article, we got a lot of queries where everyone was asking about the audio recording software to record the podcast. So here we are with another article.
Whether you need to record audio for a podcast or a new track, in addition to a good microphone, you will need to get the best audio recording software you can.
The best audio recording software enables you to create content without slowing you down. Ideally, you want to get software that has an uncomplicated interface, making recording fast and easy.
In short, it must be user-friendly.
You also want it to be able to manage multiple recording devices, and it must make sound checks and multitrack recordings easy. Getting software with these features is an absolute must—even if you're setting up a home studio.
However, most audio recording software is expensive and can set you back hundreds of dollars.
Luckily, there is some solid and free audio recording software out there that'll give you the same high-quality recording capacity the paid ones have—and you don't need to go looking for them either!
Here's a list of handpicked audio recording software you can download and use for free!
Top 15 Best Free Audio Recording Software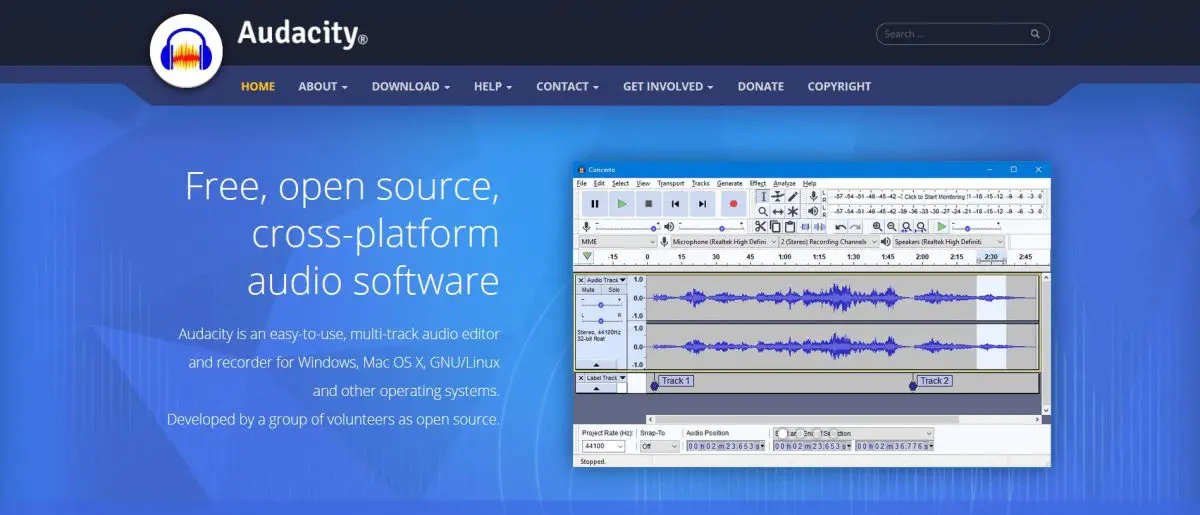 Audacity is an open-source sound recording software that also enables sound-mixing and multitrack editing. It comes with no ads, giving you a quick, hassle-free recording experience.
Its plot spectrum window furnishes detailed frequency analysis, giving you full control over the sound. You can also digitize recordings from other media!
Audacity recording software can output 16-bit, 24-bit, and 32-bit sound. It can also reproduce the recorded audio with multiple effects. Its easy keyboard shortcuts hasten the recording and editing process, and you can process multiple imported sounds at once.
You can download and install Audacity online for free on Windows, macOS, and Linux.

If you're looking for a professional sound recording and mixing tool and don't want to spend any money, Ardour is the perfect option for you.
It comes loaded with premium features, backed by a massive collection of plug-ins. It's open-source, which means you can also make your own plug-in!
Ardour is updated continually and receives new features almost every month. The true-tape-style transport enables the user to use any combination of master record and individual track without any setup.
Editing is nonlinear, and the software allows unlimited undoing and redoing, which gives you a lot of creative freedom. You won't need to start from scratch if something goes wrong—you can go back a few steps whenever you need to.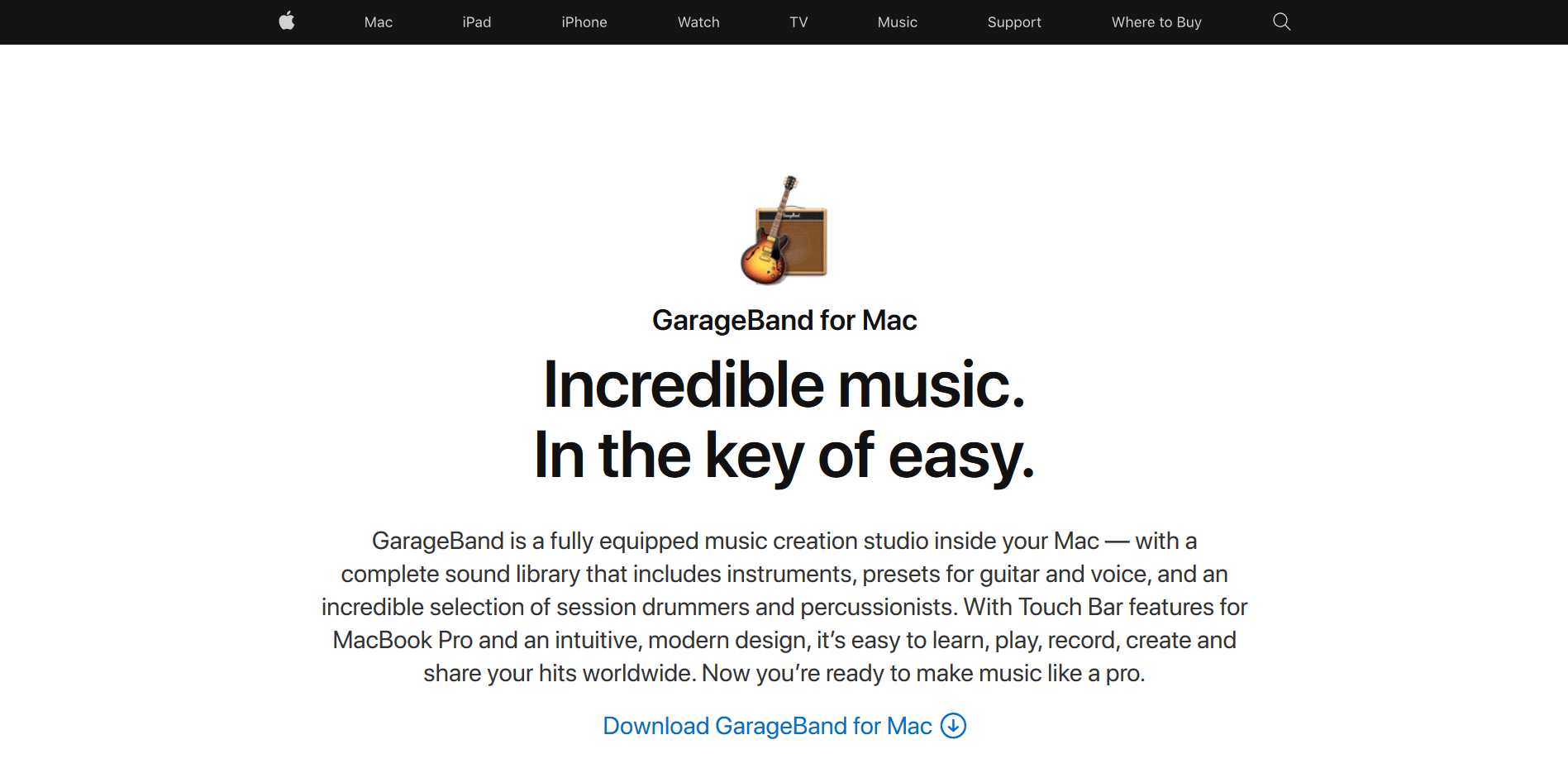 GarageBand is Apple's free DAW that comes with all their laptops, tablets, and phones.
The interface is pretty to look at, and it is minimally intrusive to your work. All the tools are organized to make recording and editing easy.
Tracks are color-coded, and the drag-and-drop style functionality makes putting a track together uncomplicated.
The extensive selection of plug-ins available for GarageBand is what makes it the best free music recording software around.
You can create, record, edit, and morph sounds as you see fit, and since it works without buffering on all of Apple's devices, you'll have no problem using it on your phone even when you're on the move.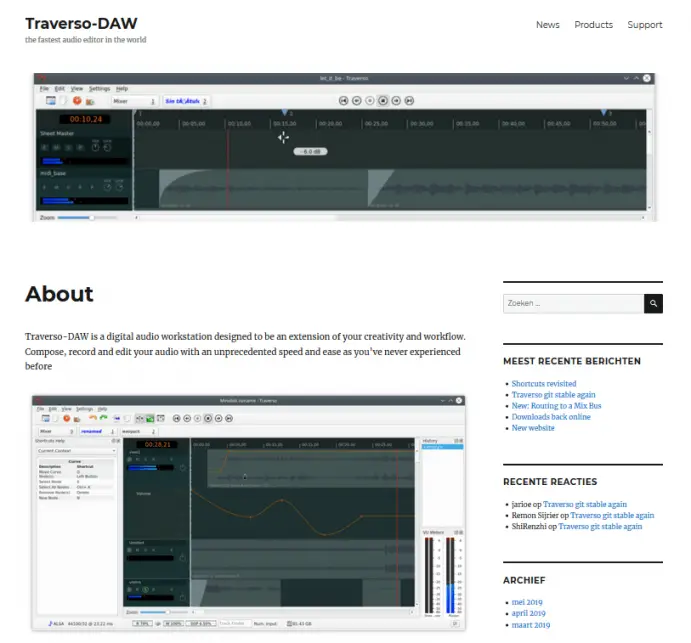 Traverso is a free sound recording software available for use on Windows. It features a one-page user interface that gives access to all the features without the need for clicking around.
It's super lightweight and comes in a small 23 MB package!
You can record your audio with ease and export your tracks as OGG or FLAC files. Modifying sounds and creating new ones is surprisingly painless using this DAW.
New features are added to it all the time, and all iterations of your track are saved automatically, which means if something goes wrong, you'll be able to go back to a previous version.
One disadvantage is that the software lacks digital instrumentation. But for a free software, it is packed with impressive features and will never let you down.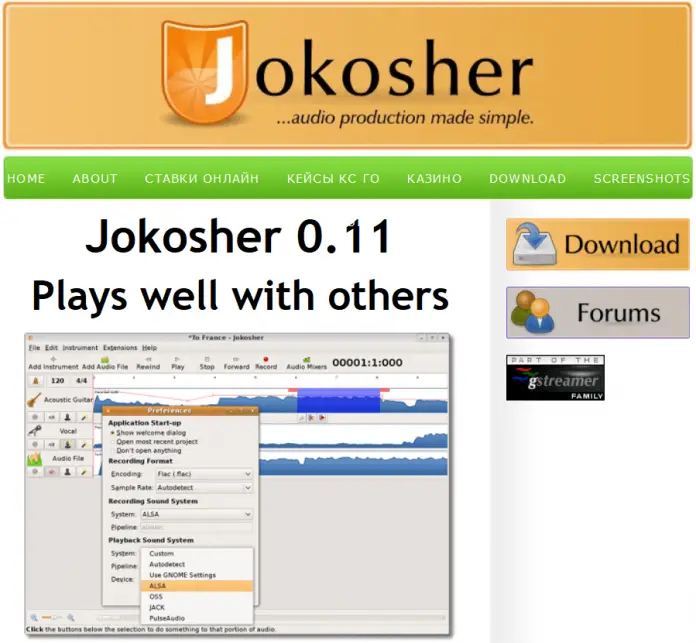 Jokosher offers simple editing tools with trimming, splitting, and moving tools that make creating music and podcasts fast and easy.
It boasts multitrack volume-mixing capabilities with VU sliders, giving you full control over the sound. It makes mastering and mixing super straightforward. Importing audio files is easy to do, and a range of instruments can be added to your project.
Jokosher is available for free on Linux and Windows.
If you need a simple audio recorder that works in one click, Free Sound Recorder is perfect for you.
It is available to download for free on both macOS and Windows, and its straightforward interface enables you to set up, record, and master quickly. It also comes with scheduling features that allow hands-free recording.
Editing is also made easy, thanks to the drag-and-drop interface. You can cut, copy, crop, and delete sounds to create the perfect piece.
Echoes, fades, and amplification sound effects come prebuilt, and the effective presets get you ready for your recording session in seconds.
It's the perfect software for recording podcasts.

WavePad is free to download and use, but its excellent features put it up next to premium sound recording software.
With WavePad, you can record and edit audio on Windows, macOS, iOS, and Android. It can output up to 32-bit sound and supports sample rates from 6kHz to 192kHz in both mono and stereo formats.
You can use VST plug-ins to create impactful sound effects that fit your project's requirements, and it comes with advanced tools like FFT and TFFT that enable spectral analysis.
It also comes with audio restoration features that facilitate noise reduction and click-pop removal.
The modern, straightforward interface ties all its features together nicely.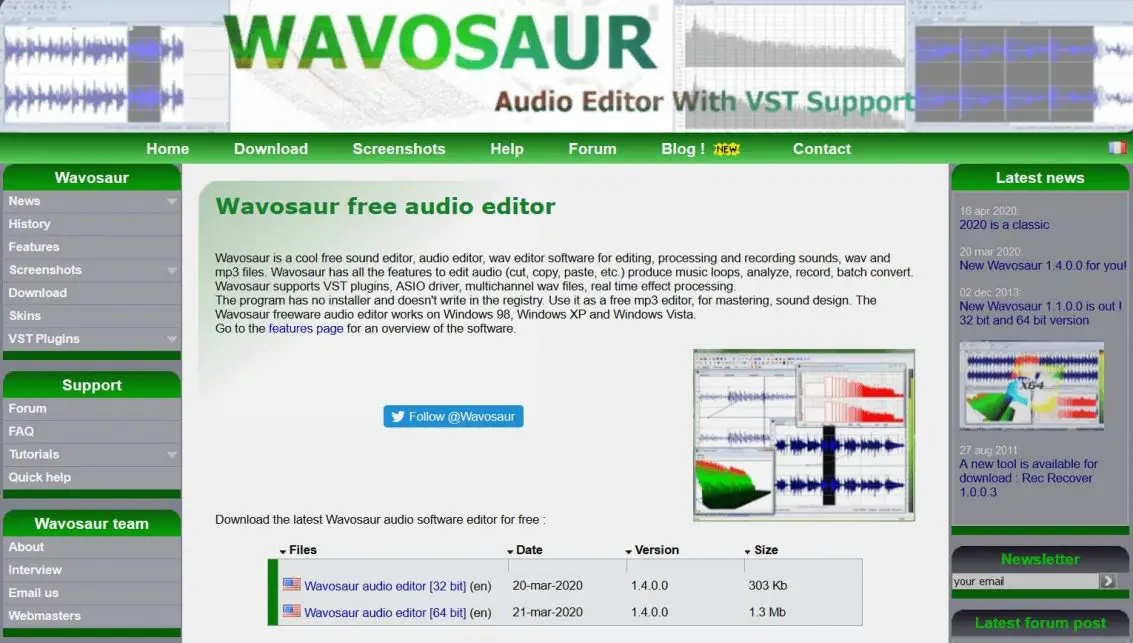 If you're looking for a light, feature-packed alternative to premium sound recording software, Wavosaur is for you.
You don't even need to install it; you just download it and run it. It makes sound design and audio mastering simple using its user-friendly features.
One downside of Wavosaur is that it's only available on Windows. It won't work on phones or Macs.
However, it can process WAV and MP3 files easily, and the multitab interface enables you to play around with different sounds at once.
The reliable VST plug-in support gives you the ability to carry out world-class sound design, and it can output up to 24 bits of sound.

High-quality recording is made easy with Audio Hijack. Whether you're recording a podcast, an instrument, or vocals, it'll be recorded in the FLAC format.
It boasts a smooth modular workflow, and the task-oriented presets optimize set up time. You can use multiple recorders per session too!
You can record and monitor sounds from microphones and applications on your computer, and you can also do both concurrently using the Audio Capture feature.
The intuitive grid supplies a pipeline-style view of your audio flows, and the audio effects and bulletproof recording features ensure that your projects sound good and you never lose them.
You can get Audio Hijack for free on macOS.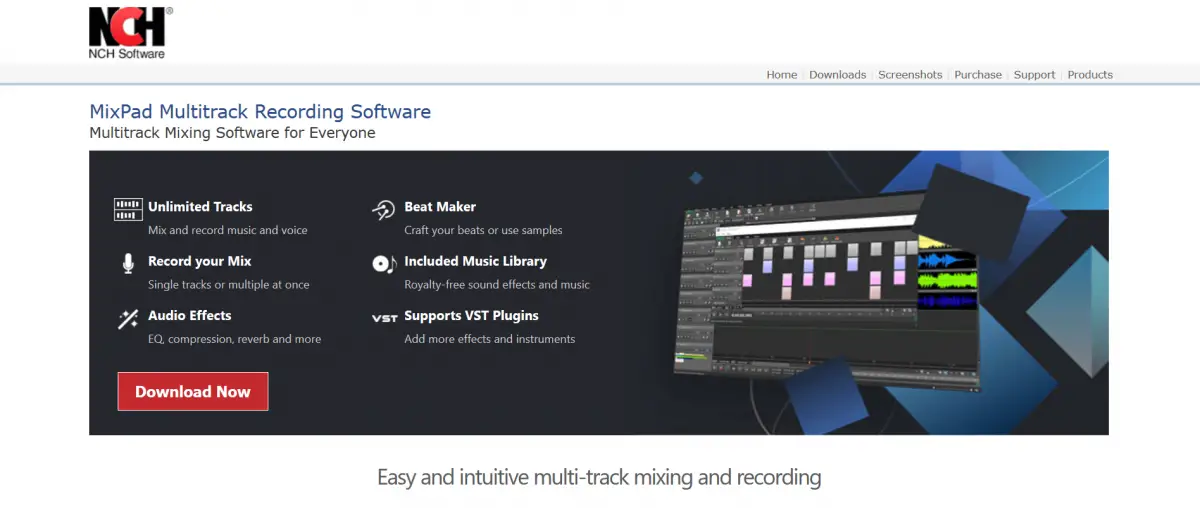 MixPad is a free alternative to premium software, and it makes no compromises. It supports all platforms and makes sound recording and mixing super easy.
Its powerful multitrack interface makes creating and recording audio as simple as clicking around and enables users to produce professional-grade music without spending a dime.
MixPad comes with a library of royalty-free music that allows you to get started on projects without needing to dig around for quality copyright-free sounds.
Installing VST plug-ins is as simple as dragging them into the player, and you can record multiple tracks at once using the no-nonsense interface.
It's available to download for free on Windows, macOS, Kindle Fire, iOS, and Android.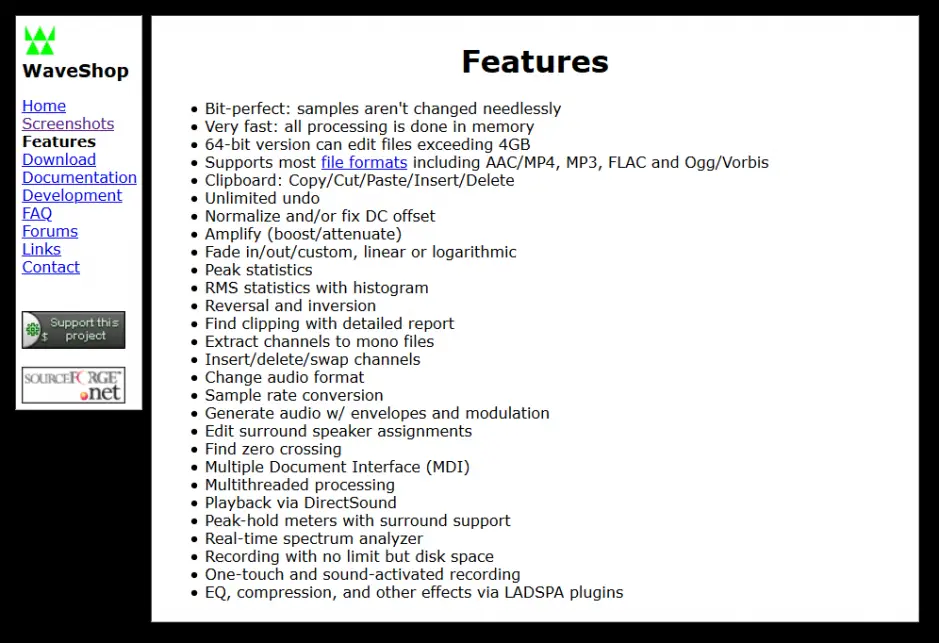 WaveShop boasts a smart multiwindow interface that is rich with features. All the processing is done in memory, making for a superfast experience.
It supports all modern audio formats and comes with an unlimited undo feature.
You can normalize audio, fix DC offset, amplify audio, and use other effects such as fade-ins and fade-outs. It also enables you to extract channels to mono files, and you can also insert, delete, or swap channels.
Sample rate conversions and audio modulation and enveloping are easy to do, and since it comes with peak-hold meters and surround-support, mixing and mastering audio is as easy as recording audio.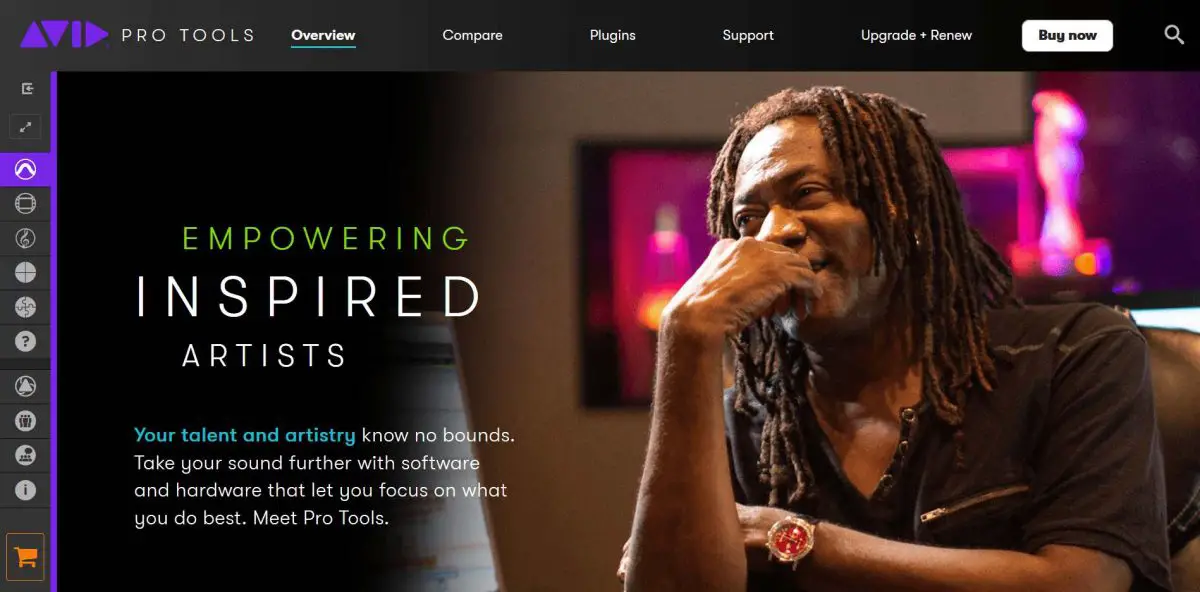 If you need a customized interface to get work done, you will love Pro Tools. It lets you change the theme and supports a wealth of extensions that enable you to create, edit, and mix sounds as you see fit.
What makes Pro Tools so popular is its stability. Unlike other DAWs, it rarely crashes, and it is continuously updated, giving you access to new and improved features every few months.
The tool supports an unlimited number of tracks, and there are also no limits to the number of effects you can add to one track. It comes with three hundred free plug-ins that you can use without needing to pay any royalties.
It's lightweight—you can run it off of a flash drive, and it uses CPU power judiciously, owing to its anticipative FX processing feature.
It auto-bridges 32-bit plug-ins to a 64-bit environment. It also supports multiple recording and playback formats, making it one of the most versatile sound production software out there.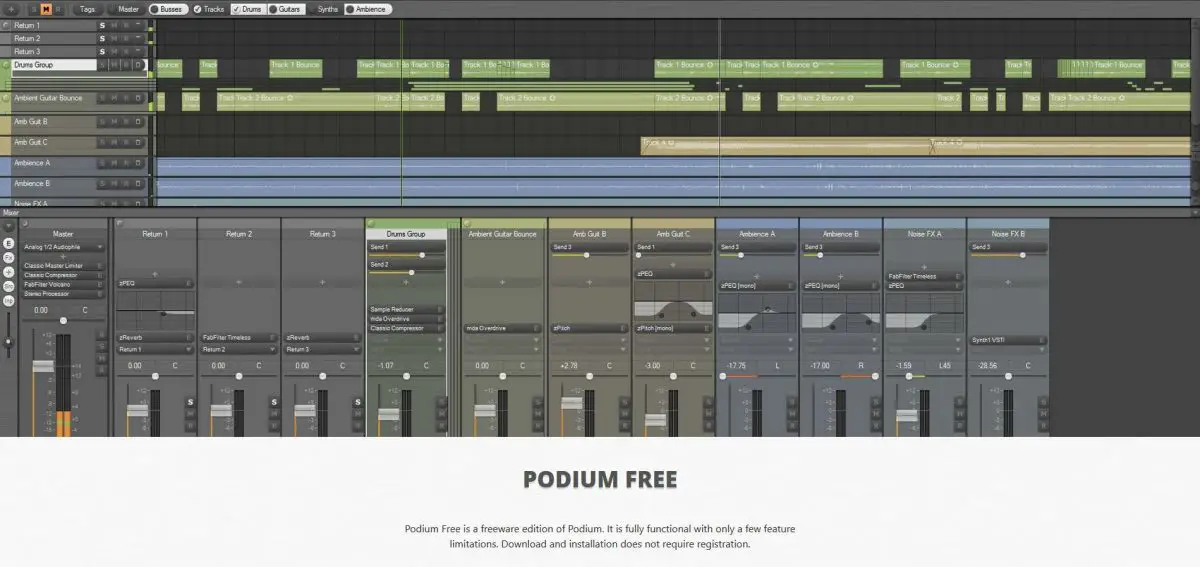 If you're familiar with DAWs and want a free professional one, Podium is right for you.
The free version enables you to record, layer, and mix with ease. But it won't allow you to do any heavy processing—you will need the paid version to do that.
Podium supports VSTs and allows you to play around with them even in the free version. Tracks are color-coded, and the drag-and-drop style interface makes piecing a track or a podcast together quick and simple.
One downside of the free version is that the MIDI interface is limited to one input and one output. But if you want an excellent recording, mixing, and mastering experience, the free version won't let you down.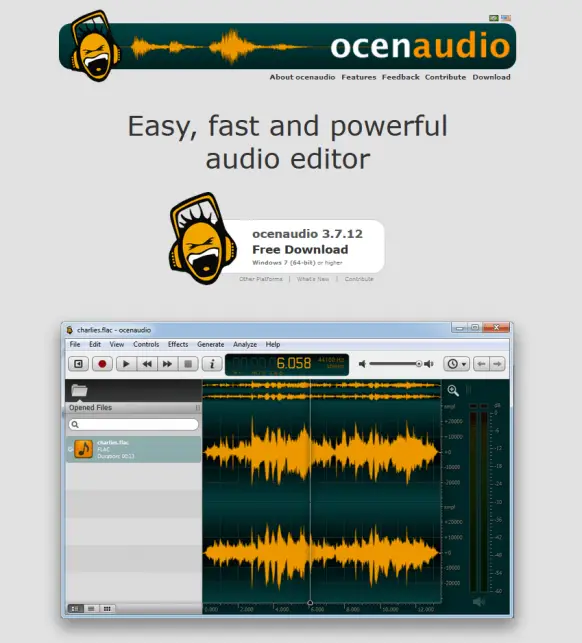 If you need a fast, free audio recording and editing software, Ocenaudio is perfect for you.
In addition to enabling high-quality recording, Ocenaudio supports VST plug-ins, allowing you to add various effects to your projects.
The slick interface gives you a real-time preview of effects—be it the EQ, the gain, or the filtering. It also gives you a miniature view of the audio signal!
If you have a long and complex audio project, the multiselection feature makes selecting different portions of the audio so much easier. Also, you can apply effects on all of them in one go.
The fully featured spectrogram and cross-platform support make it an alluring option for beginners and professionals alike.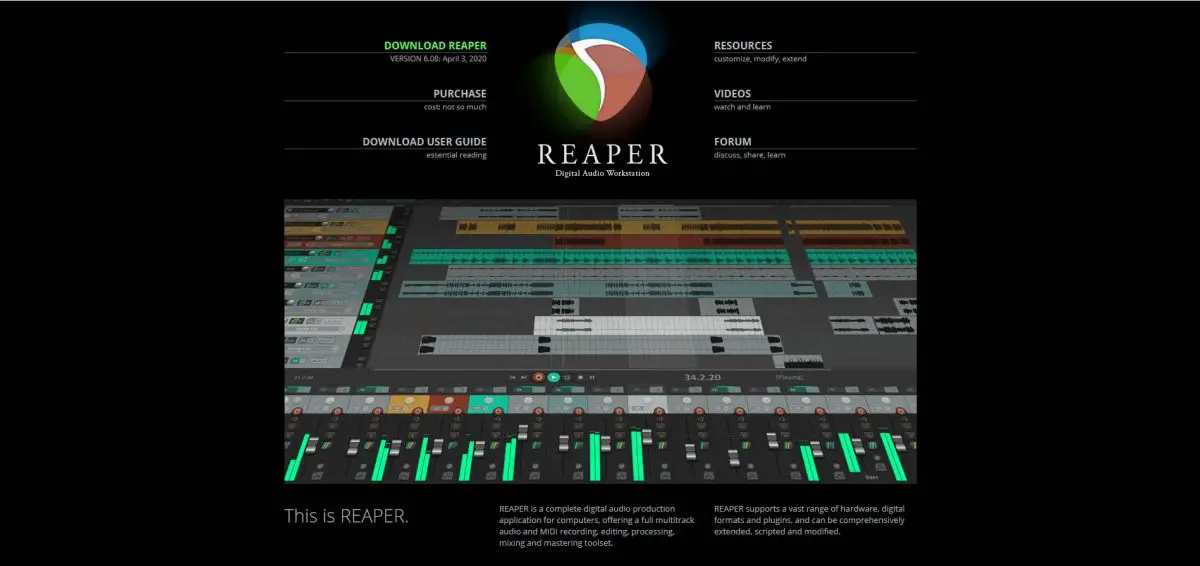 Reaper is a complete digital audio production suite that enables you to record and edit sounds without any hassles.
It offers full multitrack MIDI and audio recording, editing, processing, mixing, and mastering suite that supports a vast range of hardware.
You can import and render many media formats at any bit depth and sample rate. It supports thousands of third-party plug-in effects—including VST, VST3, AU, JS, and DS.
It comes with tons of other features like modulation, automation, grouping, macros, scripting, and VCA. It also supports custom skins and layouts, which is an added benefit.
You can download it and use it for free for 60 days—no credit card required. It is available on Windows and macOS. Experimental Linux builds are also available.
Conclusion
The audio recording software is what ties every piece of hardware in your studio together—which is why getting the right software is very critical.
With all the best free audio recording software options laid out for you in this article, finding the right one should be easy.
Keep the features you need in mind, and glance over the list. You'll find the perfect free recording studio software in minutes!