Disclosure: Some of the links in this article may be affiliate links, which can provide compensation to me at no cost to you if you decide to purchase a paid plan. We review these products after doing a lot of research, we check all features and recommend the best products only.
Is it challenging for you to develop videos for your blog? Well, it surely was for me. Creating videos was challenging, because unlike others, I'm not a video editor who can edit cinematic footage.
But when we are into blogging, we cannot ignore videos. Videos in general work like a charm.
I have also run the #90DaysVideoChallenge in my BestPaidTools Facebook Group, where I shared tips about blogging and digital marketing. And that challenge has taught me a lot regarding how to brainstorm ideas, how to edit videos, how to prepare a script, etc.
As I said, I'm no professional video editor. And I know that most of you also want to create such amazing videos for your blog.
I understand that not everyone has access to Final Cut Pro or Adobe Premiere Pro to develop video content. Even if we have, they require skills to build videos.
Therefore, I'm going to share the 8 best free video-editing software for bloggers.
After reading this article, you will have had a handful of resources to create stunning videos for your audience.
Before we begin, let's discuss why videos are such a big deal and why we need to care about it.
Why Should Bloggers Care about Videos and Video Editing?
We have several reasons, backed by statistics, that prove videos are essential for content-marketing purposes.
Video Is the Most Preferred Content Format
When we are building content, we have to take care about what users want. Because at the end of the day, as bloggers, we aspire to impact people's lives. Therefore, we have to give them what they want.
As per HubSpot's research, 72% of readers prefer to watch a video than to read a text.
If you know a thing or two about video editing, you can develop content that users expect, and that's a superpower as a blogger.
Now, I'm not implying that content writing or copywriting is not effective in generating sales. You should always develop a top-quality blog post. But videos can give you that edge to be found by new audiences and create brand awareness.
Video Can Keep Users Engaged
If bloggers know the basics of video editing, they can create a teaser for their new blog posts. Creating an enticing video clip and sharing it with their subscribers or social media followers can get more traffic on the blog.
You can leverage videos to promote your affiliation and encourage users to read reviews or watch a video on your blog.
Around 81% of marketers accepted that videos helped them increase the average session time on their website.
Videos Give Good ROI
With the help of video editing, you can develop videos and get a better return on investment. If you understand how to put the frames in sequence, do color correction, and implement background audio, you have more power than you realize.
About 95% of marketers believe that videos helped their audience understand products better. Indeed, if you can convince people, you can surely bring ROI. Around 89% of marketers also say that videos have given them a good ROI in general.
Videos Work Great on Social Media
As per statistics, video content performs better on almost all the leading social media platforms.
Whether you are on Instagram, Facebook, Twitter, LinkedIn, YouTube, or TikTok, videos can give you a leading edge, period.
If it is organic or paid, video content gives more engagement. (Source)
Videos Are Multipurpose
If you edit a video, you are not creating one random content for your digital platforms. Videos can be repurposed on almost all the channels to create maximum brand awareness.
You can share a video on social media channels, embed it on your blog or website, stream it as a webinar recording, broadcast it as a live session, etc.
Video Editing Saves You Time and Money
This is the most essential reason why bloggers should know how to edit videos.
Professional video retouchers and animators charge some amount that not all bloggers might not be able to pay. Moreover, you have to communicate with them your requirements and make them understand how you want the videos to be.
Instead of all these, what if you knew how to edit one? This way, you would save a lot of time and resources for your blog.
Now let's learn 8 best free video-editing software for bloggers.
8 Best Free Video-Editing Software for Bloggers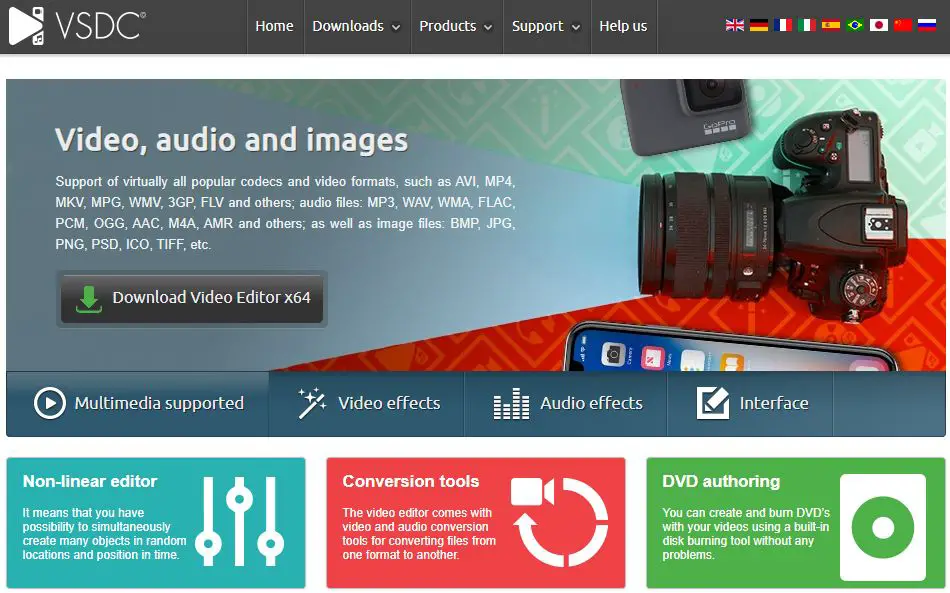 This one is a free editor, so you can edit your videos without paying anything to anyone, no strings attached.
It has all the necessary features so that you can have immersive videos for your blog.
Irrespective of camera gears, it supports almost all the leading video formats. Whether you have a GoPro, DSLR, smartphone camera, you will find video codecs for nearly all the formats.
You can implement attractive shapes, callouts, and overlays of text and audio for a dynamic storytelling.
You can also do the color correction of the objects in the video and make necessary adjustments in lights, luminance, vibration, hue, and saturation to give your video a cinematic appeal.
Moreover, you can also implement animations and translations through the tool.
You also get a chance of motion tracking. Plus, you can mask unwanted objects in your frame to make your video look professional and clean.
With VSDC Free Video Editor, you get support to export your videos in a different orientation and platform-specific formats with ease.
It has another version, which is premium and gives you more advanced features. The paid version costs $19.99.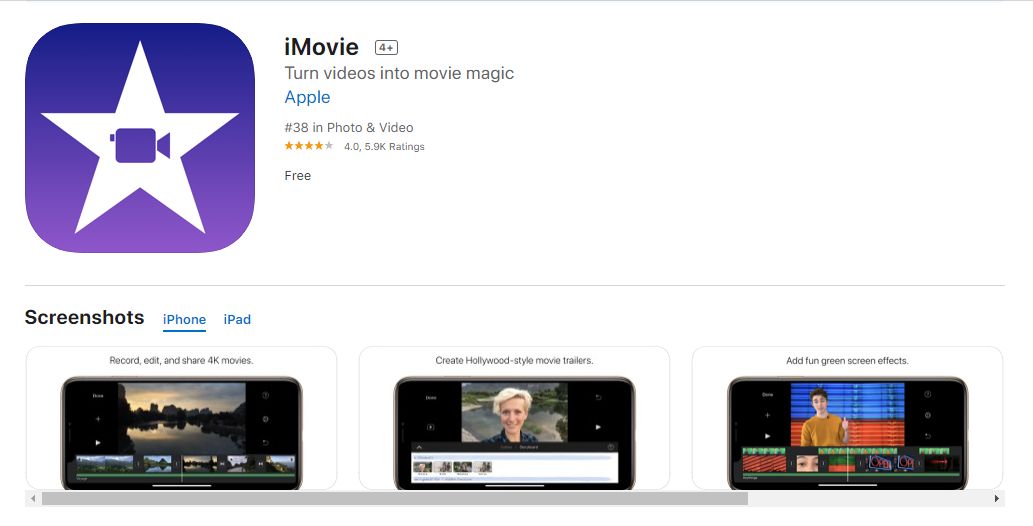 This one is an iOS-only app.
So only bloggers who have an iPhone or iPad can leverage this tool and seamlessly create videos.
Since it is available in small-screen devices, editing on the go becomes easy and simple.
With the help of this tool, you get a self-explanatory dashboard and intuitive layout for browsing videos and uploading it on the tool.
iMovie also allows you to edit your videos in high-quality 4K resolution.
The features and elements inside the tool are perfectly laid out to provide you with next-level portability and scalability in video editing.
Along with usual features like adding text, music, and visual effects, you get some advanced manipulation and color-correction options with this tool.
Bloggers can also implement music from the built-in music library or incorporate sound effects and voice-over recordings.
The tool is very user-friendly. So bloggers who are not acquainted with video editing will be comfortable with the tool.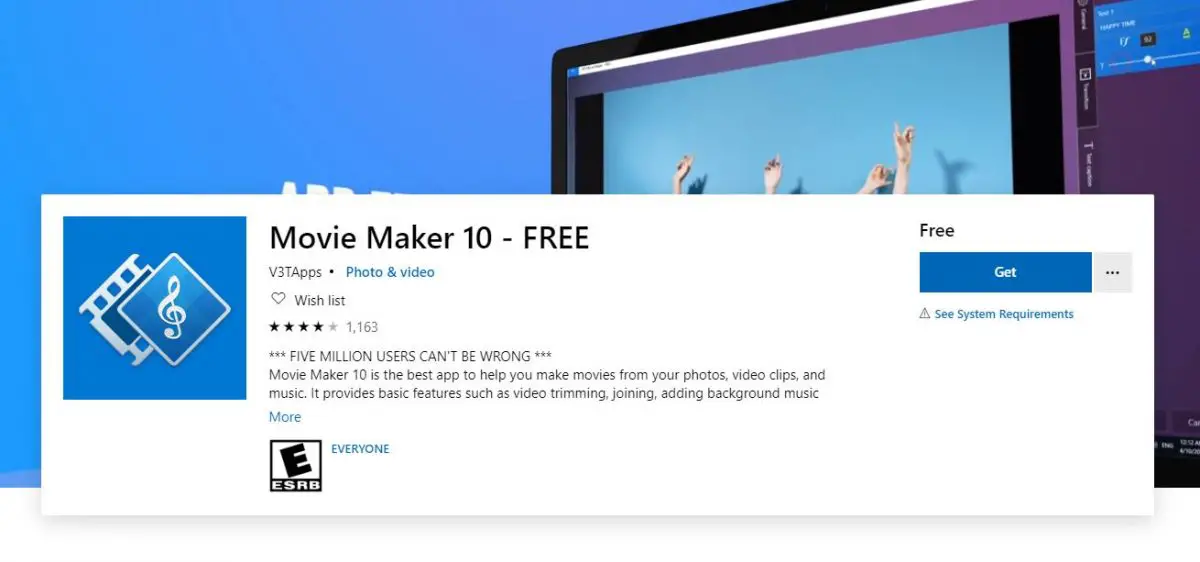 The last tool was for iOS users. Now the next tool is for Windows-only users.
Movie Maker is developed by Windows. On its website, they have mentioned that 5 million users across the world use this tool to edit videos.
Bloggers with Windows systems can utilize this tool to create attractive videos for their audience.
You can combine photos and make video clips with engaging music.
The tool will ensure fluid transition and high-quality frame control so that you can convey your message through an interactive video.
You get immersive filters and effects to maintain your audience's focus on your video.
Using this tool, one of the best video-editing software for PC, bloggers can also join or trim their videos as per requirement.
They can also implement music and textual captions when explaining something during the video.
The platform supports all leading media formats like WMV, MP4, MKV AVI, MPG, MP3, and dozens of others.
But please make sure that you have relevant codecs installed on your Windows 10.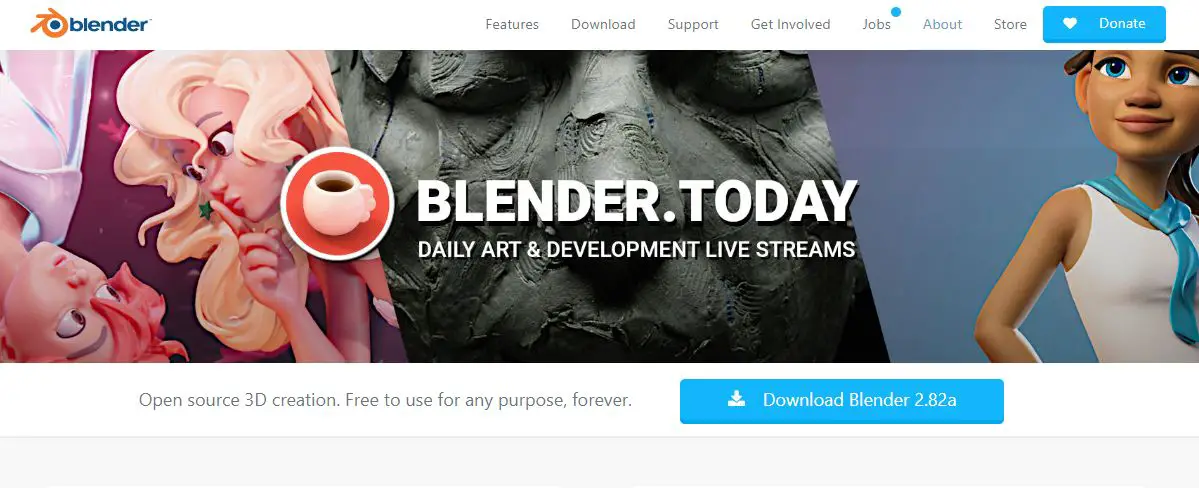 The Blender is an open-sourced tool that allows you to create three-dimensional graphics and leverage dynamic storytelling to deliver your message appropriately.
Along with other versatile products, one of them is a video-editing software where you get a ton of attractive features to create stunning videos for your blog.
Blender's video editor provides a user-friendly interface to do all the complex video-editing tasks.
You can do color-grading, masking, cutting, splicing, and whatnot.
You get up to 32 slots for implementing images, videos, audios, effects, masks, and scenes.
To explain something during your video to your blog's audience, you can adjust the speed of the transition and frame sequence to make your video comprehensive.
Unlike other tools, Blender Video Editing provides live preview so you get to know how your edits would look. You can know how the effects would look like through a preview. So you don't need to deploy the video every time.
With the help of color-grading using this tool, bloggers can implement cinematic frames in their videos and give breathtaking visuals and unique viewing angles efficiently.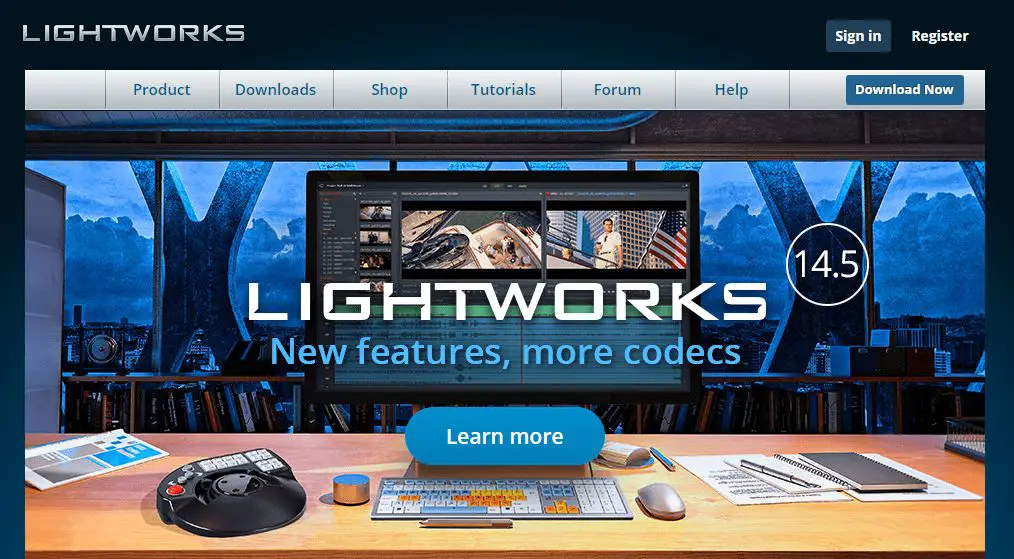 For more than 25 years, Lightworks has been providing dynamic film editing and video post-processing and being one of the best free video-editing software out there.
By using this tool, bloggers will get a self-explanatory dashboard where they can fine-tune their videos.
Even if the bloggers are not acquainted with video editing, it will be a smooth procedure to post-process footage of different formats.
The tool provides royalty-free video and audio effects that bloggers can implement and give a unique angle to their video.
Through Lightworks, bloggers can export videos compatible with leading platforms and compatible formats.
Whether you are uploading it for IGTV, YouTube, TikTok, etc., you get quality from SD to 4K by the tool.
Moreover, you can also get to select the frame rate for the video to give a high-quality user experience to your blog's audience.
Plus, the tool has versatile support of Linux, Windows, and macOS.
For bloggers, I would recommend a free package is enough to create interactive videos.
But if you wish to take your video-editing skill to a whole new level, you can purchase the licensed version of this software and get access to a ton of exciting features.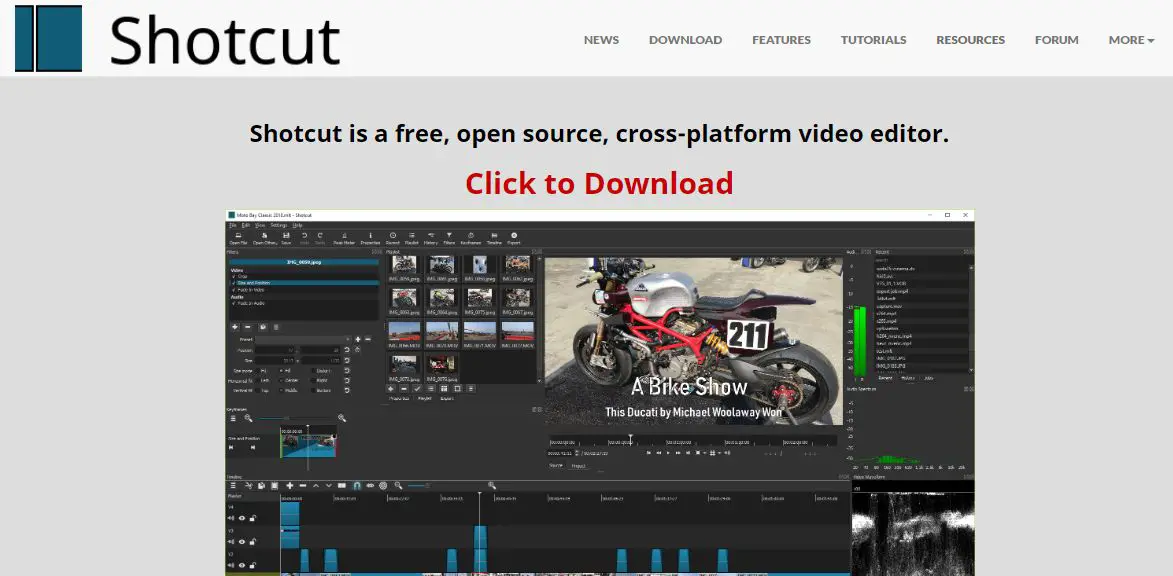 As already discussed, the videos' objective is to engage targeted audiences.
But to create high-quality videos, sometimes we have to pay some amount to the tools to get access to unique features that can deliver the quality.
Now, what if you got a tool that is not only an open-sourced video editor but also supports all the leading operating systems?
Yes, Shotcut is available on Linux, Windows, and macOS, and it also has all the features that a video editor can ask for.
It supports hundreds of video and audio codecs and formats.
With the fluidic UI of the tool, making color adjustments, editing HSL, and HDR corrections become remarkably smoother and more effortless.
Bloggers also get granular control over editing the audio of the video.
You can get minute control over audio post-processing. You can manipulate the loudness. Also, you get to balance the treble, bass, high and low notes, etc.
You can also create your own tune by using the tone generator of one of the best video-editing software for PC. This way, you will have your own iconic background score to engage viewers.
Furthermore, this tool is codec-independent. So you don't have to download the codecs to support specific video types.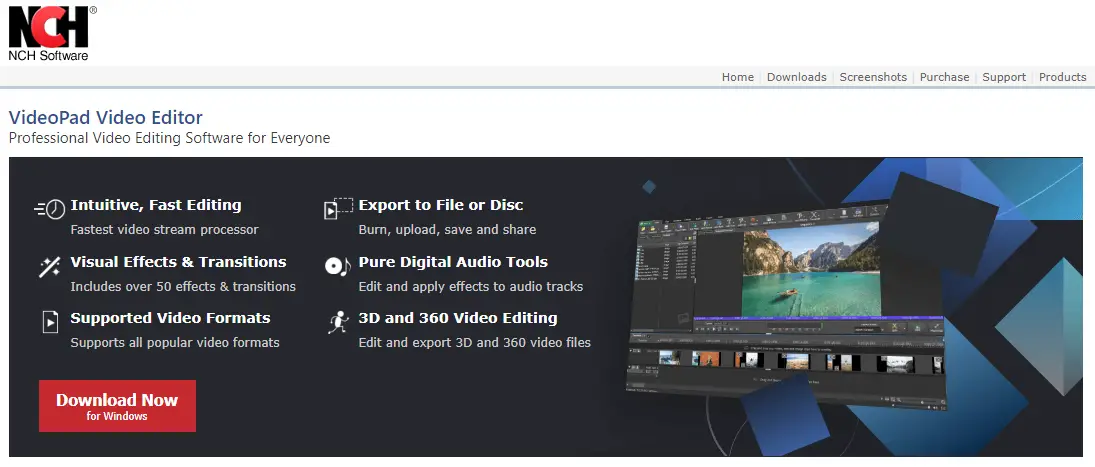 VideoPad can make your video-editing process enjoyable.
With the help of its drag-and-drop features, you can import your video clips and start making adjustments readily.
You can apply attractive effects and transition quickly. You also get a library of 50+ visual effects.
If your frames are shaky and frames are not stable, the tool will take care of it. With its video stabilization feature, your frames would look smooth and professionally shot.
Bloggers can also edit 3-D videos and get 2-D to 3-D stereoscopic conversion.
You can make necessary color-grading and apply cinematic tones in your frames. Also, you can change the motion of your frames to create your video in slow motion or time-lapse.
Creating GIFs or combining a set of photographs into a video would be a very smooth procedure using VideoPad.
You also get a chance to publish your edited video directly on the web or share it to your YouTube channel from the tool.
You can also export your videos on 4K, 2K, and Full HD resolution.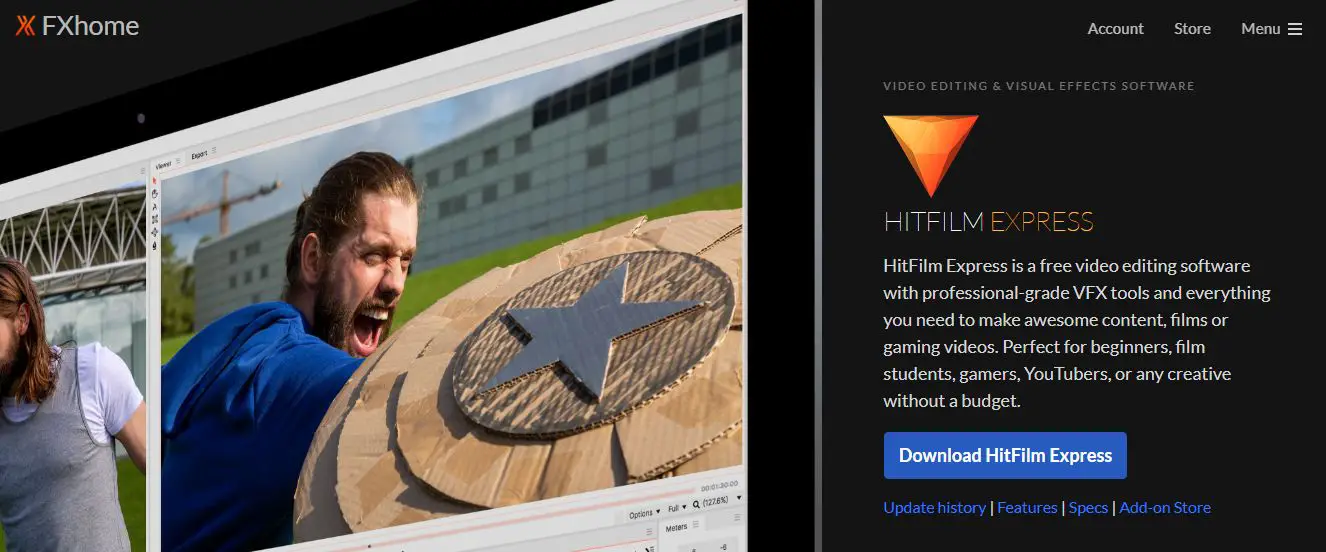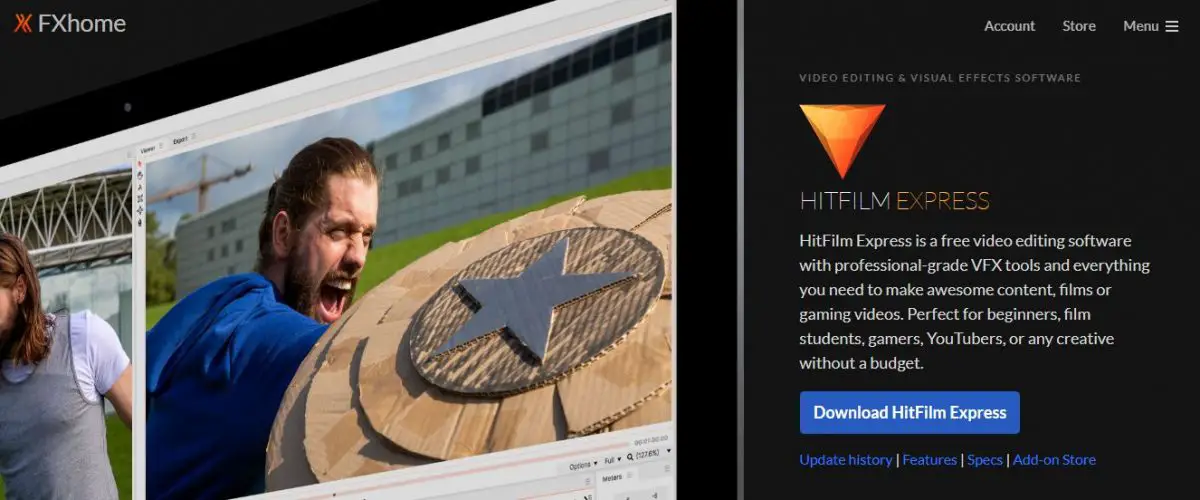 Hitfilm Express is arguably the most complete package for a video editor.
You get a massive library of more than 400 effects and presets to give your viewers a dynamic and unique viewing experience.
Its availability in Windows and Mac makes it the perfect video editor tool for every blogger.
By color-grading through this tool, your videos will no longer look like boring footage. You can enhance the storytelling of your videos and engage your blog's audience.
If you are new to the video-editing industry, you can access video tutorials provided by the tool and learn how you can make breathtaking videos for your blog.
Conclusion
So these are the 8 best free video-editing software for bloggers. I hope you found this article helpful and you got some valuable recommendations. You can try any of them right away and promote your blog effectively through great videos.
Let me know what your thoughts are, and please share your feedback about this blog post in the comments section. If you have any questions or recommendations, feel free to drop them too.