Disclosure: Some of the links in this article may be affiliate links, which can provide compensation to me at no cost to you if you decide to purchase a paid plan. We review these products after doing a lot of research, we check all features and recommend the best products only.
Frustrated?
Ever wondered to get a freelance writing job as a beginner?
What did you find?
Few top-notch freelancing sites?
They could be Freelancer, Upwork, and Elance… or some micro job sites where you can make $5-100 per task.
You thought you'll also buy a car within 6 months after joining one of these websites!
You probably know a successful freelance writer who just bought his car… and you're thinking you'll do the same…
No doubt, you can do this.
But, the freelancer who just bought the car, ask him these three questions:
When did he start freelance writing?
How long did he struggle to reach there?
When did he actually start writing?
So…
What will you do?
Are you going to bid on those three sites every day?
Have you decided to spend 10 hours on those sites to finally get your first client?
The irony is, you would until and unless you read this blog post till the end.
Because
If you do, something is going to change.
At least, you'll understand that the freelancing online writing jobs do not just belong to these three freelancing sites.
C'mon!
We live in a free world. Aliens didn't invade the earth yet.
Then, why are you in a panic?
You can think. And you can decide, even better.
Why on earth someone would get so frustrated to stop looking for a bundle of opportunities?
Technically, pro bloggers recommend not to utilize a dozen of options in many cases, probably because mixing things up won't help. They believe, the less, the better.
But, when it comes to limiting the reach – It becomes underestimation.
So open up.
As Jerry Greenfield said:
If you open up the mind, the opportunity to address both profits and social conditions are limitless. It's a process of innovation.
Even though I'm going to tell you 10 websites to get freelance jobs online, but I want to drip the art of getting freelance business into every reader, which means the ultimate goal isn't to give you 10 freelance writing jobs websites but to make you ready to believe in you.
You know what they say:
Where there is a will, there is a way!
You have to have a belief on what you do or what you want to do.
Take my example. When I made my mind clear about the freelance writing service, I removed all affiliate marketing ads from my blog, because I was pretty much clear with the intent that I'm going to get the freelance writing clients right from my blog.
And, it happened.
Do you know what else I changed on my blog besides removing the ad banners?
Ugh, forget about the 'Hire Me' page.
I added a large text button on the header of my blog about my content writing service.
And, results were incredible.
It doesn't end here.
I'm not alone who believes in a personal blog or website.
Take a look at Jared Christensen's website: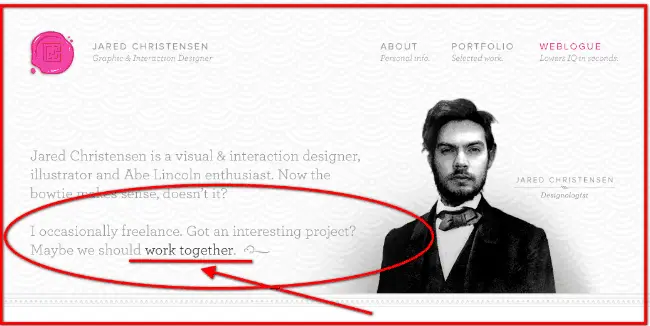 Jared is a graphic and web design artist. He is a freelancer and he tells that pretty clearly when you open his website.
Let me give you another example.
Jay Hafling is a Freelance Web designer – and he is open to getting the inquiries from the clients.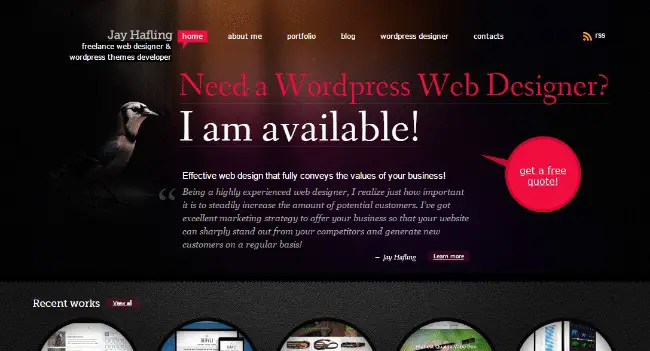 So, this shows I'm not alone here.
Some other successful freelancers are quite believers on their personal blogs and websites.
I'm a freelance writer. I'm not active on Fiverr or PeoplePerHour.
But the fact is, I keep an eye on many Blogging and Freelance writing jobs online opportunities, which is why I'm going to share these freelance writing job websites with you all.
Surprised?
I've already told that it's not going to be those three freelancing websites that every freelancer imagines in the first place.
You'd find these freelancing job websites useful, but make sure this list doesn't make you off the track – which means you shouldn't be considering that these 10 websites are a freelancing world.
Remember, freelancing is a lifestyle, not just an earning model.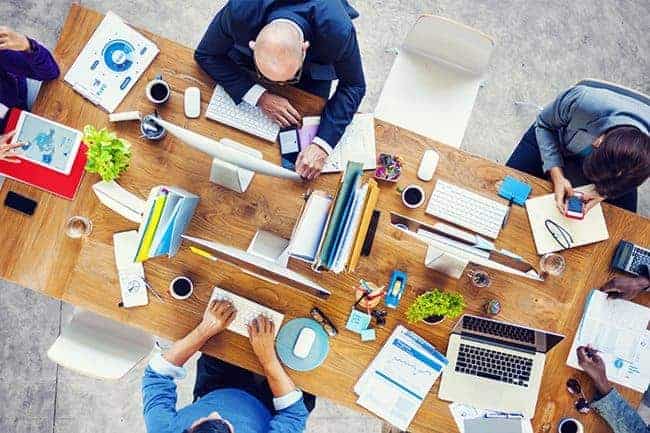 Here are 10 Content Writing Websites Which Provide Freelance Writing Jobs for Beginners in December 2023:
Guru is one of the best freelance writing sites for beginners, where freelancers get hired by companies and customers.
The purpose of adding Guru to the list is to add a reputable freelancing jobs site to the list. Guru claims to have 1.5 million users around the globe, which is a dominating figure as far as the freelance industry is concerned.
2. Project4Hire
Project4Hire might be a new name for many of the readers, but this freelance jobs website isn't a new player in the industry.
Project4Hire is a front-line freelancing website among major freelance job websites.
Not only does it help companies to hire software programmers, web designers, graphic artists, IT specialists, translators, writers, virtual assistants, and web coders, but it also helps people to make money with Affiliate Program.
Freelance Writing Jobs is a famous freelancing guide blog that publishes authoritative content and resources regarding freelance writing gigs.
Its job portal is a vital job board on the internet. It's a must-check jobs board for every freelance writer. It also offers an email alert option for freelance writers to get notified on the arrival of new freelance writing gigs.
Problogger is one of the blogging tips pioneers in the industry. If a blogger doesn't know about Problogger.net, it means he/she doesn't know much about blogging and authority development.
Many top bloggers and authors guest post on Problogger to engage and meet the new audience. ProBlogger Job Board is one of the hottest areas for freelance writers and bloggers who want to get freelance writing clients or full-time writing jobs.
BloggingPro is another famous blogging tips and guides blog. They also have a freelance writing jobs board where bloggers and freelancers look for writing gigs and job opportunities.
You might find your next freelance writing client on this blog's job portal.
Craigslist is a popular classified ads website available for many countries across the globe.
It has a jobs category where the companies are always posting writing and editing jobs. Take a look at those writing jobs if you're looking for a quick writing task.
Normally, the project's details and contact email address are given on the Craigslist writing threads, and you would have to contact the client if you'd be interested in the project.
The Write Life is a freelancing and blogging tips blog with an effective and active jobs board. This blog does pretty much the the same as Problogger and BloggingPro are doing – They publish content as blogs and run a jobs board to keep floating the writing opportunities for the bloggers and freelance writers.
MediaBistro is a job site for online community and digital media professionals. It doesn't revolve around freelancing writing jobs but offers a variety of job opportunities to the various type of professionals.
Freelance writers can jump to MediaBistro to take a look at the writing jobs in the specific section.
CopyPress is a reputable name in the copywriting and design areas. They have set up their job board to provide freelancing opportunities to freelancers.
The jobs aren't limited to freelance writers, but this portal covers jobs for web designers, motion graphic experts, graphic designers, and others as well.
10. LinkedIn
LinkedIn is a business networking and social media website. It's more like a professional networking site. LinkedIn has a jobs section, and many of the LinkedIn users don't know that.
You might come across a famous brand looking for a content writer or a freelance writer on LinkedIn.
What would you do now?
You've got a list of websites where you can get started finding the freelance writing jobs – You might want to bookmark this article to apply (for jobs) in the future…
It's okay.
Everyone should avail the opportunities.
Let me tell you one thing!
I'd rather select 3 job opportunities out of 25 and prepare my case with my best abilities to make sure that I get hired by one of those companies.
Do you know the drill?
Apply these 3 strategies to apply for any job:
Read the approach of the employee
Match your expertise with the opportunities
Mold your strategy to look different
Happy?
Now, do yourself a little favor.
Give my idea a single chance.
I'm telling you exactly what I did. I learned the hard way.
I struggled, failed, learned a lesson, and then got success.
Do as I did, and probably many others would do the same.
Write a blog and offer your freelance writing service.
Offering your freelance writing service without a blog is just like claiming to be a businessman without the existence of a business.
When freelance writers ask me that what they should do when they don't have freelance projects to do, I tell them to write their blogs.
Remember, your blog is your best portfolio. Make it right.
It's not tough to launch a blog, in fact, it's extremely easy. People launch their blogs using Tumblr and WordPress.com, but professional bloggers use self-hosted blogging platforms.
Read this guide on how to start a blog and you'll realize that it's so simple to launch a blog.
Give your clients a reason to approach you. Your blog should be that reason.
So, tell me one thing!
Which website are you going to see to apply for a freelance writing job?