Disclosure: Some of the links in this article may be affiliate links, which can provide compensation to me at no cost to you if you decide to purchase a paid plan. We review these products after doing a lot of research, we check all features and recommend the best products only.
When I started blogging, then like you I was also not aware about the importance of speed.
But once I started moving forward in blogging, things started revealing automatically.
With time I learn SEO and too many other things which are most important from blogging point of view. Few things took time while few of them I learn very quickly.
I always feel very lucky because I started using Genesis framework in started days of blogging and I am still using it (for almost all of my blogs).
So which was the biggest reason which forced me to think and I decided to start using Genesis for my blogs? Here we are going to talk about genesis in details and I am going to tell you which this is the best framework.
1. Inbuilt SEO Compatibility
I have seen many newbie getting confused while selecting SEO plugins for their blogs and most of the time they get puzzled between All in one SEO and WordPress SEO by Yoast.
Which is quite reasonable.
Because these plugins have added such features which are not in the reach of a newbie and very difficult to understand when we are still learning about blogging and all.
Same happened with me when I was newbie and I was using All in one SEO plugin on one of my education blog. One day I found that one important SEO setting was missing in my plugin so I started using WordPress SEO by Yoast also. I was completely unaware that two plugins can conflict with each other.
So after few days my ranking started decreasing rapidly.
It took me atleast one month to figure out that two plugins were the culprits.
So what are the settings in Genesis?
Here is my screenshot

1. Document Title Setting
Genesis framework gives you freedom to set your home title and description.
In this section you can decide the placement of your description. You can either show it on left or right side of your homepage title. In my case I have decided to show it on right side of my title.
2. Homepage Setting
In homepage setting you can define the text which you want to show as title and description for your blog. When anyone will search your blog in Google then this title and description will be displayed in SERP.
See screenshot
You can see that my SEO setting and SERP result descriptions are same.
3. Homepage Robots Meta Tags
If you want to make your blog noindex, nofollow or noarchive then you can do it directly from your genesis SEO setting.
4. Homepage Author
I personally loved this feature.
You must have seen that Google plus is playing big role in SEO now, so getting Google authorship of any blog has become very important. Keeping importance of Google plus in mind, Genesis framework has added homepage author in its SEO setting.
Once you will make your profile as homepage author then it will become must easy for you to get Google authorship approval.
5. Relationship Link Tags
Relationship Link Tags is something where you can decide the type of relation with your links. For more details read here.
6. Robots Meta Setting
Here you can decide about index, noindex, archive and noarchive behavior of category, tag, author, date and search.
In my case I am indexing my categories in Google and I am not getting any duplicate warning as I have given unique description to all my categories.
7. Archive Setting
Canonical URLs are most important for any blog. If you are changing URL of your blog post in future then new URL must redirect to old one, so canonical do all this work for you.
….. So how does it look like in post setting?
Here is the screenshot of SEO setting which you will see when you are writing content, means in your content writing area.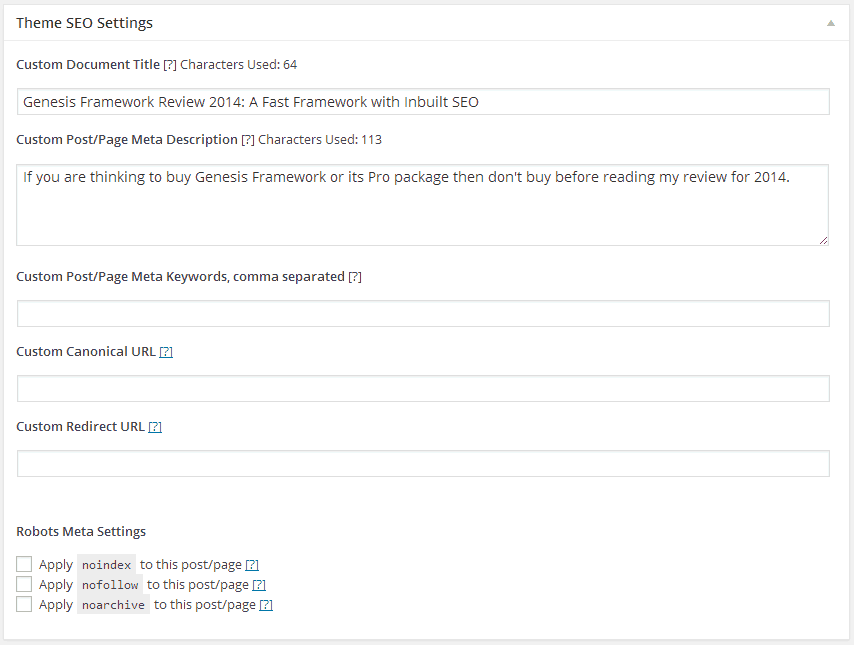 2. HTML 5 and Schema Compatibility
If your blog is not HTML 5 compatible then you are living in old ages.
According to new SEO trend Schema and HTML 5 have become very important as search engines have become more complex and they want to identify the data with Schema tags more easily.
In my article "Is Your Blog Compatible With Latest SEO Changes?" I have covered about them in detail.
Genesis has added this feature in latest Genesis 2.0.1 framework and they are making all their themes HTML 5 compatible slowly slowly. You can check all themes here.
3. Fast Loading
Google loves the blog which load faster than other blogs.
So having a fast loading blog has become one of the prime factor to survive in this changing SEO world where updates like Panda, Penguin, Hummingbird are destroying normal SEO practices.
See my blog's speed in GTMetrix.

4. Very easy to code
If you are looking for professional looking themes then this is the one stop destination for you.
Genesis has made their code so simple to understand that with little knowledge of CSS you can design awesome looking themes.
I am feeling proud to say that theme at Best Paid Tools is designed by myself. I was not good at coding by with time I learnt to play with Genesis child themes and I was able to make good looking themes.
Final words
If you are very serious about blogging and want to make it very big in future then I will suggest to start using Genesis framework for your blog. It will not only give you freedom like SEO, speed and design but you will always feel proud to have world's best framework running behind your blog.
You will invest in your business one time but it will stay with you forever.
Note: If you are going to buy any theme using my links then you can ping and ask me any premium theme at free of cost. I would love to provide you that theme and help to enter in Genesis lovers club.
Note: You might be interested to read Kontent Machine Review which is a great content generation tool to generate quality articles with just few clicks.