Disclosure: Some of the links in this article may be affiliate links, which can provide compensation to me at no cost to you if you decide to purchase a paid plan. We review these products after doing a lot of research, we check all features and recommend the best products only.
WordPress finally announced their most awaited Gutenberg editor. This editor has now replaced the good old TinyMCE editor.
By far, this is one of the biggest change in the WordPress core since 2003.
The reaction for the WordPress community was very mixed. While many people praised the decision made by WordPress to make replace TinyMCE with Gutenberg, some people were not happy with the change.
This is due to the fact that Gutenberg still isn't perfect and most of the plugins don't work properly.
Yes, WordPress had provided users with the option to use the old editor by installing the plugin, it still doesn't change the fact that Gutenberg is the future of WordPress and it's interesting to see where we go from here.
If you're using Gutenberg, you might have come across some plugins that are not compatible yet.
On the other hand, Gutenberg allowed developers to make awesome plugins for the new editor. And, there are tons of plugins made for Gutenberg now.
In this article, I'll show you 12 best Gutenberg plugins that will help you supercharge your blog. These plugins will help you enjoy the Gutenberg experience and make the most out of it.
We are expecting more amazing plugins with awesome features in the future as the Gutenberg community grows.
So, let's get started.
12 Best Gutenberg Plugins to Supercharge Your Blog in 2023
1. Ultimate Gutenberg Blocks
The best plugin for Gutenberg that I've come across yet is Ultimate Gutenberg Blocks. This plugin by Brainstorm force (who also made the famous Astra WordPress theme) helps you design your blog in different ways.
The plugin comes with tons of blocks which include an info box, multi buttons, advanced heading, team, restaurant menu, testimonial, social share, Google map, content timeline, post timeline, and more.
Ultimate Addons for Gutenberg also comes with ready-to-use demo websites that you can import and start using it directly.
The best part about the plugin is that it's completely free. You can download it and start using it on your blog right now.
2. Stackable – Gutenberg Blocks

Stackable WordPress plugin offers ready-to-use blocks for the Gutenberg editor. With the blocks provided by this plugin, you can create beautiful landing pages and websites.
They currently have 24 blocks which include posts, container, accordion, icon list, video popup, feature grid, counter, testimonial, notification, blockquote, and more.
The developers of this plugin have also created a free WordPress theme that you can use with this plugin to create a beautiful website.
The plugin and theme are available for free.
3. Advanced Gutenberg Plugin

Advanced Gutenberg is a plugin by JoomUnited and adds 20 new blocks to your Gutenberg editor.
Apart from offering blocks, with this plugin, you can create edition profiles and assign users or a group to a profile. You can create custom CSS styles, edit icons color, and change the block configuration.
The plugin offers the following blocks:
Post slider
WooCommerce product slider
Advanced lists
Advanced buttons
Google Map
Accordion
Advanced Table
Tabs
Testimonials
Counters
Image and video blocks
Social links
The plugin is free and has some really awesome blocks that you can use on your blog.
4. WooCommerce Gutenberg
The WooCommerce Gutenberg plugin by Automattic lets you add WooCommerce blocks in your Gutenberg editor.
You can create a products block using this plugin that allows you to display products on your posts or pages. You can filter the selection and display only some hand-picked products.
There's nothing else to the plugin apart from adding a products block to your Gutenberg editor. The plugin is free and will help you if you want to display products on your website.
5. Blocks – Ultimate Page Building Blocks for Gutenberg

Blocks plugin by Templatic lets you add new and really awesome blocks to the Gutenberg editor. The plugin is very lightweight and visually attractive.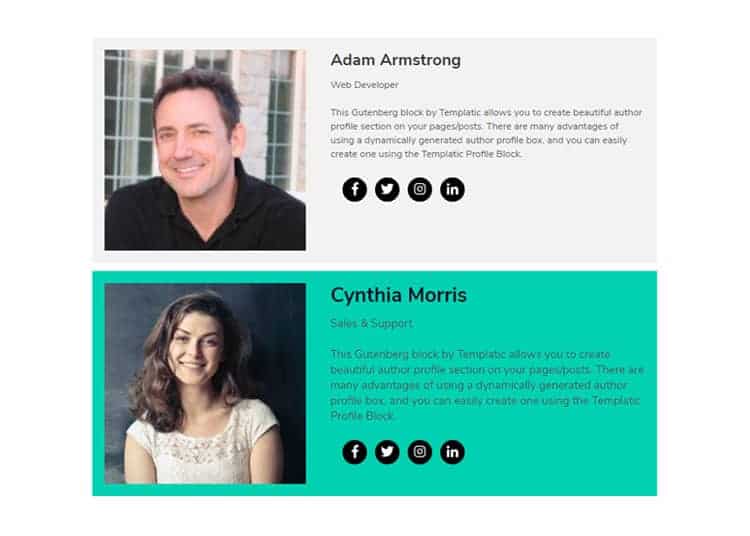 It provides the following blocks:
Profile block
Alert block
Drop cap
Social media
Separator
Cover image
Heading
Text block
Map
Price block
Tweet block
Just like the other plugins mentioned in the list, Blocks plugin is also free to download and use.
6. Gutenberg Manager
Sometimes, you just don't want to use Gutenberg. Maybe you want to use a page builder like Elementor or Thrive Architect.
If that's the case, then Gutenberg Manager is the perfect plugin for you. With Gutenberg Manager plugin, you can disable the Gutenberg editor for specific posts and pages.
The plugin also lets you disable specific blocks of Gutenberg editor. You can also disable Gutenberg for custom post types.
This free plugin will be really helpful when you don't want to use the default Gutenberg editor.
7. Automic Blocks

Automic Blocks offers great content blocks for the Gutenberg editor. The plugin includes the following blocks:
Post Grid
Container
Testimonial
Inline Notice
Accordion
Share Icons
Call-To-Action
Customizable Button
Spacer & Divider
Author Profile
Drop Cap
The blocks are very beautiful and easy to use. You can use Automatic Blocks for free and supercharge your blog.
8. CoBlocks
Built by ThemeBeans, CoBlocks is another free plugin that offers gorgeous blocks for the Gutenberg Editor.
The blocks that are available in this plugin are:
Accordion Block
Alert Block
Author Block
Dynamic HR Block
Click to Tweet Block
Gif Block
GitHub Gist Block
Pricing Table Block
Social Sharing Block
Highlight Block
CoBlocks will make it very easy for you to create content using your Gutenberg editor.
9. Google Maps Gutenberg Block
This free plugin adds a Google Maps block to your Gutenberg editor. The plugin is very simple. You just install and use it in your posts and pages.
You can add an address, zoom, and map height to your Google Map. While many Gutenberg plugins provide the map block, you can still install this plugin and use it to your website.
10. Editor Blocks for Gutenberg
Editor Blocks for Gutenberg is a free plugin that provides a unique collection of content blocks for the Gutenberg editor.
Here are the blocks that are available in this plugin:
Wrapper Block
Hero Block
Pricing Table Block
Author Profile Block
Team Members Block
Brand Block
Callout Block
Features Block
Horizontal Block
Vertical Feature Block
The plugin is very lightweight and very useful to create beautiful pages and posts on your website.
11. Kadence Blocks – Gutenberg Page Builder Toolkit
Kadence Blocks is a free Gutenberg plugin by Kadence Themes. This plugin lets you extend the capabilities of the Gutenberg editor and have better control over columns and rows.
Here are the blocks that are included in the plugin:
Row layout
Advanced heading
Tabs
Icons
Advanced button
Divider
Spacer
The blocks included in this plugin can really help you customize your posts and pages the way you want.
12. Bokez — Awesome Gutenberg Blocks
This free plugin is also a collection of beautiful content blocks made for Gutenberg editor. Apart from blocks, you also get customization options for existing blocks in Gutenberg editor.
Here are the blocks provided in Bokez WordPress plugin:
Posts Grid Block
Video Popup Block
Accordion
Testimonial Block
Pricing Table Block
Share Icons
Cover Block
Profile Block
Button Block
Notification Block
Blockquote Block
Divider Block
Progress Bar Block
Separator
The plugin is very simple to use and the blocks will improve the design of your blog.
Conclusion
So, these were the 12 best Gutenberg plugins that will help you supercharge your blog and help you design attractive pages and posts.
Since Gutenberg is still new, there are not enough plugins. Over time, there will be more great plugins for Gutenberg and the ones already made will get better with more features.
That's why I would recommend you to bookmark this page as we'll update the list with more great Gutenberg plugins in the future.
Also, if you have any questions regarding the plugins mentioned in this list, feel free to comment below and share your thoughts.