Disclosure: Some of the links in this article may be affiliate links, which can provide compensation to me at no cost to you if you decide to purchase a paid plan. We review these products after doing a lot of research, we check all features and recommend the best products only.
If you've ever thought of blogging professionally, one of the first questions to come to mind would've been, "how long should your blog post be".
Don't worry.
Many first-time bloggers aren't sure whether to write long or short blog posts for superior rankings on the search engine.
Word count is one of the most anticipated topics on the Internet today. With growing digital opportunities and online readership, everyone wants to catch their customer's attention through content.
It's only intuitive that you'd wish for your efforts to bring you profits, more significant traffic and eventually fulfill your conversion goals.
So, if you're asking what should be your average blog post length, should you only opt for long-form content, etc., you have pretty valid questions. We've gone ahead and researched these extensively for you.
But, it's not only about the word count. When Google ranks your blog posts, it doesn't look at your average blog post length as a standalone factor. That's because the question of how long the post only comes into the picture when you have quality.
You can write a blog post of a book's length and still not get the desired rankings, engagement, and readership. On the other hand, depending on the topic and industry, some of your 500-word posts may outrank your competitors.
Therefore, it comes down to quality first and then quantity. Needless to say, word count is an essential factor.
In this post, we've tried to answer questions from the quality and word count perspective through our exhaustive research. Read on more to find out how long should a blog post be.
Do You Want More Comments on Your Blog?
The perfect length of a blog post depends on several factors. Mainly on what you're trying to achieve through it. We've gone through multiple studies and found that word count has a direct relation with your intent.
You indeed want all of your blog posts to rank well on the search engine and garner attention. At the same time, it is also essential to pick a niche intent for your efforts.
Is there a blog you'd like to see more people commenting on?
Well, you've got to hear what the numbers regarding ideal word count say.
For more comments, you need to spark a conversation in your blog. And intuitively, conversations are short and engaging. You need to ask your readers a question or write something that generates discussion.
Try writing short and engaging posts to achieve this. Your ideal blog length should be between 250-300 words.
However, you shouldn't just swear by short posts. While they are quick to read and generate anticipation, they aren't shared that well on social media.
The best strategy would be to strike a balance between your short and long posts. This would ensure that you not only rank well on search engines but also generate quick engagement.
Do You Want More Social Media Shares?
Engagement on social media gives confidence that you're doing well with your content. But not every post gets the same number of shares, likes, and retweets.
Yes, social media shares are influenced by factors like a topic, content quality, and your audience, among others. But, the essential element is the word count of your blog. Remember that we're talking about social media shares, which is why the idea of word count comes into the picture.
You obviously need a striking title, crisp description, and an attractive image for the reader to click on your post. Once they land on your blog, it's your quality and word count that does its magic.
It's been observed that blogs with a word count above 1500 receive 68 percent more tweets and 22% more Facebook likes than those under 1500 words. This also impacts your search engine rankings because they take social impressions into account before ranking a blog.
In another marketing insight, blog posts with a medium length between 600-1250 words received more shares on social media. While you focus on the words, don't forget to create quality content that ultimately lands the ball in your favor.
Do You want More Traffic From Google for Your Blog?
Yes!
Every blogger puts their best efforts into driving more traffic on their blog. More traffic is a signal for the search engine that readers find your content useful, which is why it should be prioritized in its niche.
Here's no point scratching your heads over the tiny details of search engine optimization that led to the success of one of your blog posts and didn't work out for others.
SEO is quite tricky in practice, and it's not quite fruitful to get your hands dirty with it if you're a first-time blogger. Just focus on adding quality to your blog while keeping its word count noticeable for Google.
As a general rule of fact, longer, heavily researched posts with insights and imagery are great for increasing your traffic from search engines. So, create a comprehensive post with around 2500 words that covers a wide range of long-tail keywords of the main topic.
In another research by Marketing Experiments, long blog posts were also responsible for driving conversions better by 40.54%.
What Is the Ideal Length for a Blog Post?
The idea of word count for a blog post serves as a tool to help it rank better. That being said, you shouldn't shift your entire aim of writing on the word count.
If there's a topic you can explain in 500 words, do it! On the other hand, if you think something requires explaining extensively with a lot of data, insights, tips, graphs, etc., write as many words as it needs. Don't include unnecessary fluff in your blogs.
Depending upon your niche, you also need to do A/B testing on your word length. If social media engagement is something you're looking forward to, the word count will make no sense until you have a strong presence on these platforms.
But, to get you started, the average blog post length for different types of intent is:
80-300 words super short content helps in initiating discussions and garnering comments.
275-600 words short posts for social shares and comments. You'll probably not rank well on search engines with these, but help build authority with your audience.
750+ words standard length posts are great for sharing any news, releases, or introducing your audience to a topic. They're also good for link-building.
1000-1500 medium-length posts are ideal for spreading your content like a wildfire on social media. Bloggers usually try to address a pain point in posts of this length.
2500+ long-form content is best for driving traffic through Google and SEO. This length helps you tell your search engine that you have authority on the subject.
The Benefits of Long Form Blog Posts
If you look at the customer search patterns, it is easy to observe that more and more people have started using long phrases to look up things. Studies suggest that search queries with eight-word keywords have shot up to 34,000 percent.
In other words, people searching for 2-3 words in their search terms are declining, while longer word phrases are increasing.
We're sharing this fact with you because it directly affects the average blog post length. If you want to make the most of the long-tail keywords, you need to have more words on each page or longer posts.
Buffer conducted a study according to which the ideal length of a blog post is 1600 words.
Similarly, Hubspot looked at the relationship between the average blog post length and the reader's attention to conclude that 2250-2500 words was the ideal word count that creates magic for the readers.
Here are some additional benefits of long-form posts:
It Decreases the Bounce Rate
Every blog owner's dream is to make their reader stay on their pages. You want them not just to read your content but also explore other blogs as well. However, that's not quite possible with short and quick blog posts.
Studies suggest that people are more likely to stay on longer blog posts than medium or short ones. Long-form content has nearly 40% higher potential to keep your reader hooked.
At the same time, people who land on a long-form content post explore 25% more pages than an average visitor.
Therefore, while every visitor will leave your website eventually, long-form content will surely reduce your bounce rate. All you have to make sure is that you interlink your other blogs with your long-form content.
More Shares on Social Media
If you have a strong profile on social media platforms, you'd naturally expect your content to perform well and get shared more easily. It turns out this doesn't happen so easily for brands.
That's because word length and social media shares have a direct relation. And like you guessed, long-form content wins in this category.
Blogs with an average blog post length greater than 1500 words are more likely to get social media shares, according to research by Quicksprout. This statistic is applicable for both Twitter and Facebook social media.
Ever wonder how content turns viral on social media?
A lot has to do with their word count. Long-form content receives more shares on social media, sending the search engines signals about their popularity.
As a result, they're also more likely to rank well on search engines like Google.
It Addresses All Aspects of That Topic
If you're writing long-form content, there has to be a substantial amount of information regarding the topic. For example, if you are writing about 'Instagram Marketing,' there are plenty of topics that you can include.
What is Instagram marketing?
Benefits of Instagram marketing for your business
Tips to ace Instagram marketing
Paid vs. organic Instagram marketing
How to promote a business on Instagram?
How to form a strategy for Instagram marketing?
Instagram Marketing tools, and more.
The point is that long-form content gives you many scopes to cover all aspects of a topic, which is the ultimate goal of creating it. Therefore, users will have more opportunities to learn from a single post than search for several others.
Improve SEO of Your Blog Posts
The average word count of blog posts plays a crucial role in driving traffic from search engines. To attract more users from the web, you need to cover more comprehensive keywords regarding the topic, add internal links, improve the readability of your URLs and ensure that your website is quite friendly.
All this is possible only when you create long-form content. It's challenging to rank for short-form content and include all aspects of the ranking factor in a strictly restricted word count.
With research backing this up, 2500+ words make your blog post good enough for ranking on search engines.
It Increases Your Reliability
When people land on your website, especially on your long-form content, they begin to trust you. There's a psychological phenomenon behind this fact. It's the reason why book authors are trusted to know more about the subject than others.
When you write long-form content, you cover a wide range of topics. This establishes your thought leadership regarding the niche.
So, when customers come looking for a subsection of your post and find it to be an A to Z guide, they trust you more.
How to Write a Long Blog Post?
You're probably determined to write a long-form of content by now. The next step is knowing how.
Study the Niche Carefully
The first thing is to do extensive research. You cannot write a blog post without being educated yourself. It is best to refer to multiple courses to verify the information and understand the tone of others in the niche.
At the same time, take a look at how your competitors are creating content. Try to understand their strategy and then create content accordingly. Your focus should be to write in a tone that is friendly and understandable.
Look at some of the posts written by industry experts and follow reports published by agencies. This should help you get started.
Come Up with the LSI Keyword Ideas.
LSI keywords play a major role in defining your content. They are not only good for SEO but help you create a structure and flow for your blog post. Finding keywords is great art, and tools can make this process easier.
Start by finding the top LSI keywords for your topic using a tool.
There are several other ways you can look up LSI keywords. These include the Google autocomplete option, the 'People also ask' section, and others.
LSI keywords also give you an idea of what to include in your content, helping you create more informative long-form content.
Create a Detailed Outline Using Dynalist
For any successful long blog post, you need to create a detailed outline first. This would mean creating headings, subheadings in your post and briefly describing the keywords that would be used in them.
Dynalist is an excellent tool that helps you create a definitive structure for your blog. It's like a to-do list that helps you stay on track of your blog's flow and key points.
In other words, you get to capture your ideas, realize them and finally stay on track with them effortlessly.
Add FAQs to Your Blog Posts
Frequently asked questions are another great element to include in your content. Since they are the common queries of the reader, answering them in your blogs can help you increase your searchability through Google.
That's because many people would type the same question in their search queries. And when Google finds a perfect match for it in your content, it will naturally rank it higher.
Answering FAQs in the long form of content also makes sure that you provide your readers with value. This way, you can earn their loyalty.
Word Count of Various Types of Content Pages
We've gone ahead and also compiled a list of the best word counts for different kinds of content pages. For example, as part of your content strategy, you'd need to write listicles, pillar pages, how-to blog posts, among others.
Do these need to have a definite word count as well? Take a look below.
How Long Should Pillar Pages Be?
A pillar page is an attempt to write an all-encompassing guide for a topic. It's like writing the A to Z of the subject. The ideal length of a blog post should be around 4000 words.
Most reading pillar pages reveal this data.
How Long Should Listicles Be?
With digital content gaining popularity, you must have observed listicles becoming a reader's go-to. There are blog posts that list down the available resources related to a topic.
For example, top 10 movies, best CMS tools, popular science magazines, etc., are examples of listicles offering users an accumulation of options. These should be 2300- 2600 words in length.
How Long Should "How-to" Blog Posts Be?
These posts that describe how to do something must be between 1700-2000 words. Even though the ideal length depends on what you're trying to explain, this word count usually works for content that requires detailed explanation.
How Long Should "What is" Blog Posts Be?
Your' what is' blog posts must be short and sweet. 1300-1500 words are a great word count for writing these.
Frequent Blog Posts Drive Better Results
One thing that you need to swear by while creating content is consistency. Regardless of the word count of your blog, you need to schedule posts promptly.
Studies suggest that bloggers who post content two to four times a week have a greater likelihood of ranking better on the search engine and driving conversions.
Moreover, their readers also start trusting them more.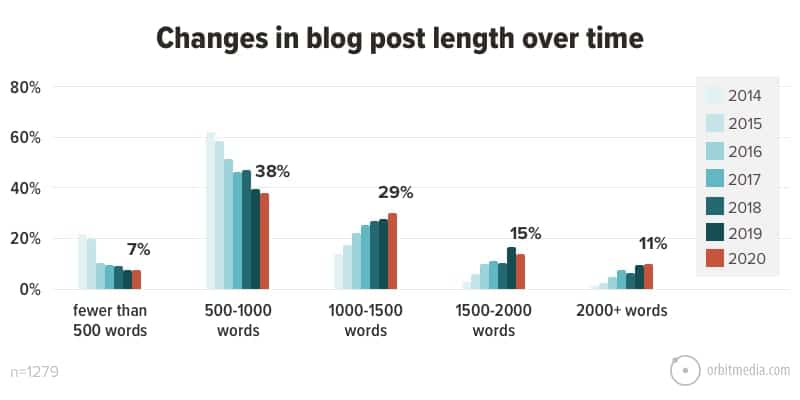 It's Not All About the Word Count!
Yes, it's not all about writing your content with just the word count in your mind. If you do so, your focus shifts from providing value to readers to just adopting some tactics to rank well on the search engine.
While keeping the KPIs in your mind is essential, make sure you have a quality-first approach while building your content.
A good content strategy along with a regular posting schedule is likely to bring you 13 percent more ROI.
FAQs
Why do you want longer blog posts?
Longer blog posts rank well on search engines. They also get more shared on social media, which creates social impressions for your brand. You'd want to write long blog posts to drive traffic, induce reader loyalty, and even establish your thought leadership in the niche.
What is the difference between long-form and short content?
Long-form content is usually guides and comprehensive studies that talk about more than one area of the topic. They describe several topics from a niche and are of word count 2500+. Short forms of content are quick and effortlessly engaging blog posts that help answer one query. These are usually within 700 words.
What is the average read time of a blog post?
The average read time of a blog post means the time taken for a reader to read the entire content written for a particular title. Some studies claim that the ideal average red time of a blog post should be 7 minutes, i.e., 1600 words, but it obviously increases if you're writing long-form content.
What is the ideal blog post length?
We've tried to describe the ideal length of blog posts for various intents above. Considering the average time to read, some studies suggest the perfect word count be 1600 words. Similarly, if ranking well on search engines is your intent, depending upon the topic, 2500+ words are perfect.
Can 500-word blog posts rank?
500-word blog posts can rank on search engines, but there are many other factors that come into the picture. The topic should be short and not competitive. Similarly, your website SEO should be well-optimized. Make sure you're not writing 500-word content for a topic that is written as a pillar page by most of your competitors. This is less likely to rank. Therefore, your topic should be aligned to your word length.