Disclosure: Some of the links in this article may be affiliate links, which can provide compensation to me at no cost to you if you decide to purchase a paid plan. We review these products after doing a lot of research, we check all features and recommend the best products only.
Every Woocommerce store comes with a pre-built shopping cart in it. We cannot also deny that it's boring and dull. It gives the store owner no flexibility to make it more customized and conversion-oriented.
There should be something that can make your website stand out from others.
That's where the Elementor shopping cart comes into the picture, offering unlimited customization options to give a catchy touch to every element of your website.
With such great drag-and-drop functionality, Elementor allows you to design a world-class shopping cart easily.
Hence, to give your customers a hassle-free and seamless experience, you can use many insightful features available in the Shopping cart plugin besides the existing features.
This article focuses on teaching you how to add a shopping cart in Elementor. Also, we are going to understand this step by step here.
Let us dive deeper!
Prerequisites Before Adding Shopping Cart Page With Elementor
Before you add a shopping cart page to your ecommerce store, you need to install some third-party plugins and page builders to give better compatibility. These plugins and page builders are as follows:
WooCommerce

Elementor FREE Version

Elementor Pro

Let us now check out the steps for how to add a WooCommerce Plugin in Elementor to your website.
Install and Activate WooCommerce Cart Page With Elementor
Before you learn how to add a shopping cart in Elementor, let us check out how to install the WooCommerce cart widget in elementor to make your website ecommerce-ready.
To install WooCommerce to your WordPress site, go to the WordPress Repository and download the Plugin.

You can also get this Plugin from the WordPress dashboard. Follow the steps: Plugins > Add New. Type the "WooCommerce" in the search box and click "Install Now."

Once the Plugin has been installed, Click on the Activate Now button to start.
With the activation of the WooCommerce Plugin, you can now configure your WooCommerce settings.
At this point, you are good to go to add a Shopping Cart Widget in the Elementor of your Website.
How to Add a Shopping Cart Widget in Elementor to Customize the WooCommerce Cart Page
The shopping cart widget is a crucial feature of an e-commerce website that provides users with a convenient way to add and manage items they wish to buy.
It simplifies the shopping experience by keeping track of selected products, displaying the total cost of the items, and allowing users to make changes to their selections before completing the purchase.
Hence, to give your customers a unique and fantastic shopping experience, you can further check out the steps for how to add a shopping cart in elementor.
Step 1: Edit Store's Default Cart Page in Elementor
When you create a WooCommerce store, a cart page is automatically generated using the WooCommerce cart shortcode. But, instead of leaving the cart page with the default appearance, you can add and customize the design using Elementor's features.
To start customizing the cart page, you should locate the cart page in the Pages list on the WordPress dashboard, labeled as "Cart Page."
After finding the cart page, click the Edit button to open the WordPress editor. Then select the "Edit with Elementor" option to launch Elementor's design interface.
Step 2: Replace WooCommerce Cart Shortcode with the Elementor Cart Widget
When you open your store's existing cart page in Elementor. You will notice a shortcode [woocommerce_cart] in an Elementor Text Editor widget.
To begin designing your cart page, you must delete this shortcode. After deleting the shortcode, you should replace it with Elementor's new Cart widget.
Once you have replaced the shortcode, you can personalize your cart page's design.
Step 3: Set up the Layout of the Cart
Now, to customize the layout and design of your cart, you can go to its settings in the sidebar of Elementor.
You can choose between a one-column or two-column layout in the General settings. Also, make the cart totals column sticky on a scroll by enabling the Sticky Right Column toggle.
You can adjust the "Update Cart" button text in the Order Summary settings. Also, the labels and alignment of various cart elements in the Totals settings can be changed, for example, the button text of "Proceed To Checkout."
If you've enabled the WooCommerce shipping calculator function, you can configure it in the widget's settings. You just need to follow the instructions: Go to woocommerce Settings Shipping Shipping Options. Then, you have to check the box to enable the shipping calculator.
Finally, you need to enable automatic cart updates in the Additional Options settings. This will update the cart without requiring shoppers to click the Update button.
Step 4: Adjust the Styling of the Cart
Now, to customize the design and style of your cart, you can go to the Style tab in the widget's settings. You can easily personalize the Forms, Typography, Sections, and other setting areas here.
Some style options in each area are as follows:
Sections: With this option, you can manage the style of all three parts of the widget.
Typography: You can personalize the typography formats and colors of the key labels.
Forms: It helps you customize the style of shipping fields forms and coupon fields forms.
Buttons: With this feature, you can customize the Update and Apply Coupon buttons. Elementor button styling options will give an appealing visual.
Order Summary: You can manage the products' appearance in the cart.
Total: With this, you can personalize the design and layout of the Cart Totals section.
Step 5: Personalize the Mobile Version of your Cart
The Elementor Cart widget is mobile responsive by default. But you can further customize it to ensure it looks great on all devices.

To perform this, you can open Elementor's responsive editing mode. Which allows you to adjust settings specifically for different devices. You'll see icons for different devices next to the settings that you can tweak.

For example, you can adjust the row gap between desktop and mobile elements. Also can change the font size of different elements.
Step 6: Adjust WooCommerce Settings
You can control key WooCommerce page assignments from the Elementor Site Settings area. However, this step is optional.
For Instance, it can be helpful to create a new page for your cart with Elementor despite editing the existing WooCommerce cart page.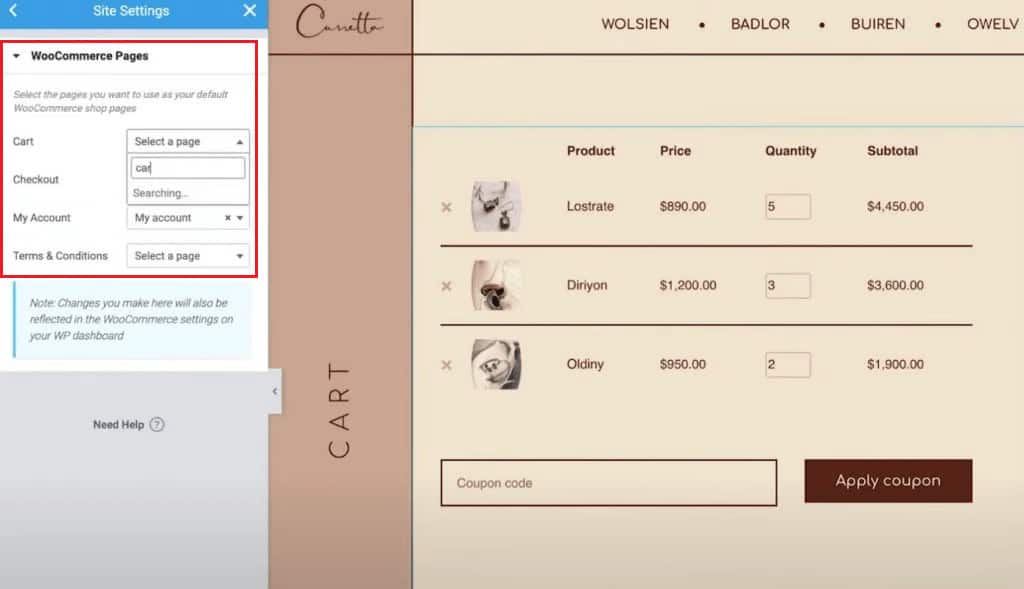 You can tell WooCommerce to use your new page from the Elementor Site Settings.

To access such options, go to the WooCommerce tab of the regular Site Settings area. You can get the WooCommerce option under the Settings heading.
Frequently Asked Questions for How to Add a Shopping Cart in Elementor
Are You Ready to Customize Your WooCommerce Cart Page with Elementor?
If yes!
Then, it is obvious that your shopping cart page is now ready to offer an amazing user experience to your customers. It will be seamless for them to navigate between product and checkout pages.
This will lead to increased customer satisfaction and loyalty. Also, it will bring great customer retention to your e-commerce store.
With this, your shopping cart will also get valuable data and insights about customer behavior. Hence, you can optimize your online store and improve product offerings to meet customer needs.