Disclosure: Some of the links in this article may be affiliate links, which can provide compensation to me at no cost to you if you decide to purchase a paid plan. We review these products after doing a lot of research, we check all features and recommend the best products only.
Earning money through online survey websites may sound too good to be true, and for many, it raises a healthy dose of skepticism. However, if you've had the experience of actually making money through these platforms, your skepticism might turn into trust.
InboxDollars is one of the online survey sites that gives you a way to earn money online in your spare time. Although it cannot make you rich or replace your full-time job, it can help you earn extra cash while watching shows on Netflix.
But how does InboxDollars let you earn real money? Is it legitimate to spend your time on InboxDollars? Can you really earn some extra money through InboxDollars? All these doubtful questions will be clarified here in the InboxDollars review.
This blog will give you an in-depth go-through of InboxDollars. So, let's explore what makes InboxDollars a trusted name in the realm of online rewards.
InboxDollars Review: What is InboxDollars?
InboxDollars was founded in the year 2000. It is a reputable rewards site where users can earn extra money by completing surveys, cash-back offers, reading promotional emails, and completing various small tasks.
With a community of over 5 million individuals, InboxDollars proudly rewards its members with a staggering $80 million to date.
What sets InboxDollars apart is its responsive accessibility. You can use it on your desktop via web browsers or on your mobile device through their handy app.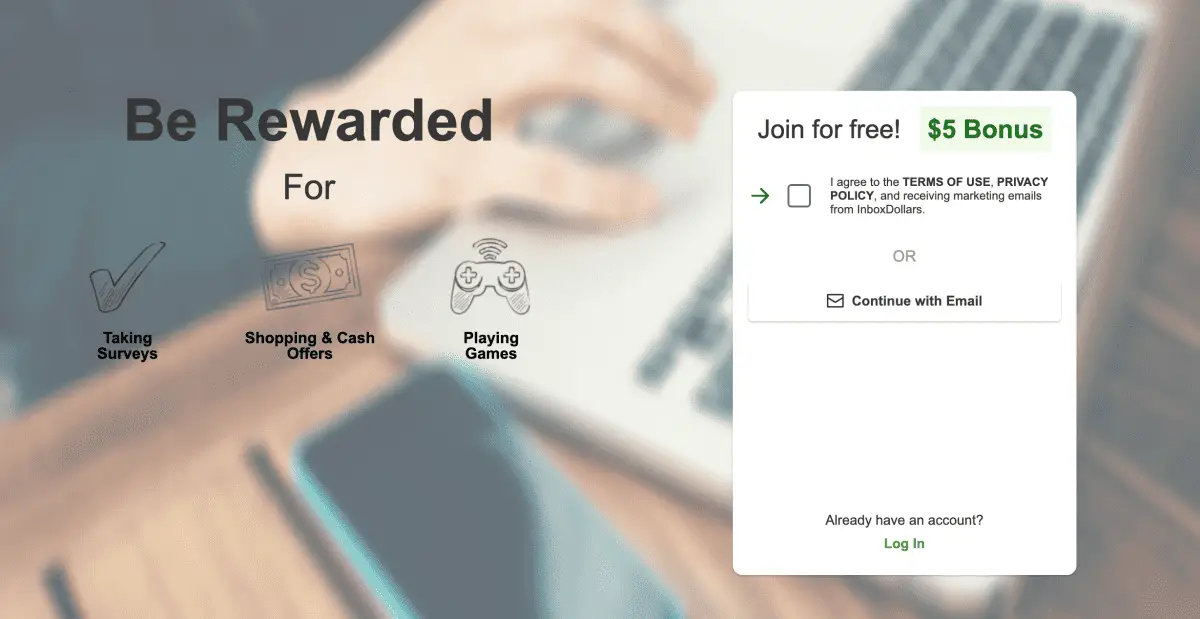 Whether you're waiting in line at a store or have a few minutes to spare between Zoom meetings, InboxDollars offers a convenient way to boost your income. As an enticing welcome, new users receive an instant $5 signup bonus.
InboxDollars is part of the Prodege LLC family, alongside other similar platforms like Swagbucks, MyPoints, and Tada.
If you've dabbled in any of these, you might notice some shared features. However, InboxDollars adds its unique twist with features like Scratch & Win cards and WinIt codes.
Plus, they've made tracking your earnings straightforward by using dollars and cents, eliminating the need to decipher complex point systems.
Is InboxDollars Legit to Earn Money?
InboxDollars is indeed a legitimate and trustworthy website for those looking to earn money by participating in various online activities. There are a few key reasons to trust InboxDollars:
Established Reputation
InboxDollars has been operating since 2000, which speaks to its longevity and credibility. Over the years, it has paid over $80 million in rewards. This demonstrates its commitment to compensating its users.
BBB Accreditation
InboxDollars is accredited by the Better Business Bureau (BBB), which signifies a level of trustworthiness and adherence to business standards.
Privacy Safeguards
The concern about personal information is common, but it's essential to understand that InboxDollars primarily collects data related to consumer opinions and product preferences, not sensitive personal information.
While they may request some personal data during signup, such as your name, email, or date of birth, this is just to ensure that you receive relevant surveys and offers. They do not sell your personal information.
Opt-Out Option
InboxDollars allows users to opt out of providing certain personal information if they are uncomfortable with it. However, this might limit the services and surveys available to you.
Positive Customer Reviews
On Trustpilot, InboxDollars enjoys an absolute rating of 4.2 out of 5, based on more than 38.9k customer reviews. This feedback from users further reinforces its legitimacy.
So, if you're looking for a reputable platform to earn money through online activities, InboxDollars is a trustworthy choice. It's not a scam, and its long history and positive user feedback attest to its legitimacy.
How Does InboxDollars Work?
InboxDollars provides various opportunities for users to earn money. It offers flexibility to choose the ones that suit their time and interests.
To begin, you need to sign up for a free InboxDollars account. Upon confirming your email address, you'll instantly earn rewards of a $5 bonus.
Afterwards, you'll complete a profile questionnaire, which requests information about your demographics, such as age, gender, and interests. This usually takes around 10 minutes and unlocks an additional $0.50 bonus.
It's important to note that you can't immediately redeem this cash prize of $5.50. To redeem your rewards, you must reach a minimum threshold of $15.
This process outlines how InboxDollars operates. It helps users to earn cash rewards by participating in various tasks and activities.
Possible Ways to Make Money on InboxDollars
Once you signup InboxDollars, you will get multiple ways to get paid, like that of Survey Junkie. Let us check out those ways to earn extra money.
1. Playing Games
InboxDollars provides a variety of games, including free options like Solitaire, Candy Jam, and Pet Hop. Additionally, they offer cash games such as Blackout Bingo, Cube Master, and Solitaire Cash, which can be found in the Offer tab.
In these cash games, you usually have to initiate a deposit and engage in competitions within cash tournaments for the opportunity to secure additional funds.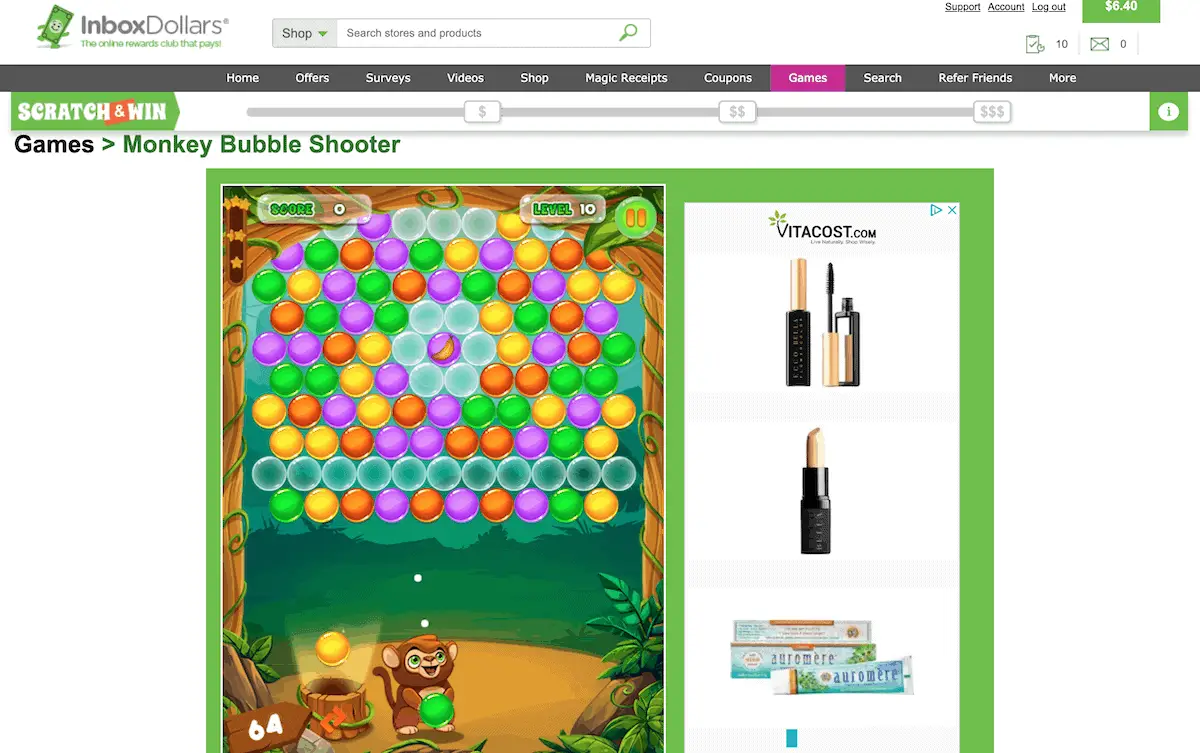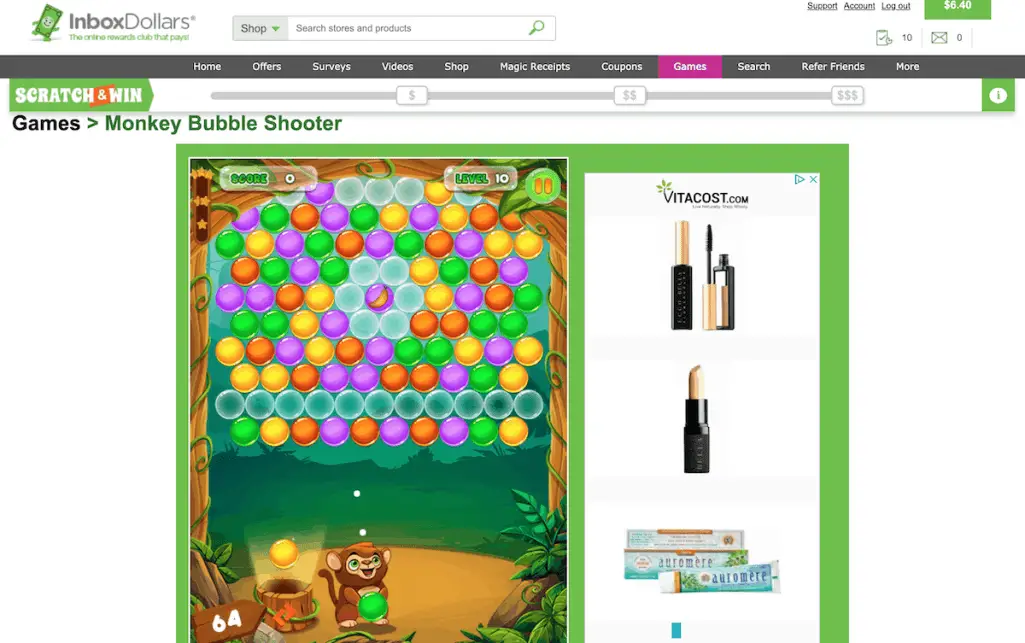 However, it's important to note that you don't directly earn real cash by playing the free games on InboxDollars. Instead, each game you play contributes to your Scratch & Win progress, which eventually lets you scratch a digital lottery ticket for random cash rewards.
2. Scratch & Win
As you engage in surveys, gaming, and various tasks on InboxDollars, you accumulate progress towards unlocking a Scratch & Win card. This essentially works like a digital lottery ticket offering a random reward.
These Scratch & Win cards have three different levels of potential rewards: $10, $25, and $100, depending on the specific milestone.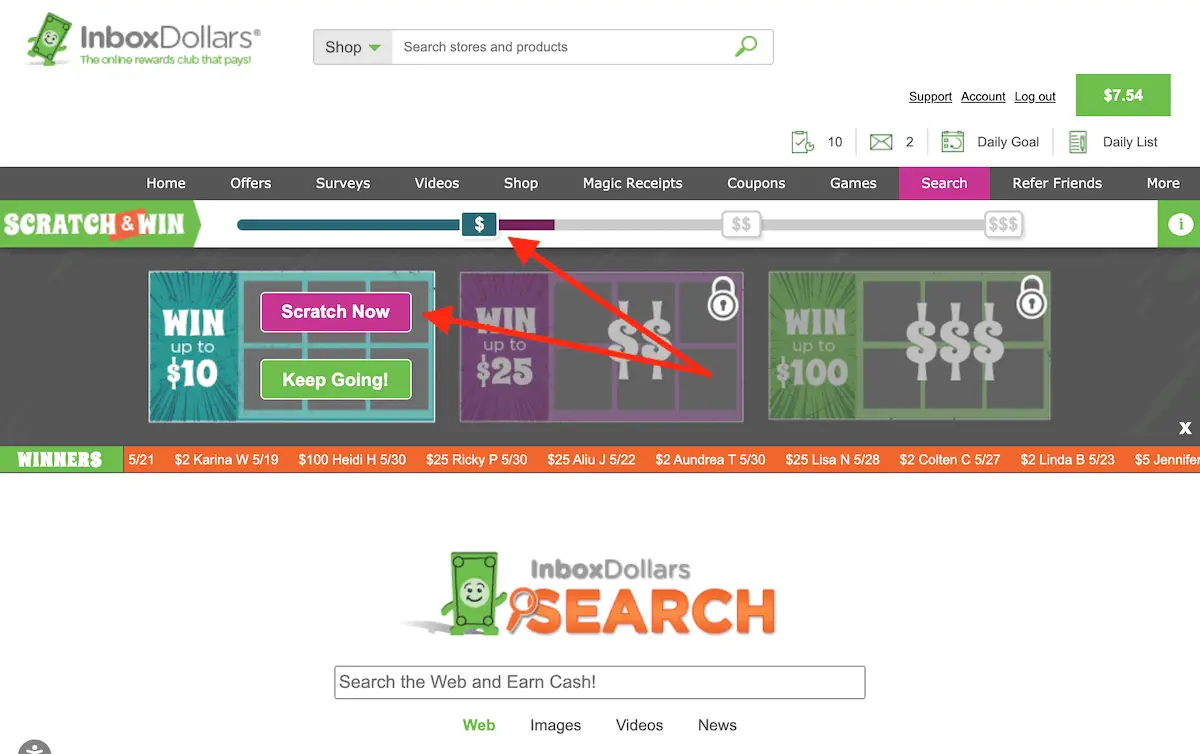 The level of your Scratch & Win card, which determines the potential reward, depends on the number of activities you complete.
The activities include games, surveys and searches). As stated by the InboxDollars blog, most scratchers typically provide rewards ranging from a few cents to $0.25.
3. Completing Surveys
Take surveys and earn extra money online.
Before you begin participating in surveys on InboxDollars, you're required to fill out your profile, and you'll earn $0.50 for completing this brief questionnaire.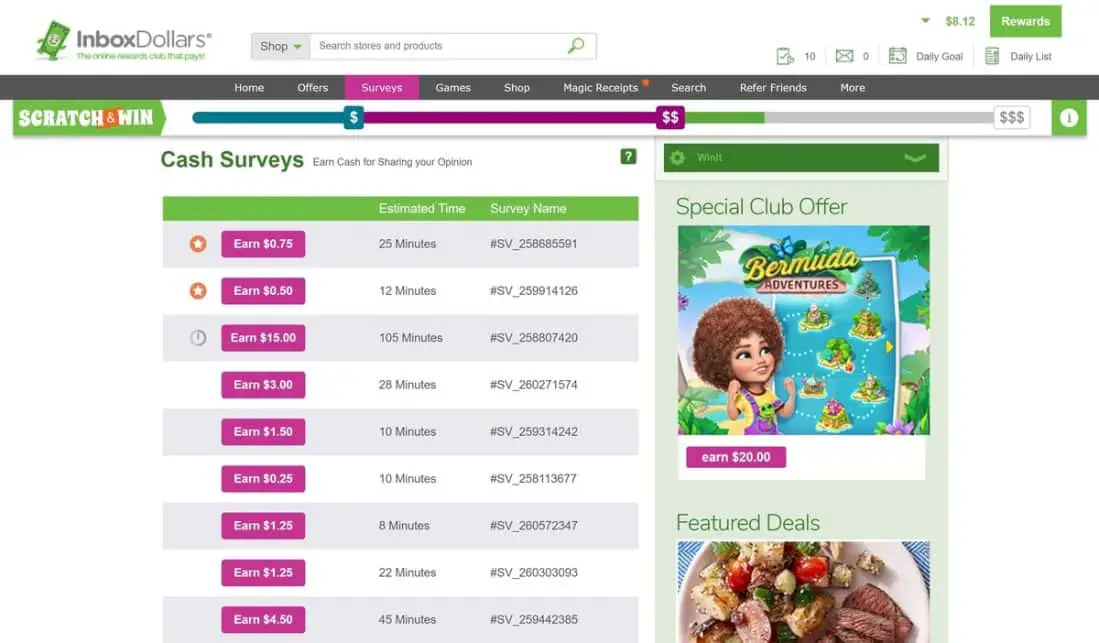 Typically, profile surveys on the platform offer payouts ranging from $0.50 to $5.00 and take about 10 to 30 minutes to complete. At any given time, you can expect to see around 10 to 15 surveys listed in your account.
While InboxDollars suggests the survey they believe is the most suitable for you. So you have the flexibility to complete them in any order that you prefer.
4. Magic Receipts
InboxDollars provides two distinct options for earning cashback through receipt uploads: Magic Receipts and Any Receipt.
If you've ever gone through cashback grocery apps like Ibotta, you'll find the process of uploading Magic Receipts quite familiar.
You start by selecting deals from InboxDollars, adding them to your cart, and then purchasing the items at a participating store. After your purchase, snap a picture of that receipt and upload it to your account for quick cash back.
Some of these deals are specific to particular brands, while others offer a fixed cashback amount for any brand of items like milk, bread, eggs, or produce, among others.
On the other hand, Any Receipt deals are exactly what they sound like. You have the flexibility to upload receipts from over 1,000 different retailers, and as long as the receipt is less than 14 days old, you'll earn $0.01 for each one you submit.
It's worth noting that most Magic Receipt deals are associated with in-store purchases, whereas you can utilize Any Receipt offers for in-store and online orders. It provides you with more opportunities to make extra money.
5. Cash Offers
The Offers page on InboxDollars offers several promising categories of cash offers:
100% FREE Offers
Content Discovery
New Offers
Club Favorites
Making Money
Saving Money
On the InboxDollars app version, you'll find opportunities to earn free money anywhere from $0.10 to $3.50 by simply downloading free apps to your phone.
Additionally, if you're willing to share your location data, you can earn some extra cash, like $0.05 for each scan of specific product barcodes in stores.
InboxDollars also partners with gig economy and investing companies, offering enticing deals. They allow you to earn up to $150 if you sign up to become an UberEats Driver through their platform.
They also had a $75 offer for new Stash clients. These offers present various ways to earn money with InboxDollars. Thereby, it boosts your earnings while using the InboxDollars platform.
Kindly note that the availability of these offers may change over time, so it's a good idea to check the latest options when using the platform.
6. Online Shopping
Through the InboxDollars Paid Shopping portal, individuals who shop online can earn cashback. The concept is straightforward: Major brands like Walmart and the Gap provide InboxDollars with a commission when users shop via the provided links in their InboxDollars account.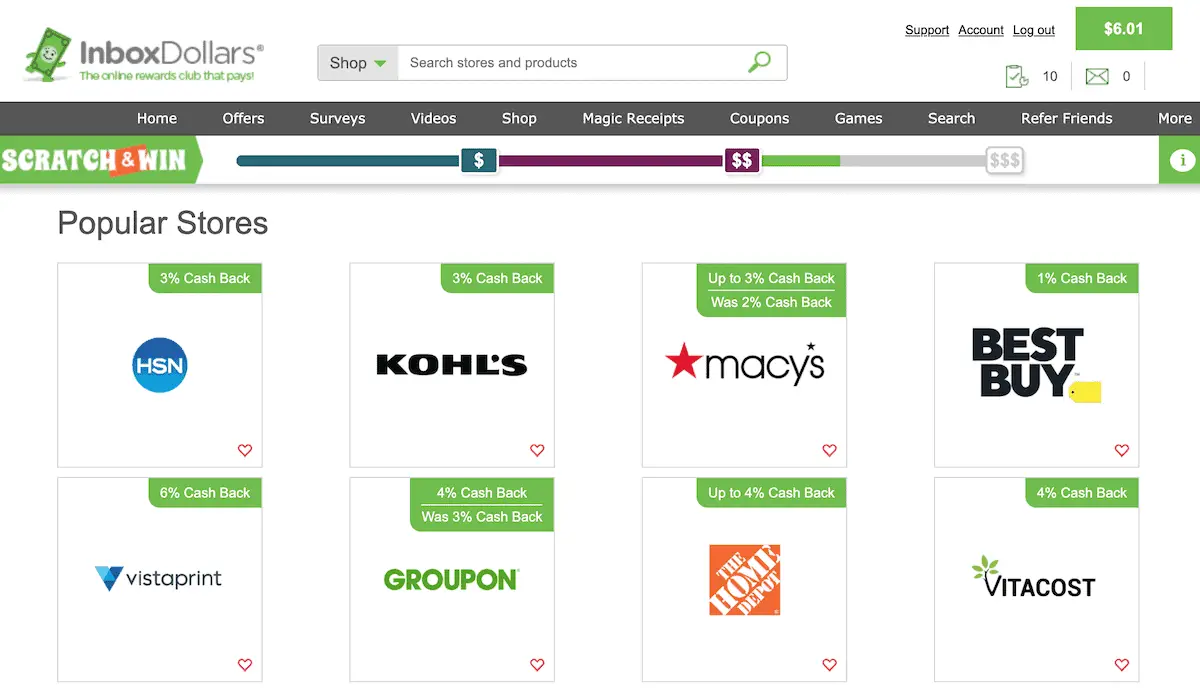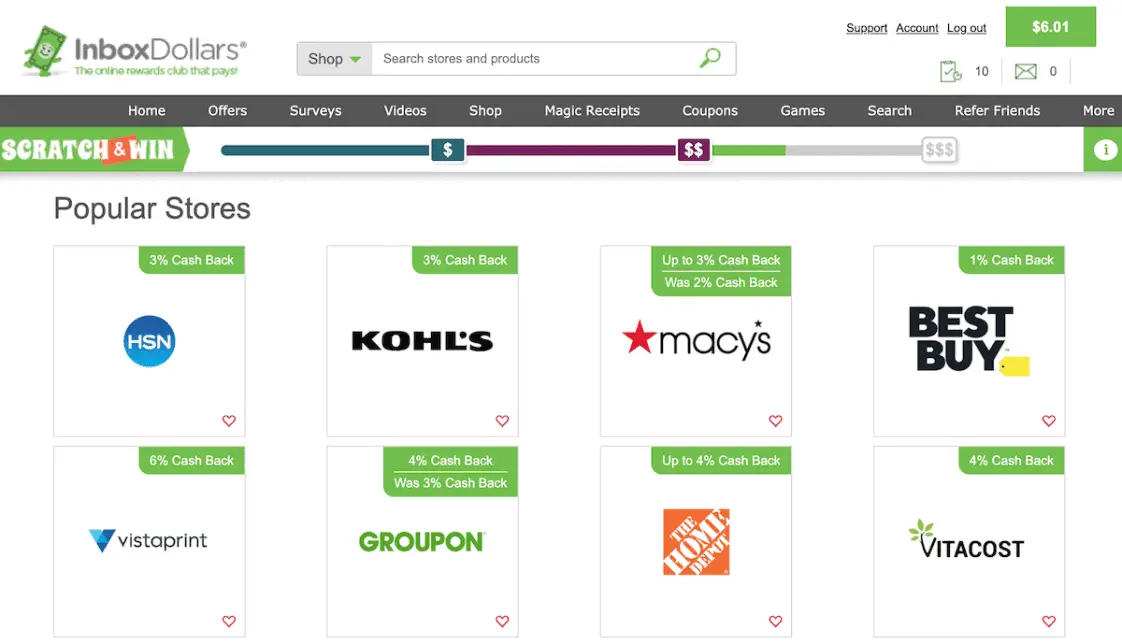 As part of the arrangement, InboxDollars then distributes a portion of that commission to the shoppers. It allows them to earn cashback on their purchases.
7. Referring Friends
Using InboxDollars, you can share your unique invite link with your friends and family. When someone you refer qualifies by earning at least $7, you'll receive $1 as a referral bonus.

Additionally, you can enjoy the benefits of passive income by receiving 30% of your lifetime earnings. It's a great way to earn rewards while introducing others to the platform.
8. Paid Emails
InboxDollars offers a program known as "PaidEmail." In this, you can earn money by simply opening and reading email content.
To participate in this program, you need to opt-in and receive PaidEmails directly from InboxDollars in your email inboxes.
When you open and read these emails, you can earn a small fee for doing so. If the email contains an advertisement or offer that interests you, such as a free trial for a streaming video service, you're encouraged to explore further by visiting the advertiser's landing page.
This way, you not only make money by reading emails but also have the option to engage with relevant offers.
9. Search
InboxDollars search engine won't directly increase your dollar earnings. Instead, it contributes to your progress in obtaining the next Scratch & Win ticket.
The number of searches you can get credit for may vary from as low as four searches on some days to 20 or more on others.
10. Daily Goal
InboxDollars provides a daily bonus of $0.03 to $0.10 when you reach your daily earnings goal or finish your daily to-do list. Your past earnings determine this daily goal.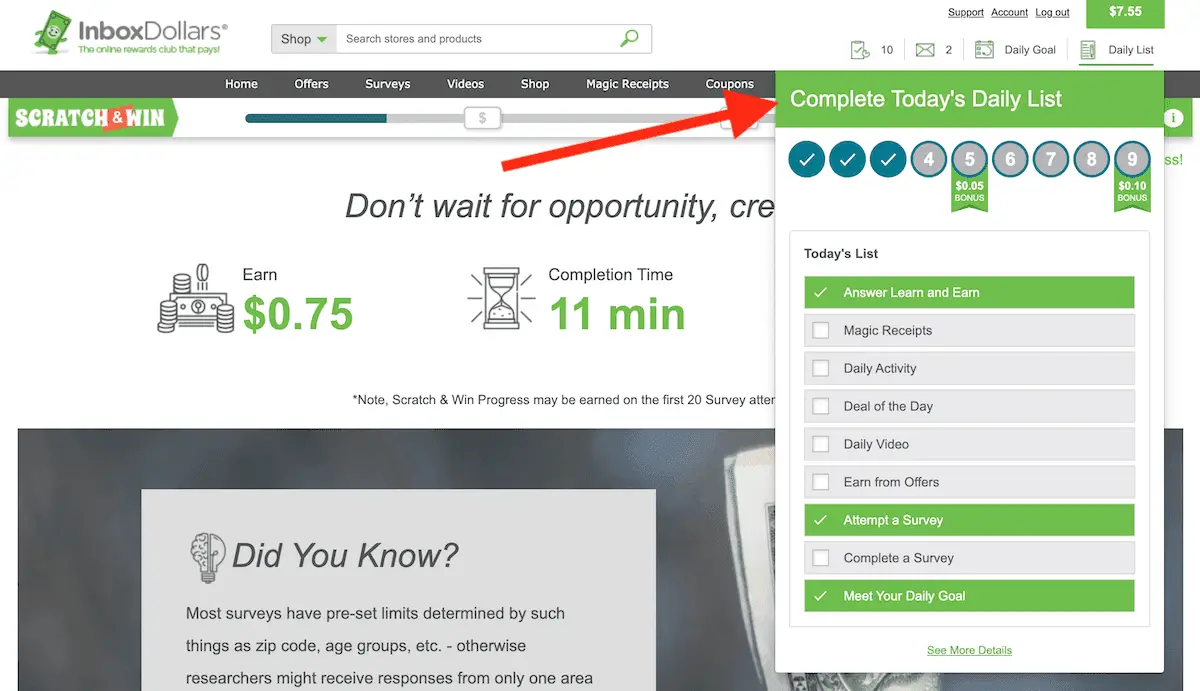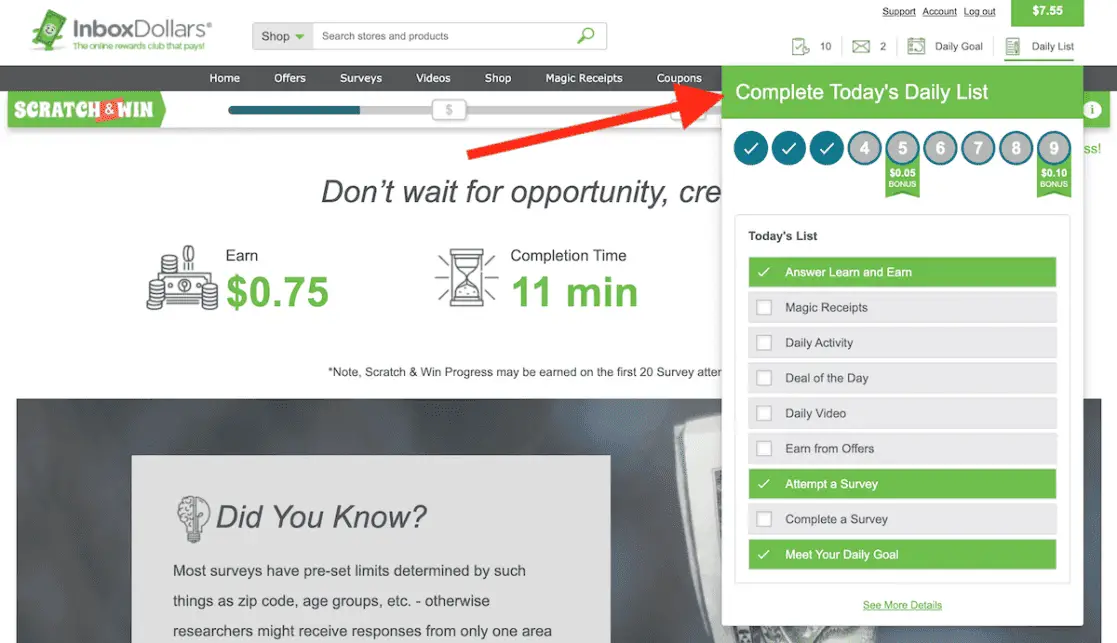 Moreover, if you consistently meet your daily goal, which is referred to as a streak, you can earn an even more substantial bonus.
11. WinIt Codes
Occasionally, InboxDollars shares "WinIt" codes on their social media accounts like Facebook, Instagram, and Twitter.
Each code has various rewards, ranging from a few cents to sweepstakes entries or advancement towards your next Scratch & Win card.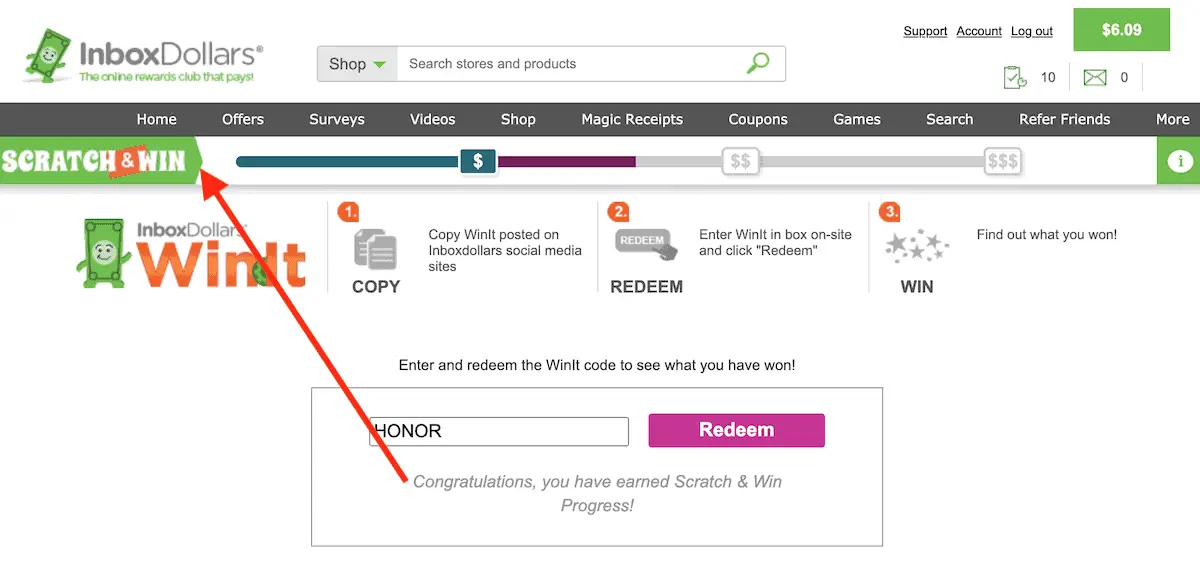 It's important to note that these codes have an expiration time of the same day they are posted. Therefore, it's a good idea to regularly check their social media accounts to ensure you don't miss out on these opportunities.
How much money can you make with Inbox Dollars?
The most enticing question here is: how much can you make with InboxDollars? Right? So, here is your answer.
Your potential earnings with InboxDollars depend on your chosen activities and how frequently you engage in them.
For instance, if you spent 20 minutes playing a game called Monkey Bubble Shooter and earned a tier 2 scratcher ticket, which resulted in a $0.02 reward. So, the game translated to about $0.04 per hour, which is not a very high rate.
On the other hand, if I take a 13-minute survey that pays $2.00, it is equivalent to just over $9.00 per hour. This is a decent payout and above what many survey sites typically offer.
However, it's important to note that consistently qualifying for and completing such well-paying surveys is uncommon. Most survey earnings typically range from $1 to $5 per day.
In summary, surveys, cashback offers, and receipt uploads tend to be the highest-earning activities on InboxDollars.
If you primarily focus on these activities, you can expect to earn a reasonable $10 to $30 per month. While InboxDollars won't make you rich, it's a convenient way to earn extra money for simple tasks.
How to Redeem Money from InboxDollars?
To redeem money from your InboxDollars account, you need to follow these steps:
By following these steps, you can successfully redeem the money you've earned through InboxDollars, whether as cash through PayPal or as free gift cards from a selection of major retailers.
InboxDollars: Pros & Cons
Certainly, here are the pros and cons of using InboxDollars:
Pros
Free to Sign Up: Joining InboxDollars won't cost you anything. It is accessible to all.
$5 Signup Bonus: New members receive a generous $5 bonus just for signing up. It gives them an instant earnings boost.
Established Company: With a history dating back to 2000, InboxDollars is a well-established and trustworthy platform.
User-Friendly Website and App: The online site and mobile app are easy to navigate. It gives flexibility to the users to earn from various devices.
Cons
High Payout Threshold of $30: You can't cash out your earnings until you reach a relatively high balance of $30.
$3 Transaction Fee for Check Payments: While checks are no longer offered as a payment option, there used to be a $3 transaction fee for this method.
Two-Week Wait for Funds: It may take up to two weeks to receive your earnings after requesting a payout. This is less appealing for those seeking quicker access to their money.
Frequently Asked Questions
Is InboxDollars Worth It?
After going through this InboxDollars Review 2023, I hope you get the worth of this platform. Although InboxDollars isn't going to make you rich, it can be a lighthearted way to make occasional rewards, like a $15 gift card.
The value of using InboxDollars hinges on your specific objectives and the effort you're willing to invest. If you want to earn extra money with minimal exertion, InboxDollars is an excellent choice.
Activities such as taking surveys, printing coupons, and uploading receipts are straightforward and require little time and energy.
Engaging in activities like playing games and unlocking random rewards through Scratch & Win tickets can be a fun way to pass the time.
InboxDollars doesn't yield substantial monthly earnings, but it can be a worthwhile opportunity for those seeking simple and enjoyable ways to earn more money.
Ultimately, its value depends on your individual goals and expectations. If you're looking for a convenient and entertaining way to supplement your income, InboxDollars is a legit website that is worth your time as well.