Disclosure: Some of the links in this article may be affiliate links, which can provide compensation to me at no cost to you if you decide to purchase a paid plan. We review these products after doing a lot of research, we check all features and recommend the best products only.
Everybody knows YouTube. Right?
But everyone doesn't know how to monetize YouTube.
So this article is about two types of people:
1 – Who wants to make money on YouTube
2 – Who failed to make money on YouTube
It doesn't matter which side are you on.
Because in either way, we all have a chance to make a difference in the days to come.
Did you make your YouTube account years back?
And then you quit…
It's not your fault because nobody actually convinced you!
or
Nobody came forward with a plan and a bunch of solutions to guide you on how to monetize your YouTube Channel.
Not anymore. Because we've got this covered for you.
I'm challenging you if you truly read all the methods that I'm going to mention, you'd have a clear idea about YouTube monetization + you'd come to know few more ways to earn from your YouTube videos.
Are you up for the challenge?
Wait.
Some of you have already been on YouTube. Few of them are not going to listen to these tips because they tried to figure out YouTube on their own, but unfortunately they didn't succeed.
And they started believing that YouTube isn't for them.
Trust me, it's okay to be failed…
Do you know Marketing Guru Seth Godin failed so many times at the beginning before his products actually start clicking?
All I'm saying is, there are plenty of ways to use YouTube – make your pick and give yourself a nudge.
If you keep fearing of being toppled, you will always find yourself off the track.
I have got 10 ways to tell you exactly how you can start making money on YouTube – it's not just about these 10 ideas that can work for you – tomorrow you might find 10 more ways to monetize your YouTube video, but it's about having a little faith in yourself.
You can dive in and get through.
Take a look at the 10 Ideas to Monetize YouTube Videos:
#1. YouTube Partner Program
YouTube Partner Program is a video monetization system for YouTubers available for limited countries. It helps video content creators to make money through the revenue-sharing system.
The countries that are currently in the YouTube Partner Program are Argentina, Australia, Brazil, Canada, Czech Republic, France, Germany, Ireland, Israel, Italy, Japan, Mexico, Netherlands, New Zealand, South Africa, Spain, Sweden, United Kingdom, and the United States.
The revenue of YouTube Partner program depends on the CPM rate, which varies for the users from different countries. However, the audience locations count a lot in setting up the CPM of your YouTube account.
YouTube Help section has briefed YouTubers on YouTube Partner Program.
#2. Paid Content
YouTube Paid Content is a video or channel subscription service that allows you to rent or sell your YouTube videos or channels. A paid video or channel requires subscribers to pay to watch the video.
A YouTube channel owner describes the paid content terms and chooses the subscription type such as Renting, Purchasing, or Subscription.
Before you begin with the paid content feature of the YouTube, make sure that you have enabled the Paid Content feature from the 'Status and Features' setting.
In order to start monetization on your YouTube videos through Paid Content feature and you will find a pile of simple requirements to fulfill such as your YouTube account should be in good standing, you should be from the one of those accepted countries, you must have Adsense enabled. (check complete list)
#3. Fan Funding
YouTube allows you to get support from your fans. Fan funding is a feature which helps you in collecting the funds from fans who want to back you financially to show their support for your work and channel. Fan Funding requires a channel to enable the monetization feature to get started.
This is one of the coolest ways for YouTube users to get paid for their work, but it doesn't mean it's for everyone unless you fulfill the criteria.
YouTube Fan funding requires you to enable your Google Wallet to get paid and there are few more eligibility requirements for a user or channel to get started with fan funding. (see this).
#4. Joining the YouTube Network
One of the best ideas to monetize your YouTube videos is by joining the YouTube Network. YouTube Networks have separately operated video advertising and marketing networks which help YouTubers to monetize their videos through their network.
The YouTubers who don't get selected or unable to fulfill the Partner Program criteria, they look for the best YouTube networks to apply and get selected.
These systems deal on revenue sharing basis with the YouTube content creators. All processing begins with the common understanding, if a network accepts the type of content that you are offering, the chances are you would be accepted in the network, of course if your channel is worth it.
It depends on the YouTube network that what type of market they have got and what kind of content creators they are looking for.
The famous YouTube networks are Fullscreen, Freedom, Machinima, Maker Studios, Above Average, and Righster.
#5. Getting the Sponsorships
Now here comes the creative part.
One of the incredible ways to monetize your YouTube channel and, ultimately, videos is by getting a sponsorship. A lot of YouTubers who feel deprived on not being from those select countries having YouTube Partnership program can actually start thinking about getting sponsorships for their YouTube channels.
It's a great way to monetize your videos. All it takes is, find the right company that takes you closer to the great sponsors for your channel.
The best thing is, your YouTube channel size doesn't matter here. You might be able to get a sponsorship for your channel with 1000 subscribers, most of the sponsors look for a particular engaged audience in their niche.
So, if you have an engaged and enthusiastic audience on YouTube channel, it might work great.
Derral Eves video on YouTube Sponsorships is one of the best guides on YouTube sponsorships. Those who don't know about Derral Eves must check this channel. He is one of the popular YouTubers who guide new YouTubers, Online Marketers, and starters on YouTube.
Famebit is one of the best companies to get connected with sponsors for YouTube content creators.
#6. Making the Video Reviews
This is getting more excited.
If you've decided to make money on YouTube, I bet you're going to choose one of the ideas to monetize your videos – I've gathered all these methods to make money on YouTube, because I know people want to make money on YouTube and how difficult it is to make a useful and beneficial video!
I want to make sure that you get to find the best method to start making money on YouTube.
Another amazingly way to do that is by making 'Video Reviews' – I'm not sure that you know this, but I've seen many YouTubers doing this. You probably saw tutorial videos on YouTube on how to use that software or how to do a certain job on the internet.
But video reviews would be another great way to get started. You have to create a certain type of audience that shows interest in your review, and the best way to do this is get started with your review making. You can choose the tech gadgets, PC softwares, games, fashion accessories, formal dressing, or anything you're passionate about.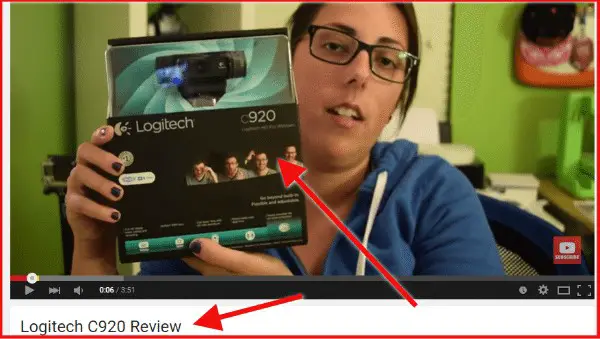 Latin Vixen is a famous YouTuber. She does this work amazingly. She normally reviews tech gadgets and PC utilities. Whenever her video comes out, she might be telling you about any gadget, event, or travel experience.
#7. Creating How-to Guides
Trust me. How-to guide videos are extremely popular. People want to know things. They are getting aware daily – they come to YouTube to learn more things.
If you know something, you must be there to teach, entertain, and educate them.
A reliable video editor can help you create and edit engaging, informative content hassle-free.
Once you start doing that, you'll start getting some attention.
This is a bit tricky – you shouldn't be mixing up a list of categories on your YouTube channel – it means you can't review the latest iPhone app on your technology updates channel and a new ice parlor on the same channel.
Choose your nice and stick with it. Just like we do in Blogging. Got it?
James Stafford would always be talking about Website and blog development. You will find a WordPress tutorial and guide if you check his YouTube channel. It means he has selected his YouTube channel niche and is sticking with this specific category to meet a certain audience, which everyone on YouTube should be doing.
#8. Promoting the Affiliate Products
Promoting different relevant products is very common on YouTube – once you guide your audience doing a certain thing by showing exactly how to do this using specific skills, tools, and measures, then you offer them the product/service under the video.
Using this promotional method, you can either promote your client's website or your own product – It's up to you how do you utilize this opportunity.
What matters is, how you engage and educate the viewers with your video.
Does your video make them happy and satisfied to buy the product?
This is something you have to figure out before making your video online.
A famous YouTube channel, 'Let's Build WordPress' does this quite comprehensively – they educate viewers on WordPress and usually share great tools and products for WordPress users.

Yes. Using the description of videos.
You might come across the videos with no description at all. Not only does your video description make your video reachable on YouTube, but it also ensures that viewers get converted into paying customers.
#9. On-video Banner Ads in WordPress
Use your YouTube account + WordPress blog for monetization. If you create content on your blog with lots of videos, then you would love this idea of YouTube video monetization.
Start displaying banner ads on YouTube videos in your blog posts or pages.
Tune Video Ads is a premium WordPress plugin that does this job for you. It helps you to display the banner advertisements on your YouTube videos posted on the blog.
Suppose you don't have any kind of YouTube Sponsorship and Paid opportunity, still you can utilize your YouTube channel to make money.
How?
Yes. On Your Own. No dependency.
Choose the products to promote even from ClickBank, JVZOO, or Commission Junction, and create a video, upload to YouTube, and then publish to your blogs, and start using that Tune Video Ads plugin to monetize the videos on your blog.
#10. Covert Branding
Once you start getting attention from your specific audience – the next thing you should be focusing on becoming the authority in your niche.
Once you become an authority. You never know what comes next.
You might meet something big.
Just like ZaidAliT.
Zaid is a famous YouTuber from Canada. He makes short funny videos on Pakistani and Indian (desi) culture. Recently he got an undisclosed promotional deal from a popular beverages company.
Why?
Because he was so popular in Pakistan and India.
Opportunities await when you polish your talent and get consistent with your work.
What's your plan?
It's your turn to tell me about your YouTube plan.
Because whenever I see YouTube, I never look at this platform (and especially the opportunities on YouTube) just for Americans and Europeans – It's global for sure.
Now you've a list of YouTube monetization methods to get started with.
Tell me in the comments section how would you go off the ground now.