Disclosure: Some of the links in this article may be affiliate links, which can provide compensation to me at no cost to you if you decide to purchase a paid plan. We review these products after doing a lot of research, we check all features and recommend the best products only.
User-Friendly

Kajabi

Kajabi is a comprehensive, all-in-one platform. It helps you streamline creating, marketing and selling digital products.

Personalized

Thinkific

If you're aiming for a more personalized touch, Thinkific offers advanced customization options to suit your needs.

Versatile

Teachable

Teachable is a versatile platform for online course creation and sales. It enhances the learning experience.
Are you ready to take your online business to the next level and generate quick revenue?
You're in the right place if you've been searching for a versatile and effective platform to monetize your expertise. Passion.io may be a well-known choice, but there are other players in the game.
In this blog post, we will unveil top Passion.io alternatives that can help you unlock your full revenue potential. Whether you're a coach, educator, or entrepreneur, these alternatives offer unique features and opportunities to skyrocket your income.
Get ready to explore the diverse world of online revenue generation as we introduce you to the best alternatives to Passion.io that will fuel your financial success.
Why do People Look for Passion.io Alternatives
While Passion.io is a fantastic choice for those seeking a user-friendly and no-code application builder platform to monetize their skills into extra income, it's essential to acknowledge that there might not be the most budget-friendly option for everyone.
Apart from pricing, there are a few other factors to consider when looking for alternatives to Passion.io. Let's delve into these reasons in more detail:
1. Platform Fee: Remember, it processes a 3.9% platform fee for payments processed through Passion.io. For some users, this additional cost may not align with their financial preferences.
2. Learning Curve: Passion.io offers a wide array of features. Hence, getting accustomed to the platform might take a bit of time. However, it's worth noting that the platform does have a user-friendly interface and a supportive customer service team to help ease this learning curve.
3. Drip Content Feature Limitation: If you're interested in the drip content feature, which allows you to release course materials gradually over time, you should be aware that it's not available in the Pro plan. Hence, users will need to upgrade to a higher-priced plan to utilize this feature, which might be a pricy option for some.
While Passion.io has its merits, it's essential to consider factors such as pricing, platform fees, the learning curve, and feature availability when evaluating whether it fits your needs.
Hence, exploring alternatives can provide you with a better match for your specific requirements and budget.
12 Top Passion.io Alternatives to Generate Quick Revenue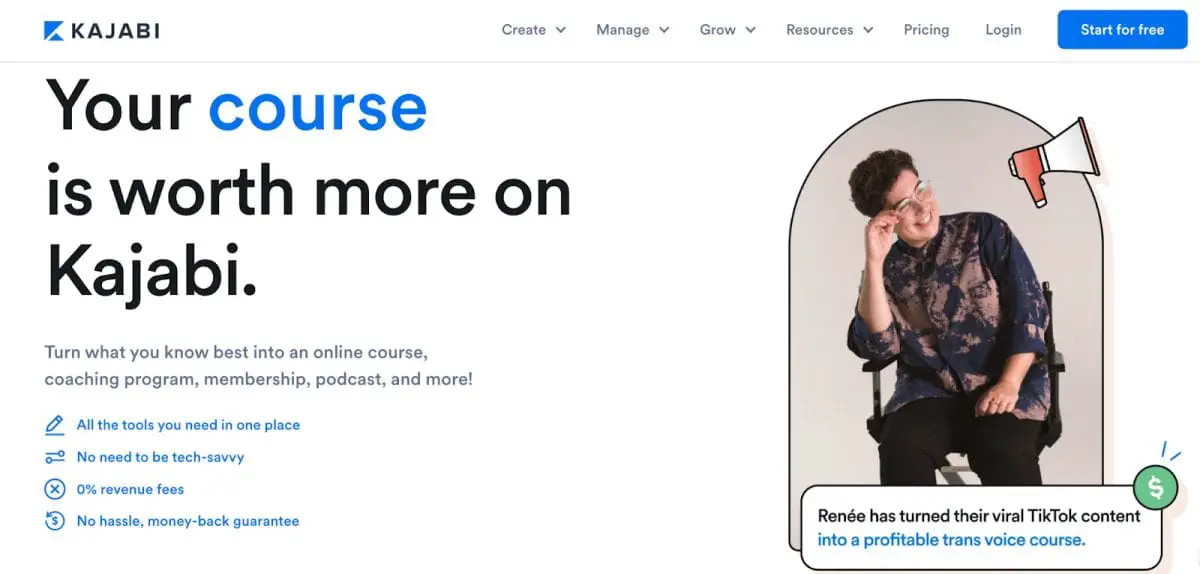 Kajabi is a comprehensive, all-in-one platform. It helps you streamline the process of creating, marketing and selling digital products. Kajabi is a noteworthy alternative to Passion.io, offering a user-friendly experience that simplifies online business management.
With Kajabi, you can create and monetize various digital products, including courses, communities, podcasts, coaching programs, and membership sites.
Additionally, it seamlessly integrates with third-party platforms like Shopify. Hence, you can sell physical products alongside digital ones.
Setting up a professional online presence is effortless with Kajabi, as it allows you to establish your own website. Moreover, Kajabi provides a dedicated mobile app, ensuring your users can access your content on the go.
However, it's important to note that, unlike Passion.io, Kajabi's mobile app lacks extensive customization options.
In summary, Kajabi offers versatility and ease of use. This is an attractive choice for those looking to monetize their digital expertise.
While it may not match Passion.io's app customization capabilities, its features and accessibility make it a strong contender for online entrepreneurs and educators.
Key Features
Kajabi vs Passion.io
Kajabi
Passion.io
Possesses app and web course access
Has only app accessibility for courses
Offers in-built email marketing software
Need to use third-party integration
for email marketing
In Kajabi, the app is not for individual brands.
You can see all purchases hosted by Kajabi.
In passion.io, your created app is all yours only
The app is already built
You create your app
Kajabi vs Passion.io
Basic: $149/month
Growth: $199/month
Pro: $399/month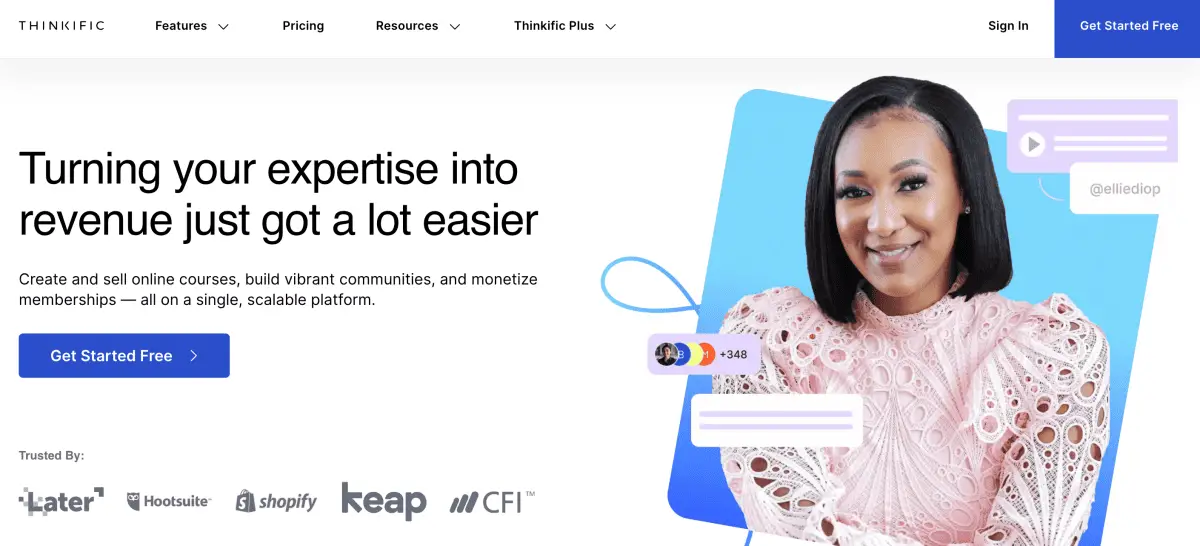 If you think creating an online course is daunting due to a lack of coding or design skills, worry not. Thinkific is your ultimate solution for effortlessly and swiftly building your courses.
Thinkific simplifies the course creation process with its user-friendly platform. You can dive right in using their drag-and-drop builder, complete with templates that make course creation a breeze.
Plus, if you're aiming for a more personalized touch, Thinkific offers advanced customization options to suit your needs.
The platform doesn't stop at course creation. It also allows you to foster student engagement by establishing communities and memberships for collaborative learning.
You can closely monitor your students' progress, conduct assessments, and even issue certificates to recognize their achievements.
While Thinkific doesn't provide the option to build Android or iOS apps directly from the platform, the good news is that your course websites are designed to be mobile-responsive. It ensures a seamless experience across all devices.
Thinkific emerges as your ideal companion for designing courses easily and efficiently. Whether you're a seasoned educator or just testing the waters of online coaching, Thinkific offers a free plan with zero initial investment.
Key Features
Thinkific vs Passion.io
Thinkific
Passion.io
Does not offer a mobile app
Fully App-based
It has its own App store that allows
integrating Thinkific with other platforms.
Performs all integrations via Zapier
Easily sell physical products from the app.
Easily sell physical products from the app
Thinkific vs Passion.io
Free: $0
Basic: $36/month
Start: $74/month
Grow: $149/month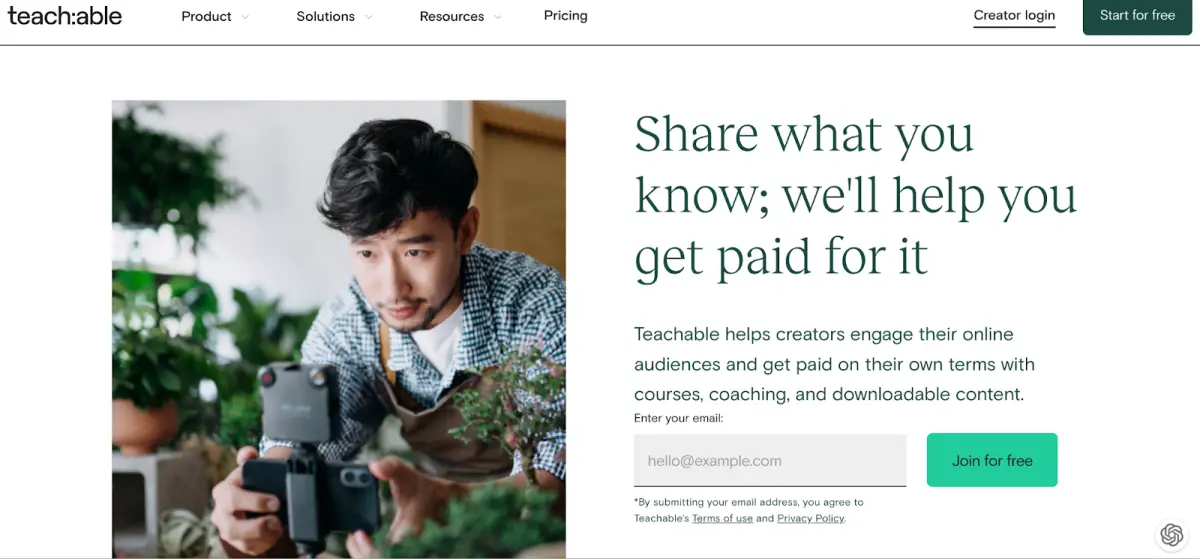 Teachable stands out as a versatile platform for online course creation and sales. With unlimited bandwidth, students, courses, and the option to offer coaching services, it provides the essential foundation for educators.
It supports various payment methods and offers one-click checkout, simplifying enrollment. Additionally, it fosters engagement through live chat and webinar schedules.
It enhances the learning experience. The platform even allows you to issue completion certificates, adding credibility to your courses.
The Pro plan, with its live Zoom course access, is an attractive option for those seeking advanced features. Teachable has a user-friendly drag-and-drop course builder.
The platform encompasses pre-designed templates. It removes the need for coding or design skills, making it accessible to many educators.
Passion.io excels in mobile app experience, making it ideal for certain niches. However, if community-building and integration with third-party tools are vital, Teachable offers more flexibility.
Teachable is a robust platform offering essential features for course creators. At the same time, Passion.io shines in the mobile app experience. Teachable's versatility and community integration make it a compelling choice for many educators.
Key Features
Teachable vs Passion.io
Teachable
Passion.io
Free and Basic subscriptions allow
limited course creations
Create unlimited courses in all plans.
Cannot send push notifications using
the Teachable app
It allows push notification
Students are unable to purchase add-on
products
as there is no option for in-app purchases.
Allows upselling within the application
No community-building option
Can create community
Offers free plan
No free plans are available
Teachable vs Passion.io
Free: $0
Basic: $39/month
Pro: $119/month
Pro+: $199/month
Business: $499/month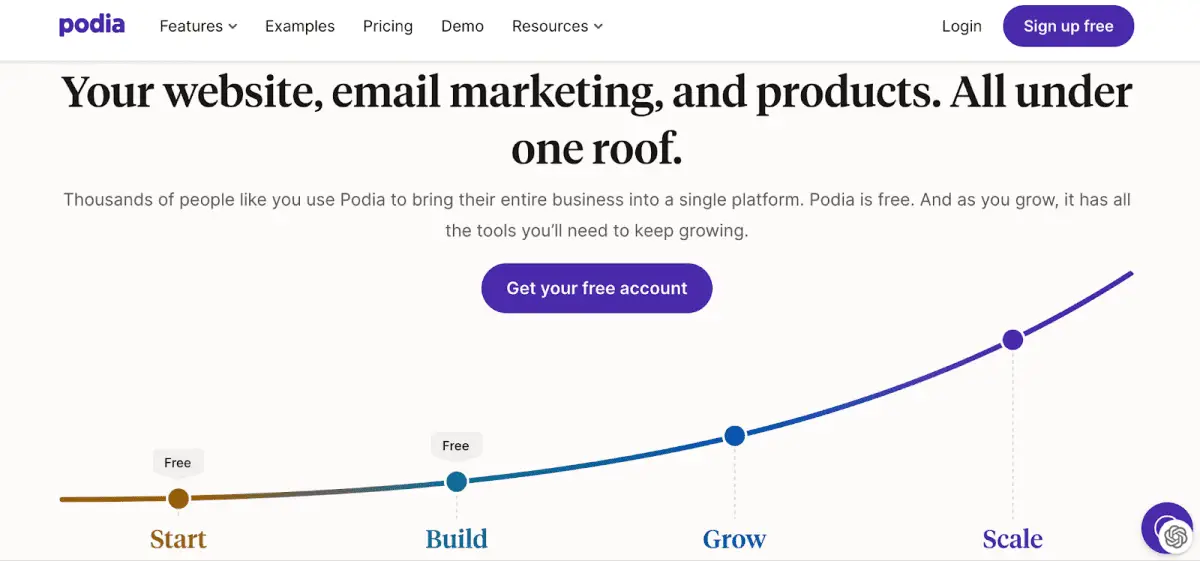 Building a website on Podia doesn't require any coding or design expertise. It ensures a user-friendly experience. The platform is easily navigable and intuitive. This makes it accessible to everyone.
Podia offers the flexibility to create various types of courses, including online, live courses, and cohort courses. Live courses are particularly effective on Podia. It fosters collaborative learning through the community feature for student discussions.
In addition to courses, Podia supports the sale of digital downloads, hosts webinars, and provides email marketing tools to help attract and engage customers.
Both Podia and Passion.io facilitate the creation of online communities and courses but differ in their hosting approach.
Podia allows you to host your content on your website, giving you more control over your online presence. In contrast, Passion.io places all your content within an app.
While Podia lacks a dedicated app, it is optimized for mobile devices. This means your courses will display beautifully on mobile phones and tablets. It ensures a seamless learning experience on various devices, including the web.
Key Features
Podia vs Passion.io
Podia
Passion.io
Offers free plan
Offers paid plans
Not takes transaction fee in
any of the plans
Charges transaction fee
It has a built-in basic email marketing
option
Use third-party integration for
email marketing
Web-based
App-based
Podia vs Passion.io
Free: $0/month
Mover: $33/month
Shaker: $75/month
When it comes to marketing features, ClickFunnels 2.0 emerges as a compelling alternative to Passion.io. ClickFunnels 2.0 empowers you to craft highly converting campaigns using its funnel templates and capture leads from various sources.
The sources include Google, Facebook, YouTube, and more. Notably, its email marketing capabilities rank among the finest in the industry.
In contrast, Passion.io does not offer email marketing tools, and its funnels are confined within the app. This means potential customers won't encounter your funnels unless they have downloaded your app.
While ClickFunnels 2.0 excels in marketing and funnel creation, it also enables you to create courses and establish a website for selling them.
However, it's worth noting that ClickFunnels 2.0's course creation features may not match the advanced capabilities of Passion.io in this regard.
To sum it up, if you prioritize effective funnels and web-based learning, ClickFunnels 2.0 is a solid choice. On the other hand, if your goal is to create a branded learning app, Passion.io may be the preferred option.
Key Features
ClickFunnels vs Passion.io
ClickFunnels
Passion.io
Only web-based
Only app-based
Better funnel creating and email marketing
features
Better course-creating features
Allows creating a blog
Creating a blog is not possible
Cannot create a mobile app
Can create funnels inside the app
ClickFunnels vs Passion.io
Basic: $127/month
Pro: $157/month
Funnel Hacker: $208/month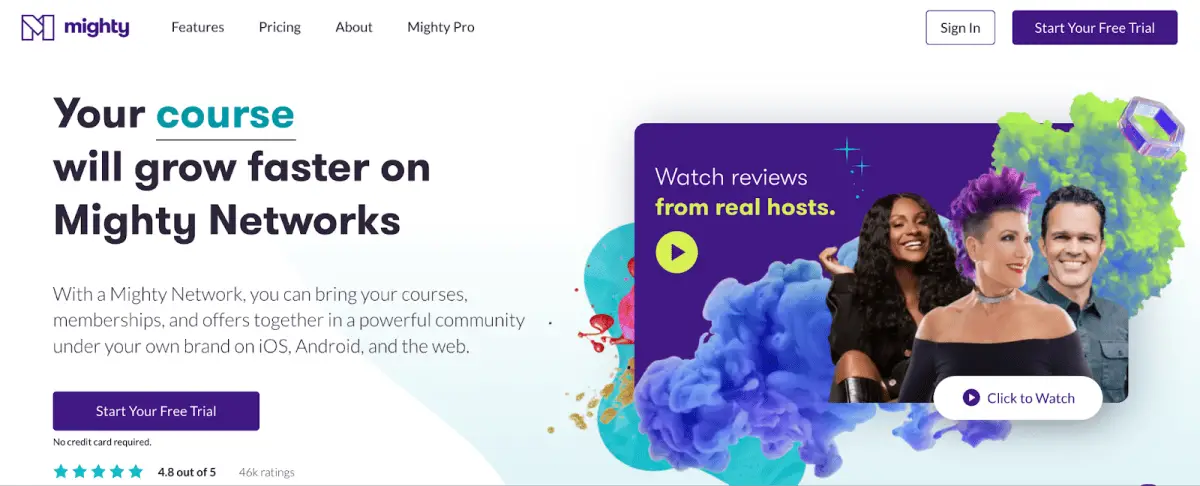 Mighty Network is a bundle of features. It is available for iOS, Android and web all together. Hence, you can say it is a versatile platform.
It sets a standard for what people look for from the best community platform. The Mighty Network enables you to bring online courses, memberships, and offers, all within a single powerful community network under a single brand.
Mighty Network possesses a straightforward interface with more than enough features to let you build a community.
You can set your website on your domain name. Also, It lets you create engaging content, live-stream videos, host events, etc.
The only not-so-good point of Mighty Network is that it is expensive if you try opting for custom-based mobile applications. However, Passion.io comes in handy with this feature.
Overall, Mighty Networks is good to go if you want to host a community and set a standard.
Key Features
Mighty Networks vs Passion.io
Mighty Networks
Passion.io
Offers a 14-day free trial
No free trial
Only the Mighty Pro plan lets you create a custom app
Allows creating custom apps in every plan
The team builds an app for you
You can create your app easily using
drag-and-drop app builder
Allows native live streaming or use of Zoom
Live streaming is possible via YouTube
Mighty Networks vs Passion.io
Community: $33/month (Best for beginners)
Business: $99/month (Best for coaches and courses)
Mighty Pro: Custom plan (Best for brands)

LearnWorlds is a robust course platform that gives you many features for course creators. It allows you to create unlimited courses. LearnWorld stands out by enabling you to build Android and iOS apps, expanding your course's accessibility.
With its Interactive Video feature, you can enhance your videos by adding pop-ups, questions, buttons, and other interactive elements to keep your students engaged.
The built-in community feature fosters student interaction and collaborative learning. LearnWorlds also simplifies affiliate management and supports various payment methods, including PayPal, Stripe, and Apple Pay.
You can offer your courses through subscriptions, memberships, and payment plans to cater to diverse customer preferences.
Despite its comprehensive offerings, LearnWorlds is affordable, with plans starting at just $24 per month, and it offers a 30-day free trial period. It allows potential students to explore your course content before committing.
For those seeking an alternative to Passion.io, LearnWorlds provides a compelling solution, particularly if you require diverse testing options, want both web and app-based course delivery, and have a budget-conscious approach.
Key Features
Learn Worlds vs Passion.io
LearnWorlds
Passion.io
Does not have a mobile app
It is fully app-based
Allows unlimited video uploads
Limited video uploads
No processing fee
Charges 3.9% payment processing
fee
Allows split test pages
No such option
Learn Worlds vs Passion.io
Starter: $24/month
Pro Trainer: $79/month
Learning Center: $249/month
High Volume & Corporate: Custom plan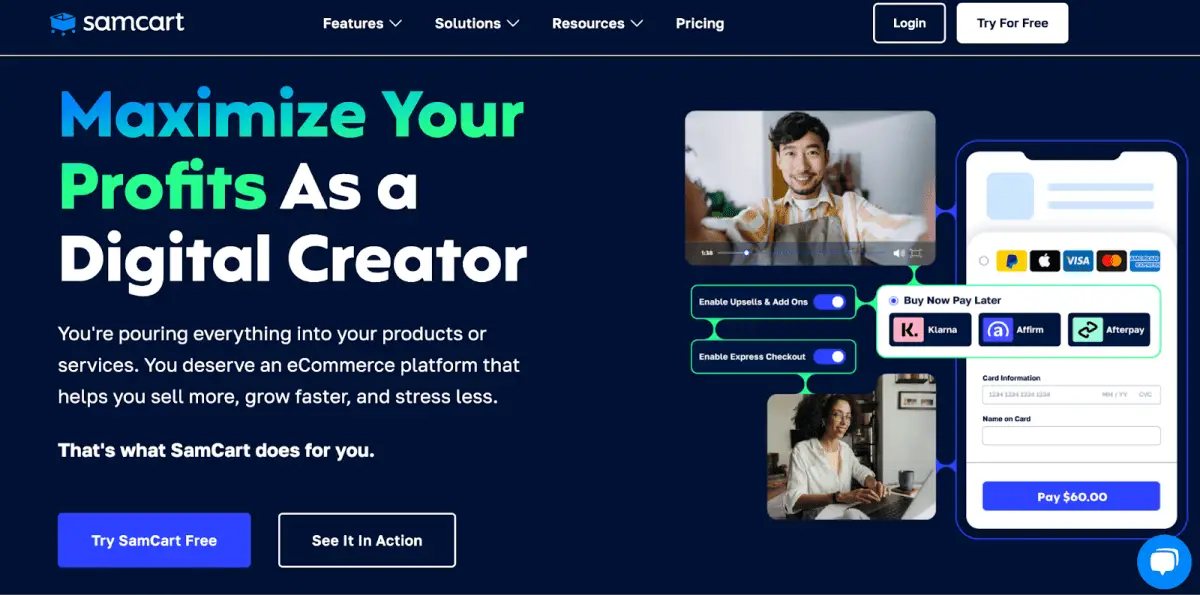 SamCart is a platform for selling digital stuff like e-books, courses, memberships, and coaching. It's really easy to use, and you can design your own sales pages with a simple drag-and-drop tool. They have templates that fit all kinds of businesses.
What's special about SamCart is that it's all about making it easy for your customers to buy from you. They offer lots of ways for people to pay you, like payment plans, bundles, subscriptions, and even donations.
You can also add order bumps or upsells to your checkout process to make more money.
Now, when it comes to creating courses, both SamCart and Passion.io let you make as many as you want. But here's the difference: On Passion.io, your courses are in an app, while on SamCart, they're on a single webpage.
Key Features
Sam Cart vs Passion.io
| | |
| --- | --- |
| Sam Cart | Passion.io |
| Does not have a mobile app | It is fully app-based |
| Allows unlimited video uploads | Limited video uploads |
| No processing fee | Charges 3.9% payment processing fee |
| Allows split test pages | No such option |
Sam Cart vs Passion.io
Launch: $79/month
Grow: $159/month
Scale: $319/month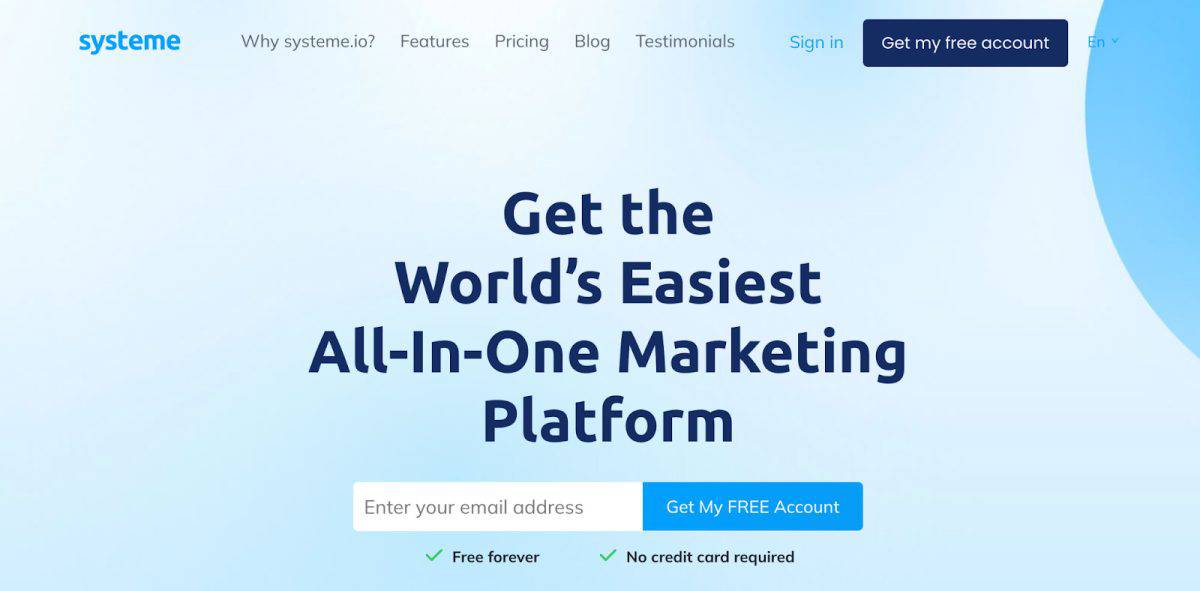 Systeme.io offers an all-in-one solution with a strong emphasis on marketing. You can use it to build a website, create online courses, start a blog, and sell products. While its online course features are not as advanced or interactive as those of Passion.io, where it excels is in marketing.
Systeme.io provides powerful marketing tools that surpass Passion.io. You can quickly set up automated sales funnels using proven templates. Moreover, it comes with built-in email marketing capabilities, simplifying the process of sending emails to your audience.
In contrast, Passion.io also allows you to create funnels, but they are hosted within the app. This means that you must first attract traffic to your app before users can enter your funnel.
Key Features
Systeme.io vs Passion.io
Systeme.io
Passion.io
The platform is more marketing-focused.
The platform is mainly focused on
creating engaging courses.
Website-based learning
Application-based learning
Email marketing software is a
standout feature
No email marketing feature
Less expensive
More expensive
Systeme.io vs Passion.io
Free: $0/month
Startup: $27/month
Webinar: $47/month
Unlimited: $97/month
10. Kartra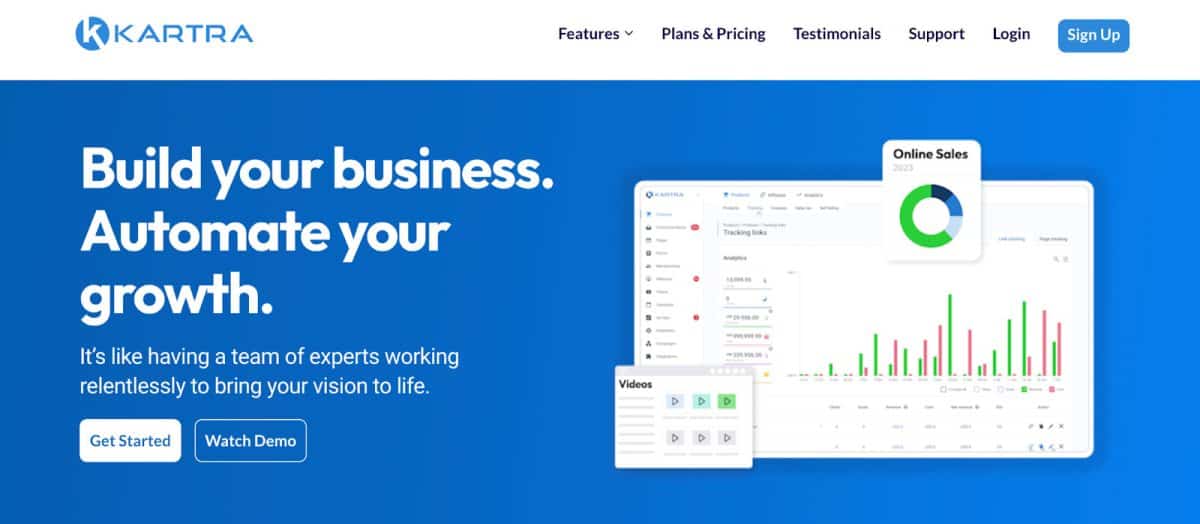 Kartra, an all-in-one platform, is a powerful solution that unlocks the full potential of a single software for all your marketing needs.
It seamlessly combines the capabilities to attract, sell, and scale. This makes it a top choice for small business owners. Whether you prefer simplicity or sophistication, Kartra caters to your needs.
One of Kartra's standout features is its ability to build personalized and responsive automation. It allows you to dynamically respond to visitor actions, curate customized customer journeys, tag your leads, and trigger new sales opportunities.
It is all possible by leveraging interconnectivity to put your sales on autopilot.
Kartra is a robust marketing tool that enables the creation of multi-page funnels. It features 50 pre-built widgets for conversion optimization. You can also implement conditional rules based on user responses and actions.
Kartra's automated email and SMS campaigns enhance customer engagement. The email marketing tools facilitate recipient tagging based on behaviour, A/B split tests, and message personalization with expert-designed templates for high-converting campaigns.
Furthermore, detailed analytics provide essential insights into campaign performance, landing page conversion rates, product revenue, and other crucial metrics. It empowers you to build a thriving e-commerce business.
For those seeking a comprehensive, marketing-focused platform, Kartra offers a superior all-in-one solution, eliminating the need for third-party marketing tool integrations.
Key Features
Kartra vs Passion.io
Kartra
Passion.io
No apps are available
App-based platform
Has email marketing tools
No email marketing software
is available
Basic course creation tool
Better course creation tool
Less interactive courses
Create extensively interactive
courses
Kartra vs Passion.io
Starter: $99/month
Silver: $189/month
Platinum: $429/month
Appy Pie is a cutting-edge no-code platform driven by the power of artificial intelligence. It revolutionizes the way enterprise-grade applications are built.
True to its name, Appy Pie's no-code technology eliminates the need for traditional programming skills. This makes it an ideal choice for enterprises and large companies seeking to streamline their development processes.
Unlike conventional platforms, Appy Pie isn't limited to just app creation; it offers a versatile toolkit that includes website building, live chat creation, and chatbot development.
Appy Pie stands out with its premium features. It allows you to construct diverse applications such as fitness apps, eCommerce platforms, and learning applications, among others. However, it's important to note that access to these premium features is available primarily on higher-tier plans.
In essence, Appy Pie's no-code platform empowers enterprises and large companies to innovate and scale without the constraints of traditional coding. It offers a robust solution for a variety of digital needs, mainly for creating apps.
Key Features
Appypie vs Passion.io
| | |
| --- | --- |
| Appypie | Passion.io |
| Caters to large companies, eCommerce stores, etc. | Caters to individuals require no-code app builder to create online courses and community |
| Lets you create white-label app | No such option |
| Customer support via documentation and webinar | Customer support only via documentation |
Appypie vs Passion.io
Basic: $84.26/month
Gold: $120.42/month
Platinum: $192.74/month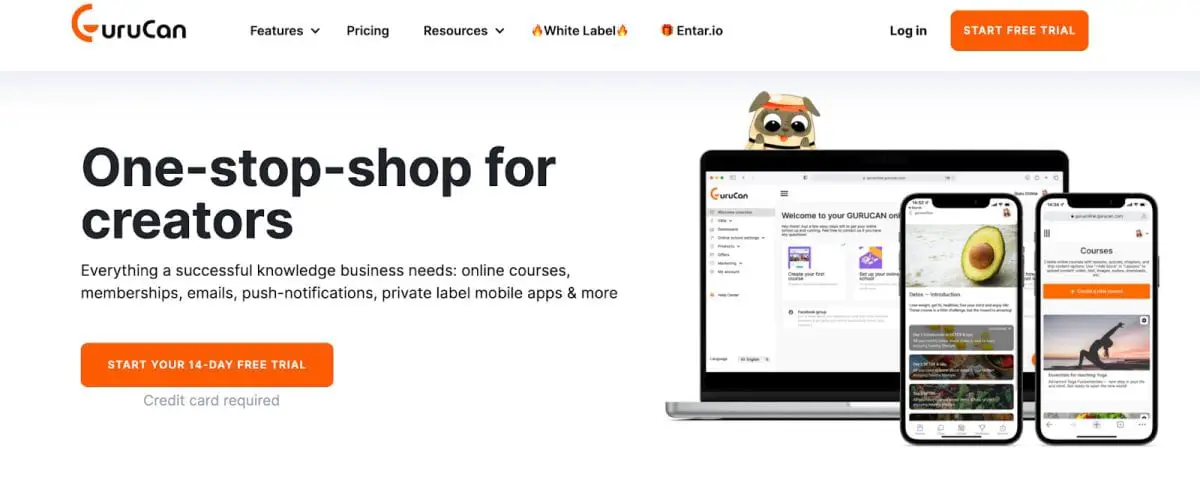 GuruCan is the ultimate one-stop shop for creators. It provides everything needed for a thriving knowledge business.
Whether you're offering online courses, memberships, email communication, push notifications, private label mobile apps, or more, GuruCan has you covered. It's a comprehensive platform that empowers creators to succeed in the world of online education and content delivery.
One of GuruCan's standout features is its ability to help you create stunning online courses. It offers tools and capabilities to design engaging and informative courses that captivate your audience.
You can also incorporate quizzes, tests, and homework assignments to enhance the learning experience and track progress effectively.
In addition to course creation, GuruCan offers beautiful and high-converting landing pages. Recognizing the importance of mobile accessibility, GuruCan goes the extra mile by providing the option to offer your workshops and courses through a mobile app for both Android and iOS.
You can choose between using GuruCan's branded app or creating your own white-label app. It ensures that your content is available on the go, where your audience wants it.
GuruCan is a versatile platform that caters to the diverse needs of creators in the knowledge business. It simplifies the process of course creation, offers effective marketing tools, and ensures that your content is easily accessible through mobile apps.
Hence, all such features make it a valuable asset for anyone seeking to succeed in the world of online education and content delivery.
Key Features
GuruCan vs Passion.io
GuruCan
Passion.io
White-label mobile learning apps
No such feature.
Automate emails and push notifications
Push notification is not available in
the minimal plan
Protects videos and content access
No such security option
GuruCan vs Passion.io
Expert: $99/month
Pro: $149/month
Guru: $199/month
Frequenly Asked Questions
Have you Selected your Best Passion.io Alternatives?
I hope you are on track now! You might have got your alternative to the Passion.io web app.
However, evaluating and selecting the best Passion.io alternatives is a crucial decision for you in the world of online courses and digital content delivery.
Each alternative offers its unique strengths and capabilities. The choice eventually depends on your specific needs, goals, and the nature of your content.
Ultimately, the best alternative for you depends on your individual requirements, whether it's ease of use, marketing prowess, or specific features like mobile app support.
Careful consideration of your goals will help you make the right choice and propel your digital content venture to success.