Disclosure: Some of the links in this article may be affiliate links, which can provide compensation to me at no cost to you if you decide to purchase a paid plan. We review these products after doing a lot of research, we check all features and recommend the best products only.
The volume of notifications that users receive daily is enormous. Therefore, it presents a ready opportunity for businesses to interact with their target segments on an elementary level.
However, there is a method in the madness, and one must know how to use push notifications wisely.
Milton H Erickson, the American Psychiatrist as once aptly said, "The effectiveness of communication is not defined by the communication, but by the response."
"Average US smartphone user receives 46 app push notifications per day," says the push notifications statistics 2019 by businessofapps.
Another study of mobile phone alerts indicates that on average mobile phone users get a total of 63.5 notifications per day.
Why People Need These Notifications?
A typical user maintains a considerable number of apps on his or her smart devices.
Users usually forget how many apps they have on their devices and thus often miss out on updates and offers.
Notifications thus help the users to get organized.
These services help users prioritize things that should remain at the top of their agenda.
Fun Fact:
Let's take a little peep into history. Many of us don't know that a company called RIM (Research in Motion) who brought Blackberry mobile phones and tablets had initially introduced the notification of the receipt of an email as the first example of push services.
What are Push Notifications?
The clickable or actionable pop-up messages and the promotional material that you encounter daily on your browser or mobile phone screen are known as push messages and notifications.
Unlike the in-app notifications that are delivered by mobile apps, these notifications are automated communication messages delivered by the websites/apps directly to their users as home screen notifications.
Usually, these notifications contain a URL, a message, and an image with a title. Nowadays, push services are tailored and customized as per individual users and the devices they use.
Push notifications provide updates, information, reminders, and much more. The aim of these services is the engagement of their users with the respective apps.
These services extending beyond mobile phones and tablets are also available as web push notifications on laptop and desktop computers.
Users engage in a host of apps in diverse areas such as news, social networking, banking, gaming, healthcare, fitness, and a lot more. Keeping their users up-to-date with the changes occurring in their areas of interest is a prime requirement of many of these apps.
Therefore, push services have become critical in providing timely updates and new information to app and desktop users.
Difference between SMS and Push Notifications
SMS's are sent over a mobile network. They are used to communicate with a customer that does not have the application installed.
On the other hand, push notifications are sent from a server, which is the backend of the application. The installed application prompts the user.
Push notifications are a powerful tool that can potentially engage over 75% of your applications' users. However, before you begin utilizing push notifications, you must ask yourself three important questions:
Why does my app need notifications?
What problems will notifications help solve?
What are my expectations from these notifications?
Can users opt-in and opt-out of push notifications?
Users can easily opt-out of push notifications regardless of if they're using iOS or Android. In just a few taps, you lose up to 88% of app's engagement capability.
Strategizing and timing the push notifications to perfection is key to the application's success. 65% of users reportedly use an app with push notifications enabled at least once a month.
Striking the right balance when it comes to notifications is hence crucial to the application's performance. If notifications are pushed a little too less, the user is not engaged optimally. If there are too many notifications, you risk losing your users' attention entirely.
Different Types of Push Notifications
Push notifications can be used in multiple ways and it's very easy to integrate them in your business flow.
Here are a few of the best examples to use them in a very productive way.
#1. Cart Abandonment Campaigns
All e-commerce apps utilize push notifications to re-engage customers who have abandoned their carts in the midst of a shopping spree. On average, carts are abandoned almost 70% of the time!
Using cart abandonment campaigns the right way can increase an app's revenue by up to 15%.
An e-commerce app looking to attract a customer with an abandoned cart would deliver notifications along the lines of:
"You found a great deal on XYZ! Order it now before prices go up."
#2. Promotional
Promotional push notifications apprise the users about giveaways, sales, and exclusive offers. These notifications encourage users to make purchases.
These can be used in apps of all kinds – from shopping apps to fitness apps.
For example, Kohl's app offers discounts by pushing the following notification:
"Will you get 40%, 30% or 20% off? Check the App to reveal your mystery savings."
#3. Re-engagement
Re-engagement notifications are an enticing way of grabbing a user's attention. These notifications are designed to make the user open the app.
For instance, Yelp engages its customers using the following notification:
"Hi Justina, here is a brunch spot for your Thinking Cup. Click here to take a look."
The notification has a picture. Push notifications that include a picture are opened 56% more than notifications with only text.
It also has an emoji. Using emojis in push notifications improves notification open rate by 85%!
#4. Announcements
Push notifications with announcements are a super-effective way of engaging the user. A marketing study concludes that push notifications are most effective in the afternoons, Tuesday through Friday.
You can send the users notifications announcing new app features, new products from your company, or announcing the winners of a contest.
The StyleRyde app informs the user about a new feature using this notification:
"Sara – Now you can schedule StyleRyde pickups right from your smartwatch."
How Do Push Notifications Work?
Without going into too much technicality, let's try and understand the functioning of push services as a layman.
With solutions and services such as Google's FCM, Microsoft's Push Notification Service, Blackberry's Push Service (BPS) as their base, they allow sending notifications across the web and mobile applications to the subscribers.
The application server routes the notification and subscriber's data to the solution provider, say FCM.
FCM verifies the information received and further routes it to the user's device.
The remarkability of the system is that it is real-time and has cross-platform applicability provided the solution provider offers it.
Popular Examples of Effective Push Notifications
Let us first look at how the BookMyShow app uses notifications to attract customers:
They used an announcement push notification that enabled them to sell 76 Avengers: Endgame tickets per second!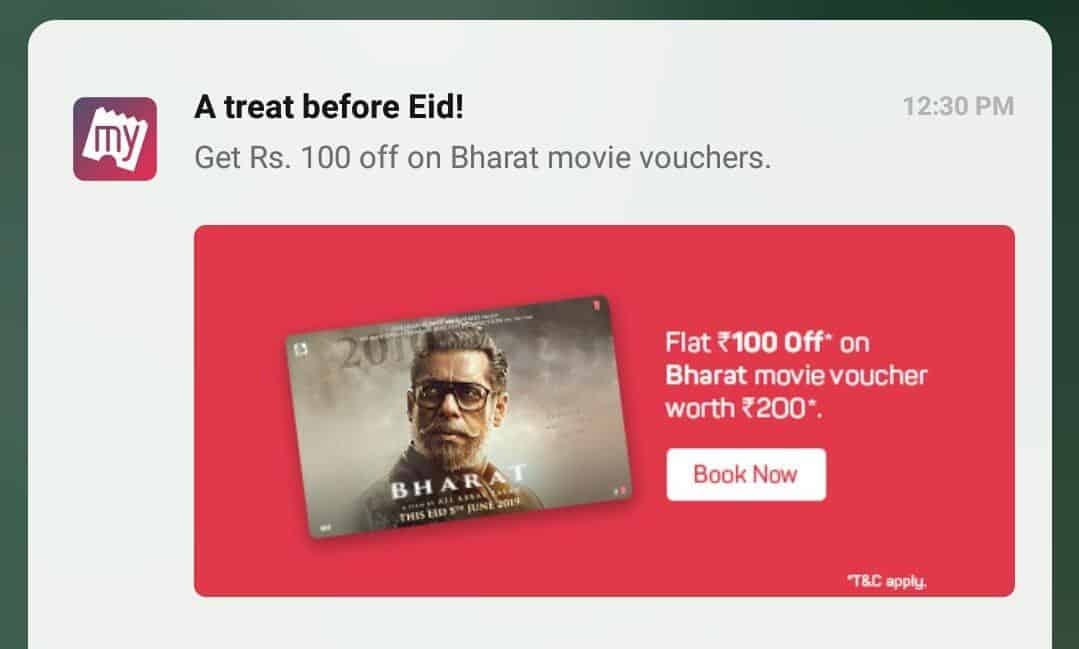 BookMyShow also caters super elegant promotional notifications that hook customers in. Users are forced to use their services at least twice a month.
Their notifications have simple CTA buttons that pull them right into a relevant section of the app.
Netflix is another example of great use of push notifications: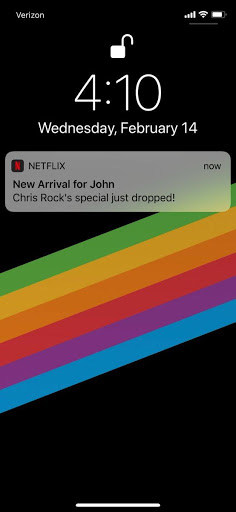 Netflix uses user data to anticipate what shows and movies the user might like to know about. This data is used to deliver simple, personalized notifications.
Both these applications use personalized push notifications that include the user's first name (and sometimes even their location) to increase app engagement.
Personalizing notifications can increase app engagement by up to 800%!
Also, as mentioned, using pictures and emojis is another tactic that helps to significantly increase click-through rates. BookMyShow makes great use of pictures in their notifications.
How to Ideally Use Push Notifications for Business?
Although push notifications seem an easy method to push your content easily, here are a few of the guidelines that you must follow to get most out of your push notification campaigns.
#1. Create Genuine Content
Nicely crafted content targeted towards the right audience is the key. Open-ended and persuasive content is preferable to the close-ended one. The user must find some benefit in the material.
The content message needs to be crisp and clear that it can engage and hook the user with a call to action.
Also, as Amazon and other e-commerce websites do, create some urgency with a hidden message that hits the psyche of the user's "fear of losing and missing the opportunity" bias.
#2. Combine with E-mail Marketing Strategy
Clubbing the push messages with your e-mail marketing strategy can expand your reach to a broader audience.
As soon as someone subscribes to your email database, you can send them some push notifications to teach them about your product or services.
By using this technique, you can have them subscribed at both the platform and you can get in touch with them easily.
#3. Social Media
Engaging the audience on social media platforms such as Twitter, Facebook, Instagram, Pinterest, and others further increases your reach.
You can create a page with your embedded link of notification or add it to your profile to do so.
Also, adding testimonials of your services or products by earlier users is a great way to enhance word of mouth.
#4. Right Notifications
You can use the A/B testing method to figure out the best promotional strategies for your business that can engage your targeted users more.
Such testing methods provide data to create plans for maximum conversions.
#5. Segmented Campaigns
Segmented campaigns are more effective when compared to broadcast campaigns. The push notification statistics reveal that they increased from 65% in 2015 to 85% in 2017 and still growing. They are more effective as they narrow down essential filters for your target audience.
You can segment your notification campaign based on geographic location, demographics, market or industry, past web and e-mail activities, buyer's personality, workflow activity, and many other ways.
#6. Easy Opt-in Process
Users always welcome and prefer permission-based notifications. Therefore, while the opt-in option is critical, so is the opt-out option too. The user wants the freedom of choice.
Again, A/B testing can be utilized to find the best suitable way for your method.
#7. Avoid the following:
Sending Excess Notifications
A robust notification campaign can increase traffic and repeat visits. However, one must not inundate and irritate the users and subscribers with too many notifications.
It may appeal as beneficial in the shorter time frame but may come up as devastating in the long run, with users opting out quite often.
Non-Automation
Scheduling and automating your notifications are a great time-saving mechanism and will let your users receive them at the right time. You can check for the automation tools and create an awesome strategy easily
Poor timings of notifications is a sure shot way to lower click-through rate and higher opt-out rate.
Timing your notifications in alignment with the different time zones is a healthy practice to follow.
For example, post-lunch is an ideal time to send such notifications, so is early morning. However, times, when users are busy like work-hours or weekends, are not that converting.
Skipping On-board Notifications
Take your users on board by providing them with notifications at different intervals. The fact that it leads them to explore different pages and posts of your website is an excellent benefit. You add layers to your lead nurturing funnels.
Homogeneity
Your users are heterogeneous. You can't generalize your notifications to address all of them. Customization and personalization of the notifications as per the segmented target audience and their preferences is therefore critical.
Lose Track of Metrics
You must keep track of the right metrics, such as click rate, conversion rate, bounce rate, and others.
Following vanity metrics that don't help in decision making is a bad idea. Tools such as Google Analytics and Leadfeeder will provide you with enough information to make informed business decisions.
Non-Segmentation
Segmenting and categorizing your target audience on lines of complex variables such as demography, past e-mail, and web activity enhances your outreach, and it a tested method of getting repeat visitors and higher conversion rates.
Skipping a Few Channels
Don't ignore mobile for desktop or Vice-Versa. You must use the capability of the cross-platform application. Nowadays, it is not restricted to mobile phone platforms only.
You can significantly increase your audience and, subsequently, the much-desired conversions using all notification channels across the devices and software platforms.
The Crux
Push Notifications are robust, reliable, time-saving, and efficient with higher scalability across multiple platforms.
They find applications across diverse businesses and industries such as Health, Fitness, Travel, Education, Job Portals, Fashion, Beauty, Home-decor, Gaming, E-commerce, and much more.
Overall, a well-crafted push notification campaign that is segmented, nicely scheduled, and aided with beautiful visuals and content can increase your reach and, subsequently, the conversions.
The push notifications provide the user with real-time updates of consistent information using the synchronization process via the cloud.