Disclosure: Some of the links in this article may be affiliate links, which can provide compensation to me at no cost to you if you decide to purchase a paid plan. We review these products after doing a lot of research, we check all features and recommend the best products only.
SeekaHost PBN is one of the famous names in the PBN industry. PBN, as discussed below in detail, is a service that bloggers use to host multiple blogs and websites online and aspire to gain maximum traction and SEO benefit.
Any website requires good hosting that impacts the overall performance of the website online. In addition, hosting makes sure that the administrator can leverage the best customer experience for your website.
Without the hosting, the website struggles to perform in the targeted market and cannot entertain the consumer with maximum efficiency and, therefore, impact overall business growth.
Therefore, website posting is equally important compared to a business's other amenities like physical location, staffing, investment, etc.
There are several types of website hosting available. A business can choose from four major ones, managed hosting, dedicated hosting, VPS and PBN.
Managed hosting stands for organized storage space where databases of multiple websites are stored within a shared disc space.
In dedicated hosting, all the hardware resources are dedicated to only one website resource.
VPS virtually mimics dedicated server environments within a shared server. (Definition source)
PBN is a modern hosting solution. To understand it, let's dig a little deeper into it.
PBN stands for Private Blog Network, and it is a network of a website built to improvise quality backlinks for a targeted website.
These are basically networks that allow webmasters to manipulate and take control of the backlink profile of a particular website.
The "Whitehat" way of building backlinks is to leverage editorial links and contextual backlinks from third-party resources and utilizes channels like PR, guest blogging, infographics and what not.
That process takes time, and webmasters don't have control of how that will result in the end.
Therefore, they create a network of sites with a PBN hosting to gain significant control over the backlink profile of their websites.
Many website owners try to manipulate how they want to rank their websites by managing, controlling, and manipulating their backlink profiles.
Before we move forward and discuss which PBN hosting is better, be sure to know that PBN sites are not in favor of Google's SEO guidelines.
If you do it aggressively, Google might penalize your site, and in worst cases, deindex your site quickly. Therefore, proceed with caution and avoid overdoing it.
Many webmasters utilize PBN with expired domains because those expired domains usually have a unique backlink profile that helps the domain quickly gain unique domain pointing towards it, eventually increasing its ranking potential when the site publishes content regularly.
There are many PBN hosting solutions out there. Several of them are very popular, and they also provide reliable support to the website administrators.
Today, I will share an in-depth review of one such PBN hosting provider and determine whether you should utilize its services.
We will talk about SeekaHost.
Before we dive deep into its solutions and features, let's have a brief overview of what the company does in the industry.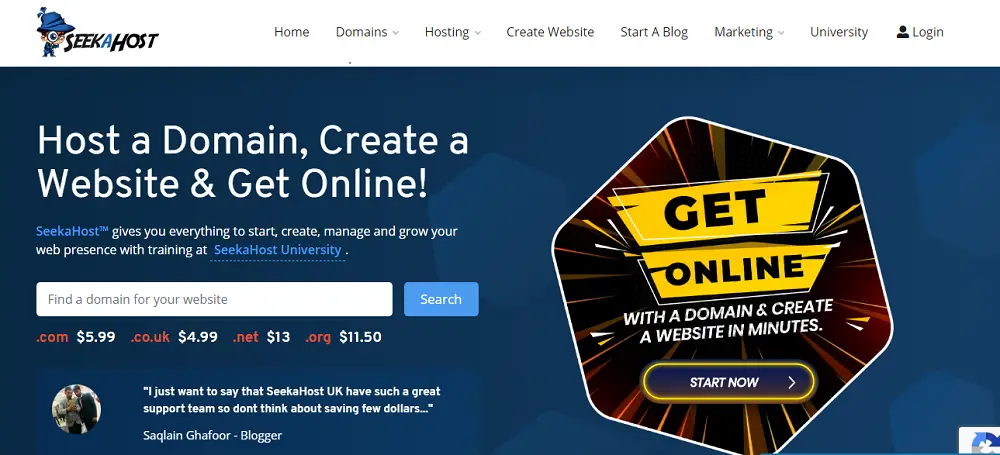 Overview of SeekaHost
SeekaHost is a web hosting solution provider.
They are also a domain registrar that deals with new and expired domains and lets bloggers and website owners utilize their hosting solution at an affordable price.
Their hosting solutions range from Dedicated, Shared, Reseller, Virtual Private Server, PBN, Premium SEO, WordPress, Business, Game Server and Personal.
In a nutshell, they try to tackle all the hosting solutions that an online entrepreneur might need throughout their entrepreneurial journey.
Moreover, they also provide domain-related solutions, including Registration, Transfer, SSL certificate, Expired Domains, Expired Domains with Traffic, a Free List of Expired Domains, and so on.
Whether you are an emerging blogger or a full-stack and established marketing agency owner, SeekaHost has reliable solutions at an affordable cost.
Now, let's understand how you can host your site with SeekaHost PBN hosting.
How to point your domain with SeekaHost PBN hosting?
When you sign up to the account, you will have a screen like below.
So the first step is to go to the Private Blogs option under Websites & Blogs and click on Create New Blog to link the domain.
Once you click on the button, you will have the screen like below.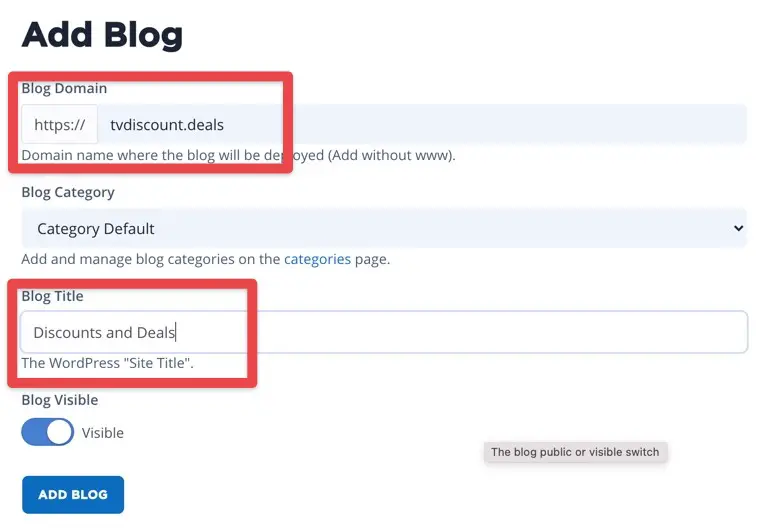 They will ask you to enter the domain name, blog category and title to move forward with the process.
Then, on the next screen, you will get the IP address which you have to upload at the backend of your domain registrar. This is the step where you update your nameservers.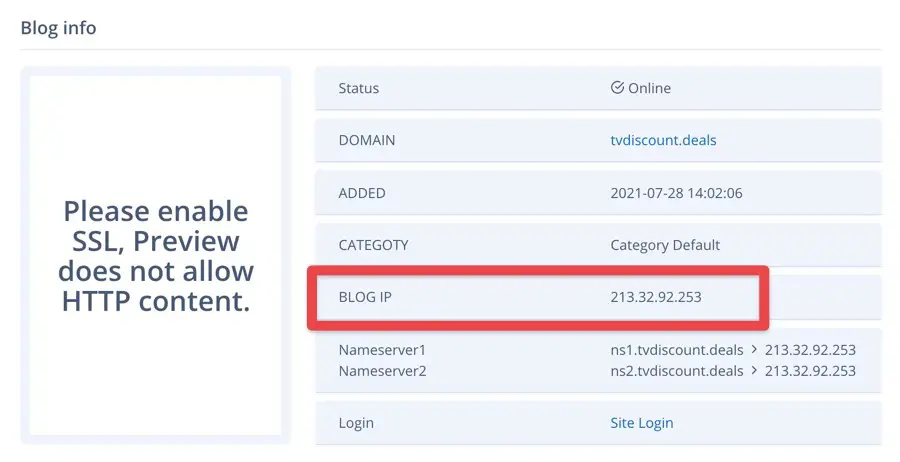 In this example, we have NameCheap as our domain registrar.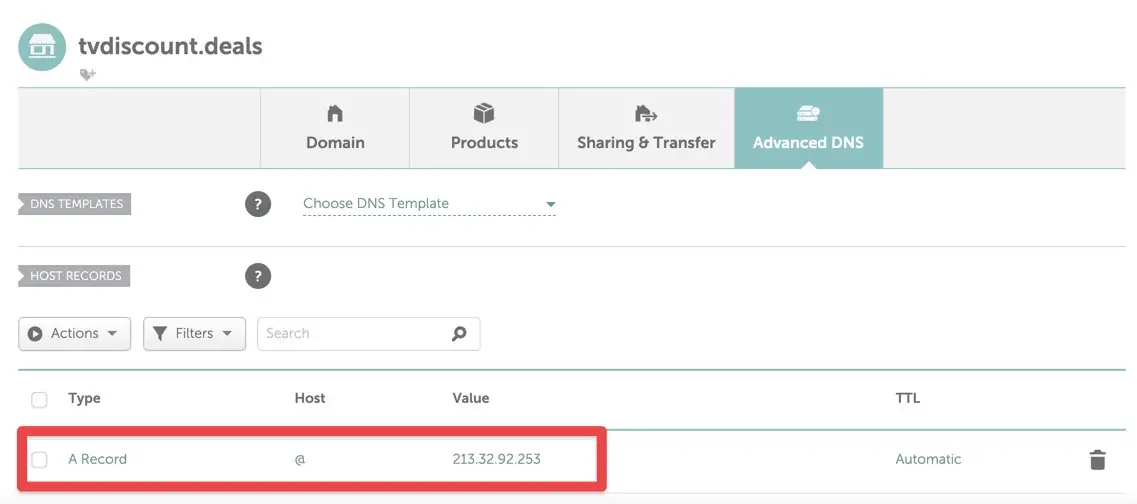 However, you can go to any leading domain registrar of your choice, head over to Advanced DNS settings and edit host records.
You need to add A Record and enter the value of the IP address (highlighted in the screenshot above).
Then, once the Nameservers are updated, activate the SSL from the SeekaHost dashboard.

However, make sure you check this option only after updating your Nameservers.
Once the domain is connected, head over to the dashboard and click on the settings icon under the Action column.

From here on, you can manage the domain and do lots of cool stuff.
Once you click on the settings button, you get many other stuff regarding the domain and website. You can manage those settings with its interactive user interface system.
Let's explore them in detail.
As you can see on the right side of the screen, you can Create New Blog.

Another option allows you to download a backup of your site (we will discuss in detail below). Here, you will never miss a chance to restore the version.
Then comes the important activity of SSL certification, which is a crucial element for a website.
SSL certificate allows websites to attain security and rank higher in the search engine results pages because Google prefers that administrators give encrypted connections to the website visitors.
In the next option, you can also access the total disk space that you have got with the SeekaHost PBN.
This will help you stay on top of all the details you need to know to manage your database in the most efficient way possible and avoid running out of space.
If you want to enable high-quality analytics and acquire all the necessary data, SeekaHost supports inbuilt tracking mechanisms so that you never miss a chance to observe the behaviour of website visitors.
You can authenticate Google Analytics from the SeekaHost dashboard to note down all the website visitors browsing through the website.

You no longer need to copy-paste the Google Analytics code and run into some unwanted errors.
Google Analytics authentication will be automated with maximum secrecy and sincerity so that you no longer will have to worry about any glitches or delays in the process.
You can also authenticate on the site key and enable the Clicky analytics using the SeekaHost dashboard if you have access to Clicky.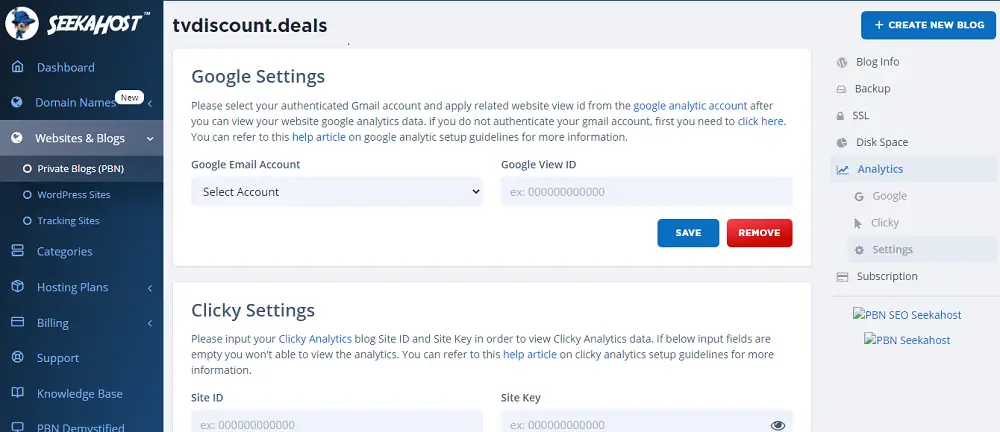 You get all the details about your subscription and invoices from the subscription tab that you can verify, download, and track with maximum ease.
Downgrade and Upgrade Your Plan in a Click
If you wish to downgrade or upgrade your SeekaHost plan, you no longer have to raise a support ticket or put an email to the administrator of the SeekaHost to do so.
The tool allows you to do it yourself instantaneously with just a few clicks.
On the left side of the dashboard, you need to go to Hosting Plans and go to PBN Hosting, and you will get the grid of all the plans.
From there, you can choose to upgrade or downgrade your plans concerning your current plan.
Once you click on it, the plan will be updated accordingly.
Hence, no need to go to the standard procedures that most hosting providers practice where you have to get in touch with the support of SeekaHost to sort your questions.
Dedicated Control Panel
The most crucial feature that SeekaHost provides to website owners is to give a separate control panel for every website hosted on the PBN server.
Such granular and robust control allows webmasters to manage their sites with utmost efficiency.
Even if you have hosted 50 domains, you will get 50 dedicated control panels that allow you to manage and monitor the websites' activities seamlessly.
This will result in seamless asset management and let you manage your business with a user-friendly interface.
Any changes you make within a particular domain's user interface won't get affected in any other domain name hosted within the same server.
Excellent Uptime
SeekeaHost guarantees that they provide 24×7 uptime so that websites are always available for visitors irrespective of their time zone and the number of visitors at a given time.
This goes to show how committed SeekaHost is to providing a reliable customer experience to website owners who would no longer need to worry about the website being unavailable or getting the server maintenance errors anymore!
Moreover, since the website will be available more, it can deliver a good user experience frequently, which will result in more conversions and engagement online.
High-quality Customer Support
In customer support, SeekaHost nails this area compared to other hosting providers of the market.
Whenever the website administrator gets stuck with something, the admin can get in touch with the support through email, chat, call or social media.
Most of the service providers help them only with issues related to website hosting.
They cover issues like inconsistent DNS, backups, SSL certificates and so on.
For any website issues, the administrators are on their own and might have to take professional help from experienced developers to cope with the scenario.
But that does not happen with SeekaHost.
SeekaHost gives end-to-end customer support all day, every day.
Additionally, they also take care of the website issues that customers might be facing, and therefore, they are enabling unparalleled customer support.
Since they also solve your website issues, you would no longer feel stuck at something whenever you want to make any changes on the website. This goes to show how committed this brand is to make people's businesses succeed in the market.
One-click Backup Download
This one is also a beneficial feature that website administrators will love.
Whenever they want to download a recent backup of the website, the process is quick and takes only a couple of clicks to prepare and download a ZIP file.

Website administrators no longer need professional guidance to download the backup.
Admins no longer need to go to the website control panel and download the backup. Instead, SeekaHost's dashboard will do it for you, and you just need to click a button, and the backup will be downloaded automatically.
Industry grade Encryption
SeekaHost understands the seriousness of websites getting hacked and securities getting breached.
Therefore, they are regularly scanning DDOS prevention algorithms to ensure that all the data shared on the website is secured and no unauthorized entities can ever breach into the system and jeopardize the structure of the websites.
Dedicated IP Address for Every Domain
This is the real deal-breaker for a hosting provider. PBN means private blog network, where multiple websites are hosted within the same server, so to put it in perspective, managing and developing websites with PBN might result in degraded SEO performance.
Search engines will track the PBN and consider links as unauthorized.
The most essential ingredient is the IP address trackability.
The website hosted within the same PBN hosting shares a common IP address, and this IP address is a number one indicator that all the websites are part of a PBN.
But with SeekaHost, you don't run into such a scenario because you get a dedicated IP address for all your domains.
So, tracking websites within the same PBN hosting becomes next to impossible because they are hosted within separate IP addresses and share unique hardware infrastructure.
FAQs
Will I get a different C-class IP?
Yes, you can. You can level-up your backlink acquisition game by having a dedicated C-class IP with SeekaHost through its user-friendly UI. 
Can I host different domain extensions?
Yes. SeekaHost supports all the popular website extensions, and you can host all of them quickly.
Does SeekaHost provide a private Nameserver setup?
Yes. Through the control panel, you should be able to see options of "Register DNS", "Add DNS" or "Create DNS". SeekaHost understands the necessity of establishing trust and building a brand through websites, and therefore, supports in every step, including giving private Nameservers.
Is there one-click WordPress installation support?
Yes. When you point to a domain and set up the hosting account, SeekaHost will walk you through with the help of step-by-step instructions that will result in a quick installation of WordPress. You don't need to juggle across ZIP files or wait time to install the WordPress CMS on your hosting. 
Do they provide a money-back guarantee?
No. Although they do provide a money-back guarantee that gives people a chance to experience the hosting. 
How long does the trial period last?
You can sign up for a 7-day trial period. This gives you a chance to explore the tool and make informed decisions whether you want to use it for your regular usage. 
Seekahost Review: Conclusion
I hope you find this review helpful, and it can help you decide whether you want to go for SeekaHost PBN or not.
Many webmasters use PBN. If you are also planning to use this, you can try with the cheapest plan, starting at $1.25/blog/month and see how it works with the 7-day trial period.
Let me know what you think about SeekaHost PBN in the comments below.