Disclosure: Some of the links in this article may be affiliate links, which can provide compensation to me at no cost to you if you decide to purchase a paid plan. We review these products after doing a lot of research, we check all features and recommend the best products only.
Have you ever worried about selecting the best SEO tool which meets all your needs?
A tool where you can do keyword research, explore backlinks, do complete SEO audit, track your keywords and a lot more stuff to make your life simpler.
Being in the SEO industry for more than 5 years, I have used numerous tools in my blogging career. Tools like SEO Powersuite, Long Tail Pro, and many other online services like SEMRush and ahrefs.
They all meet some specific needs. e.g Long Tail Pro can be used only for keyword research and tracking, SEO Powersuite has different tools which can be used for different purposes, but there is not even a single service in the market which provides you with all tool under one roof.
So there was a need for such tool.
Thankfully, SERPed delivered the required things.
I am using this tool for more than a month, so I am here with the review of this awesome tool.
I'll be sharing each and every feature of this tool and help you go through each and everything.
Here is the screenshot
Their main categories consist of:-
Keyword Research
Domain Research
Domain Finding
Site Management
Done For You
Rank Tracking
Client Aquisition
and many other awesome tools
We will go through each category (and their sub-categories) to understand the tool at a deeper level.
#1. Keyword Research
A broad category on SERPed having 4 sub-tools.
Ultimate Research
What Ranks Where
Keyword Analyzer
Long Tail Keywords
1. Ultimate Research
You must be aware that Google Keyword planner has stopped showing the number of searches. If you go to Google keyword planner and search for any specific keyword in any country, you cannot see the search volume of the keywords.
Here is the screenshot from GKP.
Now you cannot see the exact volume of the keyword, which ultimately makes you helpless.
You cannot decide the keywords for your niche sites, which ultimately results with no money in your pocket.
Now, let's see what SERPed brings in when you feed the same keyword in the search box.
BOOOOOOOOM!!
You see search volume of all keywords here.
Select the keywords and start your SEO game.
2. What Ranks Where
Do you want to see all ranking keywords of any specific site?
Cool.
SERPed gives you a tool to find where your competitor is ranking and what keywords are bringing him traffic.
Here are the top keywords of one of the sites I researched with this tool.
You can sort the search volume of the keywords and select the keyword which are having more search volume.
3. Keyword Analyzer
4. Long Tail Keyword
Want to expand your seed keywords to find multiple LSI keywords?
SERPed gives you the solution.
You can generate multiple keywords around your main keywords for related articles or LSI keywords for your money article.
#2. Domain Research
This section has 3 tools.
Site Explorer
Bulk URL Analyzer
Backlink Explorer
1. Site Explorer
This generates a full report for your site which will help you to dig more to understand your site at a deeper level.
2. Bulk URL Analyzer
This allows you to analyze multiple sites in one go.
3. Backlinks Explorer
Spy competitor's backlinks and see how can you outrank them.
#3. Domain Finding
If you know the power of a PBN, this tools can boost up your ranking overnight.
They have following tools
Aged Domains Finder
Top Expiring Domains
Expired Scraper
Auction Master
Domain Marketplace
Domain Hacker
Exact Match Domains
1. Aged Domain Finder
Aged domains are the backbone to rank any keyword in Google. As they already have some quality backlinks pointing to them, good domain authority, page authority and trust flow, so finding such gems can be a big ranking booster for your blogs.
This tool helps you to find expired domains which you can rebuild or just do a 301 redirect to your money site.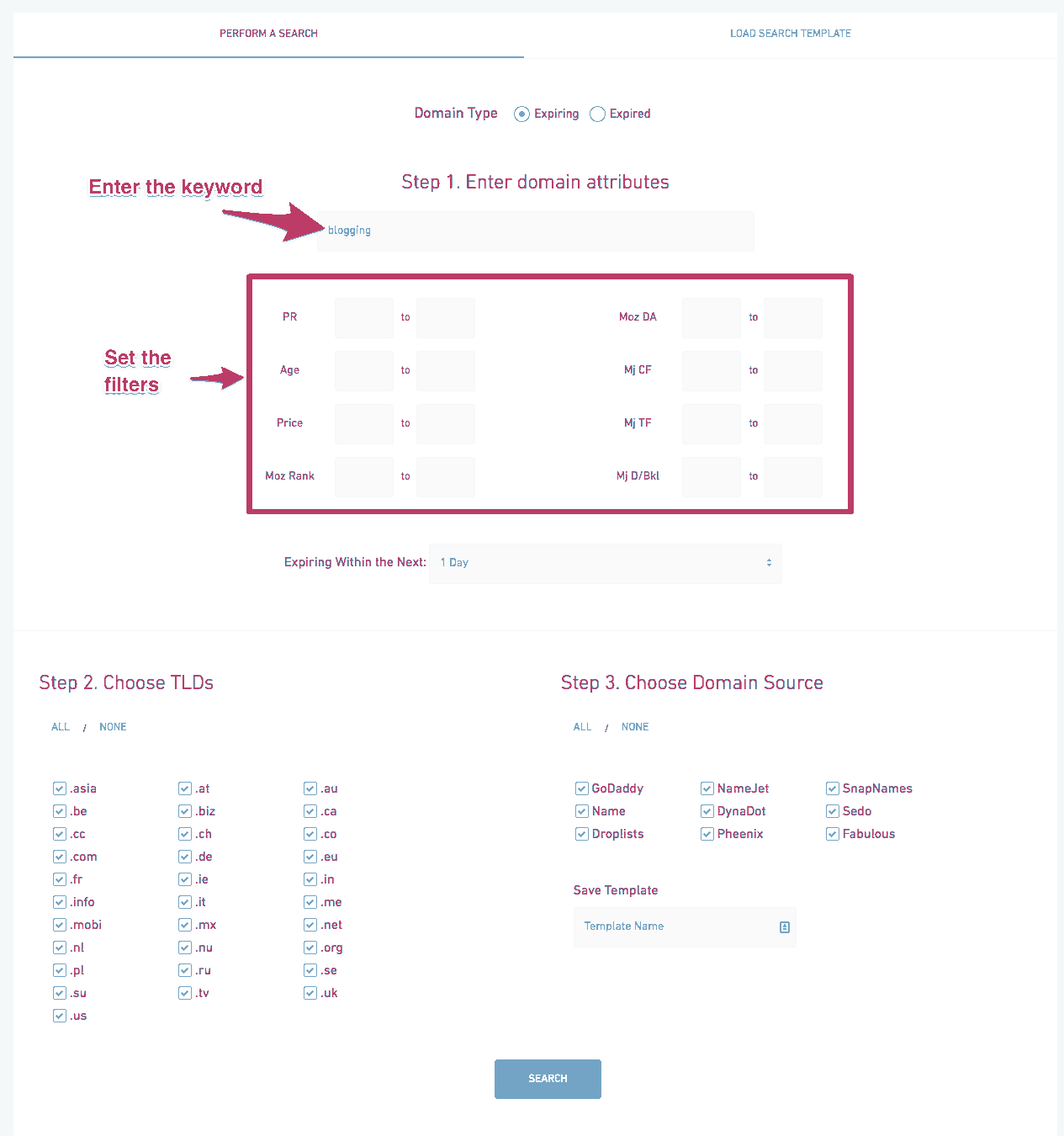 Here are the top expiring domains I got having the awesome stats.
2. Top Expiring Domains
This feature gives you hottest domains which are expiring very soon. You can filter the domains as per the matrix you want and grab them for your SEO purpose.
Every single domain metric you might dream of has been listed with utmost precision right there on a single page!
3. Expired Scrapper:-
With the expired scrapper, you not only save a fortune which you might have to spend with other tools which offer just "expired domain scrapping", but also get data which is much better detailed than most expired domain scrappers out there.
And revealing any domain is absolutely free as well!
4. Auction Master
Auction master saves you time and work by listing domains which are up for auction, along with their metrics as well as current price. What makes it worthwhile is the fact that you get all the basic details you might need before buying a previously owned domain.
Including:-
Is it indexed on Google?
No. of characters in the URL.
Majestic graph.
Backlinks profile.
Domain history
etc.
5. Domain Hacker:-
It's basically like a mass domain search tool, you just have to key in the keywords you're looking for, and Domain hacker gets you the list of all the available as well as non-available domains on those keywords.
It took my nearly 5 minutes, to generate a list of around 600 domains based on 3 keywords. I'd say that's a great turbo boost considering it would have taken me days to filter through 600 domain names.
6. Exact Match Domains:-
The name is self-explanatory I suppose. It's an advanced domain search tool which lets you dig for exact match domains on keywords of your choice.
You get to choose the primary country, select individual as well as a "pre-filled" state/country list, in addition to domain extensions you're interested in.
#4. Site Management
1. Site Manager:-
The dashboard from the Site Manager lists all the data related to your sites under one roof. It's basically like using Moz, Ahref, and all the other paid tools at the same time, at a fraction of their cost.
2. Web Analytics:-
Web analytics is basically a non-Google version of Google Analytics. Google doesn't give you the ultimate control when it comes to anything, be it SERP, Adsense or even Analytics.
So for those who have suffered the wrath of Google, this is the next best thing you can get your hands on.
3. Uptime Monitor
Uptime Monitor simply monitors all the data related to your site's uptime, including Global response time as well. It actually gives you access to pretty detailed data, better explained with animated charts and graphs
4. CashFlow Manager
A website isn't just a website, it's a business. So for those who're investing on their sites on a daily basis, no matter how large or small the investment, can use the cashflow manager to track their investments VS expenses.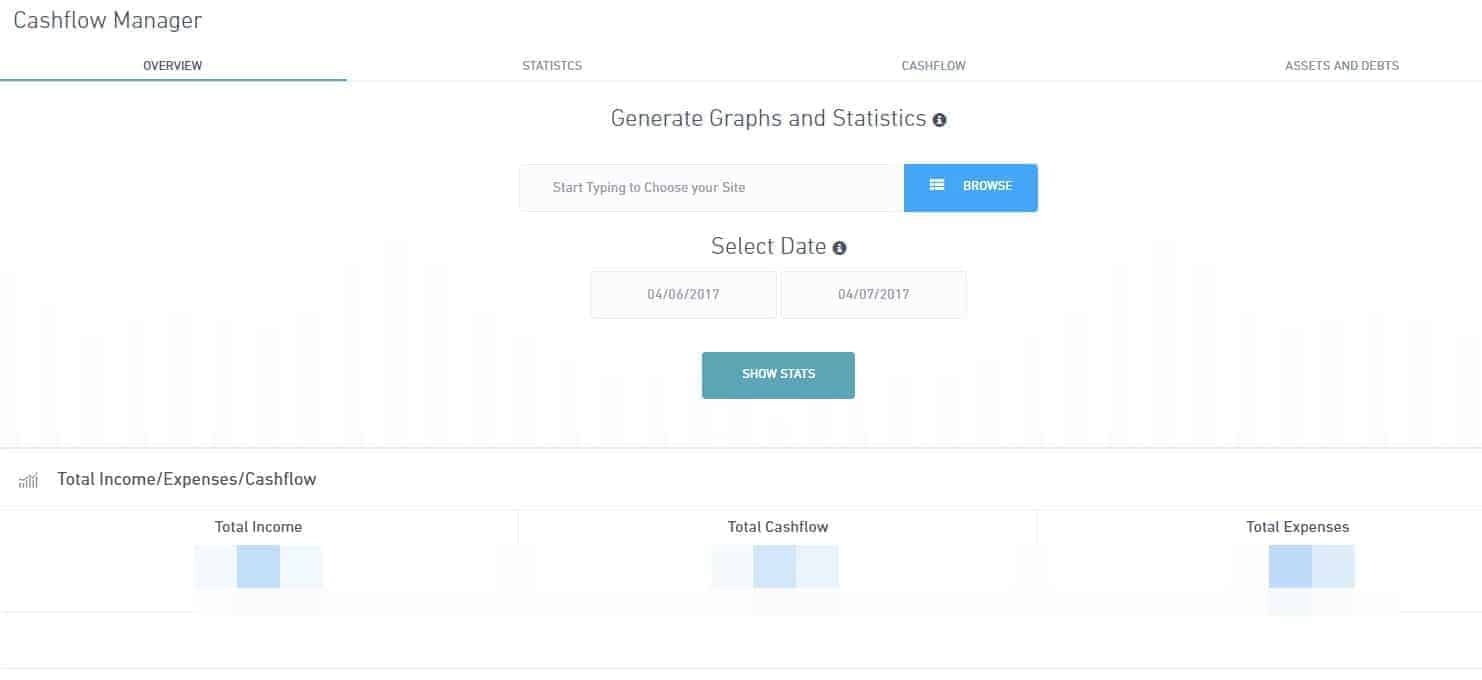 5. Site Backups
I've personally spent quite a fortune for Best Paid Tools backups, Unfortunately, Serped.net didn't exist back then. Now its Site Backup feature lets you share your cPanel information with the tool, and it automatically backs up your site at pre-set intervals defined by you.
6. Goal Tracking
It's basically the tracking of how much on average you're making per visitor, or per event. For eg. you can set the goal to be triggered when they download your "Free ebook", which might have affiliate links and a conversion rate of 10%, in that case for every 100 free downloads, you might be making $10
It's really advanced and lets you choose from a number of different events and goal-triggers which you can customise according to your preferences.
#5. Rank Tracking
This is my favourite section of the complete product. Who doesn't like watching rank analytics, right? And not just of your own, but also that of your competitors!
1. Local Tracking
So basically this is the rank tracker where you can add the keywords you wish to track, and they will let you know the ups and downs the keyword is facing, its current position and everything else.
It's termed as "local" tracking because you can check "area-specific" ranks for your keywords. In fact, it's so advanced that you can even check the ranking of the keyword by "area pin code"! Well yeah how well the keyword is ranking in a very specific area.
That's not where it stops! It goes on to get you SERP data for local maps as well if your business/site is listed over there.
2. Global Tracking:-
It's the overall global tracking for your keywords. Similar to local tracking, just with a much wider scope. It tracks not just "article" keywords, but also Youtube and Amazon keywords.
It gets you an insight for:-
Biggest Losers
Biggest Winners
URLs
And a lot more.
3. Instant Check
It's basically the "faster, less detailed" version of the global check. If you're in a hurry and need just the keyword positions, this is the tool to help you out.
4. Youtube Tracker
Leveraging Youtube is one of the best things you can do for your SEO campaign. In case you already do, the Youtube tracker helps you track your video rankings for any specific keyword.
I haven't added any videos to my account yet, but the screenshot would get you an insight on how detailed the reports will be. You get your top videos, video statistics including likes, comments, views etc. As well as average position and keyword change!
5. Amazon Tracker:-
Amazon tracker is the exact same thing as Youtube tracker, it just works for Amazon keywords!
#6. Client Acquisition
Okay, apart from the "Rank Trackers" and "Domain Tools", this probably is one of the most professional section Serped.net has to offer. It's full of different tools and features which come in handy when you're someone who freelances for SEO gigs, owns an SEO company, or even just has a blog related to SEO.
Basically, it provides us with four different tools:-
Site Auditor Pro
Citation Scanner
Review Badges
Mobile Prospector
Any of these tools separately would cost anywhere between $2500-5000/year with any other company. With Serped.net? They're absolutely free, and come pre-embedded with your suit package.
The best part? It's completely white-labeled.
Meaning your clients don't have to know about Serped. Instead, you can customise the report with your own logos and contact details and everything else!
1. Site Auditor Pro
The ultimate lead generator you might ever lay your hands on. It lets you generate detailed SEO audit reports for your clients/visitors, based on forms filled by them.
The form can be integrated anywhere on your site, with customised fields and will generate an SEO report within seconds!
Here's how simple and easy it is to setup or create the form.
And here's a preview of the SEO audit generated. (Which took 67 exactly seconds! Yeah, I stop-watched!)
As you can see, almost every aspect that needs be covered under "SEO", is right there on the left sidebar! And the report is pretty detailed with URLs, problems as well as solutions to them!
2. Citation Scanner:-
The citation scanner scans local opportunities for you to get cited. It shows you where you or your clients' business is cited, along with where it's not.
Then you can proceed to get your business cited over the different potential citation platforms. It's like owning an A.I which does all the work for you, finds and filters places which you can use to skyrocket your SEO game.
3. Review Badges
Create a totally customizable review badge which you can embed on your own or your client's blog linking to just about anything. Although it's termed as a "Review" badge because they're best used when you use them to link to a "review" kind of page where visitors can check user reviews about your company.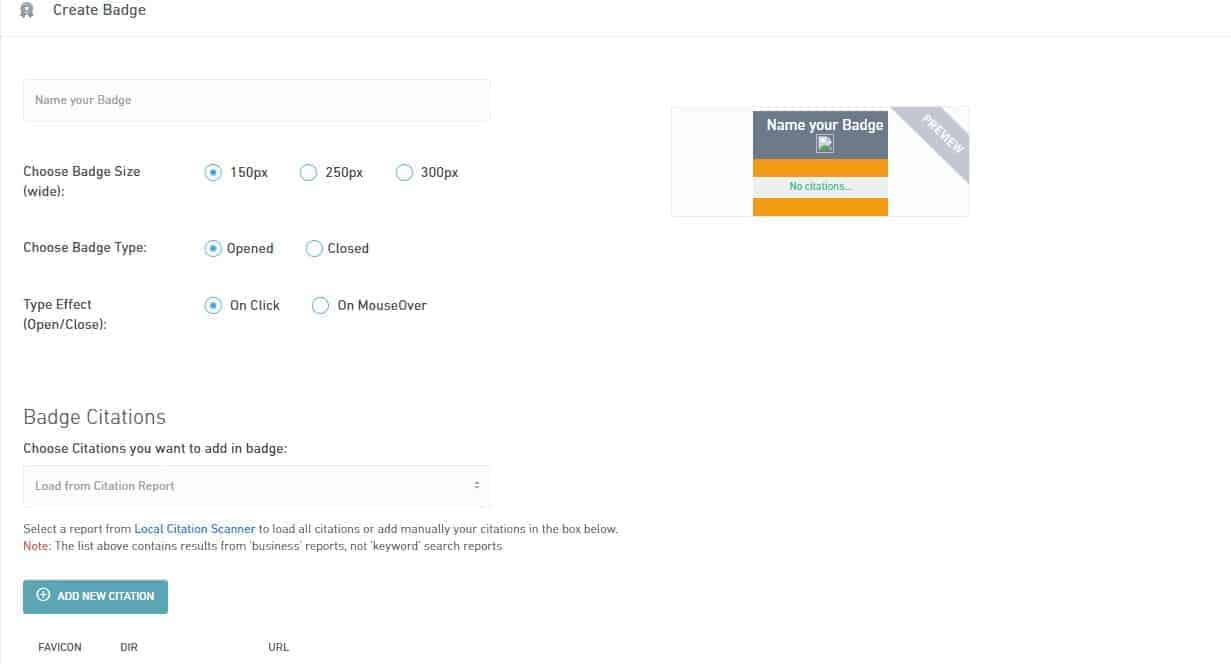 These badges can also be used by you to advertise your own company, by citing a link to your own SEO firm on the badge.
4. Mobile Prospector
Mobile-optimization sites is no more an "optional" choice, it's a requirement since the last Google update. The mobile Prospector scans and analyzes the keywords you specify for mobile-friendliness from all the global search results(among other things).
Once you get all the top keywords which are ranking for the keyword you specified, you can check which ones among them are optimised for mobile and which aren't.
The results are also accompanied by "contact details" (pretty sleek huh?) wherever possible, so all you've got left to do is mail the "not-optimized" results with your services or article emphasising the facts and importance of mobile optimisation.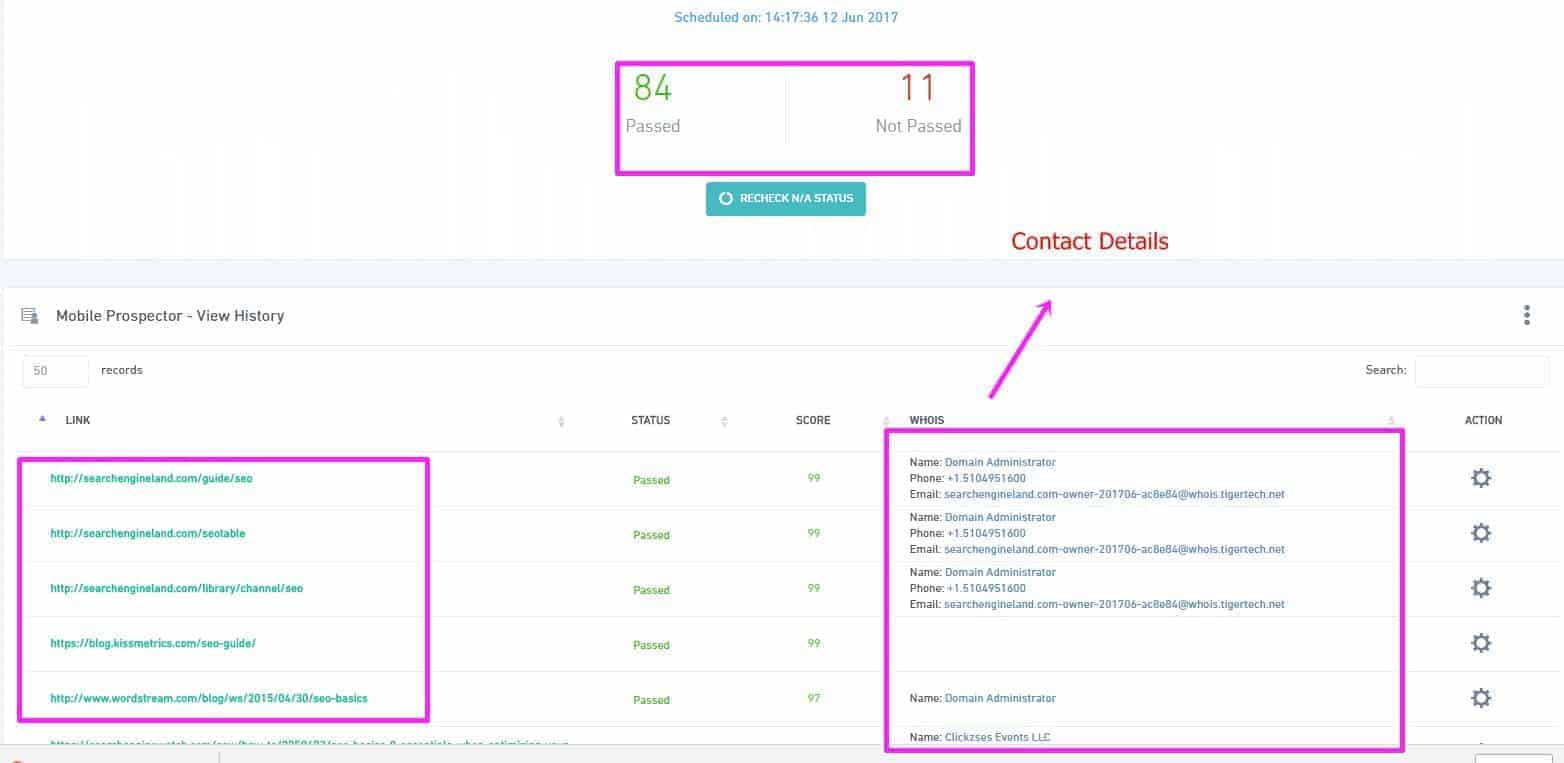 #7. Other Tools
Just when you think you've seen it all, Serped comes back and surprises you.
1.Link Indexer Pro
Getting articles indexed is easy, but backlinks? Not so much. In fact there aren't many tools which can get your "backlinks" indexed on automation. But Serped can!
The link indexer Pro asks you to enter the URLs where you've got a recent backlink, and click on "Send URLs for Indexing'. It takes care of the rest.
2. Google Index Checker
It does exactly what the name claims it does, checks the status of your links' Google Indexation. Just enter any URL(s) you wish to check, and click on "Are my links indexed"?
You can check up to 100 URLs in one go, so yeah that does save up quite a bit of time, doesn't it?
3. Grammar Checker
I've personally spent over $10-30/month on "Grammar checker' tools. Well, that's again something that Serped is offering absolutely free in its suit bundle.
Its grammar checker not only checker grammar, but also has the ability to check the uniqueness of the article via Copyscape!
4. Content Curator:-
Serped is armed to the teeth to solve all of your SEO as well as content problems at once. A content curator is a unique tool created to help you "create
content for your next blog post with a single click.
It curates content from various sources based on the keywords provided by you, that includes images as well as videos, and then gives you a spun version of the content.
Is it the best way to go about it? Nope! Spun content is never recommended, but if it's just for experiments, web2.0s and really, really urgent, sure it's worth a shot, cause I must say the content passes copyscape miraculously. And to top it all off, you can even check it for grammatical mistakes!
And there are sections separately for "Images", "Videos" etc. which you can embed to your content. So it's basically something people individually pay anywhere between $50-100/month for! With Serped, it's free!
5. Content Restorer
Lost your content? Backup corrupted? Login not working? Well trust me I've been through each one of these, and unfortunately, Serped wasn't born back then.
Content restorer basically lets you go back in time by entering the URL of your blog, and selecting a specific date-time of your website, and then restoring the contents back to that time!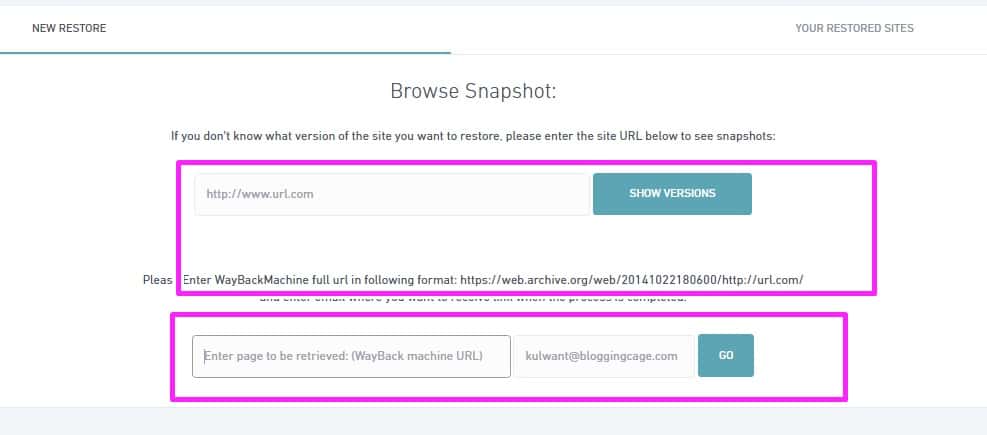 6. WordPress Manager
It's more like a "Bulk Updater". Helps you update your themes, plugins, and everything else with a single click! It saves a considerable amount of time considering you don't have to manually update every single thing instead it's all possible with just one click!
7. Inner Linking Profile
If you're not interlinking your posts, you're missing out big! That's what this tool helps you out with. It shows you all the places where your content is interlinking to itself.
You can use it to check the status of existing links, update existing links, embed new links or even remove irrelevant ones.
#8. Reporting
This section consists of two tools dedicated to creating various kinds of advanced reports for you and your clients.
System Reports
System reports consist within themselves 6 different kinds of reports:-
Complete Site Report- Consists of an overall data from all the reports mentioned in the next points.
Ranking Reports
Audit Reports
Keyword Research reports.
Competitor Research Reports.
Website Analytic Reports.

Basically, all these reports can also be generated using the above-mentioned tools individually, but while using the System reports tool, you get to generate PDF reports, with your own custom branding and can e-mail it to clients or potential leads.
a. Complete Site Report:-
This can be used to generate an overall, advanced as well as attractive site report consisting of everything that you or your clients might be interested in, including Web Analytics, Keywords, Uptime and what not!
You just fill in the data that's required, give it couple minutes and voila, you'll be able to download the report in a PDF format! You'll be surprised at the level of details included and wrapped up for you in the reports!
b. Ranking Reports
Ranking Reports can be used when you're digging for just the "ranking" reports and not analytics, or competitor research or anything else. It'll basically be easier to understand as well as analyse.
c. Audit Reports
These are basically the same thing as "Website Audit Pro" and "Citation scanner".
d. Keyword Research Reports
One of my favourite tools of the package. It generates a report consisting of every bit of data you might require for your "Keyword Research", which includes:-
Monthly Searches
Competition
CPC
Traffic Value etc.
e. Competitor Research Reports:-
The most detailed competitor research reports you'll ever find! It doesn't leave any stone unturned. A very long PDF report is generated, which is well illustrated with data, charts and graphs.
But it's not possible for me to show the complete report here in a screenshot, so here's a sneak-peek of the report which should paint a clear picture for you regarding what the rest of the report might consist of.
f. Website Audit
Generates a PDF file for the website's audit. It's basically the same thing as the Website Auditor, but with this, you get a detailed report, in a single PDF file consisting of a number of backlinks, competitor data, Moz profile and everything else.
Final Words
So that's a wrap up for this Serped Review folks!
Now for the final verdict, I must say for 42 super-advanced tools, its pricing is just too dirt-cheap! I mean normally we spend over $1000/month for all these tools individually!
Moz, Ahref, CopyScape etc are all premium tools with premium costs.
But Serped brings their functionalities right to your screens, at a fraction of the price!
And it's not just about the price, you get all these under one roof, no messy logins, and you can have your projects well organised.
Do let me know your final verdict on the suite if you're going for it and also if you aren't.
I'd love to hear logical reasons of why you think this is or isn't a good idea, every opinion counts!