Disclosure: Some of the links in this article may be affiliate links, which can provide compensation to me at no cost to you if you decide to purchase a paid plan. We review these products after doing a lot of research, we check all features and recommend the best products only.
Hanging on Facebook and Pinterest, reading Mom Blogs was the daily ritual of the pandemic. Seeing people with their blogs online, do you want to know how to start one too?
No worries! We got you covered here. Starting a blog is not at all problematic. All you need is a keen interest, and a firm will to invest time and creativity to start a mom blog.
To put it in simpler words, Mom blogs are blogs run by new moms. It is mostly about childcare tips, adulting tips, how to raise a child, and many more.
If you are a new mom, too, you don't need to be nervous; we have got you covered.
Keep reading this article to know how to start a mom blog.
Why Should You Start a Mom Blog?
If you are a new mother, doing a 9-5 desk job can be hectic. But does it mean you should not make money? Blogging is a brilliant way for new mothers to do something creative while making money.
There's no need to be worried about leaving the little one with the babysitter and head out to the office with your mind back home.
Writing can be well-adjusted amidst the tremendous number of mom duties, and it also provides you a space to express yourself. In addition, a change from the household chores ritual also helps refresh the mind.
While constantly doing something for your little one and the family, blogging can be an excellent way to do something for yourself – financially and for pleasure, from home.
It's simple and easy, with no tech requirement. The basic knowledge of social media and blogging sites like WordPress, Theme, and others is sufficient for starting a mom blog.
As long as you are okay with investing time and effort, you are good to go!
Let's tell you how to start a mom blog, one step at a time!
How To Make a Mom Blog in March 2023?
1. Find Your Niche
Why is it essential to find a niche? The first and most crucial step when starting a blog is to choose the right niche.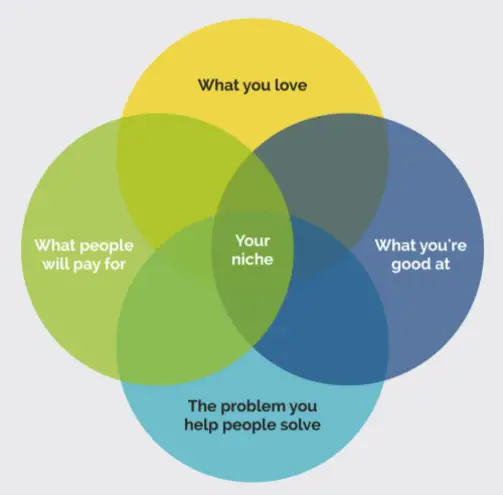 Having a niche for your blog will enable you to maintain uniformity in your blogs, which will be appealing to the readers. In addition, having a definite niche helps in gaining a loyal following because they will know exactly where to find you.
The answer to the following three questions will help you find your niche.
Begin by Figuring out your passion!
Figuring out a niche for your blog can be challenging. However, you should always go for one that reflects the essence of your blog.
Find the answers to what ignites your passion and what topics can be exciting and helpful for the targeted audience (here, the audience is the parent group, of course!). Once you know what your passion is, it will be fun to work.
Let's ensure that your niche is unique
With several blogs talking about the same topic, it is essential to choose a niche that will be unique to your blog and will also be something that involves unanswered questions. You must be able to show your audience why they must read your blog. Employing your creativity to present something already talked about is essential.
Monetization of your creativity!
It is also essential to calculate the monetary value of your niche because, after all, we want to be paid for our hard work. Deciding how you want to monetize your blog should be prioritized if you are quitting your job and blogging for a living.
There are several ways like sponsoring posts, affiliate marketing, or starting a service. Finding these answers will help you find your ideal niche.
2. Choosing A Blog Name
Choosing a blog name can be a tricky business. It is a task that requires utmost care, but are we surprised?
The first thing readers will notice about your blog is its name. Therefore, it is absolutely necessary to choose a name that is easy to remember, catchy, and descriptive of the nature of your blog.
For example, if your blog name is Pizza Lover's Journey, but your blog discusses the struggles of managing a 9-5 job and raising a baby, it gets confusing for the audience. Thus, choose a blog name that reflects the nature of your blogs. Then, you can check the example of the blog mentioned below.
3. Choosing the Blogging Platform
With everything planned in your head, and the name ready, the time has come actually to choose!
There are several blogging platforms like Squarespace out there, which are free. New mom bloggers are naturally attracted to free blogging platforms because money can be tight while running a household.
However, using a free blogging platform is not the best option if you intend to commit to your blog and be a successful mom blog.
Why? Well, simply because free blogging platforms will not let you monetize your blog! So, if you have started your blog to earn, using a free blogging platform will not be an intelligent choice.
We recommend you use WordPress.org for launching your first-ever blog. (PS: Do not confuse WordPress.org with WordPress.com)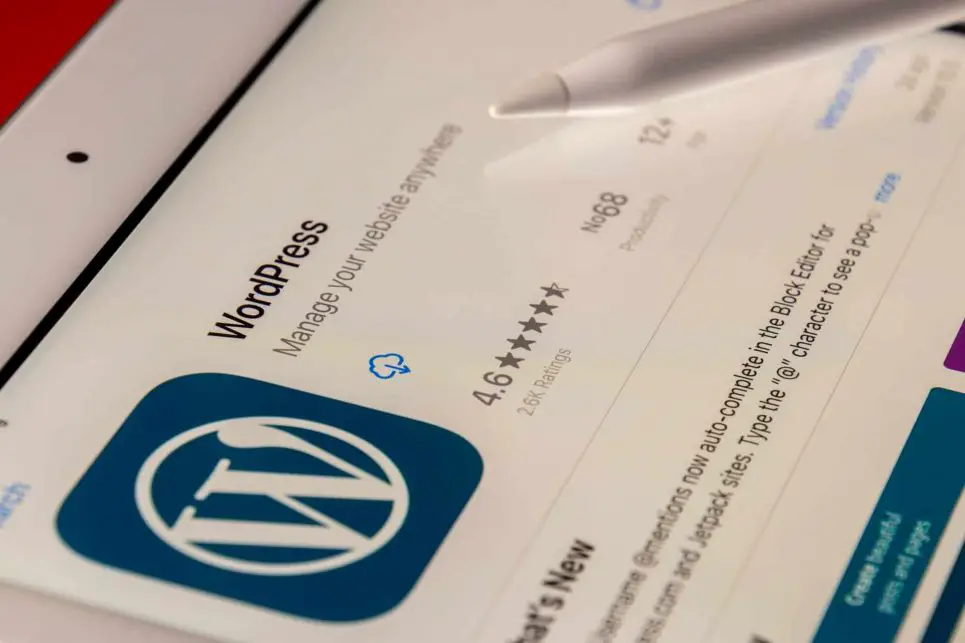 WordPress.org is the most popular and user-friendly CMS platform. Most of the famous sites are WordPress sites like The New Yorker and even the queen Beyoncé.
But Why WordPress? WordPress.org is available as an app (on both iOS and Android devices) for free download. The app's feature makes access to your blogs more straightforward and constant.
You can actually visit your site anytime from anywhere! WordPress.org requires web hosting, which can easily be availed using Bluehost (Hold up! We'll tell you all about it.)
Themes -WordPress.org provides you with a vast range of themes. Choice of several kinds of themes (both free and paid) along with a preview of how your blog will look is available, enabling you to personalize your site altogether. For example, with the WordPress Blog Themes, your blog will look professional in an instant!
Plugins – The WordPress plugin is another boon for bloggers providing you access you several features which will enable you to enhance your blog, like Google Analytics for WordPress, all-in-one SEO, and many more (once again, both free and paid)
With WordPress.org, you only need to pay for the web hosting and domain name; the rest is all free!
4. Web Hosting and Choosing a Domain Name
As we mentioned earlier, WordPress.org requires paid Web hosting and domain name activation.
Domain Name – To find you, the user will need to enter the keywords to guide them to your blog. These words will be your domain name. Your domain name will look like www.yourfirstmomblog.com. You can choose any name that you feel comfortable with. Go to godaddy.com and look for desired domain names.
Web hosting – Web hosting makes your blog live on the internet. It enables the targeted audience to find you. In addition, web hosting allows you to have all your website files stored in one place, that is called server. It is the very next thing you need after you have a domain.
Bluehost provides one of the most convenient web hosting services. (WordPress.org itself actually recommends it!) Its user-friendly, pocket-friendly nature makes it one of the most widely used web hosting services across the globe. (It also saves you the mind-boggling process of choosing a domain name)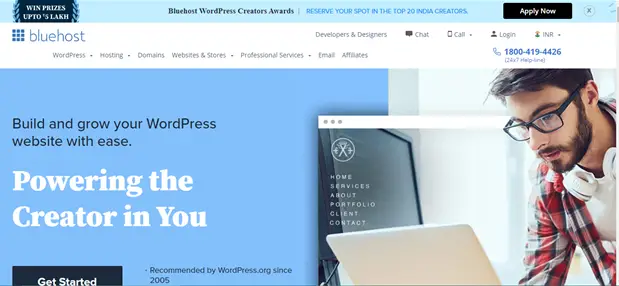 5. Setting Up a Blog with The Bluehost (Installing WordPress, Choosing A Theme, Using Plugins)
With Bluehost, a blog can be set up by following some simple steps!
First things first, go to Bluehost on your device. On getting there, click on the Get Started button.
This will lead you to the next page, where you will be required to choose your preferred pricing plan. Choose the one that's best for you!
The third step will ask you to choose a domain name. The service allows you to select a pre-existing domain you own. If you don't have a domain purchased elsewhere, create a new one by clicking on Create a new domain and typing your blog name.
Now comes the time for actual purchasing. On Clicking Next, you will be directed to a new tab. Enter your account information and take your pick. (The 36-month plan provides the best value.)
With the payment done, you will receive an email with your login details. Login to your Bluehost account, and click on the My Sites tab. This will lead you to the WordPress.org page.
Login with your details into WordPress.org and create your blogging site by clicking on Create Site.
The Bluehost's WordPress Installation wizard will ask you to name your website. Once you choose your site name, proceed to select a domain name from the drop-down menu. If you leave it blank, Bluehost will choose it for you. Click Next once you are done.
After setting up your domain name, the WordPress.org installation process begins. (This takes a few minutes). A success message will pop up when the installation is complete. Simultaneously, you will receive a confirmation email with the hyperlink to your blog's admin area.
There you go! All set for your First Blog.
6. Create Your First Blog Post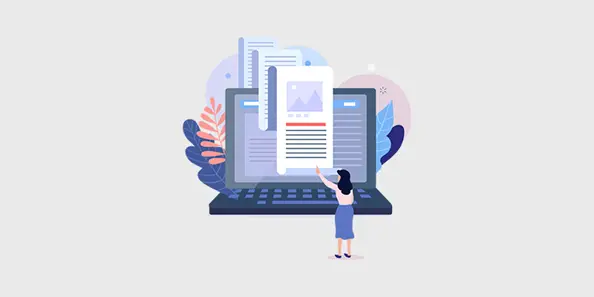 Well, you would not like your readers to find a blog with nothing to read, right? So, once your blog is ready, it is finally time to write your blog!
What should you write about? Revisit the niche for your blog. You need to choose the topics related to your blog's niche.
Brainstorm to find ideas about what you can write that would fit your niche. For example, suppose your blog's niche is Struggles of a new mom; you can work on a list of different topics like:
Time management between your work and home.
Finding time to relax amidst the fresh mound of duties.
Guide to a healthy baby and a healthy mom.
Making the best use of the naptime.
Food for new moms.
Still confused? No worries! Check out the blogs of your competitors. Reading up the contents on blogs of the same niche as yours will give you an idea about what the audience is expecting from your blog.
You can also figure out what you need to do to differentiate your content from the usual blogs. Plus, it will help you gauge the level of competition.
Do not be overwhelmed by the competition. Instead, have confidence and start writing! Remember, unless you begin and make mistakes, you will never know where to improve.
7. Create Social Media Profiles
What's better than social media to gain a little (much needed) popularity?
Share your blog posts on your social media profiles. Building up a following base from the already existing followers is often easier than creating a totally new platform. With your existing followers as your first audience, loyalty will be ensured.
Don't worry if you are new to social media. With good content, you can reach a good and large audience in no time!
If you intend to use social media as your advertising ground, there's no doubt that you'll need to focus on how eye-catching the post is. Blog images work wonders grabbing your audience's attention.
Bright images, trendy phrases, and an engaging caption will do the work. Use a caption that is short, informative, and, most importantly, creative. For example, a CTA (Call to Action) like 'Check out my latest blog at – ' or 'New Blog Up!' will alert your followers about your new posts.
Oh! Let's not forget the Hashtags. Hashtags will help you reach a greater targeted audience. Use social media management tools for scheduling and managing your social media posts.
8. Start Promoting Your Blog

Besides social media platforms, you can promote your blog in various other ways. (P.S. The greater the promotion, the bigger the audience).
Promotion doesn't always require spending a large amount of money.
Groups and Forums for Moms – With the internet being the biggest help, google some forums and groups that help moms with mom problems. Engaging with the readers there will inform the audience about your presence in the mom-blog world. Give out some advice, make yourself visible as a mom-blogger.
Webinars – participate as a speaker or audience in locally conducted webinars/seminars which talk about Motherhood. This will help the audience aware of your talent and make the people curious about your blog.
Guest Posting on other blogs – Look out for websites that offer mom-bloggers a chance to write for their website. When you write a blog for the website, an author's box will appear at the end. This author's box will lead the audience to your blog.
Now, finally, let's learn about how to make money out of your hobby.
9. Monetization

Just writing an attractive and informative blog is not sufficient to earn money. To get paid for your hard work, you will have to monetize your blog.
There are several ways in which you can do that.
Affiliate marketing – Affiliate marketing is the easiest way to earn via your blog. All you need to do is promote products of various companies on your blog by adding the product link to your blog. For example, if you are writing about the things you require for a growing baby, you mention baby bottles, cradles, etc. Then, you can add the product link of the product from the particular brand in the blog. Every time someone clicks on your affiliate link and buys the product, you will receive a commission. You can find several affiliate programs on the internet and use them to your benefit!
Direct ads – You directly advertise the product of different companies. Use your blog to sponsor the products by reserving a spot for them on your blog. It allows you to set the price and the term and conditions of the agreement. A flat rate ensures more significant profit. In addition, you can release an advertisement on sites like BuySellAds to find sellers willing to buy your ad space.
Many companies prepare the post for you; you need to post them and publish them. In addition, sites like WPForms enable you to create forms for accepting advertisement projects.
Display ads – Display ads are another meaningful way of promoting your blog. You can get companies like Google, YouTube to promote your blog. Yes, you heard it right! All you need to do is sign up on Google AdSense for free. Google will find the right audience for you and display ads for your blogs.
This is not just a promotion. You will receive money every time a reader clicks on your advertisement. However, the amount of money earned from this is limited. Using Direct ads and affiliate marketing is easier.
How to Start a Mom Blog in March 2023: Frequently Asked Questions
How Much Money Can Mom Blogs Make?
The amount of money earned by a mom-blogger usually depends on the monetizing techniques applied. The more monetizing devices used, the higher the income will be.
However, it can be safely said that some mom-bloggers like Twins Mommy make from $3000 – $63000 dollars per month.
Can I Make a Mom Blog for Free?
Yes, a Mom Blog can be made for free by using blogging platforms like Squarespace, WordPress.com, Wix.com. For self-hosted blogs, you need to buy web hosting which is affordable.
Can I Blog Part-Time?
With a bunch of set practices, you can be a successful blogger by working only part-time. Since you are your boss, you can choose the most suitable time and the preferred number of hours you are willing to commit.
Can I Promote a Mom Blog on Instagram?
Prompting blogs on social media platforms like Instagram is the simplest and most effective way to make your blog known. By using the three steps mentioned above, you can successfully promote your blog on Instagram.
What Is the Best Topic for A Mom Blog?
Mom Blogs thrive on How-to-Guides on a wide range of topics (mentioned above). Sharing experiences and struggles as a mom can also get you a large audience. You can also write about the most widely known myths about being a mom and their lives.
Start a Mom Blog: Conclusion
So, it's all out there. You just need to grab the right opportunity and follow the proper steps, and you'll be a thriving mom blogger in no time. You need to follow a few proven and profitable strategies to turn your creativity into money.
A little hard work and passion as a side income can be a great source of income and turn you into a Mompreneur!