Regardless of the niche you deal with, an engaging email list is one of the primary requirements for a blog or website. That's because email is still one of the most predominant methods of sharing information.
Having a WordPress email plugin helps simplify distributing and marketing content apart from helping you understand the user base and the type of content that resonates with a section of users.
Which are the Five Best Mailing List Plugins to Build an Email List in December 2023?
Although there are a decent number of free and premium plugins in the market, there's only a handful that lets you create and convert your email list.
Here are 7 of the best mailing list plugins to build an email list for December 2023:
Why Do You Need WordPress Email Plugins?
1. Marketing Your Blogs
Several companies vouch that email marketing is way more effective in generating revenue than social media and other methods.
2. Growing Potential Leads and Clients: Email Holders Could Be Money Holders
Marketers consider email marketing as a key source of ROI, and it significantly affects purchase decisions.
3. Foster Relationship With Your Readers
There is nothing more important than communication for any marketer. When a user feels they can communicate with the brand, they're likely to be more loyal.
Most often, it is a treat for readers to receive the latest updates and offers via email.
4. Affiliate Marketing
One of the key benefits of an email list for affiliate marketing is to streamline the process. Apart from that, it also helps in improved website traffic and conversions.
5. Stats Show People Prefer To Do Business On Email Than On Social Media
While social media is a great approach, email marketing has been around for way longer. If we speak in terms of ROI, email marketing generates 38 times the value, which is distantly higher than social media.
6. Target Specific People Via Emails
Email marketing targets relevance. This means you can send out target messages to specific sections of the audience to make them unique and applicable to the user base.
Email subscription is, therefore, one of the best ways to grow your business, and these plugins minimize the effort in turn helping you grow a better readership.
Top 20 Best WordPress Email Plugins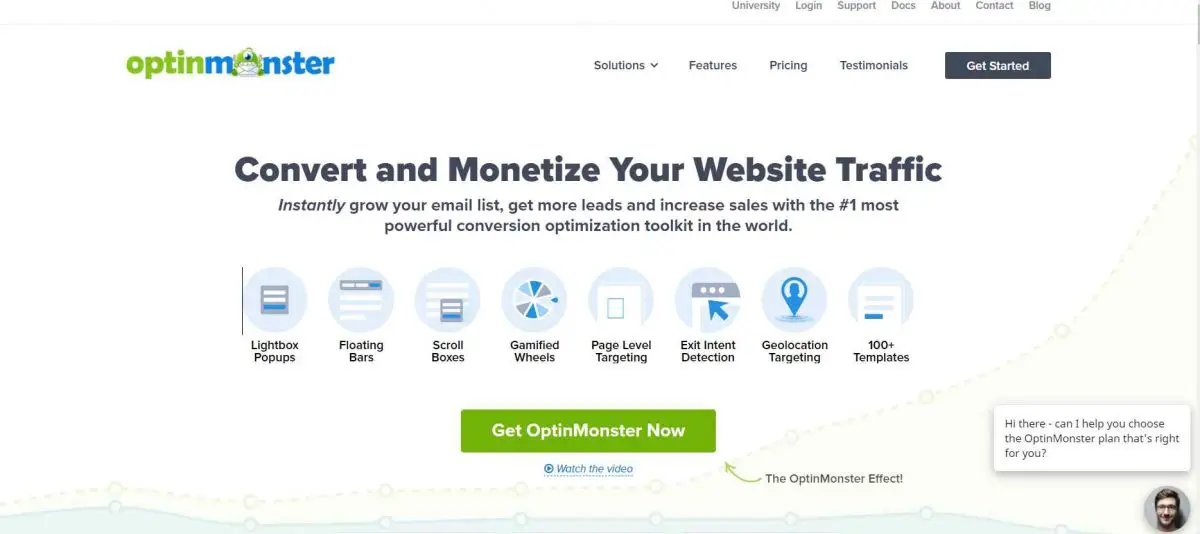 If you are looking for conversion rate optimization software, OptinMonster is the one for you. This plugin brings your lost site visitors as email subscribers.
By installing the OptinMonster WordPress plugin, you might drive more traffic. It helps your business grow by increasing the sales figures through email marketing.
The plugin has a plethora of attractive templates to grab your user's attention. You can create WordPress popups, announcements, and even a spinner wheel game.
The plugin offers you a drag-and-drop feature to easily customize any template.
Features:
Wide range of templates
Inbuilt drag-and-drop builder
Coupon Wheel options
Pricing:
The pricing for OptinMonster starts at $79/year.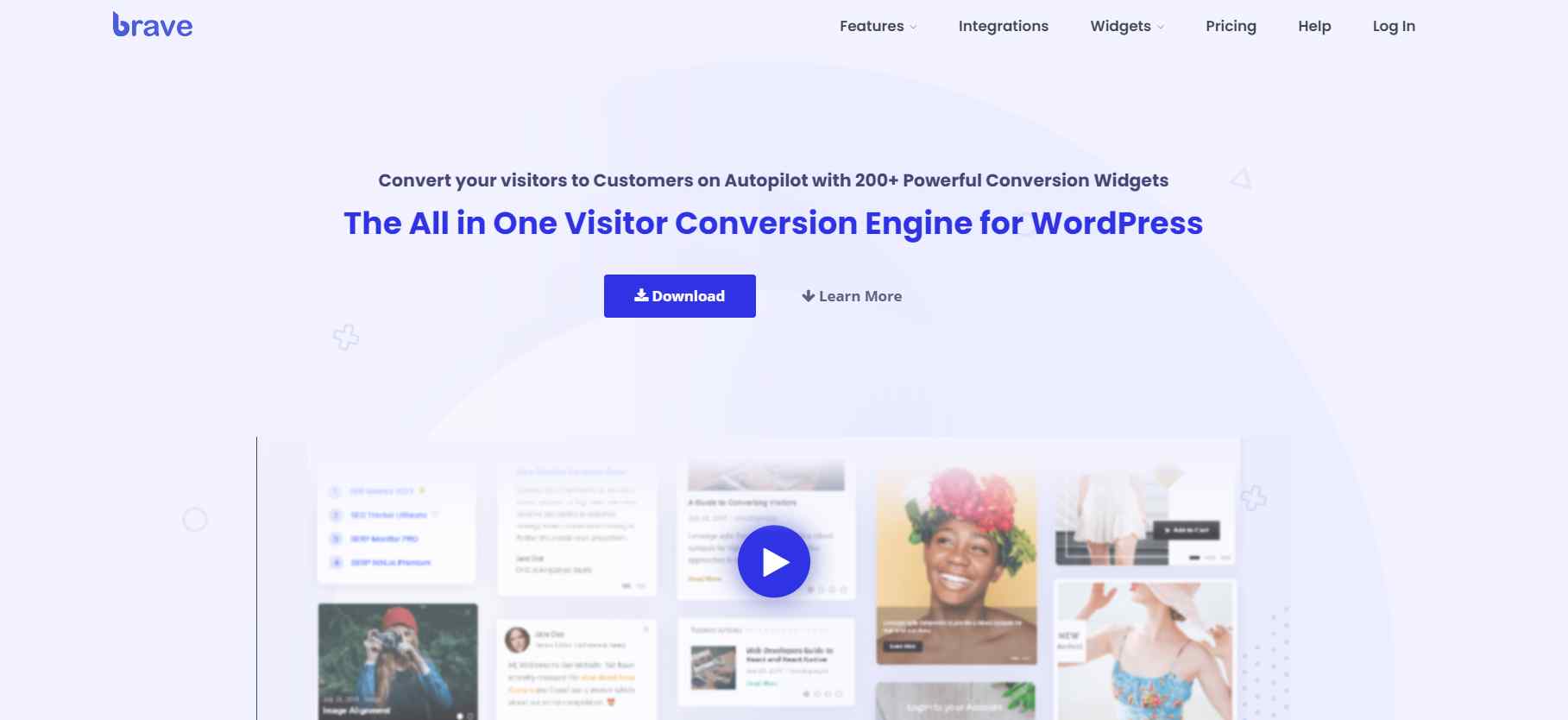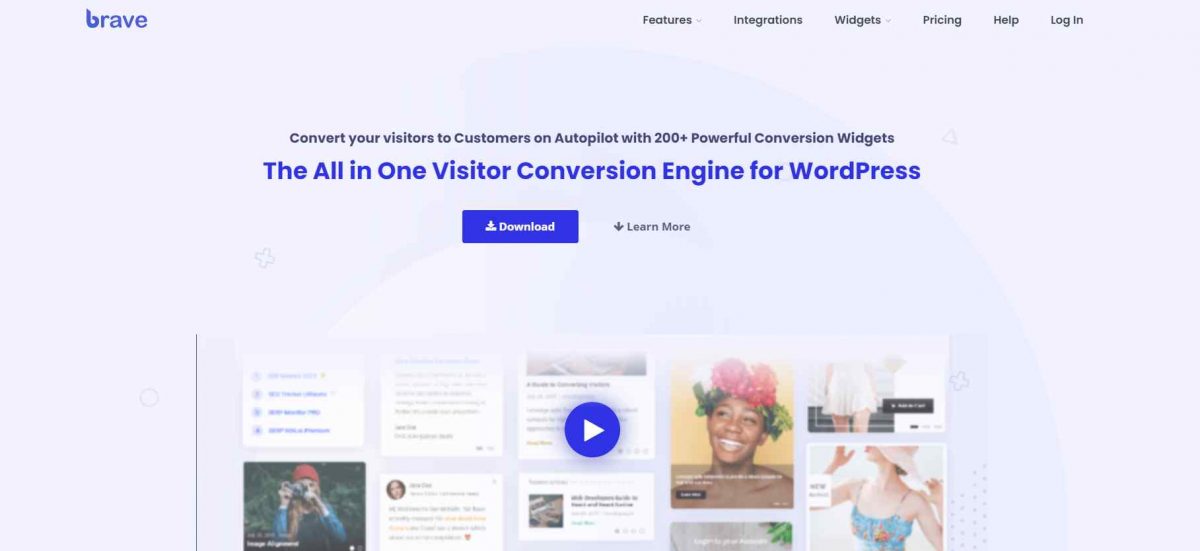 GetBrave has reliable sales growth tools that can help boost your revenue significantly. These tools consist of sales converting popups and sticky bars.
There is a countdown timer that starts for each visitor to monitor his real-time analytics. You can switch to autopilot to improve your sales and user satisfaction at the same.
The evergreen countdown timer tempts the visitor to make a purchase. This plugin also has advanced multi-step survey widgets that help the admin to collect more feedback.
Features:
Advanced multi-step survey widgets
Quiz tool
Lead capture tool
Pricing:
Prices for GetBrave start from $59/year for one website. The platform offers three plans: Brave Pro, Brave Mega, and Brave Ultimate.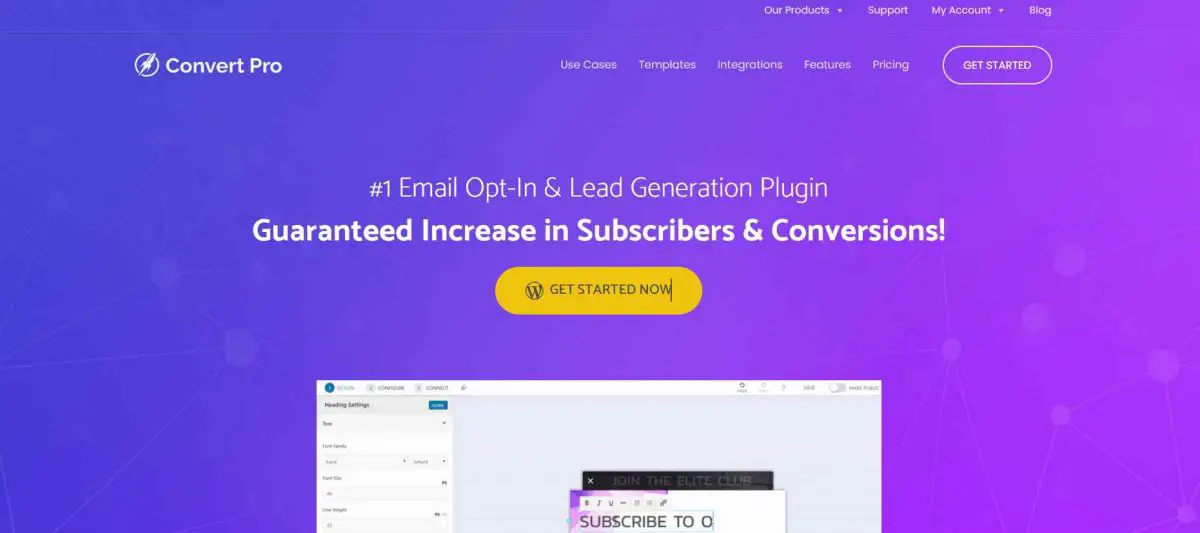 Convert Pro is probably one of the best lead generation plugins you can use on for WordPress.
The plugin has a drag and drop editor, which makes designing easier and faster. So, designing high-converting opt-in forms will be hassle-free.
The best thing about Convert Pro is that the plugin is 100% mobile-friendly. You can create an attractive popup that converts potential audiences.
Features:
Cloud Technology
Ready-to-use templates
Drag and drop editor
Pricing:
Convert Pro provides annual and lifetime packages for your WordPress site. Prices start from $79/year with a ton of features.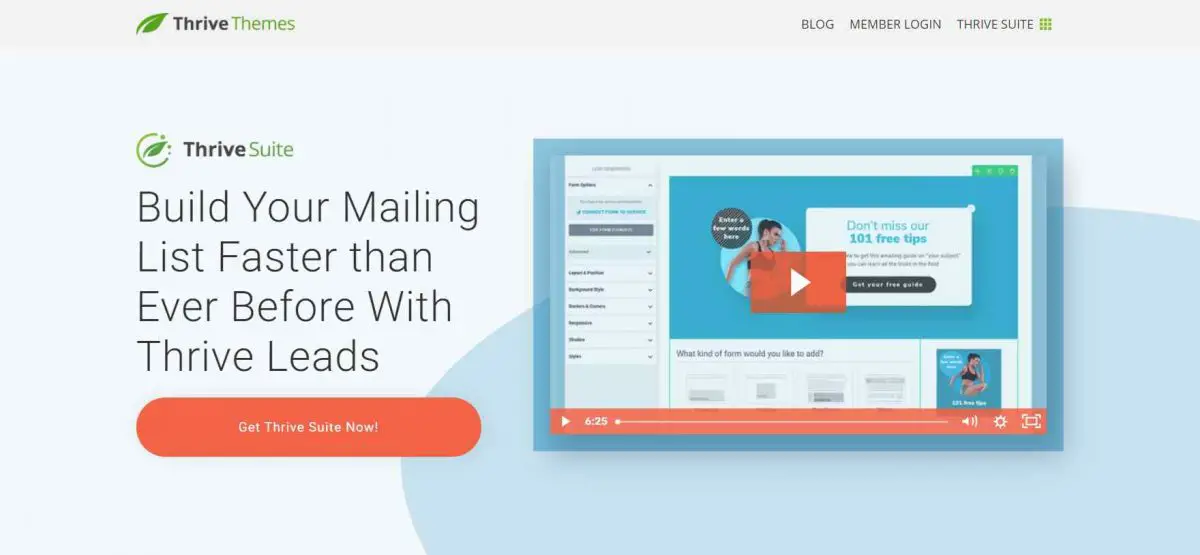 Thrive Leads is packed with features that make it worthy of being on the list. The plugin combines all opt-in forms in a single file that makes designing easier.
With its drag and drop editor, you can create the perfect design just with a single click.
Thrive leads focuses on converting your visitors to subscribers by monitoring their posts. It also has an A/B testing feature that further boosts the conversion rate.
Features:
A/B testing
Advanced audience targeting
Drag and drop editor
Pricing:
Pricing in Thrive Leads ranges from 67 to 147 USD. You can avail membership at $19/month with a 30-day refund policy.
If you plan to expand your business through email marketing, MailPoet is the best plugin for you.
You can send unlimited emails per month to the audience who have an account on your site. Don't worry, for these emails are not spam.
MailPoet has a rock-solid infrastructure with an impressive deliverability rate. You can enjoy high open rates at affordable prices on MailPoet.
Features:
SMTP for WordPress
WordPress email templates
Email newsletters
Pricing:
There is a free plan and a premium plan in MailPoet. Prices start from $13/month, and the platform offers licenses too.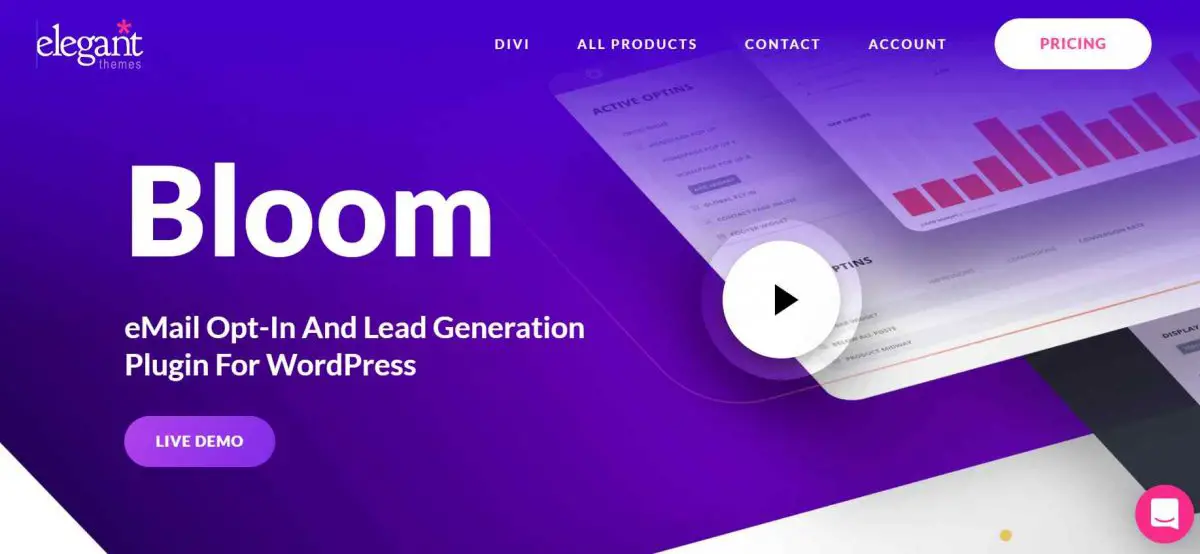 Bloom is one of the leading WordPress plugins to handle email marketing.
Created by Elegant Themes, it offers more than 100 pre-built templates which can be further customized to match your website theme and color.
Bloom boosts your site conversion by turning website visitors into clients. The plugin has collaboration with 16 top email marketing services such as Campaign Monitor and MailChimp.
Features:
Automatic Optin Pop-Ups
Inline Optin Forms
Widget Area Optin Forms
Pricing:
The prices for annual start from $89 per year and $249 for lifetime service.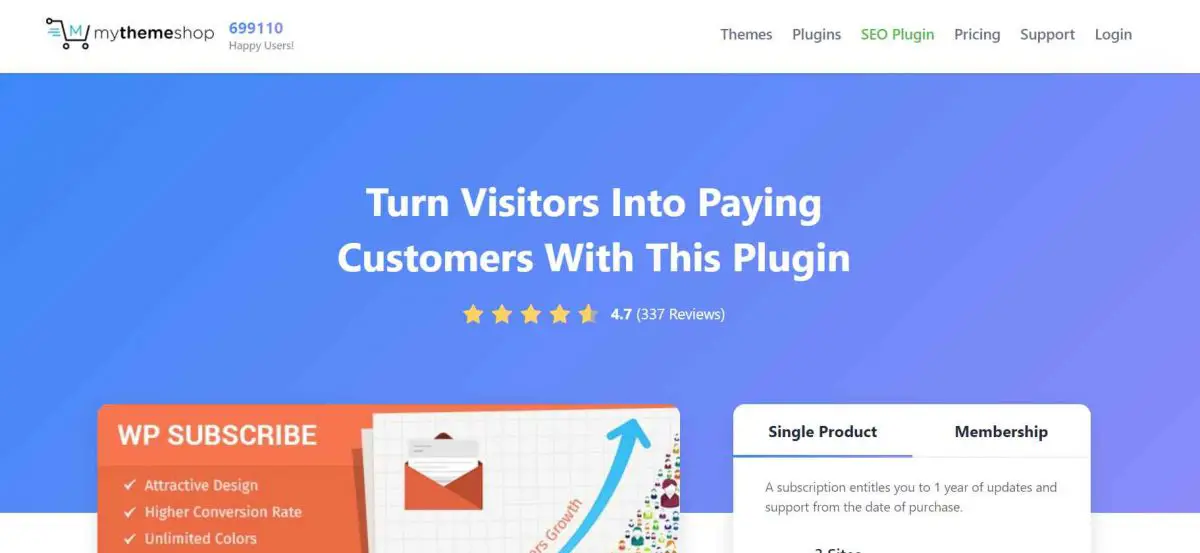 WP Subscribe Pro helps users build a compelling email list with some exceptionally designed opt-in forms. It also integrates several email marketing services and triggers including exit-intent, pop-up location with page-level targeting, etc.
It offers irresistible discounts and coupon codes to keep the potential client engaged.
Features:
Works with SEO Plugins
Built-In Widget Support
Flush Cookie
Pricing:
Prices start from $90 per month with a single website license.
ConvertBox is known for its smart targeting by sending personalized messages. The plugin recognizes the clients by ESP/CRM data and site activity.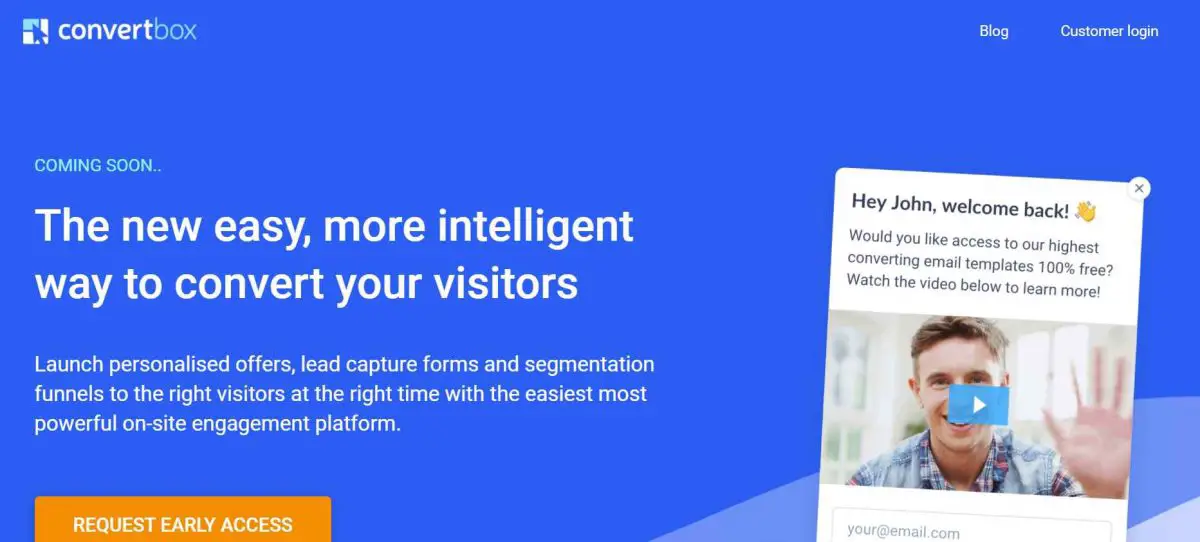 You can collect the data by lead capture forms to transfer the data to ESP/CRM. ConvertBox also has A/B split testing feature to create multiple test variations.
You can also create multiple choice funnels and tag personalized offers to your clients.
Features:
A/B testing feature
Intelligent targeting
Lead capture forms
Pricing:
The pricing of the ConvertBox plugin starts from $99 per month. Currently, they are offering a lifetime service at $495.
If you want an easier alternative to connect with your audience, choose Leadpages.
You can collect leads and manage sales while growing your WordPress site easily. You can also create websites and landing pages without manual programming.
Leadpages has over 200 high converting templates that allow you to customize your website. The plugin also allows you to boost conversion with A/B tests through your email account.
Features:
200+ attractive templates
Advanced audience conversion
Real-time guidance
Pricing:
Leadpages offers a free trial for 14 days. You can avail their services at just $27 per month.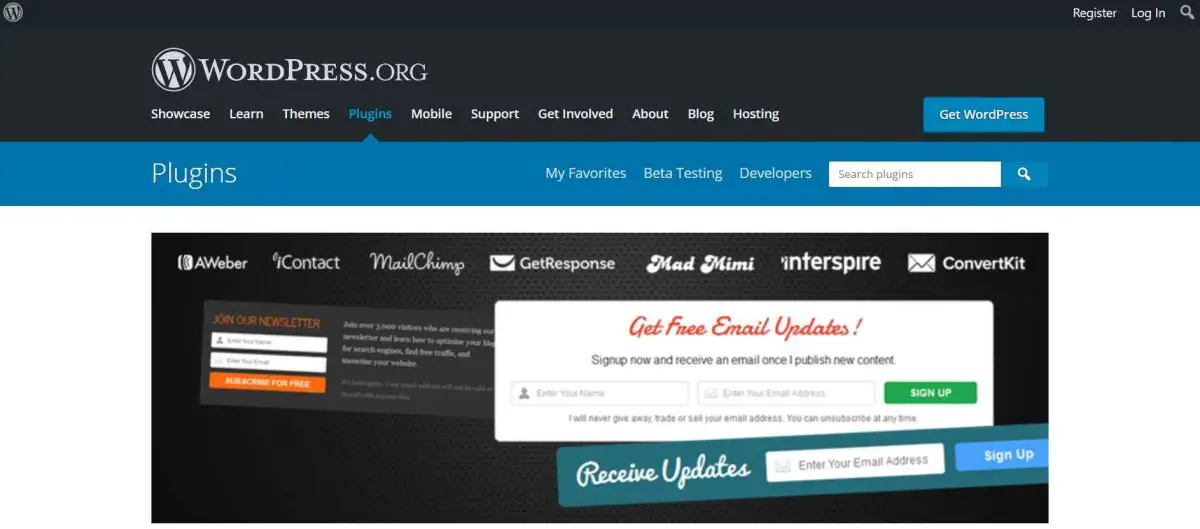 The Optin Forms plugin makes creating opt-in forms for your blog easier. You don't need to know HTML, CSS, or any other programming software.
All you have to do is simply select the email and choose a form design. Now, you can customize the form appearance to engage your audience.
Optin Forms has five attractive form designs that are 100% customizable where you can modify all font and sizes.
Features:
Fully Customisable
Translation availability
Targeted form placement
Pricing:
Optin Forms is a free WordPress plugin.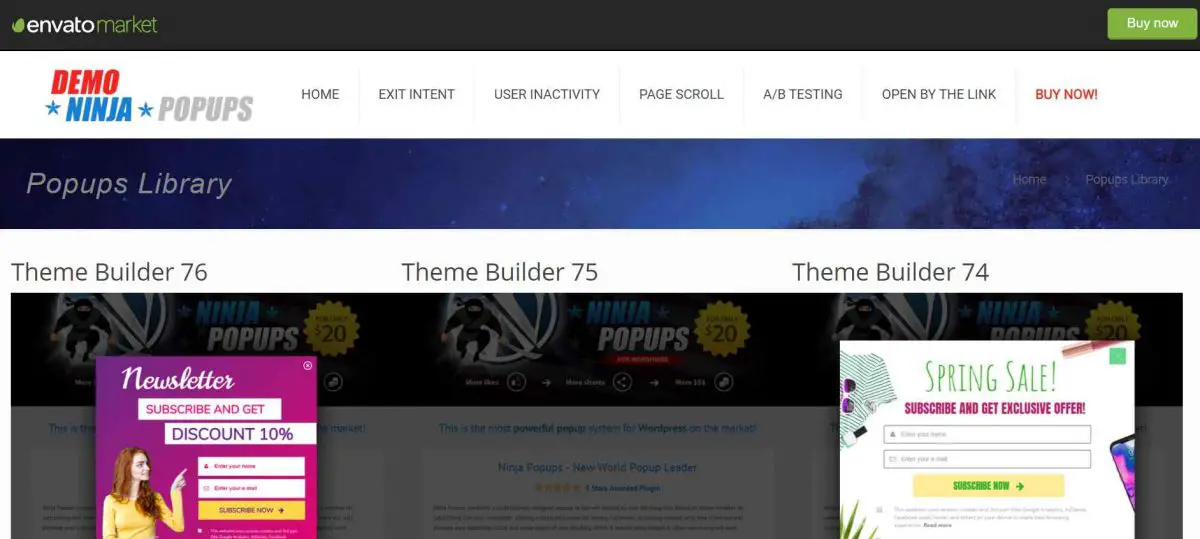 Ninja Popups are one of the best customizable popup creators for WordPress. If you want to notify your clients about newsletters and subscriptions, the plugin will get it done.
The templates are innovative and attractive to grab the visitor's attention. Ninja popups are compatible with both iPhone and Android devices.
So, you can add Ninja Popups to your website even on your mobile.
Features:
Powerful pop-up system
Innovative ninja templates
Compatible on any smartphone.
Pricing:
Prices for Ninja Popups start from $11 per month.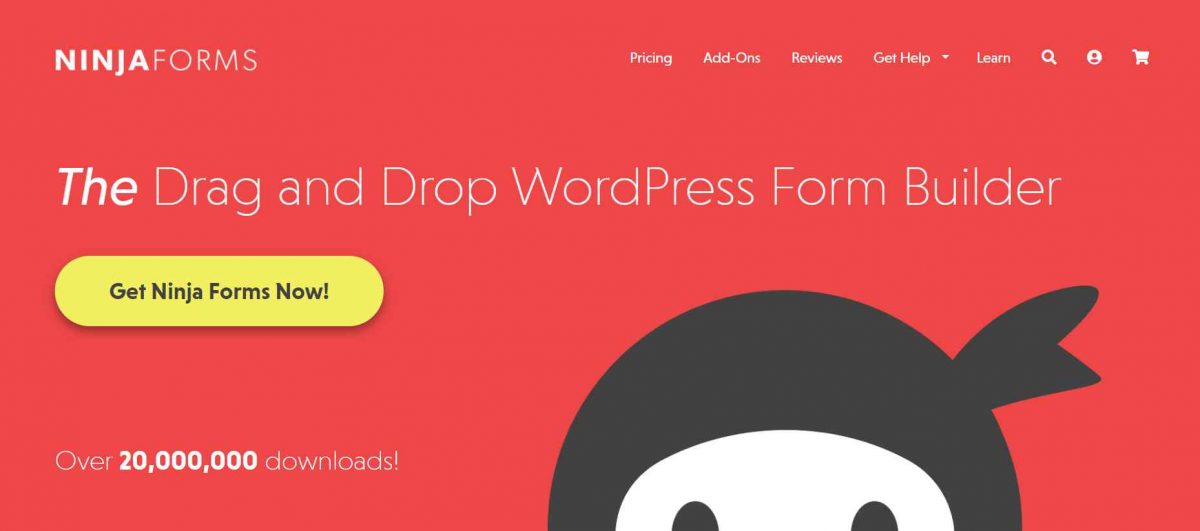 If you want to do your business through a lead generation form, the Ninja Forms is for you.
The synapse is fully customizable, and you can develop your mailing lists easily. Ninja forms are integrated with platforms like Constant contract, Campaign monitor, and Zoho.
Receiving payments through credit cards and PayPal has never been so easy before.
Features:
Lead generation form
Secure payments
Varying payment options
Pricing:
Prices in the Ninja forms platform range from $29 to $499.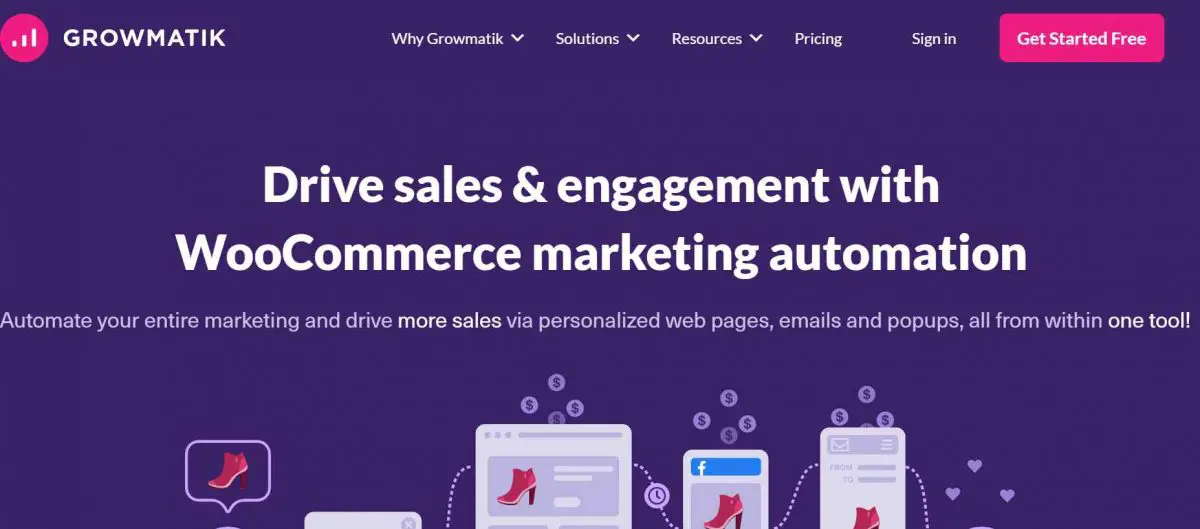 GrowMatik is one of the best marketing automation plugins for WordPress in the market. This plugin sends personalized messages through email and pop up.
GrowMatik also has an intelligent algorithm that recognizes the user type. There are over 50 different attributes that help you uncover your business.
You can segregate each segment as emails, pop-ups, and website content to develop a marketing strategy.
Features:
Smart user detector algorithm
Over 50+ attributes
24/7 Live Support
Pricing:
The pricing for GrowMatik starts from $25 per month per user.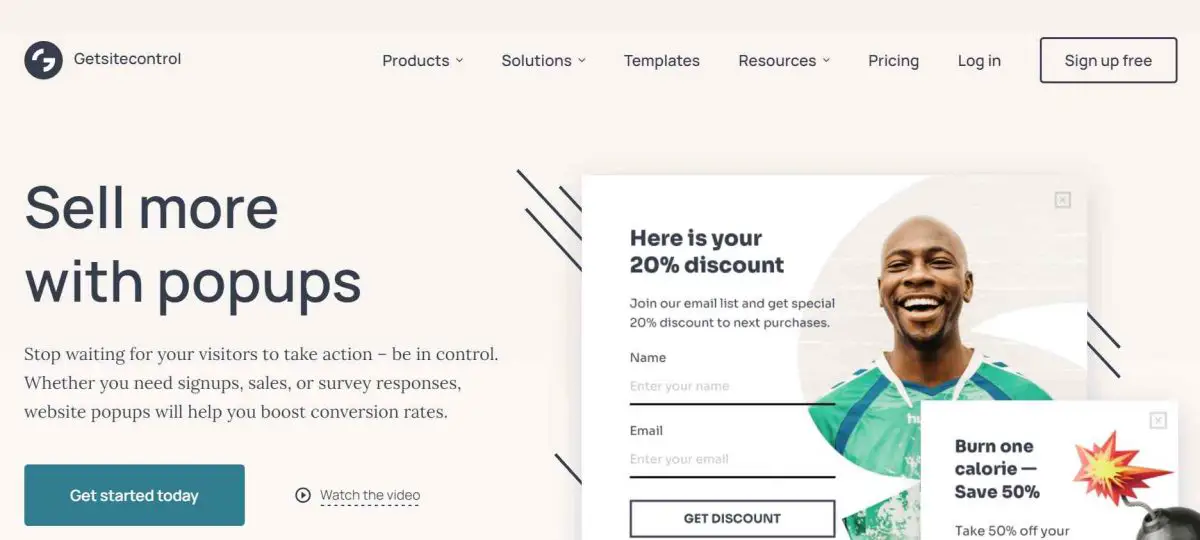 Getsitecontrol will help you if you are looking to grow sales and increase user engagement. You can also promote deals and make email lists of your audience to start a marketing campaign.
It is specially designed for e-commerce websites to help them increase the number of sales and clients. Getsitecontrol also allows you to offer discounts and coupons through popups.
Features:
User-friendly interface
Forms Creation
24/7 Customer service
Pricing:
Depending on the usage, Getsitecontrol prices start from $390 per year.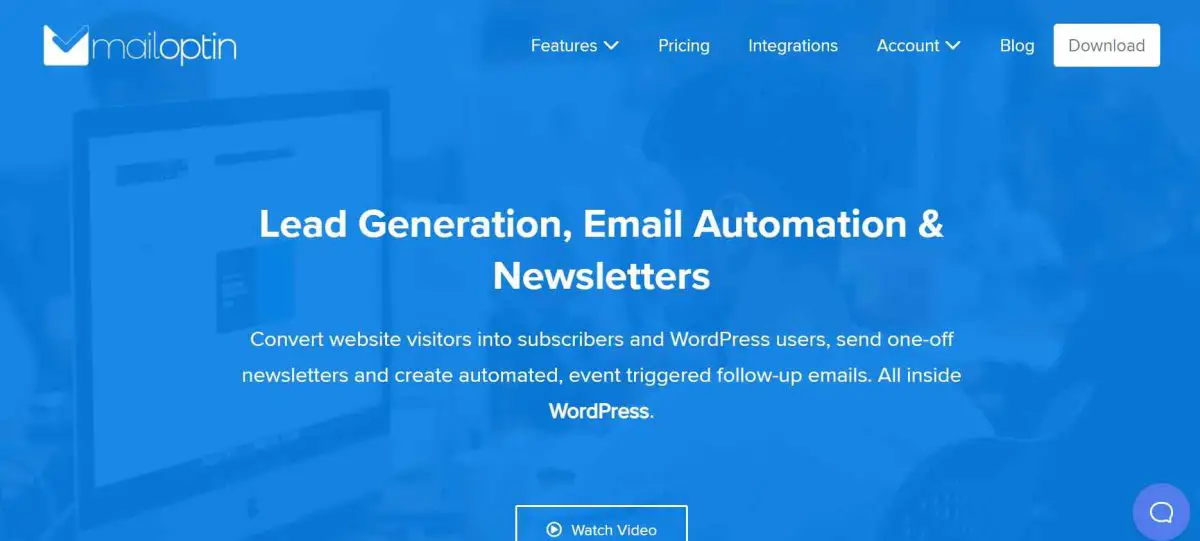 MailOptin is a useful plugin for WordPress to send newsletters to your clients. You can also use it for email automation and lead generation to convert visitors to subscribers.
The plugin makes an email list and sends personalized mail to each client. If you want to perform email marketing, MailOptin is a good option for you.
Features:
Lead generation
Email automation
Forms Creation
Pricing:
The pricing for MailOptin Starts from $79/year.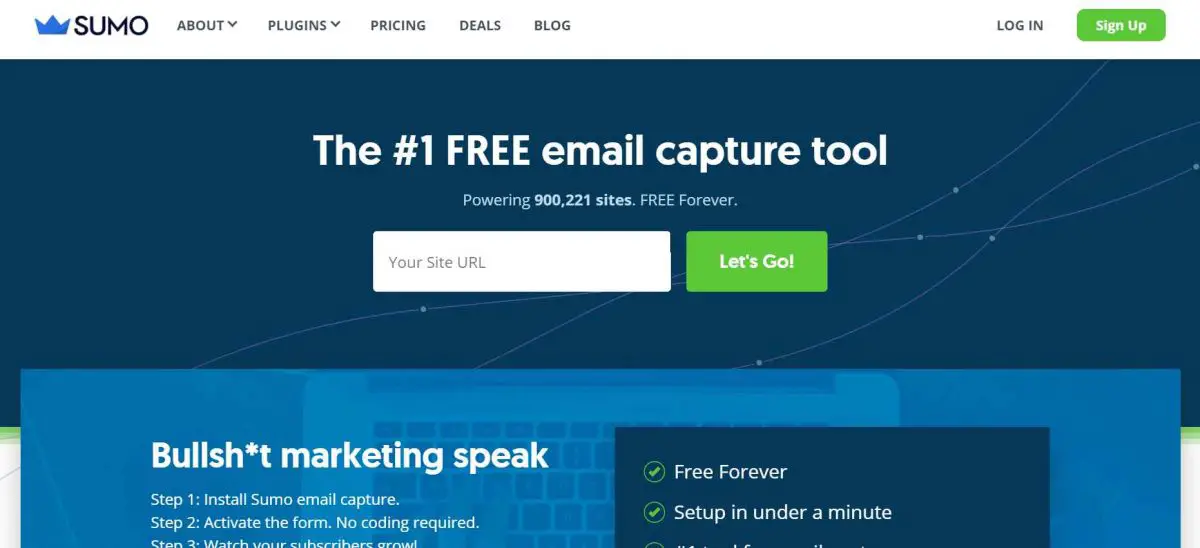 Sumo has the potential to increase your subscribers by optimizing the email lists.
This plugin can generate better sales for e-commerce and affiliate websites. There are over 37000 ecommerce sites that use the Sumo plugin to boost their sales.
Moreover, the plugin also helps you to run email marketing campaigns for your business.
Features:
Automatic email optimization
24/7 Live support
Transparent ROI
Pricing:
You can avail some services of the Sumo plugin for free. You'll have to pay $39/month to use the Pro version.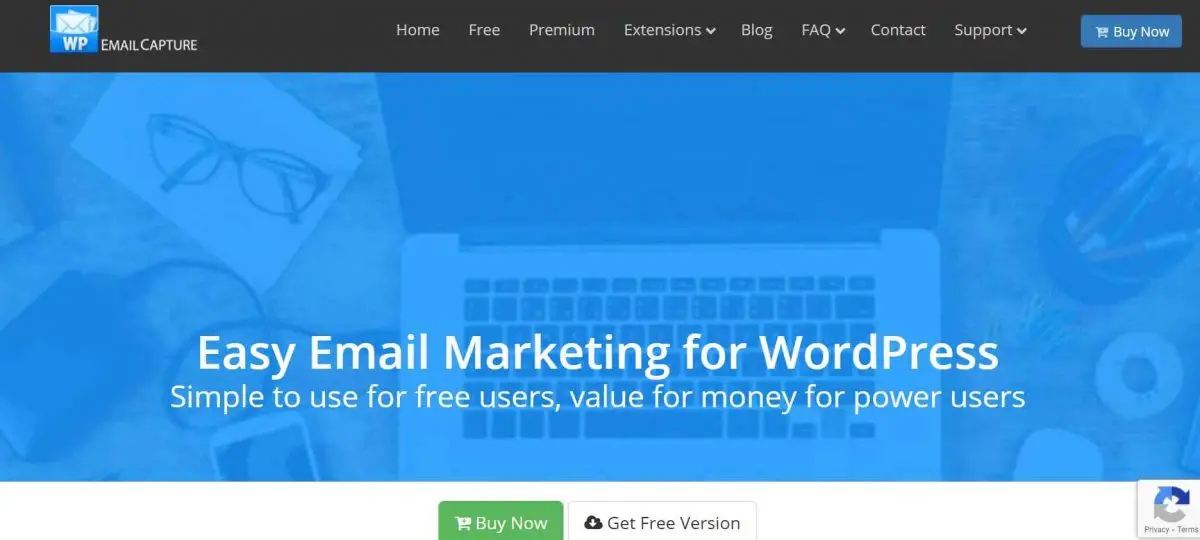 WP Email Capture is an excellent solution if you want automated responder services. It helps you to a great extent in collecting email and adding field forms in it.
You don't have to spend a single penny for availing third-party services. To do everything directly, go to the settings page in the WordPress task pane.
Features:
Automatic email Optimisation
Intuitive dashboard
Customization features
Pricing:
You can buy WP email capture premium features at $49 per month.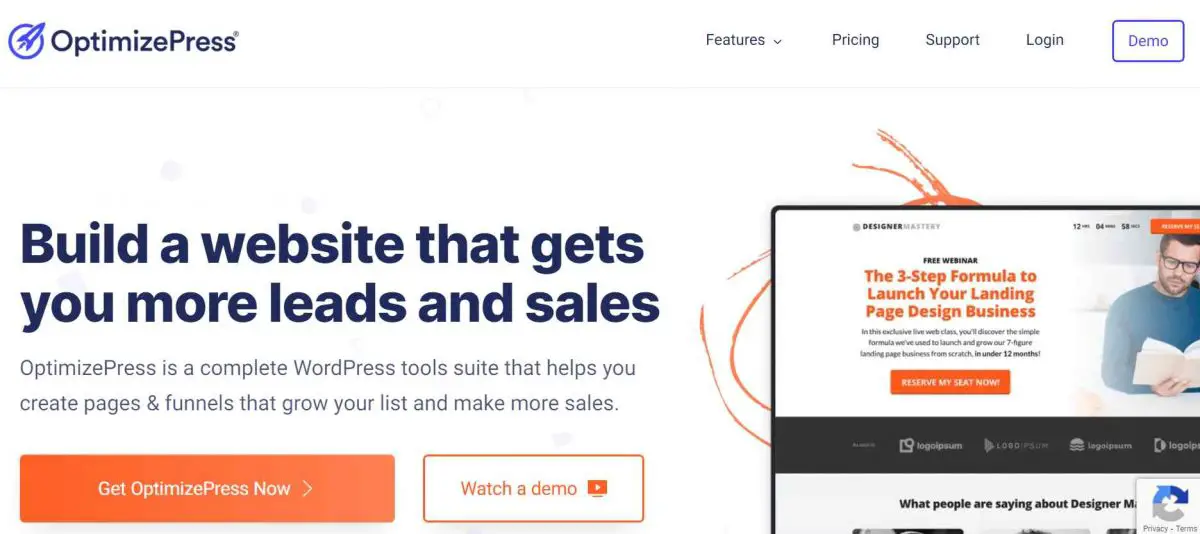 OptimizePress is a favorite for many bloggers because you can create attractive landing pages pretty easily.
You can also create membership portals and sale funnels through this WordPress plugin.
OptimizePress has a drag and drop editor, which is easy to use, and the dashboard is quite intuitive too. It is also effective in email marketing to drive better sales.
Features:
Intuitive dashboard
Real-time Analytics
Contact management tools
Pricing:
You can avail of the OptimizePress services at $17 per month.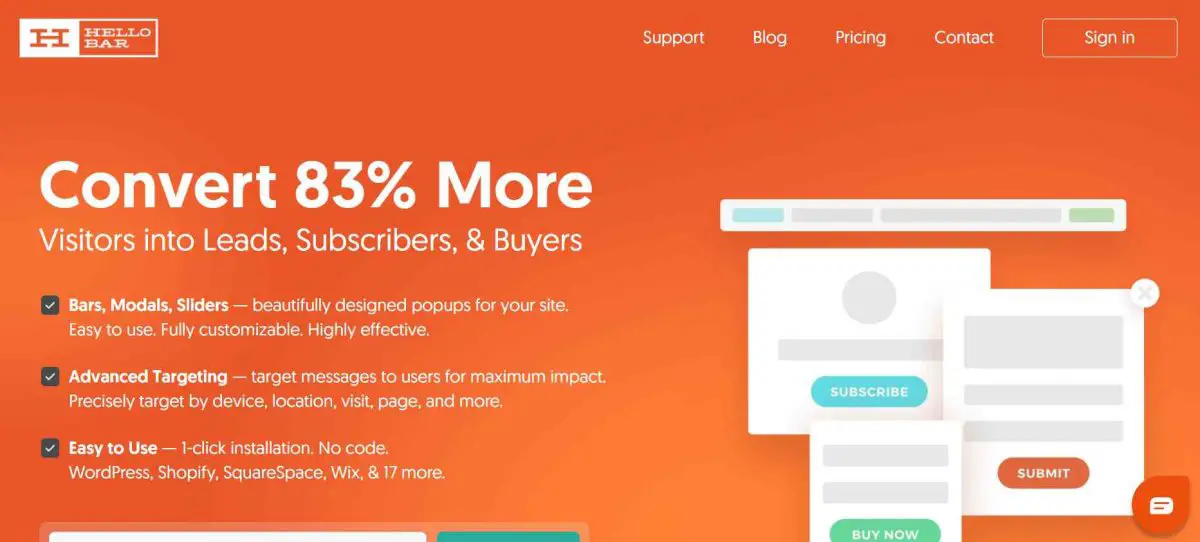 If you want to create beautiful notification popups, add the Hello Bar plugin to your WordPress. It is a great plugin for pop-ups, and also integrates well with other marketing platforms like MailChimp.
You can create new leads from the Hello Bar by creating custom codes. You can also manually insert the code into your WordPress account. Your customers can pay you through subscriptions or just single amounts.
Features:
New custom codes
Easy payments
Compatible with ecommerce sites
Pricing:
You can purchase a Hello Bar membership just at $4.95 per month.
Jetpack is a great WordPress plugin to improve your sale figures with it's different modules. You can make your customer sign up to receive email updates from this plugin.
Not just that, it also allows you to add essential features conveniently at affordable prices. Jetpack also your customers to add new comments to a post that they are following.
Features:
A/B testing feature
Intelligent targeting
Lead capture forms
Pricing:
Jetpack can be purchased for $4/month.
Factors to Consider When Choosing a WordPress Newsletter Plugin
#1. Intuitive Dashboard
An intuitive dashboard of a website increases its audience retention to an extent. Amused by the design, your audience will always seek more content on your site.
For instance, Ninja Forms has an intuitive dashboard and over 200,000 downloads as well.
#2. Customization Features
If you choose a WordPress newsletter plugin with minimal customization features, skip it. It is probably the most critical factor because customizability represents what the plugin has to offer.
Users want more customization features because many of them like to experiment.
#3. Compatibility
A plugin with tons of features but minimal compatibility is futile. Read the information about the plugin on its website that describes its compatibility.
Choose a good plugin that is compatible with WordPress and PHP. Most upgraded versions of newsletter plugins are compatible with these two platforms.
#4. Integration With Contact Management Tools
WordPress newsletter plugin must be integrated with a maximum number of contact management tools. Contact management tools help the administrator to establish a strong bond with his clients.
In turn, the admin can send emails to a large group of people.
#5. Analytics
Newsletter plugins must have transparency in displaying the analytics. Moreover, the system should show the real-time demographics of users of your website.
This factor helps you to categorize sets of people to run your marketing campaign.
#6. Responsive Design
The templates offered by your newsletter plugin must have a responsive design. Plugins with a responsive design increase audience retention and also turns the audience to customers.
#7. Customer Support
Another factor to consider when choosing a newsletter plugin is customer support. Plugins with reliable customer support always have the upper hand in the market.
It is because people select a plugin that delivers 24/7 support to its clients. It ensures the users a more trustworthy interface.
WordPress Newsletters Plugin FAQs
Last Words on the WordPress Mailing List Plugin
Before making a final decision, try to look at what your requirements are and how these plugins fulfill them. Instead of looking for an all-in-one plugin, it's always better to go for a dedicated plugin for the feature you want.
This approach is likely to help you find a better developed and easy-to-use one.