Disclosure: Some of the links in this article may be affiliate links, which can provide compensation to me at no cost to you if you decide to purchase a paid plan. We review these products after doing a lot of research, we check all features and recommend the best products only.
Do you want to sell courses and memberships on your site but don't know how to code?
Well, I can totally relate with your situation.
I'm good at affiliate marketing, but I don't know how to do advanced programming to introduce paid memberships on a site.
That's when we use plug-ins.
In the world of digitalization, e-learning is the new wave that helps people monetize their skills and build an audience of their own. It introduces self-paced and flexible education for students too.
As a matter of fact, the e-learning industry is predicted to be worth $398.15 billion by 2026.
WordPress membership plug-in goes a long way because selling paid memberships and courses on your website is not as easy as it sounds.
Since students are paying you for your service, it is imperative that you provide them a secure and trustworthy user experience.
A membership portal on your website can go a long way, not only in engaging users but ensuring them that they have an interactive learning experience.
Moreover, membership allows you to have smooth students' onboarding experience.
That being said, there is a lot of effort required to be able to introduce a membership feature on your WordPress website.
But in the world of WordPress, everything becomes easy when you have useful plug-ins at your disposal.
Now, you might wonder why you should need a membership plug-in in the first place. Read on to address that question.
Why Do You Need Membership Plug-Ins?
#1. Restrict Website Access
The best membership plug-ins in WordPress can restrict general audience's access to your website.
Only when people sign up and pay for the membership on your website will they get access to see premium content, training, and courses.
This way a useful membership plug-in can help you secure your content from falling into the hands of unauthorized users. Otherwise, all your hard work in developing training tools would be in vain.
#2. Collect Payments
Digital payments are rising, thanks to the internet. In fact, the global digital payment industry is forecast to reach $10.7 trillion by 2026.
For your courses too, the membership plug-in will collect the payments on your behalf. They are secure and trustworthy for managing financial transactions.
They will ease the burden for you so that you can focus more on delivering world-class memberships and courses to people.
Mostly, you can include PayPal as your payment gateway through these plug-ins. You might also get other payment gateways like Stripe, Credit Cards, Apple Pay, Google Pay, and so on.
#3. Create Hierarchies in Your Memberships
You might want to introduce free membership on your website to nurture prospects.
It is called funnel optimization. This free membership will encourage prospects to buy a premium membership with the promise of gaining more privileges on your site.
You can define them using WordPress subscription plug-ins.
#4. Provide Custom Offers
The membership feature also allows you to create coupons that will help users to claim discounts. This way, you can introduce vouchers and get more conversions on your website.
Therefore, investing in a membership plug-in is totally worth it.
All those considered, let's now explore the 10 best WordPress membership plug-ins right away.
10 Best WordPress Membership Plugins to Sell Digital Goods in 2023

MemberPress is arguably one of the most reliable WordPress subscription plug-ins.
All you need to do is just download, install, and activate this plug-in, and you are good to go.
You also don't need to edit your website's structure to use the features of MemberPress.
All the useful features inside MemberPress are streamlined for nonprogrammers to introduce and maintain members on their website.
You can maintain the accessibility of the content on your website. Selling courses and making them accessible through the same site is easily doable through MemberPress.
Furthermore, it integrates with tools like ActiveCampaign, ConvertKit, Stripe, MailChimp, and dozens of others.
Now you can generate unlimited coupons to provide custom discounts and offers that your prospects can't refuse getting.
You can transform your funnel into a responsive landing page where you can showcase prices and implement a checkout process using MemberPress.
You can also build a solid forum on your website where your students can interact with each other or ask you questions. The forum will be a password-protected community built using bbPress or other WordPress forum plug-ins.
With the plug-in's accurate reporting, you can track the sales of your courses on your WordPress website. You will know which course is selling the most and what the total ROI is that you've got.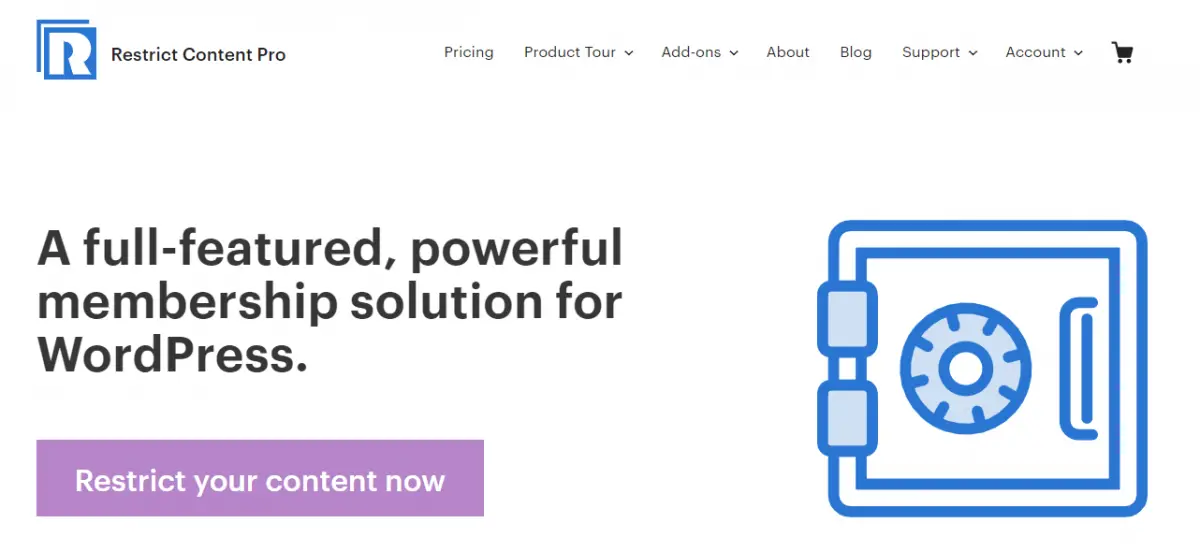 With Restrict Content Pro, you can effectively manage memberships on your website and sell your courses.
Now your website conversions won't get affected, thanks to the support of various payment gateways.
Because along with the most common payment provider PayPal, credit cards with Stripe, Braintree, 2Checkout, and Authorize.net are also supported with this WordPress subscription plug-in.
You can introduce multiple discount codes to increase conversion on your website. Restrict Content Pro allows you to give flat rate or percentage-based discounts to your customers.
You can provide a free trial for your course or create a hierarchy of membership with Restrict Content Pro.
Also, you can effortlessly manage users on your website. You can allow your students to upgrade or downgrade their membership. This will give students complete flexibility to use your services and build trust for your brand.
Restrict Content Pro has four different plans, and the basic plan starts at $99/year. With each plan, you will get a 30-day money-back guarantee. So if you don't like the features of the plug-in, you can claim a full refund after the first 30 days of the first purchase.

MemberMouse can streamline all your digital selling activities.
Its comprehensive list of features can help you not only create immersive members' areas but also automate different tasks of customer services to give remarkable user experience overall.
MemberMous is a plug-and-play WordPress plug-in. Just install and activate the plug-in, and that's it. No need to set up or write a single line of code.
The developers of MemberMouse have created a secure and robust plug-in so that course creators can focus on delivering content instead of having to indulge in technical programming.
With MemberMouse, you can develop custom checkout pages to not only engage buyers but also convert them as leads and subscribers.
You can assign special privileges to your students and share your course material that they can then stream, open, or download.
The plug-in will give you engagement statistics to understand how students are navigating on your website and their respective progress.
You can drip lectures in your course and deliver them if specific rules are met.
You can ensure that the subsequent chapters can only be shown to students who have completed a certain amount of courses.
MemberMouse supports robust integration with email tools, payment gateways, and APIs.
It has three plans, and the basic one starts at $19.95/month when billed annually. It does not provide the money-back guarantee, but you get a 14-day trial period with each plan.
Paid Member Subscriptions by Cozmolabs is one of the most robust plug-ins to enable memberships on a WordPress website.
Creating memberships with this plug-in is a straightforward process.
You can provide different subscription plans for your courses and enable secured restrictions on the content of your website based on the subscription plan a user chooses.
Everything—blogs, pages, videos, documents—everything can be restricted on your website through this plug-in.
You can also restrict multiple device log-ins. That means a student can only log in from one device at a time.
The plug-in gives you comprehensive data about your students. You can seamlessly assign or remove access for a student in a single click.
While learning from your course, if you are selling products, you can also showcase those products by restricted WooCommerce shops for your members.
You can introduce group memberships for schools, colleges, enterprises, or a group of people. Here, the memberships of multiple accounts will be managed by a single account.
This will ease a lot of hassle for you. Any changes you make for that single account will be reflected on the entire group.
You get two options to choose a package. The basic package starts at $69/year.

LearnDash has the word to "learn" in it, and it has comprehensive features to sell your course and provide an interactive learning experience to students online.
This WordPress plug-in will streamline your activities of selling courses online.
All you gotta do is define the pricing model, and you are good to go.
You can ensure dynamic course enrollment. The courses could be free, members-only, or private, as per your choice.
You can also drip your content and schedule them as per your course's structure.
This will make sure that students go through the flow of the course.
It also allows you to introduce quizzes and questionnaires after each chapter to understand how much your students have learned.
You also can group students for effective management. You can define a group leader that will monitor the development of the students of that particular group.
You can assign work that students have to submit after completing a specific amount, of course, so that you can understand how much they have learned.
This will also give you an idea about understanding the intelligence of your course so you can upgrade the material if you feel it's necessary.
With the help of LearnDash, you can provide completion certificates and introduce a grading system to make the learning process interesting for students.
LearnDash follows the annual pricing structure. There are three packages. The basic one is worth $159. All plans support a 30-day money-back guarantee.

When we talk about WordPress membership plug-ins to sell courses, then LifterLMS can't be left aside.
It's an all-in-one platform where you can monetize courses, build communities, and provide membership on your site.
You can introduce paid membership to access your training videos and course. With it, you can have a profitable yet straightforward pricing structure and earn more profits.
With LifterLMS, you can manage your students' growth through interactive games, quizzes, exams, assignments, and one-to-one coaching.
The platform is specifically designed to give creators a platform where they can share their courses.
With LifterLMS, you can integrate tools like Zapier, popular page builders, plug-ins, and widgets.
You can also provide completion certificates.
LifterLMS has three plans, and the cheapest one costs $99/year. All three plans have the 30-day money-back guarantee.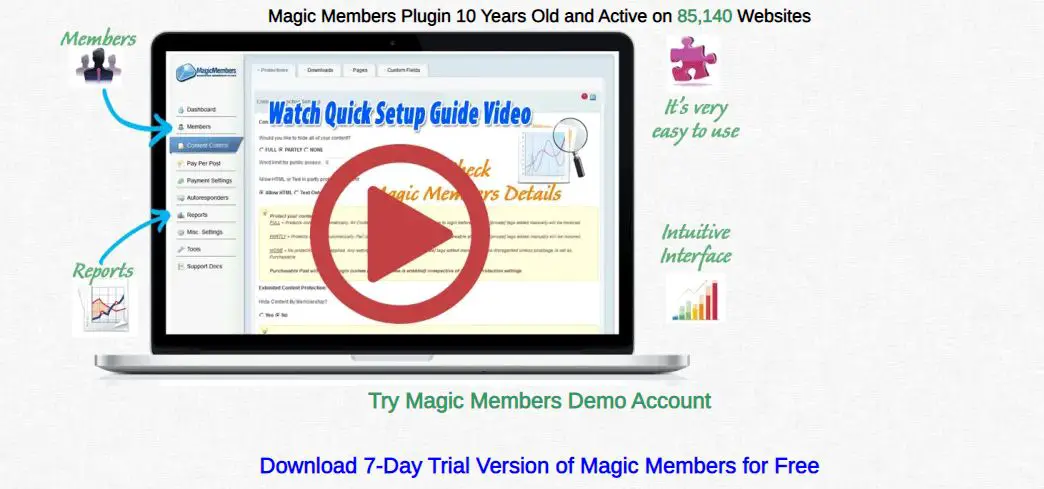 Magic Members gives a solid platform for creators to introduce memberships on their WordPress site.
You get so many payment module integrations with this WordPress plug-in.
You get PayPal Standard, PayPal Express Checkout, Stripe, 2Checkout Authorize.net, CCBill ClickBank, iDeal, WorldPay, and dozens of others.
So thanks to so many options, your website won't force students to pay through limited payment gateways.
Based on the type of membership you want to offer, you can deploy fixable membership options and charge students on the daily, weekly, monthly, annually, or single-shot payment.
Using the plug-in, you can restrict access on your website and ensure that only authorized students have access to your course and download the material that you are providing.
With this plug-in, you get all the necessary WordPress widgets for registration, log-in, status, and text for a dynamic user interface on your web pages.
Now you can provide exciting offers and discounts to your prospects, thanks to unlimited coupon generation by this plug-in.
Plus, you can enable smart autoresponder messages and stay in touch with your prospects and students. This plug-in supports GetResponse, Constant Contact, iContact, InfusionSoft, Aweber, and MailChimp.
You have to pay a one-time fee to buy the license of the plug-in. The cheapest pricing is $97, which gives you free updates for 1 year. All the plans have the 30-day money-back guarantee.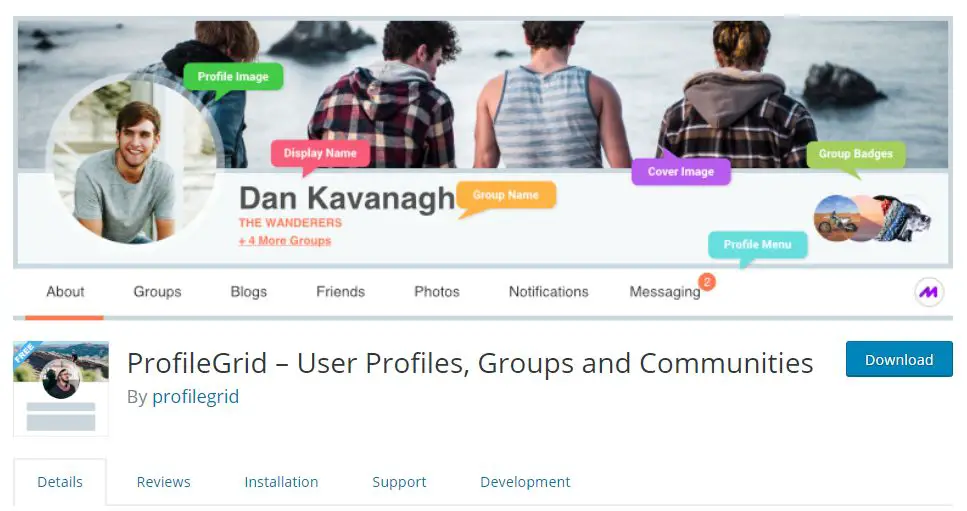 With ProfileGrid, you get access to a ton of flexible features to restrict content and provide an excellent learning experience for your students.
You can set up individual profiles or create a group to share access to your course material.
You can also set different membership prices for each group to get granular control over the profit that you generate per sale.
These groups will work as a community where like-minded people can discuss, learn, and grow their network.
User profiles created through ProfileGrid reminded me of Twitter. Anyway, as a tutor, you can create your own community using ProfileGrid and include only paid members and share the content with them.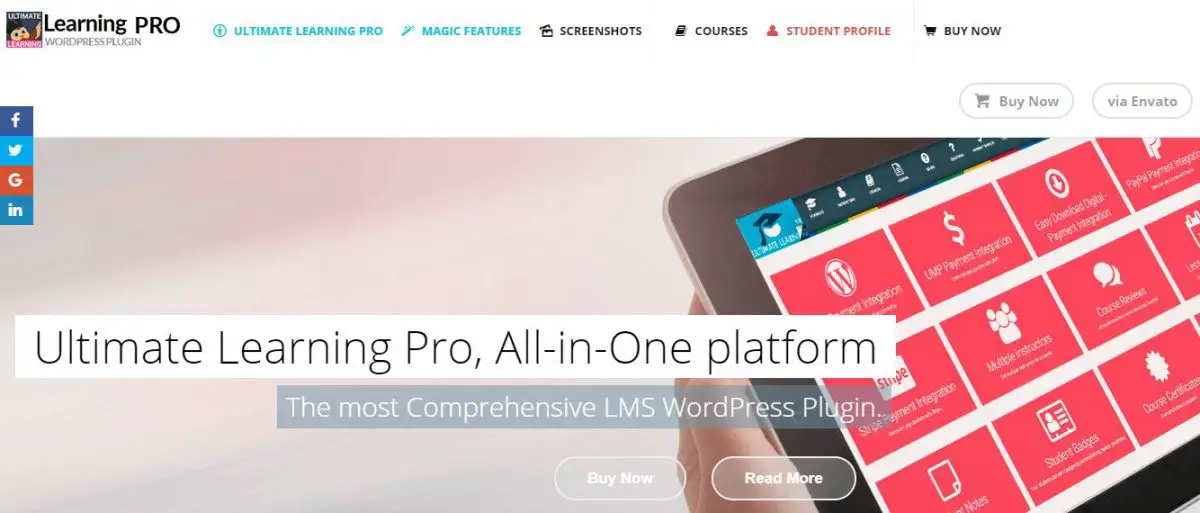 With the help of Ultimate Learning Pro, you can provide a world-class experience to your students and grow your profits by selling courses through a WordPress site.
Ultimate Learning Pro has useful functionalities to share, maintain, and monetize your courses online.
You can introduce membership payment and have your own virtual school. Here, you can restrict your premium content for registered students.
You can drip to schedule your content for an effective learning experience of your students.
You can assign reward points, badges, and certificates to your students to encourage them to be more efficient.
If you want to assign special faculty to explain some topics in the course, you can introduce instructors or mentors using Ultimate Learning Pro.
Ultimate learning Pro is easy to integrate on your WordPress website.
You can entertain unlimited students as there is no limit on the number of registrations that you can get.
You can also get feedback on your courses from existing clients and showcase those reviews on your landing pages to get more registrations.
Its license costs $59, where you get updates of the plug-in for six months by azzaroco.

ARMember provides a secured platform to restrict content on your WordPress site.
With this plug-in, you can offer customized plans and membership accessibility on your website without having to code.
For your courses, you will be able to deliver multiple payment options—monthly, quarterly, yearly, or one-time—to users so they can enroll as per their convenience.
With just a single click, you can block an entire segment on your website from a public audience.
Whether there are blog posts, pages, navigation menus, or videos on your website, you can deliver them to the targeted customers as per their membership plan.
You can also deploy attractive and engaging forms directly from the plug-ins for registering new students for online courses.
To manage the membership procedure, all you need to do is enter a shortcode, and everything will be automated.
Thanks to the Unique Membership Setup wizard provided by ARMember, you can make the students' onboarding procedure effortless.
You can allow the same account to sign up for different plans on your website. The license of this plug-in costs $49, which is a one-time fee.
Conclusion
So that's it with the 10 best WordPress membership plug-ins to sell courses in 2023.
I hope you found this article helpful and you get some interactive WordPress plug-ins suggestions that you can leverage when you need them.
If you are selling courses, then these types of plug-ins are crucial to ensure a thriving online success.
All things considered, I recommend going for a premium plug-in that suits your requirements. You can purchase the one that provides either a money-back guarantee or free trial or both. That way the students can decide to buy the license on their own.
Let me know what your thoughts are in the comments below.