Disclosure: Some of the links in this article may be affiliate links, which can provide compensation to me at no cost to you if you decide to purchase a paid plan. We review these products after doing a lot of research, we check all features and recommend the best products only.
Do you know that coupons are the best way to make money online?
They don't only have high CTR but very high buying intent also.
Someone looking for a coupon is a BUYER.
We always search for the coupons when we are at the final buying stage and there comes an option to add a coupon code.
So we go to Google and start searching for the coupons.
At BestPaidTools my biggest source of income are coupons. I have partnered with many companies and they have created special coupons for BestPaidTools readers.
When someone buys anything by clicking on those coupons, I make money.
It's a win-win for both of us.
You saved your money by activating the coupon, I made money by promoting the business.
From 2011 to 2015, I was promoting coupons by writing blog posts and then inserting coupons in those posts. But I wanted a special dedicated page where I could list all my coupons without writing long blog posts and it should look professional as well.
So I decided to create my own custom coupon plugin and invested 80,000 INR to get that plugin.
It has awesome features and the plugin was amazing.
I used that plugin at BestPaidTools for more than a year.
Soon there were some WordPress updates and the plugin was no more working. and unfortunately, my WordPress developer was also not available.
So I dropped that plugin and started looking for more options.
One day, I got an email from Brian (owner of WPCoupons) telling me that they are launching a WordPress coupon plugin in the market which is amazing.
Without any delay, I asked for the demo access.
and I was surprised by using it on day ONE.
Here is my coupon page if you want to have a look.
It's simple, clean and professional.
So today we are going to discuss this plugin, it's features, functionalities and why should you use this plugin on your blog.
How to create coupons using this plugin?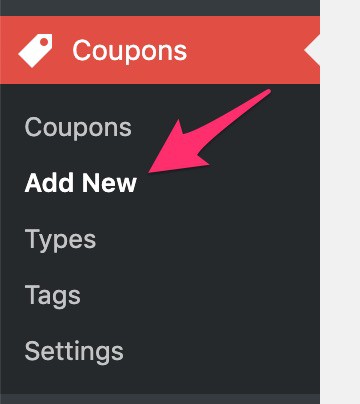 Once you install and activate the coupon, you can start adding the coupons on your blog by clicking on Add New Button.
They have a simple classic editor where you can start adding your coupon title and content.
Once you finish writing the content about your coupon, now you can add your affiliate links and coupon in the same dashboard.
If you want to add coupons in various categories, you can do it easily by clicking on the types button.

By adding various types of coupons on your blog, you can make it easier for your readers.
They can easily click on the type of coupons they are looking and grab the deals.
WPCoupons Display Options
This plugin has all the features which are required to have professional looking coupons on your blog.
Here is the screenshot from the settings.
Here are more options.
and here are few more…
You can see that they have created all the options which makes this plugin much easier to use as compared to other coupon plugins in the market.
As you can see in the screenshot above, we can display the coupons below the posts also.
Here you can see our related coupons which we are displaying after every single post.
Styling Options
If you want to match the coupons box, buttons and various colors with your blog's theme colors, you can do it easily by going in Styling options.
Extra Options
Apart from having all these options, you can add your own styling and custom CSS in the plugin to make it look even much better.
WPCoupons Shortcodes
At the bottom of each coupon, you'll be able to find a shortcode that you can use anywhere on your blog to display the coupon code.
Using the shortcodes, you can display the coupons on your sidebar, footer, posts, pages and get more affiliate sales easily.
Pricing
WPCoupons has a very nominal pricing structure which a professional blogger can afford easily
Single site – $34.95/year
3 Sites – $84.95/year
Unlimited Sites – $174.95/year
This plugin is the best option if you want to convert your blog into a cash cow.
By displaying more coupons, you can simply convince more people to check and ultimately click on the links to buy with your affiliate links.
Here is the summary of this plugin
Very easy to install
Styling options to change the colors
Easy option to display below the posts and pages.
Easy option to display coupons in the popup
Shortcodes to display the coupons anywhere
Different archive templates to show coupons
CSS customizer to add your custom CSS code
and many other awesome features.
Final Words.
WpCoupons is a much have plugin for every blogger if you are promoting any types of coupons on your blog.
Having a dedicated coupon section will make it much easier for your readers to find the coupons.
With awesome styling options in this plugin, you can easily match the colors and feels of your blog and blend it nicely anywhere using the shortcodes.
I hope this WPCoupons review will help you to make the buying decision.
Grab this plugin and start using on your awesome blog.