Disclosure: Some of the links in this article may be affiliate links, which can provide compensation to me at no cost to you if you decide to purchase a paid plan. We review these products after doing a lot of research, we check all features and recommend the best products only.
If you are thinking that you should buy WPX Hosting or not, then you have landed at the right place. In this WPX Hosting Review, we are going to talk about our personal experience, and at the end give you a special 50% discount WPX Hosting coupon.
Let's start.
There are tons of hosting services available online as everyone and every business want an online presence. However, not all online hosting services provide maximum Uptime. Even if they do, their after-sales service and their customer support are not up to the mark.
Only a few web hosting companies have managed to provide high-quality services as they have a good infrastructure backing them up. One of such web hosting service providers is WPX web hosting.
The hosting service provider is not only known for its 99.95 % Uptime but also provides the best hosting services for WordPress – which has millions of users online.
Apart from the excellent service they provide, their managed customer support is only the key highlights of the great services they offer.
Their customer support is known to be one of the best and will help you resolve any associated issues in the fastest time possible. Many such incidents where the customer support for WPX has helped the customer efficiently and effectively, is available online.
Moreso, they have been providing consistent and excellent service to the customer for many years. There have been hardly any cases where the customer had to face issues.
Why we started using it?
We have used almost all the good hosting services in the market. We had our blog hosted at A2Hosting for more than 2 years, then we used Digital Ocean and soon moved to CloudWays.
Although they were good hosts but somewhere we were missing the security badly.
So we started looking for the best options.
Somehow I stumbled across one WPX hosting review and I was sold. I thought let's give it a try.
I grabbed the $25/month plan and requested them to move my websites from the old server to WPX Hosting. To my surprise, they migrated all 5 websites within 24 hours.
That was quite an impressive first interaction with them.
One thing I love most about this hosting is their chat support. They have hired one of the best hosting experts who are always ready to solve your problems on the chat.
As soon as you start the chat on their website, you get a reply within 5 seconds. It's blazing fast.
Watch our video review
A Brief History of WPX Hosting Services
WPX started in 2013 by Terry Kyle, who is the current CEO of WPX hosting. Before he commenced WPX hosting services, his personal experience with many other hosting services was adverse and kept downgrading with time.
According to him, he has already worked with multiple hosting companies and almost all in the market and never had a great hosting experience as WPX provides. As per him, the major reasons for this disappointment were:
Cheap hosting service, where the hosting company lacked infrastructure, and due to that, it provided cheap hosting plans with fewer features.
A lack of knowledgeable customer support to help users in a timely fashion.
Complicated admin panel that only a professional was able to handle and not normal people.
Slow server performance which leads to slower websites.
Lack of flexibility in plans and pricing.
These were just a few reasons due to which Terry Lyle decided to start his own hosting services called WPX Hosting.
The CEO stated that the WPX hosting services started with three major things in mind.
Speed – Since there were a lot of hosting services in the market, which provided slow loading website pages, the priority of WPX was to provide the fastest loading time for the website.
As per them, any website that does not load within 3 seconds is bound to lose a customer; this is why speed and a good server was on the top of their list.
They used underloaded super-spec servers + SSD + PHP 7.x + Caching, which leads to faster-hosting servers.
Another important feature that has made WPX Hosting services one of the best, which has been the strongest part of their services since the beginning, is their 24/7 Customer Support.
The people who have been hired as Customer Support executives are trained and experienced in WordPress and hosting, and are available 24×7, day and night for helping out the customers.
Many such positive experiences that the customers had with the support agents can be easily found on the website and over the Internet.
Terry Lyle faced such an issue where no support was available at different times. Therefore, 24/7 customer priority support was started to make sure that all the doubts and problems of the customers are resolved immediately.
The third major thing that was the most important for customers was Simplicity. Earlier people used to face the same issue as CEO Terry Lyle faced. The admin panel provided to the customers was very hard and difficult to understand.
In fact, the admin panel was designed only with web professionals in mind, which made it easier to handle and manage only for them.
The WPX admin panel has been designed with simplicity and ease of use in mind. The panel can easily be handled by a professional and someone who is hosting the website for the first time.
With fast and easy functionality and lots of tutorials on the website, it becomes fairly easy, even for a novice, to work on the admin panel.
Current Trends WPX is Following and Offering
Currently, WPX Hosting is still the fastest WordPress offering in the market and has different plans and pricing for offer. Currently, they are providing three types of hosting plans called Business, Professional, and Elite.
Each plan is customized for different people and their needs and can support up to 35 websites and unlimited bandwidth.
WPX has been regularly working on increasing their infrastructure and making it faster. This is why their servers use SSD for faster processing of data.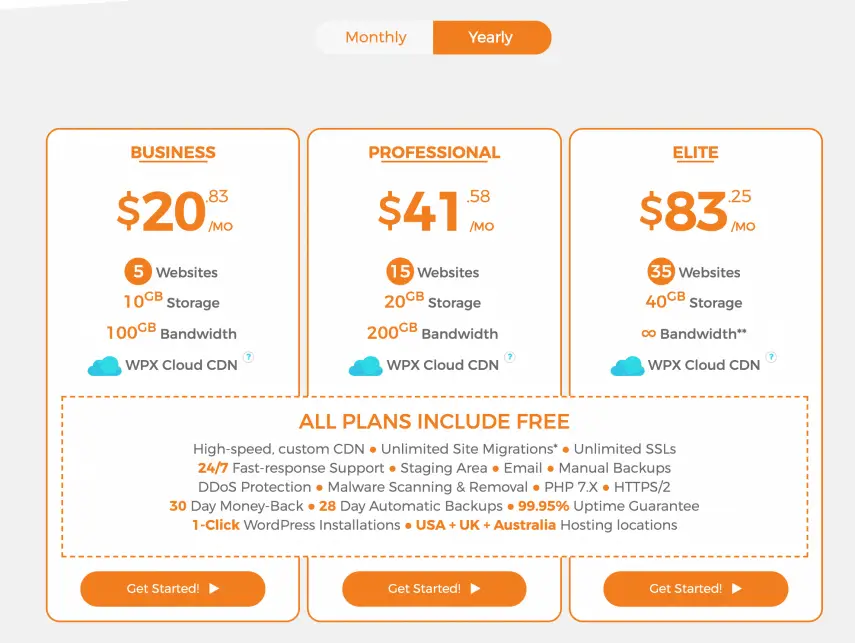 The websites hosted through WPX opens much faster than the competitors hosting service. This is why it has been named under the top 10 hosting service providers for multiple years.
All the plans provided are backed up with 30 days money-back guarantee, and the customer also gets regular backups for their data.
No matter how many services WPX is providing, how are they doing in real-time, and how well their services have been performing for the customer's website, is what matters.
Let's have a look at a few features that have made WPX the best WordPress hosting services among all.
Uptime
WPX Hosting promises 99.95% uptime for all the customers, and since every package they offer for the hosting services comes with CDN, the Uptime is always 100% in most cases.
Hosting reviews done by the topmost review website claimed a 100% uptime for the website for a time of 8 months, and the opening speed of the website globally was fast. It uses cache, CSS, JavaScript, and cookies to optimize and gives better performance and speed.
The overall speed globally for opening a website was 0.6 seconds, which was really fast, except for a few locations like Sao Paulo and Bangalore, where speed dipped a little. However, this is a rare occasion, and multiple factors can be the reason for this.
Source: https://www.matthewwoodward.co.uk/blogging/fastest-wordpress-hosting/
Many customers have also mentioned that they have switched to WPX after using multiple hosting services from different brands, and they have experienced a lot of difference in the Uptime and speed from the WPX servers.
No matter where you access the website from around the world, you will receive a good uptime from their servers.
Server Locations
As per the report from WPX in November 2019, they have 3 data centers globally, which are located at Chicago, London, and Sydney, with the one being in Chicago as the world's largest data center.
Many of them know, and the biggest companies in this market use this location to host their data services. Such companies are Equinix, Telx, Advantage Futures, AT&T, Verizon, and Sprint.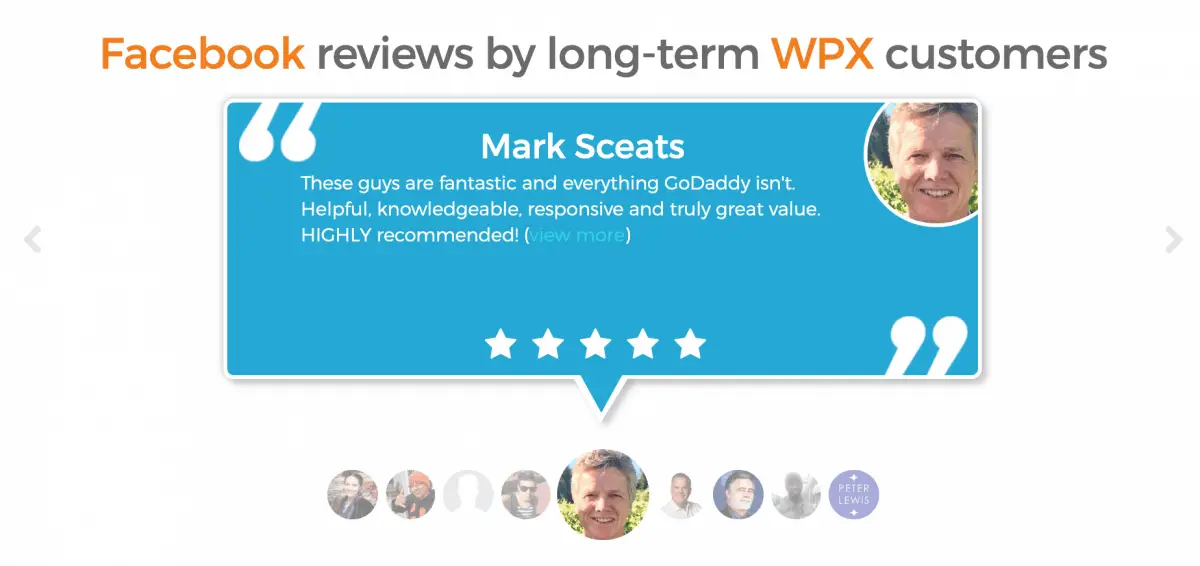 Not only this, these data centers use the SSD memory and Cloud technology to make sure that data can be accessed from anywhere in the world.
The most important feature here is the use of Cloud technology. This makes sure that no matter where the servers are located across the globe, the server response time is fast and accurate.
Comparison of Various Plans with Pricing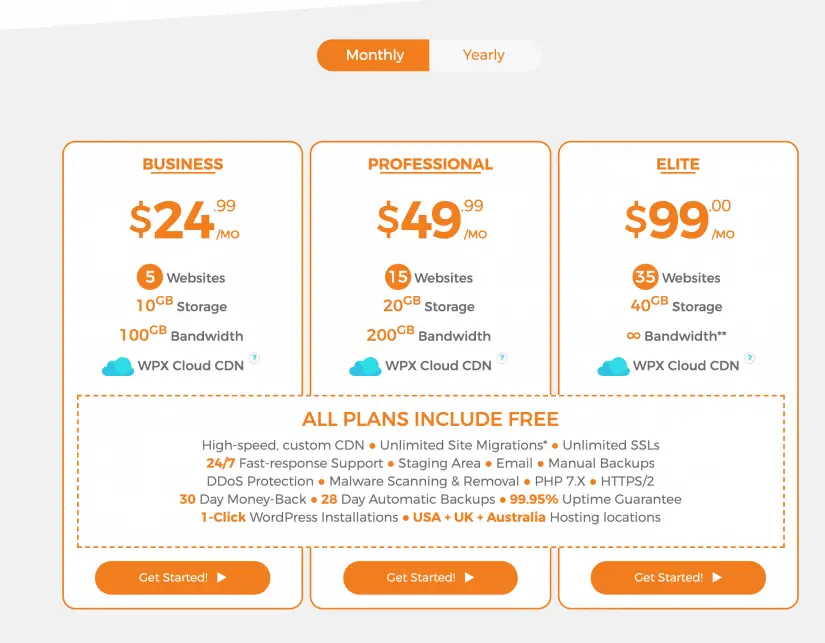 Currently, there are three different types of hosting plans that are provided by WPX Hosting, which has been categorized as Business, Professional, and the Elite package.
The pricing of these plans annually is calculated on a monthly basis, but the payment made is for the annual package at one time. The prices are $18.75 for the Business package, $37.42 for the Professional package, and $75.00 for the Elite package.
Now let's Have a Look at the Difference Between the Features of Each Package
Website: The Business package can host up to 5 different websites from one account, which means five different websites can be hosted and made online at one time.
Similarly, the Professional package can host up to 15 websites at one time from one account. Elite is the most expensive package on the WPX hosting service and can host up to 35 websites at one time.
Storage Space: The storage space determines the data, design, and graphic files that can be used on the website. The Business package provides a space of 10GB for the entire package.
Under this, you can use the space for one website or for all the five websites – it's up to the user. The Professional package provides a storage space of 20GB, which can be used collectively for the 15 websites allowed for this package.
At last, the Elite package gives 40GB as the storage space for the website, which is the highest among the three.
Bandwidth: In the Business package, a user gets a bandwidth of 100GB. The more website one has in this package, the more bandwidth will be used. For the Professional package, the bandwidth allowed is 200GB, and for the Elite package, a user gets unlimited bandwidth.
This is very useful for a person who is running a number of websites, as the person will never run out of bandwidth.
Apart from these three packages, there are a lot of freebies and other features that have been provided free of cost for all the packages on WPX hosting. These services are:
WPX Cloud CDN
High-speed, custom CDN
Unlimited Site Migrations*
Unlimited SSLs
24/7 Fast-response Support
Staging Area
Email
Manual Backups
DDoS Protection
Malware Scanning & Removal
PHP 7.X
HTTPS/2
30 Day Money-Back
28 Day Automatic Backups
99.95% Uptime Guaranteed
1-Click WordPress Installations
USA + UK + Australia Hosting locations
These are the few services and features provided in all the three packages of WPX Hosting and the common free services that are provided with all the packages.
If you are just starting and this is your first website, then the Business Bundle would be great for you. However, if you already have hosted a few websites and looking for a better hosting service and features, then the Professional package would suit your needs.
Lastly, the Elite package is for those who are pro in this field and know about it upside down. When you do not need any restrictions on the features, then the Elite package is the one you should go for.
Storage, CPanel, SSL, server dedication level and other technical features
WPX is not the best hosting services due to any reason; this is, in fact, due to the kind of infrastructure they have.
The company uses SSD based storage for their server, which provides faster throughputs and helps the website to load much faster when compared to the shared hosting services provided by others, that take thrice or more than the average time to load a site.
Not only this, but the website deployed through the WPX Hosting services uses HTTPS2, which is beneficial when it comes to page speed. It also used JS, CSS, HTML, and other tools to decrease the loading time of the website.
When it comes to the SSL feature, WPX provides that too. The user can simply add SSL certificates to the website from the dashboard. SSL is the primary layer of security one should definitely add to the website, especially when he or she accepts payments over it.
CPanel on WPX Hosting services is a bit different when compared to the cPanel provided by other hosting services. It is more of a customized version.
It is still easier for a new person to use it when compared to other cPanel from hosting services.
There can still be some improvements that could make it easier for people who have never hosted a website. Apart from that, it comes with regular backup through Backup Manager. It makes sure that all the websites are backed up regularly.
Backup retention is good as well, with a time of 28 days to restore the website. Therefore, if, for any reason, the website owner needs to restore the previous version, the process is very easy.
The File Manager feature in the WPX panel provides easy sharing and management through FileZilla and can be easily used to store edit or remove a file. It also provides the feature of unlimited website migrations where one can easily migrate the website to and from WPX.
The service is completely free, and you can even get help from the customer support experts to help you do so.
They can also provide an email account for your website without the hassle of setting up an account, DNS records, and other stuff. The email automatically gets set up when you create it.
Value for Pricing: Which plan is ideal for what kind of individual or business?
We have already discussed the different types of plans and their pricing available at WPX Hosting. However, how would one decide that the plan is correct for them and provides a good value for money?
There are certain things that one can consider while selecting the best pricing plan for their purpose. For a person who might have just started or is looking for something to start with can go for the Business plan.
It can help a person host five websites through one account, with 100GB of bandwidth and 10GB worth of space. This plan can be great for new Bloggers, as it can easily help to manage new blogs with maximum Uptime.
The Professional plan is meant for someone who has already been hosting multiple website ad requires a little more bandwidth and storage space. A Digital Marketer or a website owner can best use this plan and make the most out of it.
Elite plan can simply be used by those who work on a large scale like Web developers who have multiple clients and creates a website for them with hosting. Since the Elite plan has unlimited bandwidth, hosting these websites will never be a problem.
Here is what some WPX users from Finlan had to say about experiencing and using their plans:
Pros and Cons of Various Plans
Business Plan
Pros:
The Business plan is a great bundle for people who want to host their website at the lowest possible price and good hosting features.
The Business package comes at the lowest cost with support up to 5 websites in one account that is one of the biggest advantages of this plan.
Also, 100 GB bandwidth and 10 GB space are great for a person who just wants a basic plan.
Cons:
Since the hosting services provided from WPX are great and provides the maximum Uptime, the cons are very few.
The only flaw in this plan is that if a person decides to host all the five websites as per the plan limit, the website will soon use the 100 GB bandwidth with decent traffic.
Hosting 1 or 2 websites will still have a lot of bandwidth. However, the more website on hosts, the faster the bandwidth and storage will be consumed.
Professional Plan
Pros:
Professional plan in WPX ups the level and provides 20 GB storage and 200GB bandwidth for up to 15 websites in total.
This is great for a person who wants to host multiple websites at one time and want to use greater bandwidth and storage space.
Cons:
However, the problem is still the same in this as well, if the person decides to host all the 15 websites that are allowed in this hosting plan then, the bandwidth and the storage will be used much faster, and it will get easily exhausted.
Elite Plan
Pros:
One of the best and highest plans in WPX is the Elite plan. The best part about the plan is the unlimited bandwidth it proves.
With dedicated support for up to 35 websites through this account, one can easily host these websites without the worry of exhausting the bandwidth.
Also, it provides it with 40 GB storage space.
Cons:
The only drawback is the storage space.
If the user is using a few websites with lighter graphics or content, then the storage space would be more than enough.
However, heavy website or hosting all 35 websites, will leave the website with just over 1GB space for each, which is way too less.
Review of Customer Service
When it comes to customer service, WPX has one of the best customer service teams in the hosting industry.
There are many instances when the customer has appreciated the fact that it hardly took seconds to connect them to a genuine person and not a bot to whom they are chatting.
In multiple instances, the customer has mentioned that the customer service agent when the extra mile for them to help with the issue and have sorted things out in minutes.
This is because the people acting as customer support have been trained and are already experienced in Hosting services and WordPress.
Therefore, they understand the problem inside out and provide the resolution immediately. Also, the time it takes to connect each customer through any medium is just seconds.
The best part about their customer service experience is the 24/7 availability. If a customer faces any issue at any time of the day, they can contact them and get the issue resolved anytime.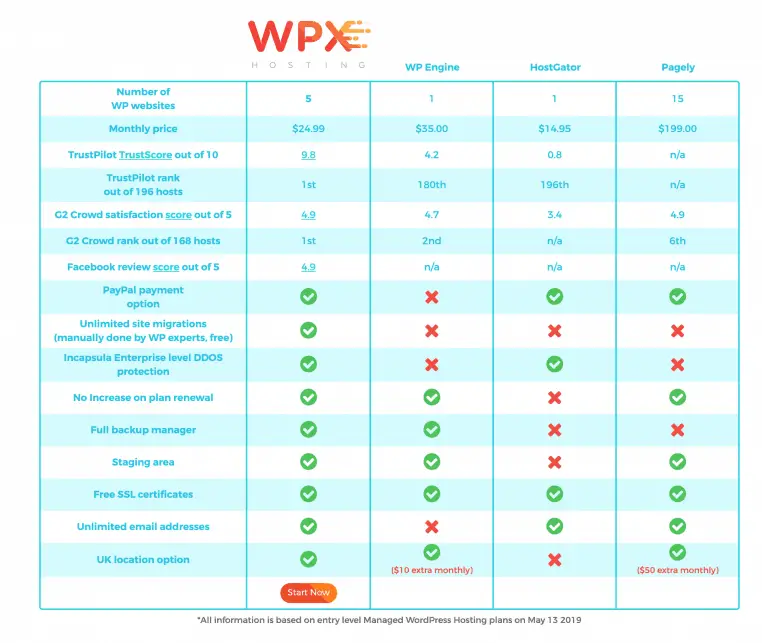 Final Opinion
No matter what your hosting needs may be, WPX Hosting services will take care of it and will provide the best of it in the industry.
The company has set serious standards for the other companies in this category, which is hard to follow as it requires some serious infrastructure to do so.
Some of the key features that make them the best hosting services are the 24/7 customer support that is known to provide resolution to every issue by customers within minutes.
Providing SSD storage and server throughput at such a low price is a great offering for the customer.
Therefore, if you are looking for something to start with or want to change the existing hosting services for a better experience, WPX Hosting is the best option to go for.
The WPX hosting service is one of the best in the category due to its SSD servers and the least loading time for the website. With 99.95% uptime, the website is constantly backed up and provides an easy to use CPanel.
Here is the special 50% WPXHosting coupon code for you.
How to activate the coupon?
Visit this special link to activate the coupon page.
Click on Host my Website button and select the monthly package.
Use coupon BestPaidTools at the checkout.
Note: This 50% off WPX Hosting Coupon code is applicable for the first month only. So select the monthly subscription and add the coupon.