Disclosure: Some of the links in this article may be affiliate links, which can provide compensation to me at no cost to you if you decide to purchase a paid plan. We review these products after doing a lot of research, we check all features and recommend the best products only.
Were you looking at the top blogs?
Wondering why they write product reviews?
So, you found no banner ads!
Right?
Well, congrats, you're about to witness a probloggers strategy that will take you one step ahead of a newbie and average bloggers.
If you're thinking, who should be focusing on the product review writing?
Let me tell you this…
If you are a:
Blogger
Internet Marketer
Copywriter
Freelance writer
Web designer
Graphic designer
Then, at some point, you'd need to review the products.
Maybe, you'll fall in love with Affiliate Marketing.
Maybe, you come across a great product to buy and then you decide to promote it.
Now, this gets interesting…
Then, you'd be in the same situation that I was in one day.
And, many of the bloggers out there face this every single day.
But, before we go any further, I'd like to discuss the basics of product reviews.
What is a Product Review?
I don't leave starters behind. You'll love this.
So…
A product review is a written analysis of a product that reveals everything that may help the buyers of the product in understanding, utilizing it to the fullest and making the most out it.
Bloggers use review writing after actually using the product to be more honest and transparent with the blog audience. In this way, they come up with solid evidence that they like the product, which is why they're using and promoting it.
However, the most important part of a product review is the how-to guide for that product which actually explains the functionality and benefits of the product.
Many of the newbie bloggers deeply read the reviews before buying the products, so that they could understand each and every aspect of it. Here it gives the opportunity to the bloggers, not only to engage the audience but also to convert them into affiliate sales.
Why Does a Product Review Matter?
That's a good question.
Isn't it?
A product review is an analysis of that product by someone who either has used it in the past or using it currently.
So, customers are curious about buying the products. If they don't know anything about that product, they want expert opinion from someone who does have the experience or if they know a little bit about the product, but want to know what to choose from a number of options, so that they pick the BEST OPTION for them, in either case, they need to read about the product.
Therefore, reviews come as the best solution for them to be provided.
Happy?
How to Write the Product Reviews
Here comes the cream.
If you're an affiliate marketer, you'll love this…
There are five essential elements of writing a product review that will ultimately become a buying magnet for your blog:
1) – Adding Your Personal Experience
It gets a whole lot better when you first try it out and then recommend it to others.
Adding the personal experience into your product review will make you feel confident when you're recommending it others. Moreover, the successful affiliate marketers never focus on selling the items, they actually get their hands on the products first, try them, and get their hands dirty before recommending it to others.
Once they think it's worth sharing and recommending, then they come up with the product reviews.
When they do, it means, they're 100% confident about the authenticity and perfection of this product.
The perk of having a loyal audience is that they trust them, which is why they make great affiliate sales.
Things you need to add a personal experience:
Spend Money on the Products: Without actually buying the products, you can't try them, and when you can't try them, you can't tell others about them. So, it all begins with spending the money on the product you're interested in or looking forward to promoting it.
Find Relevant Products: It's quite important to find the relevant product to buy and later on promote on your blog. Because if it's not relevant, people won't need to buy it, even if you have bought it. Why would someone buy a product that is not useful to them? It's common sense.
Share the findings: It's always good to share every bit of details about the product, whether positive or negative. Most of the bloggers mention pros and cons of the product they're reviewing.
Some newbie bloggers start-up writing product reviews and they end up writing just about the product, they don't clearly add their own voice, which doesn't make any sense for a review to be useful. Because readers are relying on your opinion when it comes to reading the product reviews.
Have you ever seen the PC Mag hosting reviews?
I did.
Take a look at the A Small Orange Review published at PC Mag:
Can you see that bottom line thing along with Pros and Cons?
This is what I'm talking about.
Your personal voice is important. It seems like the team at PC Mag is a genius.
2) – Choose the Best Products to Review
This must not be forgotten.
Always choose the best products to write reviews.
Before that, as I talked about adding the personal experience, which clearly showed that you must have used the products before recommending it to others, and in case, the product you've used isn't worth using and you're not going to use it further, I recommend to skip that review and even the promotion.
What a blogger does over the course of time is build trust with the audience.
They (readers and the blogger) build a connection based on the honesty and trust.
When a loyal audience is recommended to try or use a product by that blogger, many of them go ahead on trying that and if that product isn't worth using, then that connection of trust damages, and if it keeps on happening, the blogger could lose the potential readers and subscribers.
Irwin Lagman wrote an article on Affiliate Marketing. He also believes that not every product is worth promoting.
Marc Andre does have the similar kind of opinion on choosing the products. In fact, he believes that you should have a fewer number of products to promote which totally makes sense. His article was worth checking.
3) – Use Professional Tools for Promotion
Tools are quite important when it comes to writing reviews and promoting products on your blog. I'll dig deeper into this. One of the lessons that I learned in blogging and affiliate marketing is that using the best-paid tools will make your job easier than ever. Not only do they make the job easier, but they also ensure that your blog thrives along the way.
This is the reason every problogger and successful online marketer tries to use the best available products to build an online empire.
When you're writing the product reviews and expect people to get engaged with your reviews and ultimately take action on your recommended products, then you got to do these things.
For instance, I use and recommend the products such as:
More importantly…
Have you seen this on BestPaidTools?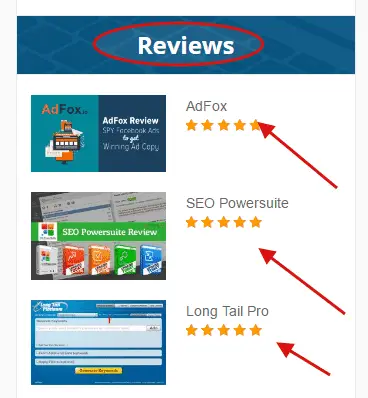 You can use WPRichSnippets tool to write product reviews and display the reviewed items on various places on your blog.
Nothing would benefit your product reviews and overall blog performance than the best tools.
All best tools aren't free.
4) – Sharing Your Story
The mantra of building a buying funnel and making successful affiliate sales lies beneath many things.
One of those things is STORY.
We don't make stories.
We tell ours.
People always want to know that:
How we failed at first
What we lost at the beginning
What didn't work for us
So, we recall all those mistakes and we just share the stories.
Readers love them because it helps them to get better at this.
If you want to make your blog and funnel a buying magnet, you better understand the art of storytelling.
One more thing.
Do you want to know the big secret of profit-making in blogging?
Honesty.
Yes. We probloggers honestly hunt for the best-paid products, invest in those products (to use), and try to make our blogs and websites better with those products.
And, we see the results.
That's it.
Not every product does well, though.
It depends on how well you choose the product and how you play the whole game.
I shared my story of starting a blog. You'll find that under 'START BLOGGING' page. (Look at the header)
Once I shared a story of a failed niche site.
It's not always about success.
People like to read how you failed and because there are always a ton of lessons in those failures.
And you're pouring them for your readers. They like it.
5) – Conclude the Review with Suggestions
This one will be epic.
Your readers will love this. Trust me.
As a reader, when I read about something, there are always two reasons behind that:
I'm interested in that topic
I need to solve a problem
So, when a writer guides me and helps me throughout the steps that may require for me to take…
I'll be glad to read all that.
I'd certainly be happier if he/she adds something extra, in terms of suggestions, that multiplies the VALUE which is coming out of it.
How would it be for me?
I'll be jumping all over the place.
Because
The writer has done something incredibly helpful which no one asked for it, but he/she was smart enough to give it all away.
Suggestions at the end do following things:
They show how caring you're for the audience
They show that you really want to help
Suggestions often show that you're qualified to say that
It increases your integrity among the community
It establishes your authority among the subscribers
Stacey Corrin knows about this.
She wrote a review of Thrive Content Builder.
At the end of it, she shared her final thoughts:
Many bloggers miss out the final words or suggestions at the end of the reviews, which could hurt the conversion as well as readers' engagement.
Similarly, Ankit Singla shared his final words at the end of a product review.
These probloggers do this for a reason.
The reason is, they don't want their readers to walk away without listening to their expert opinion, which is why they add up something at the end.
What will you do now?
It's your turn.
You can do this.
Now, you know the basics of writing a product review.
Not only do you know how to pick the product to review, but you also know that what makes a product review worth checking.
I tried to explain the art of product writing with the psychological perspective.
Being a blogger, if you're not a thinker, you may struggle in this.
You got to use your brain to make strategies that touch the hearts.
At the end of the day, you love your readers, you work hard to create great content, and you don't want to mislead your subscribers and readers.
Once you come up a product to review, you should choose the product that could change the buyer's life…
And if it really helped you, then it'll surely help your readers who may buy that.
So, the question of the day:
What's the most difficult thing of writing a product review?
Ask in the comments below. I'll love to answer.