Disclosure: Some of the links in this article may be affiliate links, which can provide compensation to me at no cost to you if you decide to purchase a paid plan. We review these products after doing a lot of research, we check all features and recommend the best products only.
KEY POINTS
6 artificial intelligence tools to write kick-ass copy to promote your products.

Start with as low as $19/month which makes it affordable for small business owners.

FREE 14 days trial having no credit card required at checkout.

This AI copywriting tool has been trained after spending $250M on paid ads.
Writing, in general, is a vast topic. When you write for your pleasure, it is a different type of writing. You can simply put your thoughts in words.
However, when you are writing for commercial purposes like a book, marketing material, email newsletter, or a social media caption, you are working to make a deal that eventually increases revenue for yourself or for the company you work for.
When you are writing for commercial intent, the process is a lot denser and sometimes tiring.
Without writing, it is almost impossible to execute any marketing or advertising campaign. It serves as a role of guiding light for marketers, designers, entrepreneurs, and customers.
Let's understand in brief the impact of copywriting in advertising and marketing.
Impact of Copywriting in Advertising and Marketing
Copywriting lets you deliver your message quickly. Not only that, it is the process of putting the right words that your customers want to hear and emphasizing the solution that you want to provide.
Writing while advertising online takes a slightly different approach. Because in this era where an average human's attention is shorter than a goldfish, grabbing them to read your stuff is a daunting task.
You are trying to send your message to the people you are just scrolling through their feeds in their leisure time. If they don't find your content interesting, they will just scroll away.
Even if you create videos, podcast episodes, guides, or infographics all of them require copywriting. You need to script or an outline to create advertising in those formats.
Without copywriting, companies cannot grow and sustain their businesses in this digital ecosystem.
Persuasive copywriting that doesn't turn off people and make the text engaging and valuable will make the advertised products bestsellers.
One can make a multi-million dollar company if one nail in copywriting. Indeed, one needs other tactics and content distribution activities as well. However, copywriting cannot be avoided.
Having said that, you need refined skills to write copy. And in this era where businesses and brands are battling to drive user's attention online, you need to write a copy quickly to get the edge to reach the audience early and convert them into buyers.
That's why we have a tool like Anyword.
A Brief Introduction to Anyword
Anyword helps marketers choose the right words for their advertising materials. Their website says the tool writes over 1 billion marketing messages daily.
The company is made of passionate developers and copywriters whose collective interests include artificial intelligence and innovation. They are based in New York and Israel.
As you know, artificial intelligence can automate monotonous tasks without any considerable involvement from humans.
It allows humans to get some free time to get involved in other essential tasks to make good use of our cognitive intelligence in creative tasks.
But Anyword, using GPT-3, T5, and CTRL, also executes the creative task of writing marketing copy.
GPT-3 is considered to be a groundbreaking version of the language model. Its current version has generated tremendous results in writing human-like texts.
GPT-3 is an abbreviation of Generative Pre-trained Transformer 3. It produces texts using deep learning. It is created by OpenAI, an artificial intelligence laboratory based in San Francisco.
GPT-3 uses 170 billion parameters to produce results. It is a giant leap forward in the space of language models. It is powering lots of applications at the moment and will likely improve with time.
Now let's understand how this tool works in detail.
Features of Anyword
Initiate Blog Writing Process in Minutes
We all know that blogging is one of the most essential marketing and communication channels for businesses of any type, and writing a compelling blog copy is not an easy task.
When an article is meant to serve a specific user base, the language and structure of the blog have to be relevant to that user base. Therefore, you need to focus on word usage and language to make the copy tailored for specific users.
If you are not aware of the industry and not very acquainted with the details of the buyer persona of the reader, you will struggle in structuring the copy. You will write what you think is correct.
But a good copy says what customers want to hear in the correct language and conveys the offer or product as a solution.
Anyword has got you covered for making the structure of your blog.
After creating your account, your dashboard will have a New Project Button at the top-right corner.
Once you get a pop-up like below, hover over Blog and click on Create Project.
You will get a below screen where you need to mention the title of your post with its description. Both of them can be written 80 and 300 characters long.
You can also mention the industry of the topic so that Anyword's AI engine can better understand your requirement and craft relevant copy accordingly.
Once you fill in the details, click on Create Project, and you should get the screen below where the real magic happens.
You can choose what you want to work on, title, outline, or introduction paragraph of the blog on the left side.
In the title, you will see the headline that you have entered on the previous screen.
Inside the text area, you will get a score that Anyword gives to the text based on the text's title, keywords, and effectiveness.
Before we discuss any further, let me show you the standard features and metrics you get with all the writing activities of Anyword.
Coupon – ANYWORD20 (Use this coupon at checkout)
Predictive Performance Score
This score gives you an idea of how your copy will perform. It depicts the potential of all the copies you write in Anyword.
AI Settings Panel
Depending on what you are working on blog, ad copy, landing page, email, content promotion, SMS you get different options in the AI Setting Panel.
You will get either of the options or some of them mentioned in the screenshot below based on what you are working on. Different copywriting features have either all of these or some features available in the dashboard.
Save and Copy Any Thing
If you like a copy you want to use, you can copy it to the clipboard or save it inside Anyword for future reference using the icons below.
I'll showcase more features as we go along.
Let's resume the discussion about the blog section.
The next option lets you choose whether you want Anyword to be Strict with the meaning of the title or take liberty in creativity to produce text.
If you choose Relaxed, you can also mention specific keywords that you want to have inside the title.
Then, Anyword also allows you to select Gender and Age Range to make your title resonating with that particular audience.
Once you fix all the parameters, you need to click on Generate More.
Tada! On the right-hand side, you will see other title variations from Anyword.
For any blog post, the outline is essential as it helps in finalizing what to include in the blog post.
Anyword also helps you create the same.
In the next tab below the title, it says Outline. Click on Generate, and you will get a list of probable outlines on the right side.
You can also copy that outline to share it with your writer or save it on Anyword for future reference.
The Intro Paragraph section gives you the introduction of your blog post. The text area will let you select any specific keywords that you want to include in your article's introduction.
After adding them, click on Generate, and on the right inside, you will see variations of the introduction paragraph.
From any type of text you create, whether in a blog or any other feature that we will discuss below, you will see three lines in the results.
You can click on 3 lines which will show you more relevant options of such texts.
Write Product/ Landing Page That Converts Visitors
This feature is helpful for eCommerce product pages as it helps marketers write titles, product descriptions, features lists, and call-to-actions.
Click on + New Project > Product/landing page > Create New Project.
After filling in the necessary details in the next screen, click on Create Project.
In the Title, you can enter your targeted keyword and click on Generate.
If your product has value propositions and if you want to create bullet points to highlight those features and add them to your landing page, Anyword can help you with it.
Just mention the keyword you want to include, and the tool will give you a list of features that will emphasize the highlighting features of your products.
Few sites also write long-form product descriptions. They like describing features in paragraphs.
So, in the next tab of Product Desc. Paragraph, you can only mention the Mode of the writing. Modes help Anyword decide what type of language and tone you need in the content.
By default, Engaging is selected. If you choose Creative, you can enter targeted keywords that you want to incorporate in the descriptions.
Call-to-action is a crucial part of a content piece. It gives readers specific tasks to perform after interacting with the page.
To get ideas of the probable CTAs for your landing page, click on Generate More after clicking on the CTA tab.
Anyword will give you a bunch of ideas. Depending on your requirement and marketing objective, you can choose one or more like them by clicking on the three lines.
Email
Email's subject line is one of the most essential parts of engagement generation.
All the copywriters and email marketers reading this blog would agree that writing a perfect subject headline is the most crucial task.
The subject line makes or breaks the reader's interest. It determines how much click through rate and engagement the email newsletter will generate.
The thing is, the subject line is the first thing that someone reads in their inbox. They don't directly get the email body copy.
Along with other unread messages in their inboxes, they will have yours too.
They have other emails to check, so if they don't find your email interesting, they will move away. Hence, the subject lines are the foundation of hooking readers to your email.
It's your job to write email subject lines in a way that entices the prospects and encourages them to not only click but perform the task the email wants them to, like to purchase, subscribe, share, or more.
Anyword understands the importance of email's subject line and the hard work that content writers have to fix for their emailers.
Therefore, Anyword gives you email subject lines as per your requirements.
From the Dashboard, go to + New Project > Email > Create New Project.
You just have to enter what the project is about and describe it in a paragraph so that tool can understand your requirements better.
Click on Generate More after entering the keywords, if any. If you like a particular subject line and want to generate more such variations, copy that line and go to the Add Your Own tab.
Then, you can turn on the Improve with AI and set other parameters to get different similar variations quickly. This feature is available with almost all the other copy creation processes.
Ads
Writing copy for social media ads is a daunting task. Sometimes, You get a limited word count, and in that range, you need to ensure that you are delivering the intended message in the most efficient way possible to your targeted audience.
From the Dashboard, go to + New Project > Ad > Create New Project.
To write ad copy with Anyword, you need to give specific details to the tool. You can mention the project name, industry, landing page URL, or product description.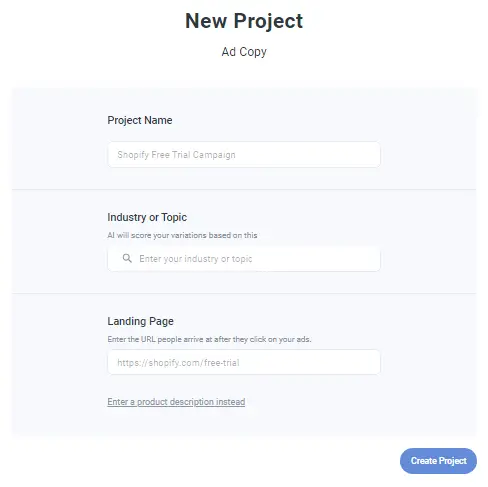 The more details you can give to Anyword, the more comprehensive copy it will generate. So, enter as much relevant information as you can.
In this segment of Anyword, you can generate ad copies for several platforms Facebook, Instagram, Google Search Ads, Outbrain Native Ads, Taboola Native Ads, LinkedIn Text Ad, and Twitter.
You get almost identical and similar features for all these platforms to write ad copies.
For example, while writing headlines for Facebook and Instagram, you can add custom modes so that Anyword can know your preferred style of writing.
You can add up to five modes for Facebook and Instagram ads headline generation.
You need to connect your Facebook account to do so. By default, the mode is Creative, and you can also incorporate your preferred keywords, and Anyword will add them in the headline.
To be honest, I am very impressed by the type of headline it generates. I mean, it clearly emphasized the value proposition and unique selling points of the product. Plus, it sounds natural, not bot-generated.
Anyword will let you also generate primary text for your ads.
You can select Modes here as well. You get a variety of default modes, creative, list, PAS, and AIDA.
You can enter your offer in the Promotion and also select Custom Modes for enhanced copy generation. If you have written your own copy, you can edit and generate more such variations in the Add Your Own tab.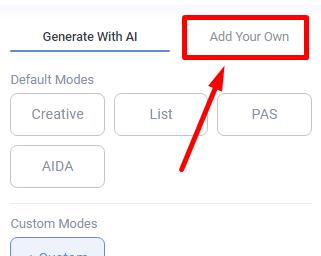 Similar features are available for ad generation for other platforms as well. You can select Custom Modes, enhance your written copy in Add Your Own, add keywords, and more.
Coupon – ANYWORD20 (Use this coupon at checkout)
Content Promotion
Content promotion matters very much in today's age. You must distribute your piece on the relevant platform so that the ideal audience can know about it and interact with your content.
Gradually organic content promotion can build a strong brand reputation for your business.
Whether you publish an article, infographic, video, or podcast episode, its content promotion matters for its better performance.
Good content promotion can bring the traction your post needs and might also make it viral.
Therefore, you need the power of copywriting to make intelligent and viral content promotion. You need headlines, text, and call-to-action to make the advertising resonating with the audience.
To help you in this process, Anyword lets you write headlines and primary texts.
In Dashboard, go to + New Project > Content Promotion > Create New Project.
You will have to add a few details about your promotion so that Anyword can analyze your requirements.
Once you fill in the details, you will get into a screen.
Here, the Headline feature is constant for all the platforms. The Primary Text is named differently for different platforms. It is Description in Verizon, YouTube, Intro Copy for LinkedIn.
The process is identical for all the platforms. We will use Facebook and Instagram for this post's example.
In Headline, you can select Custom Modes if you have connected your Facebook account. You can mention mandatory keywords if required.
When you click on Generate More, you will get a list of relevant headlines for your post along with the predicted engagement rate from Anyword.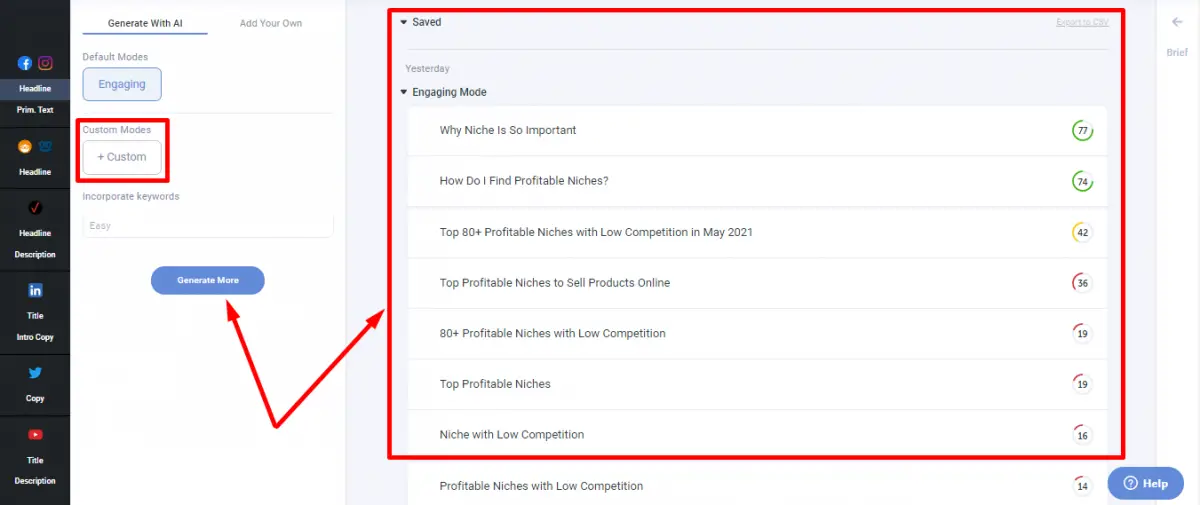 This similar process goes with the description known as Prim. Text for our example.
Along with custom modes, you get several Default Modes in the dashboard for writing the primary text.
You can also mention the call-to-action and promotion that you want to incorporate with the description.
SMS
You can also create SMS campaigns for your eCommerce store where you have your customer's phone numbers.
You can utilize that data and share it with their promotional offers. You can write a copy for the same using Anyword.
You can immediately get various persuasive short messages to offer your product to the targeted customers in the most efficient way possible.
First, you need to provide specific details about the project so that Anyword's AI engine can understand your requirements.
Go to + New Project > SMS > Create New Project.
You can share the name of the project, industry, and destination URL.
Once you enter the destination URL, it will fetch the title and description of the product. You can make edits in the fetched texts if you want to.
After clicking on Create Project, you will get to another page to mention the offer you want to emphasize with your SMS campaigns.
As you can see, it has written relevant text targeting the right customers very well. It emphasizes the offers along with the URL very efficiently.
URL is added based on what you have added in the previous screen while creating the project.
If you have already written your text and want to generate more ideas, you can do so with the Add Your Own tab.
Pricing of the Tool
Anyword offers four types of plans to the customers. Two of them are in Beta as of now.
FREE Plan
Get started for free and write 1000 words per month with this plan.
Data Driven Basic
This BETA version costs $99/month. This plan has exciting features. Now, you can connect your website and Facebook ad account. You can mention the Custom Modes with the plan. Moreover, the monthly word count limit is also increased to 30,000 per month in this plan.
Data Driven Unlimited
The pricing starts at $399/month. You get everything in Pro along with additional features like unlimited words per month.
If you buy their annual plan, it would activate 40% discount costing you just $239/month.
Advanced integration for your landing page optimization, 500,000 monthly site visits, and the support of soiled data and restrict AI from learning from your confidential data.
Entreprise
This plan is for big size corporations who are intensive in media buying activities. It gives you a dedicated customer success manager, customized language models, API integration, and a ton of other features.
Coupon – ANYWORD20 (Use this coupon at checkout)
Conclusion
Anyword has undoubtedly impressed me with its process and power to produce relevant texts. These texts are standardized copies. I can always tweak them before publishing.
So, my efforts in ideation, research, and copywriting become almost half with this tool. I could write a persuasive copy quickly.
However, I always respect the power of the marketing mind. Hence, you need an experienced eye to proofread this copy, which means you cannot just blindly follow the tool's text.
Having said that, the time taken for writing a copy is significantly less, so Anyword undoubtedly improves productivity.
This tool is perfect for busy marketers and copywriters. It also helps someone who sells stuff online but doesn't have the experience to produce a relevant copy.
Let me know what you think about Anyword after reading this blog. I am excited to hear your thoughts about this blog in the comments below.