Disclosure: Some of the links in this article may be affiliate links, which can provide compensation to me at no cost to you if you decide to purchase a paid plan. We review these products after doing a lot of research, we check all features and recommend the best products only.
Have you ever felt reluctant about uploading your photo online?
To be honest, I used to also come in that category, and I too felt shy to upload my picture. But no longer.
Thanks to free photo-editing software and tools, I can now make my pictures more expressive and appealing.
Once you capture an image, there are some unwanted objects in the image, inaccurate exposure or tones that may stop you from uploading the photograph.
The best thing is to edit your pictures. You should make some changes in colors, HDR, hue, saturation, adjustments, sharpness, dodge and burn, and brightness to make your pictures more attractive.
Now, you might say, "I'm not a professional photographer or a skilled retoucher who can color-grade pictures and give a cinematic view." Trust me, I totally understand! I'm also not a skilled photographer myself.
But as bloggers, you must ensure that your pictures are superb to get a dynamic online presence.
So I've got a solution for you. Instead of depending on your friend or freelancer to retouch your pictures, what if you can edit your photos?
When we talk about photo-editing software, they charge a recurring amount or a single-shot payment that, as bloggers, seems an extravagant investment to us.
But don't worry, we have a few tools too, and to save your time, I've listed them below.
Today, I am going to share top free photo-editing software for bloggers in 2023. I've personally tried these tools, and I can confidently recommend them.
Here are the 20 Free Photo-Editing Software for Bloggers in 2023
1. Canva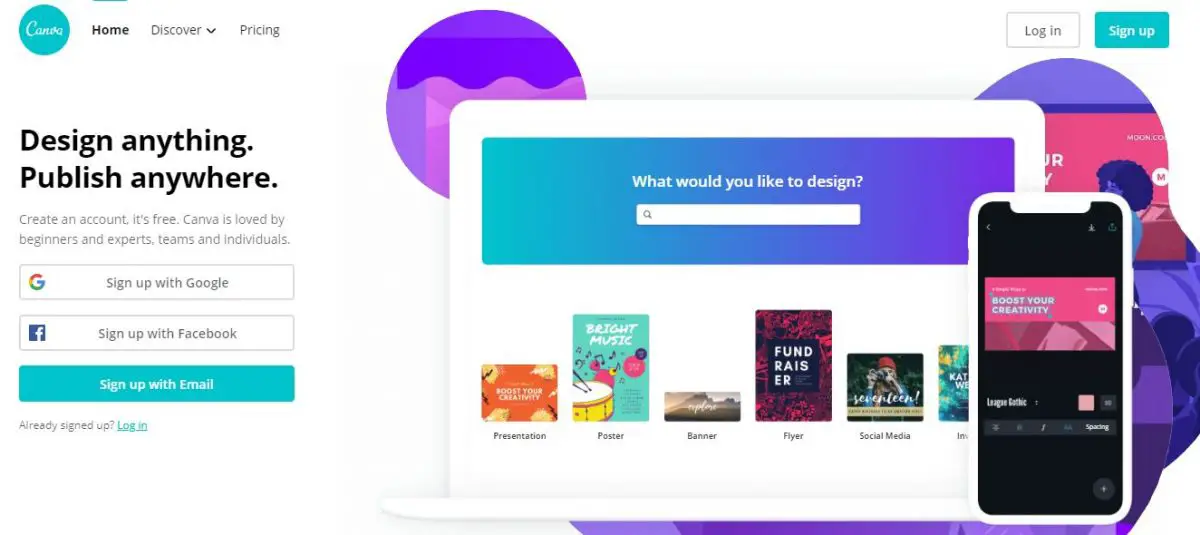 Canva is arguably the easiest and straightforward free photo-editing software.
It's an image-editing tool popular to creatives for emails, social media, and websites.
Canva also provides features to tweak images. You can upload your pictures on Canva and apply different attractive filters to give them a unique look.
You can adjust brightness and underlying color tones in your pictures too. If you wish to crop your image and make it compact, Canva will allow you to do so.
You can also resize your frames as per social media dimensions to make it a perfect fit for a specific platform.
For any other advanced adjustments, Canva might not be the right fit for you. But it saves you a lot of time by giving necessary tools and few filters to people who are not looking for advanced photo retouching.
Plus, it is available on Mac, PC, and mobile through web and mobile apps.
Pixlr X is among the best free photo editors online that require only a stable internet connection and a browser.
You don't need to pay any subscription cost or any amount to use this tool's basic features.
Even if you don't know much about photo editing, the tool's intuitive UI will make you comfortable with the process quickly.
You start off by auto fixing color, tone, and lighting in your images. Pixlr will "understand" your photos, per se, and make necessary changes on its own.
Even if you made any changes by mistake, you could restore your photos with a simple undo.
Along with a dozen filters and effects, you can also apply an overlay of shapes, stickers, and texts to convey your message through your image.

GIMP is the best photo-editing software when it comes to giving advanced photo-editing features for free.
You can retouch portraits and landscapes through tone curves, color grading, and split toning.
If you have used Photoshop, then you will find GIMP's UI similar to Photoshop's.
You can apply effects in layers, which is a nondestructive form of photo retouching.
GIMP gives RAW image support out of the box. So no need to convert your NEF or CR2 into JPG or PNG files.
This best free photo-editing software is open-sourced and available on Mac and Windows. Plus, you can customize the layout as per your choice to make the process even more comfortable.
Capture One Express is the best photo-editing software for Sony and Fujifilm cameras. If you own either of the brand's cameras, you can effectively post-process your clicks.
Capture One Express supports both Windows and Mac systems.
Along with basic adjustments of lighting, color, tone, you also get ready-made filters and effects to tweak your photos in a click.
You also get the image-cataloging feature to group your pictures and manage them efficiently.
You will no longer have to hustle through your system to manage folders and clicks. Cataloging will save you a lot of time and headache of managing and accessing your pictures.
All Windows users out there, you can tweak your pictures using Ashampoo photo editor.
This is an open-only software and will detect the underexposed pixels in your picture and make them sharp by editing them through auto fixing.
It will also tweak the colors in highlights and shadows. The tool will auto detect and make necessary changes in your frames.
You can also set white balance and saturation to apply a unique look and feel to your image.
Most importantly, Ashampoo Photo Optimizer has batch-editing capability. If you have a ton of photographs of your recent trip, you can edit them in bulk and save a lot of time.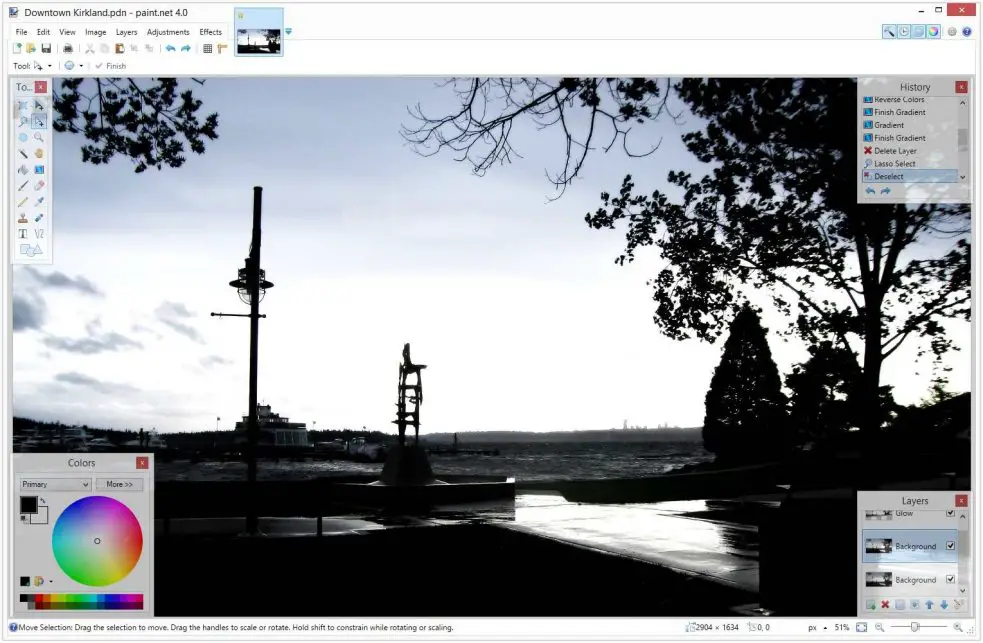 Paint.NET is the successor of the once-popular Microsoft Paint.
It has a self-explanatory layout that makes photo-editing activity straightforward and enjoyable.
Unlike its predecessor, the tool supports the layer functionality to ensure nondestructive image editing for your pictures.
You can remove red-eye from portraits, sharpen your landscape, color different areas of the frame, and whatnot.
The filters and corrections you apply through layers won't affect the actual image.
If you want to learn how to edit your pictures creatively using Paint.NET, you can refer to their community and tutorials.
And you can also utilize the library of plugins of Paint.NET to add extra features to the tool.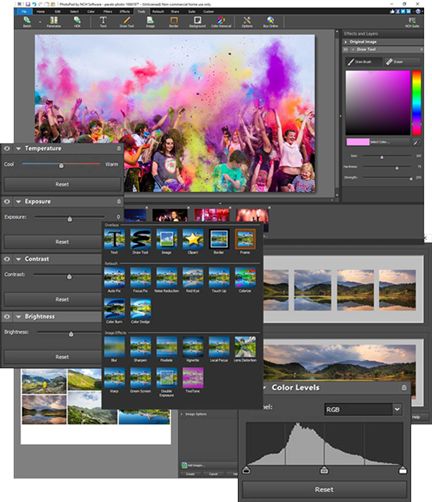 PhotoPad is the most stable and reliable photo-editing software.
It is robustly built and makes your pictures appealing by allowing you to edit them based on various parameters.
You can crop, resize, rotate, reduce noise and color tone, and apply effects and filters through this photo-editing software.
If you are not sure what to edit, you can click on the auto fix, and the software will adjust all the variables by itself.
It supports popular image formats. You also get to work with multiple exposures to create stunning, highly dynamic range photographs.
This photo editor tool provides you layers so that you can get maximum control over the manipulation.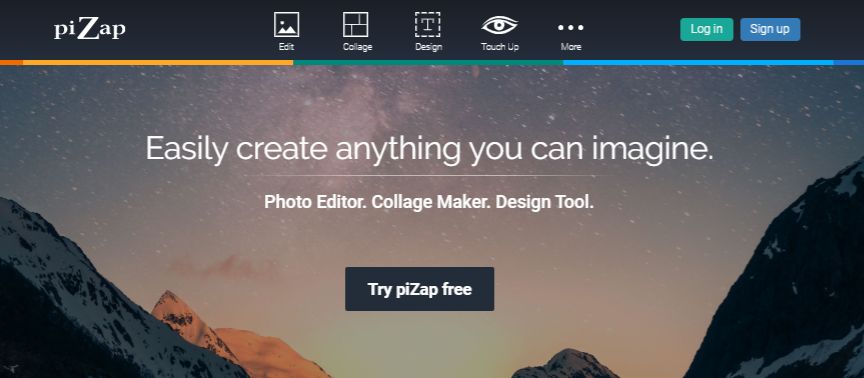 With the help piZap, you can transform your pictures significantly.
You get a massive library of borders and stickers that you can paste on your image and make them more attractive.
You can track the look and feel of your images by applying attractive filters and effects by piZap.
You get a collage maker with this tool to club your photographs together into a single image.
The collage maker has more than a hundred designs, so you get a ton of options to group your pictures and showcase them to your audience.
Whether you are new to photo-editing or are already doing it, piZap has got you covered through its dynamic user interface.
piZap can run on Windows, Mac, or Android devices.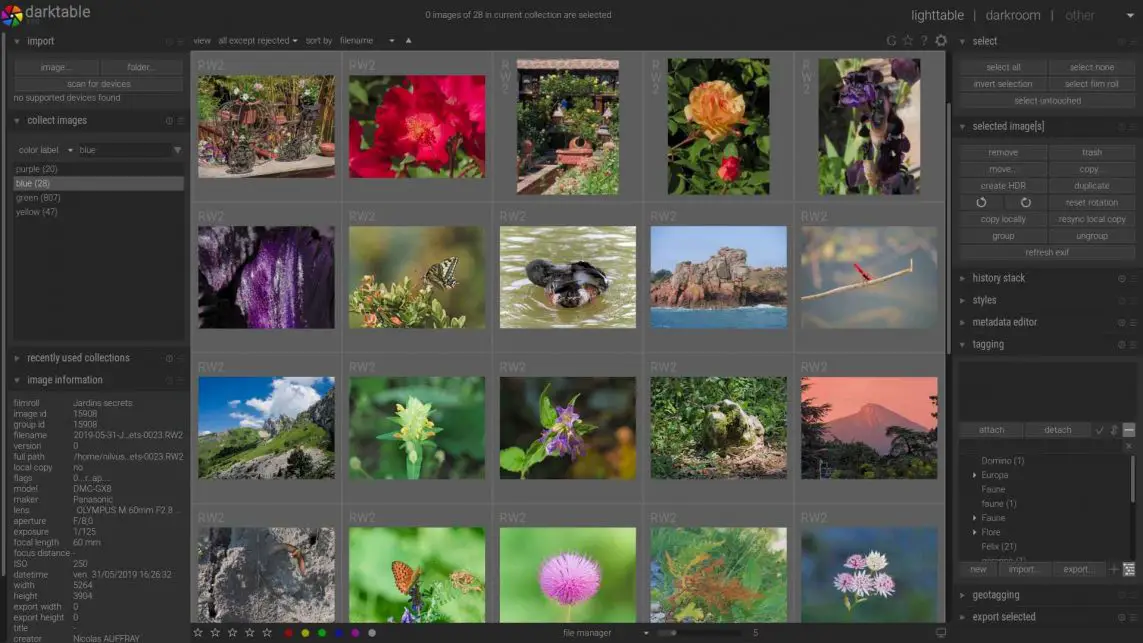 Darktable is one of the most comprehensive open-source photo editor software to create dynamic images for your audience.
You will have a nondestructive image-editing experience through Darktable.
That means all the changes applied would be used as a reference, and your original image would be untouched throughout the editing procedure.
Darktable supports 4×32-bit floating point pixel buffers, meaning you get an unstoppable raw-image-editing power.
Most importantly, Darktable is a cross-platform image-editing software. It supports Linux, Windows, Solaris 11, Mac OS 10, and BSD.
You get good-looking filters to apply to your images and give them life. Plus, you can adjust brightness, colors, exposure, white balance, saturation, etc. in your image.

Want to remove unwanted objects from the frame? Photos Pos Pros has you covered.
You can mask unnecessary objects in your frame and make the photo look clean and natural. You can also do color-toning to give a cinematic look to your frames.
You can transform your background entirely though Photos Pos Pro and also create collages and apply different borders as frames in your images.
Digital Photo Professional is the best free photo editor for Canon cameras.
The tool can accurately convert your raw pictures and allow you to do manipulation to make your clicks look professional and elegant.
You can transform white balance, sharpness, and HSL in your pictures. You also get curves to color grade your clicks.
This particular tool will support sRGB, White Gamut RGB, Adobe RGB, and Color Management System.

InPixio is excellent at removing unwanted objects from a photograph.
With the help of this tool, you can do top-notch manipulation and clean your pictures.
The tool specializes in removing unnecessary objects in the frame to make the subject prominent.
It is also very good at eradicating the background as well.
The flow of editing your pictures using this software is very minimal. Even if you are new to photo editing, you can get yourself comfortable quickly by the intuitive user interface of the stool.
InPixio works flawlessly on Windows and Mac.
Apple is well-known for providing unparalleled user experience through its products.
With the help of Apple Photos, you can store all your pictures at the same location, which is accessible across multiple Apple devices.
Apple Photos supports iPad, iPhone, iPod, and Mac.
After uploading your clicks and then synchronizing Apple Photos with iCloud Photos, you can seamlessly access your images across multiple devices.
You can also sync your library with iTunes to keep your albums up-to-date.
By using this application, you can effectively make color adjustments or transform your frame into monochrome.
Red-eye correction and white balance changes are possible through Apple Photos.
You get adjustments like levels, curves, selective coloring, or sharpening for editing your pictures.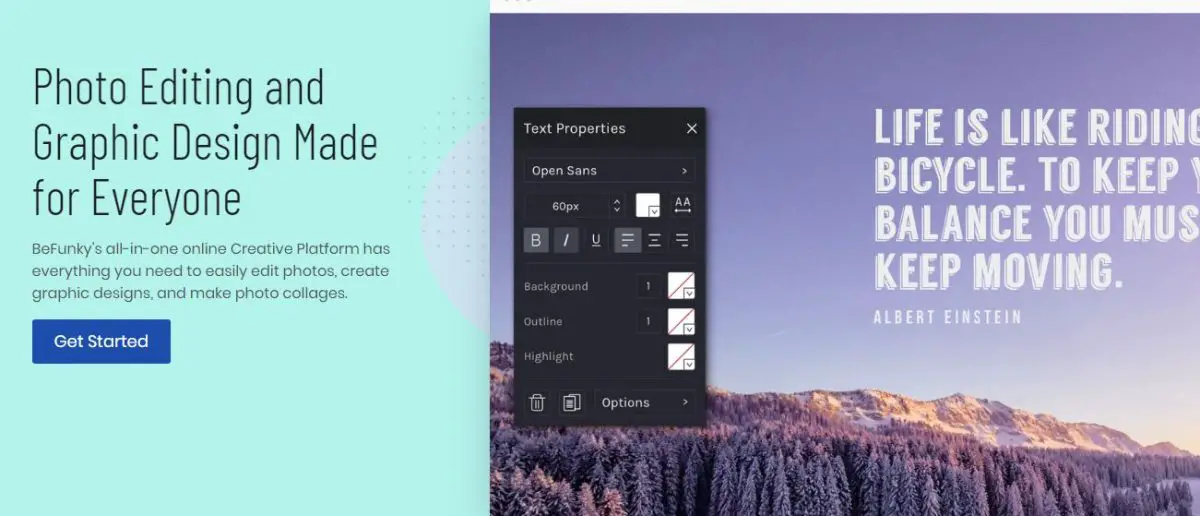 BeFunky would be your single-stop solution for all photo-editing and graphic-designing requirements.
You get the Auto Enhance feature to apply changes in your pictures automatically.
You can manipulate exposure, colors, background, text layers through BeFunky. You can also remove unwanted elements from your photographs using this tool.
Its text editor is one of the most advanced in this segment.
As a blogger, you can apply texts using BeFunky on your pictures and creatives and use it for hero image on your blog post or a social media post.
Lunapic a straightforward yet robust photo-editing tool. It has several options to upload your picture.
Along with uploading a picture from your computer, you can also upload an image through a URL or Facebook post.
You don't need to download and then upload it on Lunarepic from your computer. Just enter the URL, and that will take care of everything.
You can crop images and change the aspect ratio to give a unique angle to your clicks.
You can also draw something over your picture if you want to or write a text.
You get different effects to make your clicks look like a watercolor painting, sketch, etc.
It has more than 200 effects to transform the look and feel of your images.
Bloggers often share pictures and images on their websites.
To do that, you need to edit your pictures, save them on your system, and then upload them on your host.
The entire procedure is time-consuming and requires a little bit of effort.
Wix, along with a robust website platform, also allows you to edit your pictures on its platform and upload it straight to your website.
The objective of Wix Photo Studio is to save time and effort for the bloggers.
You can adjust colors and change brightness, contrast, sharpening, saturation in your pictures. And you can also crop and resize them.
Wix Photo Studio could not be downloaded or used exclusively to edit images.
If you are using Wix's website builder or have your website on the platform, you can leverage the tool.
17. Photoshop Express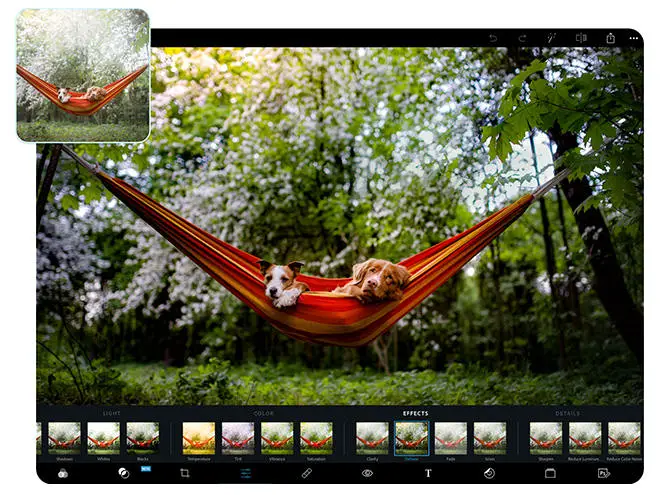 Photoshop Express is the web-based software developed by Adobe. All you need is a browser or smartphone to start using this software to edit your images.
The application has a ton of attractive filters and effects to make your pictures look more sharp, cinematic, and lively.
Its web-based version only allows JPG format.
More importantly, you don't need to have sophisticated hardware to edit your images.
The tool provides a spot healing feature, where you can remove unwanted spots and objects in your images. Needless to say, it indeed allows manipulating colors, brightness, contrast, grains, brushes, etc.
You can create dynamic collages to combine your pictures and also add attractive texts to make your photographs more expressive.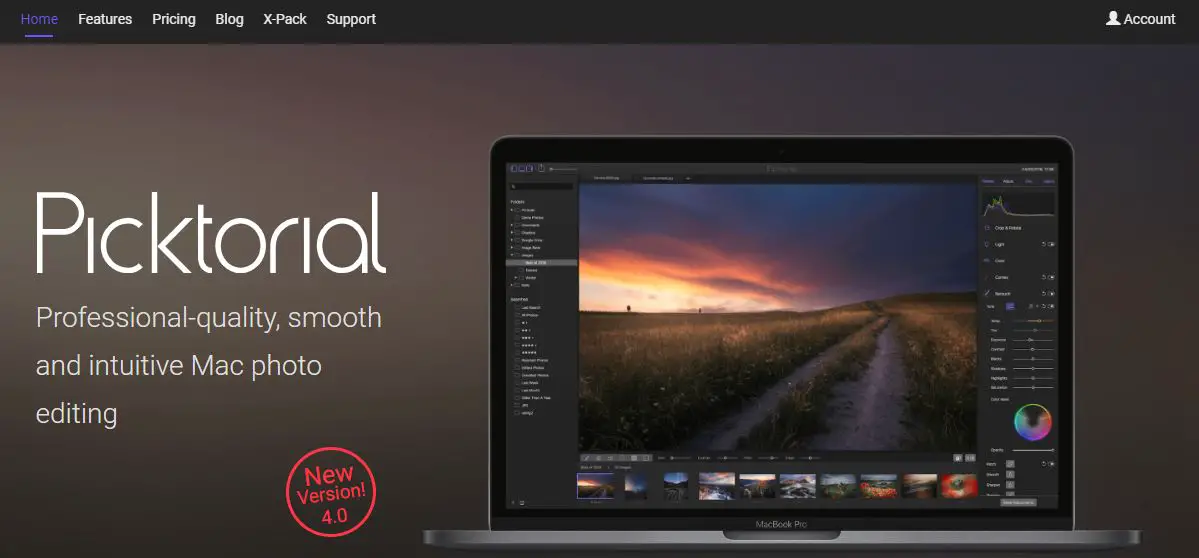 Picktorial makes the album management efficient while also providing robust post-processing software.
It supports RAW conversion so that you can expect maximum details and make your shots look breathtaking by using Picktorial.
The tool supports nondestructive image editing.
That means you can get unlimited undo, or you can also discard changes that you made earlier without affecting the recent ones.
You get a single-space workflow and manage your album through cataloging.
You can also work on white balance, darks, whites, color tones, and split tones to make each pixel count, making your shots spectacular through Picktorial.

Fotor provides you with a sophisticated image-editing software for free.
It is a browser-based software that bloggers can leverage in 2020.
With a single click, you can revamp the entire appearance of your images like a pro. No need to jumble across different slide bars and numbers to make necessary changes. The tool is here to save you time with its high-quality filters and effects.
Moreover, you can batch-process your editing activity easily.
If you have multiple pictures and you want to make the same changes in all of them, all you need to do is edit one of the images and apply batch processing to modify the complete album.
This will help you save a lot of time and effort in editing as you won't have to edit the photos one by one.
If you have portraits, you can make the subject more prominent by removing wrinkles, blemishes, red-eyes, etc. You can even whiten teeth.
PhotoScape X allows you to tweak your images and make them look like a scene from a movie.
It has got a bunch of filters and effects that you can apply in your images to create your breathtaking shots.
You can crop your pictures, cut out the subjects, or combine different elements using this tool.
You can make dynamic local adjustments exceptionally quickly, thanks to the robustness of the tool.
You can also batch-process your image-editing activity to edit your entire album quickly.
You can also batch-resize your pictures if you want to upload them on your website or particular social media channel.
You get hundreds of frames, shapes, stickers, and fonts to be included in your images while also tweaking the basics of an image.
The software is available on Mac and Windows.
Conclusion
So that's about it for free photo-editing software for bloggers. I hope you find this article helpful.
I am sure at least one of the tools mentioned in this list would be an ideal fit for your photo-editing requirements.
If you have any questions or want to add something to the ideas discussed here, feel free to drop your thoughts in the comments section below.