Disclosure: Some of the links in this article may be affiliate links, which can provide compensation to me at no cost to you if you decide to purchase a paid plan. We review these products after doing a lot of research, we check all features and recommend the best products only.
Effective monetization remains one of affiliate marketing's biggest challenges, with the average conversion rate hovering between 1% and 5%,
CPC and CPM campaigns simply don't offer high enough payouts for the approach to make financial sense for most affiliate marketers. Furthermore, these campaigns do not do much in the way of helping marketers scale their marketing efforts.
Besides offering relatively high payouts, CPA marketing campaigns also boast a higher conversion potential since the ads can be easily integrated into any affiliate's website.
If you're ready to get started, we've reviewed the 16 best affiliate networks for CPA marketing to help you find the right offers for your site.
What is CPA Marketing?
CPA stands for Cost Per Acquisition or Cost Per Action. It is an affiliate marketing model where affiliates earn commissions when visitors complete an intended action.
CPA campaigns are not limited to visitor purchases as an earning opportunity. An affiliate may get paid when the visitor:
Fills out a form
Submits their email address
Signs up for a trial
Downloads an eBook
Creates an account on the advertiser's site
Signs up for a newsletter
Finishes a survey
In this way, CPA marketing offers affiliates more flexibility with how they want to monetize their website.
CPA Marketing Statistics
Benefits of CPA Marketing
There are three reasons why affiliates prefer CPA marketing over other marketing strategies in 2023:
#1 Getting Started is Easy
The bar for entry to CPA marketing networks is quite low. Most CPA networks allow affiliates with relatively new websites to join their network.
Some CPA networks allow affiliates to get started without owning a website. Affiliates can promote the products on social media sites and YouTube to generate revenue.
Since several CPA networks provide hundreds of offers, affiliates have the flexibility to find offers in a niche that their target demographic will find interesting.
Furthermore, since owning a website is not a hard requirement, affiliates can target their demographic where they spend most of their time – on social media.
#2 Minimal Risk
Affiliates don't need to have a website with hundreds of dollars worth of content to begin CPA marketing.
Furthermore, businesses that promote their products only pay commissions after the visitor has completed the required action. CPA marketing is a low-risk affair for both affiliates and advertisers.
#3 Easy to Manage
While affiliates sometimes find it difficult to get the ball rolling with CPA marketing, affiliates don't need to put in as much effort to manage the campaign once the landing pages are established.
CPA Marketing Payment Model
The CPA marketing payment model works in five simple steps:
Businesses (advertisers) that want to promote their products sign up on CPA networks, provide their offers' details, and set their commission rates.
Affiliates (publishers) then find these offers on CPA networks, and if they find it suitable for their niche and audience, they get in touch with the advertiser.
After the business and affiliate are connected through the CPA network and the offer is agreed upon, the affiliate can promote the business's product wherever they have an audience.
Affiliates do the leg work by curating relevant content that attracts visitors and drives them to the landing page to complete the required action.
The affiliate earns a fixed commission fee when a visitor completes an action.
Bear in mind that the commission will depend on the average commission rates in the vertical and the competition in the niche.
Top 16 CPA Networks for Affiliate Marketers in 2023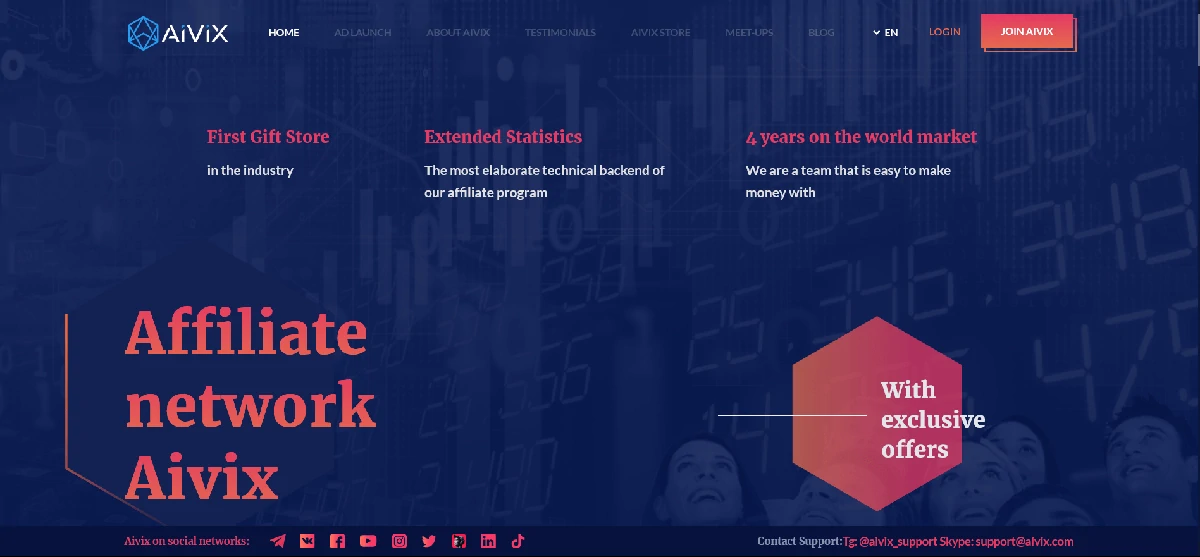 Aivix established itself as an international CPA network in 2018 and only works with direct advertisers – which is why there are no duplicate offers on the network. Additionally, Aivix offers affiliates top-converting offers and landing pages in their GEO, accepting traffic from over 100 GEOs.
Distributing your traffic to advertisers based on 20+ inbound traffic triggers, Aivix ensures that advertisers make the most of your site. The guaranteed gifts and bonuses are a nice plus.
Aivix is best-known for its offers in the cryptocurrencies vertical, although the network also has many offers in the health and beauty niche of the nutra vertical.
Network Details
PayPal, Capitalist, WebMoney, Wire, Paxum, Exmocode, Bitcoin, Ethereum, Megapush, ZaleyCash, Tether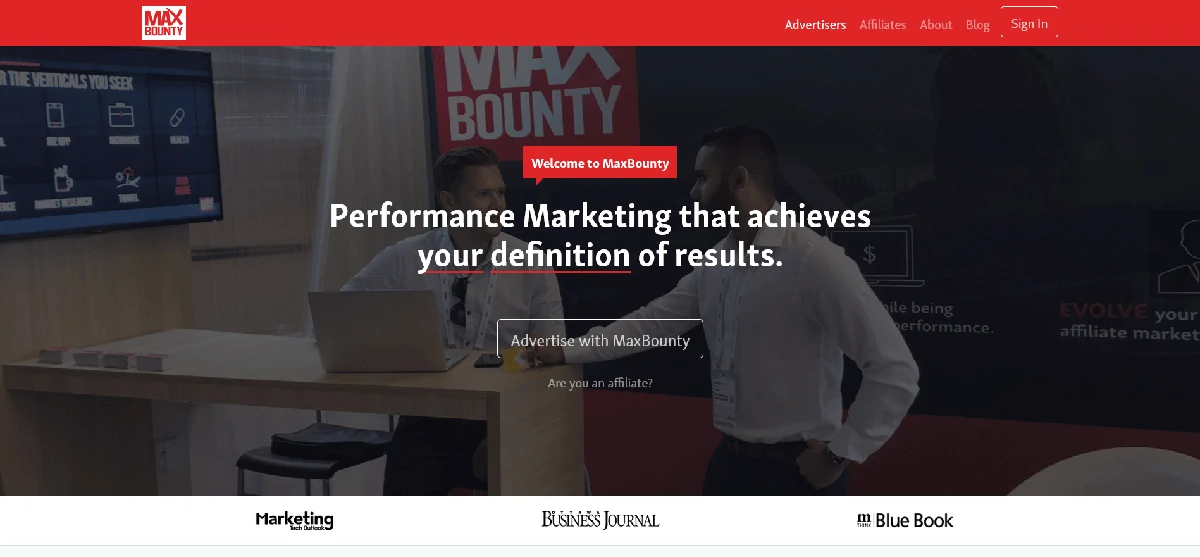 Founded in 2004, MaxBounty is one of the largest CPA networks, giving affiliates access to over 1200 CPA offers and hundreds of CPS offers. The network stands out as easy to manage, offering excellent tracking features right on the dashboard.
While the network does have duplicate offers, it boasts offers from some big names like Norton Security, Microsoft, Shutterstock, and American Express. The network hosts offers across verticals ranging from loans and eCommerce to antivirus and surveys.
MaxBounty rewards top-performing affiliates with recognition and additional earnings.
Network Details
Weekly; Net-15 for the first month

PayPal, Wire, Payoneer, ACH, Check
#3 Perform[cb] (Erstwhile Clickbooth)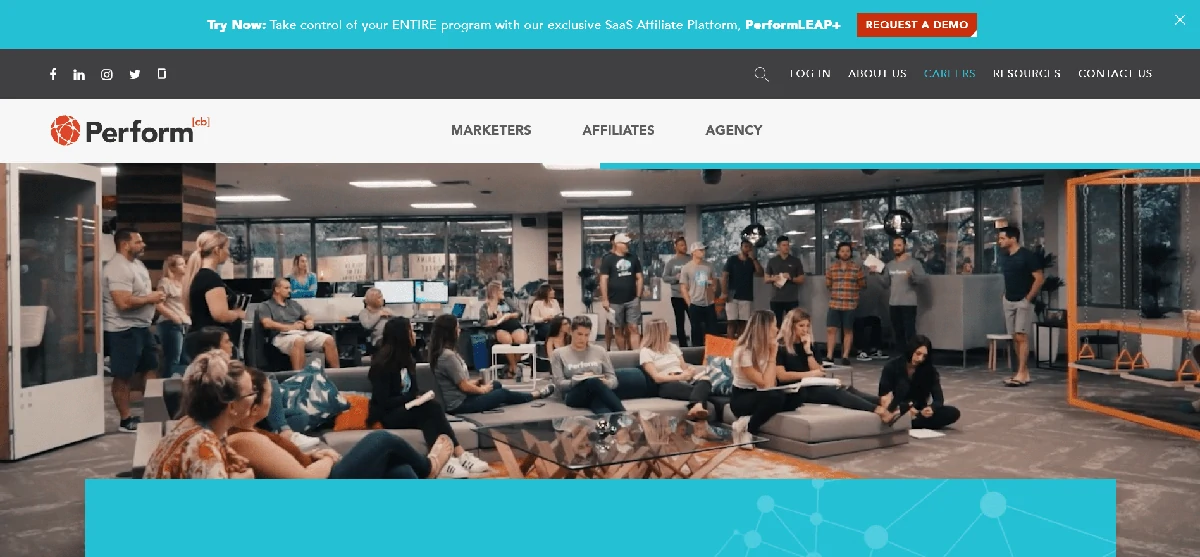 Recently voted the #1 CPA network in mThink's annual Blue Book survey for the sixth year in a row, Perform[cb] stands out as a leading CPA network. Affiliates will also find a large selection of PPC, CPS, CPE, CPI, and CPL offers on the network.
Allowing affiliates to customize their dashboard and easily access real-time tracking, Perform[cb] is by far one of the easiest-to-use CPA networks on this list.
Top verticals on Perform[cb] include finance, eCommerce, downloads and software, health and beauty, and entertainment and lifestyle. Affiliates can find well-paying offers in any vertical on the network.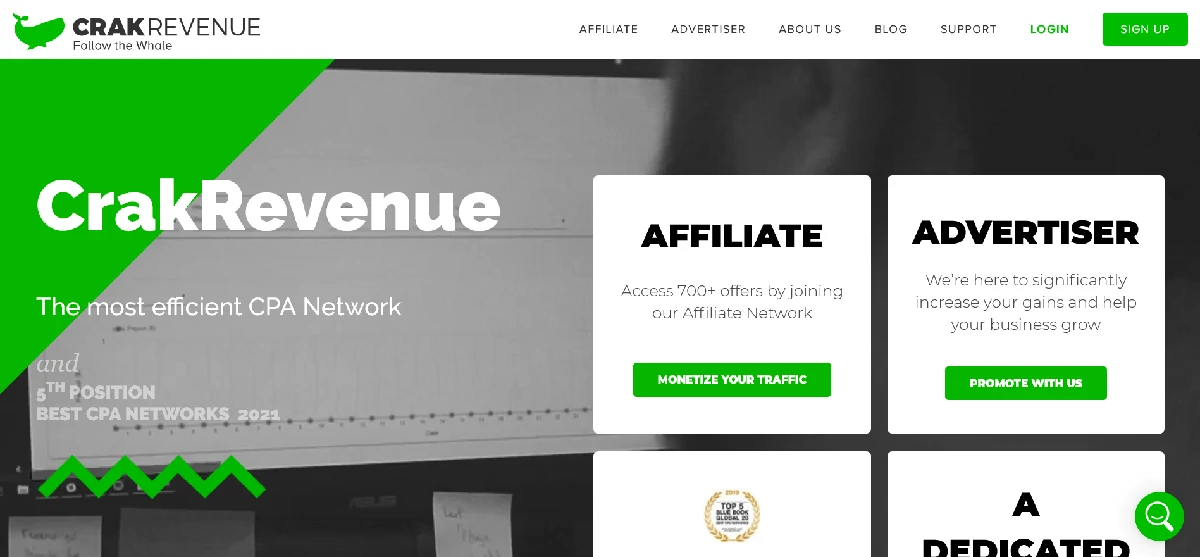 Best-known for offering adult CPA programs, CrakRevenue has garnered a large base of offers since it was established in 2006. Seasoned affiliates tend to rely on CrakRevenue since the network only caters tried-and-tested offers along with conversion-optimized landing pages and banners.
Besides adult offers, the network also supplies offers in the casino, dating, CBD, games, and nutra verticals. If you're confused about which network you should join, starting with CrakRevenue is the right way to go.
Network Details
Net-7, Net-15, Net-30, bi-monthly

Wire, Paxum, Firstchoice Pay, ePayService, Check
ClickDealer is most relied upon by affiliates having sites in many different niches since it is one of the largest CPA networks on the internet.
Working with over a thousand advertisers and offering thousands of CPA, CPL, CPS, CPI, and Revshare offers over 40+ verticals, ClickDealer is the right network to join if you're in it for the long run.
The company has six offices worldwide and offers support to publishers and advertisers in 12 languages. Top verticals include dating, eCommerce, gambling, download, mobile subscriptions, nutra, and sweepstakes.
Network Details
Weekly, Bi-Weekly, Monthly

Payoneer, Wire, Check, PayPal, WebMoney, Paxum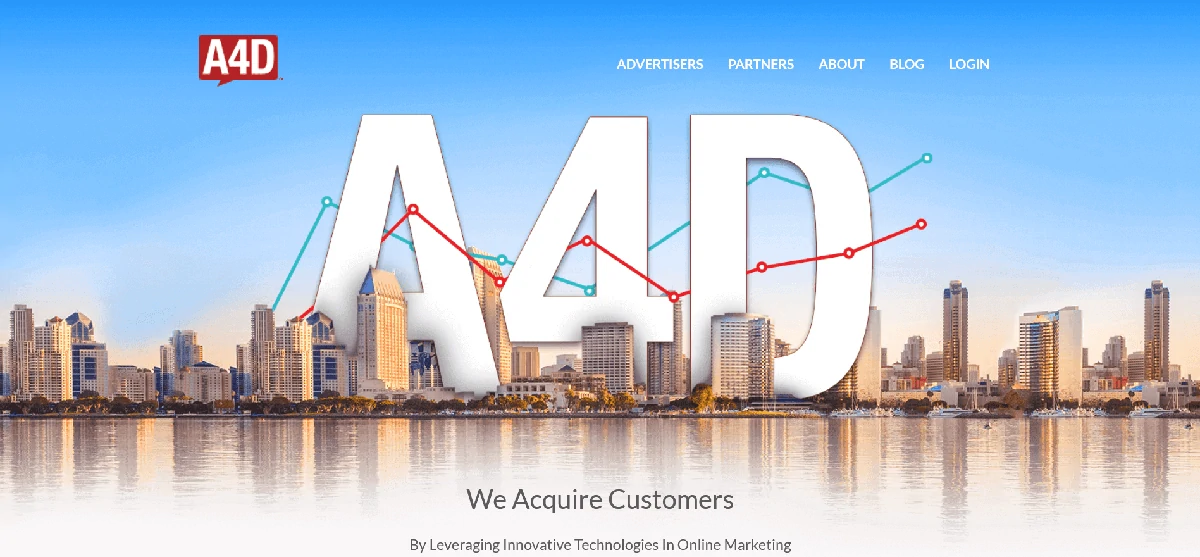 Established in 2008, A4D is one of the oldest CPA networks relied upon by over 20,000 affiliates and hundreds of advertisers. Besides CPA offers, you will also find CPI, CPL, and CPS offers on the network.
One of the best things about A4D is that all the advertisers are inspected before they put up any offers on the platform. The offers are tested to ensure high scalability and conversion rates.
Publishers will find CPA offers from all verticals, but A4D is mostly populated with eCommerce, health and fitness, downloads, and finance offers.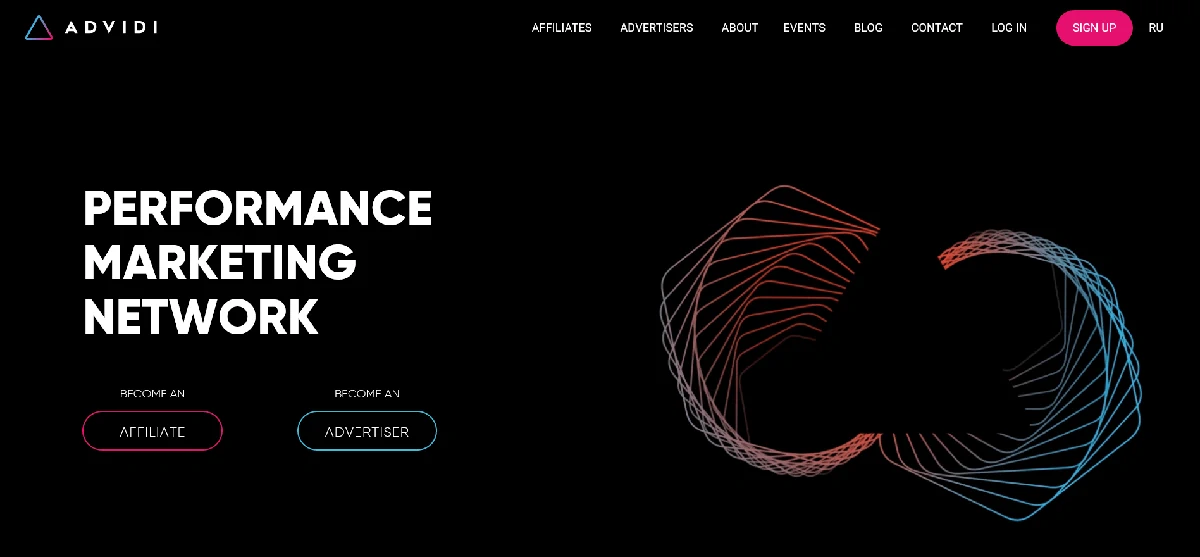 Advidi has been one of the biggest CPA networks in the dating niche for a few years now. Poised as a full-service provider, the company also doubles as a CPA network offering both exclusive and duplicate offers to affiliates worldwide.
Promising timely payments and a real-time reporting system, Advidi ensures that affiliates at all experience levels monetize their sites without hassle.
Besides the dating niche, the majority of the offers on the network belong to the health and beauty niche. However, affiliates can also find sweepstakes, surveys, and freebies on the network.
Network Details
PayPal, Wire, Paxum, Payoneer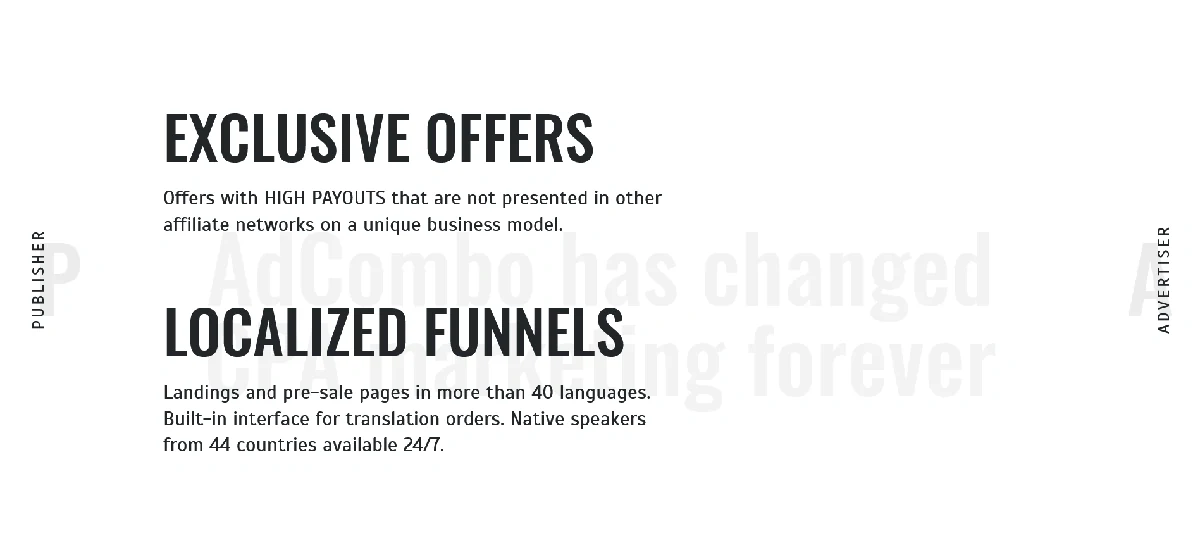 AdCombo was established in 2014 and is best known for its exclusive CPA offers in the casino, games, utilities, and nutra verticals. Roughly 80% of the offers on the network are exclusive to AdCombo, and most offers are based in low-competition GEOs, including Europe and Asia.
The ready-to-use landing pages only have two fields, ensuring high conversions and big payouts. Affiliates can find offers in the health, diet, adult, muscle, sweepstakes, BizOp, and mobile verticals, among others.
AdCombo also boasts a unique cash-on-delivery affiliate model that can make affiliates a lot of money.
Network Details
PayPal, Capitalist, WebMoney, Wire, Paxum, Payoneer, ePayService 
Admitad has worked with over 520,000 publishers since it was established in 2009 and remains one of the largest CPA networks in CIS countries, mainly Russia.
Offering cookieless tracking, cross-device and cross-browser tools, a mobile SDK, and more, Admitad is matchless when it comes to publishing convenience. Furthermore, the company has a low minimum payout and offers weekly payments to make it easy for affiliates to monetize their traffic.
Admitad has CPA offers in almost all verticals, and its top verticals include mobile, eCommerce, finance, travel, and online games and services.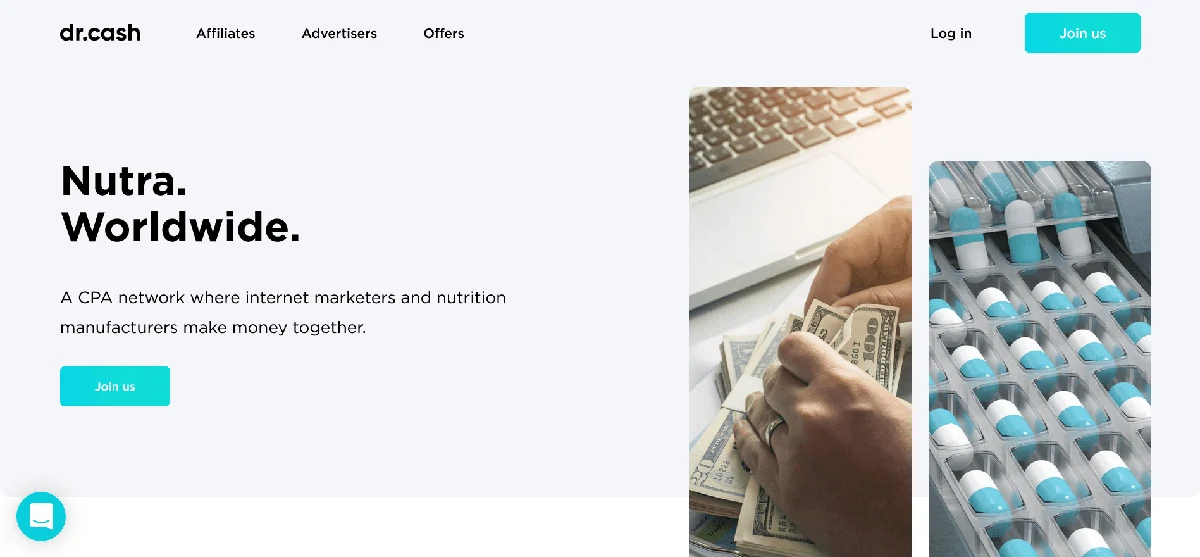 Dr. Cash stands out in an ocean of CPA networks by offering one-minute registrations and payments up to two times daily. The network is focused on the nutra vertical and features offers from across 50+ health and beauty niches.
The network caters ads to over 100 GEOs and only directly works with the industry's top advertisers. This is the right network to join if you're looking for offers in the nutra vertical. Besides CPA offers, the platform also has CPL offers.
Network Details
PayPal, Capitalist, WebMoney, Paxum, Credit Card, Yandex.Money, QIWI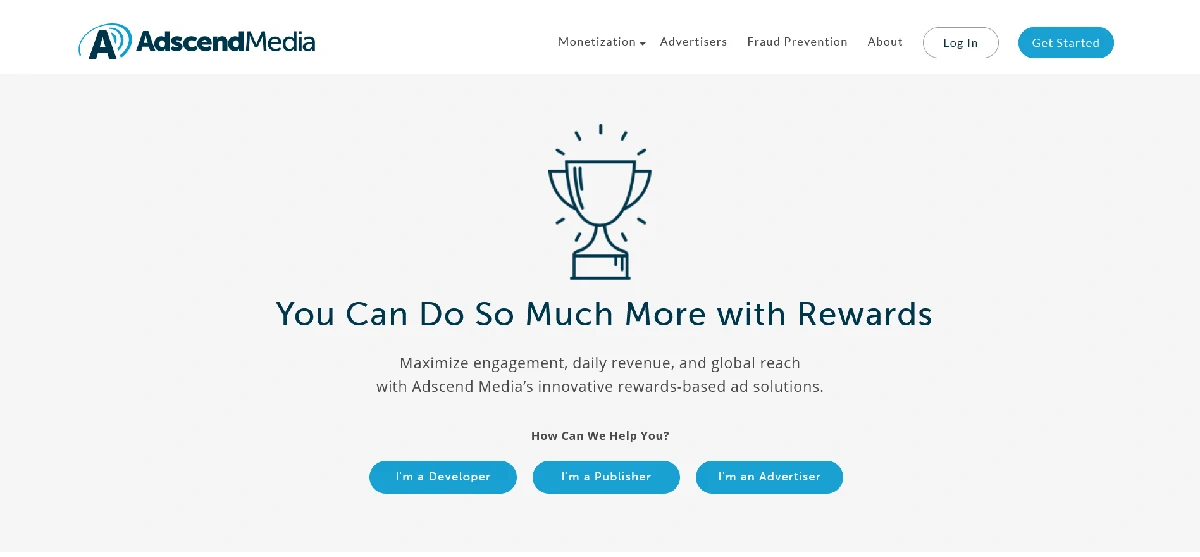 Offering dedicated support, platform-optimized ads, a range of integrations, and easy tracking, Adscend Media stands among the largest CPA networks catering to over 35,000 publishers.
Besides offering landing pages, the company also allows publishers to link to videos on the HideoutTV platform for commissions. CPA offers from automotive, eCommerce, entertainment, finance, nutra, healthcare, technology, and non-profit verticals are available on the network.
Mobidea specializes in mobile CPA offers across several verticals and offers daily and weekly payments. Affiliates can get access to their earnings over PayPal and a handful of other payment methods, including wire transfers.
The impressive built-in tracker gives affiliates real-time access to their campaign's statistics for free. Additionally, Mobidea's advanced algorithm selects the best offers for the publisher to allow them to make the most of their site.
You can find offers from the casino, dating, gambling, entertainment, social, utilities, and lead generation verticals, among others.
Network Details
PayPal, Firstchoice Pay, Payza, Paxum, ePayments, Wire Transfers
Covering 248 GEOs and counting and working with over 18,000 direct publishers, the Adsterra network is among the best-known affiliate networks worldwide. Besides listing CPA offers, the platform also lists offers in all other payment models.
What's more, the network boasts a full targeting inventory and supports several ad formats and payment systems. The retargeting features are a big plus.
You can find CPA offers in the VPNs, sweepstakes, gaming, app installs, dating, and antivirus verticals, among many others.
Network Details
Wire Transfer, PayPal, Paxum, WebMoney, Bitcoin, Tether (USDT)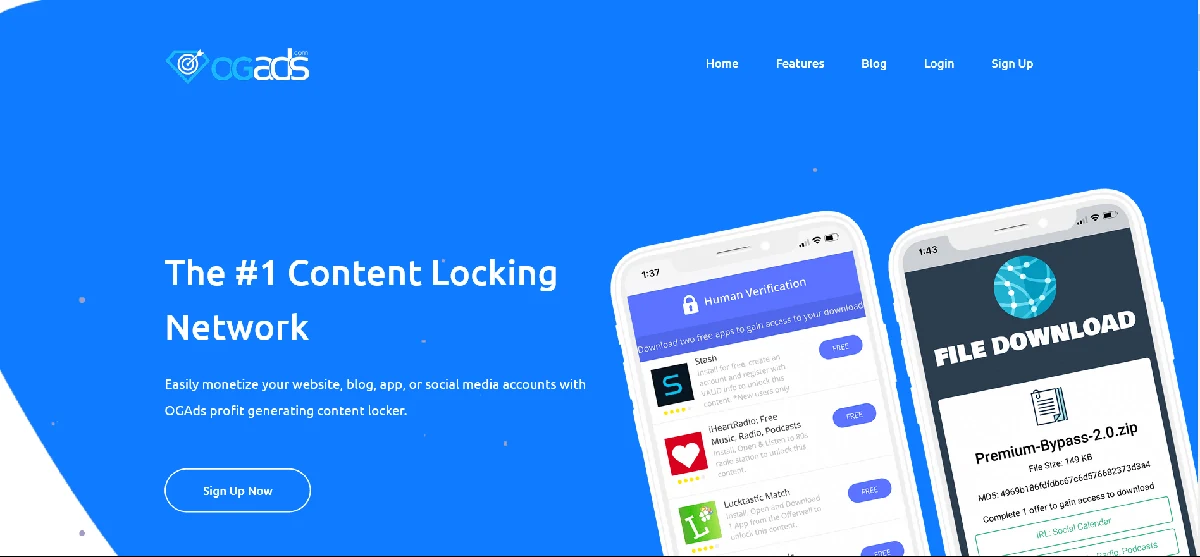 OGAds is a CPA and CPI network primarily focused on content locking ads. In other words, the CPA offer will lock content that the visitor wants to access and only give access after the action is complete.
Offering CPA campaigns optimized for both mobile and desktop, OGAds is relied upon exclusively by many publishers in the technology and online tools verticals. That said, the network has offers from almost all verticals, making it right for any affiliate to join.
Network Details
PayPal, Payoneer, Wire, ACH, Check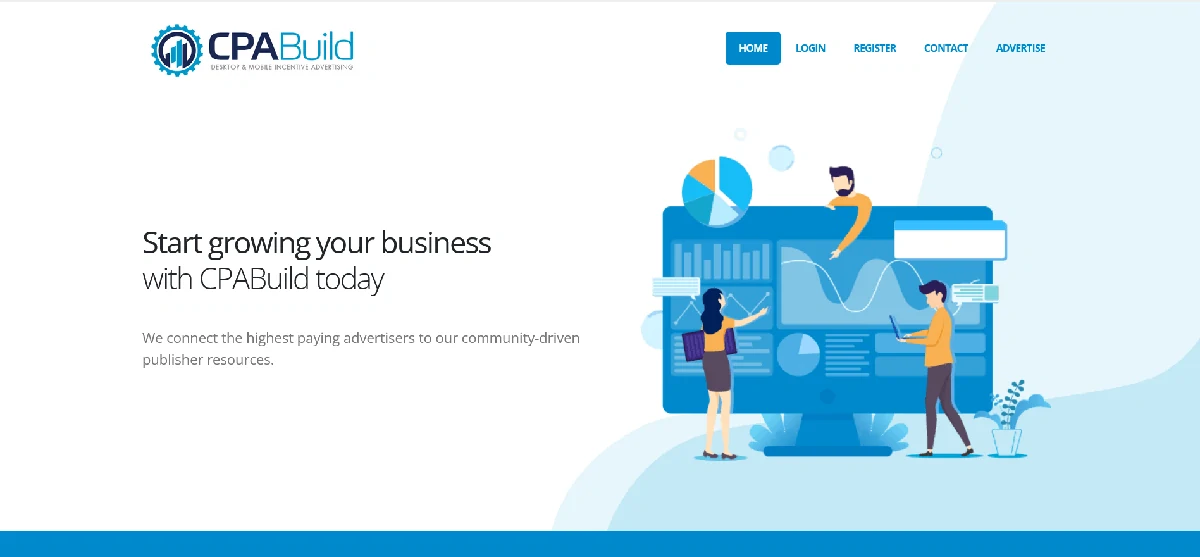 Boasting 2,000+ offers across 195 countries, CPA Build has a unique approach to CPA marketing. The network offers free access to a landing page builder, where affiliates can use the over 2,000 templates to integrate an ad to their site.
The builder also has collaboration features, allowing you to collaborate with other affiliates to build CPA ads. The network features ads from all verticals, so affiliates can join it regardless of their target niche.
Network Details
PayPal, Wire, Bitcoin, Payoneer
Toro Advertising ranks among the best CPA networks in the industry, working exclusively with premium advertisers from around the world.
Affiliates on the network can take advantage of custom scripts and pick offers from virtually any niche. The network is best-known for dating and software CPA offers, but it has hundreds of offers in other verticals.
Network Details
Wire, Paypal, Skrill, ePayments, Payoneer
Which CPA Networks are Best Overall?
MaxBounty vets both affiliates and advertisers and provides access to a large array of training material, making it the best CPA network to join if you're new to CPA marketing.
If you're slightly more experienced and want to take on exclusive offers, Perform[cb] is the right network to join.
Aivix stands out as one of the top CPA networks since it boasts top exclusive offers in the finance and nutra verticals and makes it easy for affiliates to earn thousands of dollars for their efforts.