Disclosure: Some of the links in this article may be affiliate links, which can provide compensation to me at no cost to you if you decide to purchase a paid plan. We review these products after doing a lot of research, we check all features and recommend the best products only.
You must have seen many newbies getting involved in domain flipping business.
Why?
Because this is easy to do business. Rather than buying the backlinks for your new blogs, you can always buy the expiring domains and create a blog around them.
Today I opened a group on Facebook and saw many people offering high DA/PA domains and many other people were interested in buying expired domains.
No doubt this is a very profitable and easy business. We can find some good domains and then flip them for a good profit.
If you are selling 4-5 domains per week with little profit of $50-$100 per domain then you can easily make $200-$500 per month.
I am doing this business from the last 3-4 months and it is working great for me as I have sold domains in $500, $251, $81, $50 and few others, and this was one of the easiest businesses I did.
If you are also looking to enter in domain flipping business then here I am going to share some very crucial things before buying a domain from anyone.
First of all, let's start with a little introduction about the expired domain.
An expired domain is a domain which we don't renew. There are many people who forget to renew their domains or they don't have money to renew them again, so domain registrar gives 30 days extension to renew your domain.
If you fail to renew your domain in 30 days extension period then this domain will be declared as expired domain and domain registrar will start bidding for that domain.
Bidding will last for 7 days, and after that, the domain will be given to higher bidder, and with high bids, you can buy expired domain very easily.
And with this process, you can grab many good expiring domains.
Recently I won ProChatting.com in GoDaddy auction. I bought this domain just because of its age, as this is 15 years old domain. 🙂
How can you use these domains?
An expired domain is a great property to do many interesting things. Before proceeding further, and learning how to buy an expired domain and what to see while buying, we will learn how can we use them.
1. 301 Redirect
301 redirect is an easy way to pass all link juice to a new website or a blog. Let's say, you bought a domain name which is having backlinks from TechCrunch, Mashable, Forbes, HBC or any other big websites.
You can simply 301 redirect that domain name to your money website and start seeing improvement in rankings.
2. Building an authority site on that domain
I have personally done this in the past. We bought an education niche domain and added around 100+ articles on that blog.
That domain was getting backlinks from some high authority education websites, so we didn't put any extra efforts to make backlinks for that domain.
We were surprised to see the ranking of our domain name.
Every article we used to write in that blog was ranking in Google.
Although it worked for just a few months, but we made a handsome income with the domain name.
So you can build a site around that expired domain and get the ranking from the past authority of that domain.
3. Private Blog Network (PBN)
This is another sneaky method to trick Google.
SEO experts build their own blogs to link back to their money websites. i.e a private blog network of their own.
Having an expired domain with high DA, PA, and backlinks from the big websites can be a big win here. Once you build a good site on those expired domains and give a backlink to your money website, you can improve the ranking. We recommend SeekHost PBN hosting if you are planning to build a PBN blog.
Here are the Things You Need to Know Before Buying Expired Domains.
Here are the important things you must check when you buy expired domains from any marketplace.
People are selling GoDaddy expired domains on various platforms, but they will only show you right parameters of the domain (for example Good DA, PA) and hide all other important things.
make sure you read these 5 points very carefully before getting into domain flipping business.
1. Always check DA/PA of the domain before buying
Thousands of domains expire daily and you can check them on sites like Moonsy, Expired Domain, PR Drop and there are many other sites from where you can find expired/deleted domains.
PA (page authority) and DA (domain authority) are two very important factors in finding the quality of any expired domain or live website. DA and PA were introduced by Moz, and you can check them on Open Site Explorer. You can use these domain authority checkers to check the stats of the domain you are going to buy.
If you are buying any expired domain then always check both of them and try to grab a domain with DA 25+.
2. Always check domain with Google banned checker
You may find a high PA, DA and very good-looking domain but this is of no use if Google has already banned it from search engines.
Check the domain with Google banned checker and make sure it is not banned.
Note: If the domain is too good and you want to buy it in any case, even if it is banned, then you can use Google reconsideration request and request them for un-banning the domain.
3. Check Google AdSense ban
You will find hundreds of expired domains which are Google Adsense banned. So if you are thinking of building a website on an expired domain then this must be your first step before buying any domain. Because in the end, we are buying a domain to make money online and if it is already banned then it is no use to us.
AdSense Sandbox Checker is such a tool that will help you to find the AdSense ban.
Simply put URL and click on Preview Ads.
If all the ads are being displayed then you are in a safe zone; otherwise, it is banned.
4. Check the archive of the website
You might be aware of the above-mentioned things but this will be a new thing.
If you are buying an expired domain and want to see which type of website was running before it expired, then simply go to Archive and put your domain URL there.
Click on take me back button and you will see a screenshot link this.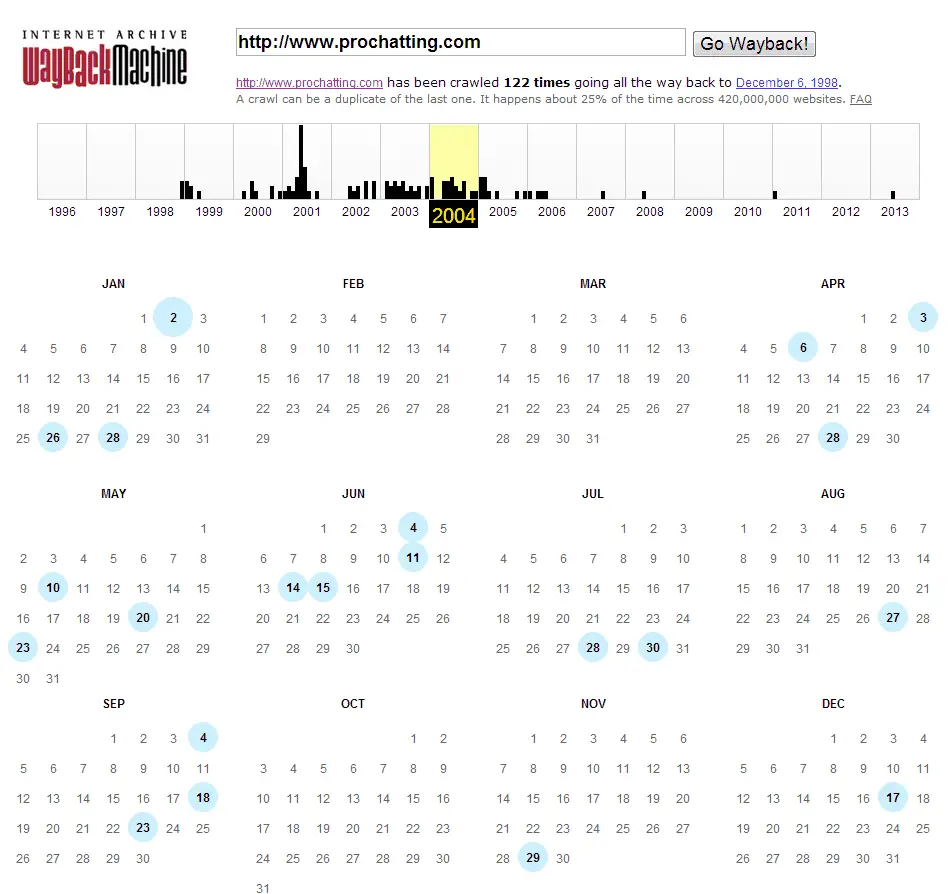 As you can see this is a timeline graph where you can click on any year and see how the site looks like in the past.
You can click on circled numbers in the month and you will be able to see a live website of that time. 🙂
5. Check Chinese Backlinks
Most of the expired domains are spammed to death with Chinese backlinks.
You can check this with aHrefs.
Simply put your domain name in ahrefs site explorer and go in the backlinks section.
Now you will see backlinks like this.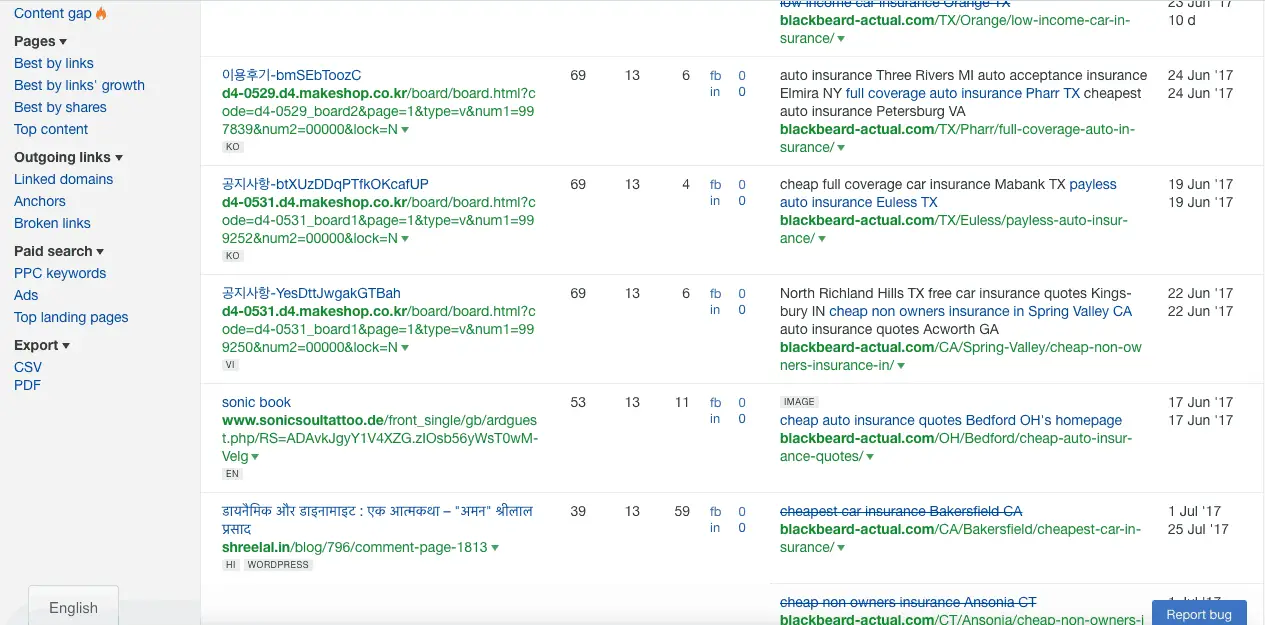 If there are many Chinese backlinks and many anchor texts with different languages, always avoid that domain name.
What are the websites and marketplaces to buy high-quality deleted/expired domains?
Here are a few of the websites we personally use to buy such domains.
DomainCoasters is at the top of our expired domains list.
They have a great inventory of expired domains that you can use to build money sites or a powerful PBN.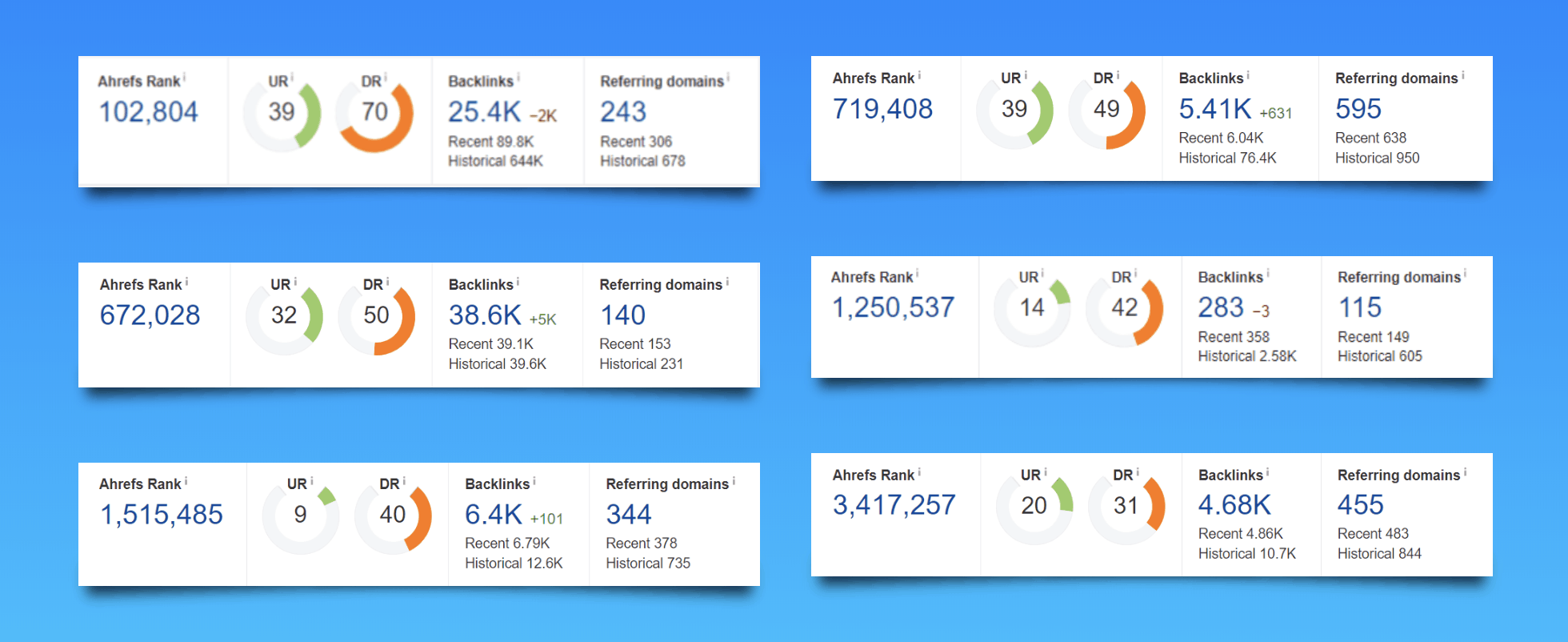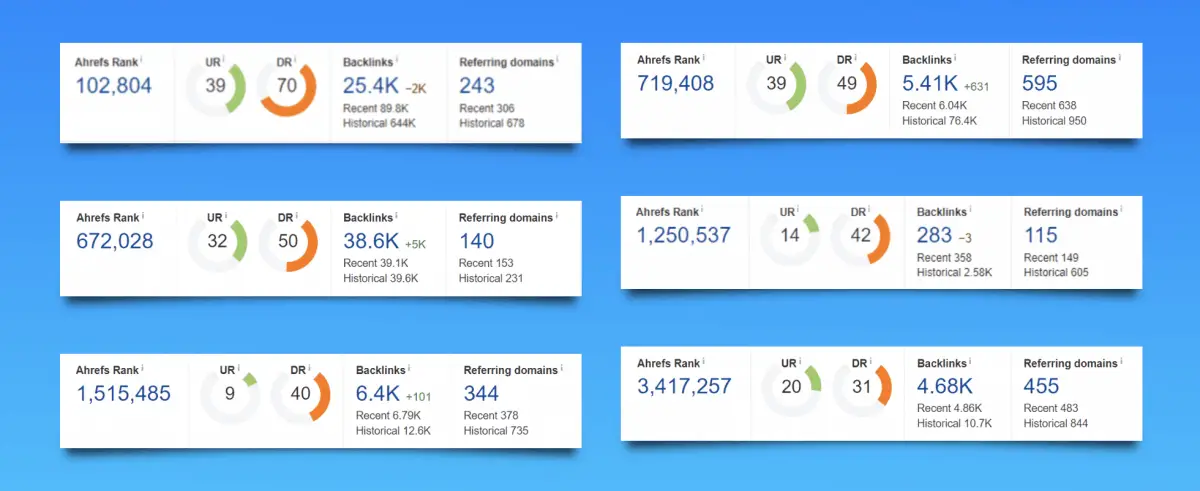 By visiting their expired domains section, you can see various domains from various categories.
If you want to see the backlinks of any domain, simply click on the LINKS in that specific column. It will popup an image showing all the backlinks.
DynaDot is at top of our expired domains list.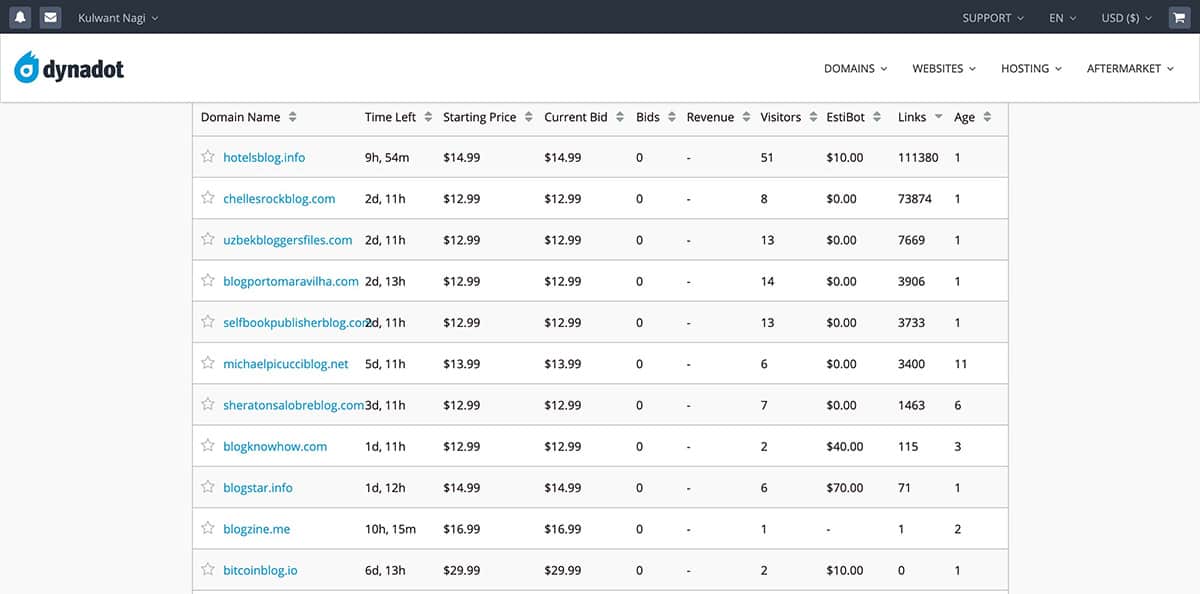 Here you can see some of the best domains which are going to expire very soon. You can place your bids and grab the domains if you win.

You can add the domain in your watchlist if you are interested to buy any domain name.
DomCop is the website we use to grab expiring domains. They have integrated various services with their platform so that you can check all the parameters on the site itself.
aHrefs, SEMRush, SimilarWeb, Moz, Majestic SEO are already integrated with the platform.
4. Moonsy
We are using this website since 2013.
In actuality, this was the first website we found to buy high-quality expired domains. We used to sit at night and see the best domains expiring tonight.
We were grabbing the domains and then selling at a higher price.
One of the most popular names in the domain expiring industry.
They have some amazing filters on the site which you can use to find quality domain names.
6. GoDaddy Auction
Godaddy auction is one of the most trusted places for easily buying quality expired domains.
They put all the domains in the auction and you can grab the domains.
7. NameJet
NameJet is also very popular to buy domains that are expiring in the near future.
They have 3 prime categories to pick the domain names easily.
Hot Picks, Last Chace and Open Auction are the 3 categories to buy the domains.
They use award-winning domain name aftermarket technology that allows domain professionals, businesses, and individuals to acquire domain names including those that just expired.
8. FreshDrop
They list domains that are deleted in the near future, in retail or are in the bargain.
Here you can find expired as well as deleted domain names.
They offer a wide variety of domain names from many categories, i.e. if you want to build a website in a different language, it's very easy to find different language domains that are expiring.
9. Flippa
Flippa is one of the biggest names in the industry to buy working websites, Apps and domains.
Flippa is the platform for premium sellers.
if you are looking for a quality premium domain name for your business, Flippa is your one-stop destination.
10. SnapNames
SnapNames has an exclusive inventory of the domains.
They have daily deals, best of the drops and top categories to make everything easy for you while buying a dropped or expired domain.
11. Domain Hunter Gatherer
This is a crazy software to find all the expired domains and web 2.0 properties.
They offer 2 premium plans to use this software.
Many industry professionals are using this software to find the quality domain names which are having backlinks from the high-authority websites.
12. NameCheap
NameCheap has a special section to list expired domains.
You can visit this link to find the marketplace and see which awesome domains are expiring today.
Final words.
There are few things which you must keep in your mind before buying expired domains. If you will check all the suggested things then you will be able to find very good and huge potential domains.
Check this infographic for Domain auctions

Frequently Asked Questions
Can we sell these expired domains?
Yes, there are many platforms where you can sell these domains to potential buyers.
Are expired domains and dropped domains similar?
Yes. There are very high chances that the expired domain you are buying is a dropped domain too.
Can anyone buy expired domains?
Yes, anyone can buy expired domains by going to public platforms and placing the bids on expiring domains?
Where can I get cheap expired domains?
DomainCoasters is one of the most reliable source to buy expired domains at a cheaper price.
How do I bid on expired domains?
To bid on expired domains you need auction membership from the domain registrar. The most famous auction memberships are Godaddy auction and Namecheap auction.
Why can't I buy a domain that has expired?
Sometimes the domain shows expires because it is temporarily deleted from the domain registrar.
How long does it take for an expired domain to become available?
A domain typically enters a Redemption period about 45 days after its expiration date if it is not renewed or purchased by anyone. However, certain top-level domains may have different rules and timescales. From days 31 to 60 after expiration, the domain name will be prepared for deletion. After 60 days, it may become available to register again if it is not renewed or purchased by anyone.
Can you renew a domain for 10 years?
Yes, most of the domain providers offer the service to renew domain for 10 years.
How long will GoDaddy hold an expired domain?
GoDaddy will typically hold an expired domain for 30-45 days from the expiration date. This period is known as the redemption period, and it is the time when you may still be able to renew or purchase the domain. After this period, the domain will be released to the public and may be registered by anyone.
How do I buy an expired GoDaddy domain?
You need to buy Godaddy auction membership to participate in expired domains bidding. When the domain expires, the maximum bid wins and the domain gets transferred to the highest bidder.