Disclosure: Some of the links in this article may be affiliate links, which can provide compensation to me at no cost to you if you decide to purchase a paid plan. We review these products after doing a lot of research, we check all features and recommend the best products only.
Most of us use the internet to build our business… or maybe, all of us 🙂
And we need a browser, like Chrome to do everything. What if you could make your browser do more than just visit the webpages.
I like chrome, even though it eats my RAM quickly 🙂 But these chrome extensions make using chrome a no-brainer to me, and it makes it easy to get a lot of things done faster.
Here are my top 30 Chrome extensions for bloggers and marketers.
Want to find the volume of searches for a keyword and the cost per click for that keyword without popping on Google Adwords every time you want to?
And not just for Google search, but also Google trends, Youtube, Bing, Amazon, eBay, Answer The Public, Soovle, Keyword Shitter, Majestic, and Moz Open Site Explorer.
The data that appear are from the Google AdWords tool. I can't live without this extension anymore.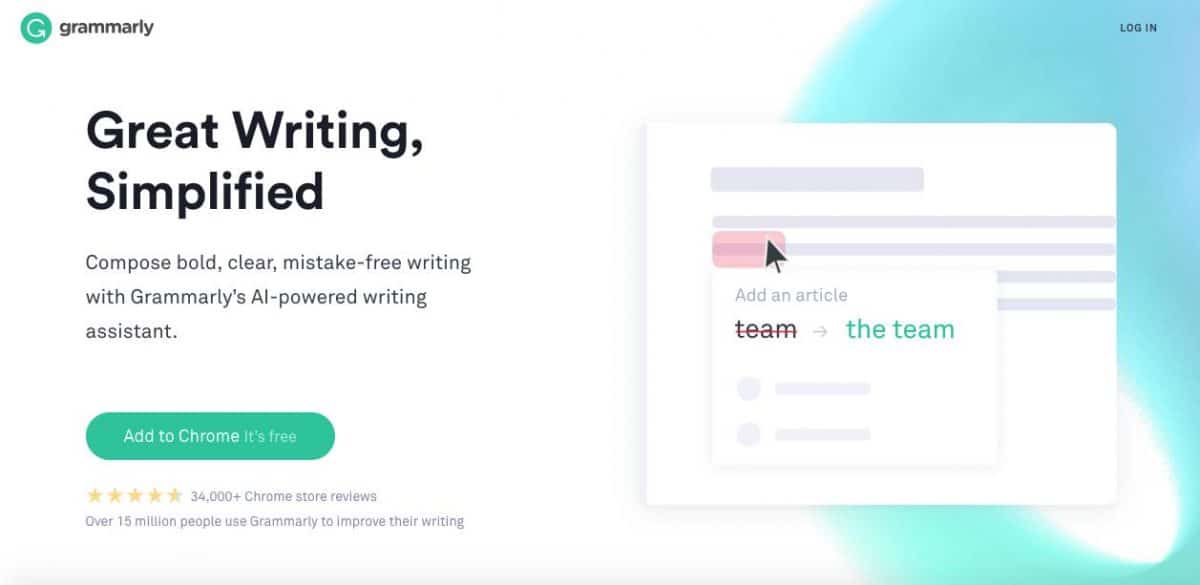 Grammarly is my secret weapon to make my writing free of Grammar & style mistakes although it is not my first language.
I enjoy this tool but going on to paste my content there to waste my formatting and then reformat it again after fixing the mistakes wasn't the ideal scenario for me.
With this chrome extension, once I start writing on WordPress or any other site, even facebook comments, I see the mistakes popping, and can fix it immediately there. They even started supporting Google Docs.
Of course, I won't be checking the mistakes for every facebook comment or every email I sent. This extension made it easier to do so without much work from me.
3. Email Hunter
Did you just land on a blog/website and want to contact the owner but don't want to just send a message through the contact form?
Your first option is to keep looking for options on their about page, contact page or on their website. Hard one, right?
Or you can just click on this extension and will do all that for you, and find different emails already available on the site. Not just that, it autosaves extracted emails, can export them to a file, filters out duplicate emails, and so more.
Last Pass is known for their ability to manage all your passwords, save them, and make you easily access your different sites in a secure way.
What you need is just to remember their master password, and it will do all the hefty work for you, auto-logging you as well, without much work from you.
You can even add your credit card, to check out much faster. And you could then access this data from anywhere using your master password, so don't worry, if you went on to use another laptop. Don't worry about not remembering your password.
Did you just find a cool post or video or image that you want to share across your all social profiles?
One way to do so is by manually checking in on every site, logging in, and then adding the post. A better way is to log in to your account on Buffer and do so.
The coolest way is to click one button on that page, and you are good to go. The chrome extension enables you to do just that.
This tool is a goldmine for people who care about SEO a little bit.
Did you just visit a site and want to find in a glance a quick analysis about how they are doing on Google. Like key SEO metrics, backlinks, and traffic?
Want to find the keyword difficulty of a keyword instantly? Instantly see a brief overview of all the pages ranking on Google once you click search for any keywords.
Here is the kicker, get a complete analysis of your On-page SEO or for any site with one click. It seems like magic, or that you need to pay a hefty amount of money for it. Well, you don't need to.
I am just scratching the surface about what this tool could do. You can't live without it if you are a blogger or someone who cares about SEO and getting traffic from Google.
If you want to get backlinks, there is no better way than finding broken links and emailing the owner about it to replace it with your fresh new content.
And if you plan to use the broken link building strategy. You can't go without this tool or you'll end up wasting your time clicking on every link on every page on the first page.
When instead, you could just click on the button, and you'll find the broken links instantly.
Like in this image…
If you use youtube or plan on using it, you really need this extension. It is something I am planning to dive deeper on, and this plugin is so much powerful.
Vid IQ is a great extension that shows you a complete report for any youtube video. You can understand why a video appears in the related, How videos get ranked, how does the video fair in terms of youtube SEO optimization and much more.
You can also see the velocity, measured views per hour, average watch time, likes shares and comments, the tags, Word per minute, Description link count, description word count and much more.
You can get even more data with the pro version, but you can't complain about the features already available for free, right?
Wondering what runs on a website? I mean analytics tool used, WordPress plugins, fonts, frameworks?
I am sure you were wondering about many of these things on multiple sites before. You can now know all these info with a click of a button once you visit a site. It is like getting access to their dashboard and know everything this site is using in front of you.
What font is a great extension that you can use to check out the fonts on any website? So if you just visited a site, and you like the typography on that page and want to use that font on your image or on your site, you can now know it without being a designer who knows every font out there.
Once you click on the extension, you can then move the mouse on the text you want to check, and then you will be able to know what font is used on that text. It is as simple as that. See the example below.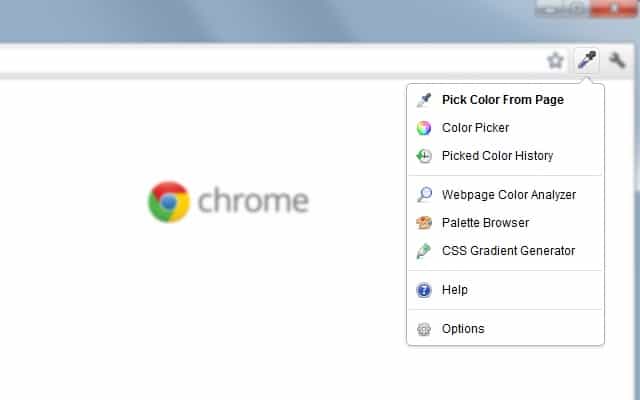 This extension was first created for Mozilla Firefox and it soon went viral, then it was created fro chrome.
It helps you find the color of any part of the page just by clicking on the extension and then moving the eyedropper to know the color of that pixel.
You can actually use their CSS gradient generator. You can actually use it to analyze the full-color palette of a site in ease.
You can also see the color history of recently picked colors. Find colors of dynamic hover elements and much more.
Similar web is known for the analysis they do on website traffic. They give you data about traffic sources and keyword ranking.
Now, you can do just that with 1-click on any site you see to see traffic and engagement statistics.
You can get even more data by joining the pro version and paying 99$ a month, but that is usually not needed. Most of the time the free data from here coupled with other tools is more than enough.
Did I mention that even Tim Ferriss love this extension?
Follow.net chrome extension is a great tool to use to do competitive analysis on other sites in your niche in seconds.
Once you come across a competitor, just click on this extension, and you will be able to see traffic estimates, how they are doing search engine optimization, display advertising, their affiliate marketing info, twitter mentions, web mentions, demographics of the visitors, Reverse IPs and much more.
You can use it on your own site to give you a lot of data as well. Great extension, check it here.
Save to Pocket is a great extension to save articles or videos. If any great video or article appears in front of you and you want to save it to view later on, then this tool is going to be your best friend.
You can do so to avoid distraction, or to save articles for later to study as research for your upcoming article or so.
And you can view the data in your pocket from any other device if you prefer to watch videos later on your table and so on.
If you do any FB ads to your site, then you need this extension.
It is a great extension that tells you if a pixel is fired or not, not only for your site but to other sites as well. A number will appear on the pixel button indicating the number of pixel events. Once you click on it, you will see an overview of the pixels fired, and an indication for any errors to be able to fix.
As I said, it is very important for every Facebook user to have it on their site, and make sure to check their website before they start sending ads and find out that the pixel event isn't working wasting money later on.
Check out the Facebook Pixel Helper here.
If you wanted to record your screen easily from your chrome browser, then this extension is for you.
It lets you start recording with a click of a button, and you can use your microphone's audio. Not to mention the ability to customize resolution and FPS. You can even embed your webcam in the screencast.
You could then edit the video to add a spotlight on your mouse, use the pen tool to annotate on your screen.
You could crop and trip recording when you have the premium version.
You could then save locally or on Google Drive, or publish on Youtube. You can export as .gif in the premium version.
The free version is enough to record 50 videos a month with a 10 min limit, which is plenty for most people.
It is a great extension to add to your repository.
Awesome Screenshot helps do what the name suggests, the ability to get an awesome screenshot with a button. You could also record a video as a screen.
You can capture the full page or part of it. You could annotate, add comments, blur sensitive info, and share it with one click as well.
There are no paid add-ons, so you get access to complete features here.
Nimbus is another screenshot extension. It is my favorite, to be honest.
It enables you to capture full or partial screenshots. You can edit and annotate screenshots as well. You could also do some recording using it.
You could time and crop screencasts as well, and convert videos to gif. You could also upload it online on their server or slack or google drive or Dropbox.
There is a lot of options to take screenshots. I like the full page screenshots and select and scroll option. It comes in handy a lot of times…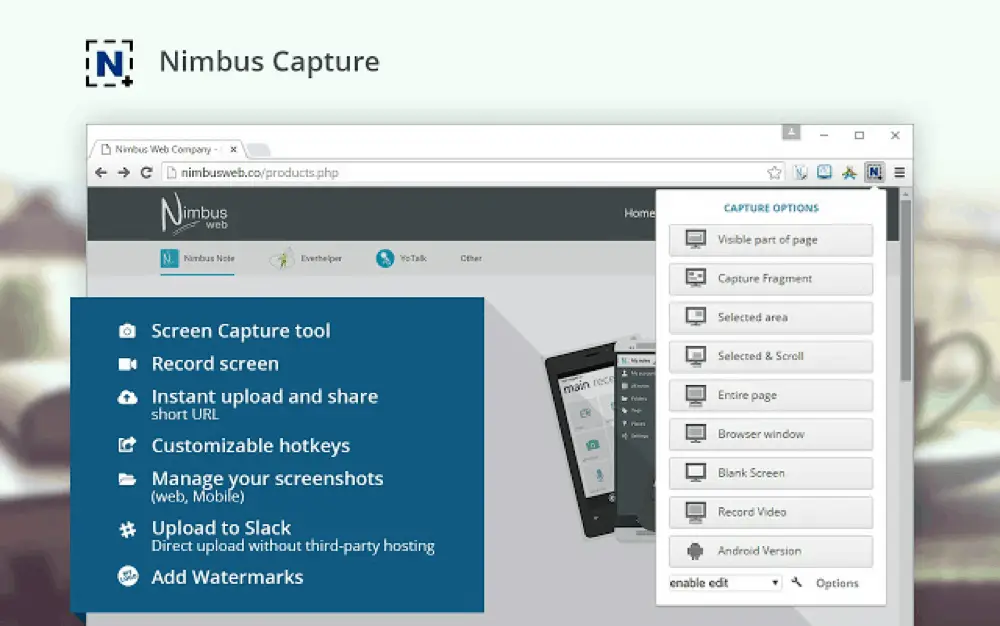 You could also do a lot of stuff in the editing like adding graphics and text boxes, resizing and cropping, highlighting text, add arrows, and blur sections of the image.
There is more to this tool. I honestly like to use this one.
Boomerang is a great tool in my arsenal that instantly increased my productivity when it comes to managing emails.
One cool feature you get with this extension is the ability to send emails later. This may come in handy instead of making the email going back and forth and wasting your time, you can send the email later by a few hours.
And if you don't have time to respond, you could make it appear again after a few hours to make sure it doesn't sink to the bottom of your inbox.
You can use it to track emails as well. So you can know if someone opened your message or not. You can use this, if someone doesn't open your message, you can email them again without thinking that you are intruding because it probably sank in their inbox.
Overall, it is a great tool you need to have.
Did you see the awesome signatures on most of the people's emails nowadays? Now, you can do so yourself for free using this free extension.
You can create a professional signature where you share what you do and add links to your social profiles. You can also add your photo or logo. Promote any new post or new offer using the signature.
Use it to share your latest statuses as well.
A great tool to use to direct people to where you want without much effort from you.
This extension actually helps you save money.
Did you just enter a site and go to the checkout and wondering if there is any coupon code, and which one is best to get you the best deal?
Worry no more and let this tool do all the heavy lifting for you. Seriously, when you checkout on Amazon, wait for it to do its magic and find if there are any deals on any of the products you have in your cart.
The same can be done on most of the checkout pages including the ones where you buy hosting or domain names. I just purchased a domain name for 1$ instead of 13$ from Namecheap thanks to this tool.
If you have no problem with paying more, then don't install it. Otherwise, grab the Honey extension from here.
22. Word Count Tool
Do you want to check the Word count of your text? Then with this extension, select the text and then rick click and choose Word count tool.
You can do so with any text on any website. This will help you have an overview of how detailed your competitor's posts are, and then go on more depth with your content to have a chance of ranking higher.
If you use Evernote, then you will love this tool.
It is a great chrome extension that will help you save "clip" any page or part of a page as quote or anything, or take screenshots and save it on your Evernote account.
So if you already use Evernote to collect notes, this tool will come handy instead of opening the tool every time, you will be able to clip to it with no much work from you.
You can add the note to a specific notebook, and tags to each clip, and be able to search for them later on.
It is a great extension to have.
Everyone knows Google Translate. But not everyone knows that there is a chrome extension that helps you do translations directly from the site. It can come handy a lot of time, especially, if English isn't your main language, or if you read articles in other languages.
Just select the word or sentence that you want to translate, right-click and click on the Google Translate button as seen below.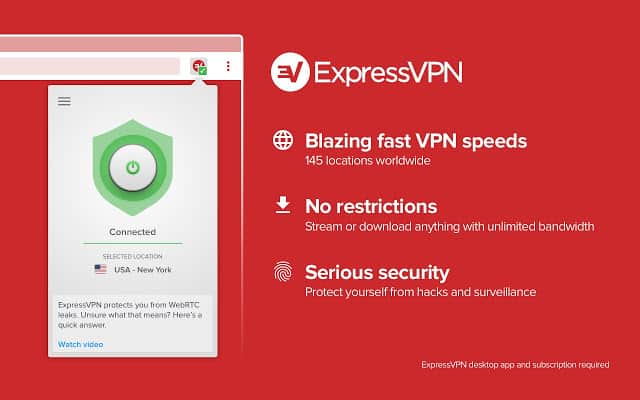 We sometimes need a VPN to stop from being tracked where did we visit a site.
There are many options out there, but I like this simple to use the extension.
You need the app whether you are on windows or mac or Linux to benefit from this extension.
It is great to add an extra layer of protection and be able to check your VPN status in no time and be able to connect with 1 click.
It blocks webRTC and preventing websites from geolocating where you are.
26. Headlinr
Headlinr is a simple extension that is a headline generator. We all know the importance of headlines. This tool helps you start generating headlines that you can use for your blog posts, email subject lines, sales copy headline and even for your social status updates.
You get 30 headlines in the free version, and over 315 in the PRO version.
Just enter a noun, and let them do their magic as seen below.
Want to know my secret for getting things done and being able to focus on what I am doing, it is this tool.
We all know how distractions are available everywhere, and we can't focus for few minutes before opening facebook and scrolling, and then going to youtube and watch multiple videos, and then go to Twitter or Instagram endlessly for hours before noticing. It is common, right?
This tool helps you avoid this.
You just add the sites that you want to block, and select tell when you want that block to last. And till that duration, you won't be able to check these sites, so you return and focus on the task in hands.
You can also block all websites using the nuclear option, or block all except few web pages. A great option 🙂
I know it is hard at the beginning, but over time, you will not need this tool.
A great tool to analyze the redirect path.
We all have pages that we want to redirect to elsewhere. Mess this stop, and you will have some problems that won't please Google, plus, you will lose rankings for the old page and not be able to send the juice to the new page.
So why all the hassle?
It is great to analyze your page and make sure it is on spot with Google robots.
You can know more about what it does and how to benefit from it in their chrome extension page.
I know I shared another tool for hunting for emails, but to be honest, this is my favorite one.
With a click of a button, it helps you find the email pattern used by a company. This will help you tremendously to find the email for the right person to reach to. You could add their full name, and it will tell you their exact email address.
It comes in handy, especially when you are pitching a company your services for example, so you pitch the right person instead of emailing support and they ignore your messages, or when you want to pitch your guest post idea for example, or I use it to reach to affiliate manage and make awesome deals for you, and much more.
There are limits to the number of searches you can do for a day or for a month, that is why you can't completely depend on it unless you purchase credits or signup to any of their monthly plans.
That is why it comes in handy with the email hunter extension.
It really needs to be in your arsenal.
We all waste time on Facebook right? Worry no more if you have this problem, and have this extension installed.
You can use this extension to "eradicate" your entire news feed. Yes, you'll enter facebook and see no new updates or posts. Instead, you will find an inspiring quote.
I know it is simple, but trust me, it makes a huge difference. You start noticing your patterns and continue back to focus on what you were doing.
Conclusion
We covered a lot of tools in this post 🙂
I am sure you didn't hear about some of these tools before. Trust me, many of them will change a lot of things and make it easier to get what you want to be done.
You now have access to my complete arsenal of chrome extensions that have helped me over my blogging journey.
Which one of these tools was your favorite that you didn't know about before? Share it below, and tell me why.
Also, tell me, if you have any secret extensions in your arsenal that I didn't mention here. If I like it, I'll add it to the post and give you credit.
Waiting for your comments.