Disclosure: Some of the links in this article may be affiliate links, which can provide compensation to me at no cost to you if you decide to purchase a paid plan. We review these products after doing a lot of research, we check all features and recommend the best products only.
Many people talk about building an income and sustaining a business through different channels.
Online channels like search engine optimization, social media, pay-per-click, content marketing, email marketing, and influencer marketing are the legit ways to build and scale a business from the ground up.
A couple of decades ago, if you had told someone that they could make a fortune from a laptop and smartphone by just sitting in the living rooms from the comfort of their homes, they would've considered it as a joke.
But not today.
Today, we have many channels, techniques, and resources available online to help anyone build a solid business.
When it comes to online selling, email is considered to be the top-notch channel out there. In fact, email generates $42 for every $1 spent, which leads to a whopping 4200% ROI.
As 64% of businesses use email to connect with new customers, it shows how effective email marketing is to grow a business.
Today, we will dive deep into two of the essential email marketing tools, Drip vs. Mailchimp.
Before we dive into the nitty-gritty of both the tools, let's understand why email marketing matters followed by why you need an email marketing tool to scale your business to a whole new level.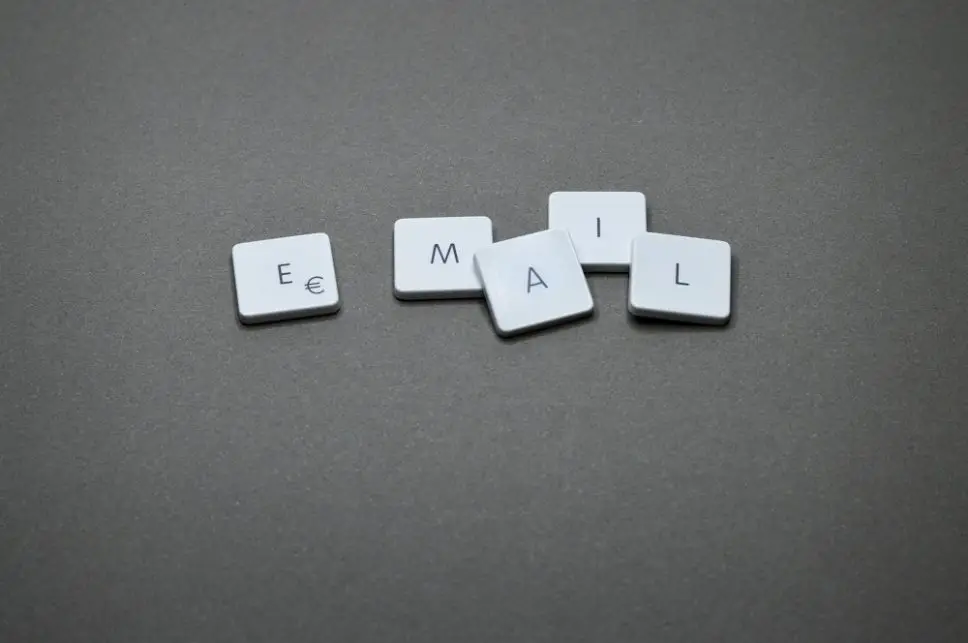 Why Email Marketing Matters?
Below are the unique things that email brings to the table and makes it the best marketing solution. Of course, there can be dozens of reasons why email matters. But we will focus on 3 core benefits.
1. Email is more direct
Unlike Social media, SEO, and PPC, you will know exactly who you are talking to regarding email communication.
Email puts you directly in front of the targeted customers, so you will know whom you are talking to and that gives you an unprecedented advantage to build a solid reputation and relationship with your readers.
2. Customize messages
With other marketing channels, you have to A/B test your communication and make it general.
With email marketing, you know whom you are talking to speak their language and customize your messages.
3. Email is fast
With other marketing channels like SEO and Social, you will need to put in many creative and resourceful efforts and wait for some time to see significant results for your marketing campaigns.
But with email, your messages' deliverability is relatively quick compared to SEO's and Social Media's. Plus, you can schedule a flow of communication to increase engagement with persuasion.
That being said, the question that comes to mind is, why do I need to have an email marketing tool in the first place.
Most of the role is crafting a copy and sending it to the subscribers. So then, why do marketers focus on email marketing tools? Well, let's dive right into it.
Why Do You Need Email Marketing Tools?
There are lots of benefits that a tool can offer. Let's understand what those are in detail.
1. Reduction in workload
When you have any marketing software at your disposal, most of your manual work and time-consuming activities are automatically taken care of.
For email marketing, you have to copy and paste email copies each time to send an email to your customers. Plus, you have to keep in mind the time zone too.
But, with a good email marketing tool, you don't have to juggle such tasks.
2. Nurture leads to an increased average order value
Top-quality email marketing tools will allow you to define different parameters and create a sequence of communication diverted through various permutations and combinations.
Let's say you are utilizing a series of communication based on the response you receive from the prospective client.
You can define that parameter, and a variety of relevant responses will be automatically sent to the people without you having to interfere all the time.
3. Unparalleled report generation
The marketing tools will help you with comprehensive reporting and analysis to determine how customers react to your messages.
This will help you determine the psyche of the targeted customers so you can tweak your email campaigns that yield maximum positive results.
4. Automation and segmentation becomes easy
Whether you are a big-scale organization or an emerging startup, they all have a lot to do on a given day.
Plus, all of them have different types of buyers like existing buyers, prospective clients, returning customers, high-ticket clients, only email subscribers, and so on.
To cater to different emails for different types of buyers, you need to write and assign different copies and then replicate the same for those customers. Here, you need segmentation of your contact list along with automation while sending them.
Only a reliable email marketing tool can help you with both of those tasks.
Drip – An Overview
Drip is a comprehensive email marketing and digital communication tool serving mainly eCommerce businesses.
27,000+ marketers across the world trust Drip.
On the website, Drip says that they have generated $1 billion in attributed revenue.
Drip is divided into three different categories:
Customizable forms
Email & SMS
Automation, segmentation & reports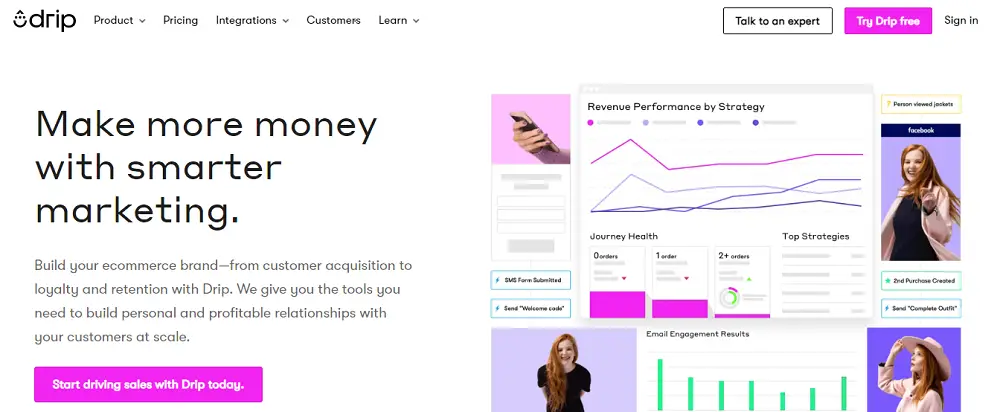 1. Powerful visual design builder
With this particular tool, you get a comprehensive email builder tool that allows you to create attractive emails that convert and bring sales for your eCommerce Store.
With the email template builder, you can execute different campaigns like abandon cart, unique discount codes, top-selling products suggestions, and more to stay in touch with your existing buyers.
With all the email types, you get ready-made templates to stand apart from the rest and ensure maximum engagement.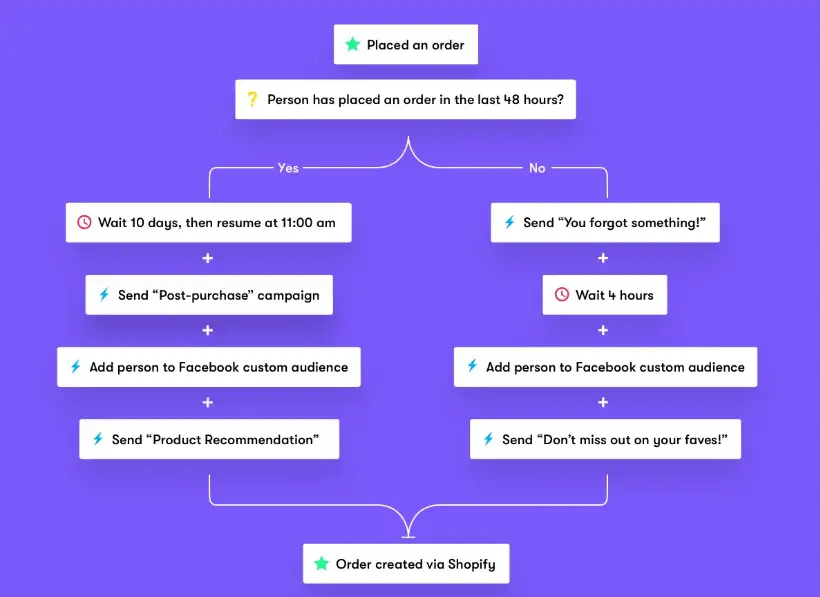 Without these features, you cannot execute everything under one roof. With this feature, Drip has tried to streamline the process of email marketing for different types of campaigns for the targeted customers.
2. Send SMS to stay connected with customers
With Strip, you can go one step ahead in connecting with buyers. You can create personalized SMS campaigns for your brand.
You can ensure top-level engagement for your marketing campaigns catered for their behavior and preferences on your website.
3. Behavior-based recommendation
This is the real deal-breaker of using Drip for your email marketing.
As an eCommerce entrepreneur, it will be hard for you to send emails based on your customers' behavior on your site.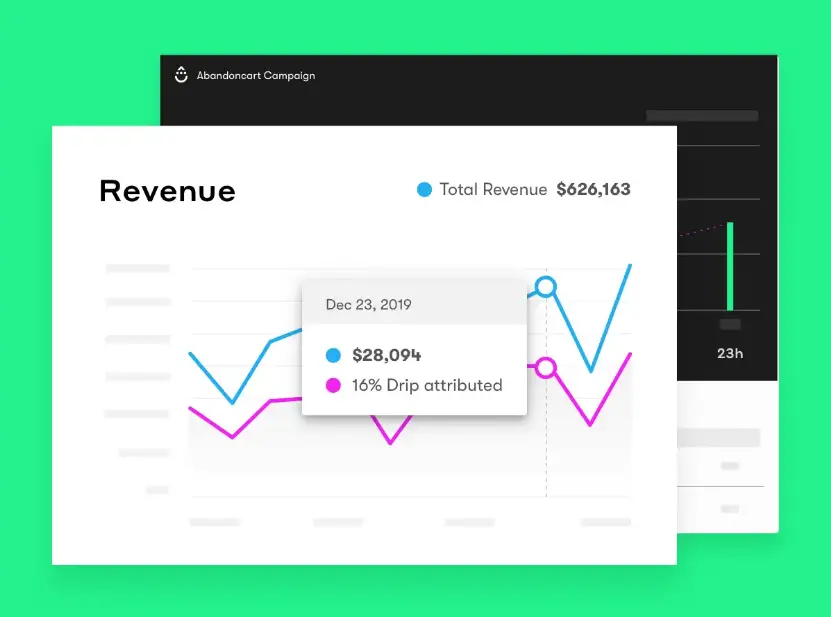 The ultimate goal is to increase overall conversion value. Unfortunately, it takes a lot of time, energy, and effort to manually track and execute email marketing campaigns.
With Drip, you get behavioral-based recommendations to send specific types of emails that encourage customers to purchase your products.
Such extensive campaign executions are possible without you having to write a single line of code.
4. A/B testing
Effective A/B testing will help you score more conversions and skyrocket your conversion through email marketing.
With Drip's A/B testing, you can test almost everything starting from subject lines, email body copy, call to action buttons, creatives, and so on.
You can know what message resonates with what type of customers. This will serve as a groundbreaking insight to design and execute all your email campaigns.
Visual flow builder of Drip will help you define the objective of the A/B testing and the critical metrics like clicks, open rate, conversion, and more.
With this split testing, you will understand your customers better and accurately determine their buying psychology.
5. Enable automation like no other
Drip will suggest to you what is the right time to send your emails, and it can also help you schedule the same.
You no longer have to second-guess the right time when your customers are most likely to stay online.
You can rely on Drip's observations and recommendations and schedule your emails to yield maximum conversions for your campaigns.
6. Supercharge your Facebook ads
With this feature, you can create custom audiences with Drip.
This way, you can achieve concurrency across your different platforms. For example, you can utilize the same creative you used on emails and retarget the buyers with the same graphic on Facebook.
With this, your buyers will instantly recognize your product and your brand. Plus, thanks to the concurrency factor, you are more likely to enjoy better engagement and higher conversion through your Facebook ads.
7. Custom eCommerce integration
Synchronises effortlessly across different platforms like Shopify, Magento, WooCommerce, or even the custom Store.
It also works flawlessly with popular other third-party integrations to supercharge your eCommerce sales like no other.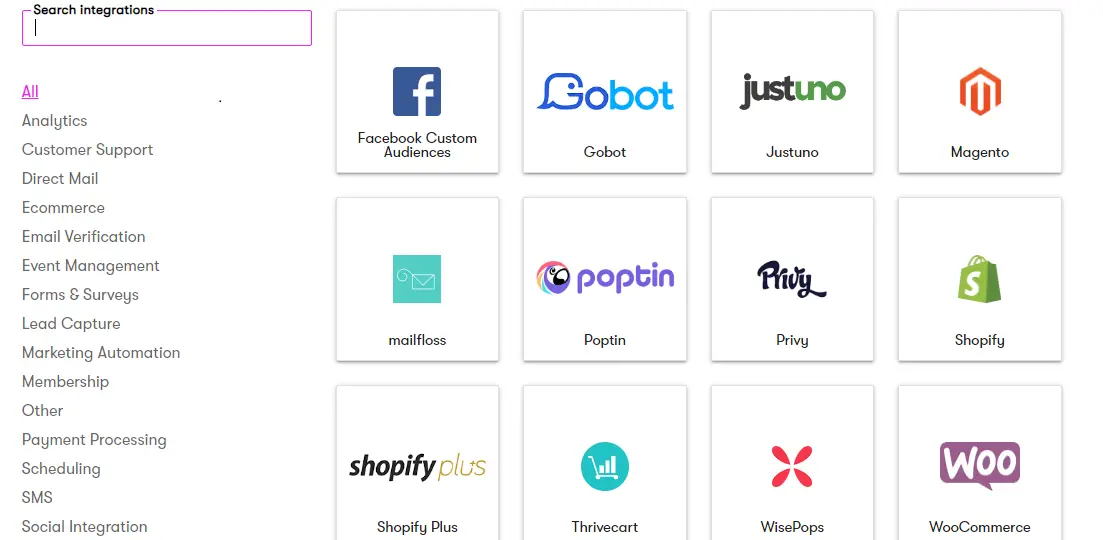 From the tools ranging from direct customer support to email verification, from event management to forms, from surveys to lead capture, from marketing automation to payment processing, from scheduling SMS to video, Drip works with everyone.
Pros and Cons of Drip
Drip is a great tool for Email Marketing but it is not good there. Below we have briefly mentioned the Pros and Cons of Drip.
Pros:
Sleek and visually attractive design
Advanced automation
Supports multiple channels
Top-quality visual automation builder
Best for e-commerce
Works with a lot of third-party integrations
A/B testing
Cons:
Expensive tool
Cannot create a customized landing page
The trial period is only 14 days
Pricing of Drip
Drip's pricing starts at $19/mo.
This covers unlimited emails and conversations. You can add SMS too. But it will add extra cost depending on your requirement. Adding SMS will result in different prices, depending on how many SMS you want to send.
You also get a 14-days free trial to check how this tool performs for you.
You can only send 500 emails with this, and the SMS feature is not included. The rest of the features are available in the trial period.
In the trial period, you don't have to provide your credit card details which is another good thing for many users.
Mailchimp – An Overview
Mailchimp was initially very popular among marketers who could execute email marketing campaigns.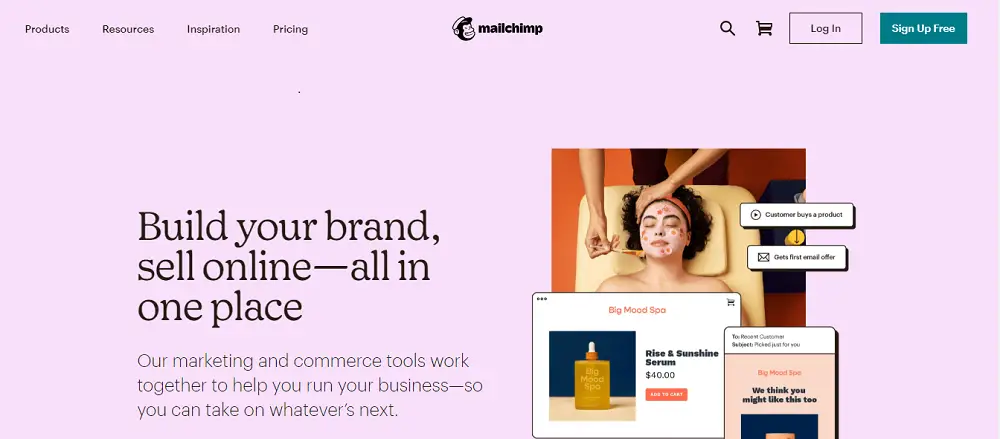 Since then, Mailchimp has gone through some major overhauls and introduced many other cool features and comprehensive marketing solutions.
Let's understand its features in more detail.
1. Marketing CRM tool
With Mailchimp, you can execute top-quality marketing campaigns.
You no longer need to sign up for any other marketing tracking software.
Mailchimp can identify different demographics, traits, and behavior to segment your audience so that you can automate marketing activities with utmost efficiency.
Within a single dashboard, you can upload your customer data and make in-depth analytics. As a result, you can understand your audience and make changes to your campaigns to supercharge your conversion rate like no other.
2. Automate interactive email marketing campaigns
You can design visually appealing emailers and execute email marketing campaigns like you never could with Mailchimp.
You can literally define the customer journey from awareness, engagement, conversion, and retention. Plus, you get all the nuggets required to keep customers hooked with your brand.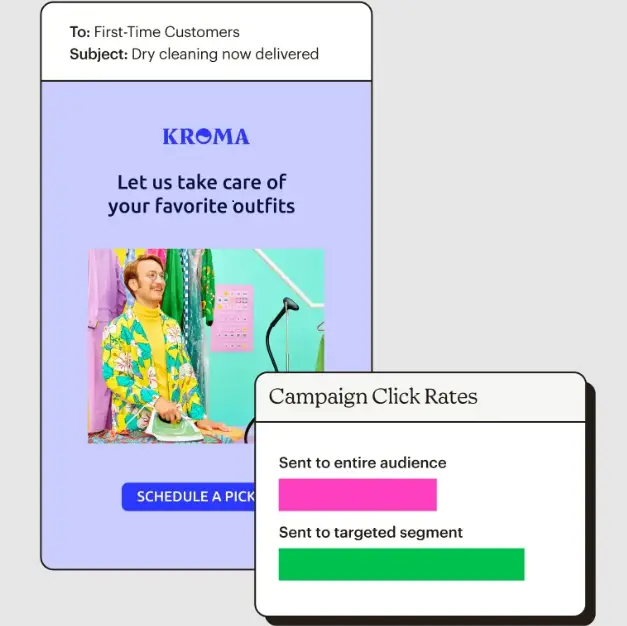 You can get templates, workflows, funnels, and metrics that help you define the essential ingredients of your marketing campaigns to ensure maximum conversion.
Moreover, Mailchimp understands the time factor while sending emails. And therefore, it takes away the guesswork from your hustle by calculating the tentative time and right moments to reach your customers.
3. Amazing Analytics Solutions
It analyzes the past data and determines when your customers are most likely to engage with your message. You can have that data and schedule your emailers with Mailchimp.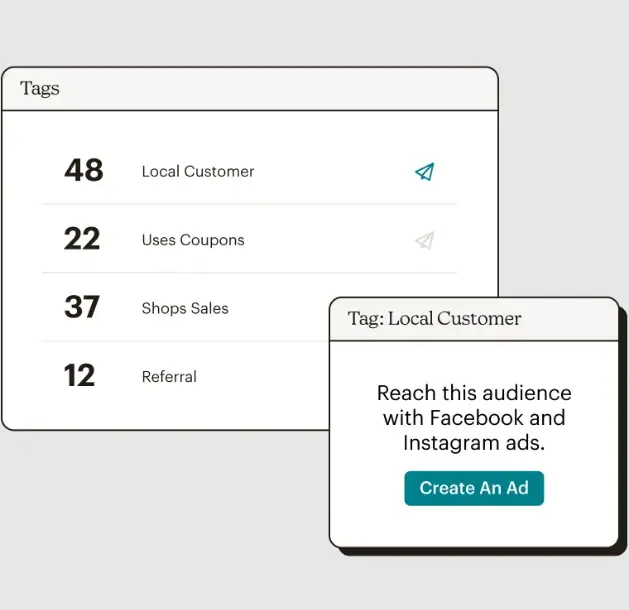 You just have to define the purchasing journey to Mailchimp, and the tool will take care of most technical and heavy tasks, like scheduling, replying, analyzing, and narrating the story through emails.
4. Works with every type of business
Mailchimp is designed to serve every type of business.
It literally takes email marketing very seriously and optimizes your marketing activities like no other.
Whether you have a website blog, agency website, eCommerce store, consulting business, or local retailer store, you can confidently execute an email marketing campaign with Mailchimp.
5. Behavioral-based automation
With Mailchimp, you get behavioral-based automation.
Depending on how the customers engage with your content on-site, you can execute email marketing campaigns accordingly.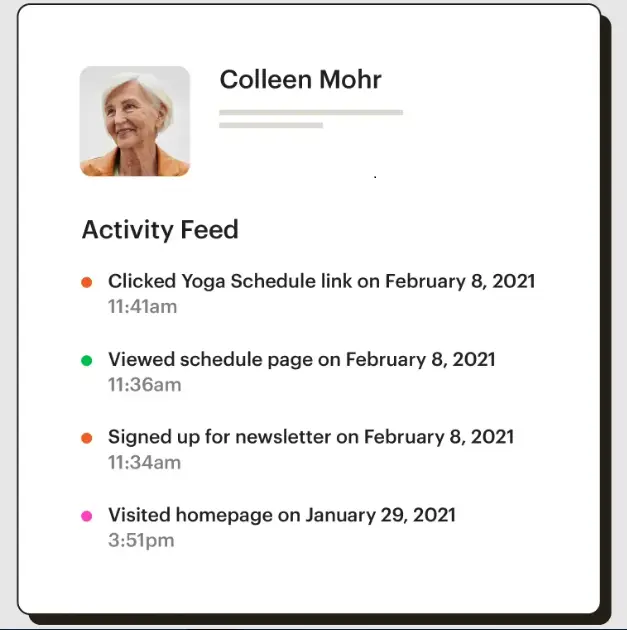 You can send them reminders, abandon carts, offers, discounts, rewards, and transactional emails.
Transactional emails are perfect tools. Of course, you need assistance from web developers to nail this part. But you can get advanced with transactional emails and can establish lifelong relationships with your buyers.
6. Send emails as per different time zones
When it comes to timing, Mailchimp will never disappoint you.
Whether your reader is from Chicago or Singapore, you can send to the same lists per different time zones. You can define the same on Mailchimp, and it'll be taken care of.
It allows you to deliver the emails by time zone to interact with your buyers across different time zones and ensure maximum open rates and response rates of your emails.
7. Plan smartly with an in-built marketing calendar
If you are betting heavily on email marketing for your campaigns, I'm sure you are dealing with a ton of emails every week. And guess what, I understand how it feels when you miss a special day to send an email to your customers.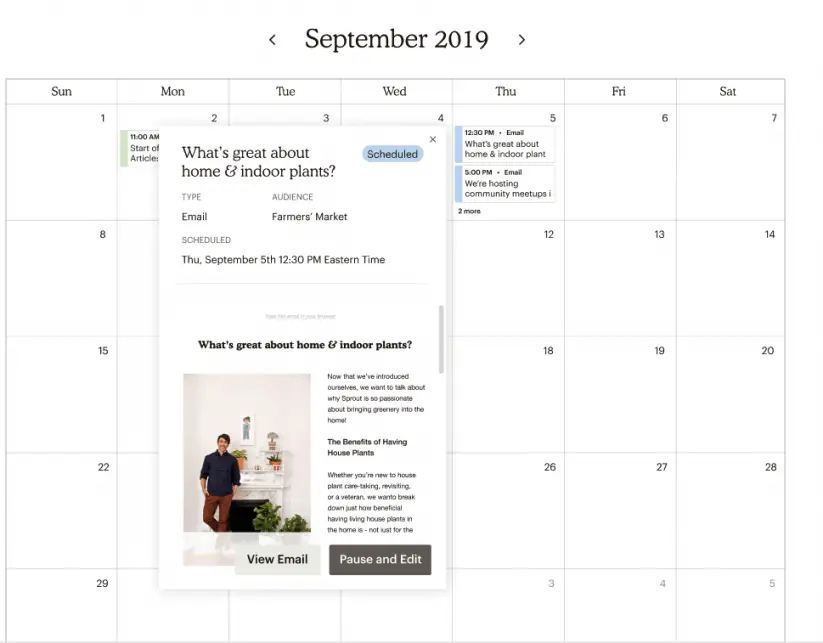 With Mailchimp, you can plan your emails with their Marketing Calendar feature.
This calendar is a user-friendly layout where you can stay ahead of schedule and never miss a chance to send an email.
Types of email templates you get:
Welcome
Abandoned cart
Product recommendations
First purchase
Order notifications
Follow UPS product
Customer engagement
Retargeting
All these templates are easily accessible so that you can begin your email marketing quickly. You don't need to plan things out. These templates will make things faster.
8. Works with a ton of tools and platforms
Along with this, Mailchimp also supports 250+ applications and integrations that can connect and scale your marketing activities like no other.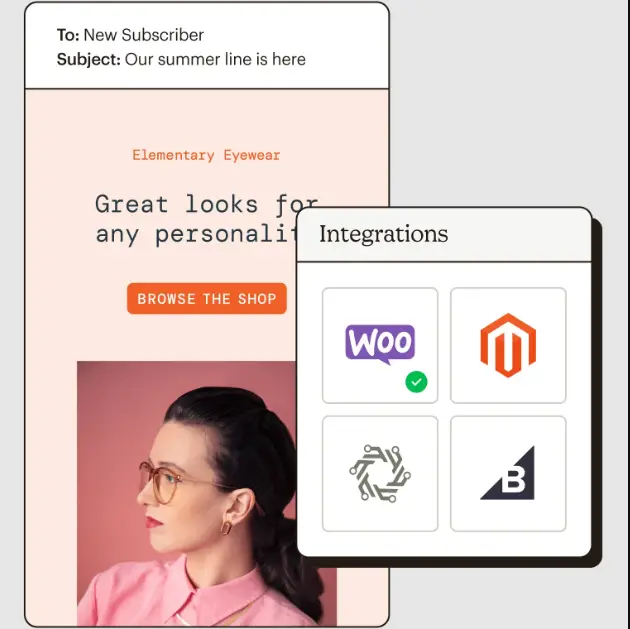 You can unlock unlimited opportunities with Mailchimp by using your favorite tools and third-party applications.
Mailchimp also supports CMS like WooCommerce, WordPress, Magento, OpenCart, PrestaShop, and so on.
Pros and Cons of MailChimp
Below are the quick Pros and Cons of MailChimp for easy decision-making.
Pros:
User-friendly layout
Affordable pricing option
Can build landing pages
It comes with a free plan
A series of different templates to choose from
Automatic email marketing creation and execution
Support behavioral-based decisions
Allows A/B testing of the tool
Robust reporting
250+ integrations
24/7 email and chat support
Cons:
Old design
The trial period is only for 14 days
Split-testing could have been efficient
Pricing of Mailchimp
Mailchimp has got several pricing options based on the type of product that you choose from.
For marketing activities, you get 4 plans, namely:
Free
Essentials for $10.45/mo
Standard for $15.60/mo
Premium for $312.02/mo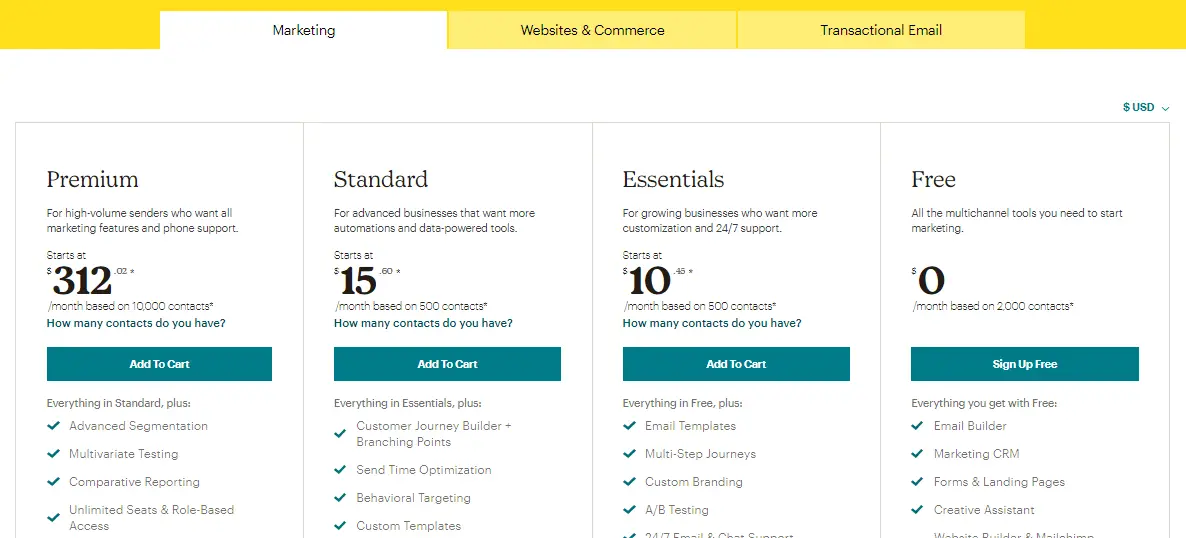 If you are into websites and commerce, can you get the three different types of plans:
Free
Core for $10/mo
Plus for $29/mo
The Transactional Email tool has a custom pricing defined as per the number of blocks.
Conclusion: Which Email Marketing Software Should You Buy?
Both of them are excellent email marketing software.
If you are looking for a visually attractive builder related to eCommerce and online sales, go with Drip.
That being said, please note that it's a costly tool.
On the other hand, Mailchimp has been in this industry for a very long time, and they are best at what they do.
It is a well-known email marketing tool, and many industry experts are betting on it. Plus, it is not focusing only on eCommerce, as Drip does.
Plus, Mailchimp has also got a free plan that you can utilize. Hence, if you are just starting email marketing for your brand, you can rely on Mailchimp.
Both give the same trial period, i.e., 14-days. Therefore, make sure you try whichever tool you are going with the maximum throttle in two weeks to determine whether it is right for you or not.
Let me know what you think about both the tools in the comments below. Which one are you thinking of trying first?