Disclosure: Some of the links in this article may be affiliate links, which can provide compensation to me at no cost to you if you decide to purchase a paid plan. We review these products after doing a lot of research, we check all features and recommend the best products only.
The eLearning industry has brought a lot of opportunities for course creators to teach high-demand skills and create an impact in the world by improving the lives of others through education.
With eLearning, we can overcome education's primary hurdle—that can hamper the learning experience—the distance between the students and teachers.
Anyone with the determination to learn can grow their careers and personalities with the help of eLearning.
Many platforms, tools, plugins, and websites are available online that allow people to create and sell courses online and scale their brand and earnings.
When it comes to course creation platforms, they can be categorized in three different formats, namely public platforms, standalone hosted platforms, and WordPress plugins.
Public platforms are like e-commerce websites where you pay for the course that you want to enroll in. You can enter the name of the industry where you would like to see classes, and the materials of different teachers will be given to you.
We have Udemy, Coursera, LinkedIn Learning, and several other public platforms where you can create your account and host your courses.
With the standalone hosted platforms, you get more dynamic aesthetics for your course creation process.
You don't need to juggle buying hosting and designing the basic website.
Tools like Kajabi, Teachable, Podia, Zippy Courses, and dozens of other standalone hosted platforms.
The other category is WordPress LMS plugins that manage the courses on a WordPress site.
With the LMS, all the technical infrastructure is maintained by you only. First, you need to install the LMS plugin on your WordPress site, where the plugin will streamline all your material and content.
Out of all three, standalone platforms strike a perfect balance. It gives us freedom and flexibility while taking away the heavy work of technical infrastructure of hosting and building a site.
Today, we are going to discuss two leading standalone hosted platforms, Kajabi and Teachable.
Without wasting any more time, let's start with Kajabi.
Let's see Kajabi vs. Teachable Comparison.
Kajabi – An Overview
Kajabi is a leading name when it comes to building online business by selling courses.
Kajabi was founded in 2010, and so far, it has empowered more than 40,000 knowledge entrepreneurs across 120 countries.
It claims that its platform is serving 60 million students and making sales of $2.5 billion.
In a nutshell, Kajabi tries to dissolve the barrier of technology and infrastructure for everyone who wants to make an empire online.
Currently, Kajabi has a team of 100 members working at the headquarters situated in California. Then the tool is serving thousands of marketing executives, entrepreneurs, celebrities, consultants, artists, and more.
Kajabi has a good clientele where its customers belong to different markets. They have Mel Abraham, Amy Porterfield, Brian J. Dixon, Brendon Burchard, and others as their happy clients.
Let's discuss the features of Kajabi.
1. Easily Build Digital Products
In this era of digitalization, having a digital identity is paramount. People are making millions selling digital products online. 
People are leveraging their talent and skill and making digital products like courses, memberships, eBooks, podcasts, and monetizing all those things.
With Kajabi, you get a robust infrastructure to create online courses, coaching programs, VIP masterminds, mentorships, podcasts, memberships, newsletters, and more.
You can package all your digital catalogs by developing a responsive site using Kajabi and monetize the materials as well.
To transform your skills into courses and to coach programs through Kajabi, come on, you don't need any programming skills.
Kajabi has given product blueprints to show you how to use the platform and make a professional platform to sell courses and programs.
You don't need to read a single line of code in HTML and JavaScript to give your landing pages a touch of elegance.
2. User-friendly Website Builder
With this feature, Kajabi has tried to compete with top-of-the-line content management systems like Squarespace, WordPress, Magento, and Shopify. 
You can get a robust website builder that allows you to add, edit and remove elements of your choice with a drag-and-drop feature.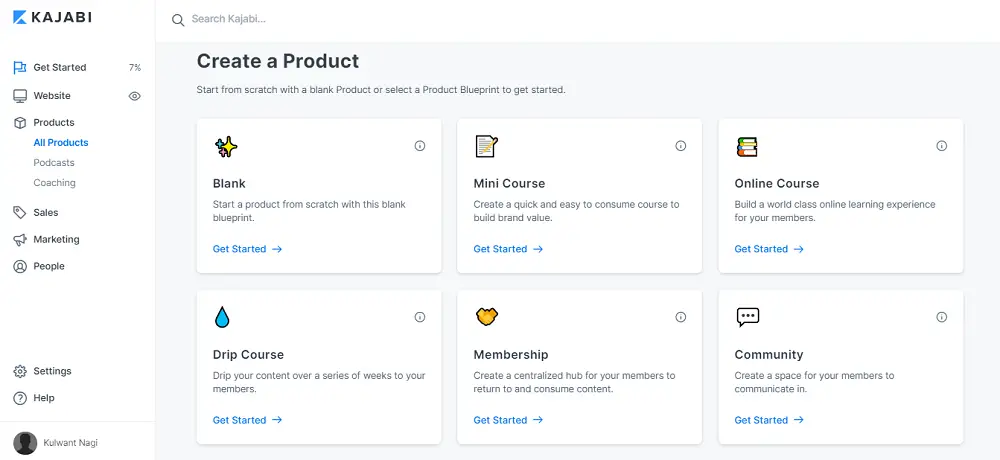 Let's say you are a very proficient online trainer who has free and paid courses. You also sell mentorship programs.
Hence, you have got a lot on your belt and are teaching people with multiple methods.
You can host your offers independently and sell them as separate products.
But if you can club all of them together and showcase them on a platform, it would create a solid impression of your brand.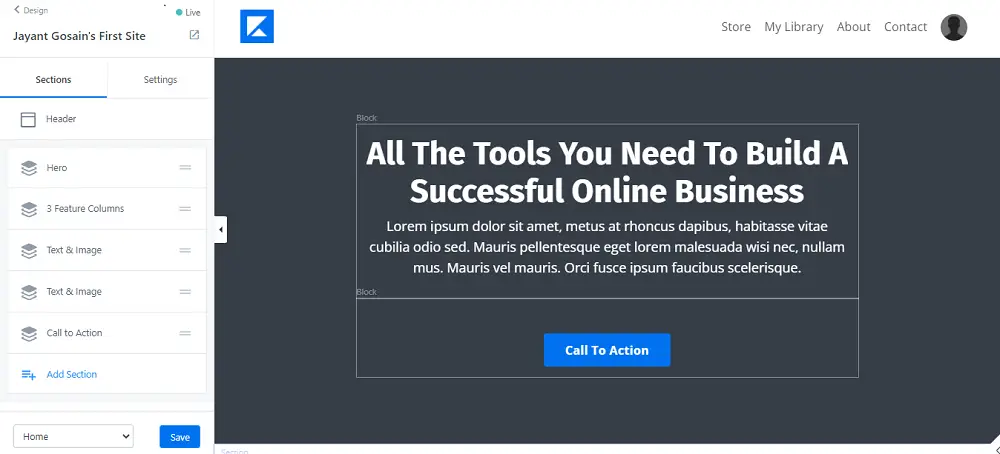 Once you sign up on Kajabi, you will get ready-made themes and beautiful templates that you can directly import on your website and start working at your disposal.
This will help you in two ways.
You can save money. You don't need the help of a professional developer, so you don't have to onboard developers or hire an agency to develop a website and make necessary tweaks afterward as per your needs. All you need is creativity and a keyboard and mouse to make any changes.
You can save time. You're all by yourself, so there is no back-and-forth communication with developers or team members to ask for updates and assign design changes. Plus, everything happens in real-time, so you don't have to wait for the changes to happen.
3. Support for All the Payment Gateways
Kajabi understands the importance of readily accepting payments to scale business digitally, supporting Stripes and PayPal — the two leading payment gateways.
Plus, integrating payment gateways might take a lot of time in setting up on most platforms, but that does not happen with Kajabi.
All it takes is a couple of clicks and a few moments to integrate your favorite payment gateway on your courses' landing page to start accepting payments right away.
4. Does Not Take a Cut
When you sell courses on most platforms, you are liable to pay commission to the platform.
Platforms like Udemy, Skillshare, Coursera do the same.
But Kajabi does not do that. Instead, it shares 100% of the cost price with the creator.
That means every sale you make using Kajabi is wholly shared with you, and you get a hundred percent profit for all your digital product sales.
This will put you in complete control and massively impact your overall revenue.
5. Generate Comprehensive Reports
Let's face it, running an online business, primarily selling online products, requires so much effort besides creating content and publishing content on the website.
You need to understand customer psychology to tap on the right emotion to hook them with your brand.
To maximize your sales, your business is always in the optimization stage. For example, you make a million dollars in revenue. If you want to keep going and improve sales figures, you cannot follow the same steps that got you to the $1M mark.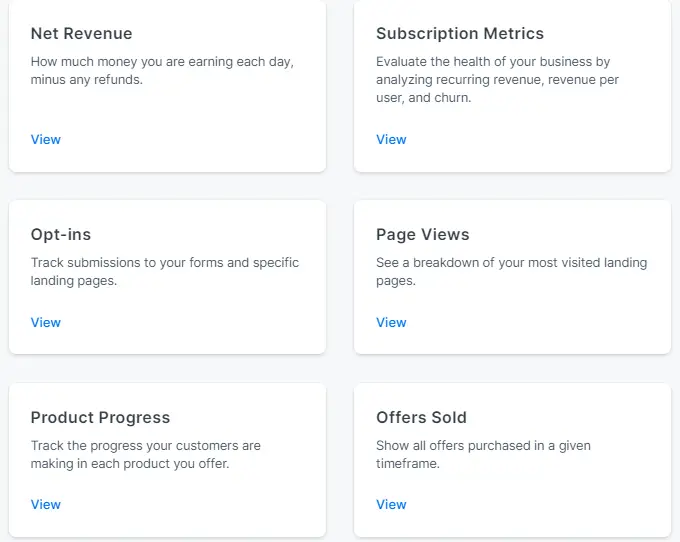 You need to dig deeper into the numbers game and analyze the data to anticipate the user behavior and make changes in your business's execution to scale your earning.
With Kajabi, you get intelligent reports and comprehensive analytics solutions to never miss a chance to track users' activities on your landing pages.
Kajabi gives you the right metrics in an attractive format with graphs and tables, so you know exactly where you should pay attention.
You get your hands on the most crucial data to make intelligent business decisions.
You no longer have to spend hours in excel sheets and PDF files to identify opportunities and loopholes in your current systems.
You can do all that pretty quickly and amend the changes on your website soon with Kajabi.
Clicks, CTR, revenue, profit margins, and many other important metrics are tracked on a real-time basis with Kajabi.
6. Deploy Beautiful Emails and Elegant Funnels
With this feature, Kajabi has tried to compete with Mailchimp and ConvertKit by allowing them to execute email marketing campaigns. With funnel builder, it is trying to beat Instapage, Leadpages, and ClickFunnels.
Kajabi has a default email marketing software that you can use to interact with your students and prospective customers to keep them engaged with your products and eventually make them your brand ambassadors.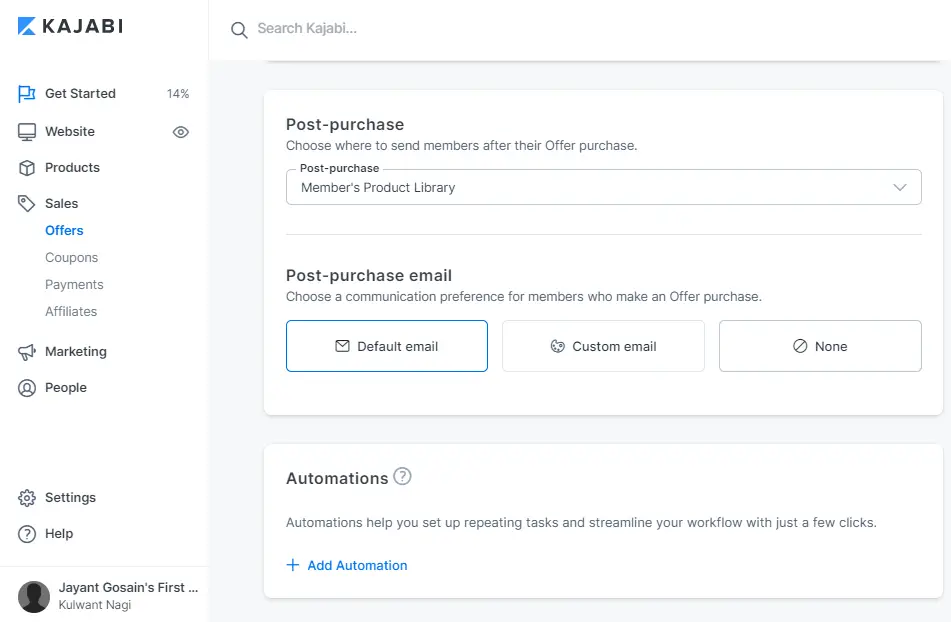 You get default email templates which you can directly import and not write the copy on your own.
They have an automatic subject line validation to determine how effective the subject line is and anticipate the open rates.
In Kajabi, you can execute multi-touch sequences for standard email blasters. Moreover, you can get a visual editor that allows you to add a countdown timer with your personalized messages, traceable buttons, and so on.
7. Kajabi Pricing
Kajabi has 3 plans:
Basic – $119/mo
Growth – $159/mo
Pro – $319/mo
All these prices are subject to if you pay annually.
Each plan comes with a 30-day money-back guarantee with the first purchase.
That means, if you're not satisfied with the product, you can claim your entire amount. They also give a 14-days free trial.
Pros and Cons of Kajabi
Below are quick Pros and Cons of Kajabi for better decision-making.
Pros:
Has a ton of feature to build a sustainable online business
Dynamic customer support
Robust dashboard
Allows creators to manage email marketing campaigns
Supports podcast, membership, mentorship programs, coaching, courses, and more
Uses Wistia for video hosting solutions
Attractive themes and templates
Has a Money-back guarantee
Offers a trial period
Cons:
Very pricey product for beginners
Not very attractive certifications
Teachable – Overview
Ankur Nagpal is the Founder and CEO of Techable. He initially built a platform called Fedora, the predecessor of Teachable.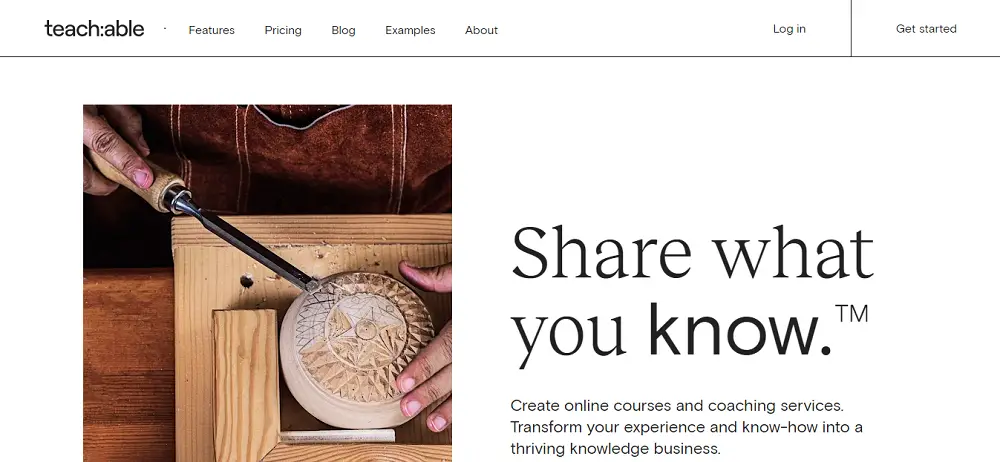 Ankur is a UC Berkeley graduate. Initially, the team of Teachable used to work from a studio apartment in Williamsburg. And then they shifted to an office in Manhattan where they had a group of 15 people.
Currently, they have helped over 100,000 instructors in their eLearning business with Teachable, and the platform has generated over $500 million to date. Currently, they have a team of 150 passionate people from different areas like programming, marketing, copywriting, teaching, entrepreneurship, and so on.
Let's see each feature in detail.
1. User-friendly Dashboard
Teachable is a very popular platform when it comes to building a platform with the flexibility to sell courses online.
It has a user-friendly dashboard that allows you to build landing pages that look professional, elegant, and personalized.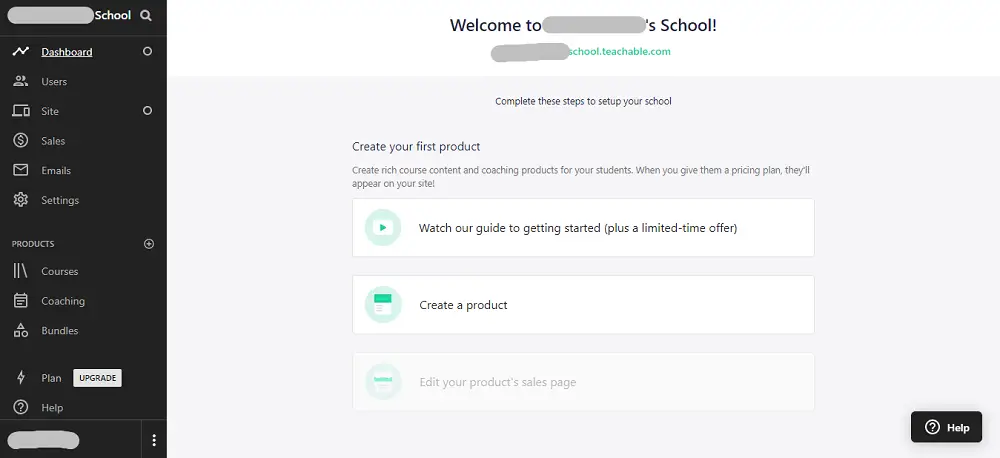 They have a powerful editor which allows you to add lectures, videos, documents, and coaching sessions so that you never miss a chance to give a dynamic learning experience to your students.
2. Connect Your Website
If you have a custom domain, Teachable will let you connect it with its hosting.
This way, your hosting solutions are coped effortlessly. In addition, you no longer need to have dedicated space to host course materials.
You can build your own site using the Teachable platform and make money by monetizing your skills via courses.
3. Scalable Software
If you are offering a set of online courses to educate different types of students like beginners, intermediate, and experts, you need an infrastructure that is scalable and user-friendly.
How are you planning to integrate your team or series of experts to add them to your courses? Unfortunately, you cannot invite everyone and give them access to your admin panel on Teachable.
With Teachable, you can build a hierarchy and grant special access to particular users to streamline the management of your eLearning business.
You can add authors, team members, contributors, admins, and support staff. In addition, you can decide who has access to what features within your Teachable dashboard.
4. Unlimited Everything
This is a unique and most helpful feature for every course creator. Irrespective of whichever plan you choose, Teachable believes in giving everything unlimited.
You can upload unlimited courses, enroll an unlimited number of students and upload unlimited videos. So even if you have thousands of coaching services and millions of students to enroll, Teachable has got you covered!
With this feature, your hustle of seeking infrastructure to entertain such a vast number of people will be resolved.
You no longer have to worry about server issues or website unresponsiveness if so many simultaneous requests.
Teachable web servers are ultra-responsive and super fast to enable a dynamic learning experience.
5. Never Miss a Chance to Interact with Your Students
Just like any other industry, teaching also requires smooth communication. The instructor and the students should be able to interact with each other to have a productive learning experience.
And therefore, Teachable allows you to talk with your students live, in a group, or 1-2-1 conversation.
This will ensure that your students have a dynamic learning experience and get in touch with you anytime they want to solve any questions.
This will give you and your students peace of mind that everyone is having a good time learning your courses.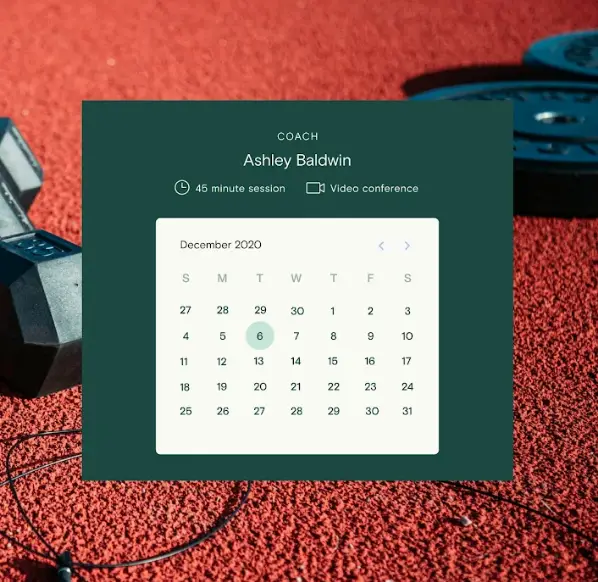 You can also schedule meetings and appointments with your students through Teachable.
The tool will synchronize itself with Calendly, which is used to book appointments and video calls.
6. All The Arsenal to Maximize Conversions
Teachable understanding instructors have a lot to do to ensure maximum conversion on their website.
There are standard conversion procedures, coupons, discounts, giveaways, and other marketing campaigns that require robust support to execute the smooth onboarding of the students to the courses.
With Teachable, you can effortlessly integrate coupons. You can accept payments via subscription, membership, one-time, bundles, and community.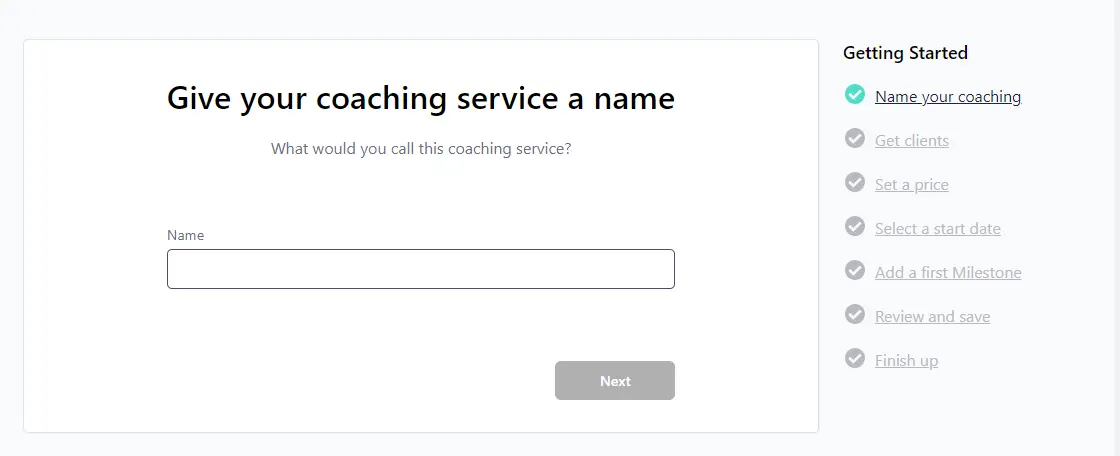 You can efficiently cross-sell, upsell and down-sell your products with ease while enjoying higher revenue for your digital products' sales.
When it comes to accepting currencies and payment gateways, Teachable has got you covered.
Teachable accepts payments in 130+ currencies along with PayPal and Mobile Pay support.
You can also onboard affiliates for your course with the help of Teachable. This way, you get a chance to enroll more students with the help of affiliate marketers.
You can handle their commissions through Teachable only. This feature will make sure that your coaching business will take off smoothly without complicating anything.
Teachable Pricing:
Teachable offers four plans.
Free plan
Basic – $29/mo
Pro – $99/mo
Business – $249/mo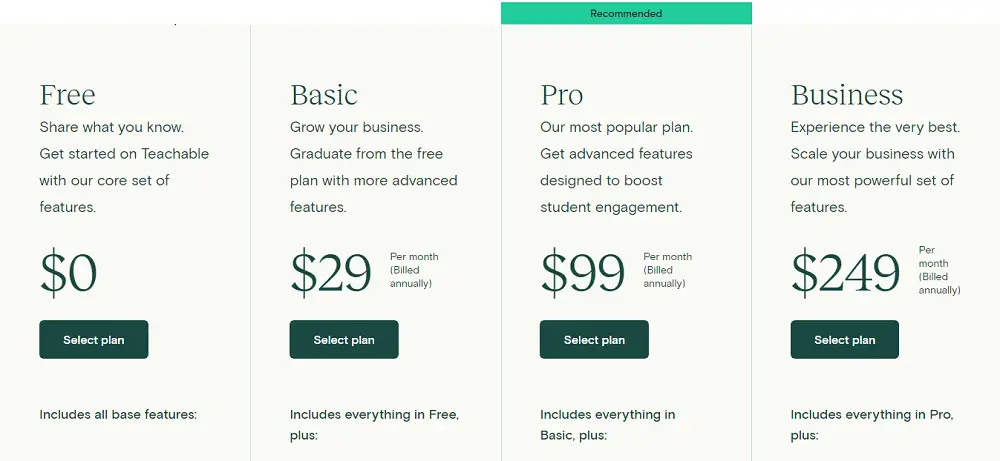 Keep in mind that with free and basic plans, you have to pay transaction fees from 5 to 10% to Teachable with each sale.
If you are using a Pro or Business plan, there are no transaction fees.
All the plans include unlimited hosting bandwidth, storage, video uploads, courses, student enrollments, no fees on free courses, and more.
Pros and Cons of Teachable
Pros:
Has a free plan
Responsive customer support
Unlimited course creation with each plan
Define dynamic customization to give a unique look and feel
Support a vast array of learning tools like courses, coaching sessions, 1-2-1 mentorships, recurring payments, and so on
Lots of third-party tools' support
Supports 130+ currencies
Cons:
Free and Basic plans charge transaction fees
Designing sales pages can be time-consuming
Readymade templates are significantly less
They haven't mentioned anything on a trial period or money-back guarantee on their pricing page
Conclusion -What Should You Choose
Depending upon the journey, Kajabi and Teachable are both solid tools. You have to determine at what stage your business is currently at. Hope this Kajabi vs. Teachable comparison helped you made your final decision.
If you have minimal funds but want unlimited everything with robust course hosting performance, then go with Teachable.
Remember, they have a free plan that also supports unlimited courses and unlimited student enrollment, provided you are OK with transaction fees that come with it.
If you have a long-term vision and can spend some extra, then Kajabi is a no-brainer.
Please note that Kajabi works like a content management system itself. It works as an all-in-one course management tool that literally creates a fortune for course creators.
Let me know which one is more prominent, according to you, in the comments below.