Disclosure: Some of the links in this article may be affiliate links, which can provide compensation to me at no cost to you if you decide to purchase a paid plan. We review these products after doing a lot of research, we check all features and recommend the best products only.
The online learning landscape has become a growing industry for so many years, the market is projected to be worth $325 Billion in 2025.
Especially during the pandemic, as most of us are forced to stay indoors and maintain all the precautions, we understand the necessity and the flexibility that online learning can bring into our lifestyles.
We learned that online learning is not only possible but a feasible way to educate oneself in the comfort of the home. Moreover, it holds the capability to still acquire the required skill set with maximum efficiency.
We could still solve doubts, acquire new skills sets and become an expert at something through learning online.
Imagine what would happen in 20 years at a pandemic's peak.
I am sure the entire education systems, institutions, schools, and colleges would literally crumble for an unforeseen future.
They'd completely shut for weeks and months till the pandemic gets over. That could be a significant blow to the lifestyle of teachers and students.
Online learning brings a lot of opportunities for everybody.
Someone in their late twenties and working at a full-time job can acquire a skill the same way an undergraduate can.
Experts can become tutors. With eLearning, educators and talented individuals have got a platform to connect with new people, build communities, and grow their earnings by selling courses.
Even if an expert does not know anything about online business or web designing, they can effortlessly do so with online tools.
One such tool is LearnDash, an LMS to build, manage, and scale your eLearning business.
I will share a detailed overview of what LearnDash is, what it does, and whether you should use it too.
Let's begin with knowing about the company itself, LearnDash.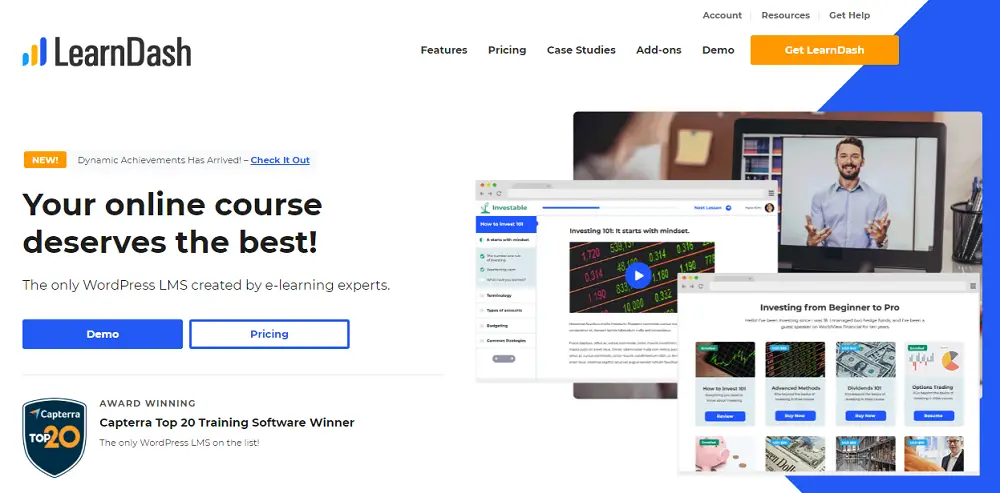 Overview of a LearnDash
To explain in simple terms, LearnDash is a WordPress plugin.
That being said, it provides a complete solution that an online educator requires to literally improve their customer experience to a whole new level.
LearnDash takes the eLearning methodology and applies the real-time application on a WordPress site.
It tries to cover course creators' significant aspects — student management, video uploads, database management, quizzes, documents, and more — making it easier for them to get the most out of a WordPress site without even coding anything.
It is an ideal solution for organizations of any size — startups, universities, multinational companies, freelancers, consultants, and so on.
It is co-founded by Justin Ferriman and Kloé Ferriman.
Justin is also the CEO of LearnDash. He came up with the idea of LearnDash after consulting Fortune 500 companies and observing there is a gap in the learning management system.
On the other hand, Kloé manages the operations and development of this robust plugin. She has a postgraduate degree in Human Services from the University of Michigan.
LearnDash has been featured in Forbes.com, MSN Money, ELearning! Magazine, Training Magazine, EdTech Magazine, Chief Learning Officer, and Learning Technologies by the Association for Talent Development.
Importance of an LMS Plugin
LMS stands for Learning Management Systems.
As the name goes, it gives systems to build an eLearning industry. So let's dive a little deeper into how it does so.
1. Organizes Your Educational Content Like No Other
Imagine you are teaching a course on PHP and JavaScript.
You have 10 different chapters covering the programming from basic to advanced. Each chapter consists of 8 to 10 videos followed by PDF spreadsheets and a couple of mandatory quizzes that students have to take before moving ahead.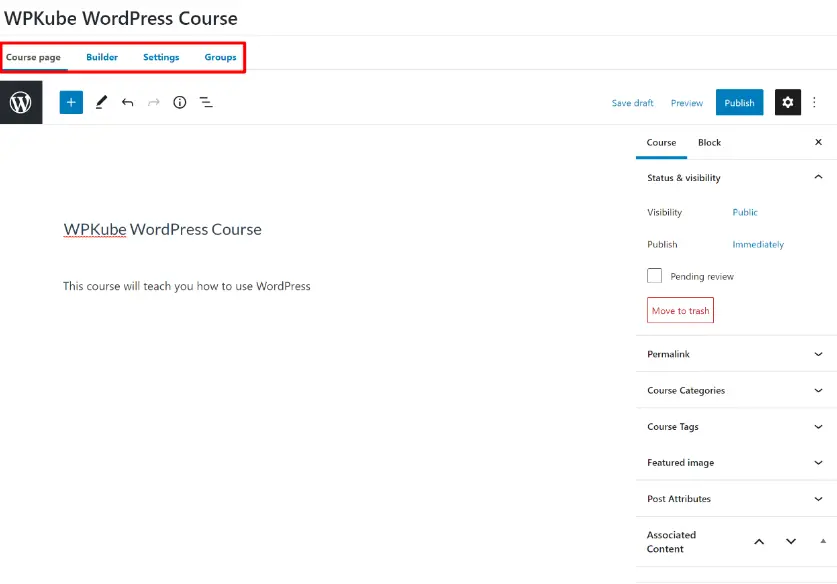 Anyway, how would you plan to distribute this content with your students?
Instead of storing everything on Google Drive or Dropbox account, you can use LMS to streamline the organizing and save the material in one location.
Plus, the videos and materials will be laid out the way you prefer for the students to learn. This way, you can ensure a seamless learning experience.
2. Enables Cross-platform Access
Supposedly, you are selling the courses on a mobile or web platform. This way, your students can access the material just on specific types of devices.
They need a hardware environment to get smooth access and learn.
On the other hand, students can log in to your LMS system from anywhere and anytime and resume their course from where they have left off.
3. Helps Tracking Students' Performance
When you are in the eLearning industry, one of the significant drawbacks or challenges is determining how well students comprehend the concepts you are trying to deliver them.
You will have to ensure that they are learning the right way to ensure a good learning experience. Since everything is digital, it is hard to take a gauge of the same.
To do that, you need tests and quizzes that your students need to take at a particular stage of the course and proceed further with the remaining tutorials.
You need a "drip content feature" that only unlocks when a specific section is completed, and you have assessed their test performance. Only LMS can let you do so quickly.
With tracking your students' performance, you will know who has completed how much of the course, so you can hold them accountable and get in touch with them through email to ask why they are not keeping up with the curriculum.
For example, few students haven't completed 10% of a course for six months; this will allow you to understand that the students might have stuck. Then, to encourage them to resume the course, you can schedule a call or send a series of emails.
This entire system will make you a good tutor and establish a healthy relationship with your students.
4. Guarantees Personalized Learning Experience
With LMS, you can easily ensure that students get a safe, secure and healthy learning environment online.
The entire layout of the videos and courses is managed to allow you to get in touch with them and enable a virtual-classroom environment.
Despite having distance, students can stay connected with you and learn with the features like a forum, comments, live chat, email, and more.
5. Save a Ton of Operational and Development Costs
If you want to sell courses on your website, you need to do programming on JavaScript, HTML, and CSS.
This will take a lot of months for you to develop the basic aesthetic of an e-classroom.
You can use onboard WordPress developer that can design and code all these things for you. But you have to invest thousands to make this work.
Most online tutors don't have the knowledge in coding on their own or the financial resources to hire a professional.
LMS can both save you time and money. You just have to install the plugin on WordPress, and you can tweak the layout and elements without needing to code anything.
Since the "why" of LMS is clear, let's focus on how LearnDash can help in all these scenarios.
Let's explore its features in detail.
Features of LearnDash
Let's understand what makes LearnDash such a recognized and trustworthy LMS plugin for WordPress.
1. Clean and Distraction-free User Interface
LearnDash gives an elegant and clean interface for students.
There are no annoying pop-ups or banners that can hinder the learning experience.
It is slick, super-fast, and responsive for all the screen sizes and hardware architecture. With this, you can get the fulfillment of making the course and teaching people who won't be getting any distractions or unwanted elements that can hamper their experience.
2. Reliable Course Builder
This feature makes the LMS plugins so unique and user-friendly.
They have a drag-and-drop website builder panel that allows people to add, edit and adjust website elements for building courses' pages using their simple I/O devices, i.e., keyboard and mouse.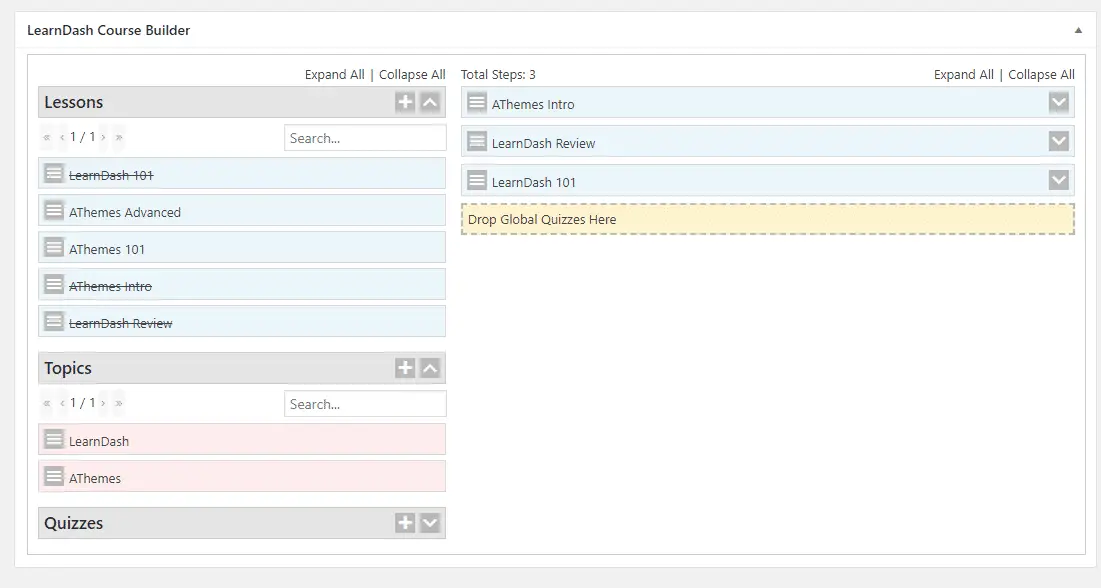 They don't need to write a single line of code in HTML and JavaScript to make any other significant amendments throughout the dashboard.
This can quickly speed up the overall process of building an eLearning business. In addition, since the course builder tool is very responsive and agile, anyone with a bit of creativity can create stunning web pages and ensure a seamless learning experience for students.
Plus, the course creators don't have to rely on any experts or web developers to add or modify elements as required. Instead, they can do everything on their own.
3. Enable Interactive Learning Experience
To ensure that your students are learning fine and are comprehending the concepts that you try to deliver, you can add interactive elements like quizzes, questions, notes, and custom messages that keep them hooked and focused in the learning process.
You can have several types of questions added to your preferred chapters and tutorials.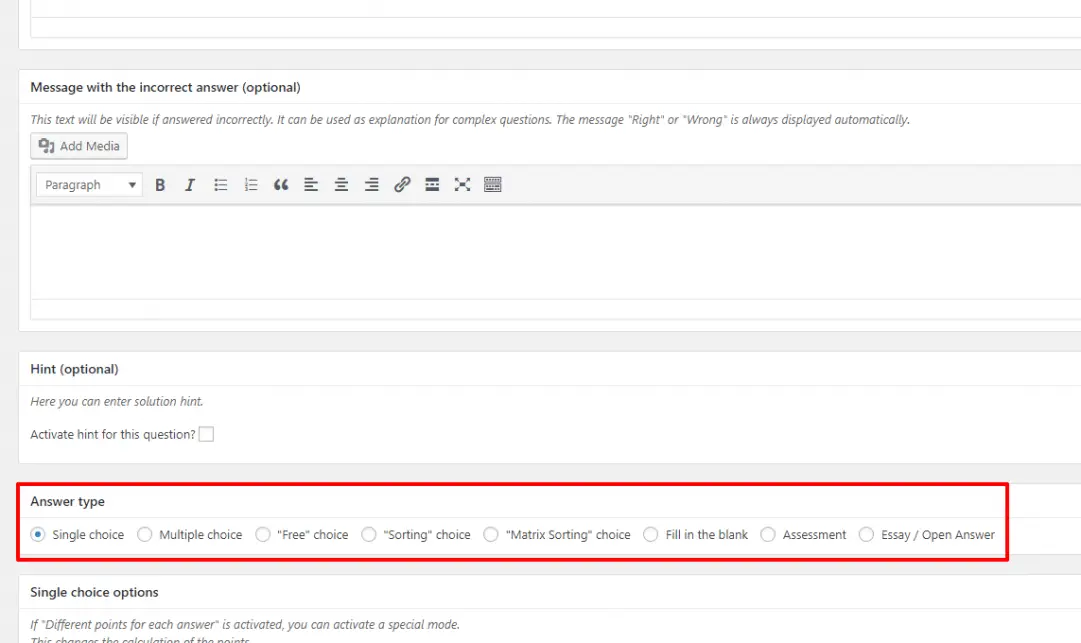 This feature ensures an interactive learning experience.
You can implement:
Single choice
Essay writing
Multiple choice
Fill in the blanks
Sorting and free choice options
These questions will also work as feedback that you can utilize for your own assessment and gauge whether you need to make any changes in the curriculum to optimize the overall learning for students.
4. Customized Content Delivery
You can decide how the course should be viewed and make it mandatory for students to have a better learning experience.
You can decide whether your course has a modular or linear learning curve.

You can also edit and add drip content where videos will be unlocked only after completing a certain number of tutorials.
This way, your students are forced to stick to essential and essential chapters and complete them first before accessing other tutorials.
5. Stay Connected with Your Students
You can deploy custom notifications in the form of emails which will be triggered depending upon the type of actions that your students are taking on your website.
Let's say they have completed a particular section on the course, and they have performed well in the quizzes after completing half of the course. So, you can shoot them a customized email complimenting them for their efforts and encouraging them to keep up the excellent work.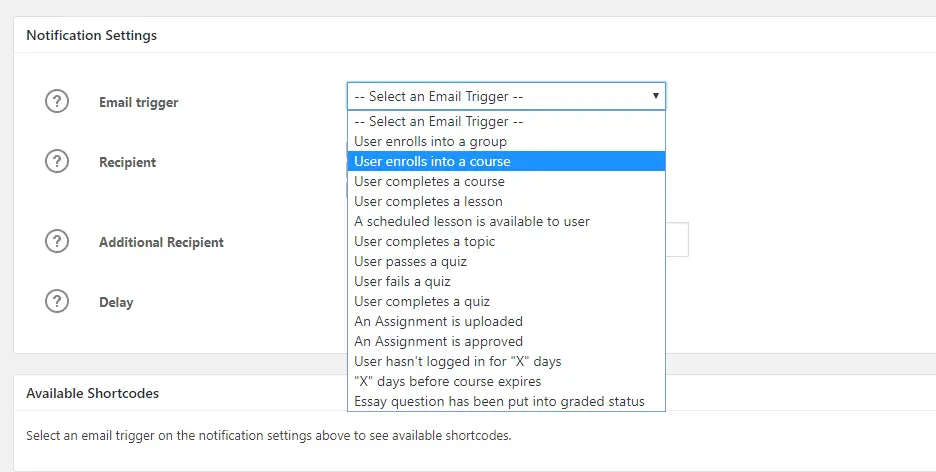 For example, a student is inactive for a few weeks and has not watched anything for quite some time, you can shoot an email to them and encourage them to keep completing their curriculum to acquire new skills.
With LearnDash, you can also build a dedicated community where students can interact with you and others from the course. You can also allow them to book one-to-one sessions for personal mentorship.
6. Give Awards and Certifications
You can make your course completely branded by giving custom certificates and badges to reward your students for their performance.
This will give your students a sense of achievement for the efforts that they have put.
They can showcase the certificates in their resume and score good marks during an interview.
You can also structure a leaderboard where the leading students' names are displayed to showcase the sense of appreciation from the course creators.
7. Build an Interactive Community
LearnDash bridges the communication gap between students by letting the course creators deploy forums where students can discuss specific matters and ask their questions.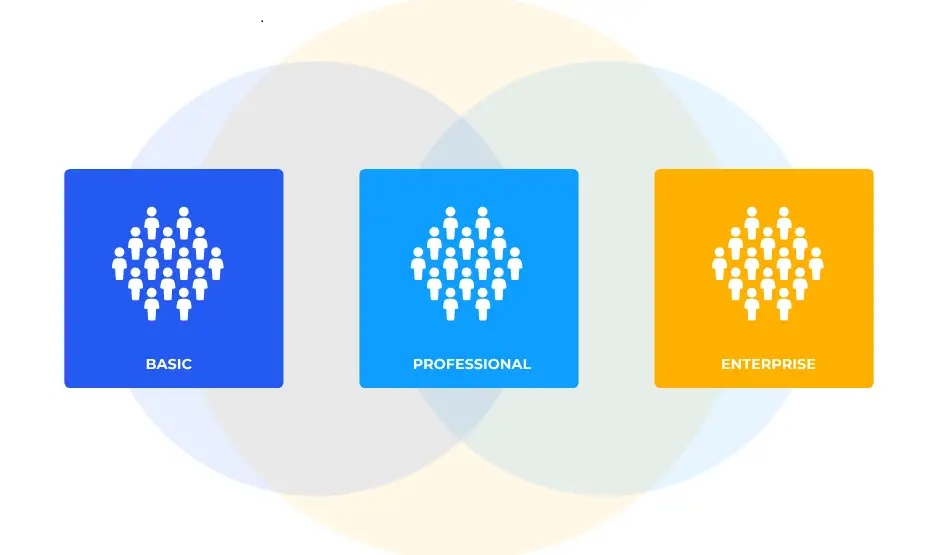 This allows teachers to enable a more interactive learning experience for all your students who can run productive discussions and connect.
Plus, the discussions are stored inside the community. So, anyone can access the forum anytime they want and find answers to common questions.
8. Take Payments As Per Your Requirements

LearnDash allows you to collect payments as:
One-time Purchase
If you want your customers to pay a single-shot payment to access the curriculum, you can do so and have students only clear a single payment and access the course for a lifetime.
With this feature, you can also hook customers by providing samples of your content.
This way, customers can view a couple of materials before they make a purchasing decision.
Recurring Payments
If you want to enable recurring payments from your courses, you can have subscriptions.
You can schedule the time frame, and the students will pay you via PayPal, Stripe, and 2checkout.
You can also implement and give discount coupon codes to hook customers to purchase your subscription.
LernDash also allows you to cross-sell, upsell and down-sell your purchases.
You can also provide a free trial for your course so that students can claim a refund if they feel so.
All these parameters can be defined through the dashboard of LearnDash, so you don't have to code anything or take help from a developer.
Add Shopping Cart
If you want any other payment gateway, like PayPal, Stripe, or 2checkout, LearnDash will let you do so by integrating WordPress shopping cart integrations on WooCommerce for easy digital downloads.
9. Sell Memberships
Instead of making students purchase specific courses dedicatedly, you can sell memberships with LearnDash.
You can bundle similar courses and sell them collectively as a membership. This will allow students to have multiple courses depending on the membership they purchase. Plus, your average order value will also increase.
Plus, membership can also be paired with recurring and fixed payouts to ensure maximum ROI for your eLearning business.
Here are more membership plugins you can try.
10. Do Business with an Organization
If you are interacting with an organization that wants to purchase access for its team members, you can sell a single license shared among the team members.
Plus, the team manager of the staff can have special access thanks to LearnDash to track each member's progress and performance to ensure a dynamic learning experience within the organization.
11. Work Well With Every Theme and Plugin of WordPress
As already discussed, LearnDash works effortlessly without you having to append any code or tweak the source code whatsoever.
Even if you are using any page builders like Elementor, Beaver Builder, Divi, Visual Composer, and so on, LearnDash supports all of it.
If you have special requirements for your LMS and want to extend the use cases of LearnDash by custom development, you can do so.
LearnDash gives you access to Rest API to take your development game to a whole new level.
LearnDash has comprehensive group management to add your staff members, guest lecturers, and consultants to manage, interact, and scale your eLearning business even if you are working with a team.
Pricing
LearnDash provides three different packages:
Basic at $159 for Single Site
Plus at $189 for upto 10 Sites
Pro at $329 for upto 25 Sites
All of them come with different capabilities and features.
These are one-time payments and not recurring ones.
That being said, each plan comes with 1-year support and updates. If you don't buy the license after 1 year, you can still utilize the features you have paid for. But you won't get future updates and customer support from LearnDash. To get both, you have to purchase the license again after 12 months.
With each plan, you get unlimited courses, unlimited users, drip-feed lessons, student management, certifications, forums, free integrations, and so on.
All the plans come with a free 30-days money-back guarantee. That being said, LearnDash does not provide a free trial. But you can still secure and claim your funds if you are not satisfied with the experience within the first 30 days of the first purchase.
LearnDash Review: Conclusion
Let me know what you think about LearnDash.
I hope this post has got you all the details that you needed to know about this LMS.
If you are considering eLearning as a long-term commercial activity, then go for this LMS plugin.
It works with every theme and plugin while providing excellent features to automate and supercharge your eLearning activities.
You can always claim your funds back after trying the plugin for the first 30 days of your first purchase.
Let me know what you think. I am excited to hear back from you.