Disclosure: Some of the links in this article may be affiliate links, which can provide compensation to me at no cost to you if you decide to purchase a paid plan. We review these products after doing a lot of research, we check all features and recommend the best products only.
Website traffic is a hot topic.
Many bloggers and webmasters check their website traffic statistics before the breakfast every morning.
And, maybe others check after the breakfast…
It's true.
We want to check our website stats regularly.
Everybody knows tools like Google Analytics to check the website stats.
Some of us are a little crazy. So they want more data on their site analytics.
Try Extreme Tracking and Google Search Console.
But
The story doesn't end here because most of us are curious about other sites' traffic.
We want traffic on our websites. We absolutely love it whether our web server is capable of handling it or not, but still we want it.
People are crazy to get website traffic. Even they use advertising services like Google Adwords, Chitika, Infolinks, and Buy Sell Ads to get more website visitors.
Growtraffic is a service which provides the paid traffic and they claim to give 100% human traffic through various advertising campaigns that they manage at their end.
Interestingly, website competitors want to analyze others' website traffic details.
There are three basic reasons of doing that:
Work Analysis – Competitors always want to understand each others' strengths and weaknesses to improve their own business. In order to do that, it is necessary to know what's working for them (competitors) and what's not.
Spying on them – Spying on the competitors could be a potential reason to analyze competitors' traffic. It could be used positively to learn things from your competitors.
Success Factors – Such competitor analysis can help anyone to find out the success factors of the competitors to bring healthy changes in their own work patterns.
That's right. We want to know the competitor's traffic stats to analyze lots of things on our end.
Let's make this clear.
I will share 5 best website traffic estimator tools to analyze and check any site's traffic, but that doesn't mean it would be 100% accurate, it has been seen that there is a possibility of a small differentiation in the real statistics and the traffic estimator tools reporting.
But people still believe in these tools.
The problem is, I don't believe in all of them. There are like hundreds of tools out there, people are using, recommending, and talking about.
I've told you. I'll be pretty much clear about this.
I've tried a couple of tools which has been amazing and a few others are those tools that I have seen some experts using and recommending.
Question: Are you in safe hands with these five website traffic tools?
Answer: Yes. You're, because we could create an article of 100 tools that tell website traffic, but we couldn't be able to show the confidence upon those 100 tools.
Got it?
Let's move forward.
You'll find along the way that which tools are affordable, reliable, and preferable.
Take a look at 5 Website Traffic Estimator Tools
1. SEMrush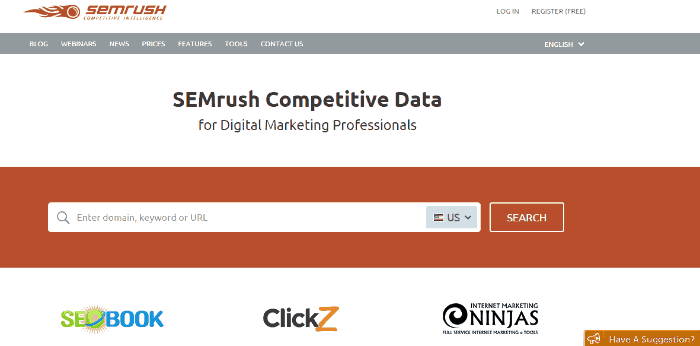 SEMrush is one of the favorite tools of online marketers, bloggers, and webmasters across the globe.
Not only does it help you to figure out your sites' traffic, keywords, and traffic statistics, but also keeps an eye on the budding competitors of your website or blog, which is why this is by far the best competition analysis tool out there.
Although, SEMrush has been the most effective website traffic and competition analysis tool, but there are some accuracy issues which could hinder your race of competition analysis.
It has been observed that sometimes the reporting couldn't match with the original keyword ranking on the google search engine, but as a whole most of the users find the data quite amazing.
Price: $69.95 per month
Are you looking to start spying on your competitors?
I recommend SEMrush for that.
Do you want to know why?
Read this: SEMrush Review
2. Quantcast
Quantcast is another popular website traffic analysis tool to tell the others' sites traffic statistics. Many webmasters and bloggers found Quantcast easy to use and its reporting system quite nice. It also has a demographic information display system to assist the users.
As far as disadvantages are concerned, Quantcast has not been observed very effective with reliability and data accuracy, especially when it comes to small and medium sized websites.
So, that's a big question mark on their file, but it is still in the market and competing with the competitors.
Price: Free
3. Compete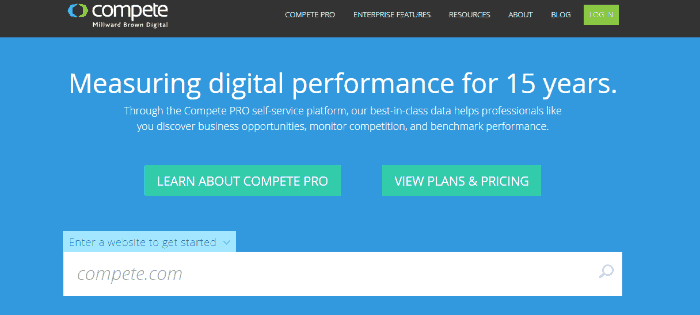 Compete is a useful website traffic analysis tool which helps businesses to track their competitors performance. It comes with a user-friendly interface, ability to compare multiple sites, and understands unique visitors.
It has been quite popular among the website traffic tools. Speaking of the quality, it lacks in the 100% accuracy of the stats, which looks like the same story as other tools on the list, but professional users are using the pro edition of this tool.
One shouldn't be relying overall on this tool to analyze the website traffic.
Price: Free | Pro Editions start at $249
4. SimilarWeb
SimilarWeb is a popular name in the website traffic and analysis industry. They have managed to create a list of statistic and analysis tools which report on the competitor sites traffic, traffic sources, engagement metrics, popular pages, and demographic popularity.
Besides their emerging popularity, if you try out their free website traffic tool for your own website, you will figure out how accurate it is as far as website traffic analysis is concerned.
There is no doubt, they have a user-friendly, graphically solid, and engaging interface, which could be the reasons of their success in the industry but if you say that experts recommend this tool, then this would be an exaggerated call.
However, companies are still interested in this tool…
Interesting, eh?
Price: Starts at $199
5. Alexa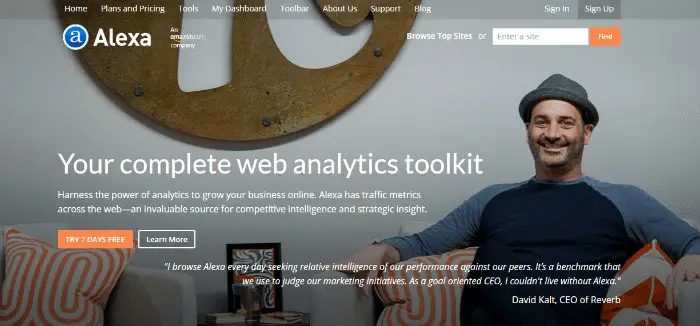 Alexa is one of the known and famous website traffic analysis websites. It is undoubtedly the only traffic estimator site which probably comes in everyone's mind who is somehow associated with the web.
One should admit that this company has transformed itself from a web site general ranking tool into a full-fledged website estimator.
Alexa's paid memberships land with multiple website metrics and analysis tools such as site overview, top sites, sites comparison and keyword research.
Alexa toolbar is a quick solution for webmasters, online marketers, and bloggers to analyze their websites' alexa rank right on their web browsers.
As far as accuracy and transparency are concerned, it might be better than many other free website traffic estimator tools out there. Webmasters prefer Alexa tool to check the popularity of the site in a specific country, not to mention the Alexa rank is the basic website ranking criteria.
Price: Plans start with $9.99 per month
What's your plan now?
So these were 5 website traffic estimator tools. It has been seen that paid products are better than free tools. We have seen that paid membership in the category doesn't guarantee the highest quality results.
Nevertheless, we shouldn't be hopeless. If we don't use these tools, we won't be able to figure out either they work efficiently or not.
Have you tried any of the tools mentioned above?
or
What's your favorite tool to spy on the competitors