Disclosure: Some of the links in this article may be affiliate links, which can provide compensation to me at no cost to you if you decide to purchase a paid plan. We review these products after doing a lot of research, we check all features and recommend the best products only.
A webinar is a seminar you host on the web.
Webinars are attended exclusively by an online audience.
The members of the online audience can interact with the host, chat with one another, and you can even hold impromptu surveys and polls.
Webinars are also sometimes called online seminars and virtual events.
What makes webinars interesting, though, is their personal and interactive nature. Since these are held online, the setting is skewed slightly to being informal. Hence, both the participants and the host feel a lot more comfortable talking and sharing ideas.
Since webinars can be held and attended from anywhere, at any time, these are very effective at getting a message across regardless of the setting.
These unique characteristics make webinars super useful as a means of spreading a message—be it in the form of a marketing event, a training/mentoring session, or a company meeting.
Although the average number of webinar attendees is 148, according to the State Of Webinars Report by ClickMeeting, 94% of attendees understood a product or service better after attending the webinar, and 79% of webinar audience bought a product after viewing it.
An average 80% conversion rate is very impressive for a relatively new means of communication!
Hosting a webinar yourself is a great idea regardless of if you're a physical trainer, a marketer, or an advocate. You could set up a webinar to give leads a trial training session, market a new product, or educate your audience about your needs and the problems that need to be resolved.
You can take advantage of webinars in many other ways. Other uses include its use as a tool to onboard customers, demo a product, or do a panel discussion—to mention a few.
Here's the problem though. There are way too many webinar software platforms available for you to sift through!
Testing out every option to find the right one for you can take a lot of time and effort. The slight difference in features and interfaces can confuse you. Thus picking the right webinar software can be a challenge in and of itself.
There's no need to feel swamped. We've got you covered!
Here's a list of the top webinar software platforms you can use to boost your business or spread your message!
Here are the Best Webinar Software in 2023 for you.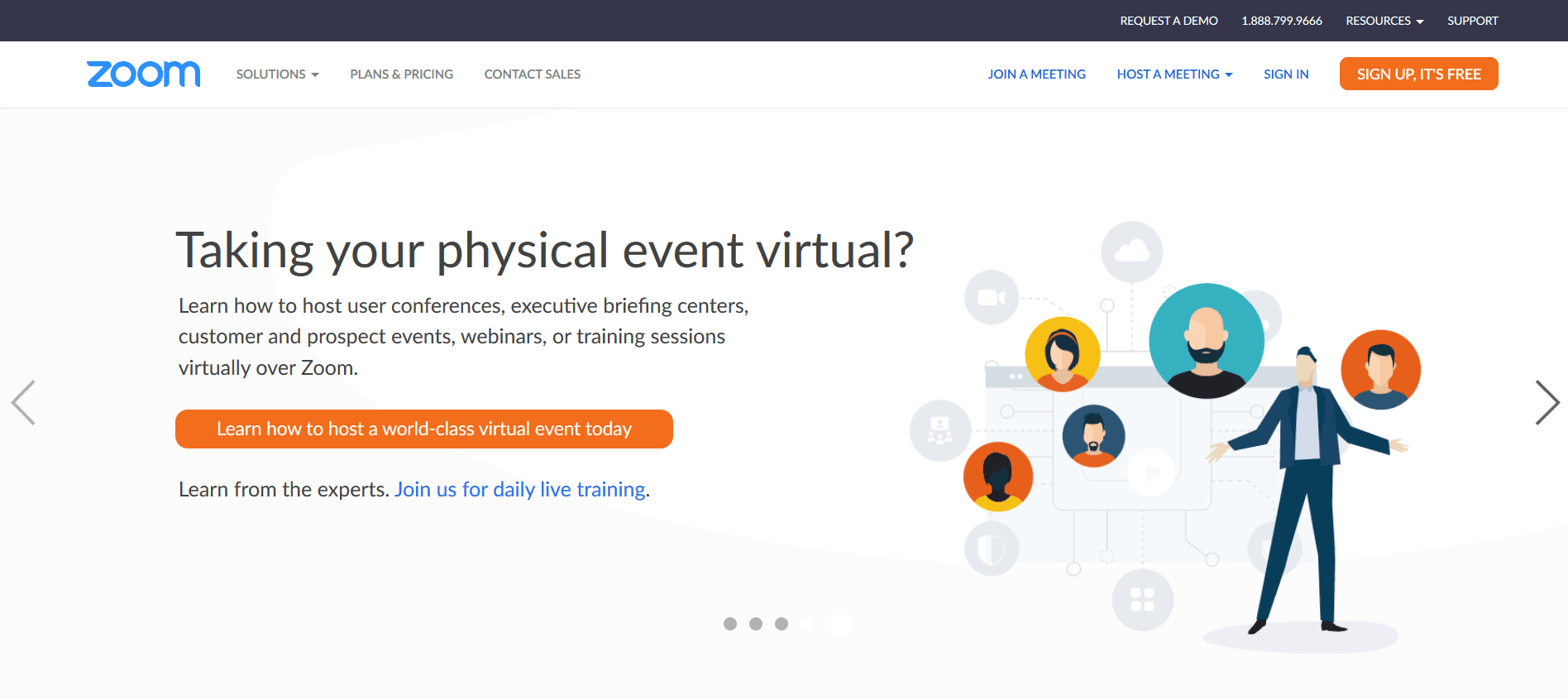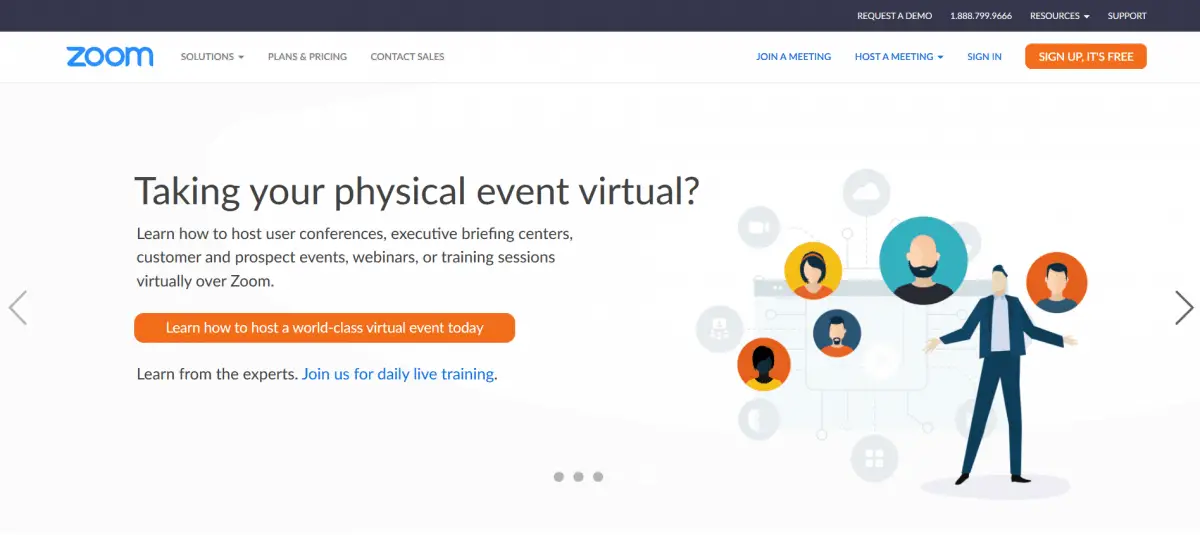 Zoom is one of the most popular webinar software used, helping millions of users host all kinds of virtual events regardless of where they are.
The company has been around since 2011 and has consistently been one of the best performing video-conferencing software out there.
Zoom's high-definition audio and video gives you the ability to communicate without any hitches—no stalling audio, glitchy video, or nonresponsive rooms.
Another great feature that makes Zoom perfect for teams of all sizes is the transcription feature.
Regardless of if you're marketing a new product or holding a trial training session for your leads, you will be able to convert the ideas you share into blogs and video posts using this feature.
You'll also be able to see which of your participants have tabbed out—and if too many have tabbed out, you can dynamically hold a poll to reengage them.
The face filter feature called the "Touch Up My Appearance" will smoothen out your skin tone when you enable it. You can also hide your background with a video or an image, which will give your webinar a professional feel.
You can use Zoom for free, but if you're holding a webinar with three or more people, you are limited to having a 40-minute webinar.
However, the premium plans are super affordable. Starting at $14.99 per month, they give you the ability to host an hour- or two-hour-long webinars when you need to.
| | |
| --- | --- |
| Attendees | Price |
| 100 | $40/month/host |
| 500 | $240/month/host |
| 1000 | $340/month/host |
| 3000 | $990/month/host |
| 5000 | $2490/month/host |
| 10000 | $6490/month/host |
Pros:
Feature-loaded free account
Stellar performance
Super easy to use
Cons:
No toll-free dial-in numbers
2. GoToWebinar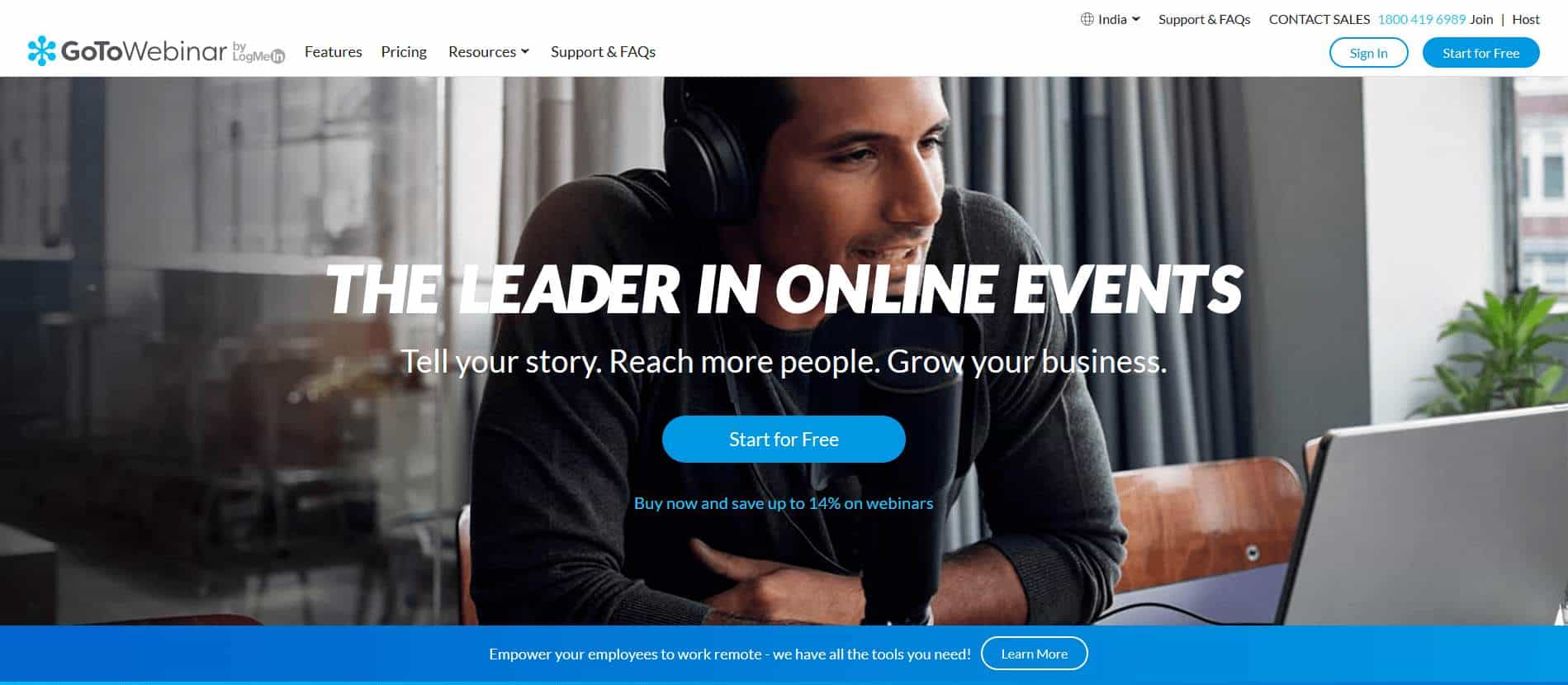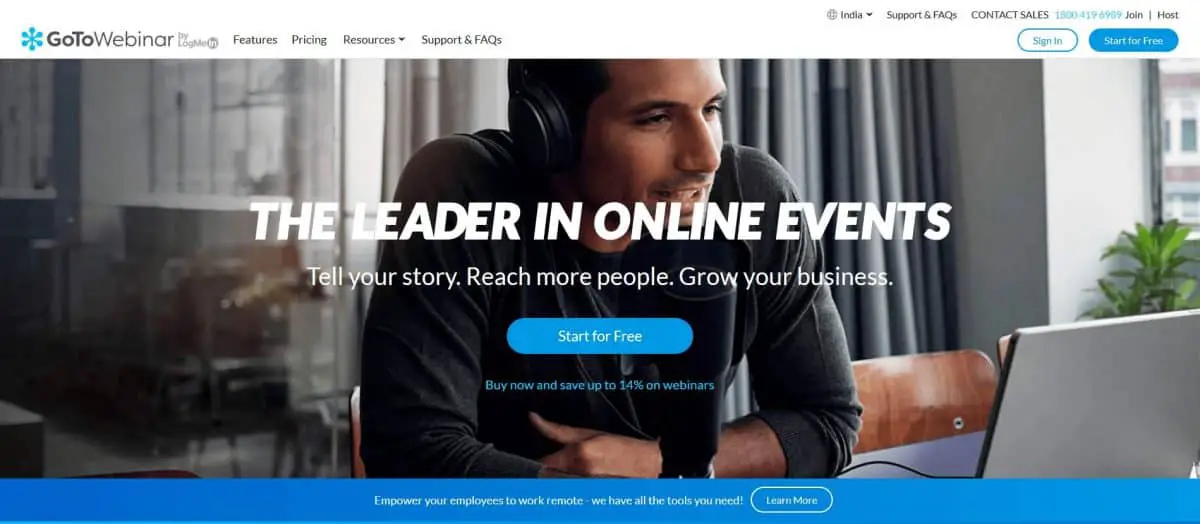 If you always host your webinar with other presenters, GoToWebinar will be perfect for you.
Having your stream crash or the video and audio go out of sync will drive away leads—regardless of how well structured the webinar is.
GoToWebinar offers stability and reliability, which are top priorities if you're hosting with other presenters and have hundreds of participants.
You can have someone help you set things up as you speak since GoToWebinar comes with an assistant feature. One downside of GoToWebinar is that there is no live chat feature, but the webinar's participants will be able to message you directly.
The poll feature and the exit survey feature give your webinar a professional feel and refine the structure of your webinar. The software also enables you to share your screen with your audience, and you can use presentations, infographics, and videos to enhance the quality of your webinar.
You can record your webinars and distribute then on an on-demand basis using GoToWebinar, but these are not "simulated live."
GoToWebinar is expensive, starting at $89 per month and going up to $429 per month for enterprises.
However, features like video editing, access to VOIP, automated emails, and custom URLs make it well worth the money.
| | |
| --- | --- |
| Attendees | Price |
| 100 | $109/month |
| 500 | $249/month |
| 1000 | $499/month |
Pros:
Reliable video and audio
Fantastic polls feature
Perfect for multiple hosts
Cons: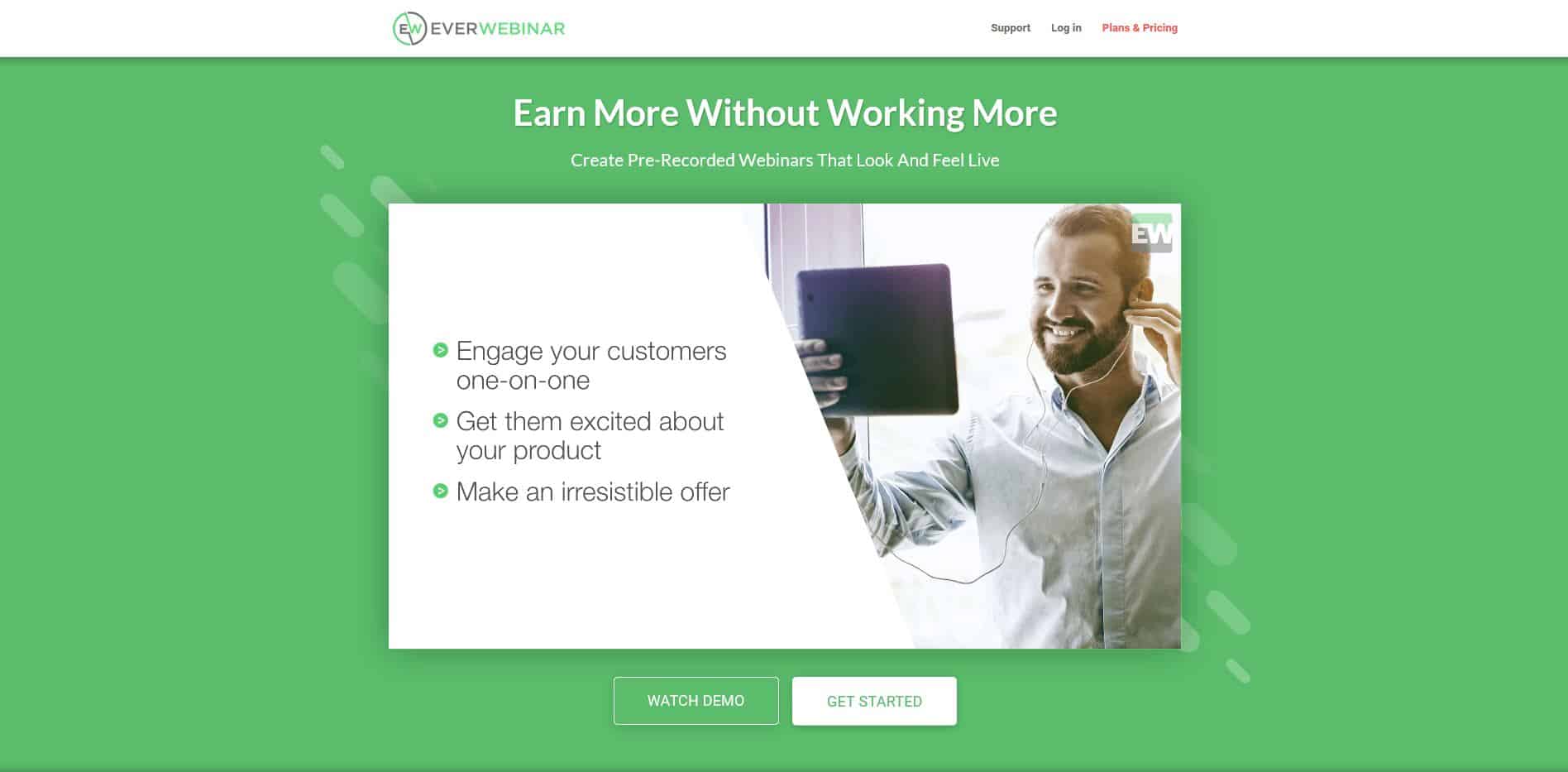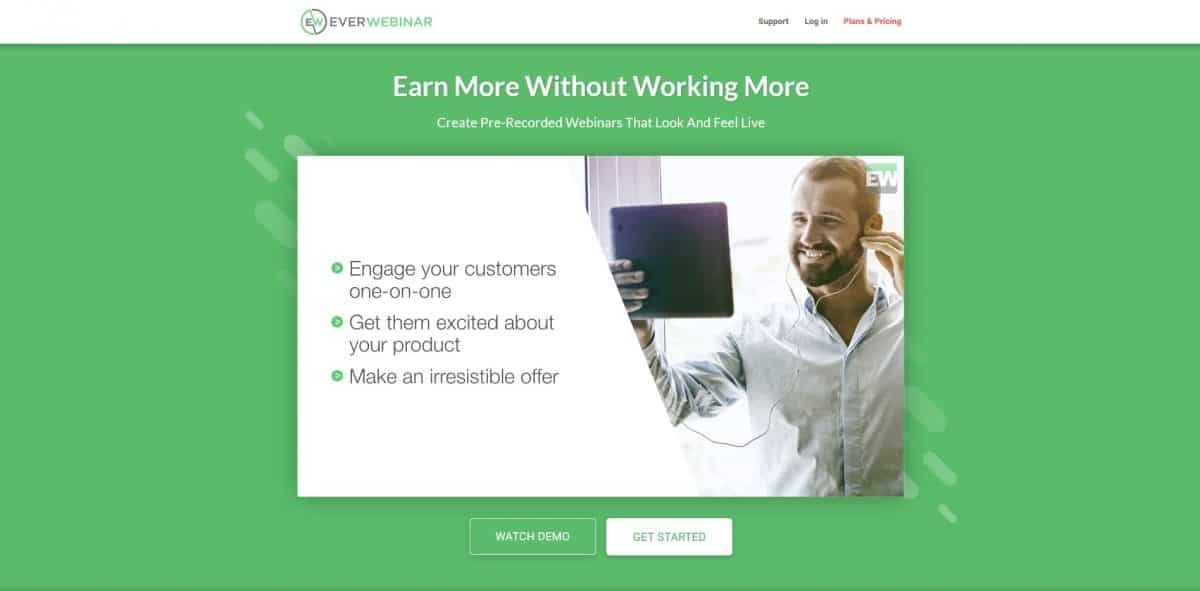 If you're a marketer looking to automate lead generation, you have to try EverWebinar.
EverWebinar comes with a live chat simulator that helps stimulate engagement. You can record and upload your webinar and write or import live chat histories. The system rolls the history live when you set it to host the event.
The Just-In-Time webinar feature automatically starts the webinar within a few minutes of participants signing up—which increases attendance rates and cuts down on registrants skipping webinars.
You can schedule your webinars to run as often as you need, and also introduce clickable offers that show the limited number of products left on sale. It creates a sense of urgency and boosts conversions.
You can also quiz your audience via polls and surveys, schedule a series of pre- and post-webinar emails and SMSes, and use the software's page builder to create enticing landing pages that convert.
The dynamic attendee display, detailed analytics, and ability to host hybrid webinars makes EverWebinar worth its annual price of $499.
If you want to try it out and not commit to it for a year, you can sign up for the 14-day trial for just $1!
Pros:
Packed with features
Great price
Automated lead generation
Cons: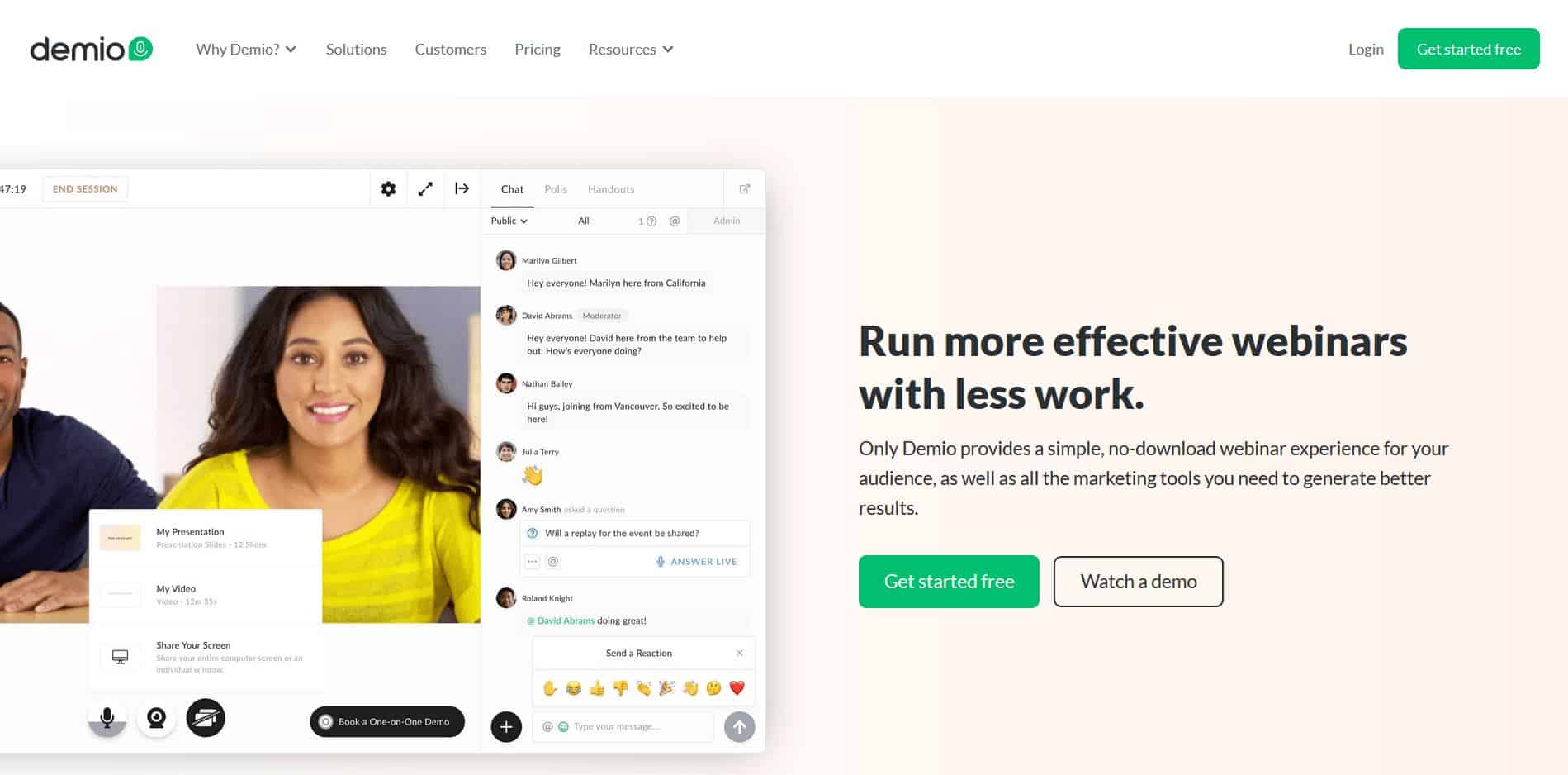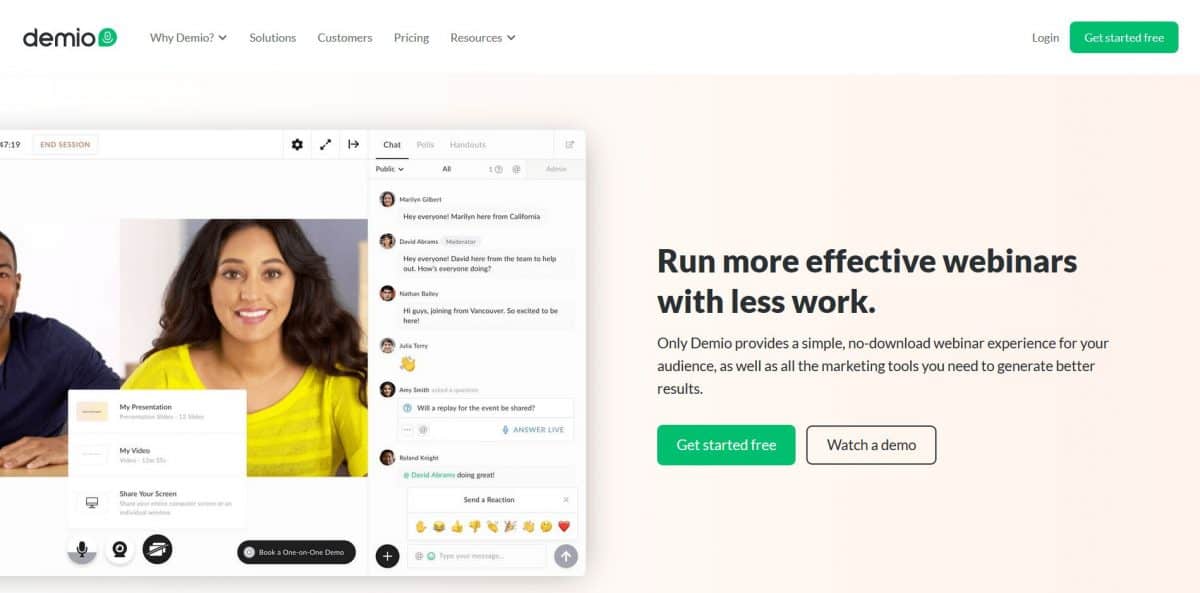 Demio is the perfect webinar hosting software for brands and businesses looking to get the most out of their money.
Reaching out to a globally diverse audience is made easy with Demio. You can stream high-definition audio and video. You can also interact with your attendees live without any delay.
Furthermore, you can share up to three webcams with your copresenters. This feature allows you and your guests to get creative, thus providing the most value to your audience.
Sharing your screen with the other hosts and the audience can be done in a few clicks. It enables you to share information quickly using slides, images, or videos.
Demio allows you to apply your brand's logo to all the materials you share with your audience on the webinar—boosting brand visibility.
The beautiful-looking webinar registration page, automatic reminder notifications, attractive CTA's, and interactive polls and stats are only some of the features that make Demio the perfect tool for marketing and training webinars alike.
Their starter pack gives you access to a 50-attendee room and all the standard features. But if you want a 150-attendee room and access to the automated events feature, you must get the Growth plan.
The Business plan is ideal for use by enterprises that need 500-attendee rooms and dedicated account representatives.
| | |
| --- | --- |
| Attendees | Price |
| 50 | $49/month |
| 150 | $99/month |
| 500 | $234/month |
Pros:
Inexpensive plans
Excellent features
Cons: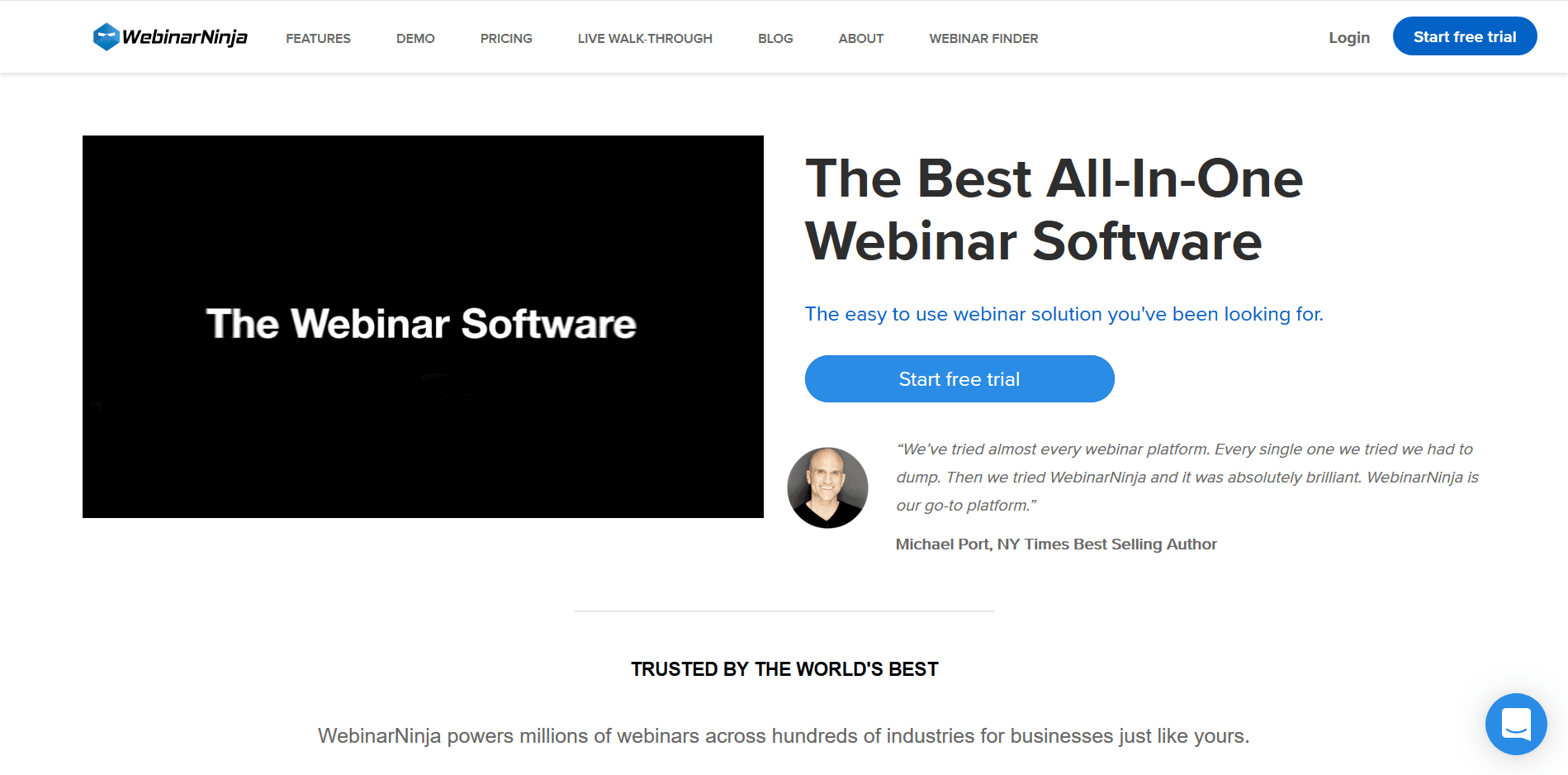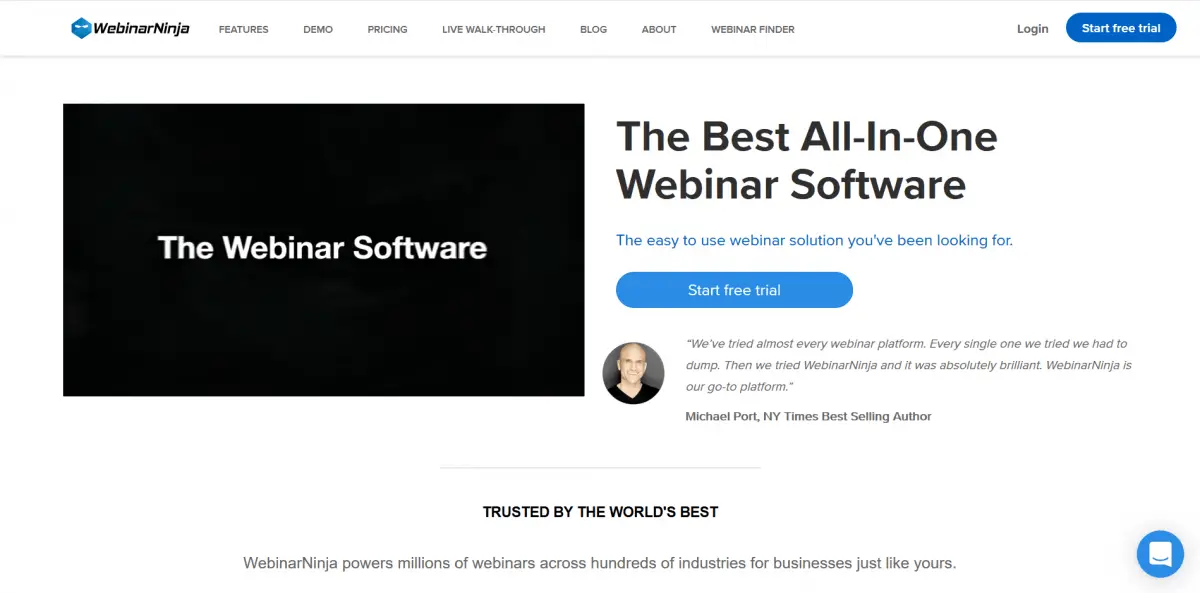 If you're an entrepreneur looking to boost your exposure, WebinarNinja is one tool you must take advantage of.
The modern interface makes WebinarNinja easy to use, and it's loaded with features that you will end up using in every webinar you host!
You can share both your screen and your webcam with your audience concurrently—allowing you to take them through the material with ease. Sharing your feed in this way gives your webinar a lot of sophistication.
You can collaborate with multiple presenters in your webinars. Also, you can interact with your audience using the live chat and private chat features.
The Q&A feature makes it easy for you to answer questions if you're short on time, and the polls and exit surveys allow you to understand your audience's needs better.
If you're selling a product, you can integrate limited time offers into your stream, which creates a sense of urgency and improves conversion rates.
The ability to recycle your content by replaying webinars and being able to host paid webinars are some of the best features of WebinarNinja.
WebinarNinja offers four plans for entrepreneurs and businesses on different scales, but the Pro plan offers the most value for your money.
The $79 plan gives you access to advanced features and a 300-attendee room.
| | |
| --- | --- |
| Attendees | Price |
| 100 Live Webinar Attendees | $39/month |
| 300 Live Webinar Attendees | $79/month |
| 500 Live Webinar Attendees | $129/month |
| 1000 Live Webinar Attendees | $199/month |
Pros:
Great value for money
Easy to navigate
Cons: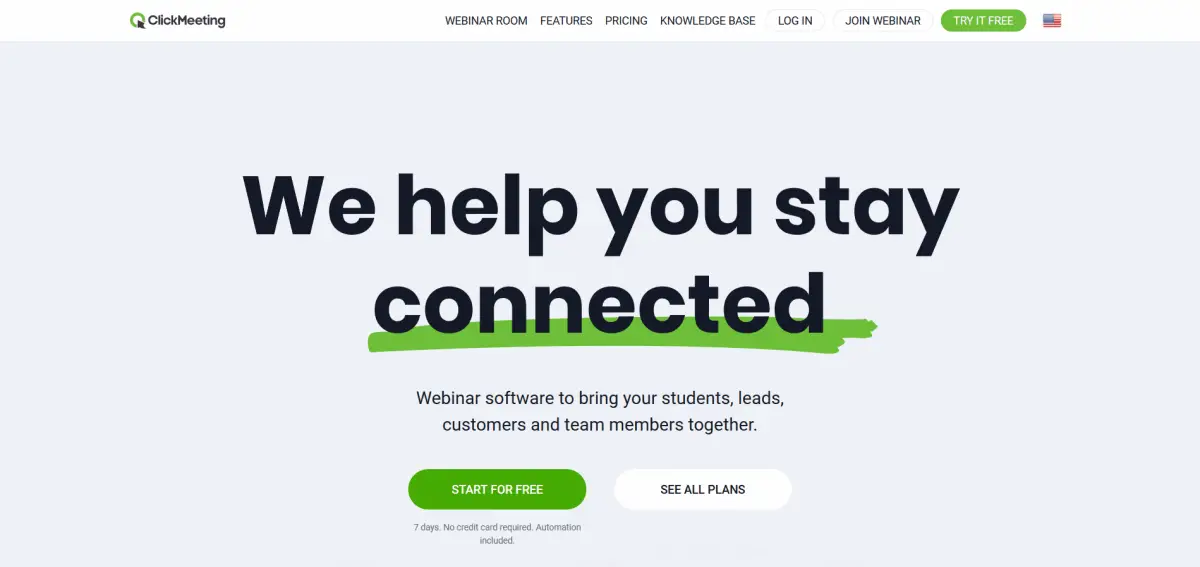 ClickMeeting is probably one of the most versatile webinar tools on this list. You can use it to teach, market, or collaborate.
The suite makes it easy for you to create all kinds of events. You can make a time scheduled room, a permanent room, or an automated room. It supports open, gated, and paid webinars—allowing you to control who sees your content.
You can also set up automated rooms to store messages and questions for you to answer later.
It has the best survey feature of all software so far. Also, the rich survey feature enables you to add images to your questions and even give your audience choices instead of leaving it open.
The Q&A mode switches you to a list view of all the questions you've received, and you can go about answering them in any order you please.
Creating funnel pages is super easy, but it is not very customizable. Another downside of the software is that its screen-sharing option can be glitchy sometimes.
Overall, though, the automation and promotion features combined with the cozy interface makes it well worth the $60 price (for 100 attendees).
| | |
| --- | --- |
| Attendees | Price |
| 50 Live Webinar Attendees | $55/month |
| 100 Live Webinar Attendees | $95/month |
| 200 Live Webinar Attendees | $179/month |
| 500 Live Webinar Attendees | $229/month |
| 1000 Live Webinar Attendees | $359/month |
Pros:
Excellent range of engagement features
Great user interface
Advanced surveys and CTAs
Cons:
Unreliable screen-sharing feature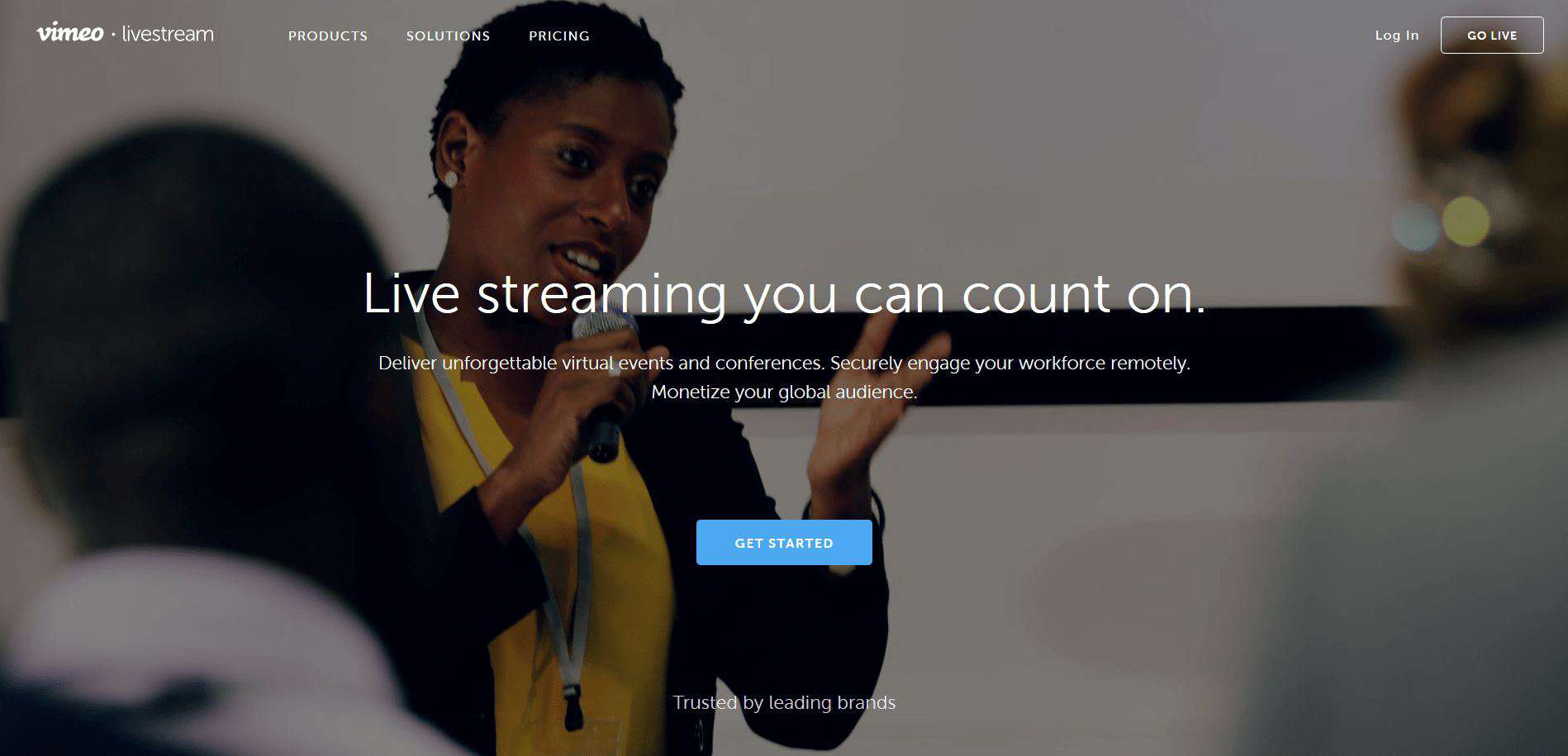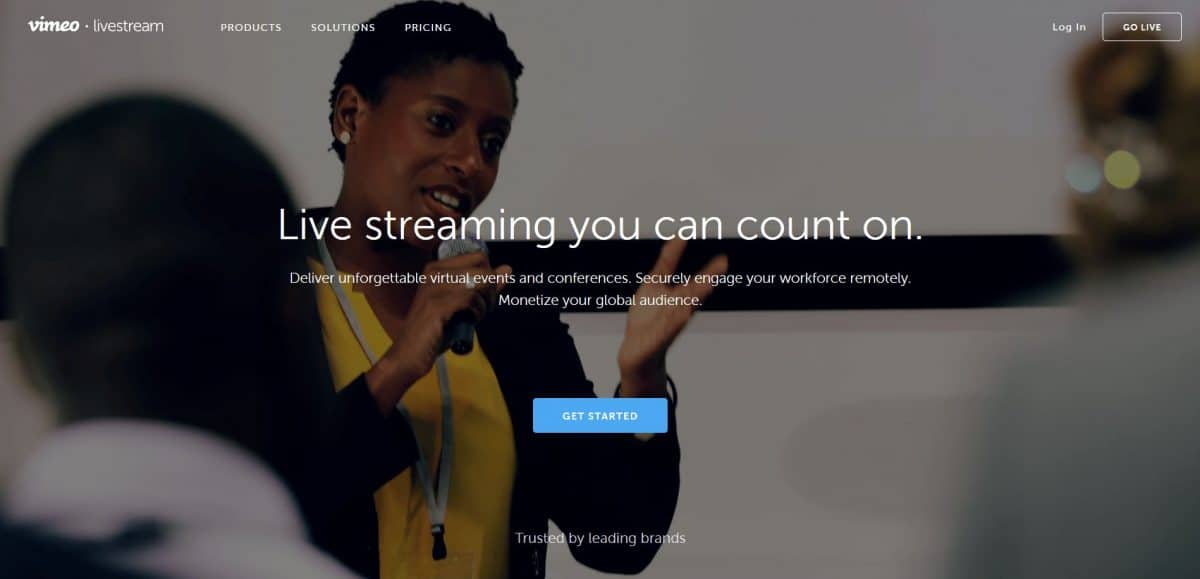 Vimeo is one of the most established online video platforms, and their webinar solution, Livestream, is one of the top webinar software platforms around.
Livestream is right for small organizations looking to engage with audiences around the globe.
You get access to the full scope of Vimeo's analytics, and it enables you to stream to Facebook Live or YouTube directly. You can also embed a custom video player on your blog or your website.
The software is 100% ad-free, and your viewers will also not see any adverts when you stream.
Livestream offers an impressive set of marketing features. You can chat with your audience, create Q&A sessions and polls, and use lead generation tools to attract business.
If you want to, you can also create pay-per-view webinars or subscription-based webinars and run advertising to monetize your stream.
Livestream offers only two plans: Premium and Enterprise, and although the platform is reliable, the plans are pricey, starting at $75 per month.
Pros:
Reliable streaming
Advanced analytics features
Cons: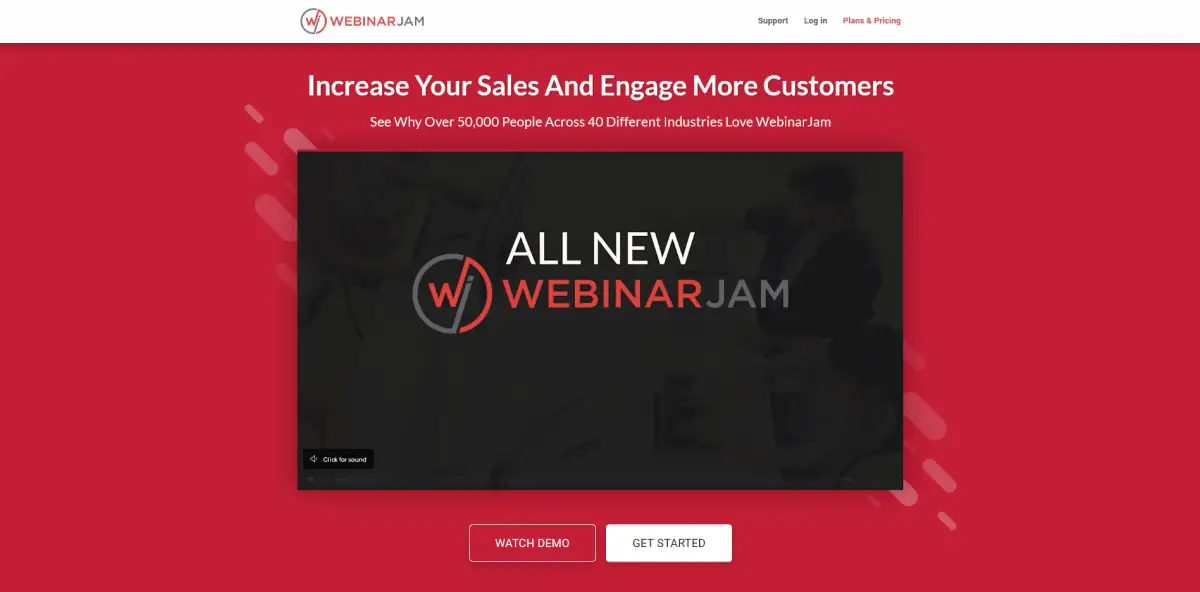 WebinarJam is a marketing tool first and a webinar platform later.
If you're looking for a tool packed with marketing features that makes both hosting and attending super easy, you will love WebinarJam.
You can set up a webinar in less than 60 seconds with WebinarJam, and prepping for your webinar is just as easy as setting it up.
You can create a webinar funnel page in just a few clicks. All you have to do is select from the 17 available templates and enter the necessary details!
WebinarJam gives you the ability to create interactive polls, present slides and videos, and display offers whenever you please. You can also distribute downloadables or handout materials to add to your attendee's experience.
You can boost the effectiveness of offers by including a live countdown timer or a quantity indicator.
The powerful marketing features make it a must-have tool for any marketer looking to boost profits.
The basic plan is fairly expensive, costing $499 annually. The Professional and Enterprise plans are aggressively priced considering the features they offer. Paying $999 a year to engage up to 5,000 attendees in one go makes a much better deal. You can WebinarJam 14 day trial free of cost by availing of their free trial too.
Pros:
Fantastic marketing features
Paid webinars
Free webinar funnel page
Cons:
Pricing not ideal for individuals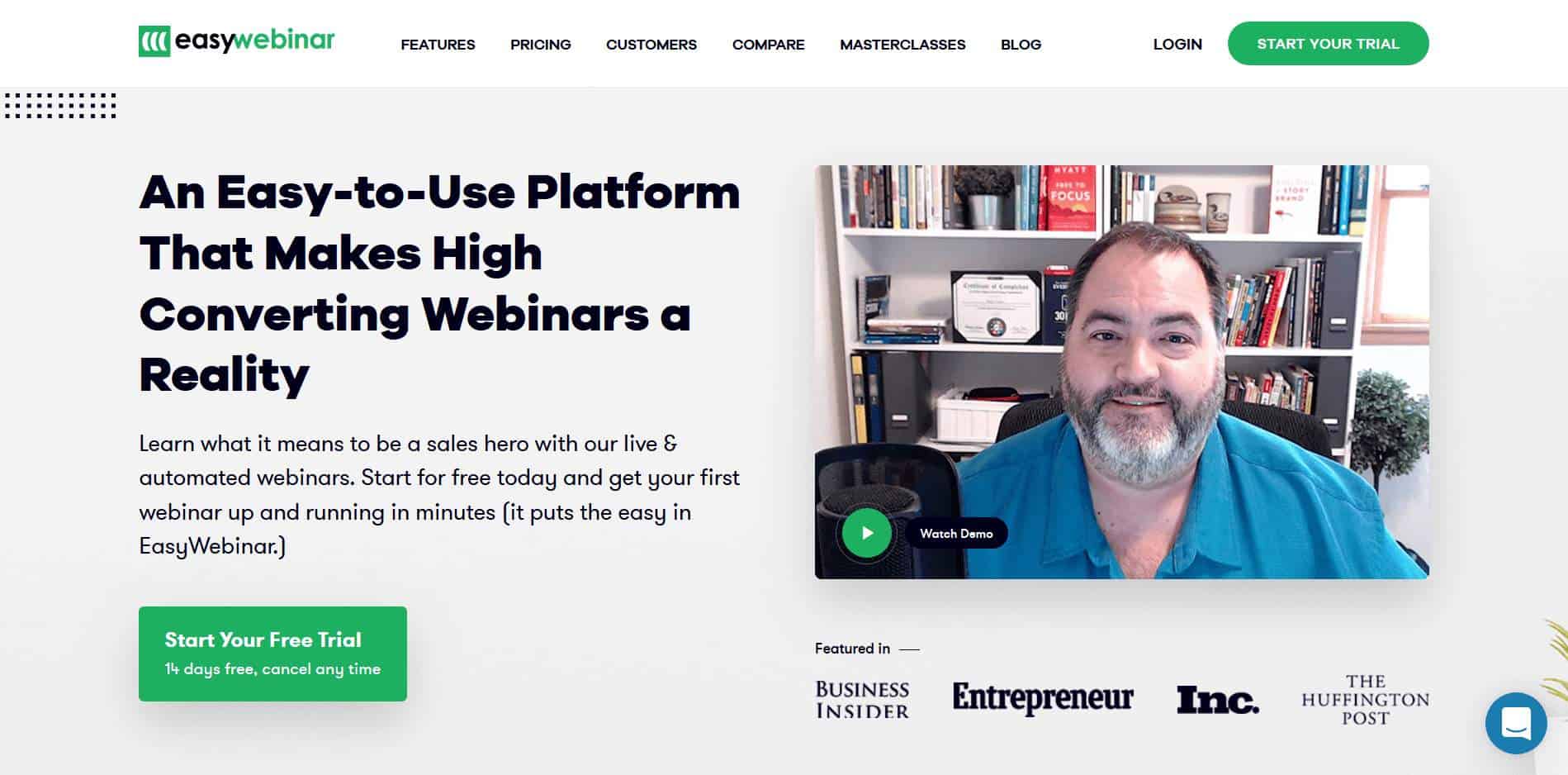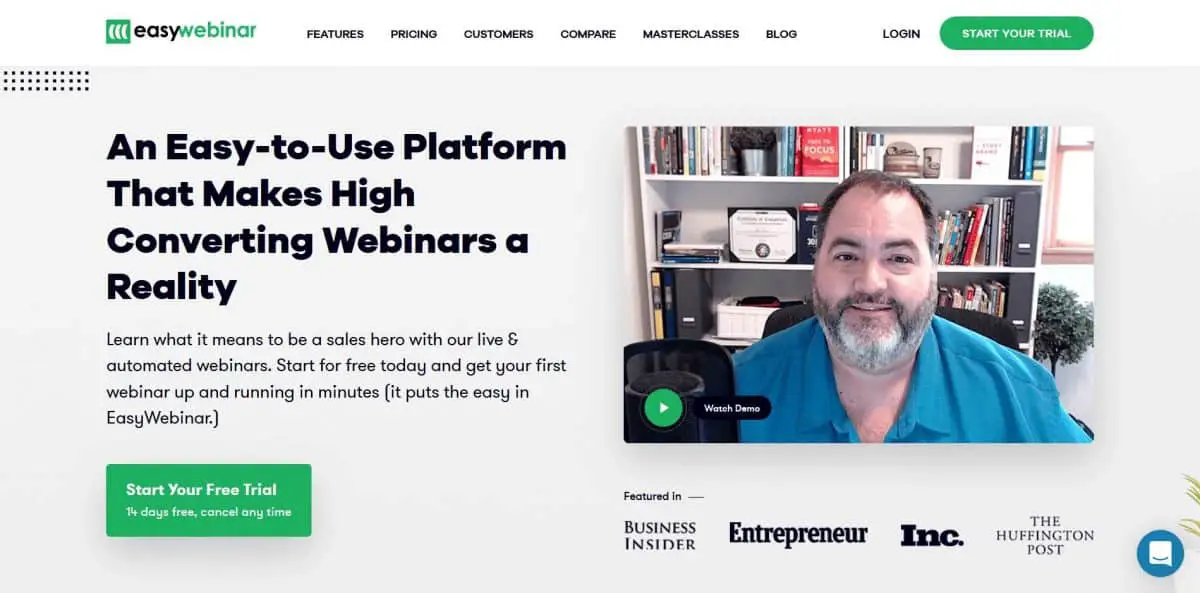 EasyWebinar is one of the most popular webinar software for good reason.
The simple interface enables you to set up your webinar quickly. You get access to four templates. You can customize each of them to make enticing funnel pages for your live or automated webinar.
Wait, there's more! Aside from beautiful registration pages, you also get access to "Thank You" pages, event pages, replay pages, and "event ended" pages that add a layer of sophistication to your virtual events.
The screen-sharing feature and the offer feature allow you to help participants through the material and offer limited period discounts.
One-click polling and Q&A options make it that much easier to use and make it worth the slightly high price.
The Standard plan comes for $78 per month, but you can save up to 25% if you pay the annual fee upfront. The Pro and Enterprise plans are better suited for businesses with large-scale webinar needs.
| | |
| --- | --- |
| Attendees | Price |
| 100 Live Webinar Attendees | $78/month |
| 500 Live Webinar Attendees | $129/month |
| 2000 Live Webinar Attendees | $499/month |
Pros:
Live and automated webinars both available
Cons:
Only four funnel templates to choose from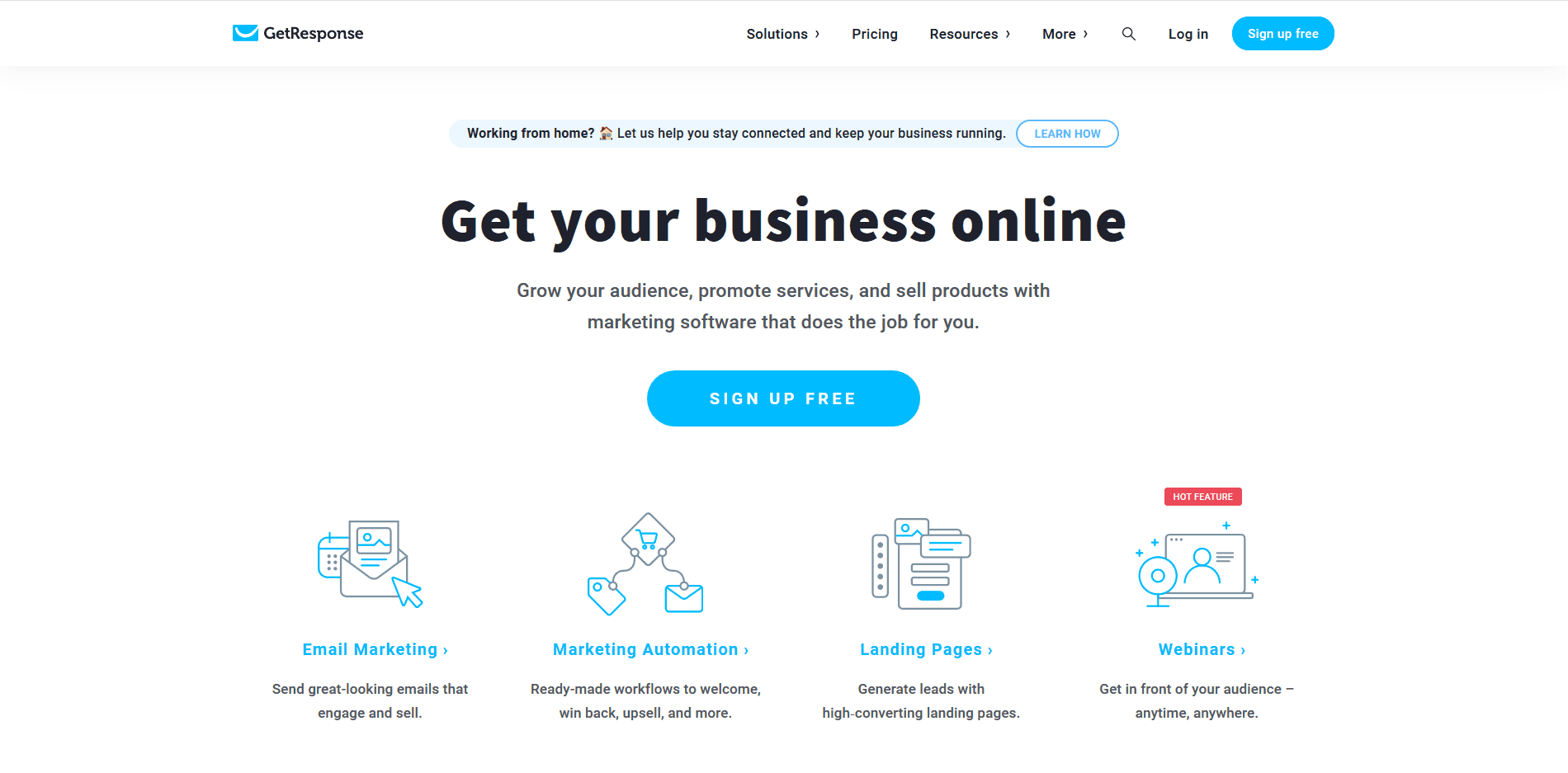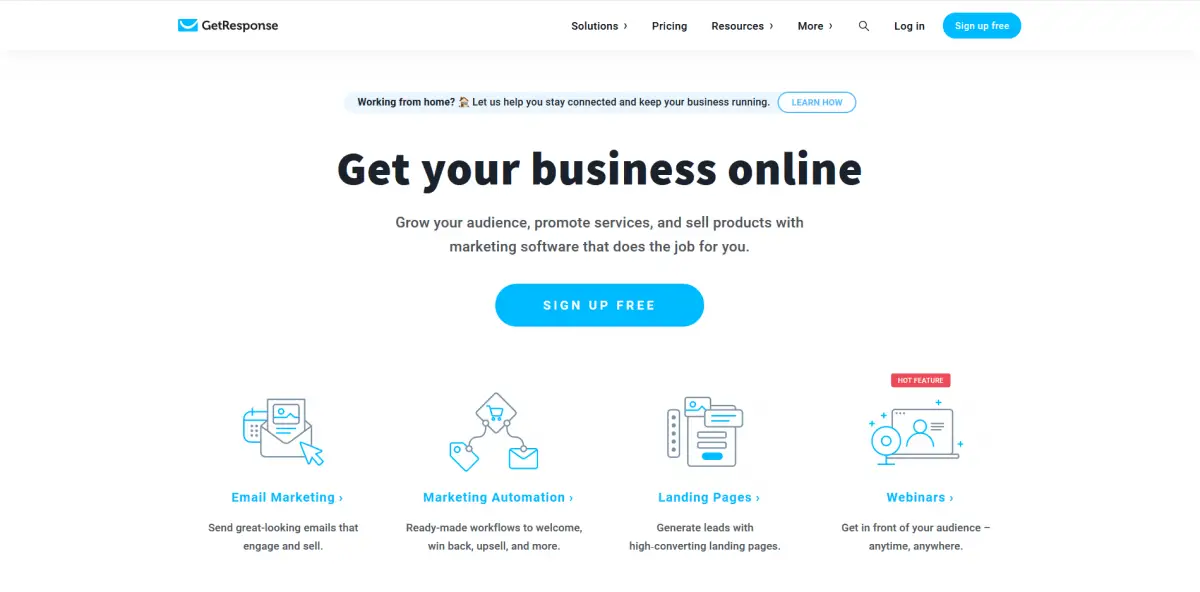 GetResponse is an all-in-one marketing solution that also offers solid webinar hosting functionality.
With GetResponse, you can make use of email marketing to boost your webinar's reach and generate leads that way. Beautiful-looking landing pages and autoresponders make converting leads to clients a lot easier.
Webinars are easy to set up, and you can share many files in different formats with your audience. YouTube videos and PDFs improve your audience's understanding of your product or service.
You can also share your screen seamlessly and demonstrate how your product works. Collaborating with other presenters is just as easy, and the alluring call-to-actions make your products that much more desirable.
GetResponse is fairly inexpensive. It starts at $15, but to get your hands on the webinar functionality, you will need to get the $49 Plus plan.
| | |
| --- | --- |
| Attendees | Price |
| 100 Live Webinar Attendees | $49/month |
| 300 Live Webinar Attendees | $99/month |
| 500 Live Webinar Attendees | $1199/month |
Pros:
Feature-loaded marketing suite
Alluring landing pages and call to actions
Cons:
Conclusion
Hosting a webinar is not that complicated—you just prep your talking points the night before, and you can go live!
And now that you know about the best webinar software out there, choosing one will be really easy for you.
All you need to do is tally your preferences—budget, setup needs, and features—against the options available.
You'll find the perfect webinar software in no time!