GreenGeeks Black Friday Deal 2023: Up to75% Discount
Are you planning to get a GreenGeeks hosting deal this Black Friday sale 2023? Here is a GreenGeeks Hosting Black Friday Review that will help you learn more about GreenGeeks hosting. Also, check out Black Friday 2023 Deals to avail huge discounts.
Mega discount when you buy multiple years plan

GreenGeeks Black Friday Deal
When shopping for web hosting, environmental concerns seldom come to mind. But GreenGeeks believes that it's time for that to change.
Information and Communications Technology now accounts for over 2% of global carbon emissions. To get things in perspective, that's the same volume of emissions as the airline industry.
GreenGeeks is the website hosting industry's leading eco-friendly hosting provider. Its USP is quite impressive: the company invests three times its power consumption into renewable energy via the Bonneville Environmental Foundation.
Environmental responsibility is an excellent trait that makes a hosting provider more impressive. But this brings forth the question:
Does GreenGeeks hosting match up against more popular website hosting companies like Hostinger, Bluehost and SiteGround?
The company offered a maximum of 75% discount in plans as part of the GreenGeeks Black Friday deal in 2023. Now that the GreenGeeks Black Friday Sale 2023 has begun, how do the plans compare to other hosting providers' plans at the Black Friday discounted price?
We've reviewed GreenGeeks' background, plans, features, support, and documentation quality and weighed out its pros and cons to find out.
GreenGeeks: Brief Background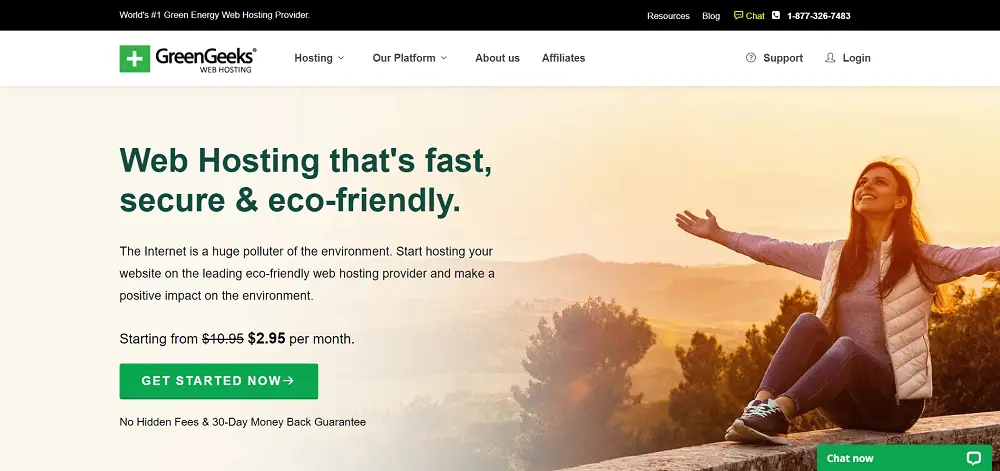 GreenGeeks was founded in 2008 by American entrepreneur Trey Gardner when he realized the magnitude of carbon emissions the web hosting industry was producing.
Over the decade the provider has been in the industry, it has garnered a massive user base, hosting over 600,000 websites globally.
Further, GreenGeeks has appeared in the INC 5000 Fastest Growing Companies for four years in a row.
The company has five data centres. There are two in the U.S., two in Canada, and one in Amsterdam. In contrast, SiteGround has six data centres, whereas Hostinger has seven.
That said, according to Bitcatcha, a website speed checker provider, GreenGeeks hosting has a faster average data centre speed than both of those hosting companies.
The faster average response times are an indicator of high-quality hosting. Let's dive further into the features offered to learn if GreenGeeks hosting stands out.
Key Features of GreenGeeks Hosting
The company offers several features that make it on par with more prominent names such as Hostinger.
1. Onboarding Features (Free Site Migration, Site Builder, Domain Name)
If you're switching from another hosting provider, GreenGeeks will smoothly migrate your website to their servers for free.
On the other hand, if you're hosting the site for the first time, the company will provide domain name registration services for free for your first year.
Considering the affordability of the shared WordPress and WooCommerce hosting plans, these are excellent benefits that make GreenGeeks hosting a value-for-money option.
2. Data Privacy and Security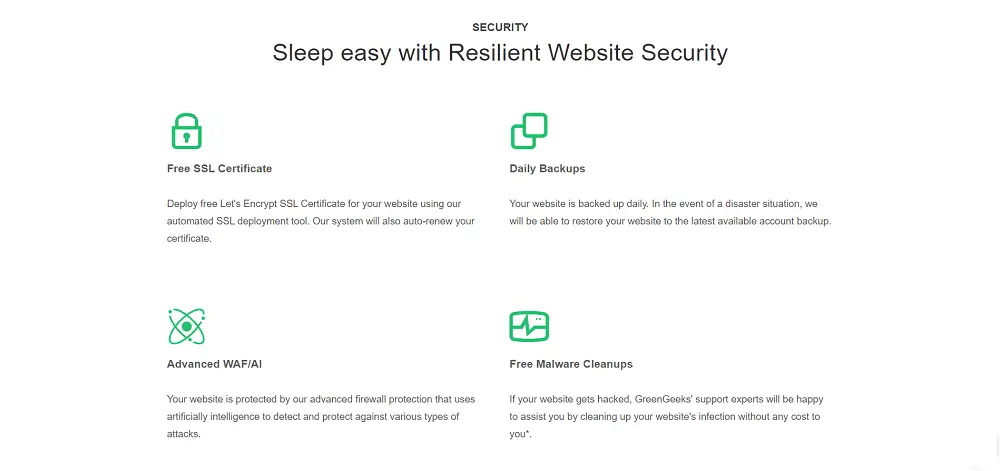 Peace of mind is one of the things many hosting companies fail to provide. But GreenGeeks is not one of them.
The company has an enterprise-grade data centre in Montreal, which means GreenGeeks complies with Canada's stringent privacy laws.
PIPEDA compliance indicates that GreenGeeks takes data privacy seriously, leaving you nothing to worry about regarding the security of your data and your customer's data.
Some of the measures the company takes to secure your data include:
You can get a detailed picture of the company's approach to privacy by reading its privacy policy.
Compliance with PIPEDA means the company will inform all customers and authorities about any security breach within 72 hours. The ability to access your records and the Right to Erasure are some other advantages of getting GreenGeeks hosting.
Softaculous Installer
If you intend to run an eCommerce site, you will likely want to use eCommerce apps like Shopify or Prestashop on your site.
Finding the right hosting provider can be difficult for eCommerce business owners because different hosting companies provide different integrations.
GreenGeeks offers its users access to the Softaculous installer from cPanel, giving users access to over 400 different integrations. With it, you can install software like WordPress and eCommerce tools like Shopify on your site in a matter of seconds.
To install WordPress with Softaculous on GreenGeeks:
Sign in to your GreenGeeks account and open the site's cPanel.
2. Open the Softaculous App Installer.

3. Find the WordPress option and click "Install."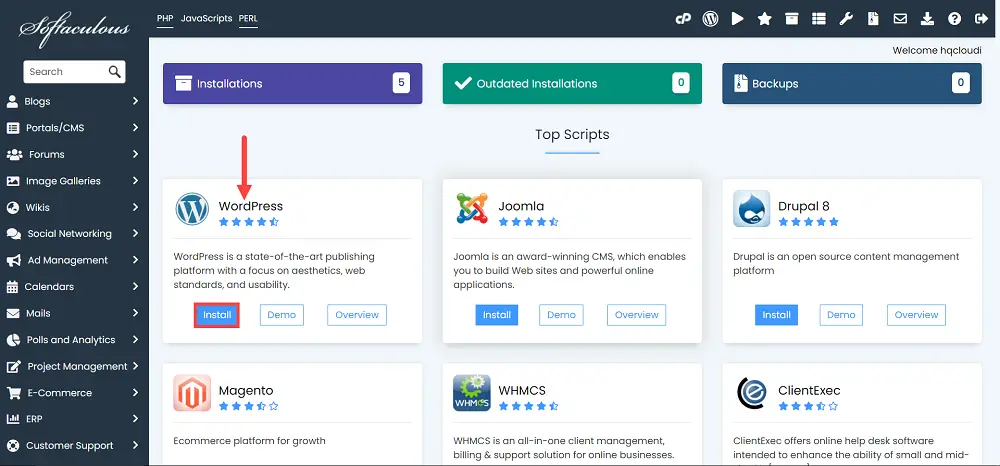 4. Configure your site's settings: set the admin credentials and pick plugins and themes to install.
5. You can then press the "Install" button at the bottom of the page. WordPress will be installed, and you can access it from the "Administrative link" that appears.
4. Speed Optimizations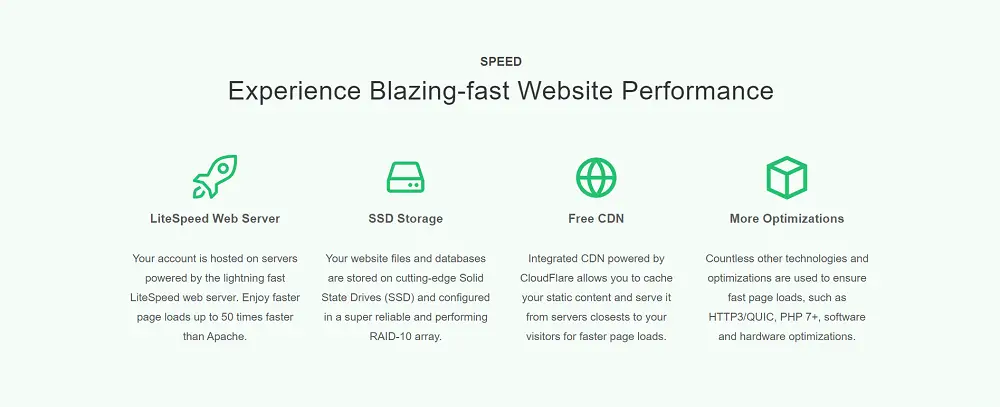 GreenGeeks' servers are powered by LiteSpeed, making them up to 50 times faster than Apache servers. Hosting speeds are further improved with SSDs, and users do not have to worry about reliability since they are configured on a RAID-10 array.
The company provides free Cloudflare CDN, enabling users to cache their site's static content. Visitors worldwide will be served the page from the server closest to them, reducing loading times and increasing leads and conversions.
Several other optimizations, such as HTTP3/QUIC and PHP 7+, give your site an edge over competitor sites.
5. Email Hosting

If you get one of the shared plans, you will get free access to email hosting. The IMAP and POP3 servers ensure secure access to your email.
But what's more is that you can conveniently access your email through webmail, enjoy spam filtering, and sync up your calendar and contacts with the GreenGeeks email.
6. Money-Back Guarantee
The company offers a 30-day money-back guarantee on all plans except its dedicated server plans.
GreenGeeks Plans & Pricing
GreenGeeks offers different types of plans, making their hosting available to all kinds of users.
Shared Hosting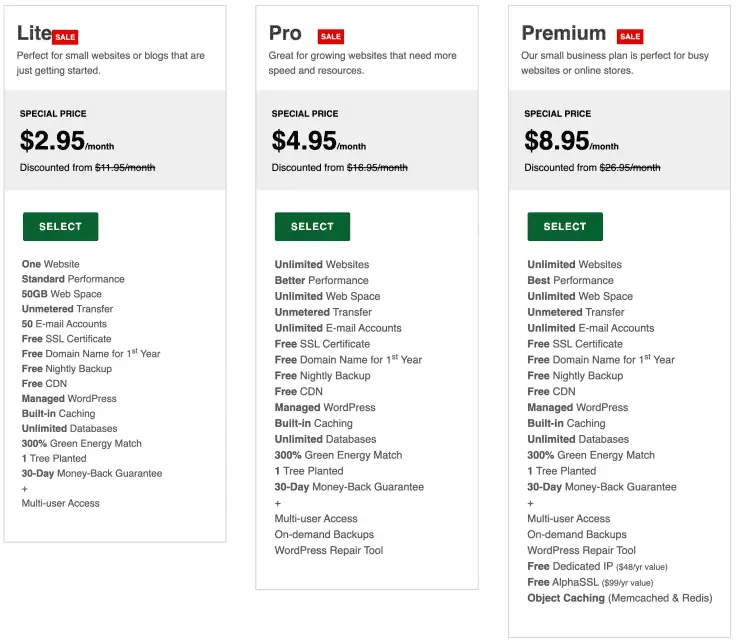 GreenGeeks shared web hosting is cheap, and all the plans come with most of the same features.
This time, GreenGeeks Black Friday deals for 2023 come with three amazing plans: Lite Plan, Pro Plan, and Premium Plan.
The Lite plan offers 50GB of web space. There are no space limits in the Pro and Premium plans. Further, Pro and Premium plan users get unlimited email accounts and are not limited to 50 like Lite plan users. Moreover, you will get a free domain name for the first year.
Moreover, the Pro and Premium Plans come with unlimited websites. Additionally, Premium and Pro plan users access additional features like on-demand backups and a WordPress repair tool. A free dedicated IP, AlphaSSL, and Object Caching are offered to Premium plan users.
The plans are priced affordably, especially considering all the features offered. If you get a three-year plan, you can get the Lite plan for $2.95/month. Getting a three-year hosting plan makes sense for the other shared hosting plans, too.
The Pro and Premium plans come up to $4.95/month and $8.95/month, respectively. With GreenGeeks Black Friday 2023 Sale, the pricing would be even easier on your pocket.
GreenGeeks Dedicated WordPress Plans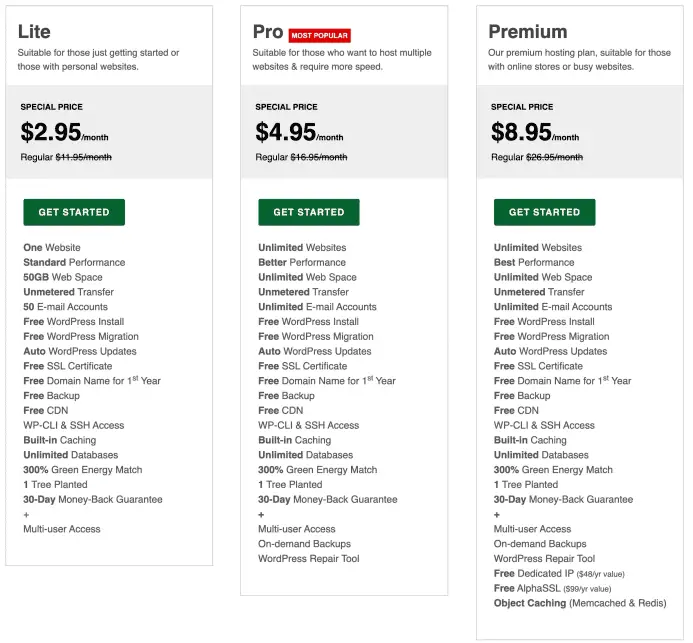 You will also find a page on WordPress plans on the GreenGeeks site. However, these plans are the same as the shared hosting plans. The plans mention the same managed WordPress hosting features as the shared plans and have the same prices as the shared plans.
While the plans offer good value for money, you must remember that features like site staging and extra plugins are not offered. If you've worked on WordPress sites a lot, you may find the lack of those features limiting.
That said, these WordPress plans should suffice for small- and medium-sized sites.
GreenGeeks VPS Plans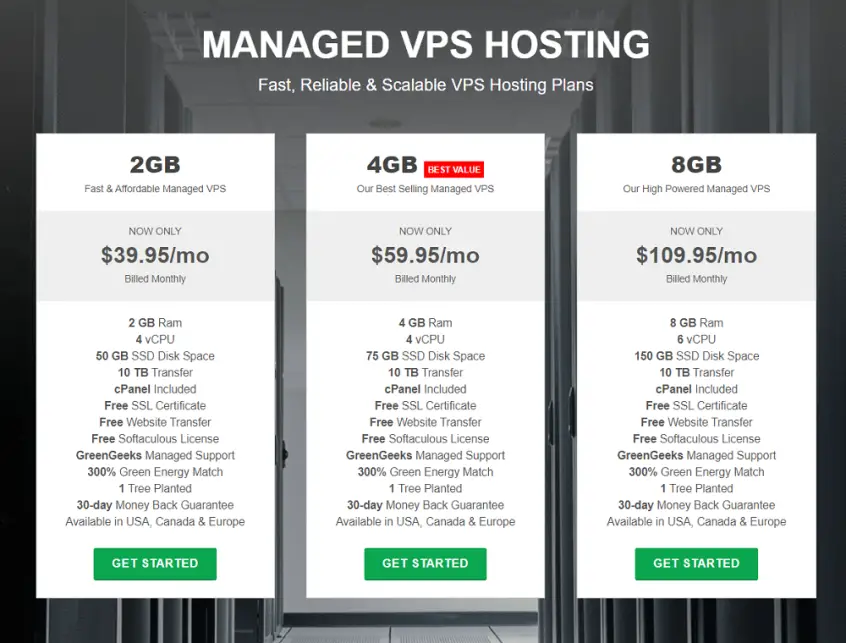 GreenGeeks offers the best value for money on its VPS hosting plans. You can get a fully managed setup with 2GB RAM, a 4-core CPU, 50GB SSD Disk Space, and 10TB Transfer, as well as a free SSL certificate, for as little as $39.95 a month.
The 4GB RAM and 8GB RAM plans come in at $59.95/month and $109.95/month, respectively. It's important to note that these plans are billed monthly – unlike the shared plans that require you to pay for three years upfront to enjoy a better price.
You can choose your data centre and enjoy RAID-10 storage. But there is no choice in the distro you can use: it comes with CentOS7 by default.
There are also no cheaper unmanaged plans offered, which leads to some customers turning away from GreenGeeks.
Reseller Hosting Plans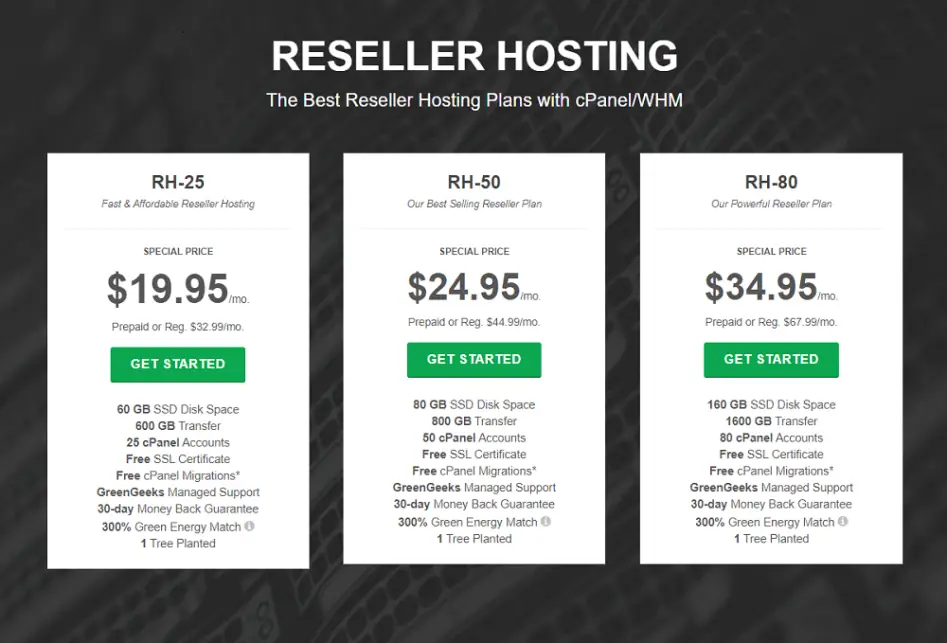 The company offers some competitively priced reseller hosting plans. But the company only allows you to allot 2GB or less of web space to your customers, depending on the plan you get.
While the plans may suffice for resellers that are just beginning to sell sites, resellers with a large clientele will indeed find the limits on web space limiting.
GreenGeeks Dedicated Server Plan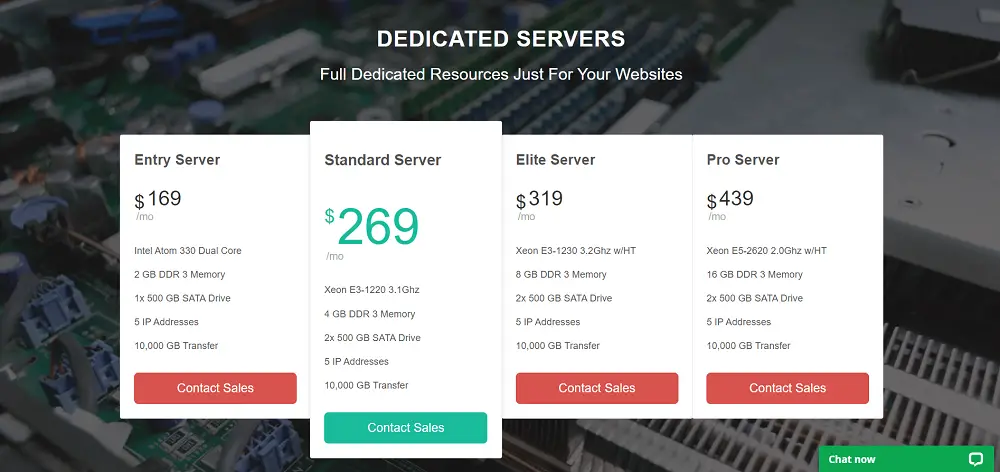 The company's dedicated plans are slightly pricier than those offered by other hosting companies. But since the company has to cut costs and invest in renewable energy, paying a little extra may be worth it for your conscience.
Further, the company offers comparatively lower-powered CPUs on its entry server plan.
But this makes sense since the company aims to reduce its environmental impact. The processor's performance may be lower, but it's not too far off from the power-hungry processors that other companies use.
GreenGeeks Black Friday Deal 2023: Get up to 75% Discount
In 2023, GreenGeeks is offering a Black Friday Deal of up to 75% discount on all the plans. The sale saved many customers hundreds of dollars and gave customers interested in the low-priced plans excellent value for money.
The good news is the company is offering a maximum of up to 75 per cent discount on all of its plans in the GreenGeeks Black Friday Sale 2023.
The sale has already begun and ends on 2nd December 2023. This makes now the best time to get GreenGeeks hosting.
Many other web hosting companies are also offering discounts on Black Friday. Some companies offer upwards of 80% discount during the Black Friday Sale 2023. However, there are no other companies that invest 300% of their electricity consumption into renewable energy.
Finding a cheaper deal won't be challenging, but the other hosting you get may not offer the reliability and sustainability that GreenGeeks Black Friday offers.
To get up to 75% discount on all web hosting plans, click on the button below.
GreenGeeks Account Setup
If you're looking to grab the GreenGeeks black Friday deal, you have to first create an account. Hence, to activate GreenGeeks Black Friday and Cyber Monday deals, you need to step towards the signing process.
Signing up with GreenGeeks is easy. Find the plan you like and click on the "Get Started" button below it.
The site will ask you to register a domain name, enter your contact information, and pick a payment method. Once you've paid for the plan, your account will then be activated, and you will receive a welcome email with the login details.
In some cases, new accounts don't pass the company's internal checks. If your account fails the checks, you will get a phone call to verify the account.
Web Account Console Interface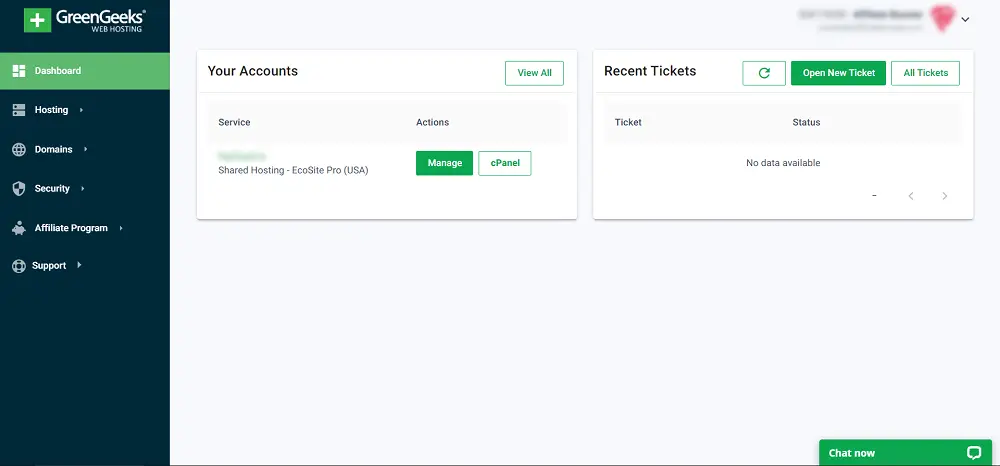 The account console is neat and straightforward, making finding the right options easy. Unlike some other hosts, the GreenGeeks interface does not force you to scroll through ads to find the setting you need.
Installing an SSL certificate with the interface is quite easy, too. All you have to do is navigate to the Security tab and click "Add SSL Certificate."
Then, you will need to enter the service and domain, select the SSL provider, and then click "Install the SSL certificate."
Managing other aspects of your account and accessing cPanel is just as simple.
cPanel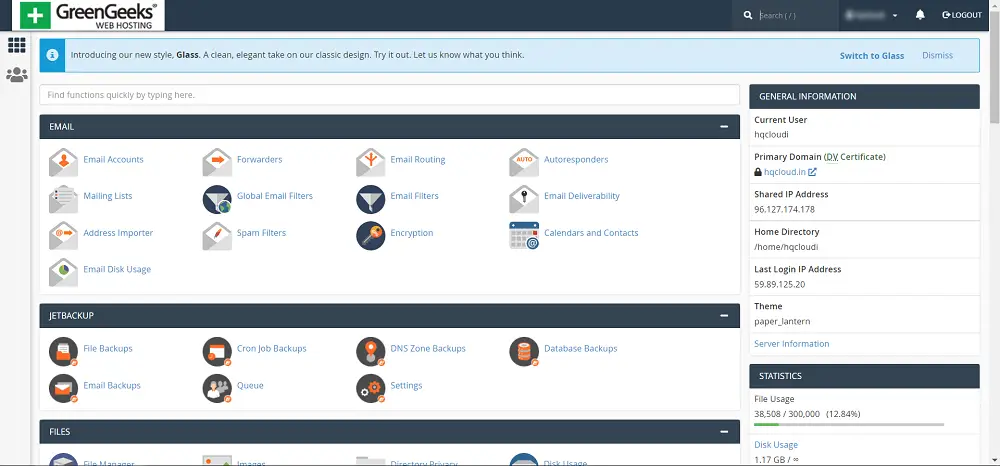 GreenGeeks supplies its users with a full-featured cPanel setup. As mentioned earlier, it comes with Softaculous, which makes installing software on your site a lot easier.
Additionally, users also get access to the SitePad website builder. It comes with 760+ themes that you can customize and make your own with the drag-and-drop editor.
The company does not limit the number of pages you can make with SitePad like some hosting providers do, which is nice.
Besides this, the cPanel setup enables you to create email accounts, use the integrated Cloudflare CDN, manage databases, configure security settings, and everything else you would expect out of cPanel.
Speed and Uptime
Early this year, GreenGeek used Uptime Robot and WebPageTest to test out its uptime and speed.
The Uptime Robot results reported an average uptime of 99.9 %, and the WebPageTest results reported an average global speed of 1.12113.
Support and Documentation
Getting support is as simple as clicking on the "Open Ticket" button on the dashboard. But you can also get support using the chat button on the bottom right or by calling the company's support number. The 24/7/365 support is an advantage not all hosting providers offer.
The GreenGeeks knowledge base is split into several categories, including "Domains," "Email," "cPanel," and more.
The "Getting Started" guide takes newbies through key setup tasks, but if you're more experienced with hosting, you can dive straight into other topics as required.
You can always enter what you want to learn about in the search bar, and a helpful result will appear.
While the documentation is vast, most posts cover particular problems that will not interest the average user.
Pros and Cons of GreenGeeks Web Hosting
Below are quick and brief Pros and Cons of GreenGeeks that will give you a quick idea of what you are getting and what you are sacrificing.
Pros
The company offsets energy used by 300%
Five data centers
Value for money plan pricing
Softaculous and SitePad
Commendable security and privacy features
Cons
Setup fee required for monthly-billed shared hosting 
Lapses in the knowledge base
Phone support is not 24/7
Verdict: Is GreenGeeks Hosting Worth It?
While GreenGeeks may not offer the absolute best value for money, the promise of offsetting its power consumption by 300% with renewable energy is something no other hosting company offers.
The speeds are impressive, support is decent, and the hosting is reliable, making it an excellent option for small- and medium-sized sites.
And now that the GreenGeeks Black Friday Sale 2023 is offering a massive 75% discount, there couldn't be a better time to get a plan from this eco-conscious site hosting provider.
Frequently Asked Questions
Is GreenGeeks a good hosting?
GreenGeeks is a very reliable and old hosting provider. They have very powerful SSD servers and awesome security to protect sites from attackers.
How many customers does GreenGeeks have?
They have 55000+ customers right now having 600000+ websites hosted on various servers.
Where is GreenGeeks based?
Based in Los Angeles, California, the company now powers over 600,000 websites and offers a green hosting solution.
GreenGeeks Black Friday Deal