Disclosure: Some of the links in this article may be affiliate links, which can provide compensation to me at no cost to you if you decide to purchase a paid plan. We review these products after doing a lot of research, we check all features and recommend the best products only.
Let me be honest: affiliate marketing is a double-edged sword.
No matter how good you are at selling, sometimes it really becomes a headache to make consistent sales using affiliate marketing.
But there are few affiliate marketing websites that are doing affiliate marketing exceptionally well for a long time.
If you're struggling to increase your affiliate income, I have a quick tip for you: analyze how the experts are doing it.
To make it easier, I've picked some of the top affiliate marketing examples that are using affiliate marketing to make a TON of money.
Just go through the whole post without skimming, and you will find out their;
Content marketing strategy
Monetization strategy
Traffic sources
So what are you waiting for? Let's get started.
Top affiliate marketing websites that use affiliate marketing to make more money
If you're not heard of Groupon yet, you're living under a rock.
Jokes apart, Groupon is one of the largest e-Commerce marketplaces that offer deals and coupons.
It offers a vast mobile and online marketplace where people discover and save on amazing things to do, see, eat and buy. Groupon is redefining how small businesses attract and retain customers by providing them with customizable and scalable marketing tools and services to profitably grow their businesses.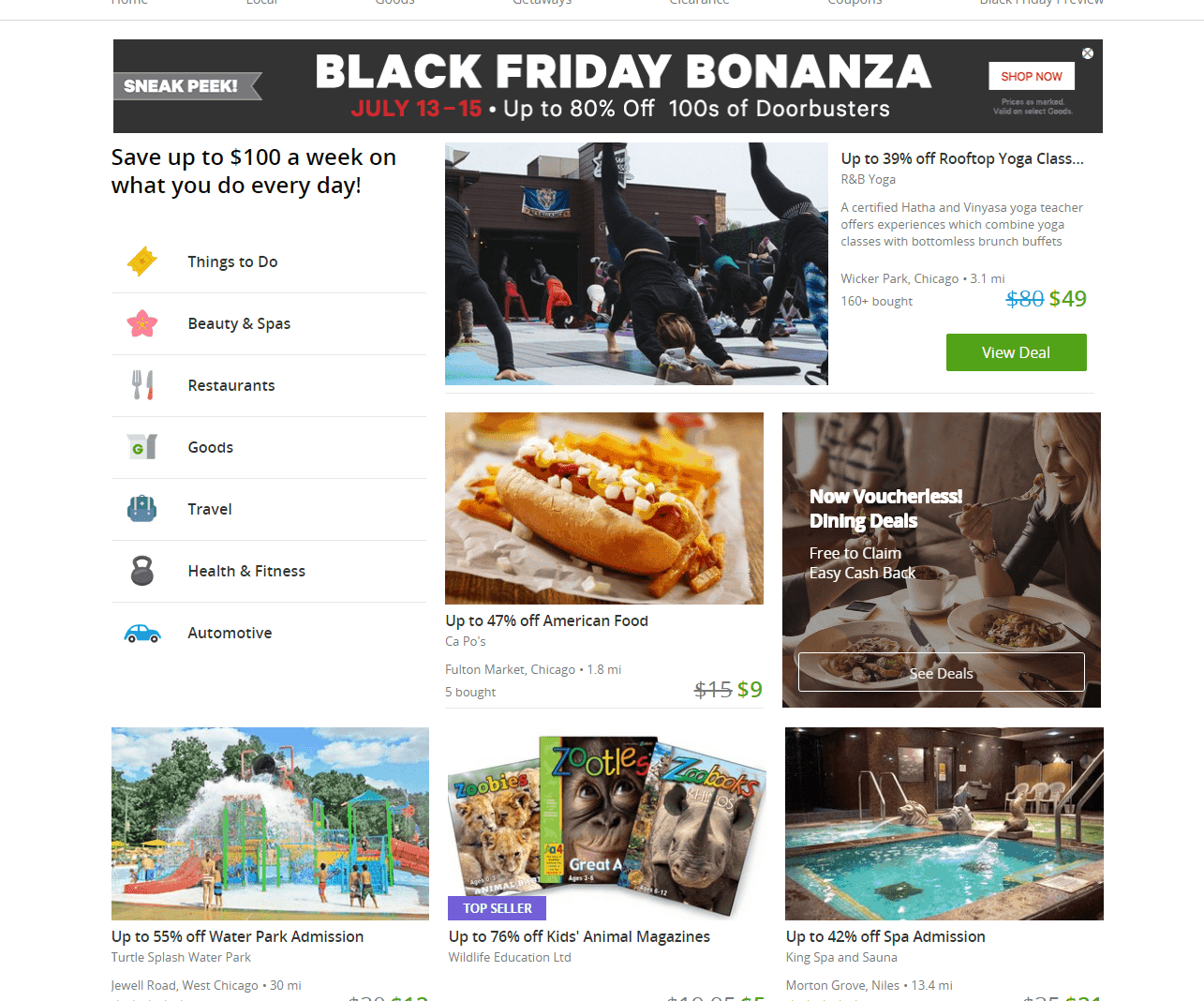 What's the content marketing strategy they use?
Groupon offers tons of categories on the homepage and also it offers discounts on each category. It's not just an e-commerce website. You will also get offers on men's and women's clothing, food items, traveling places, health and fitness, automotive, and much more.
For example, if you click on a post "up to 38% offbeat tour or thrill ride", you will be given information like detailed customer's review, pricing, how many members are allowed per ride, etc..
To the left side of the post, you can see options to buy offering massive discounts. If it is tickets or food coupons or books whatever it is, there is an option to choose how many you want.
You can also see how many customers gave 5-star rating.
You can even provide that coupon or discount offer as a gift to anyone.
Traffic sources:

Monetization strategy:
You will find several coupons. Groupon allows you to make business with them. You can earn great commission by promoting the best Groupon deals. Apart from making money, they also show interest in building community.
It is monetized with lot many affiliate programs. You can discover fun activities and huge discounts in your city with Groupon. From kids activities to nightlife, it offers several great deals. You can take part in their affiliate partner network.
You will find a lot many customer reviews and ratings usually in the thousands for every deal they offer. So that you can decide whether to take up or not. Customer reviews and ratings build trust among users.
Groupon offers a ton of discounts and coupon codes. No wonder it attracts a lot of people to buy stuff from them.
BGR is a leading online destination for news and commentary focused on the mobile and consumer electronics markets.
BGR is closely watched by analysts, pundits and industry executives as it is by gadget enthusiasts. They also have a store where they offer deals on gadgets, lifestyle accessories, online courses and software.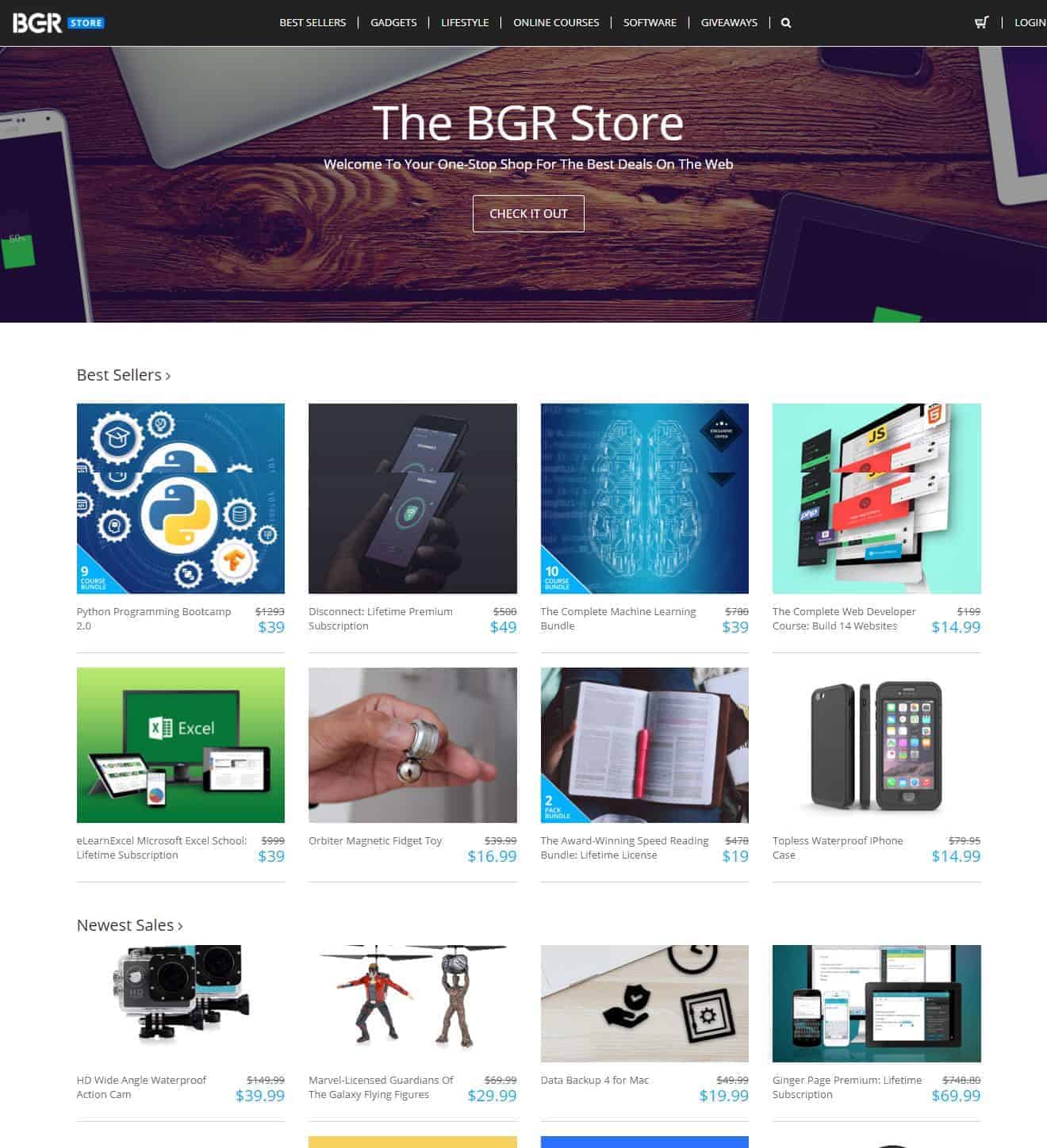 What's the content marketing strategy they use?
You will find various gadgets all that you need for a better price. It offers a discount on every item it shows.
For example, if you consider the deal "Breed Raylan Men's Watches" you can find its description and shipping details. There is also an 'add to cart' option.
It shows related deals based on the product you selected.
Traffic sources:
Monetization strategy:
You can share referral link with friends and earn $10 credit upon their first purchase.
It has several affiliate programs, and you will get the discount on every item it displays.
Key takeaways:
They offer low prices on all the displayed products and also giveaways to attract the audience.
They have a huge fan base who visit their website directly from their mobiles or desktops (their traffic percentage says it all).
Converting a website visitor into sale become easier when they are directly visiting a site.
Everyone knows about Pat Flynn and his Smart Passive Income blog. Personally, I love Pat Flynn. He's so genuine and transparent at what he does.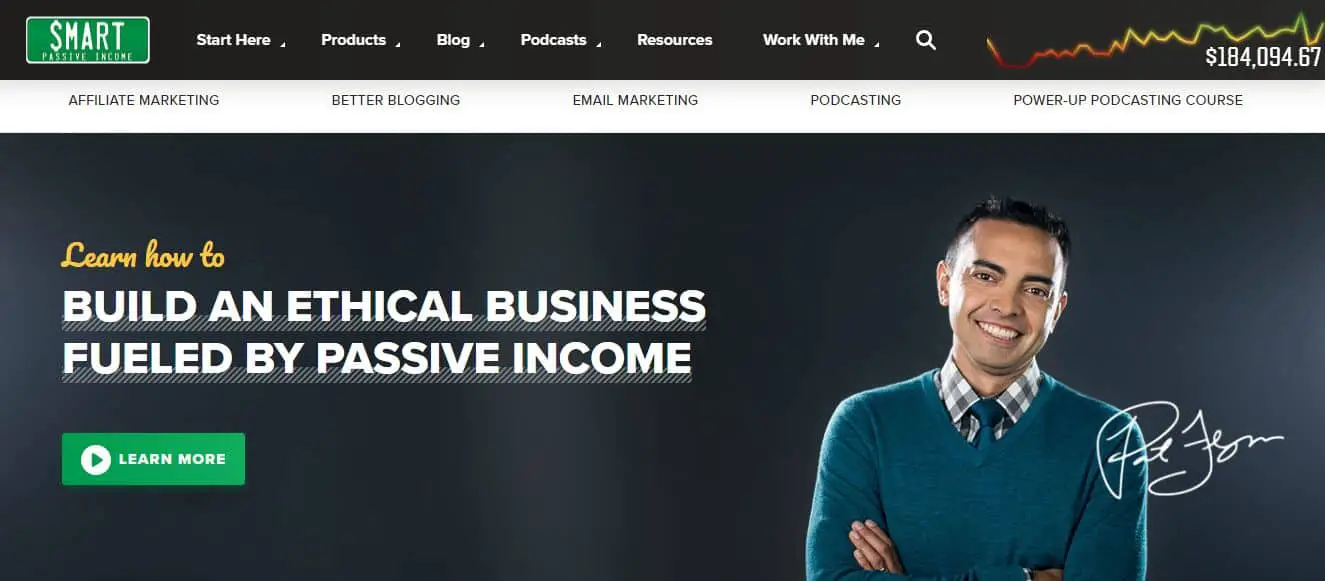 He has multiple income streams from advertising, sponsorship and his own products, a large percentage of his income in the beginning and over the years is through promoting other people's products.
He believes in transparency on the web, and so he discloses certain products and links to those products on his site.
There are millions of products and services on the web that relate to blogging and making money online, and he promotes only those products or services that he has investigated and truly feels deliver value to you.
SmartPassiveIncome.com is also a participant in the Amazon Services LLC Associates Program, an affiliate advertising program designed to provide a means for sites to earn advertising fees by advertising and linking to Amazon.com.
What's the content marketing strategy Pat Flynn uses?
He updates his blog regularly with fresh content every week sharing his progress and lessons learned while building his own online business.
He also has a YouTube channel that he updates weekly, has self-published multiple books and is a sought after speaker.
Working with others on one project helped Pat get exposure from the other bloggers' audiences. And also the content of the Niche Site Duel was so good it attracted tons of new traffic to him and helped solidify his place in the blogging world.
At the same time, Pat Flynn started the Smart Passive Income Podcast. He has revealed the podcast is now the number one driver of new subscribers to his brand. Pat's mantra is to "be everywhere" and has used this idea to grow his audience very rapidly.
He publishes Monthly Income Reports to show you the potential of an online business and never promotes get quick rich schemes
Traffic sources:

Monetization strategy:
Monthly Income Reports published on SmartPassiveIncome.com represent the revenue earned by Flynndustries, LLC during the time and period in question according to each noted source in the report.
In March 2017, Pat made $258,737.45 with a profit of $212,117.09. In specific, Pat makes most of his money as an affiliate recommending marketing products with Bluehost being the most lucrative.
He also creates in-depth video tutorials teaching specific online marketing tactics while demonstrating the tools that he uses on-screen.
He is now focusing more on making new software products for his audience as an additional income stream.
He publishes product reviews and does affiliate promotions to his email list.
Read: Why Should You Start Building Email List Today?
Key takeaways:
Keeping content in multiple channels increases your chance of success.
To build your audience, leverage relationships with other bloggers and authority sites.
When you earn your audience's trust, being the #1 expert in a niche can be extremely lucrative.
Pat Flynn's blog is all about "teach with transparency and don't promote products that you don't use". If you follow that strategy carefully, you will be ahead of the affiliate marketing game.
It was founded in September 2011 by Brian Lam, a former Editorial Director at Gizmodo and it became a part of The New York Times Company in October 2016.
The Wirecutter is a list of the best gadgets such as cameras, Laptops, TVs, for people who don't want to take a lot of time figuring out what to get.
The Wirecutter is also focused on home goods like bed sheets, blenders, duct tape, and screwdrivers. Today, The WireCutter focuses on doing intensive testing and research to create in-depth and useful product buying guides to help readers pick the best products in a wide range of categories.
Here's what he said in an interview a few years ago: "I was tired of doing posts that were obsolete three hours after I wrote them. I wanted evergreen content that didn't have to be updated constantly in order to hunt traffic. I wanted to publish things that were useful."
In 2015 the site drove $150 million in E-commerce sales (mostly from Amazon) and averaged 800,000 – 900,000 visitors per month during 2015.
The Wirecutter now generates more than 10 million visitors per month and Brian has more than 60 staff employed in the business. There has never been any outside investment, and it was bootstrapped from day 1.
What's the content marketing strategy they use?
They do fun tests with products that are so good, they have a very high chance of going viral in each space. Sometimes they will swim a quarter of a mile in the open ocean towing waterproof iPhone cases behind them in an attempt to drown them.
Sometimes they will get scientists to dunk dishes in soapy water to test dish soaps. Sometimes they will get an electrical engineer to simulate lightning strikes to surge protectors to test them.
Sometimes they will work with an airline like Virgin America to test carry-on bags with frequent flyers and flight attendants. Sometimes they will track down a bike thief who stole their bike to help them test bike locks.
Sometimes they will test more than 100 headphones and get audiophiles, musicians, and sound engineers to do a blind test of the finalists. Sometimes they will get a former construction worker to test out duct tape to such an extent that the manufacturers themselves end up asking them how to improve their own tests.
For example, their review of "Should I Buy a Treadmill?" is on such another level that all content creators should use The Wirecutter as the premier example of what a product review piece should be.
It looks like they start by reading reviews on Amazon and other major online marketplaces to narrow down the best products of a category and then they actually buy them to run their own tests to come to their own conclusion.
The Wirecutter has over 11.4k referring domains and are just about dominating Google for every "best [product]" search terms in the gadgets and electronic space.
They have expanded by starting a sister site, The Sweethome, that is also doing just as well for home focused products.
Traffic sources: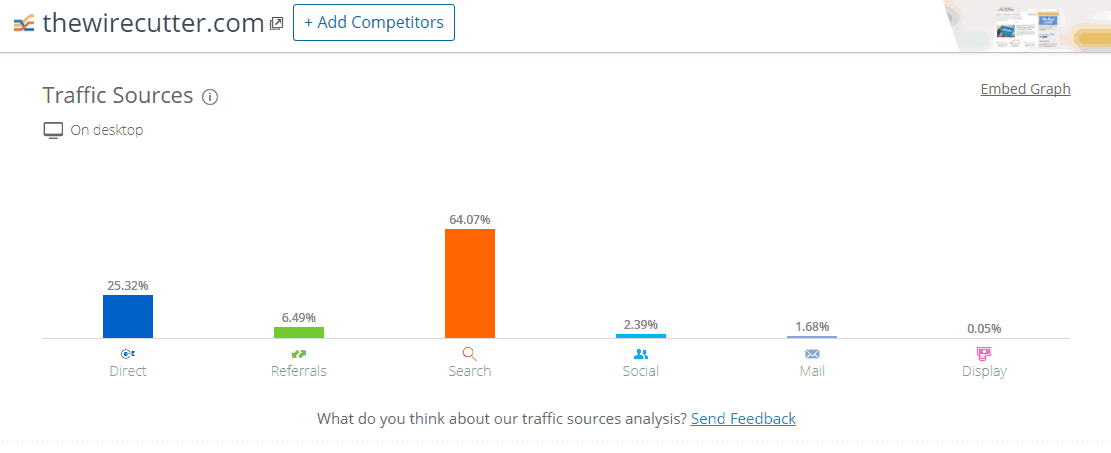 Monetization strategy:
The Wirecutter and The Sweethome are run by veteran editors from CNET, Wired, Consumer Reports, Ars Technica, and many other publications of note. The Wirecutter is upfront about how they make money, which builds trust with their audience through transparency.
They mostly make money from Amazon Associate program but also use affiliate programs from various other retailers and Skimlinks. Most of their staffers have been Amazon customers since before this site existed.
They use quite a lot of in-content affiliate links to the recommended products throughout the article.
They always include a "callout" of their best picks and runner ups towards the top of the article for people who want the info fast and then get into the table of contents and more details
Key takeaways:
Actually testing products gives the ability to create much better content than most other niche sites allowing better opportunities for getting links, traffic, and conversions
Always doing quality, in-depth reviews build trust with your audience and significantly helps improve conversions.
To make decisions, The Wirecutter does in-house testing in addition to conducting expert interviews and research into existing literature from the best sources.
It is one of the most popular and longest running blogs on the web about photography. Founder Darren Rowse is a digital photography enthusiast who created the site to share tips for photographers who want to get the most out of their cameras.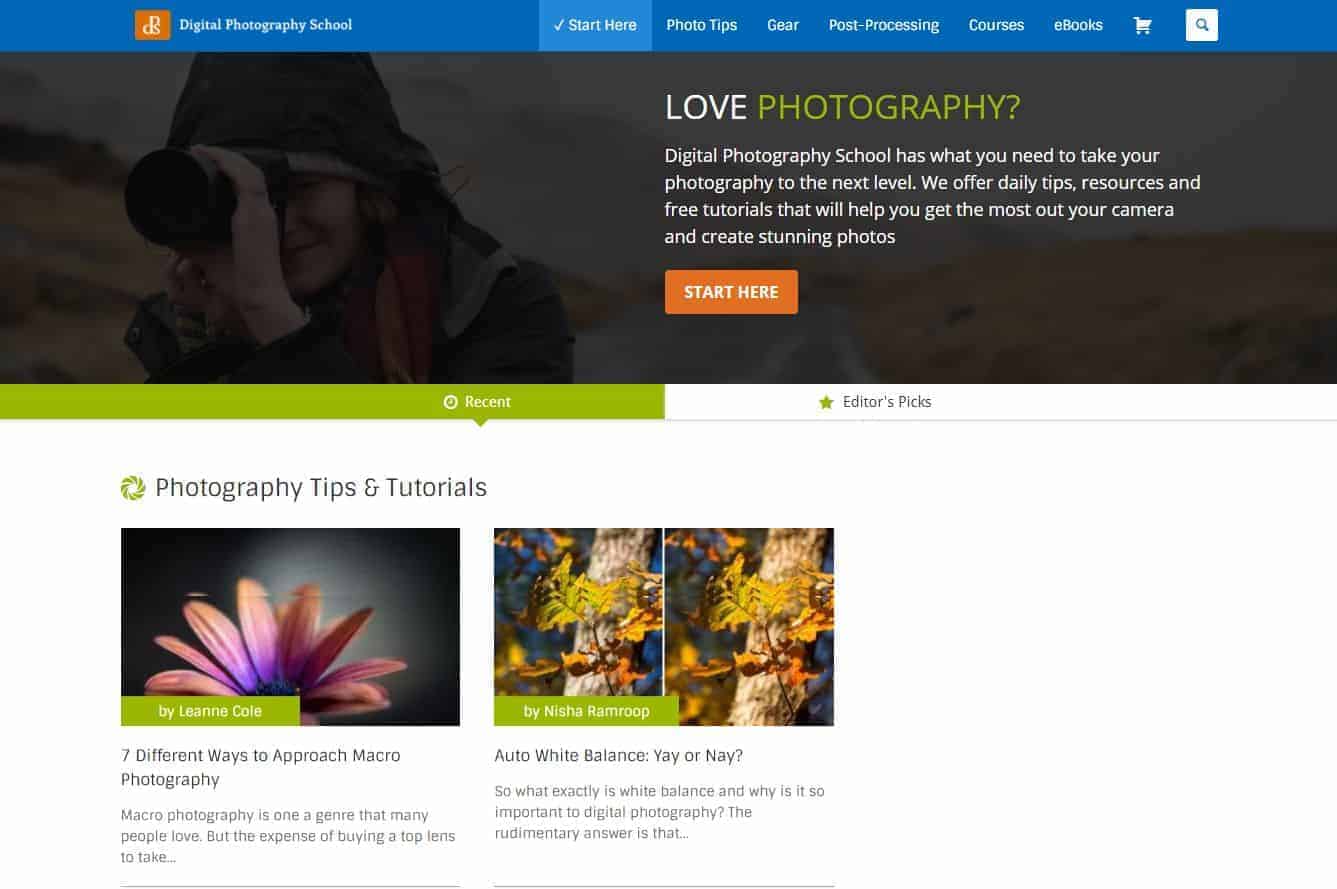 He said on his blog, "I previously owned and operated a digital camera review site – and over two years I had a lot of emails from readers asking for tips on how to use their cameras.
I came to the conclusion that while there are many millions of cameras being bought each year around the world, a very large number of people could be using their cameras to achieve better results.
I'd written a number of 'tips' articles over the past couple of years, but my focus was mostly on cameras. As a result, I wanted to start a site dedicated purely to 'how to' tips."
You will find tips and techniques that help you to improve all aspects of your photography and in their Facebook Group where over 75,000 of them share what they are learning, show their photos and ask and answer each other questions.
What's the content marketing strategy they use?
Whatever the tips that you find at Darren's another blog Problogger are usually implemented on this website.
You will find photography tips and courses, ebooks related to photography.
The reviews are in-depth and add a TON of value to the audience who are looking for best cameras or best photography tips.
Traffic sources:
Monetization strategy:
Digital Photography School is viewed by over four million digital photographers per month and is one of the fastest growing photography communities online. It has a growing range of ebooks, courses and presets for those wanting to improve their photography.
They offer those who recommend their products to their network, the ability to earn a 40% commission on any sales generated from them. To track this, they use a system called AffiliateWP, a WordPress plugin that works with their shopping cart.
If you become the partner with DPS and reach their strong community in a number of areas including, Blog Sponsorship which has 4 million+ views per month, Weekly Newsletter Sponsorship which has 570,000+ subscribers.
Key takeaways:
Offers step by step guide to learn photography. The learning supplements with ebook also.
You will find several photo tips from real time users and experts.When user problems are solved, they are more likely to visit the site again. They build trust as they get very valuable information.
Android Authority is the largest publication dedicated to the world's most widely used operating system. Their team is a diverse coalition of expert bloggers, device reviewers, videographers and Android developers.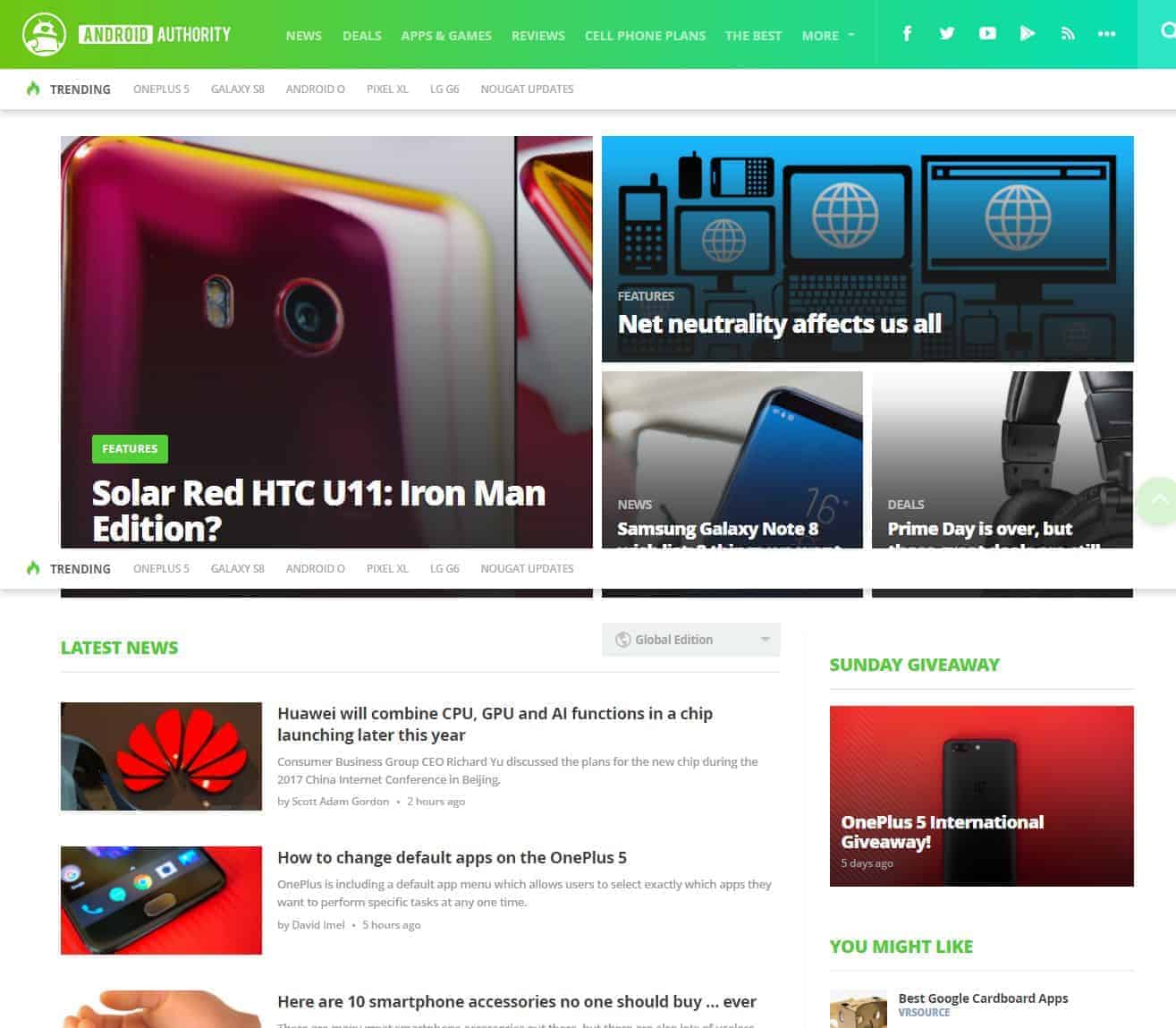 They have 7 million consumers across a variety of platforms including their website, app, RSS, newsletter, forums, YouTube, Google+, Facebook, Instagram, Twitter and Flipboard.
What's the content marketing strategy they use?
You will find all types of gadgets information especially the best gadgets information.
These days, there is no one who doesn't use smartphone and people use apps for their daily tasks. You will get the best apps info for all kind of tasks.
The site offers deals on gadgets that you will get for less price.
They offer detailed reviews on every smartphone that is released into the market. You will find both positive as well as negative features of it in addition to design, display, performance, hardware, software, specifications.
You will also find how to guides, the best gadget information like the best phones, the best tablets, the best wear watches, best fitness trackers and much more.
Traffic sources:
Monetization strategy:
Android Authority is an independent online publication that is a voice to the world of Android & technology. Every month they reach over 40 million passionate technology enthusiasts who likes to know the news, reviews, features & product recommendations.
You will find many job opportunities in the form of Sponsored Posts, Banner Advertising, Takeovers/Site Skins, Video, Giveaways, Newsletter Sponsorships, Licensing, Event Sponsorship.
Key takeaways:
They offer very detailed and helpful reviews of each gadget which gains the trust of the audience.
The site is always updated with fresh content and deals that attract readers.
Android authority site has a separate YouTube channel that they use to attract more people and subscribe to their site. They use it to educate about their products and to make money.
WhoIsHostingThis.com is a tool to look up what hosting provider any website is using.There is an enormous number of web hosts, each with different options and their primary purpose is to help people make the right choice for themselves.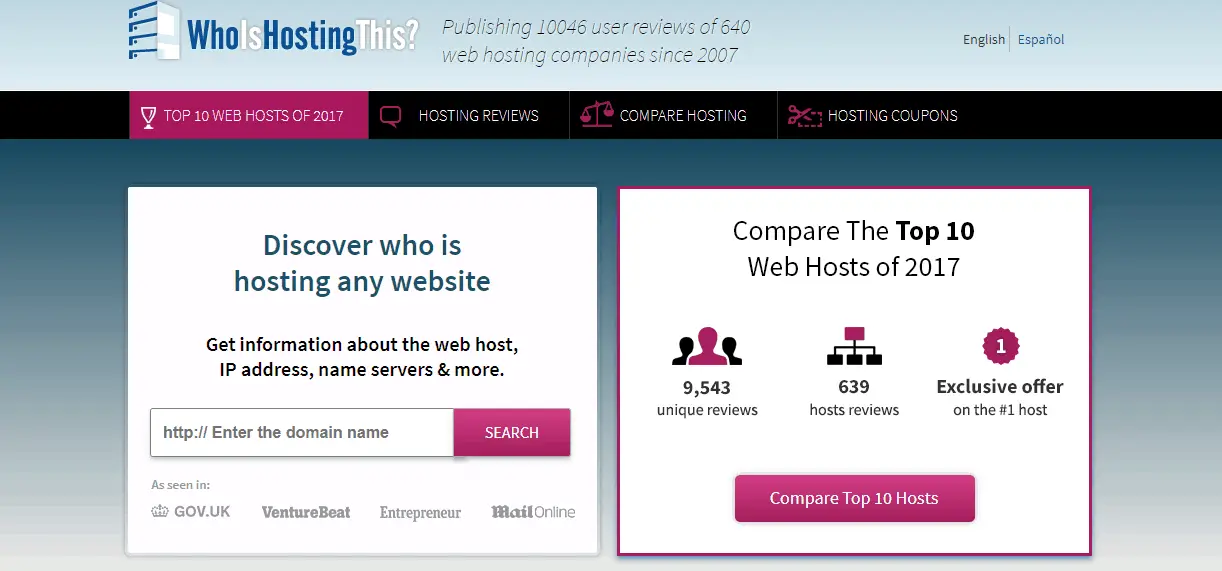 They are ranking #1 for the search terms "who hosts this" and "host lookup", which have 2,400 and 1,000 average monthly searches respectively. There are a variety of ways that they help website owners and would-be website owners. But their speciality is providing hosting reviews.
When you try looking up a site, you will immediately find out the site's host, and also be greeted with an affiliate link to buy the same hosting as the site you looked up.
They provide a good deal more than just hosting reviews.
What's the content marketing strategy they use?
They have good relationships with companies throughout the hosting community. So they offer special coupons for over 50 of the most popular hosts around.
You will find links to their top 10 hosts, hosting reviews, comparison tools, and hosting coupons. They also have a blog where they post 2-3 times a week, mostly about hosting and domains.
You will find detailed reviews of every web hosting service provider. And it also compares several web hosts to make you understand the differentiation.
Beyond the reviews, they also offer Guides and Tutorials for Webmasters, Online Guides and Resources, Internet Privacy and Safety, Student and Teacher Resources, Copyright and DMCA, Design Tutorials and Assets, Bitcoin for Webmasters.
Traffic sources:

Monetization strategy:
WhoIsHostingThis.com probably makes a ton of money through hosting affiliate links. They also sell banner ads, which they control. For selling a budget hosting plan, they might earn $60. They offer special discounts to their users.
They have a sister site HostingAffiliate.com which is the buyer's guide to web hosting. They work with many of the world's biggest web hosting brands, including Media Temple, A2 Hosting and Arvixe.
They use a tool to help users discover who is hosting a site and then have an affiliate link to the same host on the results page.
They write a lot of hosting reviews and write content around hosting coupons, which all include affiliate links
Key takeaways:
They give utmost importance to communicate with their visitors. As a result, they do their best to answer email and respond to the blog comment.
Having a high amount of backlinks to your homepage provides the opportunity to spread link juice to pages with more buying intent in order to rank faster and higher for those search terms.
Ranking #1 for popular, non-buying intent search terms through a simple and easy to use tool can produce a lot of traffic, backlinks, and opportunities to link to affiliate links.
AppSumo works tirelessly to find the most innovative, creative, and practical stuff out there and aim to bring them to you, directly and affordably. They challenge the users to check whether they provide value information to readers or not.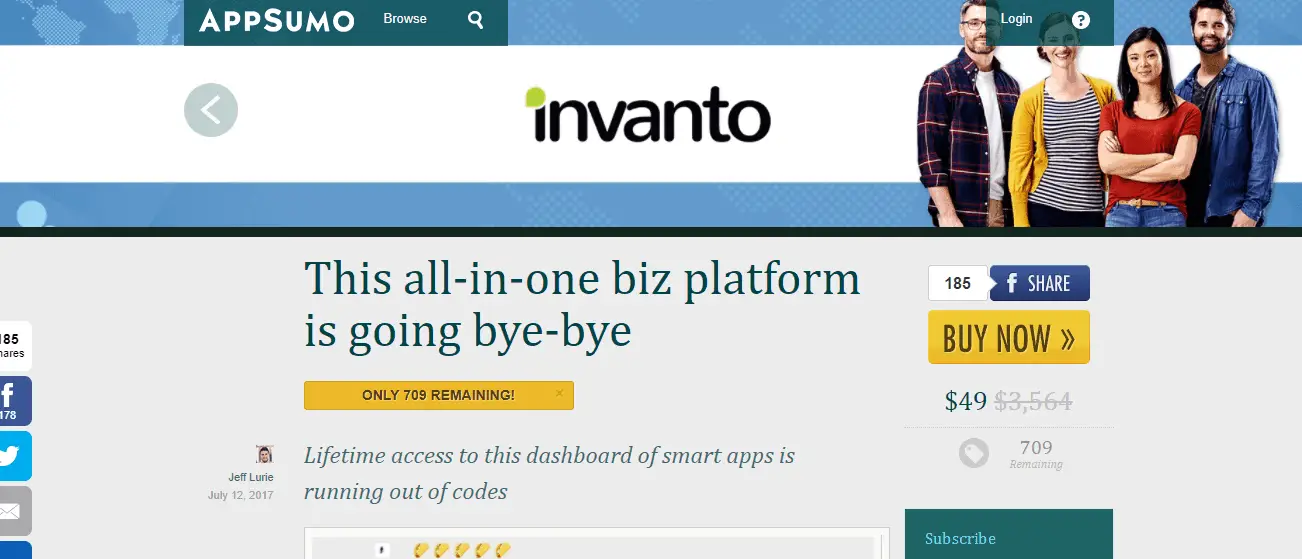 What's the content marketing strategy they use?
AppSumo helps entrepreneurs find great solutions to their professional needs through handpicked daily deals.
If you have a professional tool or course and want to get it in front of hundreds of thousands of potential lifetime customers at no upfront cost, then AppSumo helps with it.
Say, you are great at creating an amazing product but having a hard time with marketing it yourself then also AppSumo helps you with it.
You can get lifetime access on products for very less price.
Traffic sources:

Monetization strategy:
The site makes a ton of money through affiliate links. You can sign up for AppSumo Affiliate program. You too can get paid every time you send them a customer. They provide a unique affiliate URL for tracking all of your referrals and sales to pay you.
They are partnered with Invanto which is a small business platform that houses pre-integrated smart apps on one dashboard. You can create your courses and services and then can sell them on Invanto's brand new online academy and digital marketplace.
Key takeaways:
They divide their deals into, all deals, featured deals. They ask users to suggest deals.
They also challenge the users to check whether they provide valuable information to readers or not. This clearly means they give lot of importance to their customers' opinions and they provide absolutely awesome products.
Conclusion about top sites that make most out of affiliate marketing
Affiliate marketing is growing rapidly. Billions of dollars are being spent by marketing companies all over the world to grow their sales.
So if you're thinking about making money from affiliate marketing, this is the right time. Find out the top sites, analyze them carefully and you will easily understand that making money from affiliate marketing is NOT complicated.
What are your thoughts about affiliate marketing websites that are using affiliate marketing to make money? Did you like this post? Share it with others so they can benefit from it. Let me know your thoughts in the comments.