Disclosure: Some of the links in this article may be affiliate links, which can provide compensation to me at no cost to you if you decide to purchase a paid plan. We review these products after doing a lot of research, we check all features and recommend the best products only.
In this modern-day and age, every business owner depends on several tools for marketing and growing their business. In doing so, they jump from one tool to another for trivial tasks. This slows them down and has a huge impact on productivity.
We are sure your business is tired of jumping from one tool to another to complete simple daily tasks that help you grow your business. Managing and analyzing data from different software becomes a headache once the business starts to pick up.
If we told you there is a simple way of replacing all your digital tools with one feature-rich tool, you would be intrigued for sure.
This is where systeme.io comes in. The entire purpose of systeme.io is to provide all of the tools that a successful online business needs under one roof and at an affordable price.
In today's systeme.io review, we will be going through every feature this tool has to offer to decide if it is worth investing your time and money.
What is Systeme.io?
Systeme.io is a power-packed collection of digital tools that helps business owners grow their business exponentially.
Systeme.io combines the most used digital marketing tools like evergreen webinars, funnel builders, and email marketing tools all in one place. This will help business owners do what they need to in one place, saving money and time.
With systeme.io, you also get access to blogs, and a fully-featured affiliate program to help you earn more via referrals.
That's not all, systeme.io also gives you unlimited file storage, unlimited members, and easy integration with Paypal and Stripe at no additional cost.
We have barely touched the surface here with the features systeme.io has to offer. Keep reading to learn how systeme.io can help your business increase its revenue.
Who Built Systeme.io
Systeme.io is the brainchild of a french internet marketer Aurelien Amacker. Before starting the SaaS company, Aurelien was able to earn over $500,000 as an Internet marketing coach.
But as with every marketer or a business owner, Aurelien tried to do everything on his own. Right from promotions to marketing and coaching. Soon enough he understood that if he truly wanted to scale his business, he needed help. After hiring marketers and preparing his army of affiliate marketers, he scaled his coaching business to new heights.
Now the next obvious step was to automate his business through software. That's when Aurelien began looking into the idea of an all-in-one tool for marketers, which we know today as systeme.io.
The biggest advantage that Aurelien had was that he is an entrepreneur so he knows what entrepreneurs look for. He knew the market he was about to enter well.
He combined his strategies with the tool he built, and sure enough, it worked!
One major drawback systeme.io had was its number of competitors. Several players in the market offered individual services such as funnel building or email marketing.
Systeme.io took a different route and integrated all tools into one to give the customers exactly what they want at an affordable fee.
With this business model, Aurelien launched systeme.io in the French market and later in the English-speaking market as well.
Systeme.io has seen tremendous growth in the number of customers per year.
It's a proven all-in-one tool for business owners to grow and scale their business online with ease.
9 Systeme.io Features that Will Wow You
As we have mentioned in the above paragraphs, systeme.io is an all-in-one tool and it is jam-packed with features. We will be covering and reviewing each systeme.io feature in-depth to understand how it can help businesses grow.
#1. Contact Management
Systeme.io provides an easy way of managing all your contacts in one place. The ability to filter contacts based on email, name, location, tags, and the source of account creation makes them easy to manage.
You can also import contacts using Excel sheets and apply tags so they can be filtered in the contacts section.
The best part is that systeme.io allows you to store up to a thousand contacts (even in their FREE plan) which is more than enough for most beginners.
With systeme.io you can manage your contacts with ease.
#2. Sales Funnels
For any business looking to grow digitally, having a sales funnel is a must. You can turn your audience into leads, and then into paying customers.
With systeme.io it's easy to create your own sales funnel and turn cold traffic into a high-quality warm audience.
Systeme.io gives you ready-made templates for:
Building an audience
Selling a product or service
Running evergreen webinars
So much more
The built-in sales funnel has pre-made templates. It has all the advanced features you could ask for including step configuration, automation, and A/B testing.
It's one of the best funnel builders we have come across. This feature alone makes systeme.io a must-try. And you can get started with a FREE systeme.io plan today.
#3. Automation
Systeme.io provides automation that reduces your manual workload. With systeme.io you can create rules around workflows and connect them to your sales funnel.
For example: "On successful completion of payment" then "Enroll in the course".
As you can see, once you have set up your sales funnel you can easily automate it and you never have to move contacts or send emails manually.
Set rules for your customized workflow and let systeme.io do the rest.
#4. Email Marketing
Arguably the best feature of systeme.io. You can send unlimited emails, even in their FREE plan.
You can send emails to leads and customers using systeme.io's very easy-to-navigate dashboard. The ability to filter your contacts based on their name, location, age, etc is a game-changer when it comes to organizing your mailing lists.
Easily set up automation and drip sequences by connecting them to any sales funnel you have created. You can set up triggers and new contacts will start receiving emails automatically.
This feature will save you so much time and money!
#5. Affiliate Program Management
Why do all the marketing of your product or service yourself?
Just create an army of affiliates and let them do the marketing for you. But having a separate affiliate tracking tool or coding it into your existing product is tough.
With systeme.io you get complete management of your affiliates and you can set custom commission rates.
All of the subscribers in your systeme.io list become affiliate members automatically. They get a link with their referral ID and they can start getting customers for you immediately.
Payouts are done via PayPal or TransferWise, two of the most popular payment gateways. As an admin, you get complete control of your affiliates. You can also set up automation and systeme.io will handle everything on the backend.
#6. Evergreen Webinars
The best way to get new clients or customers is to educate them about the problem that your service or product solves.
The most popular method of accomplishing this is called the Evergreen Webinar Funnel. With this method, you play a pre-recorded video as a webinar to the leads that have opted in your sales funnel.
With systeme.io you can set up your Evergreen webinar in easy-to-follow steps. Systeme.io takes away the pain of setting up the registration page, follow-up emails, and the webinar page itself.
Everything is managed by the powerful backend dashboard.
Go in Funnels..
Create new funnel as Run an evergreen webinar.
Select webinar registration page.
You can add triggers in each page.
Select thanks you page.
Select your broadcast page.
Create new steps.
You can create new steps in your want to make this as a different funnel.
#7. Online Courses
E-learning is the most emerging market in the world right now. It has surpassed USD 250 billion in 2020 and is showing no signs of slowing down.
If you have a skill or knowledge on a particular topic, you can create your courses and sell them via systeme.io. What makes systeme.io different is that you have a membership and course platform integrated into one.
You can easily create a squeeze page, integrate payment gateways, and have your members enrolled as soon as their payments have gone through. This all-in-one approach can do wonders for your online coaching journey.
#8. Blog & Blog Posts
To grow any business organically on the internet, one of the tactics is to use content marketing.
With the help of a blog, you can target specific keywords and get targeted traffic to your sales funnel page. This is how you can increase your sales organically.
Now you don't need to set up a different site for your blog. Systeme.io helps you set up a blog quickly. Along with that, systeme.io will also manage SEO for you.
Now, that is what we call a comprehensive, all-in-one tool. Along with paid ads, you can also grow your business with organic search traffic.
#9. Payments
The whole point of building sales funnels is to earn money, isn't it?
Surprisingly, most tools do not offer an integrated solution to collect payments.
Systeme.io provides you a payment gateway that is optimized to increase conversions. You can easily set up membership sites for recurring payments or provide digital files after successful payments.
ClickFunnels vs. Systeme.io
Every tool has an alternative and systeme.io is no exception. It faces strong competition from ClickFunnels, a veteran in the industry.
So let's compare ClickFunnels and systeme.io point by point and understand their key differences.
Both ClickFunnels and systeme.io provide a drag and drop builder for their sales funnel, but with our testing and reviewing community response, systeme.io has a better UI (user interface) and has a less steep learning curve.

ClickFunnels offers affiliate management only in their premium plan which costs a whopping $697 while systeme.io has provided this feature in its FREE plan.

With ClickFunnels, to send out emails you have to rely on external SMTP services which cost extra. Systeme.io has its SMTP and allows even its FREE users to send unlimited emails.

ClickFunnels pricing starts at $97/mo with a lot more restrictions compared to even the FREE plan of systeme.io. Even if you consider upgrading to a paid plan, systeme.io starts at just $27/mo.

ClickFunnels has recently been neglecting its support and has faced a lot of backlash. On the other hand, Systeme.io provides 24/7 support with a detailed knowledge base to help users get answers quickly.
As you can see from the points above, it's clear that systeme.io provides a lot more features for a lot less money when compared to ClickFunnels.
As a beginner or even an intermediate user, we highly recommend going with systeme.io as it is very light on the pocket and provides you with more features than ClickFunnels.
For pro users, we suggest you try out systeme.io and compare the UI and its ease-of-use.
Who Should Go for Systeme.io?
You must be wondering if systeme.io would fit into your business niche. So let us discuss what features would help you in your niche.
Systeme.io was built for:
E-commerce Experts
If you're looking for a POS, then systeme.io is the obvious choice because it helps you market and manages your customers in one single dashboard.
Email Marketers
For email marketers, this tool is Godsend. Where popular tools like Mailchimp charge $200 for 1000 emails, systeme.io gives you the ability to send unlimited emails, even in their FREE plan.
Course Creators
Now there is no need to manage and maintain two separate tools for email marketing and an online course platform. Systeme.io combines both into one dashboard, making it easier to manage all of your students.
Online Webinars
With systeme.io you can easily educate your audience and turn them into paying customers with systeme.io webinar feature.
Pricing
Now that we have discussed all the features of systeme.io, let us look into the pricing of this powerful all-in-one marketing tool.
Systeme.io provides four plans:
FREE: $0/mo
Startup: $27/mo
Webinar: $47/mo
Enterprise plans: $97/mo
You can choose a plan that meets your requirements, based on the features each plan includes and your budget.
For example, if you need email marketing software and a membership site then the FREE plan should be good enough for you. However, if your number of contacts goes beyond 1000, you will have to upgrade to the StartUp plan.
Systeme.io has done an impressive job with its pricing page and has clearly explained what features are included in every plan.
You can check out their latest pricing here: https://systeme.io/pricing
Systeme.io Support
Sometimes with so many tools in one dashboard, it can get a little tricky to look for a specific service or setting.
Sysyteme.io takes care of this by providing support service 24/7. The average ticket response time as stated on their homepage is under 2 hours.
In our experience of testing, we found the customer support to be quite quick and to the point. Also, they have a detailed knowledge base which can be accessed by visiting this link: https://help.systeme.io/
With over 175 articles, most of your questions can be answered by the knowledge base itself.
Systeme.io Reviews
Now that you've heard what we have to say about systeme.io, here are some reviews from trusted internet sites.
This review is from alternativeto.net:

Copyblogger, a famous blog for content writers had this to say about systeme.io: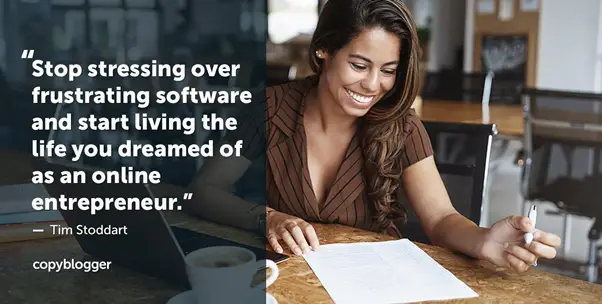 As you can see, users, as well as professionals from various fields, have tried systeme.io and are extremely happy with its performance. Overall, the feedback on the internet is hugely positive.
We can say with absolute certainty that systeme.io is a tool that is worth every penny and that every marketer should use it if they want to see their business boom.
Pros and Cons of Systeme.io
Pros
Easily build a profitable sales funnel
Get access to prebuild funnel templates
No payment processing fees
Set up membership sites with no coding knowledge
Deeply integrated automation
Send unlimited emails and store unlimited data
Beginner-friendly UI, easy to navigate
Cheaper alternative to ClickFunnel
Cons
No integrations with third parties
Limited funnel designs
Average customer support
Should You Get Systeme.io
Before we answer this for you, evaluate what tools you are currently using. How many tools do you have to switch between to complete basic daily tasks?
Also, a very important factor is whether if switching to systeme.io will break any important integrations?
But we are very sure that the change from your current toolshed to the all-in-one systeme.io will be smooth.
After reading our systeme.io review it is clear that it offers much better value for money than most sales funnel builders out there.
All of the included features help you grow your business efficiently.
And unlike other platforms, systeme.io does not charge its users any processing fees on payments made on its platform. Plus it has easy integrations with Paypal and Stripe.
Also, with the integrated affiliate management system, you can rest easy knowing you're making fair payments to your affiliates. Fraud detection and other spam activities are being continuously monitored by the systeme.io team.
The one major reason why systeme.io is suited for beginners is the number of generous features it provides (even in the FREE version).
With systeme.io you can replace the following tools
Funnel builder
Email Marketing
Membership hosting
Affiliate Program
Video hosting
No need to hop on from one tool to another, everything is integrated into the systeme.io dashboard.
The advantage of having all your tools in one dashboard is that you have centralized access to data. You don't need to set up complicated APIs or use expensive tools to connect your various data sources.
FAQs
Systeme Review: Is it better than Builderall?
Systeme.io is perfect for people who organize online courses, and webinars, as well as prefer automation features, while BuilderAll is a platform that is overall better for small businesses and entrepreneurs.
Can it replace ClickFunnels?
ClickFunnels is a very old player in the market and they have perfected their platform very well. Systeme.io being the new player in the market has the potential to grow as bigger as ClickFunnels.
Can we use it to manage everything?
NO. They are not trying to get their hands dirty by spreading themselves in too many directions
Do they have FREE trial?
Yes, they have a free trial for 14 days to test the products and be comfortable with the features.
Conclusion
Systeme.io is simple, yet it is filled with features that will help you boost your online business with ease. Connect it with the other features such as email marketing or evergreen webinars and you will have a thriving business in no time.
Systeme.io provides a very easy-to-navigate dashboard, and all of the settings are where they are supposed to be. No clutter, no fuss.
However, if you still have troubles, you can always contact their support team and they will be glad to help you.
So, if you're looking for an all-in-one solution to sales funnel building that offers membership sites, an online course creation platform, evergreen webinars, and email marketing tools at an affordable price, then systeme.io is the tool for you.
You can get started with their free plan and upgrade if you need to. Get started with systeme.io today and save a minimum of $320 per month.