Disclosure: Some of the links in this article may be affiliate links, which can provide compensation to me at no cost to you if you decide to purchase a paid plan. We review these products after doing a lot of research, we check all features and recommend the best products only.
Funnel building is critical to improving the conversion rate optimization and overall return on investment on the marketing efforts.
A marketing funnel is sort of an advanced and enhanced web development experience where you don't just develop and deploy landing pages based on your preferred elements and favorite colors.
You put thoughtful effort into making the landing pages as relevant as possible, bringing many conversions for your brand.
Depending on the buyer's journey stage — awareness, engagement, conversion, or retention — a good funnel can yield maximum conversion for a brand.
In this era of SaaS, you can build a marketing funnel instantaneously with maximum ease. But collecting and observing the data and engagement in your funnel is a different ball game altogether.
Today, we will discuss a tool that helps you track funnels' and landing pages' performance. You can find many tools that help you build funnels and pages, but you need a solid infrastructure to get in-depth data on the page's audience engagement.
We are going to talk about FunnelFlex.
Before we dive deep into different segments of FunnelFlex, let's have a brief overview of the product.
What is FunnelFlux?
FunnelFlux is a platform that allows you to track your marketing campaigns with maximum efficiency.
FunnelFlux takes a leap forward in website analytics.
For tracking website traffic from different marketing channels like Facebook, Google Ads, email marketing, and so on, you don't need separate trackers to track the performance of your campaigns.
All you need is an all-in-one tool and high-quality customer experience to measure how your campaigns are performing on different channels.
FunnelFlux does the same.
Most importantly, it allows you to define the flow of your campaigns with its drag-and-drop builder.
You can define a complex visual journey to track the clicks, conversions, page visits, and engagement on different web elements.
Performance marketers used to draw flow on a whiteboard or blank pages to define their buyer's journey. That same creative process is possible to do with FunnelFlux.
FunnelFlux supports ActiveCampaign, ClickFunnels, ClickBank, Facebook Ads, ConvertKit, Shopify, Leadpages, and dozens of other platforms.
You would say why you should pay keen attention to a performance marketing tracker like FunnelFlux. You would wonder what makes a tracking tool like FunnelFlux worth all the attention and investment. Let's explore more on that.
Why Use Software Like FunnelFlux?
We will dive into the benefits of using such tools and discuss why it is essential to think over those benefits.
1. User-friendly Funnel Builder
If you want to build a marketing or sales funnel, you have to put in many creative and technical efforts to design and develop top-quality funnels.
Without FunnelFlux, you have to dump your cognitive thoughts into a whiteboard or blank piece of paper to create multiple versions of the funnel.
But with FunnelFlux, the designing process becomes effortless. You get a black canvas and fluid elements to design any scenario — purchase, email subscriber, appointment bookings, lead magnets, and more — and design a funnel on the same.
2. Time-saving
If you are a digital marketer or sales executive, you know that most clients believe in getting quick results.
To explain your CEO, clients, or team members, you must use different tools to measure and plan your marketing campaigns. That too, in a quick manner to smoothen the process.
Without a good tracker, you will wander around different tools to grab the data, define objectives and write anticipation as a performance marketer. Trust me, and this process can take days of your time to pull it off successfully.
FunnelFlux can save days of time and hustle for you.
How?
It can track every tiny engagement of any of your campaign
It provides comprehensive reporting
It gives readymade funnels that you can import for your project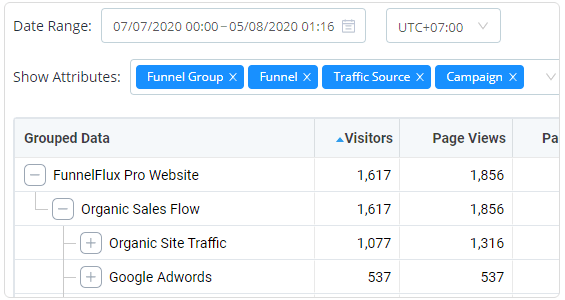 3. Comprehensive Analytics Under One roof
This is such a massive benefit of using software like FunnelFlux.
Imagine you want to track 50 different marketing campaign parameters, utilizing other organic and paid channels like SEO, paid ads, social media, and email newsletters.
How would you define the right set of metrics tracked, and how can you ensure that all of them are provided under one dashboard?
Managing large-scale campaigns with big budgets, omnichannel presence, and lots to track, having a comprehensive tool that analyses literally every activity on the website can be very helpful.
With that tool at your disposal, you no longer have to sign-up to different tools and go through various parameters to check the performance of the campaign; this trait alone saves cost and time for you!
4. No Need to have Advanced Knowledge
FunnelFlux does not require you to know about web development and online marketing.
In fact, it will bring the details and data to you to make you an elite performance marketer.
To use FunnelFlux, anyone can start irrespective of their technical knowledge.
Even if you don't know server-side scripting language, CSS, HTML, or JavaScript, you can efficiently manage top-quality landing pages and track your marketing performance with FunnelFlux.
FunnelFlux has got you covered for all your website tracking needs.
Whether you have affiliate marketing, email opt-ins, different landing page touchpoints, advanced routing, this software will leave no stone unturned to give you hidden gems of data that can scale your marketing performance.
Imagine you want to add trackers to a website and run multiple online marketing campaigns. You need to hire web developers and online marketers (of the channel where you want to promote like social, search, paid, and so on) to do the work for you.
It might create friction that will result in lots of time. Plus, you will have to hope that the people onboard know a bit about marketing and web development.
With FunnelFlux, you can do all the things on your own. Even if you have written a single line of code, you can make FunnelFlux work for your site. FunnelFlux has self-hosted and managed plans that you can sign up for and install the tool on your site.
5. Comparison – Self-hosted vs. Managed FunnelFlux
FunnelFlux provides two products, self-hosted and managed. Certainly, their name suffices for how both of them would work. So let's have a detailed overview of both of them.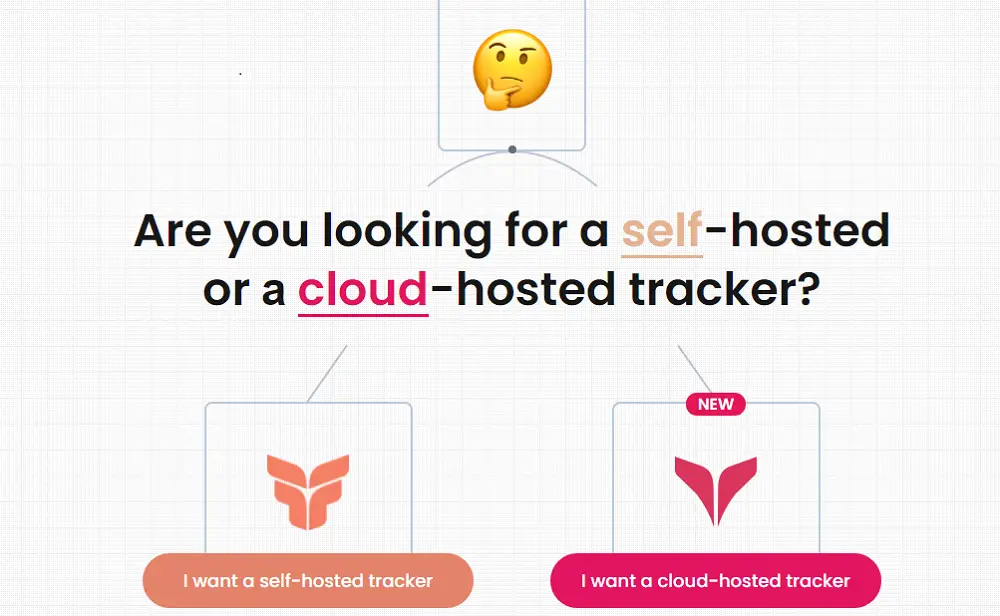 6. Self-hosted FunnelFlux
As the name goes, to install and use FunnelFlux on your site using a self-hosted product, you have to do little to your server.
You might require a little bit of technical knowledge like knowing cPanel, database management, and more.
The objective of doing those tiny tweaks is to grant required access to FunnelFlux and verify your website's ownership so that the tool can start tracking details.
FunnelFlux also shares that their process is very user-friendly, and anyone with decent knowledge can install the tool on the server within 5 minutes.
They will give a deployment manager that website owners can use to deploy formulas on the server and manually install FunnelFlux.
There's a three-step process — create a database entry, copy three files and follow the subsequent instructions and you are all set.
Also, to install FunnelFlux, you need PHP 5.6 or above, along with a series of web development extensions.
Almost all the hosting providers support them, so irrespective of the hosting company you are using, FunnelFlux will efficiently work on your site.
7. The Cloud-based Shared FunnelFlux
The cloud-based version of FunnelFlux is the primary product of the brand.
As the name goes, FunnelFlux is shared or cloud-based. Meaning, it is a SaaS product that entrepreneurs and website owners can utilize to enable top-quality trackers for the website.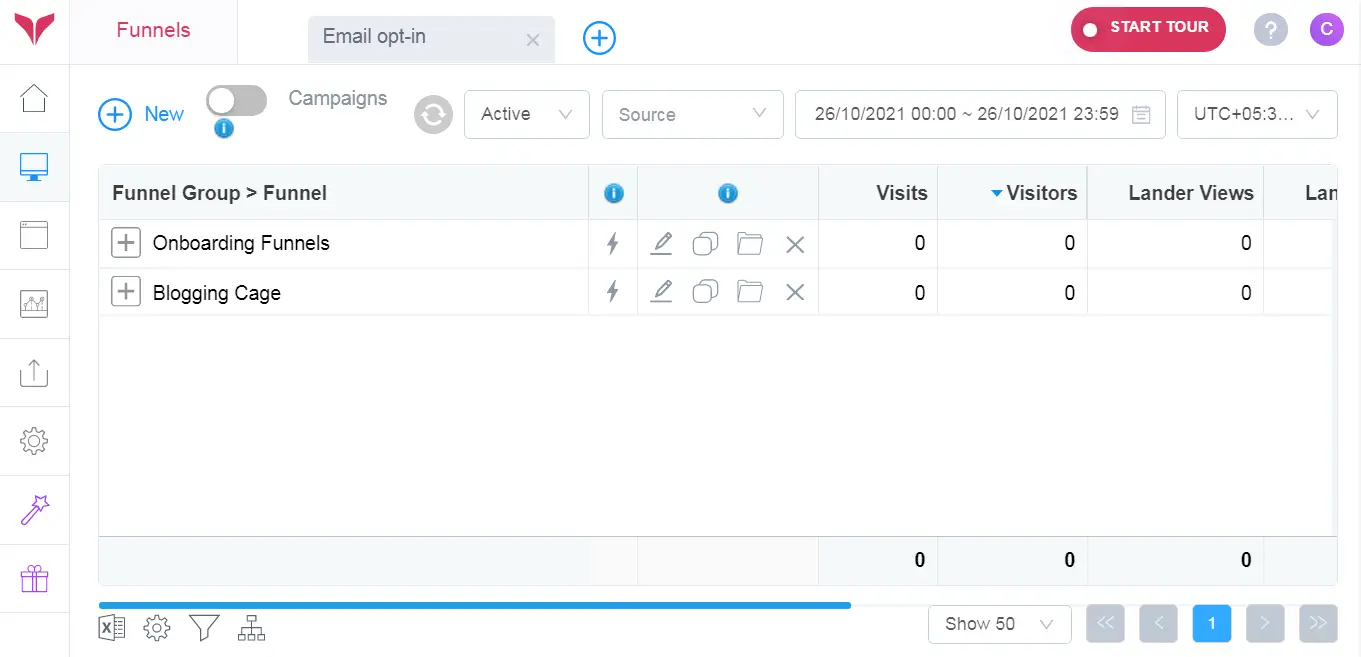 They call it FunnelFuck Pro. To use the tool, all you have to do is sign up for a FunnelFlux Pro account to verify your website, and you are all set.
FunnelFlux vs. Voluum: Best Affiliate Tracking Software
When it comes to affiliate tracking software, FunnelFlux and Voluum are renowned tools of the market.
But which one is more reliable? Well, it depends on the campaigns that you are running on and the stage in which you are in your affiliate marketing journey.
Let me explain in detail.
FunnelFlux and Voluum are great tools that serve the same purpose and allow you to track your affiliate links and marketing campaigns with maximum ease.
That being said, Voluum's basic plan will lock you out of so many necessary features that you need to track your affiliate links. You get a limited comprehensive reporting structure, basic rules, and redirect meta refresh modes.
Plus, if you work with a team and want to work collaboratively, you have to take the $449/month plan, which is extremely expensive.
That being said, Voluum has impressive features like shared workspaces, multi-currency support, dynamic alerting, comprehensive anti-fraud mechanism, user-friendly layout, and more.
But to utilize all of them, you have to pay a lot, and on the other hand, FunnelFlux comes with a ton of features and costs only $99/month.
FunnelFlux is a phenomenal tool for affiliate marketers who can get their tracking game to a whole new level.
As we have discussed so far and we will discuss below, FunnelFlux is worth the investment for affiliate marketers.
Unparalleled tracking from FunnelFlux gives you complete control and a detailed understanding of your campaigns.
If you don't have a system to try your affiliate links, you will be in big trouble.
Let me share why you should consider tracking affiliate links seriously.
Why Affiliate Link Tracking is Important
Your affiliate links are the source of your affiliate income. Therefore, links have absolute importance.
1. Optimize Earning
It's through your affiliate link only; the web visitors will redirect from your page to the product or services page, where they can make a purchase that results in conversion for your site.
The link is the pivotal element between the publisher and the brand.
So if you want to optimize your income through affiliate marketing, you have to create a system where your links are clickable and trackable to measure engagement, effectiveness, and reliability.
2. Evaluate Their Placements
Measuring your links' performance is all about getting an idea of their performance and engagement on the web. This will help you understand where to place your link and whether your customers are clicking or engaging with them or not.
3. Identify Opportunities
If you know which is the best source that your visitors are coming from, you will know which channel deserves your energies and how you should go all-in with your efforts for that particular channel.
It can only be achieved by tracking your links and understanding which is the number one source that gives you the best converting visitors.
4. Determine the Effectiveness of Design
I will help you identify which landing pages are getting the most clicks, engagement, and traction throughout your website.
You can understand the aesthetics of the landing page that made users click on the links and replicate the same UI/UX on other important pages to get similar results.
5. Understand the Readers
When you track your affiliate links, you will know what your users like and most engage with.
Supposedly, you have identified that your affiliate links are getting more clicks on a blog post rather than a banner placement. Likewise, your YouTube video has brought more affiliate conversions than the podcast episode, and so on.
In this case, you will know the expectation of the users based on the type of content format they engage with.
Then, you can plan your content production in the alignment of your users' expectations and, eventually, scale your activities.
When it comes to FunnelFlux, they have a ton of features that will help you improve your affiliate link tracking activities to a whole new level.
Let's understand all of those features in more detail.
Features of FunnelFlux
Below are features of FunnelFlux that you are going to experience:
1. Very Quick Redirects
When using a link tracker tool, there is a latency that the server has to cope with to execute effective redirects.
If the tracking mechanism is not robust, the readers' browsing experience will take a significant hit.

But with FunnelFlux, you won't end up in certain situations thanks to its blazing-fast redirects.
They are swift, agile, and robustly built that the end-user will not even realize even a second's latency while browsing through the site.
2. Funnel Builder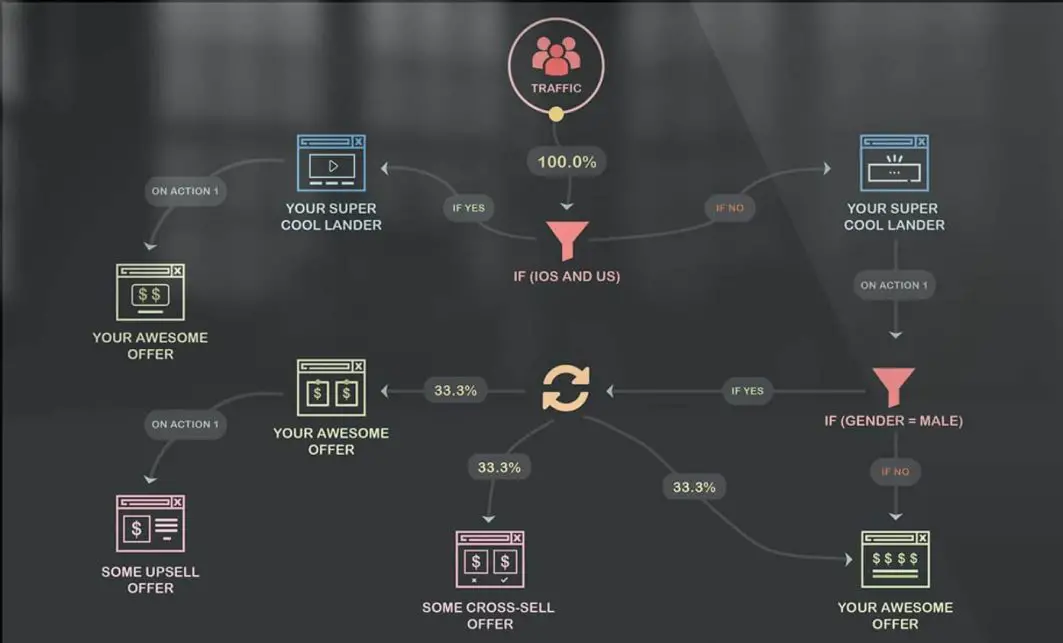 This single feature makes this tool a no-brainer for the most performance-driven affiliate marketers out there.
Not many funnel designer tools allow you to have a plain whiteboard where you can literally plan, visualize and streamline your elements, offers, and opt-ins in a way to get a clear idea of a customer's web browsing journey. You can clearly define each step and ensure the suitable trackers are implemented with utmost efficiency.
If not with such responsive funnel builders, performance marketers use other SaaS tools or pen and paper to draw the buyer's journey and visualize the browning experience.
3. Comprehensive Reporting
Being an avid affiliate marketer, I have never seen many tools perform the level of reporting that FunnelFlux does.
They are so in-depth, comprehensive, and advanced that you can drill down to almost everything and track every tiny detail.
FunnelFlux allows you to group your data and essential metrics from 20 different levels on different demographics, geographical locations, user behaviors, and more.
There are more than 60 key performance indicators that you can track and acquire maximum data that can play pivotal roles in your campaign research.
4. Lifetime Data Retention (only on self-hosted FunnelFlux)
This feature makes FunnelFlux a reliable tool.
Say you have signed up for a paid plan, and you decide to skip using it and don't renew.
Even after you don't sign up for the new plan, the FunnelFlux server will not delete your data.
You can still access your previous data on FunnelFlux for a lifetime.
Not only that, but you can also maintain the lifetime value of the customers to whom FunnelFlux lets you retarget and communicate through emails.
5. Gives You Major Technological Capabilities
With every FunnelFlux plan, you get at least a million visitors a month and unlimited domains.
Not only that, other technical infrastructure includes high-accuracy IP and device data tracking, fast global redirects, 12-month data retention, and support of a ton of payment gateways.
6. Pricing
With each plan, you get unlimited one-to-one support, a funnel builder, and the capability to entertain at least a million visitors a month.
Funnel flux Pro comes with a 14 day trial period.
It has three plans: Core with $99/mo, Growth with $299/mo, and Scale $499/mo.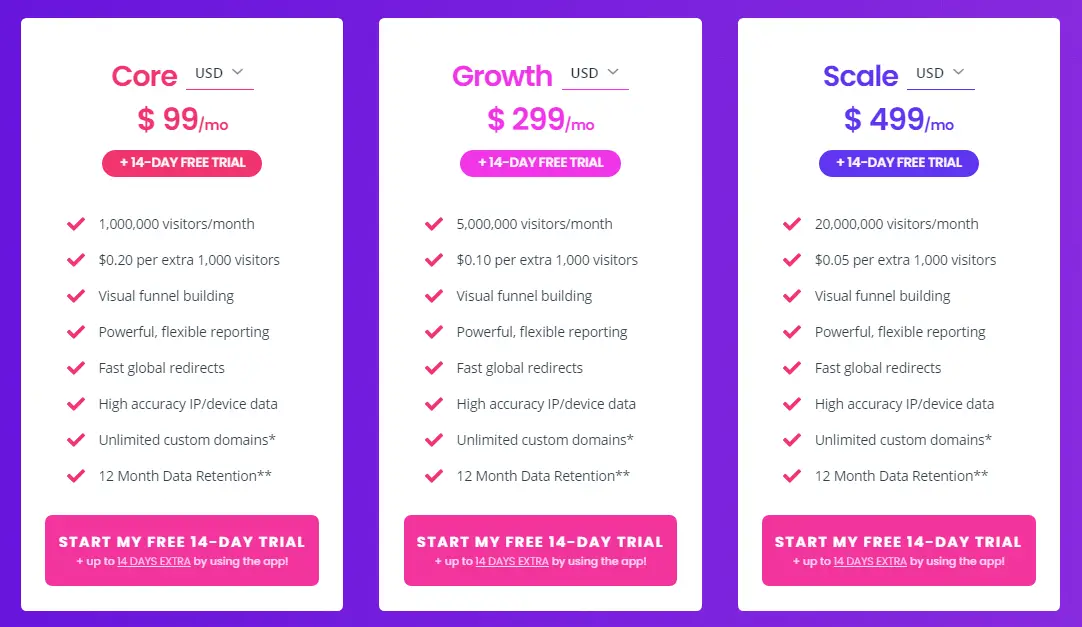 The self-hosted FunnelFlux costs $99/mo. You get unlimited traffic, lifetime data retention, automatic free updates, reliable customer support.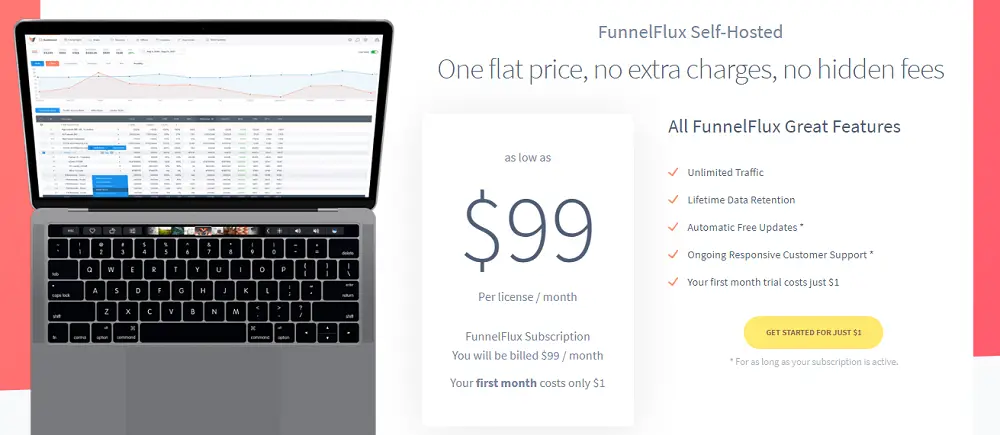 The first month of self-hosted FunnelFlux costs around $1. However, you can still claim a complete refund within three days when you are billed.
Conclusion – Should You Buy this Tool?
FunnelFlux is a robust and top-tier affiliate tracking tool out there. It allows creativity, transparency, and dependability in all the tracking activities that you do.
That being said, it has recurring income, so that it might be a bit of a costly tool for many affiliate marketers.
If you are into intermediate and advanced affiliate marketing, then you can easily afford FunnelFlux. However, if not, you should still give it a go and try the tool within the trial period and see how it performs.
Let me know what you think about FunnelFlux after reading this blog.
I am excited to hear your thoughts, so drop them below.