Disclosure: Some of the links in this article may be affiliate links, which can provide compensation to me at no cost to you if you decide to purchase a paid plan. We review these products after doing a lot of research, we check all features and recommend the best products only.
Amazon Associates is one of the most popular affiliate marketing programs for bloggers, online marketers, and affiliate marketers to promote over a million products and get paid commission up to 10% on certain product categories.
This blog post encapsulates each and everything you need to know to make money on Amazon in 2020.
It doesn't matter whether you're an expert at affiliate marketing or you're just starting out.
I'm going to crack open the whole Amazon affiliate marketing concept for you so that you could start off your affiliate marketing journey with Amazon Associates right away.
Before swooping in and discussing the essentials of the program, I'd like to take a few seconds to explain what affiliate marketing is. A lot of you might not be aware of this money-making method so let me explain it to you.
What's Affiliate Marketing?
Affiliate marketing is a monetization method in which you promote a product or service to earn a commission on the sales. The commission, however, varies from the product to product depending upon the affiliate program you're signed up for.
So pay close attention to reading the terms and conditions before start promoting a product through an affiliate program. You'll learn more details about the affiliate marketing so keep reading.
Are you interested in the following things?
The secret of winning at affiliate marketing
Steps that are needed for starting affiliate marketing
How to effectively utilize the Amazon Associates Program
Which type of products you should choose to promote
How to increase your affiliate sales
How to promote an affiliate product
If YES, then grab a cup of coffee because I'm all set to begin my spiel. I'm not sure what you know about me but I've done quite well in the field of affiliate marketing.
Plus, I hosted multiple paid training sessions and taught affiliate marketing to many newbie bloggers.
Before we dive in and make the most of this opportunity, I'd like to highlight some basics of affiliate marketing that will help you make money with affiliate marketing along the way.
Here are four key elements of affiliate marketing:
1. Personal Experience
Whenever an affiliate marketer uses the product or service first and then promotes it, it always adds the personal experience to the campaign.
If you've tested the product and you liked it, it translates in your confidence on the product you're promoting. In fact, it does make a difference in the conversion rate.
The reason is that the audience likes to take help from your experience and if like the product, they're likely to go ahead and try out too. So don't ever underestimate the power of testing the product before promoting it; your personal experience will glorify your affiliate marketing strategy.
2. Relevance
The relevance refers to the compatibility of the product with the audience. Not only does it influence the conversion rate, but it also strengthens the trust of the audience on the affiliate marketer.
If you understand your audience and promote a product that makes their life or work easier, it would positively impact your affiliate marketing success.
The better you understand your audience, the higher the chance of gaining compatibility.
3. Easiness
You should make sure that you're making it easier for the audience to use the product or service. The best way is by writing a tutorial-based blog post or make a YouTube video to help guide the audience.
For example, I made this video a couple of years ago to help my audience. Moreover, I've made a handful of videos on YouTube to help guide the audience.
4. Affordability
It's not just about the benefits a product or service brings to the table; you should also analyze whether or not your audience is able to pay for the product or service you're promoting.
The affordability of the affiliate product is a huge success signal. If the product is affordable for the majority of the audience, they'll likely to try it out or pay more attention to it.
So always analyze the price-factor too while choosing the product you're trying to promote.
Let's transition into the most important part of this blog post and find out the steps to make money from Amazon affiliate program:
5 Steps to Make Money from Amazon Associates in 2023:
1. Sign up for the Amazon Associates Program
Amazon Associates is Amazon's affiliate program that allows affiliate marketers to promote millions of products across multiple categories. The variety of products makes it easier for bloggers to pick up products that suit their blog niche.
Amazon is one of the top online marketplaces to sell goods online. Therefore, it has the capacity to accommodate various types of affiliate marketers.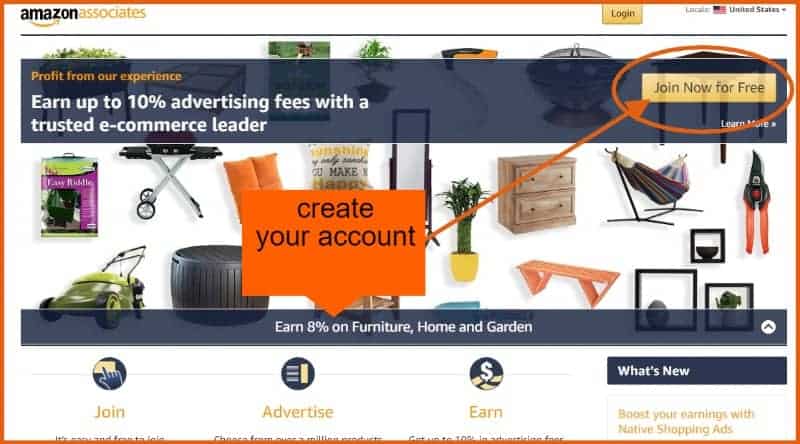 The commission rate starts from 1% and goes up to 10% on certain categories. It's essential to look at the commission rates before getting started with their affiliate program. Furthermore, there are numerous things that would require your attention once you finish off the sign-up process.
So you'd have to create your Amazon account to get started with the Amazon Associates Program. It may not take much longer to get it done. Just like any other account's sign up procedure, you'd have to put your details such as name, email address, and password to get started.
However, you'd be required to select your payment method as well as provide tax information. It only takes a couple of minutes to complete those forms.
Once the Amazon Associates account has been set up, it shows that you moved the needle.
Now, the challenge is to do something about it. Remember that getting into Amazon's affiliate program isn't your target, but utilizing it to make money in 2020 is. So pay attention to the actionable advice that you're reading right now.

6 Essentials of Setting up Your Amazon Associates Account
Primary Email Address: It's important to use an active email address as your primary email address because you don't want to miss out on anything important regarding your affiliate program.
Correct Mailing Address: A correct mailing address is also necessary, in case, you receive payments via check or Amazon wants to send you a seasonal greeting or a letter.
Payment Method: Choosing the appropriate payment method would ensure that you get paid at the right time. A lot of starters don't choose their payment method but expect to get paid the money they made via affiliate marketing.
Website Information: Most of the affiliate programs would want to know about your website or blog to find out where you'd be promoting the products as an affiliate marketer. So you'll be better off if you mention the website information during the sign-up process.
Contact Details: Make sure that your contact details such as email address and phone number are correct. It does help Amazon to keep your account secured from any unusual activity.
Tax Information: There isn't anything complicated about tax information. Fill up the form depending upon your nationality; if you're a U.S. citizen, choose that, otherwise, select the non-US options throughout.
Once the account has been done, the next part is integral to making money off of the Amazon Associates program.
2. Choose Products to Promote
At step two, you have to choose the products that you want to promote. This perhaps would be the most critical part of the plan. Choosing the right product is crucial to affiliate marketing success.
Amazon Associates is no different. You'd have to choose the products that go parallel with your content and ultimately help your audience get through.
When it comes to Amazon Associates, there are hundreds of thousands of products on Amazon that you can promote. But it doesn't necessarily mean that every type of product would give you a sizeable commission.
So I'd like to shed some light on the commission rates to put things in perspective. Here are the commission rates of Amazon Associates program for certain categories: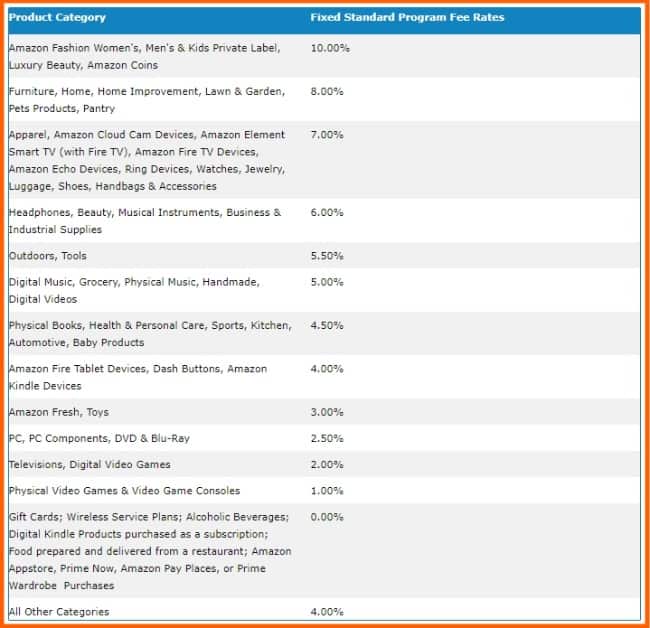 If you've been following my blog for quite some time now, then you'd already know that I pay close attention to promoting products that I personally like and find it useful along the way.
Moreover, affiliate marketing has been the most successful blog monetization strategy for me. Therefore, I'm going to give you some good piece of advice that I learned over the past few years.
It'll help you choose the right products to promote through the Amazon Associates program.
While choosing the products, make sure, you aren't neglecting the following things:
1. Area of Interest
When you know about something you're talking about, it does help the process. So try to infuse your area of interest in your blogging, especially in affiliate marketing to make the audience feel calm and relaxed.
Because when you know about the thing you're talking about, you sound authoritative. So don't underestimate your area of interest in choosing the category or product for affiliate marketing.
You can check the Amazon Best Sellers category and pick the right products to promote.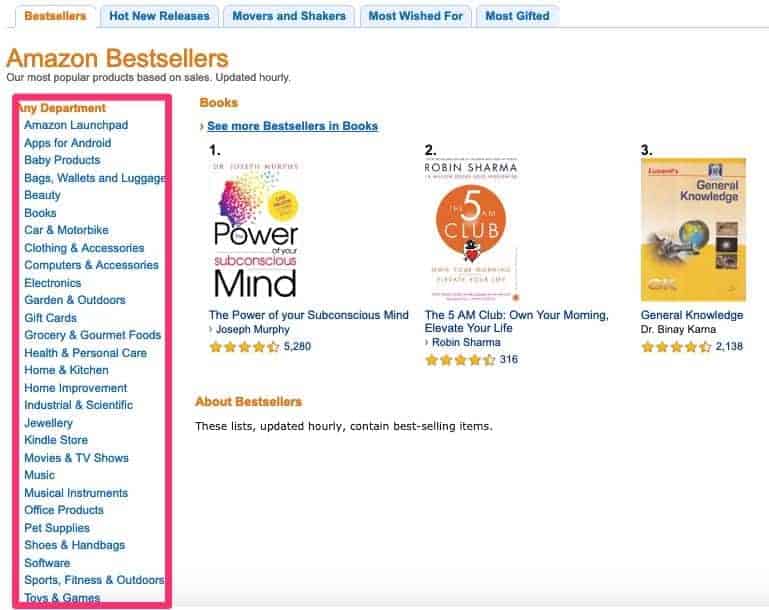 2. Blogging Niche
It's easy to get carried away while choosing the products to promote. For instance, if there is a huge discount on a specific product regardless of your niche and you buy it, and later on, start promoting it, then it won't be okay.
The reason is that the product doesn't fall into your blogging niche, then it won't work out as far as conversion is concerned, at least, in most cases. So always stick to your niche while choosing the products to promote.
Here is a simple Amazon niche site ranking at #1 in Google for the keyword "best adjustable dumbbells."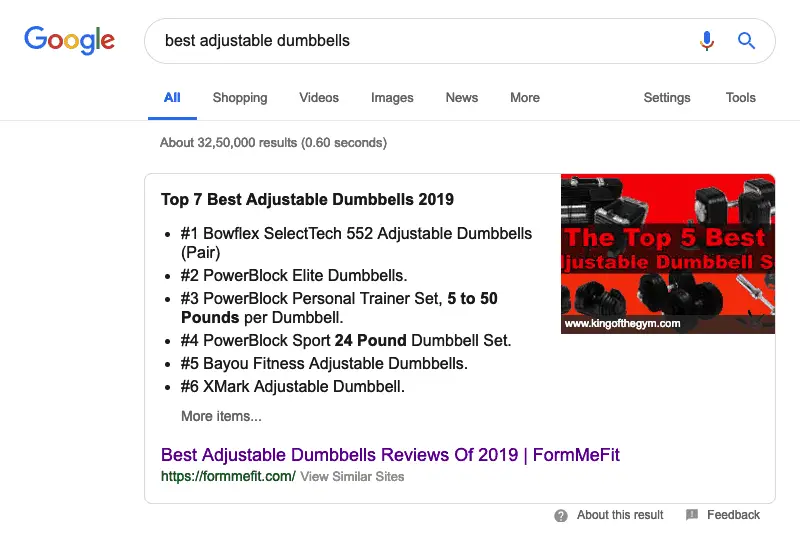 3. Products Pricing
One of the major elements of choosing the products to promote is the compatibility of your audience and product pricing. You may be able to afford it, but the majority of your audience might not.
So you should be aware of your audience's purchasing power before promoting a product to them, which is why the product pricing does matter in this regard.
4. Audience Type
When you understand your audience, it becomes easier for you to decide whether or not this product is suitable for them. It eventually helps you in choosing the right kind of product to promote.
For example, if your readership is from your own country and the product you're trying to promote doesn't even available for your country, then it creates a gap which hurts the conversion rate.
So get to know your audience; it'll impact your affiliate marketing earning.
When I talk about selecting a suitable product for promoting, I could surely give you an example of relevancy:
If you follow my email newsletter, you'd already know that I switched from Aweber to ConvertKit. And, I take pride in promoting ConvertKit. There might be many reasons why I promote this specific product, but one of them is that I talk about building an email list all the time.
Here's a snippet from my recent newsletter: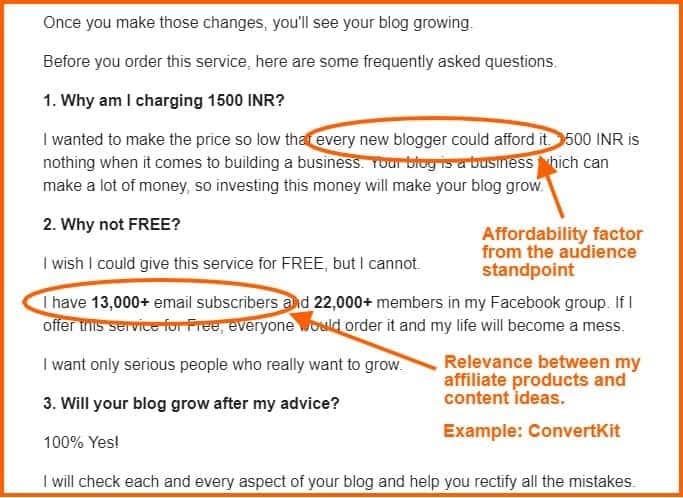 The point I'm trying to make is that choose products that matter to you because you're using them or you've used them in the past. And, you know those products inside out. The right selection of product determines the success of your affiliate marketing campaign to some degree.
Sometimes, you're doing everything such as content, promotion, social media, and advertising, but the conversion isn't satisfactory. The reason could be the wrong products.
So all I have been doing in this step is trying to connect the dots to help guide you on selecting the relevant, affordable, and better products to promote.
Moreover, it doesn't matter whether you're choosing an affiliate product from Amazon Associates or any other program, all these things that are mentioned in this point still matter.
4. Do the Keyword Research
We are going to use SEMRush to do the keyword research.
I am taking the example of above site targeting "best adjustable dumbbells."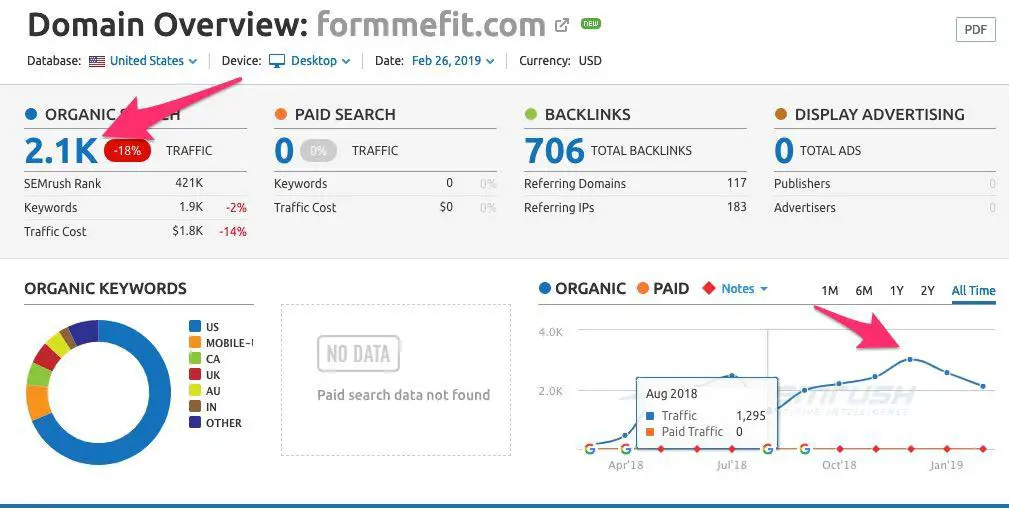 It's ranking for 2100 keywords and the growth graph is impressive.
By digging deep into the keywords, I could see the top ranking keywords of this article.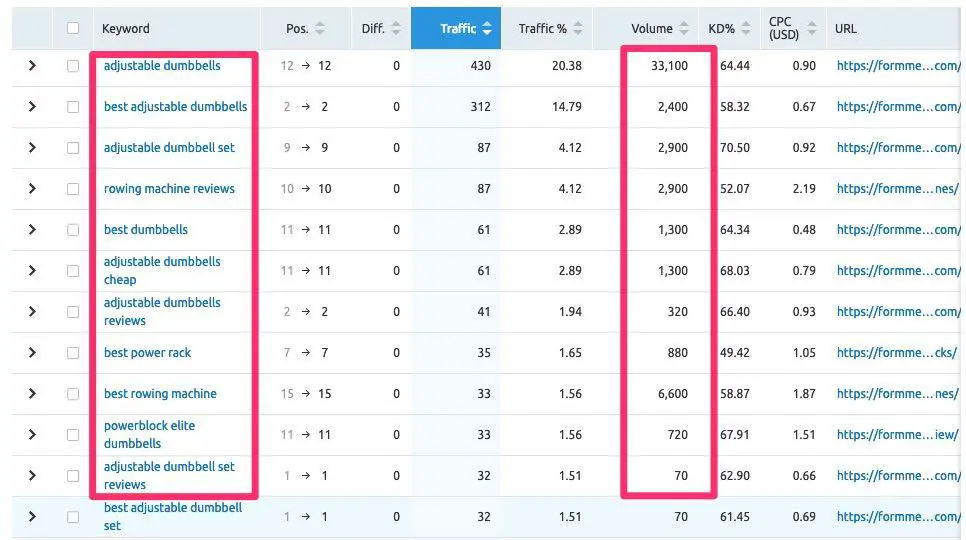 You can create a list of keywords which are having a decent search volume and create your content marketing plan.
3. Develop Your Marketing Plan
It's essential for making money from Amazon Associates that you have a marketing plan to execute. There is no rocket science involved in developing a marketing plan. It doesn't necessarily mean to run Facebook ads or Google ads to get traffic.
Rather, you could use the opportunities available at your disposal. Although there is nothing wrong with running ads of any kind to grow your blog unless you're violating the terms and conditions of your affiliate program.
Some affiliate programs restrict marketers from using specific keywords and brand names in online advertising.
A marketing plan refers to everything you need to do in your power to attract, engage, and convert people into buyers. There is a fine line between delivering the value and selling products at any cost. Being an affiliate marketer, I have always been transparent with my blog audience regarding the products I use and promote.
Take a look at these examples:
You might notice that I often talk about the products on my blog. The interesting part is that I write those blog posts based on my personal experience.
I don't hop on just to make money, but instead, I take my time to use them and then I talk about them. The reason is that personal experience and transparency are the essentials of affiliate marketing.
Here are two screenshots from my product reviews on BestPaidTools:
Take a look at this one too:

So once you know certain basics of affiliate marketing, you'd be able to make better decisions along the way. Here are some necessary steps you should take to develop a marketing plan to make money from Amazon Associates program:
1. Write Reviews on Your Blog
One of the pillars of your marketing plan for making money from Amazon Associates could be the blog reviews.
You may not want to write 60 reviews of the products that pay $1 to $5 in commission. So it's necessary to choose the products wisely and come up with the product reviews that matter.
Once you've experienced the product, it becomes easier to portray, describe, and educate people on that product. You'll be better off if you put only those products under the spotlight that you've tested and liked.
Go on with a few review blog posts that you could further use in your content or in social media. Here's my guide to reviewing products.
2. Create Niche Sites
If you're new to this blogosphere, chances are, you never heard of niche sites. So I'd help you out.
Niche sites are topic or keyword-oriented sites that are dedicated to a certain area. Meaning, all of the content on those sites revolves around that specific keyword or topic.
Here is an example of one site.
Such sites could be extremely popular among affiliate marketers because they create those sites to earn commission from promoting the specific products.
If you are joining Amazon Associates, you can't roll out the massive opportunity of making money from niche sites.
It may look harder than running a normal blog; you may not get early success in this, but once things start to work out, you'll be stunned to see the impact. Read this blog post on finding niche site ideas.
3. Use Social Media
A lot of people don't have blogs or websites because they aren't interested in creating ones so they go with social media accounts, for example, Twitter accounts or Facebook pages.
If you have one of those things, you can certainly choose the relevant products and promote them from time to time.
4. Start YouTube Channels
YouTube is crucial to your online marketing because not only just it provides you with an avenue to upload long-form video content, but it also has the attention of the audience.
YouTube is the second most popular search engine on the web.
So create videos, discuss products, and help out the audience regarding your niche.
Once in a while, try to inject the products through your mentions and links in the description to promote the products from Amazon to get things going.
Your marketing plan may consist of various strategies; creating content on various platforms should be among the top ones.
Remember one thing while promoting the Amazon products in your content and that's connecting the product with the intent of the audience. It'll certainly boost your conversion rate in affiliate marketing.
For example, a laptop buyer might be interested in purchasing a laptop cover or a bag rather than an iPhone case. This understanding will help you develop your content as well as marketing plan to succeed with the affiliate program of Amazon.
4. Utilize Necessary Tools from Amazon
Amazon Associates program gives you a bunch of tools to play around and make the most of the situation. There are multiple tools across various options.
All these tools are going to help improve your affiliate marketing conversion if you know how to use them.
I won't be highlighting each and every tool that is available at your disposal, but instead, I'd mention some of the essential ones that help most of the affiliate marketers out there.
Moreover, you won't be requiring all of these tools simultaneously. Feel free to incorporate your favorite tools from Amazon into your marketing arsenal.
Some of the necessary tools from Amazon Associates program that you must use are mentioned below:
1. Product Linking
Product Linking is a section that provides you with the tools that help in the product placement on your website. There are multiple options to promote a product, for instance, you can use the product links.
The product link tool gives you a window to search for the favorite products and grab the links to promote online. So you could simply go to the product links page and search for the product, and click on the "Get Link" button to get the link.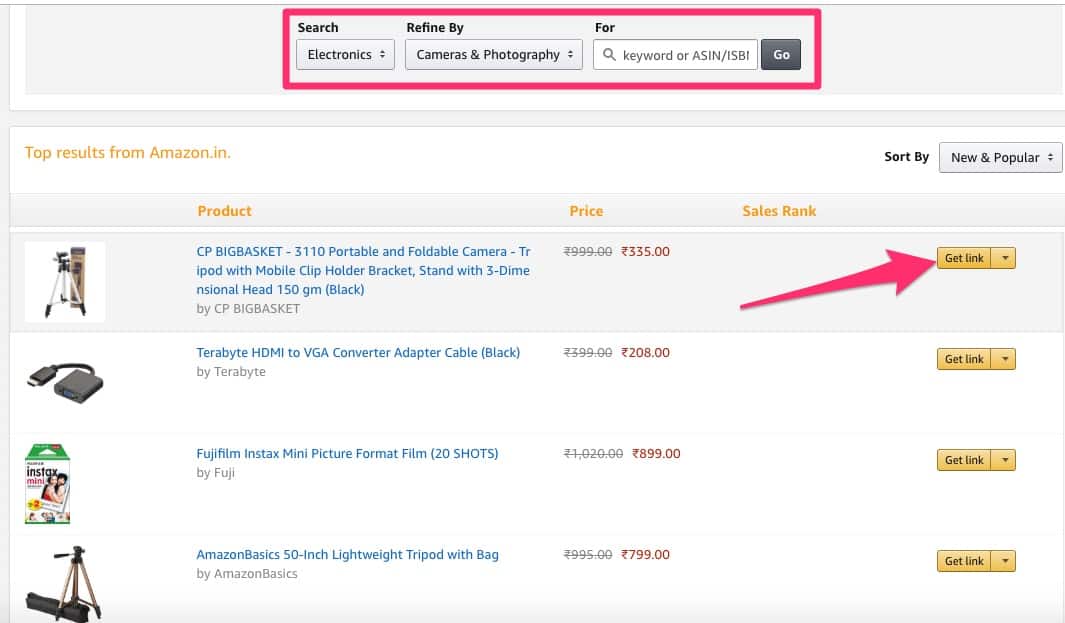 Similarly, the banners section would allow you to get the banner ads for your website or blog so that you could simply copy and paste the code and display the banner ads on your site.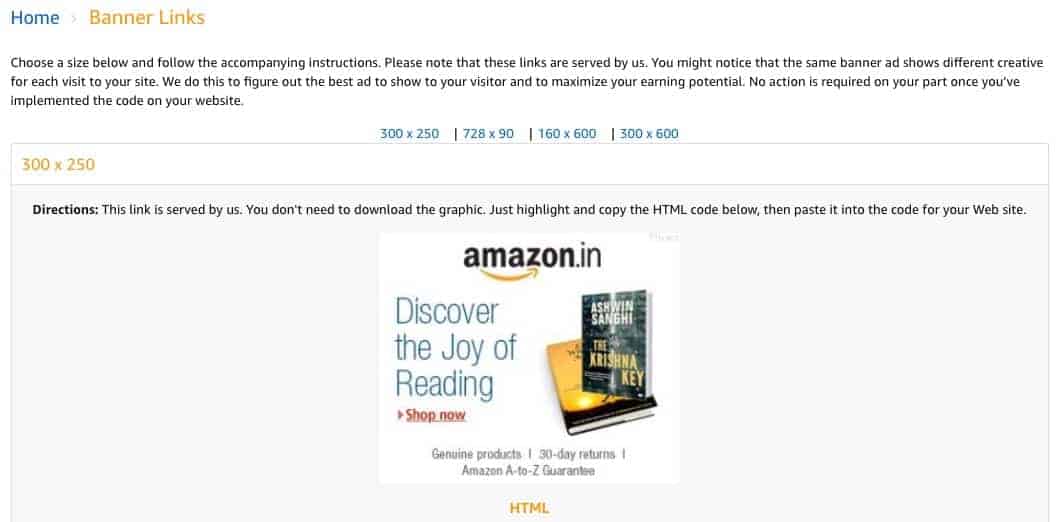 Whereas, native shopping ads feature does help in displaying contextual ads on your website or blog. All you need is to insert code and leave the rest on this tool. It displays native ads from Amazon based on your content.
Lastly, mobile popover is a huge plus because the majority of internet users are surfing the internet on their smartphones. So this options allows you to display mobile-friendly popup display ads on the smartphones.
2. Tools
One of the important sections of the Amazon Associates program's dashboard is the tools.
It contains some essential tools that help affiliate marketers in promoting and displaying the products properly.
For example, SiteStripe is a revolutionary affiliate tool for associate members. What it does is that it displays a toolkit on all the pages of Amazon site upon enabling from the settings.

The primary goal of this toolkit is that it makes every product page shareable along with your affiliate link. So it's pretty much like a deep linking tool which does the job automatically rather than converting the links manually.
It definitely makes it easier for the affiliate marketers to share the product links on social media along with their affiliate links.
The next tool I'm very much interested in sharing with you all is Publisher Studio Management. It does something cool; it enables you to add product links directly to your written content while you're writing or editing the content in your website's content editor.
For example, if you use WordPress or Blogger or Typepad, you can simply start writing content and if you mention a product, a popup would appear and give you some product link recommendations to link to the product name. All you need to do is install the browser extension.
Another exciting tool is the Link Checker. It validates a product link to confirm whether or not this is your affiliate link.

So it makes sure that you're promoting the correct affiliate link. It ensures that the sales you're bringing in are being credited properly.
Lastly, the link builder plugin is one of the favorite tools from this Amazon Associates arsenal. All you need is to install this WordPress plugin on your blog or site, and it makes adding the affiliate links a whole lot easier.

Not only does it allow you to quickly add the product links, but it also helps you in finding the products from Amazon.
So after installing this WordPress plugin, you won't need to leave your site and go to the Amazon Associates account for getting the links; it'd all happen right in your WordPress dashboard.
3. Content Insights
This section provides you detailed reporting on the content performance so that you could create a certain type of content for more conversion.
To get started with Content Insights, you need to insert OneTag code into your site to be able to allow Amazon Associates to record data from your blog visitors that are clicking through your content.
It'd allow you to see which articles are converting well for you.
The goal of this tool is to improve your content conversion by reporting back some insights to you.
Therefore, this tool could play a key role in making money from Amazon's affiliate program.
Moreover, there are so many tools that I didn't mention here. I'm sure some of them would help as well. So you better check out those tools while starting your Amazon affiliate marketing campaign.
5. Analyze the Conversion
The analysis is important when it comes to affiliate marketing. You can't turn a blind eye to the situation when you're running a blog. If things aren't working out, you got to admit and test out new strategies.
A lot of people start blogging and quit because they think their blogs didn't grow or they couldn't make money from it. The reason they quit is that they didn't persevere when the difficulty kicked in.
The reason I'm saying all this is because it has a connection with the analysis that I'm talking about. If your affiliate products aren't converting, you got to make changes in your strategy, let alone in your strategy.
It means you can do the following things:
1. Find New Products to Promote
So it doesn't necessarily mean you have to start from the zero, which means you don't need to start a new blog or something. Instead, you can test out new products and promote them along the way.
You may end up finding the right keywords of products and content in the next phase. It only happens if you keep going. Quitters never make it to that point. So keep going forward and keep evolving.
2. Develop an Updated Content Strategy
The next thing you'd have to do is alter your content strategy a little. You can't go in the same direction as you were going before.
Meaning, if you've tested new products and promoting the new products so you can't keep publishing the same old type of content anymore. You'd have to change your keywords, target audience, and content topics accordingly.
Moreover, you have to go through your blog statistics once in a while and see what's working for you.
The more you understand your audience, the better your blog conversion becomes. Use website statistics tools such as Google Analytics and Search Console to understand your audience.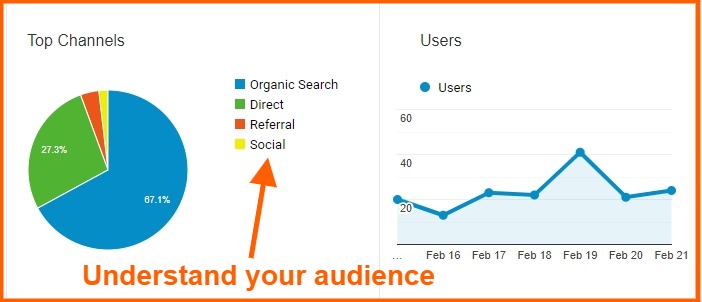 Once you understand your audience, it'd be easier for you to create content for them. For example, take a look at your Google Analytics and see the top performing content in the last 30 days.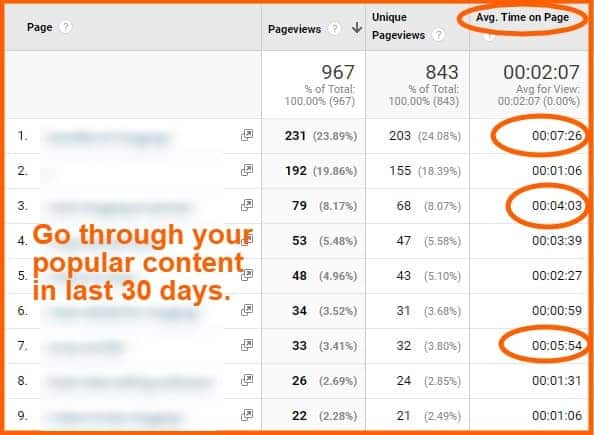 You'll understand what's working on your blog. You can go all in once you know the type of content that's working on your blog.
As I've mentioned content alteration earlier, it could come into play as soon as you realize that you need to steer your blog into a little different direction.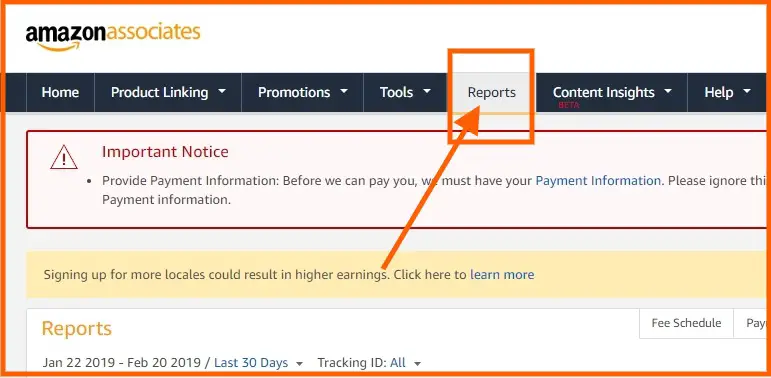 The upside of conversion analysis is that it would only help you optimize your blog and content to convert the visitors into paying customers whether you're selling your product or promoting someone else's. So don't underestimate the power of thorough analysis of your affiliate marketing campaign.
What's the takeaway?
I've tried to establish that Amazon Associates is a great platform for affiliate marketers of all types. Whether you're starting out or you have a dozen niche sites that are converting fabulously — this program could be a great option to pick.
Having said that, you don't have to focus on the 10 million affiliate programs at the same time, let alone on the same blog.
A lot of bloggers fail to make money off of affiliate marketing is because they join loads of affiliate programs at the same time and keep juggling entirely different products on the same blog.
If you want to join the Amazon Associates program, make sure that you aren't in alien territory when it comes to affiliate marketing. Being unique is good, but if there is no audience to reach out to, then there is no point of doing all that stuff.
You've already gone through the commission rates of different product categories on Amazon; choose the products wisely now.
Read the step#2 and step#3, if you're still confused about what to do with your Amazon Associates account.
It's not necessary that things would work out immediately, but if you stay persistent, it definitely will.
I've learned this lesson the hard way; I've been preaching these affiliate marketing lessons for a while now.
So tell me one thing: what's your biggest takeaway from this blog post?