Disclosure: Some of the links in this article may be affiliate links, which can provide compensation to me at no cost to you if you decide to purchase a paid plan. We review these products after doing a lot of research, we check all features and recommend the best products only.
Podcasts are on the rise.
I started listening to many digital marketing podcasts back in 2014 and learnt a lot from the best experts.
One thing I love most about the podcasts is, you can listen to them anytime anywhere. Doesn't matter you are driving, running, traveling, or doing a heavy workout in the gym, a podcast is a great platform to learn.
It doesn't require your dedicated time.
To read a blog post, you need a dedicated time.. to watch a video, you need a dedicated time.. but podcast gives you the freedom to consume the content while doing multi-tasking.
..and that is the biggest reason why podcasts are on the rise.
There is already a massive market for podcasts in every niche—but you should know that it is expanding at full tilt.
About 36% of the globe listens to podcasts at least once a month, which means you have ready access to 2 billion+ high-intent users. Furthermore, according to Forbes, the podcast advertising space is expected to be worth over a billion dollars by 2021, which makes this the perfect time for you to tap into the podcasting market.
Every individual, brand, and business should be podcasting right now—regardless of industry or vertical.
But here's the thing—podcasting is a lot more than just recording and editing audio. Aside from finding the right equipment and editing software, you must also pick a podcast hosting platform.
Here's where it gets tricky.
There are tons of premium and free podcast hosting sites that can help you deliver your content. Most of them have similar features, which makes finding the best one a challenge in itself.
Don't worry though; we've got you covered! Here's a list of the best podcast hosting platforms out there.
Here are the 15 Best Podcast Hosting Sites in June 2023
Podbean has been around since 2006 and is one of the first major podcast hosting sites created.
It boasts unlimited hosting services and enables you to distribute and promote your content on all major apps—including iTunes, Spotify, Google Play, and Amazon Music.
The 24-7 support is a huge plus, and you'll always get help when you need it.
One of the best things about Podbean is that you can get started for free and test things out. On the free tier, you can upload up to 5 hours of content every month, but you're only allowed to use 100 GB of bandwidth per month.
The Unlimited Plus tier gives you access to all the features and gives you the best value for your money. You get access to features like advanced analytics, unlimited audio and video storage, dynamic ad campaigns (including Patreon integration!), and auto-posting to social media and YouTube.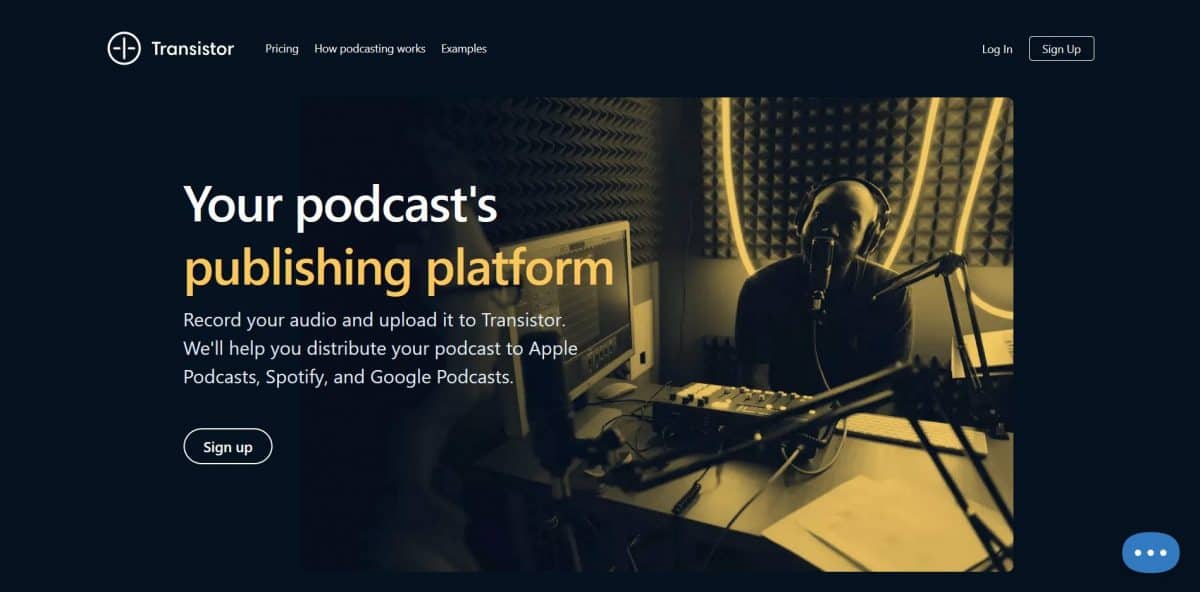 If you have some experience podcasting, Transistor is right for you. Although it is not a free podcast hosting service, you get a lot of value for your money.
Other than giving you the ability to distribute your content to all major platforms—including Apple Podcasts, Pocket Casts, Overcast, Google Podcasts, and Spotify—you also get access to advanced analytics.
You can keep track of your podcast's progress and figure out which topics get you the most downloads. Strategizing and focusing on what gives you more exposure will enable you to scale your audience quickly.
You can add additional users to your account to help manage your podcast, and Transistor also creates and publishes a website for your podcast automatically!
If you already use another podcasting platform like Anchor or Libsyn, you can import your existing feed into Transistor in just a few clicks.
Transistor is the perfect platform for those looking to grow their audience quickly.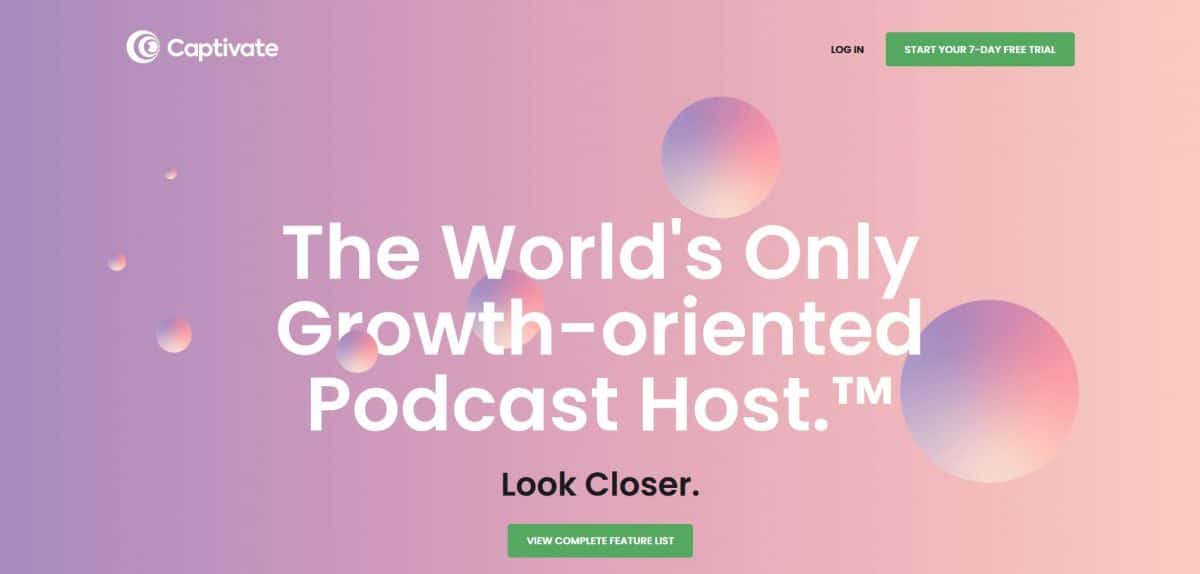 If you're new to podcasting and want to garner an audience swiftly, you should try using Captivate.
The tool is equipped with everything you would need to grow an audience and convert listeners to customers.
Every plan allows you to post unlimited podcasts and add unlimited team members. You also get access to a podcast player unique to your brand, advanced analytics, and marketing tools.
Captivate builds a website for your podcast automatically, and the site has call-to-action buttons built in. The site is mobile-friendly and customizable, and support for donations is even pre-included.
Building an email list and generating new leads becomes seamless via the podcast player's call to action.
Importing your feed can be done in minutes, and Captivate helps you generate links to your podcast on platforms like Overcast to help new subscribers find your content.
Captivate is a premium service, but you can try it for free for 14 days by signing up for a free trial.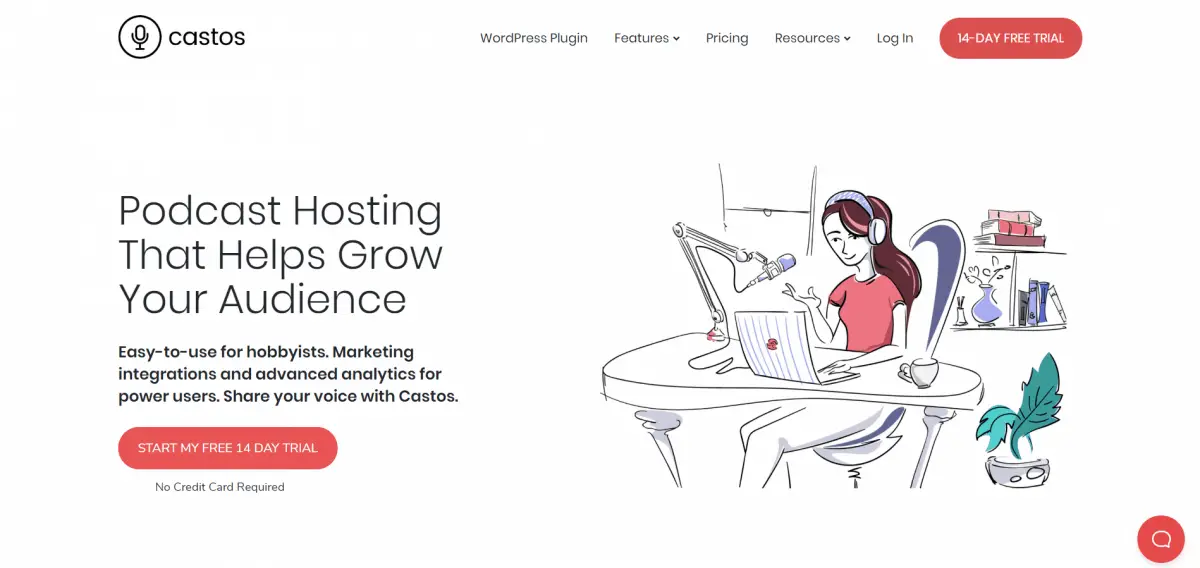 Castos is perfect for bloggers looking to start their own podcast. You can install the Castos plugin on your WordPress site and manage your podcast from there.
The plugin enables you to upload episodes, create multiple feeds, and also customize the player.
The beautiful dashboard makes keeping track of your podcast super easy. You can track your podcast's performance with easy-to-digest insights—including total listens, most played episodes, audience demographics, listening behavior, and much more.
Studying trends will enable you to create better content and convert high-intent users with little to no effort.
Castos also enables you to expand your reach via the Transcription and automated YouTube republishing feature. These enable you to increase your podcast's visibility and boost your website's SEO.
You can try out the plug-in for free by signing up for Castos's 14-day free trial.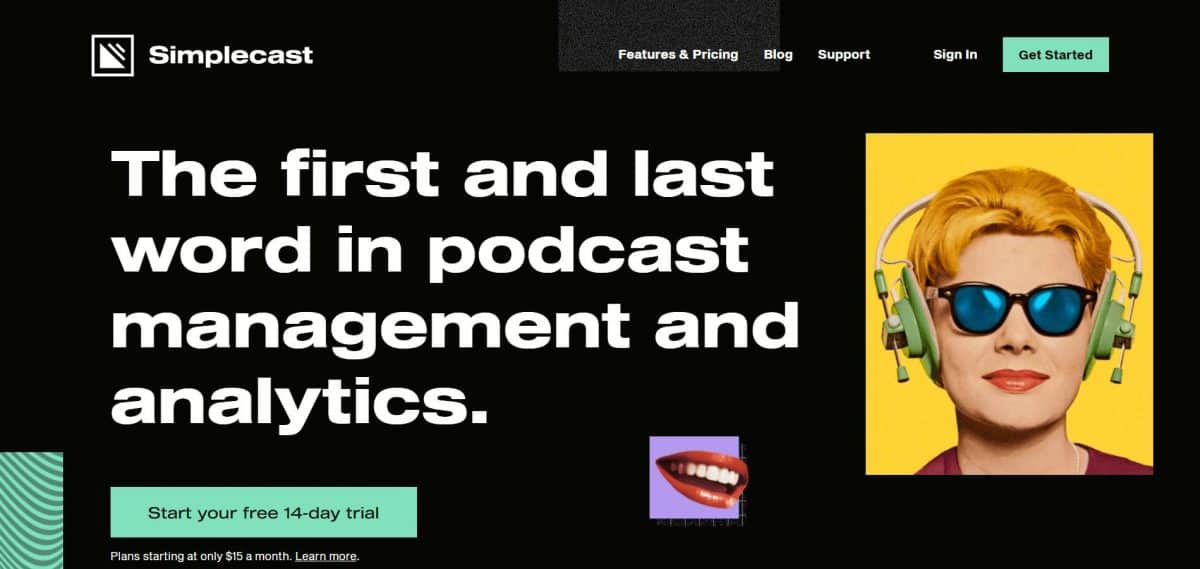 Simplecast is a relatively new platform that has been around since 2013, but its modern interface and great features make it apt for use by both new and veteran podcasters.
The features you get for the low price is what makes Simplecast stand out.
Simplecast enables you to publish an episode in one click. You can also import all your content from another host in minutes.
The tool enables you to customize your player and make it stand out, and you no longer need to maintain a separate site for your podcast. With Simplecast's easy-to-use website builder, you can create beautiful, mobile-friendly websites fast.
Every site you build using the builder is HTTPS secured by default, and you can also assign the website to a custom domain.
The unlimited storage and uploads, and the ability to collaborate with multiple podcast managers are just icing on the cake.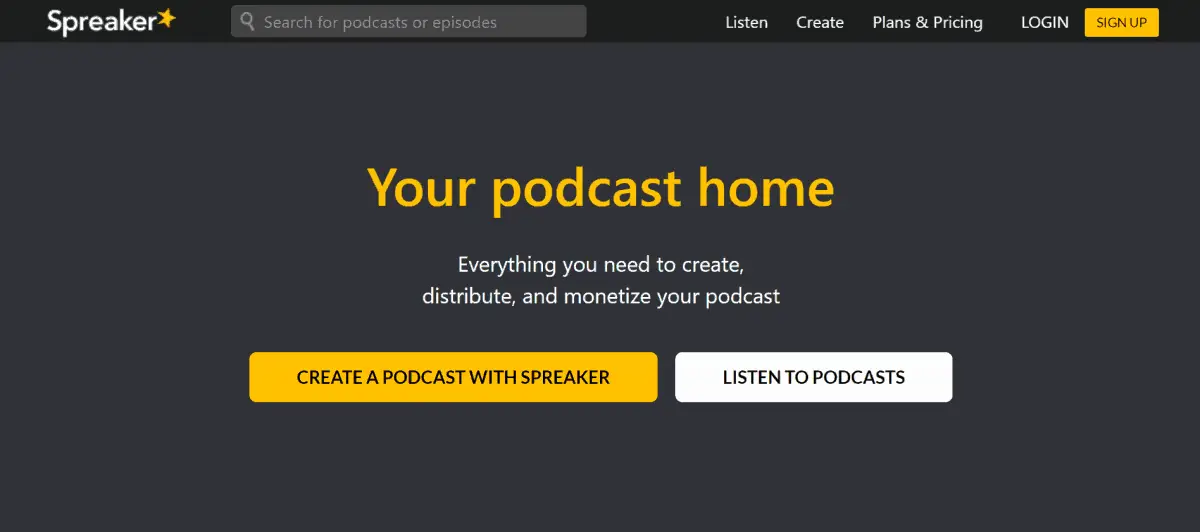 If you're always on the move, but want to create and publish podcast episodes with ease, Spreaker is perfect for you.
What makes it one of the best podcast hosting services is that it offers fantastic features for excellent prices.
You can join and use the service for free, but the three paid tiers enable those on a tight budget and enterprises to take full advantage of the podcast market.
Keep in mind that you cannot monetize your podcast if you're on the free tier, but you do have access to all basic features.
You can schedule and upload episodes in one click, and record or live-stream your podcast right from the site or the app.
You also get access to your podcast's statistics and can study them to find what content works best for your podcast. Advanced features like dynamic ad insertion and external app integration open up a lot of avenues for leveling up your podcast.
The Spreaker Studio app enables you to record, edit, and publish even when you're on the move.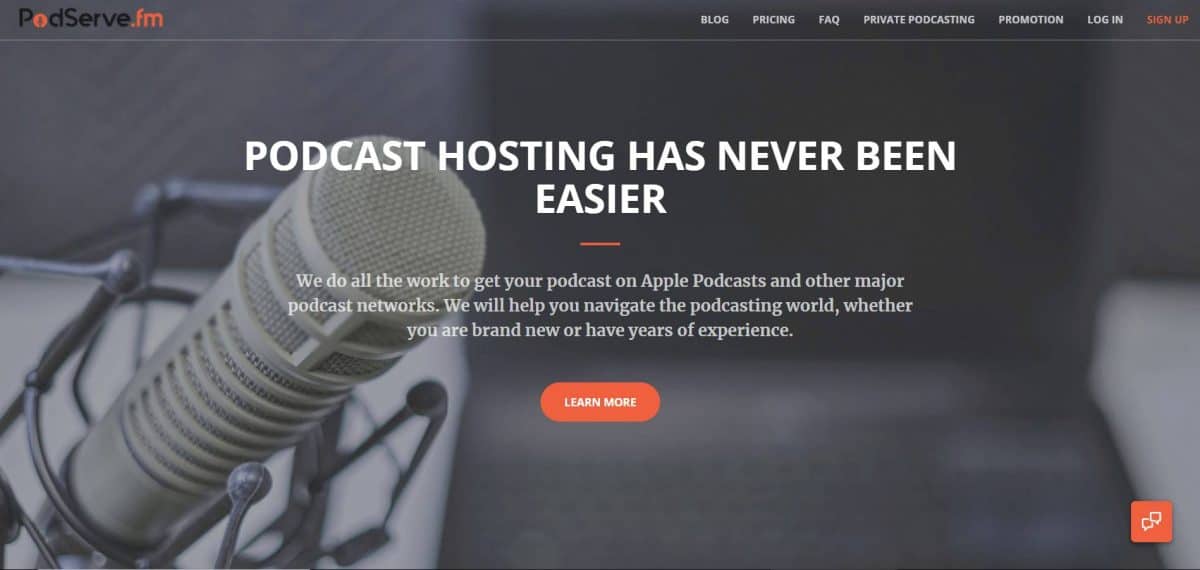 If you're working on a podcast alone, and don't have friends, editors, or managers to help you out, PodServe.fm is right for you.
The interface makes uploading, managing, and promoting your podcasts super simple. There is only one very affordable paid tier, and you can try the tool out free of cost by signing up for the trial.
You get access to unlimited storage and can upload unlimited podcasts using PodServe.fm. Podcast promotion is free, and getting your content on multiple platforms is as easy as linking them once.
You get a detailed copy of your analytics, which allows you to track your podcast's progress and figure out what's working best for you. If you ever get stuck, the one-on-one customer support feature will enable you to get back on track quickly.
PodServe.fm is a lucrative option for those starting out, because you can get your podcast promoted for free by signing up to this one inexpensive service!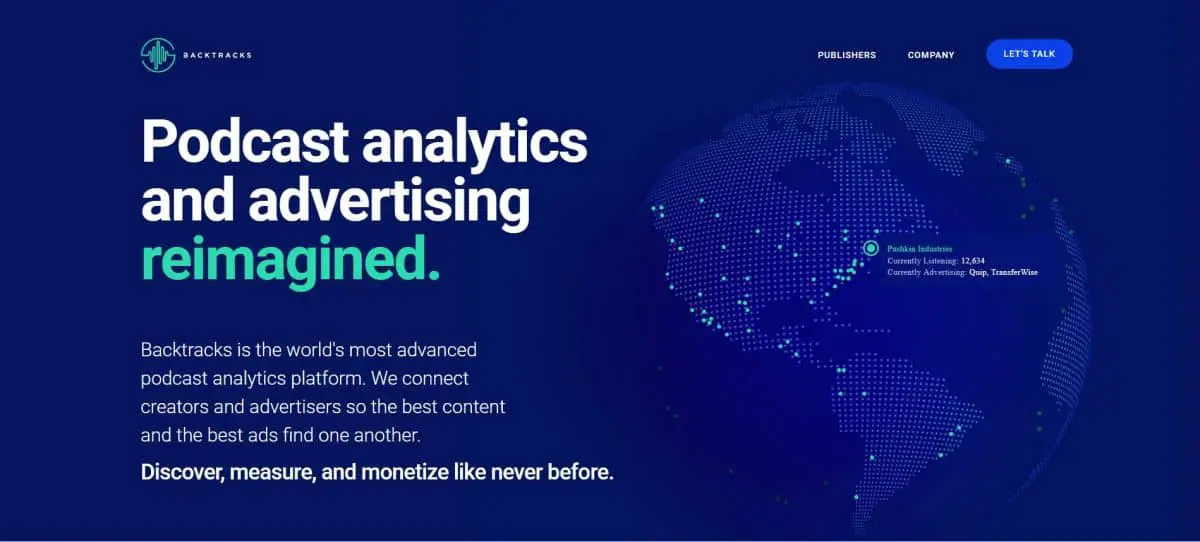 If you want powerful analytics about your podcast at your fingertips, Backtracks is perfect for you.
Backtracks is built on an open-source framework, and it enables you to get historical data and create custom reports about your podcast.
Viewing and tracking trends is easy, and the integrated AI ensures that the data you see is accurate.
In addition to getting access to robust analytics, you also get access to an embeddable player, access to their API, and loads of secure hosting space.
Its modern, simplistic interface makes all its features easy to access and use, and with the support team available 24-7, you'll never get stuck.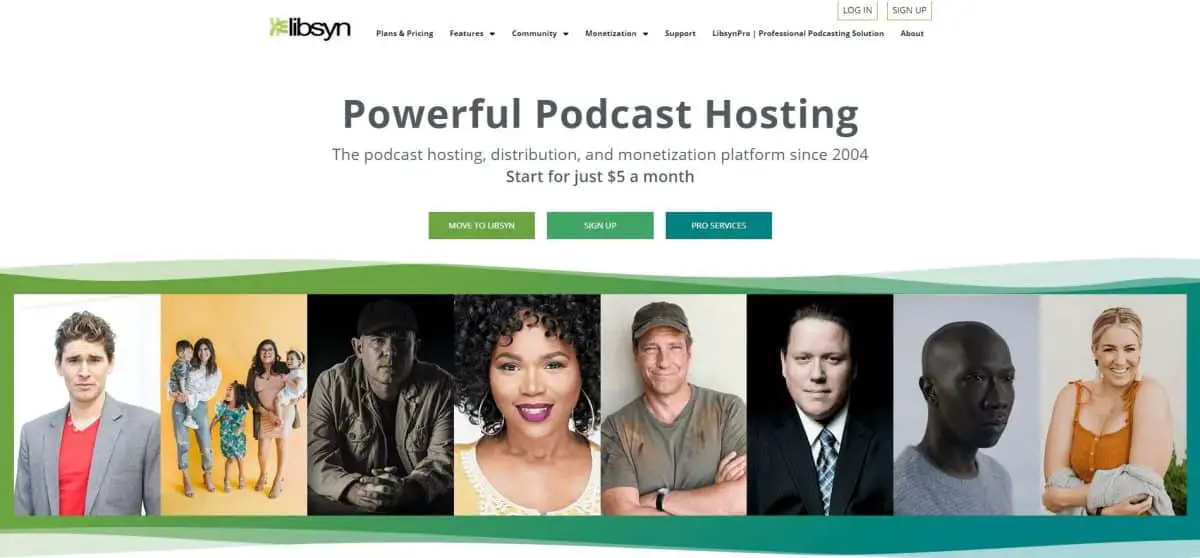 Whether you're a novice or a professional, if you're serious about getting your podcast to the top, Libsyn is right for you.
It's been around since 2004 and is one of the most trusted podcast hosting platforms out there.
The tool gives you access to IAB v2.0 certified stats, and the vast monetization options keep you in control of the advertising. You can also create a premium subscription for your listeners and remove ads from their copy of the podcast.
Podcast mini-sites and mobile compatible players make your content freely accessible, and Libsyn also enables you to create custom smartphone apps unique to your brand for both iOS and Android.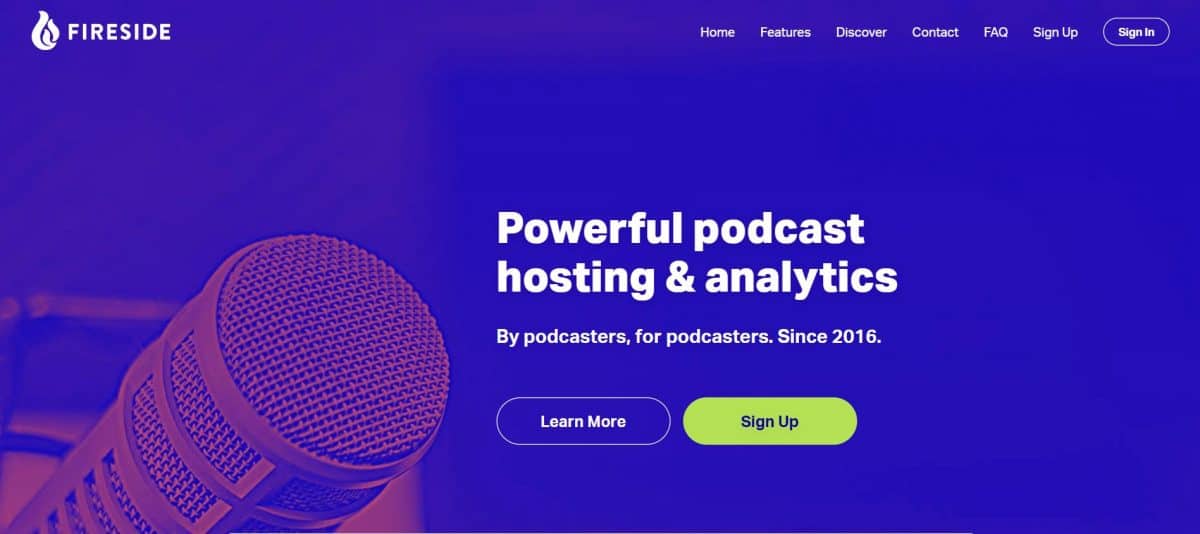 Fireside is a relatively new tool built by podcasters for podcasters.
It makes managing your content easy, and you don't have to worry about stringent bandwidth and hosting limitations. Fireside allows you to upload and your listeners to stream your content limitlessly.
There is no free plan. But the premium plans give you access to fantastic features—such as a customizable website and blog, advanced podcast analytics, and a customizable player that you can embed on your social media pages, your websites, and your blogs.
The user-interface makes uploading and managing your content very easy, and the affordable plans and excellent support make it a must-have tool for beginners.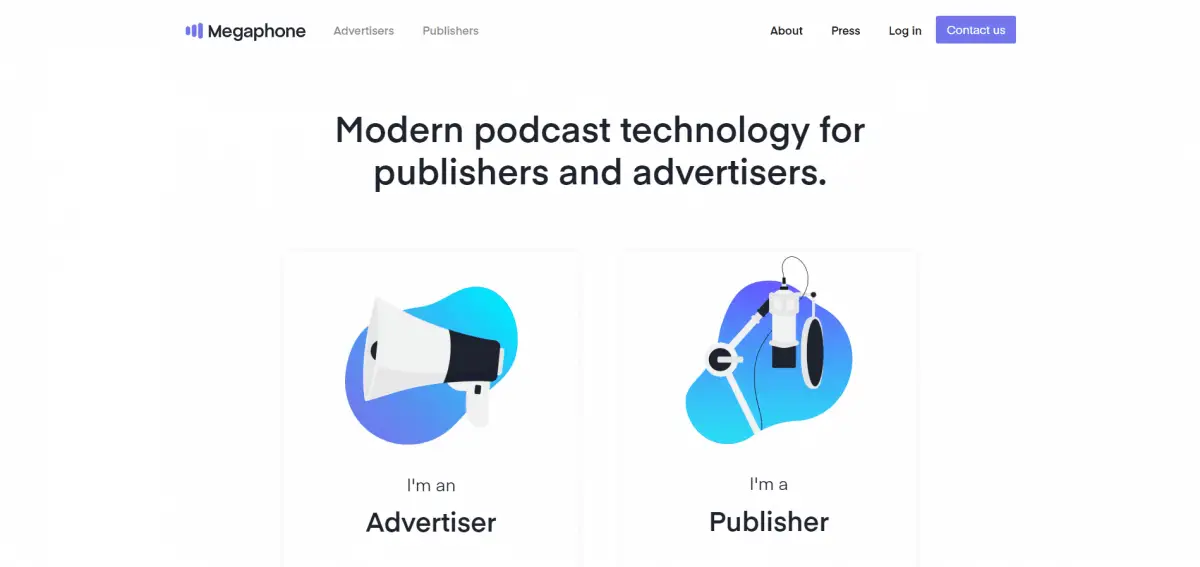 Megaphone, developed by Panoply, is a podcasting platform built for large, enterprise-level podcasts.
In addition to making publishing and analytics easy and accessible to podcasting teams, Megaphone also makes it super easy to create and manage ad campaigns.
It's primarily designed for established podcasters that are looking to maximize reach and monetization.
The suite gives you full control over whom you're targeting with your campaigns and allows you to measure conversions and run attribution studies. These features enable podcasters to cater strategically curated content to high-intent users, hence bringing in more revenue.
One of the best features of Megaphone is the chat window that connects any member of your team to support and engineering teams on demand.
Running ads on the platform to promote products or services is as easy as managing your content. The tool enables you to create data-driven custom ads that envelop the user and drive results.
You can target users at scale, and the suite's dynamic ad-insertion capabilities help ensure that the ad spots are populated upon download and that your message is always fresh and relevant.
Measuring the results of your campaigns and tailoring your next campaign is also made easy with Megaphone.

Great all-in-one tools are hard to come by, but if you're looking for one, you should try Anchor.
With Anchor, you can create, distribute, and monetize your podcast free of cost. It gives you access to easy-to-use tools that enable you to record, edit, and upload from any device.
If you're not very tech-savvy, this tool is perfect for you. The simple yet attractive interface makes the podcasting process easy from start to finish.
You get free access to unlimited hosting, and you can podcast with your friends with ease. The analytics features are powerful yet give you a straightforward overview of your progress, and the creation and editing tools make curating content quick and easy.
You can distribute your content to multiple platforms in one click, and the tool enables you to create and upload transcribed videos of your podcast automatically!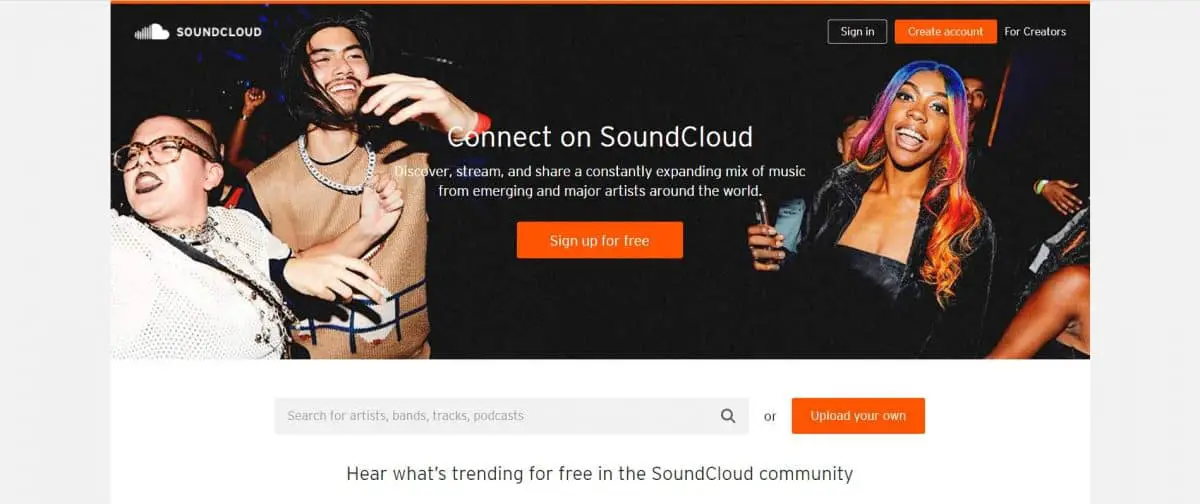 SoundCloud is not just feature-packed; it is also super popular, making it perfect for the budding and experienced podcasters alike.
The platform is used by 175 million users every month, and over 12 hours of content is uploaded to the platform every minute!
SoundCloud Basic is free to use, but you can only upload 3 hours of content on it. However, SoundCloud Pro is both inexpensive and effective if you're looking to get your content to a massive high-intent audience.
All your audio is stored in a lossless way, and you can even schedule your releases. You get access to the full scope of SoundCloud's analytics and complete access to the embedding controls.
You can replace your tracks after you upload them and also take advantage of SoundCloud's promotion feature to boost engagement.
One disadvantage with SoundCloud podcast hosting is that you cannot post on other platforms with it. But the exposure you get from this one platform is often well worth the price.

If you're looking to monetize your content aggressively, AUDIOBOOM is the perfect podcast hosting site for you.
As long as your podcast gets over 10,000 plays per episode, you can take advantage of the platform's dynamic advertising and sponsorships.
With AUDIOBOOM, you can distribute your content to Apple Podcasts, CastBox, Google Podcasts, Deezer, iHeart, Spotify, and many other platforms in one click.
You can embed a podcast player onto your website, social media page, or blog, and since it's responsive, it will work on phones and tablets too!
AUDIOBOOM is one of the most affordable premium podcast hosting tools available, but the amazing features it furnishes makes it an invaluable tool in your podcast's growth.

Buzzsprout has been in business since 2009, making it one of the oldest podcast hosts around. It has stood the test of time and is one of the most popular podcasting sites for good reason.
It is packed with features, and you can make use of a lot of the features even if you use the free plan. One drawback is that free users can only upload two hours of content every month.
The upside is that all of Buzzsprout's plans are super affordable and thus give you access to advanced stats and unlimited storage.
Your content is hosted indefinitely, and you can add an unlimited number of team members as soon as you sign up.
You can also import your content from other hosts for free, and the ability to create a custom website and embed player for free gives your podcast a personal touch.
The 250 GB bandwidth per month is enough to reach up to 40,000 users every month, and you can always upgrade to boost your podcast's reach.
Conclusion
This list highlights the best podcast hosting sites available. There are free options, enterprise options, and everything in between.
Your podcast's current standing, your budget, and your vision for your podcast are, for the most part, what determines the right podcast hosting platform for you.
Finding the perfect platform is now as easy as tallying your needs against the features that the platforms furnish.
You'll be up and running in no time!